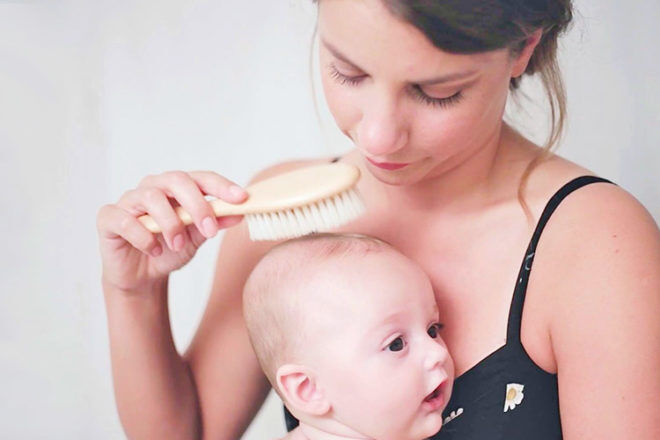 Whether your poppet is born sporting glorious tufts or a super-fine layer of peach fuzz, make sure you've got a gentle baby hair brush on hand to care for precious strands.
Unlike adults' hair brushes, baby versions are made with shorter handles and ultra-soft bristles to help tame unruly tresses, stimulate the scalp and keep cradle cap in check.
Teeny-tiny and completely adorable, they make unforgettable keepsakes too.
13 of the sweetest baby hair brushes
Whether you're after a gift for a new mama or just need to tend to your mini's wild 'do, our roundup of the most swoon-worthy baby hair brushes will help you find the perfect one.
1. Shellamy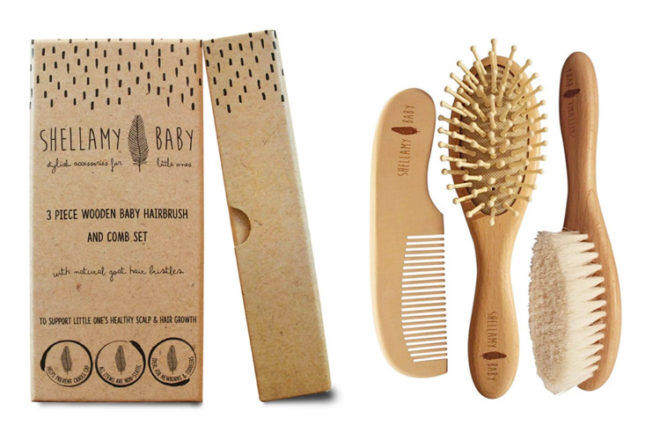 Brush, massage and style. This perfectly packaged set has everything you need to care for baby's mop and scalp in the early years. Each piece is made with all-natural materials and suitable for even the newest of bubs.
---
2. Rock & Ruddle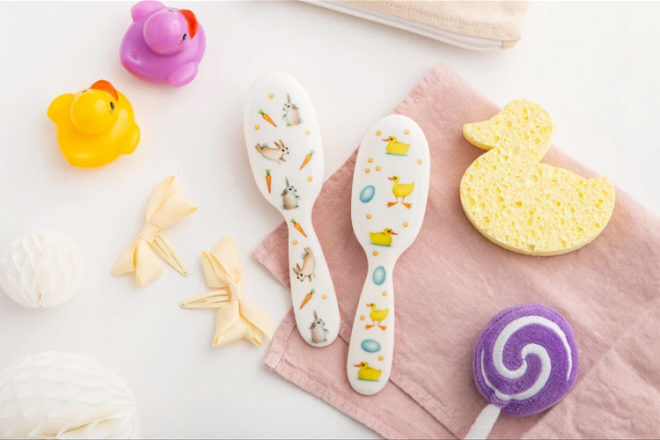 Designed and made in the UK, these stunning (and totally giftable) baby hair brushes use natural boar bristles to be suitable to use on baby's locks from day one. Styles include ballet dancers, ducks and bunnies. Aww!
---
3. Happy Hair Brush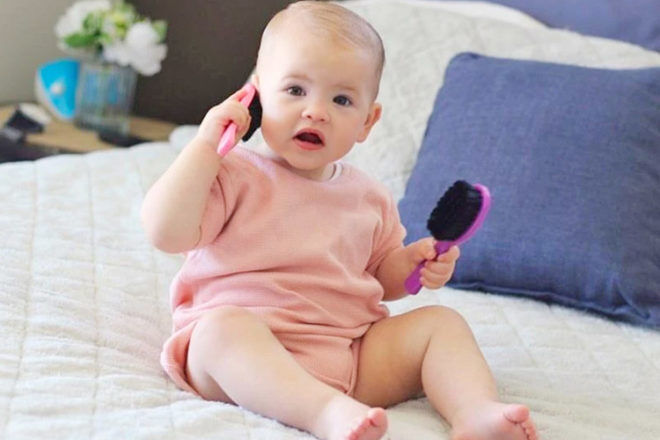 Free of any animal products, these unique vegan brushes were purposely made with black bristles so that you can see it removing dead skin cells and cradle cap. Suitable for hair up to 8cm in length, it comes in a choice of four shades.
---
4. Chibello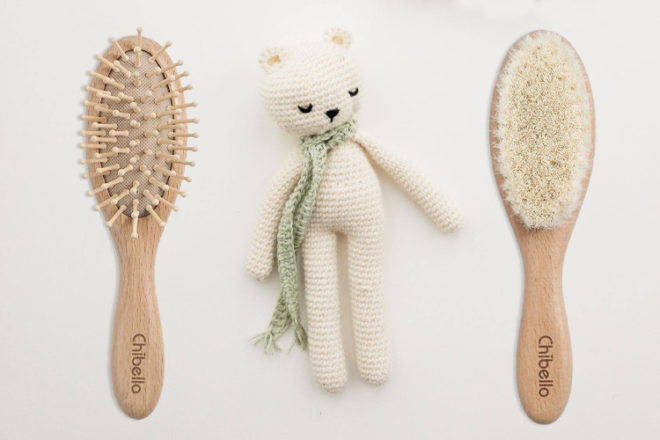 Crafted from premium materials to gently nurture brand-new tufts, this giftable set includes a goat-bristle brush, massage brush, round-edged comb and a very handy silicone massager for tending to cradle cap.
---
5. Dreambaby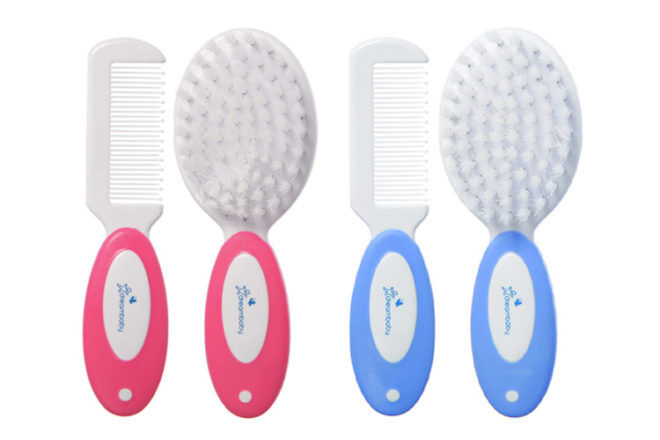 This uber-popular brush set comes with a good splash of colour and a welcome price tag. It has gentle non-scratch bristles for even the youngest of bubs, and toddler-friendly handles for the later years.
---
6. Purebaby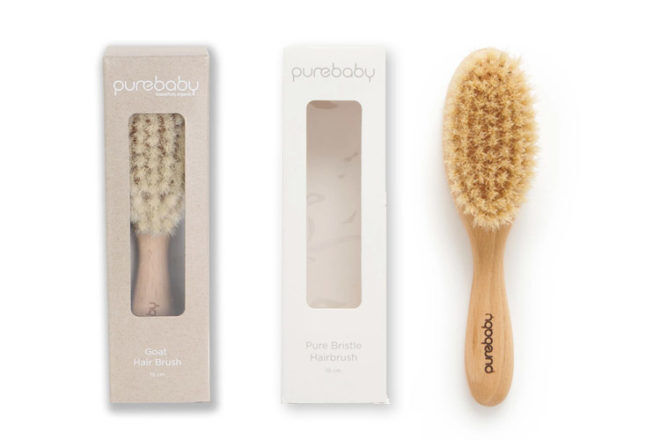 After a brush to tackle a particularly thick mop of baby hair? This is the brush for the job. Made with boar bristles, this purpose-built baby brush is fabulous at detangling thicker hair and smoothing all those fly-aways.
---
7. AHAHbaby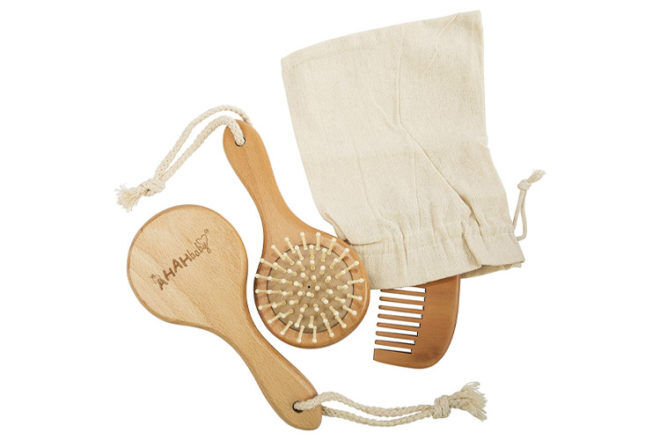 With sweet round-headed brushes and pear-shaped comb, this pint-sized set is all kinds of cute. It is made from of eco-friendly beech wood and goat bristles, and it comes bundled up in a pure-cotton pouch.
---
8. Green Sprouts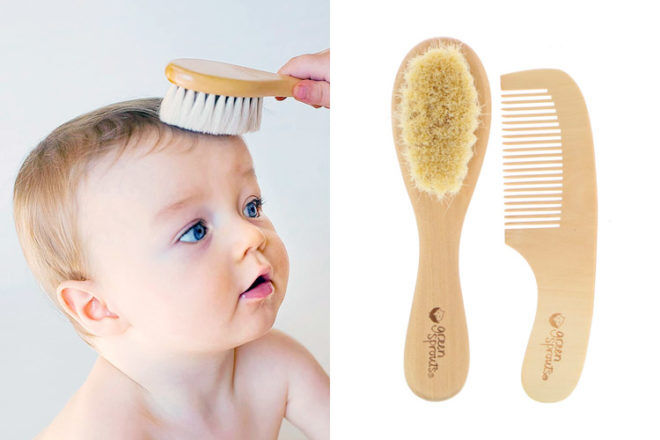 An all-natural duo at a perfect price. The ultra-soft goat bristles are perfect for smoothing down unruly newborn locks while the renewable-wood comb takes care of sectioning and styling.
---
9. CMC Gold
It's one of the most customisable baby hair brushes around and it has completely won us over. Made from premium wood and natural goat hair, it can be personalised using your choice of font and motif.
---
10. KoaBear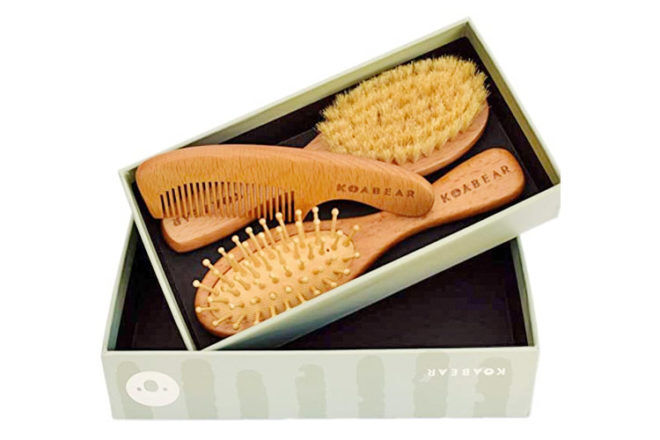 Boxed up beautifully, this set is as natural as it is useful. It uses bristles of goat hair to prevent irritation and scratching of baby's little noggin, and rounded wood for no snagging or pulling.
---
11. Petit Collage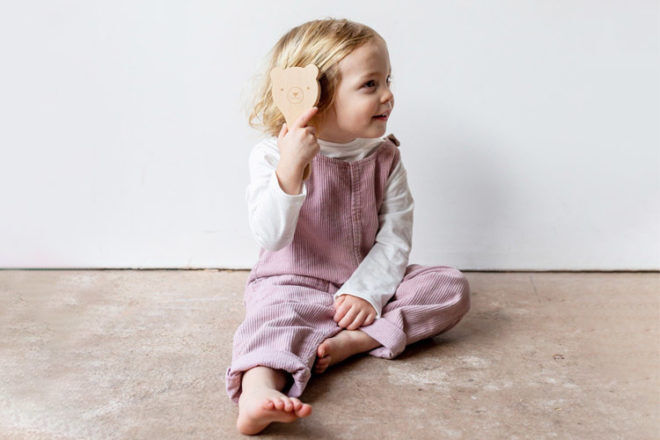 From a brand known the world over for its special eco-friendly gifts comes a sweet little hair brush to cherish forever. With a bear-shaped head, it features the softest of bristles and a child-friendly handle.
---
12. Haakaa
From a New Zealand brand wholly dedicated to creating sustainable products, this brush has created quite a buzz in the baby world. All-natural, with no nasties in sight, it uses pure goat wool to be one of the softest brushes around.
---
13. CoCreative Design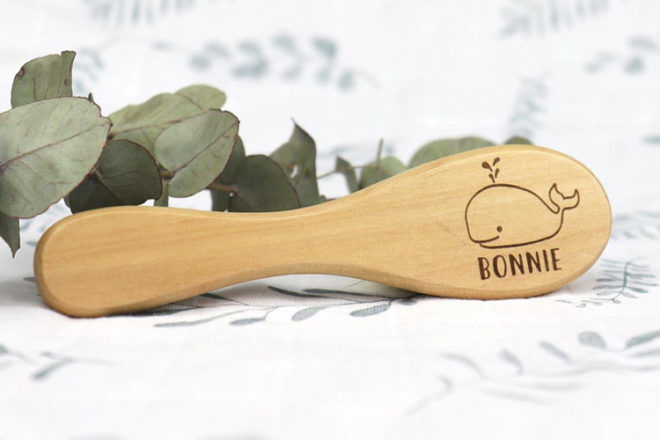 Personalisation adds a special touch to baby products, and this popular Etsy seller allows you to add not just a name to the brush, but also a laser-cut image. Whales, rainbows…how to choose?!
---
This article is curated by our Editors and includes affiliates and/or paid inclusions. See our Disclosure Policy.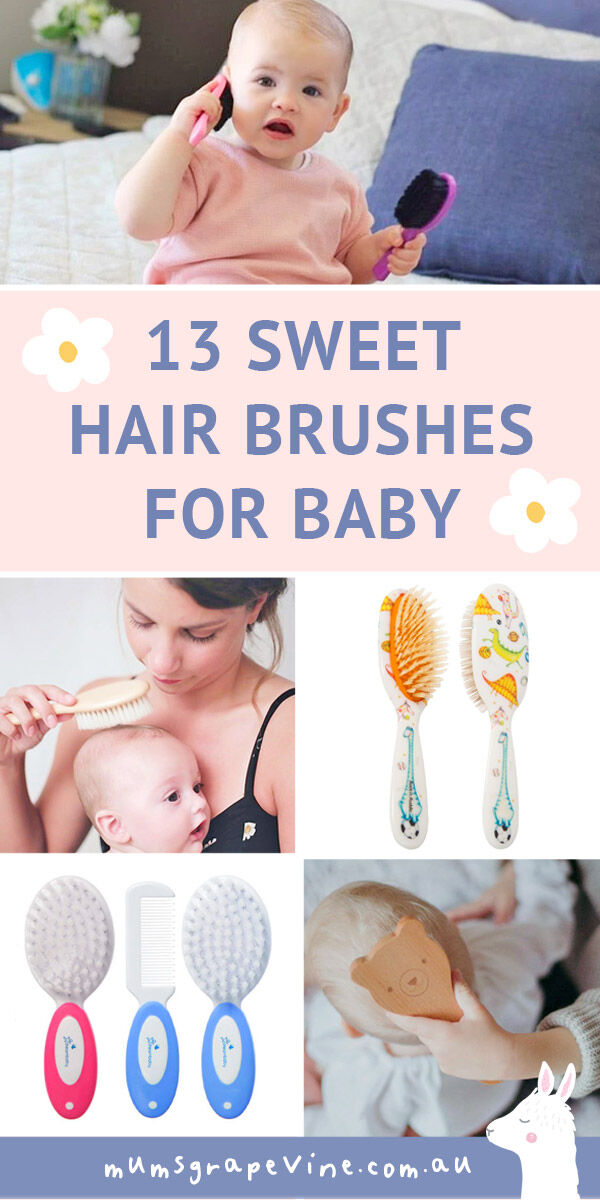 Know a brand of hair brush we should add to our list? Contact us and let us know.
Read next …
Looking for more must-haves for baby's bath and bedtime routine? From gentle baby skincare to handy tips for treating cradle cap, here are a few articles that you might like to read next:
Continue your search for the best baby hair brush
Looking for a baby hair brush and still not sure if any of these are right for you? Search online by jumping into one of our closed Baby groups and ask thousands of other Australian mums what they recommend – 'What to buy' is the most talked-about topic.
Click and join your group today!