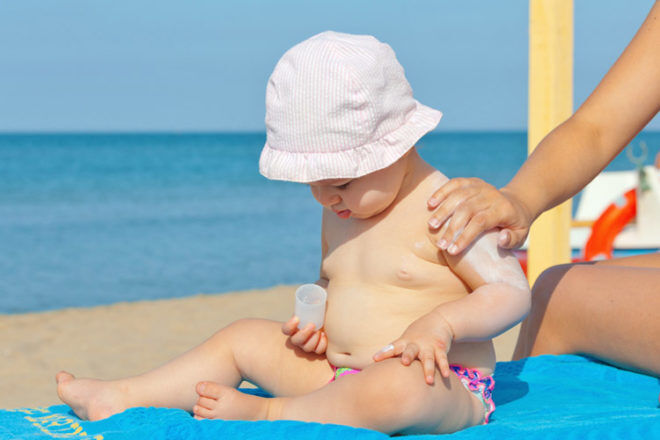 We all know to slip, slop, slap our kiddies before heading out in the Australian sun. But it can be tricky to know what baby sunscreen to use on your wee one's delicate skin.
Baby sunscreen is an easily absorbed lotion specially formulated to protect young skin from harsh sun rays. Gentle and easy to apply, it's usually water-resistant and often made with natural ingredients that don't irritate sensitive skin.
Kitted out with a broad-rimmed sun hat and protective swimwear, the only thing bub needs to be beach-ready is a reliable baby sunscreen. So follow our roundup of favourite brands to the ideal product and have peace of mind that baby's skin is covered this summer.
What to look for when buying baby sunscreen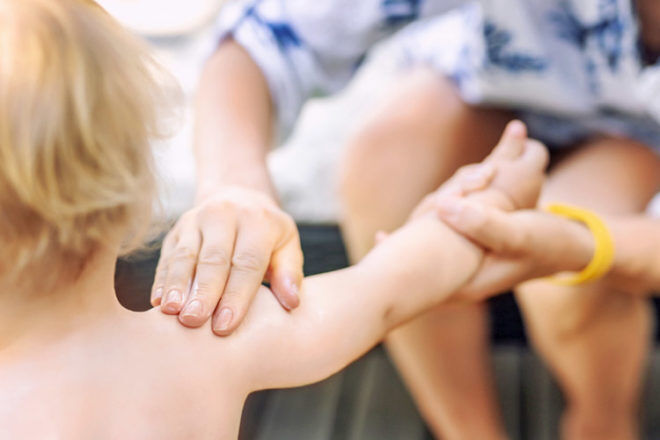 Here are a few things to think about when buying sunscreen for babies and kids:
SPF: Sunscreen is recommended for all ages to protect parts of the body like tiny hands and faces that can't be covered up, and a high Sun Protection Factor (SPF) is important. The number tells you how long the sun's UVB rays would take to redden your skin if you apply the sunscreen exactly as directed compared with the amount of time without sunscreen.
Ingredients: Where possible, look for a baby sunscreen with natural ingredients. Zinc oxide and titanium oxide are often used in mineral-based sunscreens. These natural 'blockers' sit on top of babe's tender skin, providing broad-spectrum coverage that reflects both UVA and UVB rays.
Water-resistance: Venturing to the beach with plans to stay on the sand? Just like when playing at home, little ones will find a way of getting wet and messy. A water-resistant sunscreen will keep them protected from the harsh sun despite the spills and splashes.
---
11 sunscreens for babies and kids
To help you find the best baby sunscreen for your needs, we've compiled this handy list of brands to get you started in your search. In no particular order, here they are:
Wotnot
This brand knows what not to put in sunscreen, so their sunscreen for babies is free of sulphates, petrochemicals, parabens, artificial preservatives and fragrances. Packed with jojoba oil, shea butter and soothing aloe vera, it's incredibly gentle on bub's delicate skin.
Wotnot Naturals Discount Code:
Use code 'MGV15' for 15% off storewide.

---
Jack N' Jill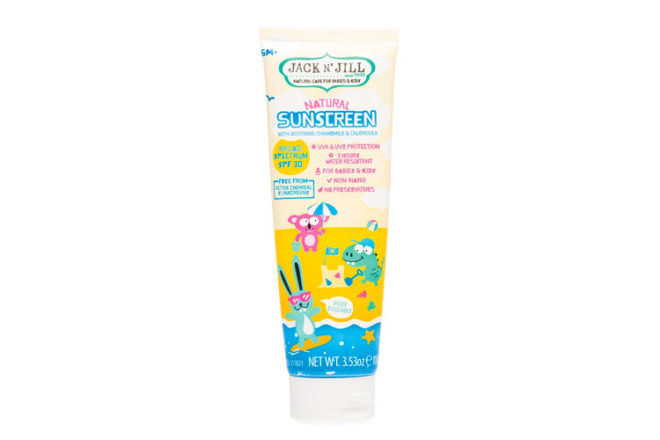 This reef-friendly sunscreen provides pint-sized poppets with UVA and UVB protection for sun-safe play. Suitable for babies six months and up, the cruelty-free formula contains chamomile and calendula to soothe and care for young skin.

---
Grahams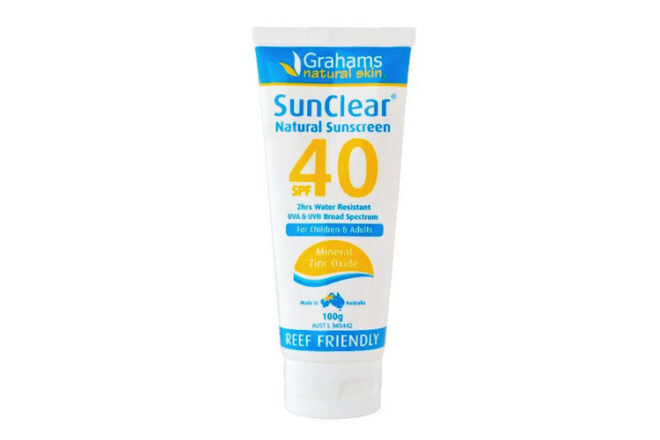 Using only natural ingredients to protect sensitive skin from the sun's harsh rays, this broad-spectrum sunscreen has been formulated for those with dry, eczema-prone skin. Suitable for all ages, it offers two hours of water resistance while little ones dip and dive.

---
Lullaby Skincare
Created for sensitive and irritated skin, this very high protection sunscreen is enriched with Vitamin E to keep delicate skin soft and hydrated. Ultra-lightweight and non-greasy, it absorbs easily without leaving a thick, white gluggy residue.

---
Itchy Baby Co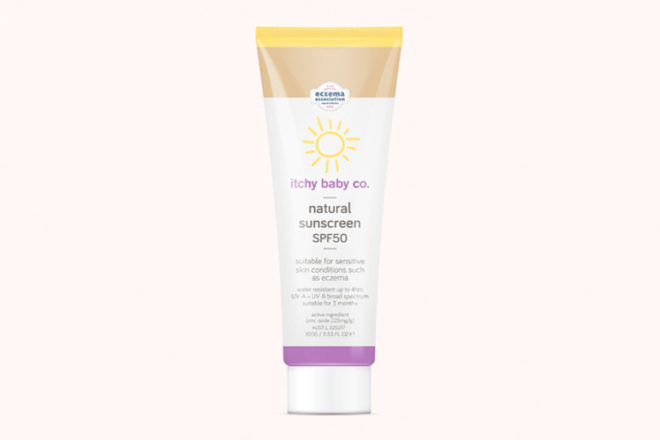 Water-resistant for up to 4 hours, this natural sunscreen is perfect for little ones with dry and irritated skin. Using the natural goodness of candelilla wax, coconut and oat oils, it aims to nourish the skin, leaving it happy and healthy when in the sun.

---
SIMPLE as that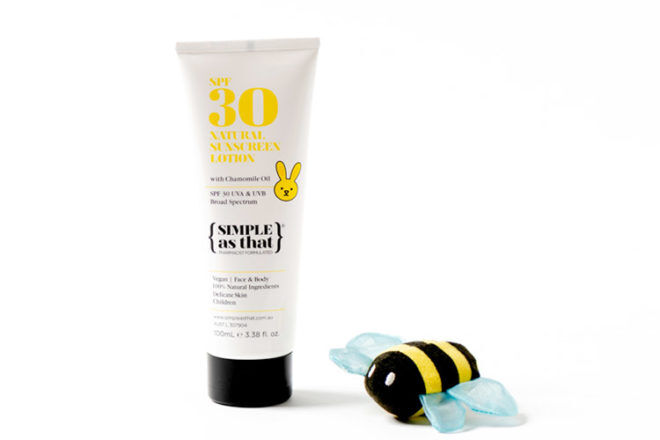 Boasting a 100% natural formulation, SIMPLE as that has created a lightweight, non-greasy sunscreen specifically for little bodies. A zinc oxide base provides protection from UVA and UVB rays alongside nourishing oils such as rosehip and chamomile.

---
Gilly Goat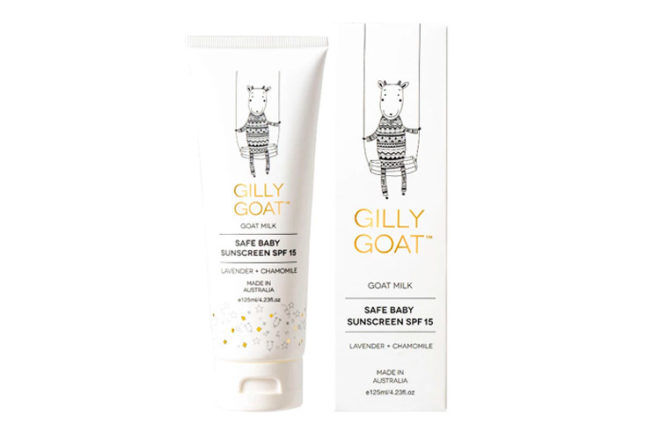 Enriched with the benefits of goat milk, aloe vera, Vitamin E, lavender and chamomile, this dreamy sunscreen is non-greasy and easy to rub into the skin. With a base of zinc oxide, it provides non-chemical protection from the harmful effects of the sun.

---
Invisible Zinc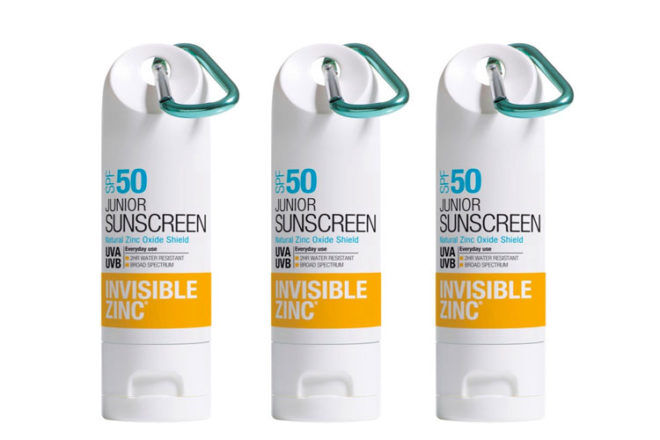 This handy sunscreen for babies and kids helps keep those harmful rays at bay. Created with a natural zinc oxide base, it offers broad-spectrum protection and dries clear. Plus, it attaches to your pram and nappy bag thanks to the handy clip.

---
Baby Bum
Approved by paediatricians, the Baby Bum sunscreen gives beach-ready tots broad-spectrum protection and up to 3 hours of water resistance. Developed for babies with thin, delicate skin, the gentle formula is free from Parabens and phthalates.

---
Ego Sunsense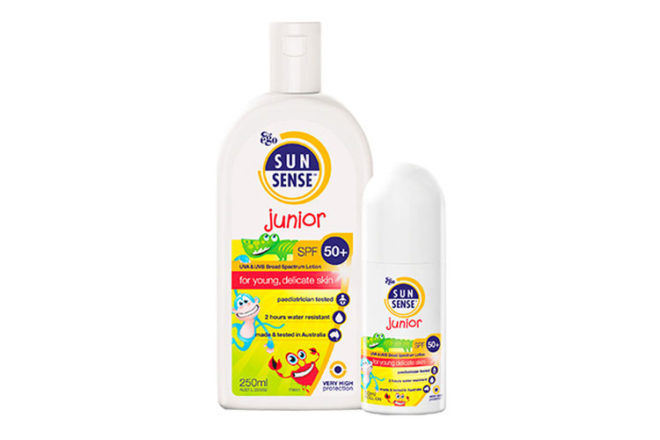 Available in a roll-on and lotion, this sunscreen has been specially designed for babies and children. Made in Australia, the gentle formula provides two hours of water-resistant, protected fun in the sun.

---
This article is curated by our Editors and includes affiliates and/or paid inclusions. See our Disclosure Policy.
Know a brand of baby sunscreen we should add to our list? Contact us and let us know.
Read next …
Looking for more summertime essentials? From comfy swimwear and swim nappies to cool pool toys for tots big and small, here are a few articles that you might like to read next:
Continue your search for the best baby sunscreen
Looking for sunscreen for your little ones and still not sure if any of these are right for you? Search online by jumping into one of our closed Baby groups and ask thousands of other Australian mums what they recommend – 'What to buy' is the most talked-about topic.
Click and join your group today!