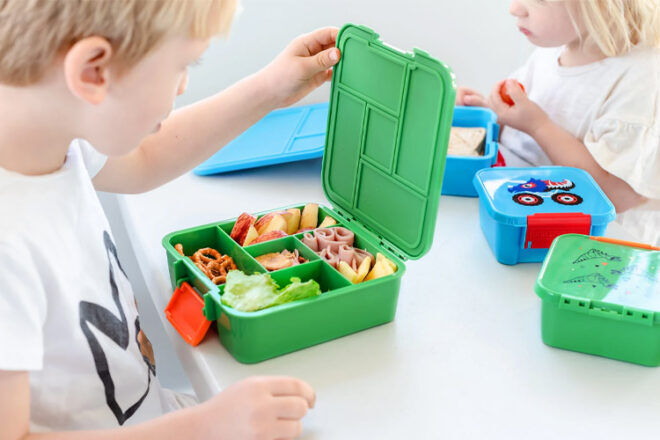 A kids' bento lunch box is a fab investment for fussy eaters who like to keep foods separate.
The itty-bitty compartments make packing nude-food lunches a breeze and keep different foods in place throughout the day. Thanks to leakproof lids, the options with a bento lunch box are endless. Pair mini sandwiches with yoghurt or fruit and veg with crackers and dip – the only limit is what the little sprouts will eat.
Bento boxes come in a range of shapes and sizes and we've listed the main points to look for when buying a bento box, as well as our favourites worth considering.
Things to look for when buying a kids' bento lunch box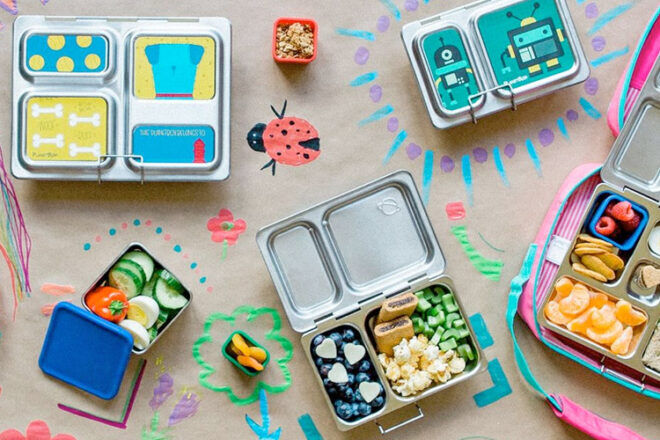 Here are some of the key features to look for when choosing a bento lunch box:
Size: Armed with a new bento lunch box, the kiddies are school-ready. Just be sure to check it fits in their backpack alongside books, drink bottles, jumpers and hats before the first day of school!
Ease of use: Don't let fiddly fixtures get in the way of a hungry youngster. Find a bento box that's easy for little fingers to open and close without having to ask for help.
Washability: Make less work for yourself by finding a bento lunch box that can go in the dishwasher. Simply pop it in a cycle with the day's other dishes and it's good to go tomorrow. And don't forget to look under any plastic inserts or lids for hidden mould.
---

9 bento lunch boxes for kids
To help you find the best bento box for your little foodie, we've compiled this handy list of fab brands to get you started in your search.
Some brands have offered exclusive offers for Mum's Grapevine readers. These offers may include exclusions and expiry without notice. Please direct all inquiries directly to the linked website.
Here are nine bento lunch boxes for Aussie kids:
Hippo Blue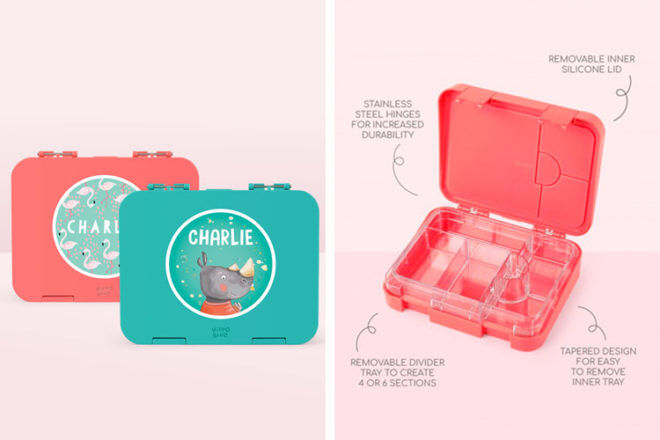 The perfect bento box for hungry little hippos who like to mix things up when it comes to lunch. BPA-free and customisable, it comes with a removable internal divider and a fun Switch-Up Disc on the lid.
---
Little Lunch Box Co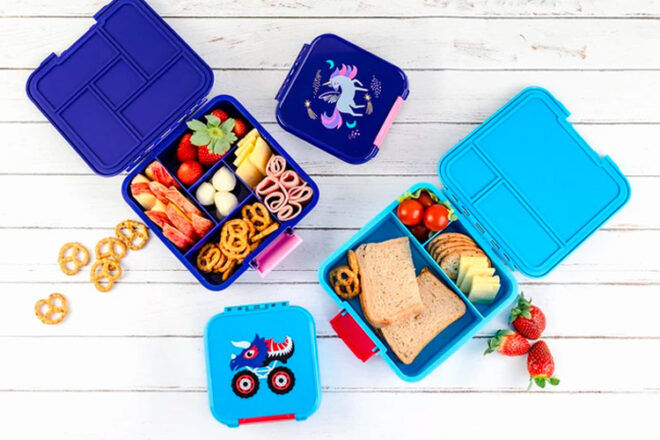 Lunchtime just got a whole lot more exciting thanks to these colourful companions. Perfectly sized for kiddos, they come in lots of colours and themes, and a choice of five-section or two-section layouts.
---
Stuck on You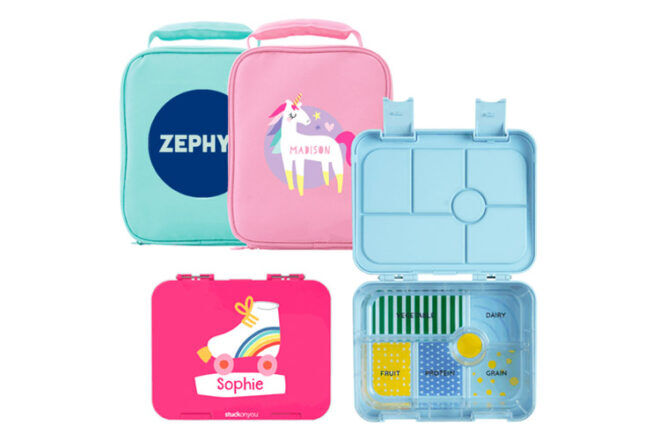 With six roomy compartments, these are bento buddies to suit kids of all ages. They come in 30 different customisable themes and are 100% free of from BPA and phthalates. Matching cooler bags are available separately.
---
b.box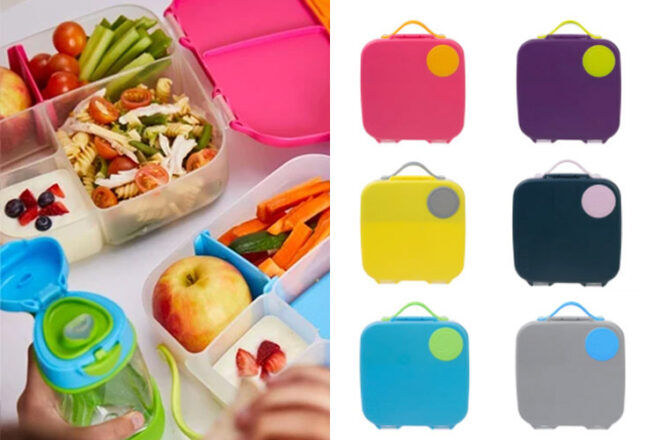 These cuties are bright, fun and an easy way to encourage healthy eating and less waste. They come with a sliding divider to adjust sections as needed, and a very handy gel cooler pack for keeping food fresh and cool for longer.
b.box Discount Code:
Use code BBOXMGV20 for 20% off full-priced bento boxes excluding licensed products. Limit one per customer.
---
Bright Star Kids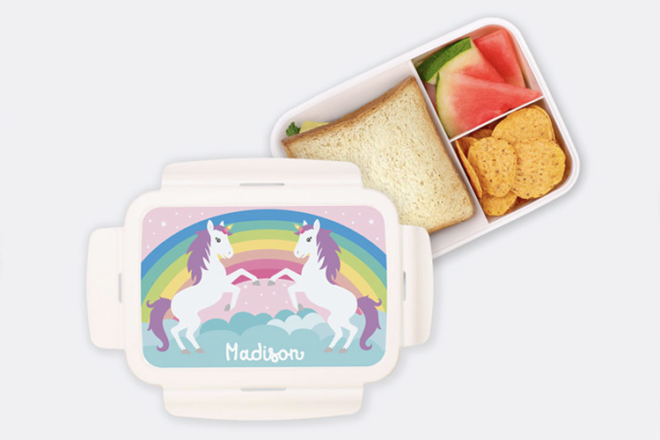 These customisable, rectangular bento boxes come in a style to suit every little personality. There are three spacious compartments inside, the largest able to fit a whole sandwich easily. Each comes with a plastic spork.
---
Bentgo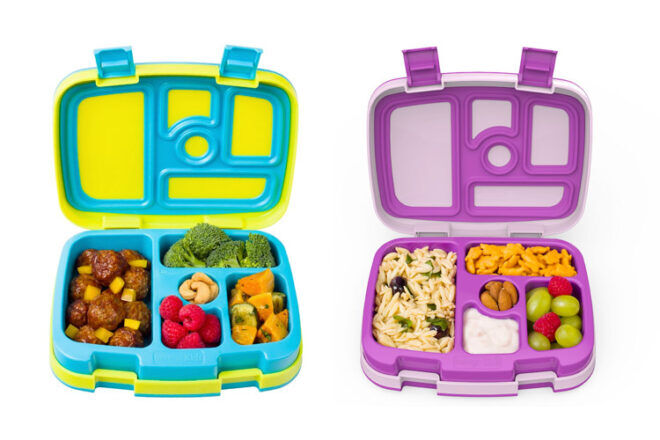 With five well-proportioned compartments, the Bentgo Kid's Bento Lunch Box is perfectly sized for little tummies. Plus, the rubber overlay offers handy protection for when it's bouncing about in a backpack.
---
Omie Box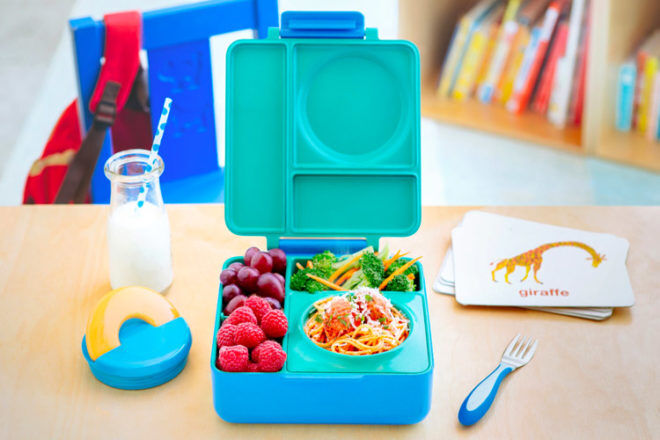 The first of it's kind, the OmieBox is an insulated bento box that allows kids to store food at two different temperatures. Thanks to this clever little creation, young guns can keep lunch warm and snacks cold. Brilliant!
---
Planetbox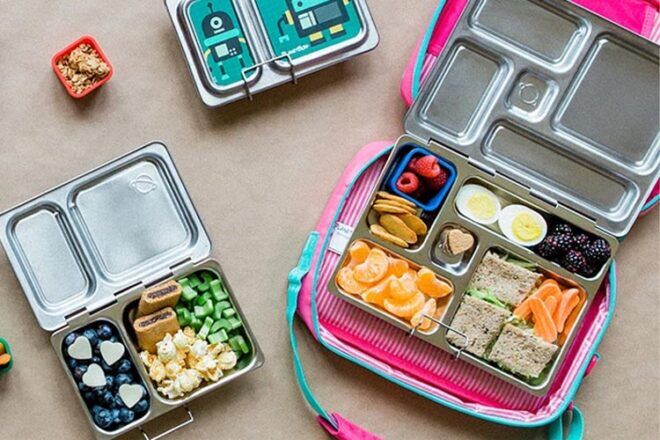 In a choice of Shuttle, Launch and Rover styles, these stainless-steel bento boxes cater to all ages and all appetites. And if you want to dial up the fun, you can add a matching carry bag and magnets to the mix!
---
Go Green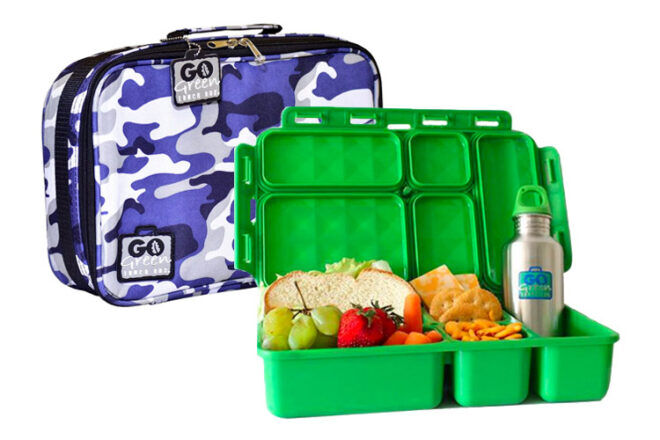 These sets come with a bento-style lunch box, insulated bag, ice pack to keep things cool, a water bottle – and our favourite: a mini whiteboard for parents to write special notes or reminders to their poppets.
---
This article is curated by our Editors and includes affiliates and/or paid inclusions. See our Disclosure Policy.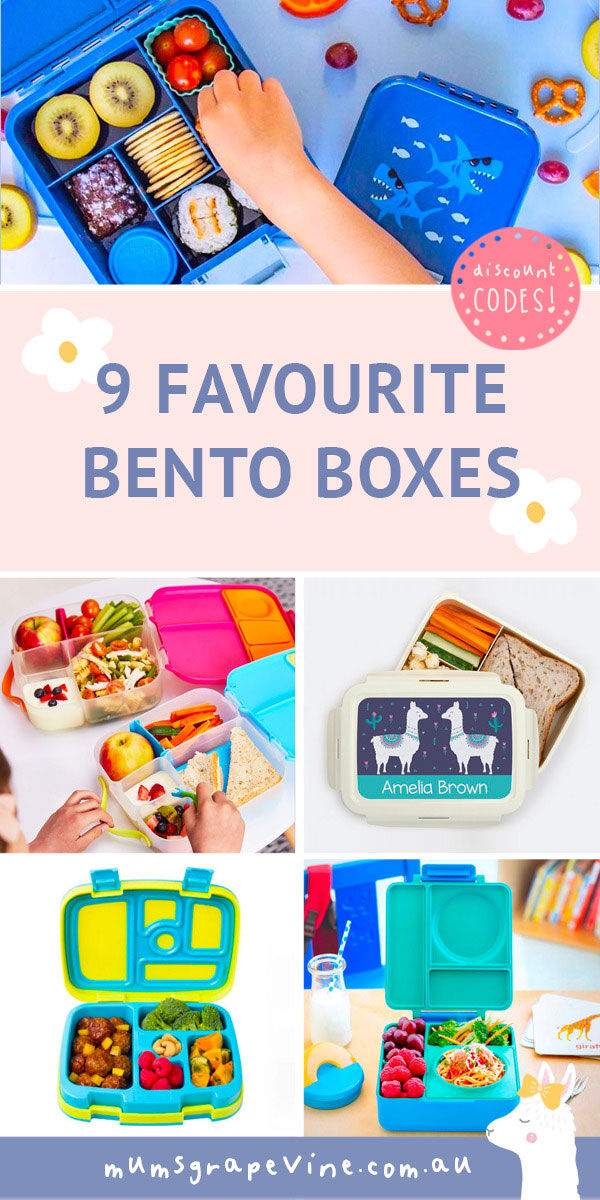 Know a brand of bento box we should add to our list? Contact us and let us know.
Find more back-to-school gear…
Continue your search for the best bento box
Looking for a bento lunch box and still not sure if any of these are right for you? Join one of our Baby Groups and ask thousands of other mums what they recommend. They are grouped together by baby's birth date so everyone is going through the same stages at the same time.
Click here >> Mum's Grapevine Facebook Groups  << and find your group today!