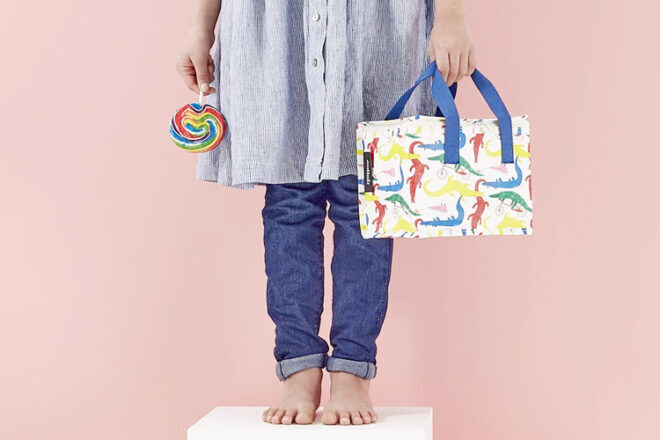 Gone are the days of hot and soggy sambos, and it's all thanks to the ingenious redesign of the humble school lunch box into colourful insulated lunch bags for kids.
Insulated lunch bags are containers with multilayered insulation designed to keep kids' food fresh for hours without the need for refrigeration. Perfect for school lunches, picnics, or road trips, an insulated lunch box makes all the difference when deciding what you can and can't pack for lunch.
For added convenience, most come with handles or cross-body straps allowing kids to tote their lunch bags with confidence. Simply load with a bento box or a smorgasbord of sweet and savoury snacks, and the cool lunch bag will take care of the rest.
What to look for in lunch bags for kids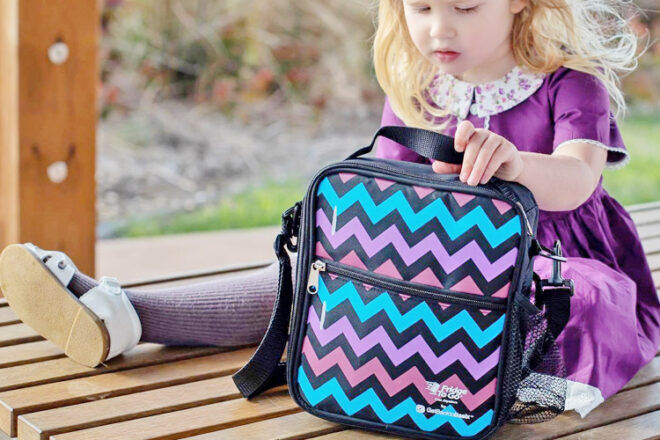 Here are some of the key things to look for when buying an insulated lunch bag:
Easy to clean: Look for an insulated lunch bag or box that's easy to wipe clean. It means less mess and less fuss for everyone when tidying up at the end of the day.
Insulation: How long will the insulated bag keep food cool for? Is there a stand-alone pocket for an ice pack? This is a handy feature that keeps food separate and condensation to a minimum.
Ease of use: Whether it be zips, velcro or clips that lock into place, choose an insulated lunch box that tykes can open and close with ease.
---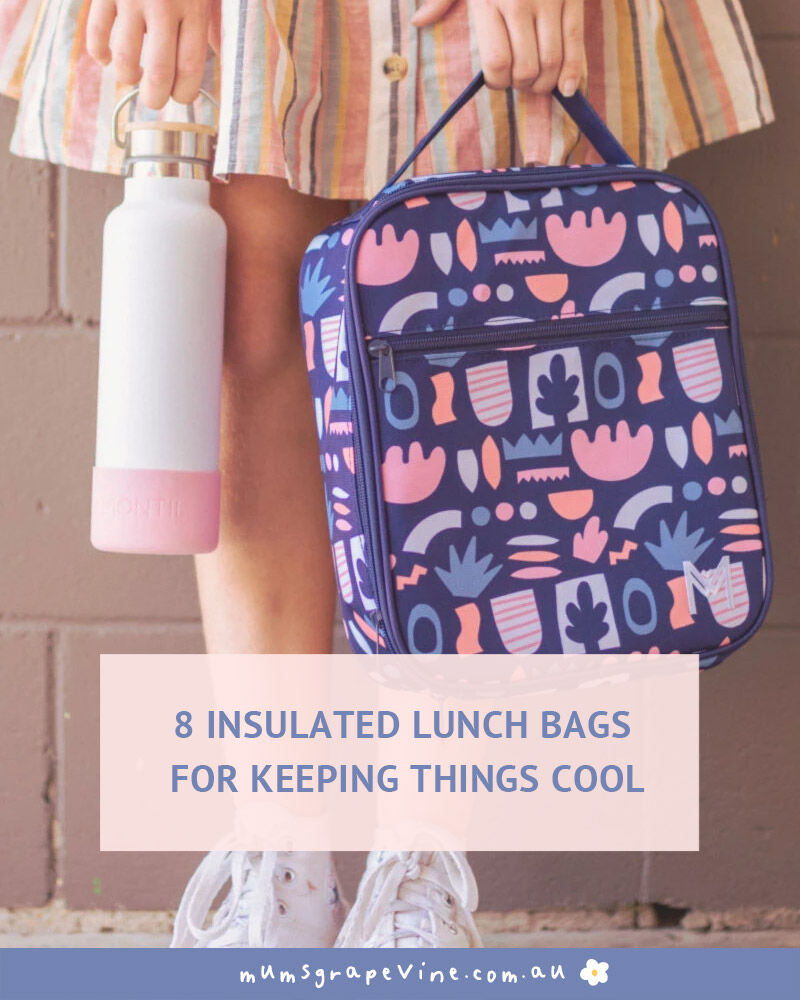 8 insulated lunch bags for kids' snacks and meals
To help you find the best insulated lunch bag for your family we've compiled this handy list of brands to get you started in your search. In no particular order, here they are:
Hippo Blue
This sturdy lunch bag fits a bento box nice and snug inside. The insulated interior is made from a waterproof fabric that's easy to clean in case of any sudden spills. Plus, there's a handy front pocket for a few sneaky snacks before the lunchtime feast.
---
Stuck On You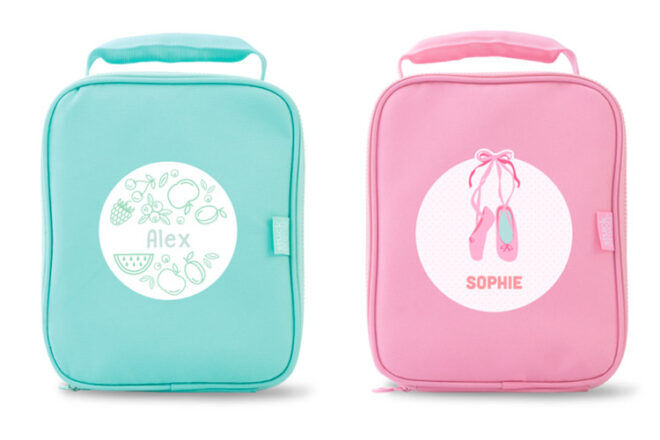 Super soft and durable, the selection of cooler bags from Stuck On You have a zip pocket inside for a slim ice block – a seriously handy feature for those hot school days. With over 30 fun designs to choose from, there's a style to suit every cool kid.
---
Kollab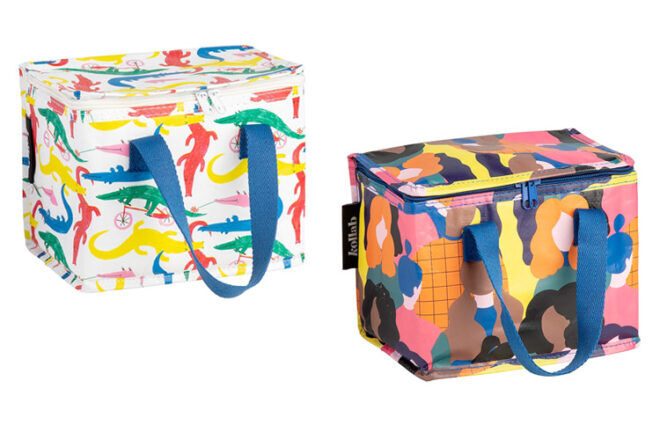 These roomy insulated lunch bags come in an array of cute and quirky patterns. Durable cotton canvas handles make carrying a breeze for smaller hands and the water-resistant construction keeps lunches safe from any spills throughout the day.
---
Fridge-to-Go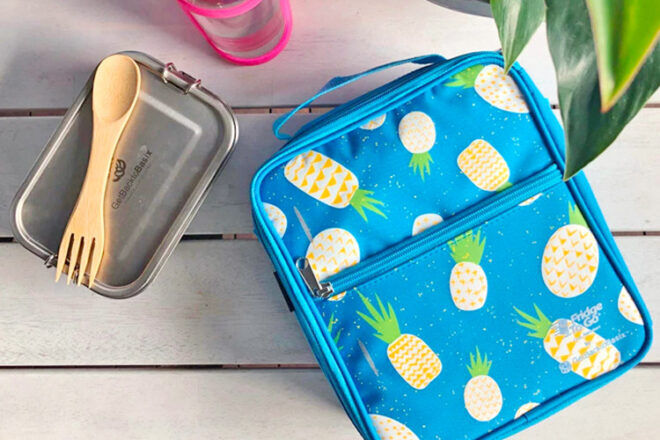 These clever lunch bags have a removable chilling panel in the lining that cools food for up to eight hours – we're talking dairy, meats and even sushi! Fully collapsible and with a top carry handle, they make packing a healthy school lunch easy as can be.
---
MontiiCo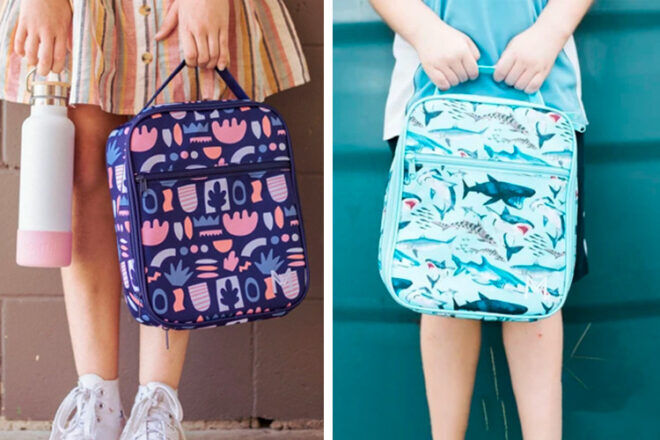 Built with quality aluminium lining and a self-contained gel ice pack, you can say bye-bye to soggy sandwiches! These cool lunch bags keep food fresher for longer, plus, there are additional pockets inside and out for mid-morning treats and snacks.
---
Sachi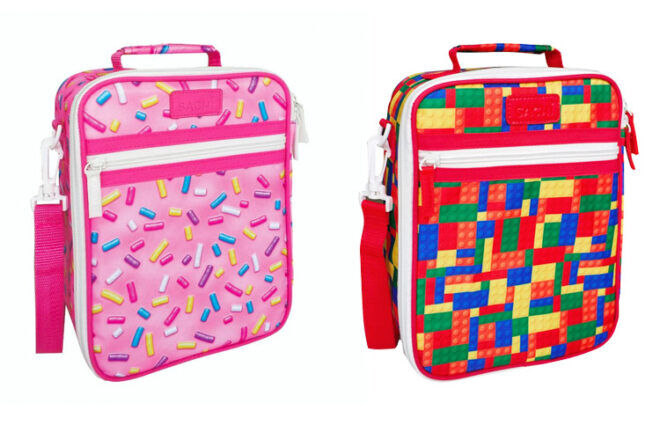 Coming in hot are the seriously cool lunch bags from Sachi. Covered in brilliantly bright and bold patterns, there'll be no leaving these behind. Complete with a lined interior, top grab handle and adjustable shoulder strap, kids can carry their lunch in style.
---
Brown Paper Lunch bag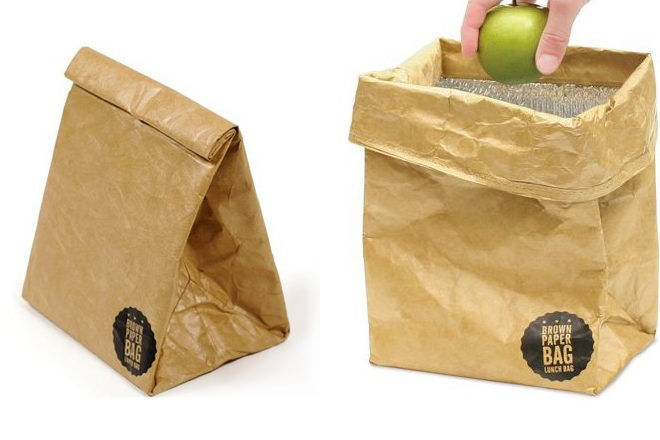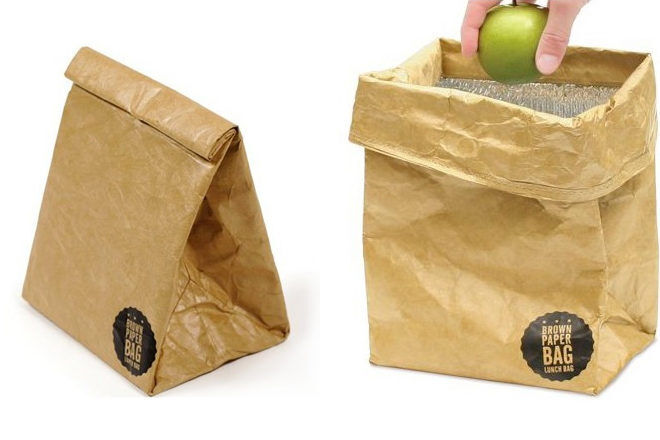 A modern reinvention of the classic brown paper lunch bag. This kitsch lunch bag is tear-proof, waterproof, leak-resistant and insulated with a fold-down double magnet closure. For kids who aren't keen on big, bright designs, this one's a winner.
---
PackIt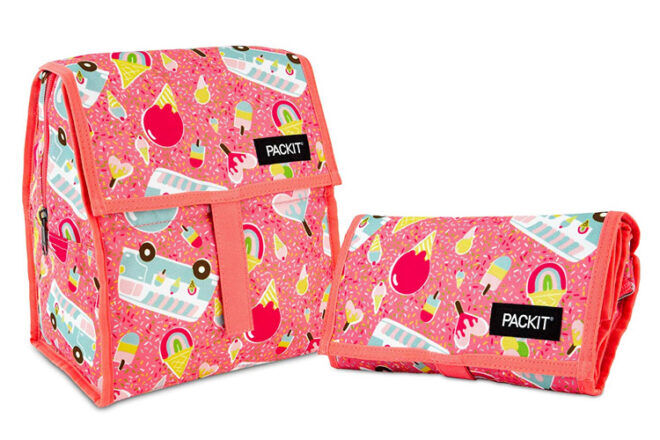 These freezable insulated lunch bags fold down to nothing for easy storage in your freezer. They have a built-in eco-gel liner that lets you take safe, healthy meals everywhere without the need for ice packs. And that cute ice cream print? Cool is an understatement.
---
This article is curated by our Editors and includes affiliates and/or paid inclusions. See our Disclosure Policy.
Know a brand of insulated lunch bag we should add to our list? Contact us and let us know.
Read next …
Looking for more back to school must-haves? From drink bottles and bento lunch boxes to hats to keep their little heads covered, here are few articles that you might like to read next:
Continue your search for the best lunch bags for kids
Looking for an insulated lunch bag and still not sure if any of these are right for you? Search online by jumping into one of our closed Baby groups and ask thousands of other Australian mums what they recommend – 'What to buy' is the most talked-about topic.
Click and join your group today!