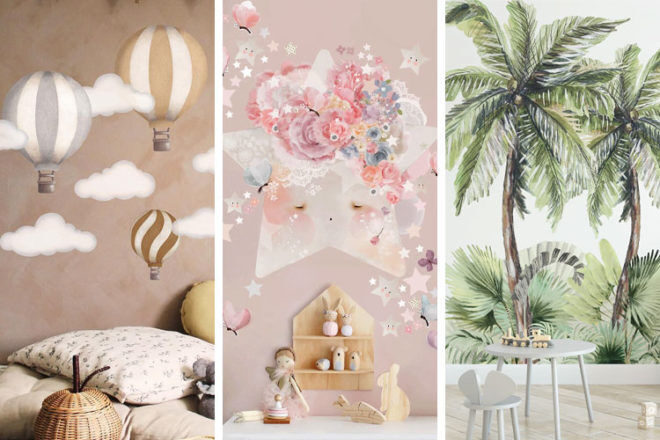 Nursery wall stickers are fuss-free, colourful and the quickest way to add fun and personality to that special first room. So forget about the paintbrush and the pots of paint, and add wall stickers to your nursery design plan.
We've scoured the country to round up a selection of the most unforgettable wall stickers around – some dreamy and pretty, others big and bold. They're all easy to apply, and unlike a coat of paint, simple to remove or reposition when it's time to change things up.
12 nursery wall stickers for a beautiful room
To help you in your search for the ultimate nursery wall stickers, we've put together this handy list of brands to get you started. In no particular order, here are 12 of our favourites:
1. Bright Star Kids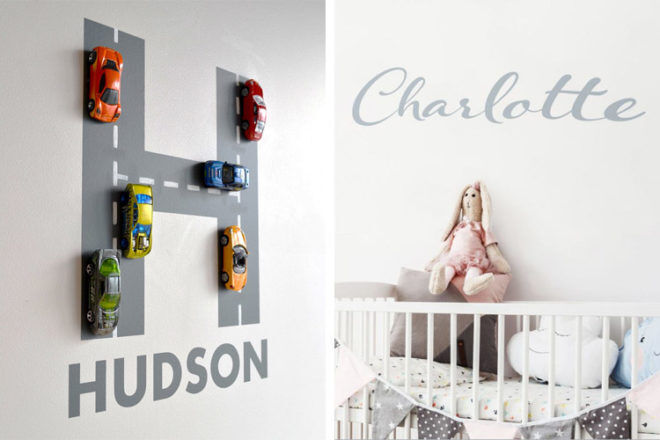 Choosing your little one's name was a huge decision, so why not show it off? These guys offer heaps of variations in their wall letters – you can choose your own fonts for each letter, sizes and colours. Go with a bold initial or an entire name.
---
2. Vinyl Design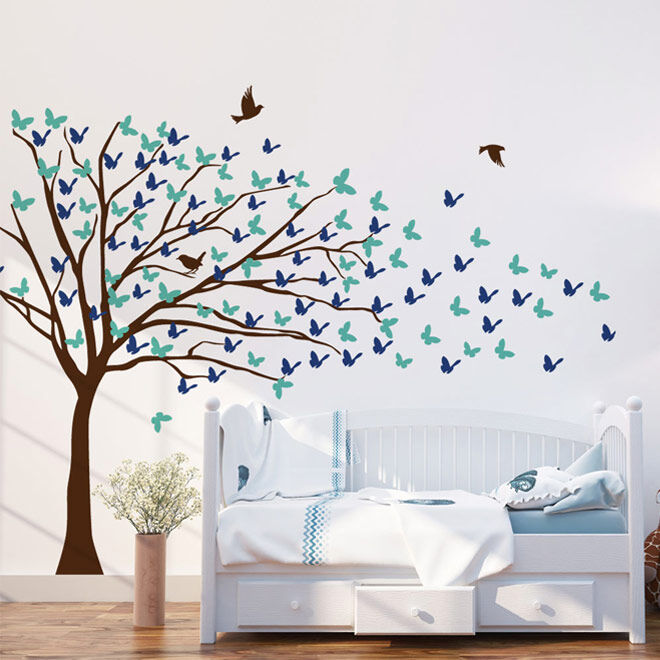 At over two metres tall, this vinyl sticker will fill that large, bare wall perfectly. Made from a matte vinyl, it applies smoothly and removes without marking walls. It comes in a choice of pink, yellow or blue themes and includes three bird decals.
---
3. Schmooks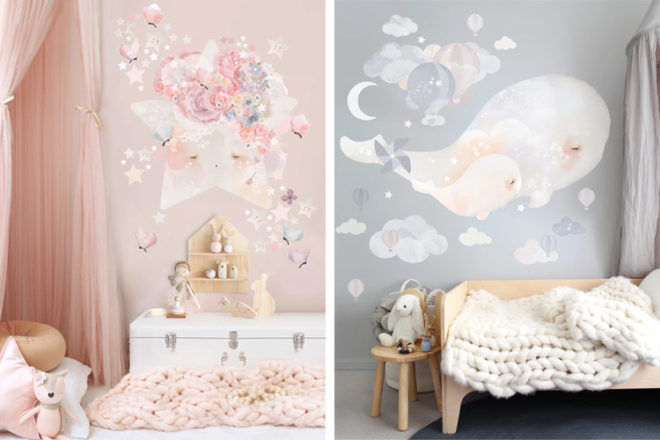 They're the spectacular watercolour decals making quite a name for themselves in the decor circles. Dreamy, enchanting and sweet, these are stickers that will mesmerise your poppet and bring loads of magic to the nursery.
---
4. Ginger Monkey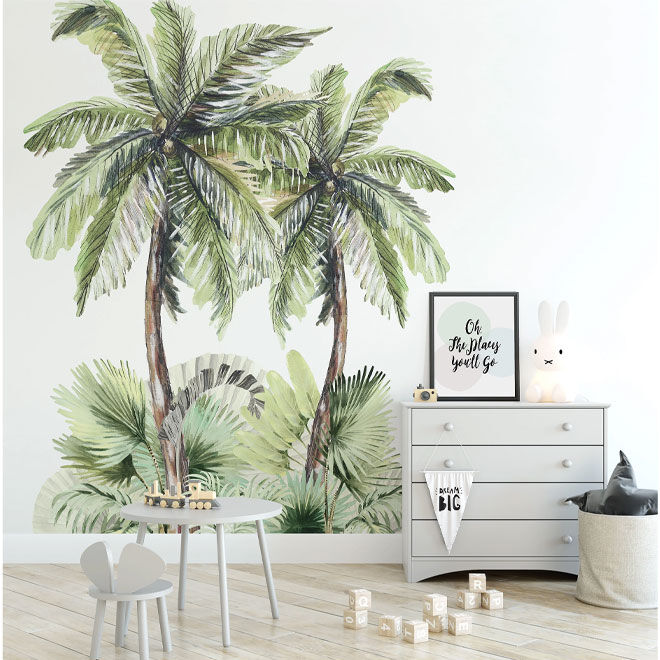 A tropical getaway – in baby's room! At approximately 1.9m x 1.5m, this extra-large decal is as impressive as wallpaper but with all the ease and features of a quality wall sticker. It comes in four sections for ease of placement.
---
5. Stickstay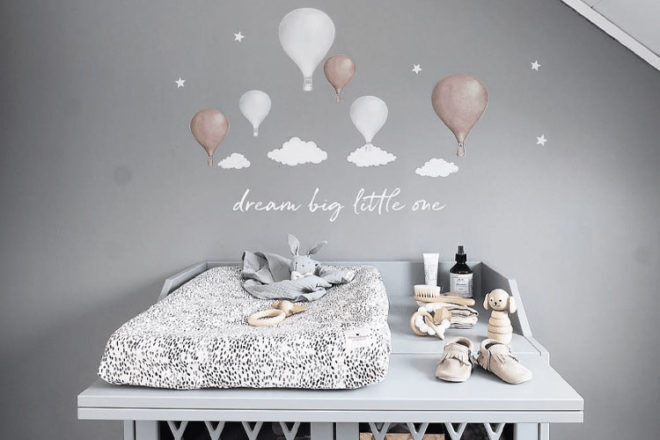 These Scandinavian wall stickers bring a perfect combination of playfulness and elegance to nursery nooks. Choose from floating balloons in a range of shades, planets of the solar system and even inspirational phrases.
---
6. Blond + Noir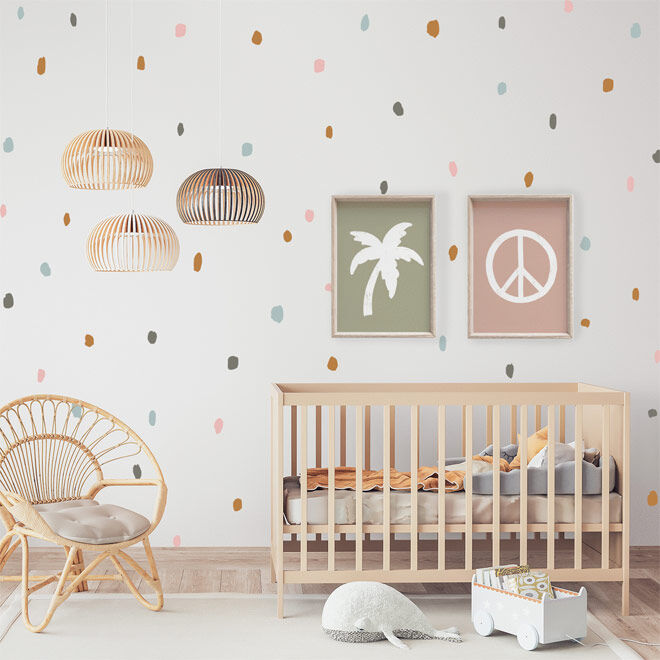 Spots are definitely having a moment when it comes to nursery decor – and these are some of our favourites! Made in Australia, they have a textured fabric finish and can be purchased in almost every colour of the rainbow. Choose from A4 or A3 packs.
---
7. Wallartica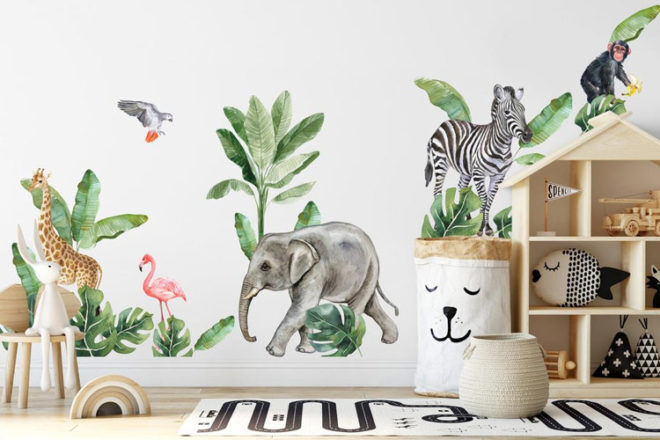 Because an adventurous spirit starts from a young age. This themed set includes seven favourite African animals and plenty of lush flora for setting the scene. Each animal can be peeled off and positioned wherever you like!
---
8. Chocovenyl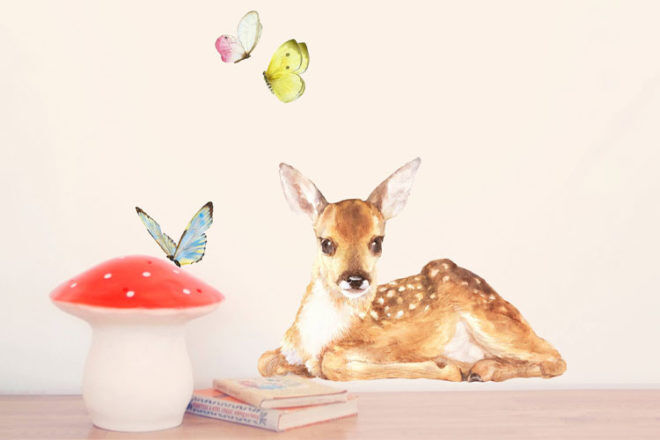 We're head over heels in love with the woodland animals from Chocvenyl, especially this darling little fawn. Completely timeless, they make special finishing touches to the nursery and adorable companions for your mini-me.

---
9. Miss Pie Designs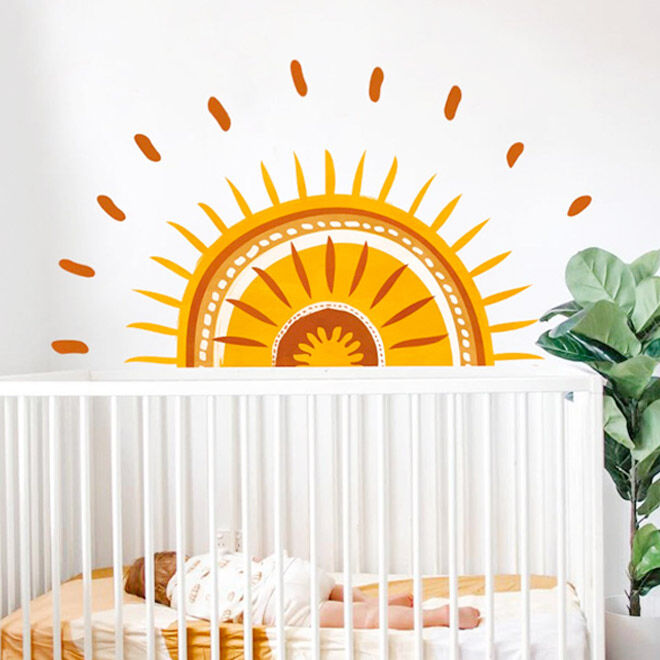 Big, bright and cheery, this is just the thing to brighten up their days. Available in both a full and half-size format, these superb and sunny decals are handmade in Australia from water-based, child-safe inks. Each can be repositioned several times.
---
10. Blossom and Pear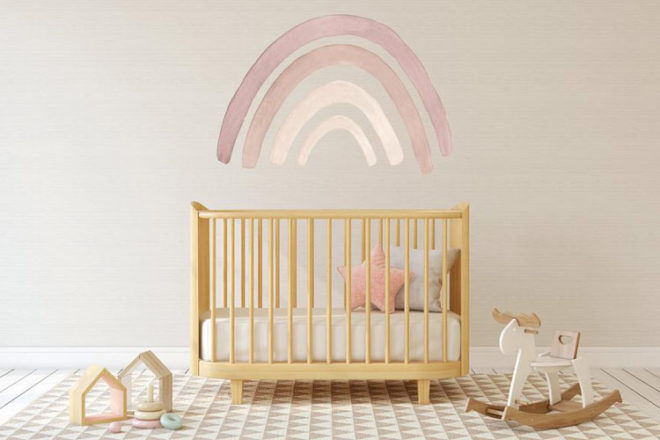 In a choice of earth tones or pink tones, these rainbows are nothing short of captivating. Australian made, they're printed with water-based inks on fabric that is free of toxins. Each decal is BPA, phthalate-free and 100% biodegradable.
---
11. Flossy-P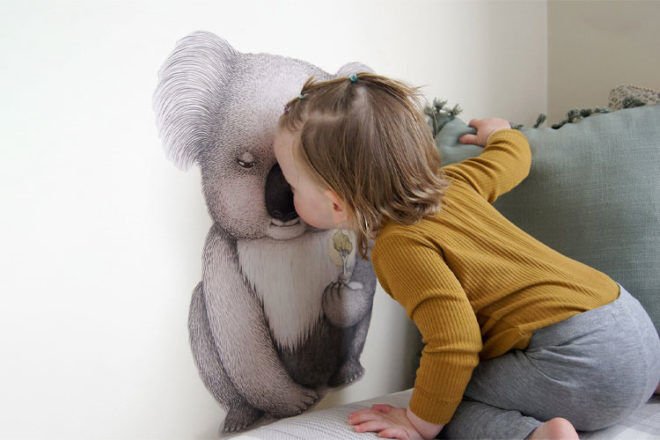 We're absolutely smitten with these incredible life-size animal stickers. Brought to life by Flossy-P, an Aussie artist based in NSW, they're such a special way to introduce our beloved furry locals to new bubbas.
---
12. Little Rae Prints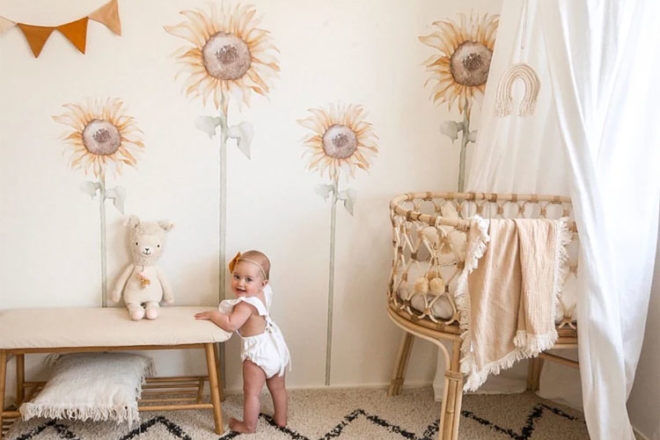 Whether you go with just a single stem or an entire field of gold, these sunflowers are guaranteed to have the nursery looking as pretty as a picture. Packs include up to three flowers, with the heights ranging from 125cm to 185cm.
---
This article is curated by our Editors and includes affiliates and/or paid inclusions. See our Disclosure Policy.
Know a brand of nursery wall stickers we should add to our list? Contact us and let us know.
Read next …
Looking for more stunning additions to the nursery? From gorgeous mobiles to swoon-worthy cot sheets, here are a few articles that you might like to read next:
Continue your search for the best nursery wall stickers
Looking for nursery wall stickers and still not sure if any of these are right for you? Search online by jumping into one of our closed Baby groups and ask thousands of other Australian mums what they recommend – 'What to buy' is the most talked-about topic.
Click and join your group today!