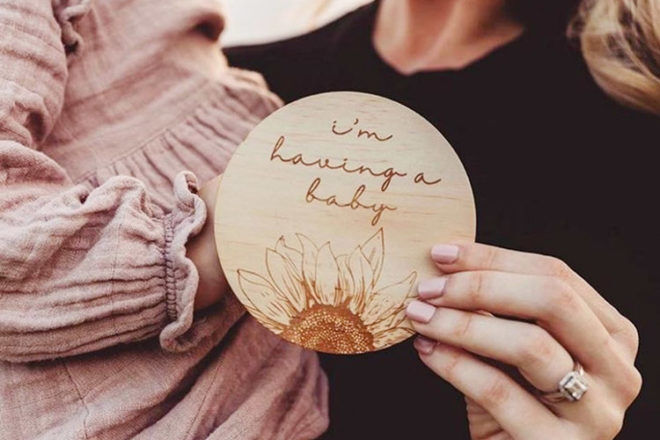 The 40 weeks of pregnancy contain some amazing memories. Whether it be your first pregnancy or your last, pregnancy milestone cards are a unique way to record all of the special moments and create some fab pics that you'll want to share.
Pretty florals, bold monochrome, or cute and quirky – whatever your style, there's a set of pregnancy cards out there to suit you and your bump. And if you happen to be after a set for another new mum, many come beautifully packaged and ready to gift.
11 pregnancy milestone cards for special snaps
To help you find the best pregnancy milestone cards for selfies with your bump, we've curated a list of our favourites for you to check out. Enjoy!
1. Truly Amor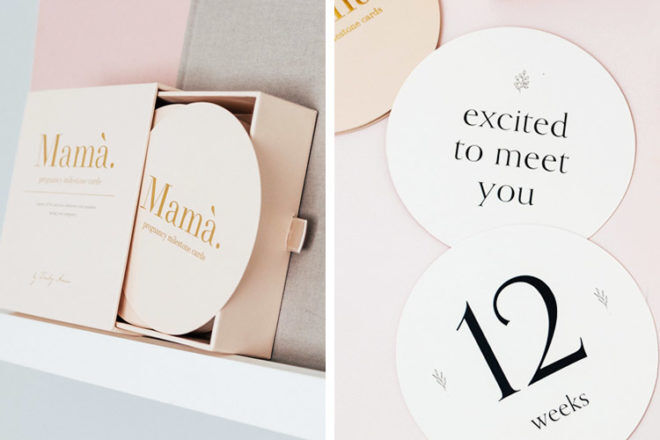 After a gift for a special mama-to-be? This set is presented in a keepsake drawer box and includes 43 cards capturing all of the events you never want to forget. Each card features hand-drawn illustrations and gold foil detailing for a luxe touch.
---
2. Vanda Baby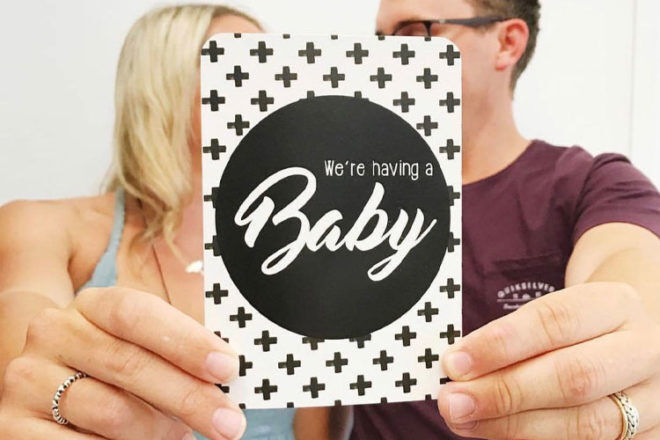 Celebrate your pregnancy in a timeless way with these black and white beauties. The set includes 30 cards with milestones you will want to remember, including that day you find out you're pregnant, the first ultrasound, and the big one: eviction day!
---
3. Milestone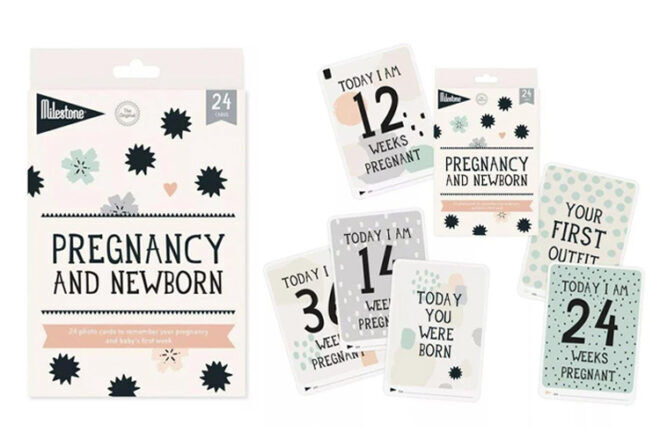 They're the fun and fabulous props for creating picture-perfect photos. Designed in Europe and printed on premium FSC paper, the set of 24 cards covers all of the major stages of pregnancy right up to bubba's first birthday.
---
4. This Old Love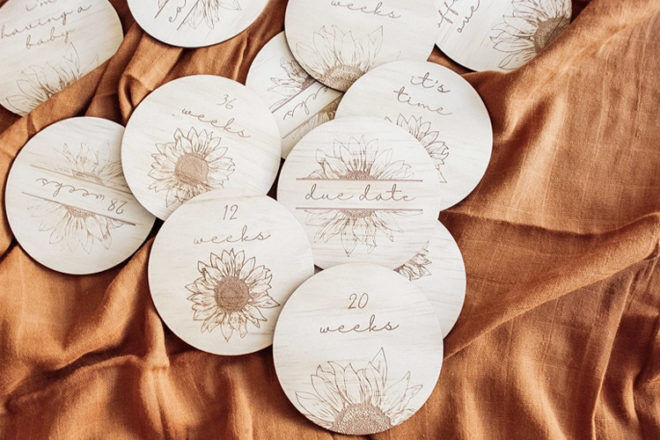 There's just something about sunflowers. This exquisite set contains 12 handmade wooden plaques and covers all of the major stages of pregnancy as well as bub's arrival. Measuring 10cm, they can even be customised.
---
5. Mae She Reign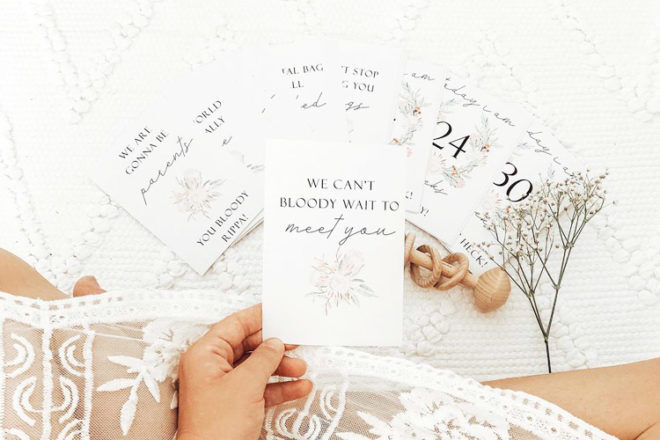 If you love a dose of Aussie slang, these are your cards! Decorated with native Aussie florals, the set includes 32 cards printed on matte photo card. Loving that they come wrapped in tissue and twine like they've been plucked straight from the bush.
---
6. Blossom & Pear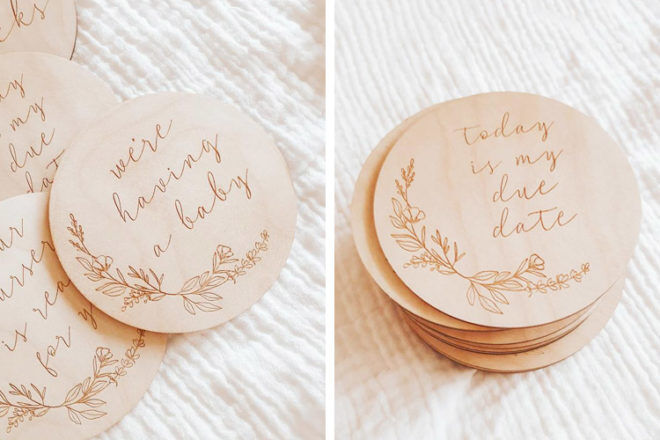 Made with love right here in Australia, this set of 14 etched discs include milestone weeks as well as events like the baby shower and hearing that heartbeat for the first time. The set comes perfectly packaged in a signature keepsake pouch.
---
7. Inklets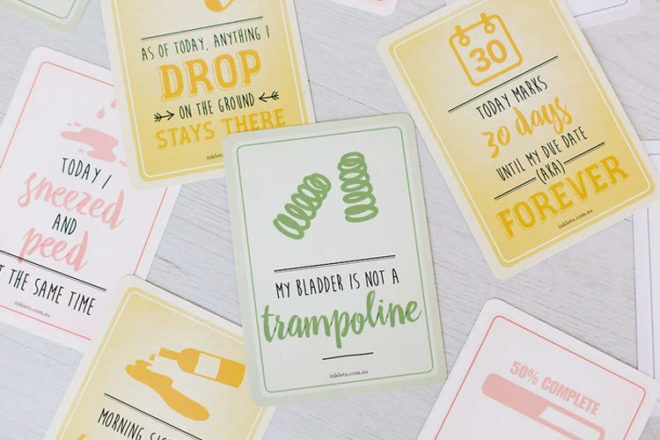 Let's be honest, sometimes pregnancy sucks. And while most cards forget to mention these less-than-perfect moments, these inappropriate pregnancy milestone cards don't hold back. Perfect for pregnant mums with a sense of humour (and a weak bladder).
---
8. Pania Edward Designs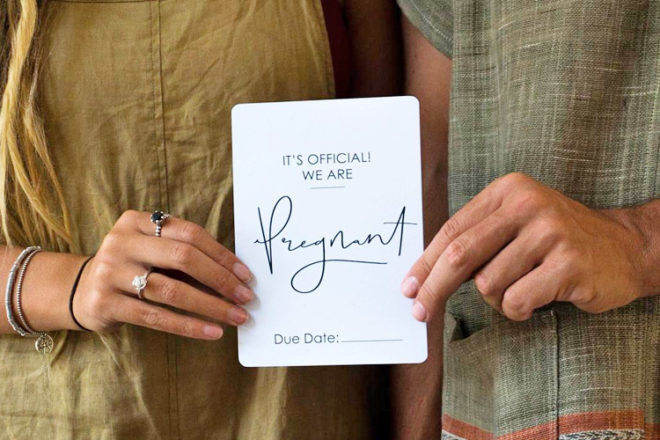 A funky set of minimalist milestone cards that will look fab in any photo. There are 24 cards in the set, each printed on premium matte cardstock for glare-free pics, and they come presented in a calico bag for safekeeping.
---
9. Belle & Grace Designs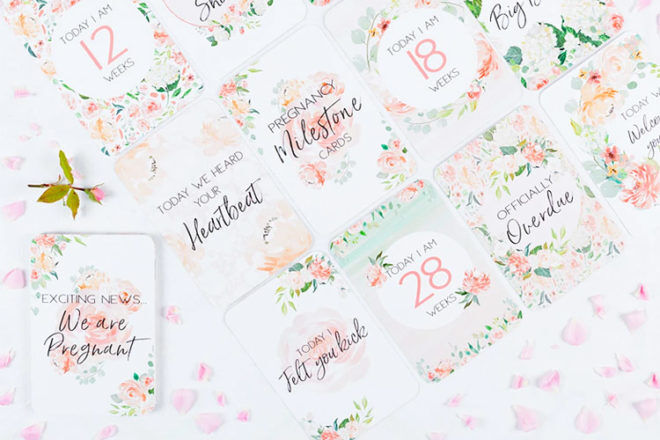 Owls, foxes and bears…oh my! This adorable set has won us over with it's sweet and playful illustrations. Designed by an Aussie mum, the cards come with rounded corners and are delivered in a beautiful cotton bag.
---
10. Compendium Books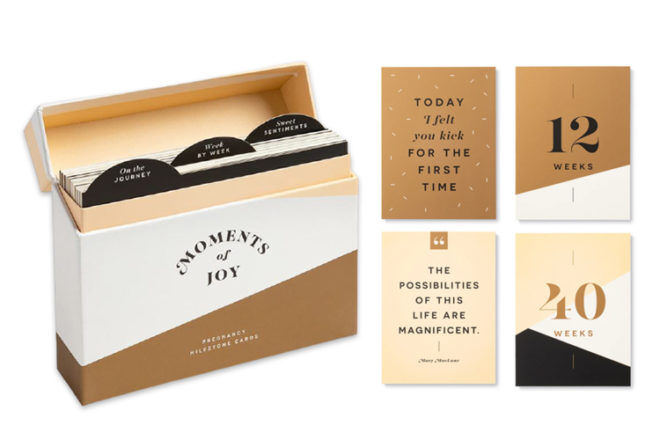 Uniquely, this set includes not only major developmental milestones throughout your pregnancy journey but also inspirational quotes, bi-weekly check-ins and plenty of space to document all those little details you never want to forget.
---
11. Only Little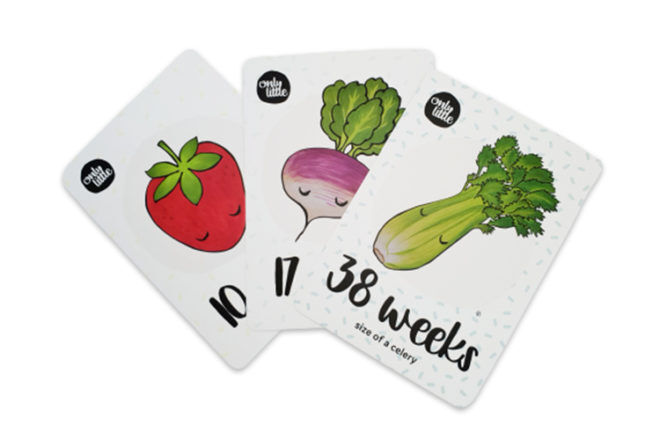 Funny and massively cute, these fruit-tastic cards compare bub's growth to various fresh produce you'd find at the supermarket. We love that they provide a visual of the size of growing babes – something all mamas tend to get obsessed with!
---
This article is curated by our Editors and includes affiliates and/or paid inclusions. See our Disclosure Policy.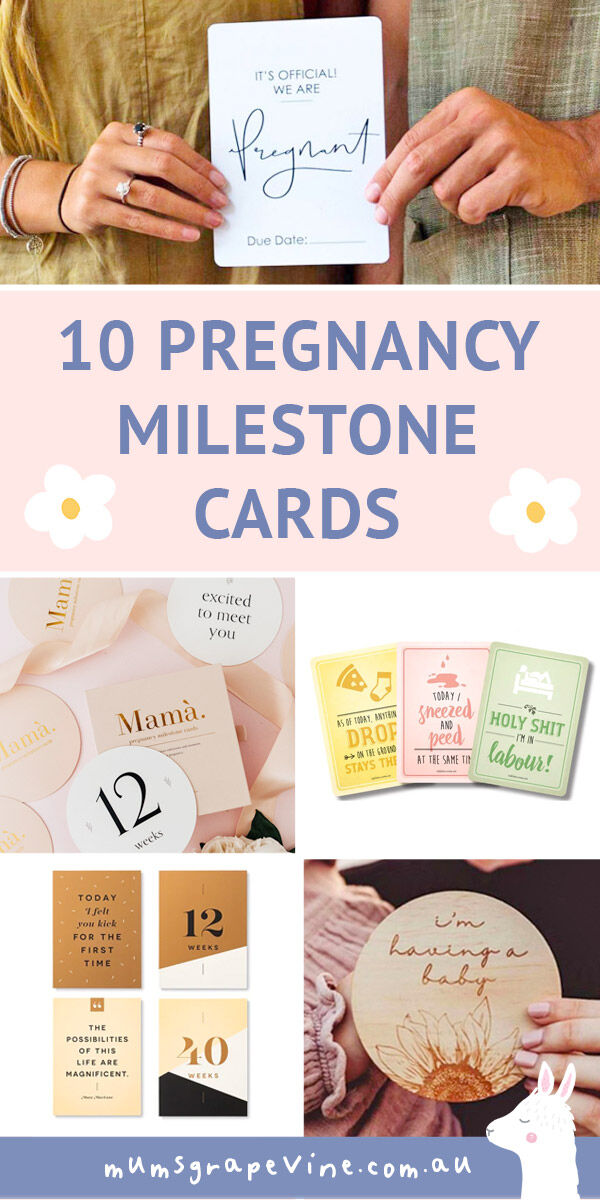 Know a brand of pregnancy milestone cards we should add to our list? Contact us and let us know.
Read next …
Looking for more gorgeous gifts for mum-to-be? From cute-as-can-be cot mobiles to cuddle-worthy blankets, here are a few popular articles that you might like to read next:
Continue your search for the best pregnancy milestone cards
Looking for pregnancy milestone cards and still not sure if any of these are right for you? Search online by jumping into one of our closed Baby groups and ask thousands of other Australian mums what they recommend – 'What to buy' is the most talked-about topic.
Click and join your group today!