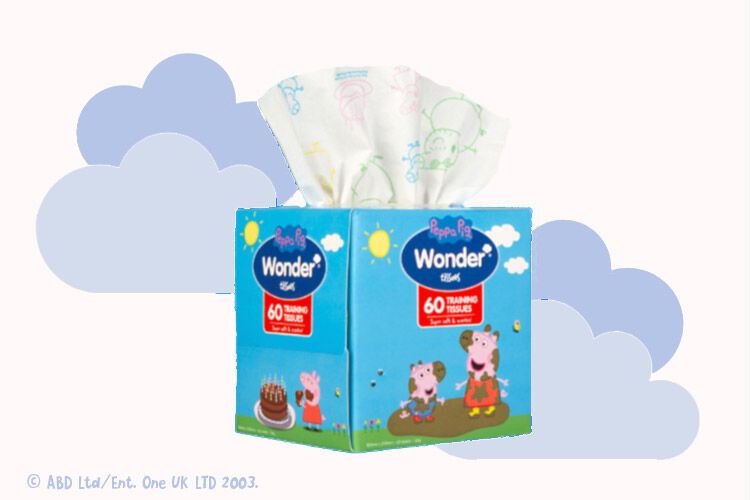 Learning how to blow your nose is a childhood skill right up there with brushing your teeth. And teaching a child to blow their nose just got a whole lot easier, thanks to the clever (and unbelievably cute) Peppa Pig Training Tissues by Wonder.
Like so many other life skills kids need to learn, the key to helping them blow little noses is to make it fun and easy enough for them to understand. Using nothing more than a cupcake and some candles you can teach your child the basics of blowing through their mouth and from there, their nose.
After they've got the hang of blowing out a candle, clearing snotty noses is as easy as 1, 2, 3.
Here's all you need to know about teaching a child to blow their nose.
How to teach kids to blow their nose using training tissues
What you'll need
• Cupcakes
• Birthday candles
• Peppa Pig Wonder Training Tissues
STEP ONE: master blowing out a candle
Pop a candle on top of the cupcake and light it. To keep things light and fun, sing 'Happy Birthday' and then show your little one how it's done by blowing out the candle.
Now it's their turn. Light the candle again, make a wish, and get them to try blowing the candle out with their mouth. It may take a few goes, but just keep lighting the candle and attempting to blow it out.
If they're having a bit of trouble, take a break (the perfect excuse to eat a cupcake) and then try again.
STEP TWO: blow out Peppa's candles on tissue
Once they've mastered blowing air out of their mouth, it's time to help your tot to blow out of their nose. And here's where the Peppa Pig Wonder Training Tissues come in. The tissues feature colourful illustrations of Peppa Pig characters, birthday cakes and candles. Now your child is going to try blowing out the 'candles' on the Peppa Pig's birthday cake!
First, hold the tissue slightly away from your child and ask them to help Peppa Pig blow out the candles using their mouth.
STEP THREE: blow their nose in the tissue
Next, hold the tissue against their nose and ask them to blow out the candles in the tissue with their nose, And hey presto, in three easy steps, your clever cookie can now blow their nose.
Peppa Pig Wonder Training Tissues are available nationally at Woolworths.