In Australia, modern cloth nappies have come a long way from the reusable terry towels and safety pins our grandmothers used.
Cloth nappies are fitted, reusable undergarments that use ultra-absorbent and moisture-wicking materials to draw away liquid from baby's skin. True wonders of technology and seriously cute, modern styles are carefully crafted to be comfortable, absorbent, easy to use and cost-effective.
Choosing the right reusable nappies for your little one takes a bit of research, so to help a mama out, we've put together a list of points and styles to consider when you're scouting out the perfect product for that little botty.
What to look for when buying cloth nappies in Australia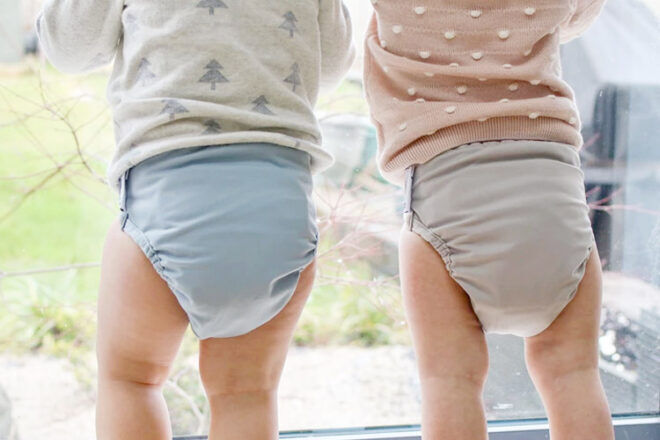 Fit: Elastic around the legs, which is sometimes adjustable, makes for a snug fit as baby grows. Some of the best cloth nappy styles are designed to last from the newborn stage right through to toilet training.
Absorbency: Whether you are using inserts, boosters or liners it's worth noting the material they're made from. Most use highly absorbent materials like bamboo, hemp or cotton.
All-in-ones: An all-in-one (AIO) nappy is pretty similar in design to a disposable nappy in that the cover and absorbent material are attached. While an AIO nappy means there's no need to add inserts, it also means the whole nappy needs to be washed.
All-in-twos: An all-in-two (AI2) nappy has an absorbent layer that snaps into the cover. When the absorbent layer gets wet or soiled, simply change it for a fresh one and reuse the cover. This usually means less washing.
Fitted nappies: Shaped like disposables, fitted nappies are snapped on and the whole nappy is absorbent. You do need a waterproof cover, though.
Pocket nappies: Absorbent inserts are tucked into a waterproof nappy cover (sometimes called a shell) with a built-in pocket. The inserts are sometimes needed overnight or as bub gets older.
Size: Cloth nappies in Australia, modern styles can come in three or four different sizes, including newborn, small, medium, and large. Many are specifically made for a certain-sized baby, so check the sizing before you buy.
OSFM: 'One size fits most' nappies will usually fit a baby from newborn, or four to six weeks depending on birth weight, right through to toilet training.
Velcro/snaps: Nappy fastenings can vary from brand to brand. Velcro helps achieve a snug and tailored fit, while snaps are long-lasting and will see you right through to toilet training.
---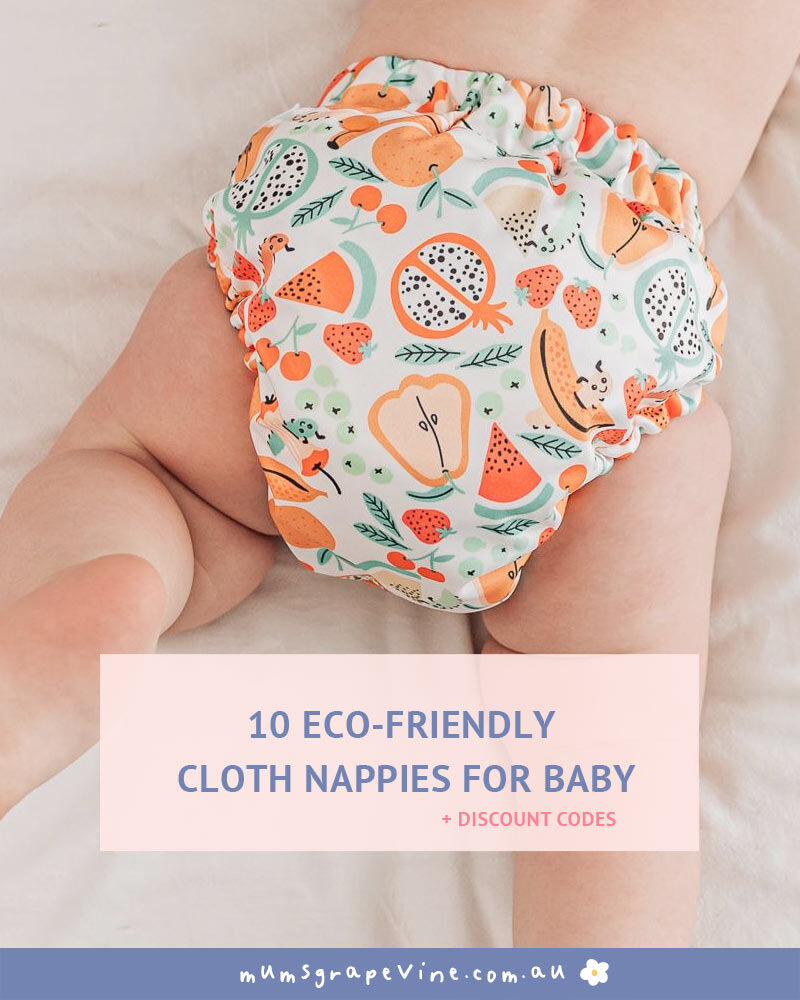 11 modern cloth nappies available in Australia
To help you find the right product for your bubba, we've compiled a handy list of brands available to purchase online in Australia.
Some brands have offered exclusive offers for Mum's Grapevine readers. These offers may include exclusions and expiry without notice. Please direct all enquiries directly to the linked website.
Here are 11 modern, reusable cloth nappy brands available in Australia:
Bare & Boho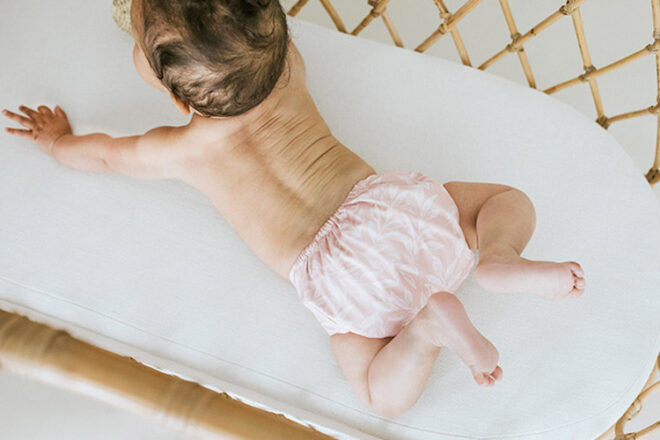 Each Bare and Boho cloth nappy includes an exquisite shell illustrated by Australian artists and a set of eco-friendly inserts. Bundles range from three to 12 nappies to suit your growing babe, with handy boosters and trifolds available separately.
Bare & Boho Discount Code:
Use code 'GRAPEVINE' for 15% off nappies and accessories
---
Minnie & Mae
The one-size design fits newborns up to toddlers. Minnie & MAE modern nappies have a stay-dry suede cloth lining to draw moisture away from little ones, and two pockets for easy insert access.
---
Baby BeeHinds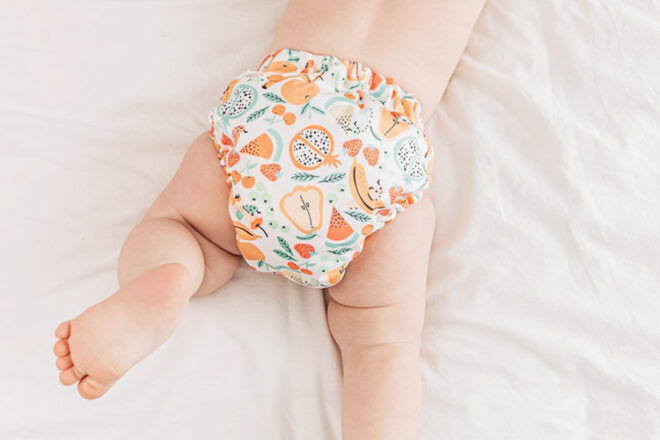 From the contoured, all-natural Hemp Fitted Nappy to the Magical All-In-Two with its fail-safe Vecro tabs, Baby BeeHinds' award-winning nappies come with generous absorbency to see you through every age and stage. In one size, they come in bold shades and fun prints.
---
Pea Pods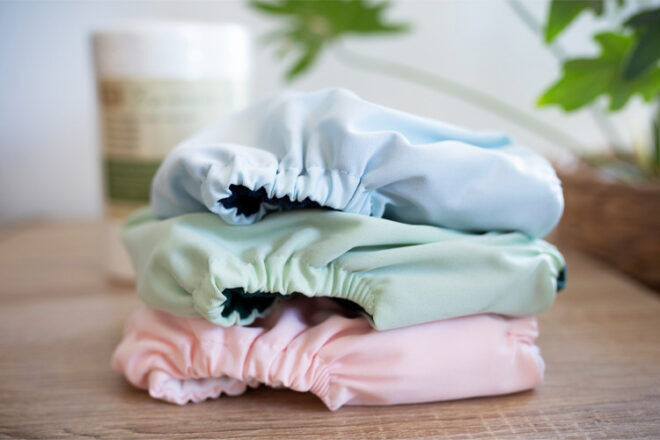 In one size to suit most bots, these fuss-free reusable nappies are available in a rainbow of stunning shades and prints. Each comes with an absorbent bamboo insert and handy internal leg elastic that adjusts like a bra strap for a snug fit.
---
My Little Gumnut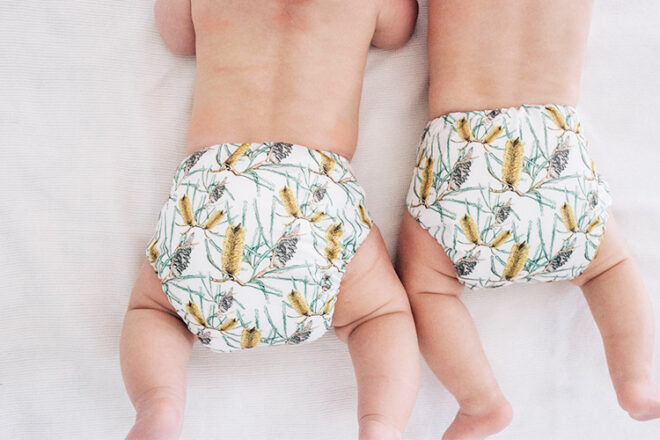 With a smooth, waterproof cover that lasts up to three changes and a comfy bamboo-fleece inner layer, My Little Gumnut pocket nappies tick all the boxes for busy mums and bubs. Each is adjustable to fit bubs from birth up to 15kgs.
---
Snazzipants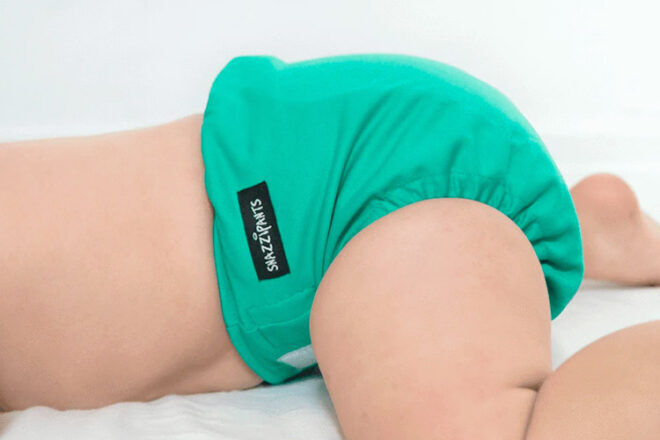 Part of the Brolly Sheets family, these adorable all-in-ones are easy to use with no pinning, folding, stuffing or tucking. The snap and Velcro system means they're fully adjustable for growing bubs! Available in one-size-fits-most, Snazzipants are available in multi-packs.
---
Pekpi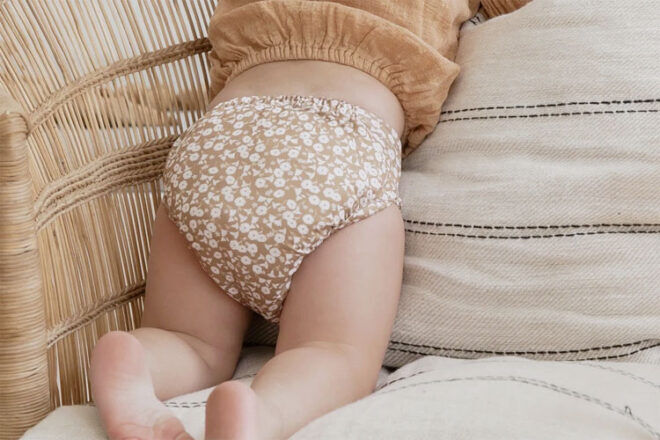 Printed in a neutral palette to complement the contemporary lifestyle, Pepki nappies feature double gussets and two six-layer inserts. Proudly Earth-friendly, every outer shell uses 100% recycled materials.
---
EcoNaps
Designed in Byron Bay, EcoNaps resize easily with the snap of a few buttons to see wee ones right through from birth to their busy toddler years. They are wearable as a pocket nappy or with a bamboo insert, which makes it easy to boost absorbency at night.
---
Monarch Store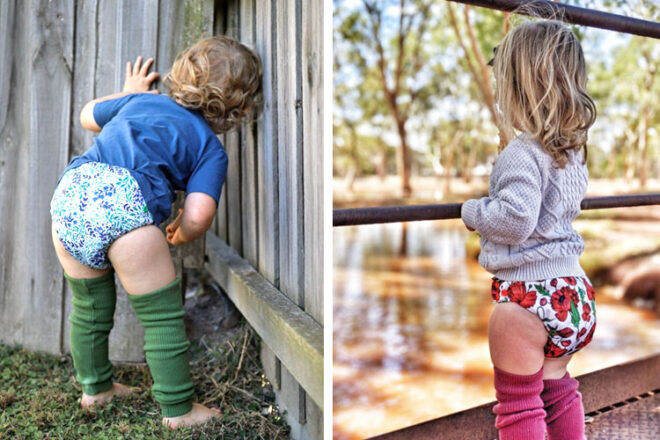 Playful and practical, Monarch Store's hand-painted range includes the Classic Nappy, with two multi-layer inserts; and the signature Ultimate Nappy, with four inserts that stack together for ultimate absorbency. In one size, they fit bubs up to 17kg.
Monarch Store Discount Code:
Use code 'MGV15' for 15% off storewide.
---
Close Parent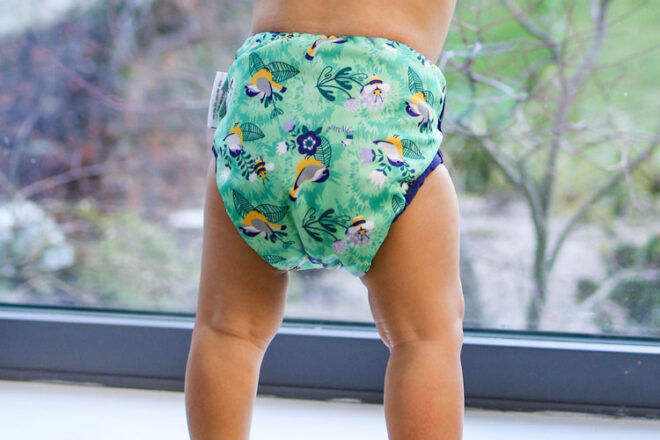 This adorable range of 'Pop-In' nappies come with fully adjustable poppers to fit bubbas from day one through to toddlerhood. With a waterproof shell, these cuties also come with stretchy tabs around the waist for a snug fit similar to disposables.
Close Parent Discount Code:
Use code MGV2021 for 15% off storewide. No minimum spend. One-time use per customer.
---
Kidsaroo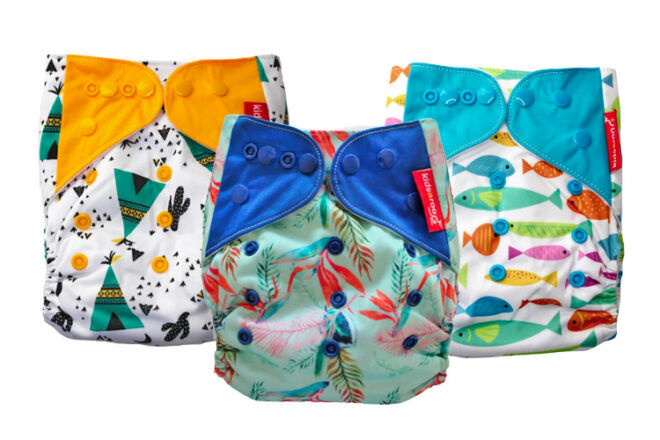 Fun, bright and practical, Kidsaroo come with a fully waterproof outer and an ultra-absorbent insert that's gentle against baby's skin. Designed in one size, they are fully adjustable to fit bubs from eight weeks to 14kg.
---
Junior Tribe Co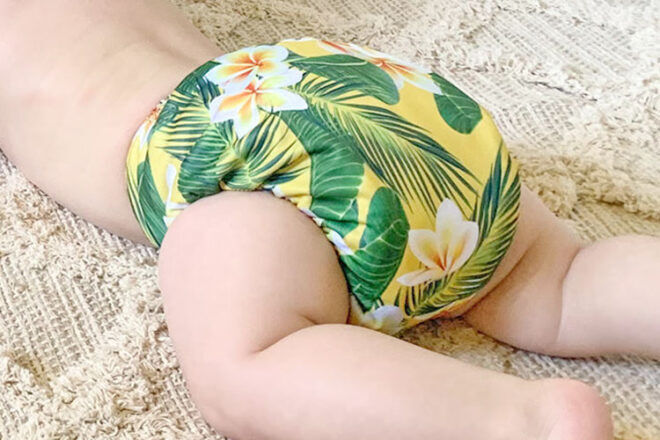 This inspired range of Australian-owned, eco-friendly nappies come in both newborn and Junior Flex styles to suit every baby's bot. Each has a leak guard to avoid little accidents and a fully adjustable waist.
Junior Tribe Co Discount Code:
Use code 'MGVGIFT' to receive a free Petite Wetbag with your order. Prints selected at random.
---
How many cloth nappies do I need?
You'll need at least 25 if you plan on using reusables exclusively right up until toilet training. The exact number will vary depending on the nappy composition and your bub's toileting habits, but our mums recommend having about three or four day's worth available at any time.
How often should I change a cloth nappy?
Just like you would with disposables, you should change your baby's cloth nappy every two or three hours, or whenever they do a poo.
How do I clean modern cloth nappies?
First, scrape off any solids into the toilet and rinse the nappy well prior to washing. Then, either hand-wash or machine-wash the nappy in warm water with gentle laundry detergent. Avoid using hot water and high drying heat because it can damage waterproof covers.
---
This article is lovingly curated by our editorial team and may include affiliates and/or paid inclusions, we would never recommend a product we wouldn't use ourselves. See our Disclosure Policy.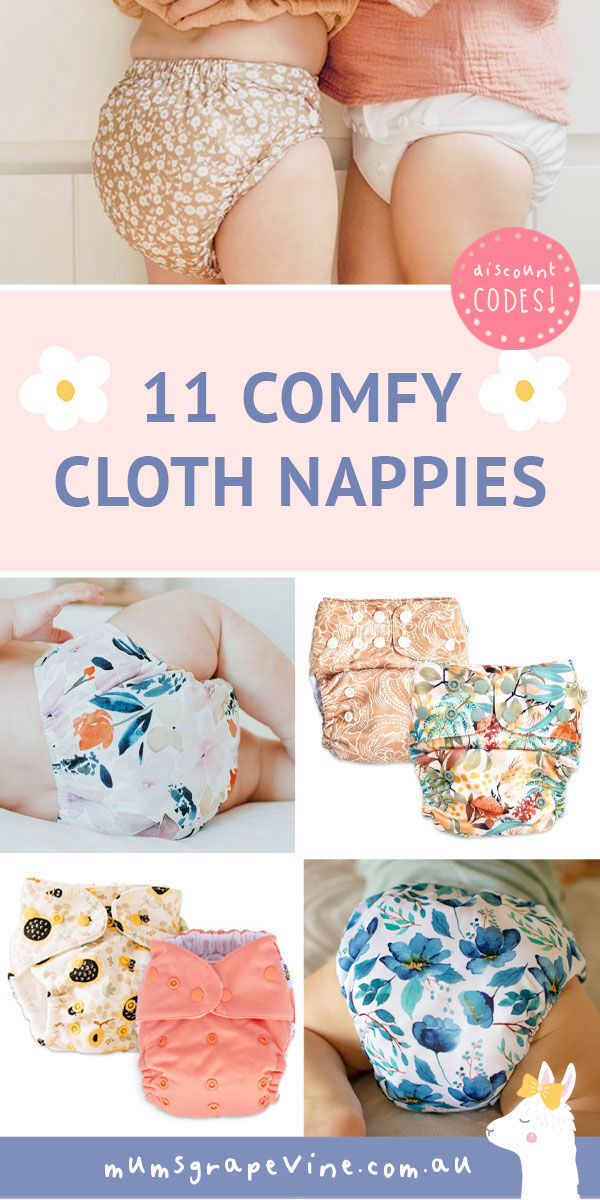 Know a brand we should add to our list? Contact us and let us know, we've been doing this for collate product roundups like this for 14 years and we're always happy to support new brands.
Find more must-haves for baby …
If you're feeling overwhelmed by what to buy, join a Mum's Grapevine Facebook Baby Group and ask 1000's of mums with babies the same age what they recommend. 'What to Buy' is the most asked topic.