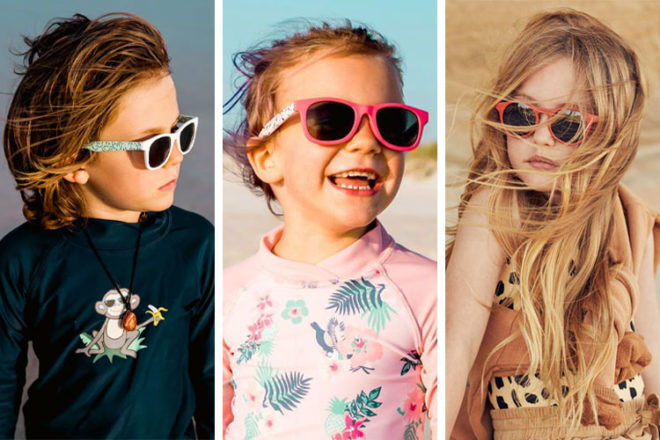 From pint-sized baby sunnies to ultra-cool kids' sunglasses, summer shades are the perfect blend of functionality and fun fashion – and given the sunny climate in Australia, they're a must-have accessory for staying safe in the sun.
Kids' sunglasses are protective accessories worn over the eyes to protect them from direct sunlight. Perfectly sized for little noggins and massively fashion-forward, they come in all colours of the rainbow and offer high protection against damaging UV rays.
Thanks to many sun-smart brands, the good news is that there's a protective pair of kids' sunnies out there to suit every face and personality, including boho babes and young teens.
Features to consider in sunglasses for babies and kids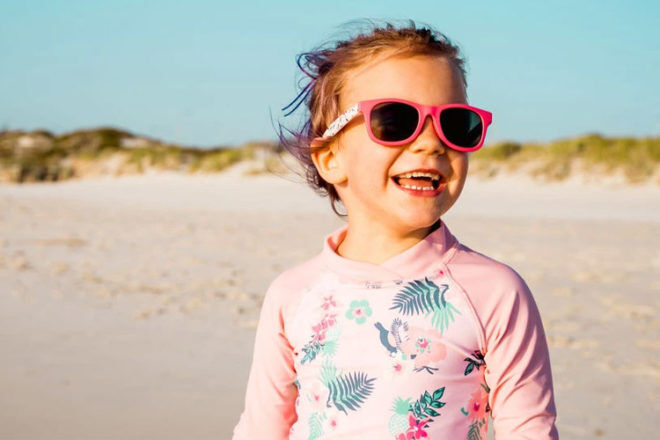 Durability: It's no secret that kids can be rough with their belongings, so when it comes to summer shades, ensure they are made with tough frames that can stand up to drops and tough little hands.
Style: From a classic aviator that goes with everything to a seriously cool wayfarer, sunglasses for kids come in virtually all the shapes and styles available to adults. Take into account how often they'll be worn and what they'll be paired with when you pick a fabulous pair for your little one.
Sun protection: It goes without saying that all sunglasses for children should provide excellent coverage against Australia's harsh sun. Most brands are very sun-smart, but just be sure to check before you buy.
Accessories: If you're after a pair of baby sunglasses, you might want to consider a pair with a wrap-around strap to keep them in place. For older kids who are always on the go, a case is a great way to keep sunnies well organised in a safe spot.
---
15 sunglasses for babies and kids in Australia
To help you find the perfect pair of kids sunnies at the right price, we've compiled this handy list to get you started in your search. In no particular order, here they are:
Hipsterkid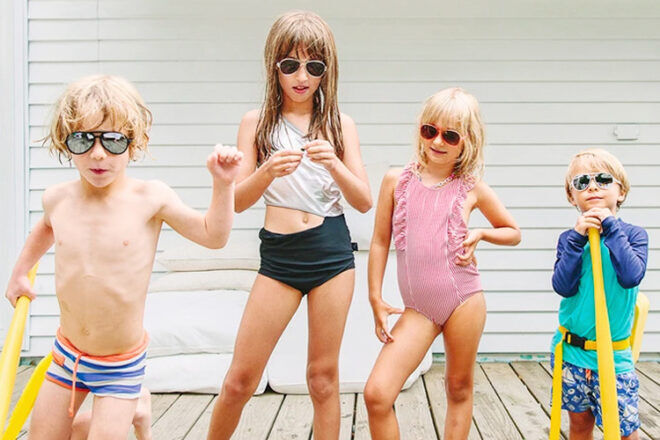 With 100% UVA and UVB coverage, you'll have total peace of mind that little eyes are properly protected when you're out and about. Lenses are shatterproof, the frame is flexible and they come with a strap to keep sunnies on heads, not the ground.
---
TicTasTogs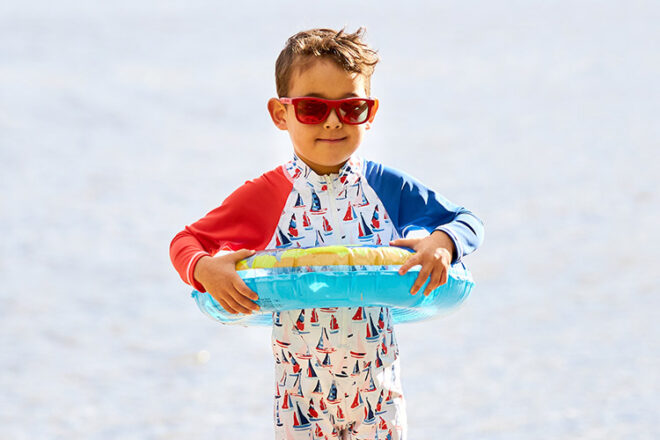 Made with recycled skateboards, TicTasTogs wooden sunnies are the perfect accessory for cool kids. Each lightweight and hypoallergenic pair features UV400 polarised lenses and a rainbow of colours in the frame.
---
Sons & Daughters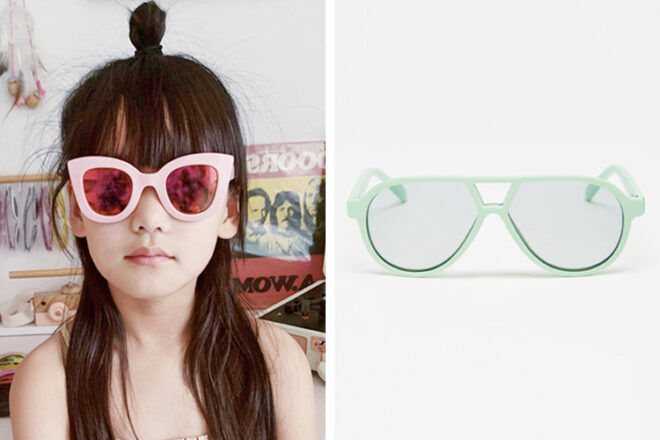 They're the mini iterations of the styles that rocked back in the day – and we're crushing hard on them! Designed in Canada, they're bright, playful and keep kids safe from harmful sun rays. You're going to want them all.
---
Ray-Ban Junior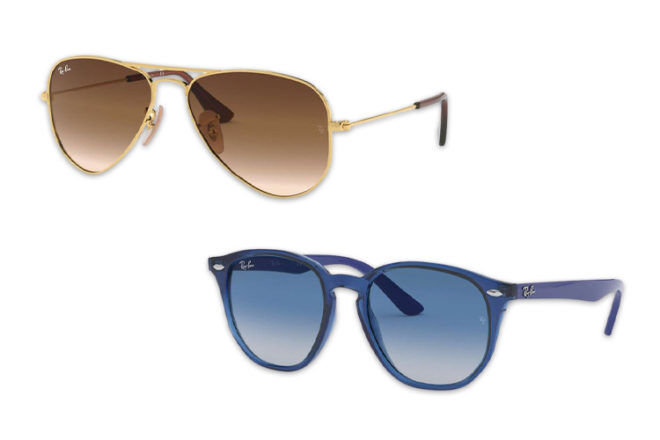 These Ray Ban sunnies are the kiddie-sized versions of the all-time classics. From wayfarers to a classic aviator, the whole gang's here – and just like the grown-up versions, they come with tinted lenses and great sun protection.
---
Goose & Dust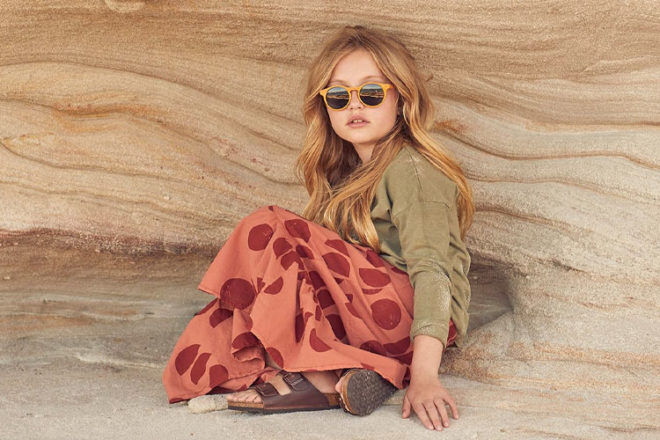 Got kids who are just as mindful of their eco-footprint as they are about their style? The frames of these Brick Matte sunnies are made from the plastic waste generated by eyewear factories. They have polarised lenses and are perfect for ages three and up.
---
Babiators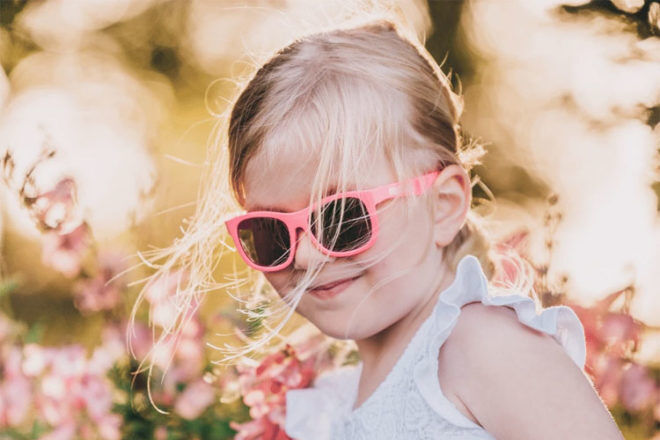 Suitable for even the youngest of fashion-forward kiddos, baby sunglasses are modelled on the aviator style and come with a flexible rubber frame and shatter-resistant lenses. Choose from colourful Navigators, classic keyholes and polarised styles.
---
Frankie Ray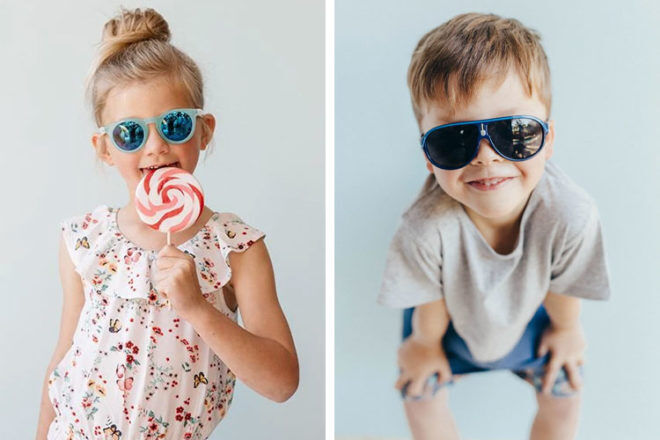 It's a fun and frolicky designer-inspired range at a family-friendly price. They offer 100% UV protection and come fitted with kid-proof lenses that are impact resistant. Each adorable pair comes with its own case.
---
Rare Rabbit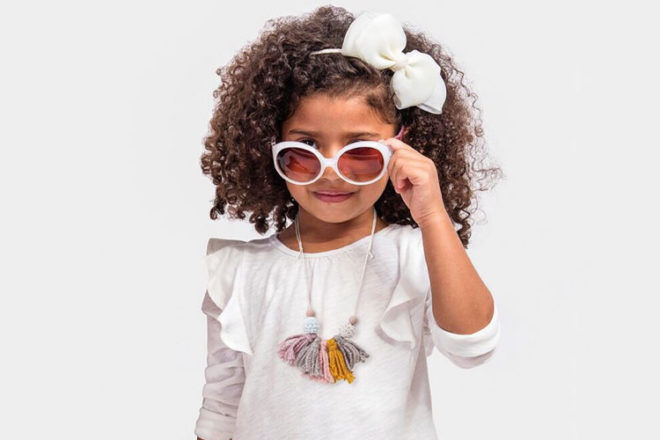 At a low price, this range spans glam to sporty, and if your poppets love a coloured lens, they will flip over this lot. Designed for the over-threes, they come with high sun-glare reduction and bucket-loads of fun. In love with these Jacqui O gems!
---
Roshambo Baby Australia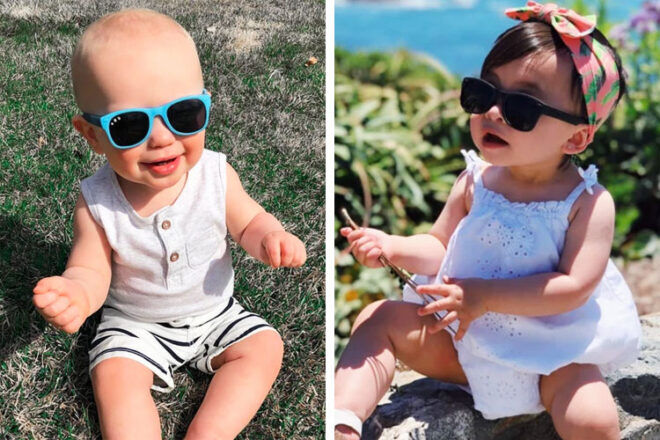 From baby sunglasses in bright colours in teeny sizes to colour-changing styles for extra fun, there is something for every little human at Roshambo. All pairs are made in Italy and proudly BPA, phthalate, lead & latex-free. They're also virtually unbreakable!
---
Cancer Council Kids
Whether it's a fancy pair of polka dots or some classic wrap-arounds, Cancer Council Kids will have kids ready for fun in the sun. They each feature polarised lenses and tough frames to see you through the summer and beyond.
---
JUNiA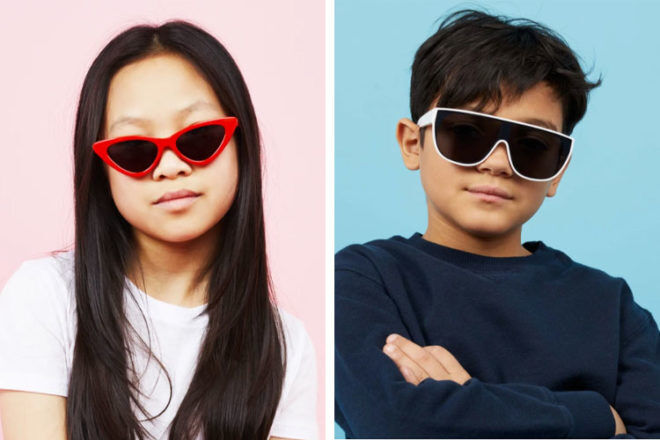 We adore this range for going well beyond traditional styles of kids' sunglasses without skimping on the most important thing: sun safety. Each pair protects eyes against UVA and UVB rays and comes with five-barrel hinges for durability.
---
MINISTA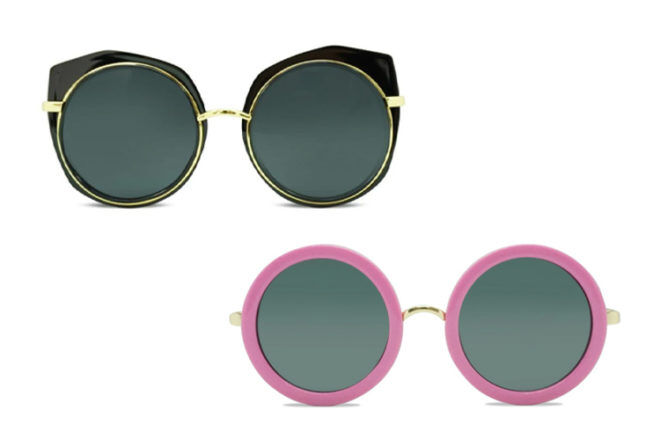 Just the sunnies for bringing out the star within. This funky range includes over 30 trending styles that are as huge on fun as they are on functionality. Each pair offers 100% ultraviolet coverage and so. Much. Style.
---
Banz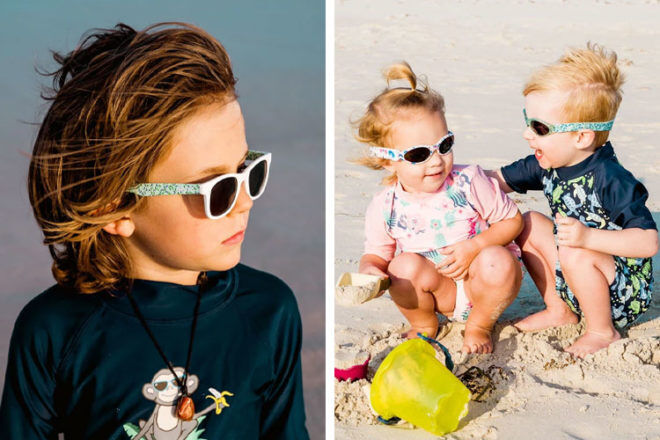 Ultra-tough kids' sunnies with sporty vibes and stacks of style. This range has passed the most stringent of safety testing to give you peace of mind that young eyes are properly protected. Loving the wrap-around styles for little jumping beans.
---
Koolsun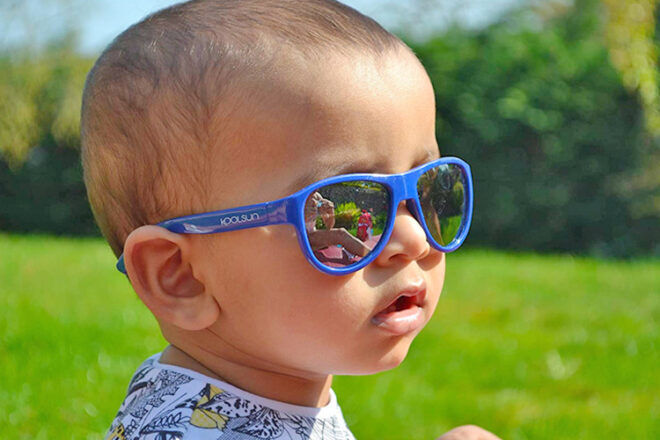 Thanks to flexible frames and polycarbonate lenses, these Dutch numbers are as tough as nails. They come in three styles to cover kids from birth right up to five years and protects completely against UVA and UVB rays. Each pair is delivered with its own pouch.
---
Ugly Fish Eyewear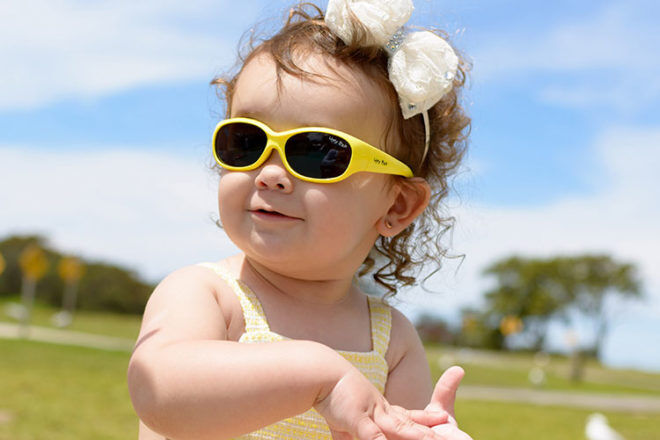 If breakage is a big concern for you when it comes to kids' sunglasses, this brand is a must-see. Polarised for max sun safety, and virtually indestructible, they come in sizes to fit kids from one year right up to 12 years. From aviators to keyholes, this range has you covered.
---
This article is curated by our Editors and includes affiliates and/or paid inclusions. See our Disclosure Policy.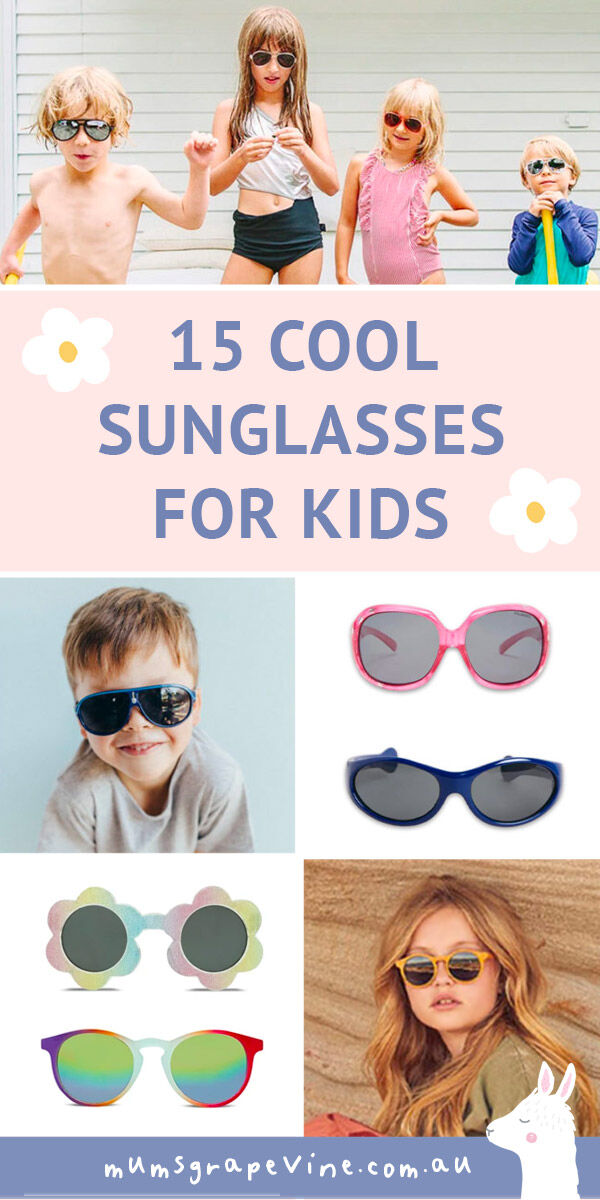 Know a brand of sunglasses we should add to our list? Contact us and let us know.
Read these roundups next …
Looking for more summer must-haves? We have Australia's largest suite of product roundups listing Australia's most coveted boutique brands – the ones you don't know about!
Read this: 13 clever ways to keep babies cool in summer
Continue your search for the best kids sunglasses
Looking for baby sunglasses and still not sure if any of these are right for you? Join one of our Facebook groups and continue your search by asking thousands of other mums what they recommend. They are grouped together by baby's birth/due date so everyone is going through the same stages at the same time.
Click here >> Mum's Grapevine Facebook Groups  << and find your group today!