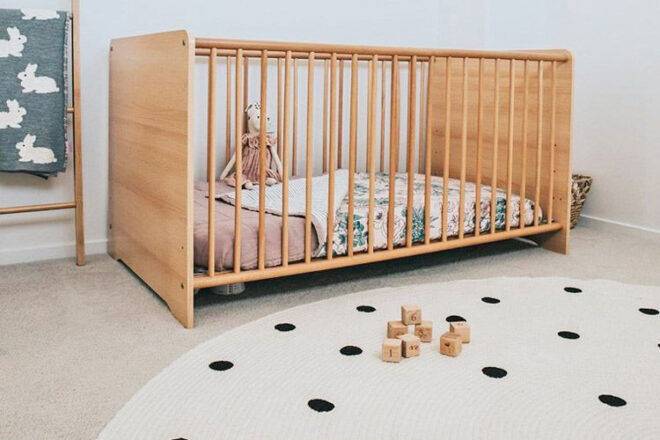 The cot's set up, the nappy bin is in place and all those change table essentials are ready to go. Now it's time to add the perfect finishing touch to bubba's room: a nursery rug.
Nursery rugs bring warmth, style and bucket-loads of cuteness to babies' rooms. Some are crafted from natural fibres like jute for a rustic and earthy vibe, others are luxuriously plush, doubling as cosy mats for playtime.
We've rounded up the most beautiful rugs around to help you set the perfect tone for your poppet's first room.
11 nursery rugs to transform baby's room
In no particular order, here are 11 adorable nursery rugs that make baby's room your absolute favourite place to hang.
1. Mocka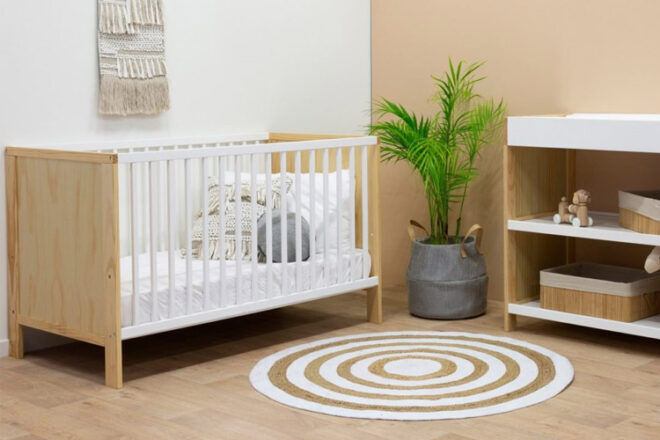 A contemporary and striking nursery rug that will fit right in with any décor style you're running with. Soft-woven from jute and recycled cotton for a beautiful texture, this classic is going to be loved well beyond the baby years.
---
3. Love Indi Lou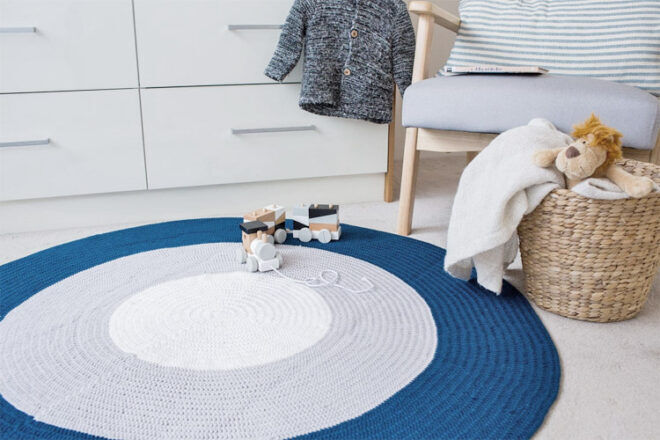 The beauty of these stunning crochet nursery rugs is that they'll look brilliant all over the house. Available in two different sizes and handcrafted from thick cotton, they come in a number of colourful, cosy styles.
---
4. Amigos de Hoy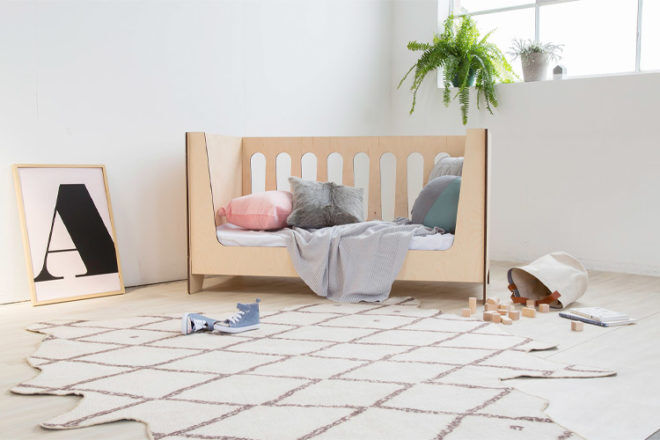 In the shape of a traditional cowhide, this rug comes packing some major bohemian vibes. It's made with a low-pile chenille that provides plushness without excessive weight, and it's completely non-allergenic.
---
5. Scion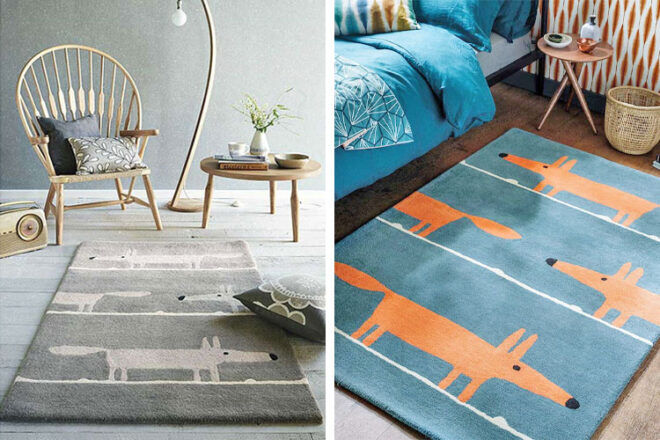 They may not come cheap, but they are undeniably special. Decked out in mischievous, playful foxes, these 100% wool rugs are handmade in India and available in five different colour schemes.
---
6. Fantastic Furniture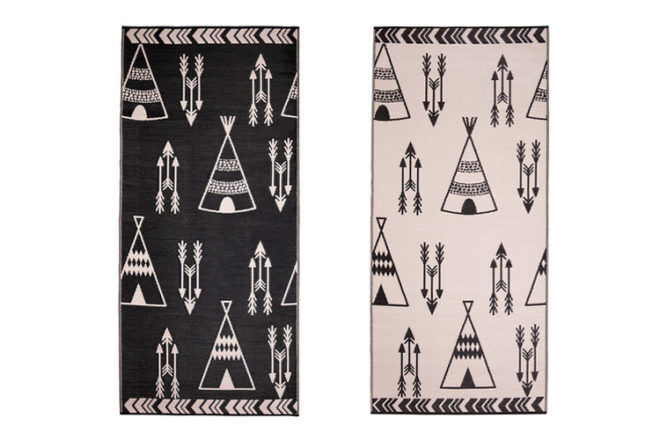 We're giving this rug top points for being fun, well priced and earth-friendly. Consciously crafted from recycled straws, it measures 2.7m on its longest side and can be flipped over when you change up your colour scheme.
---
7. Hope & Jade Interiors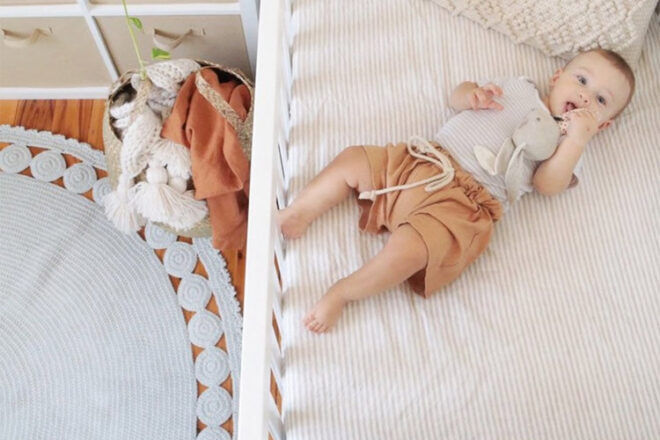 These exquisite crochet rugs are handcrafted using the highest quality cotton for an ultra-soft finish. Designed in Australia, they measure up to 150cm and are ideal for filling large spaces. Choose from a range of styles and shades.
---
8. Miss Amara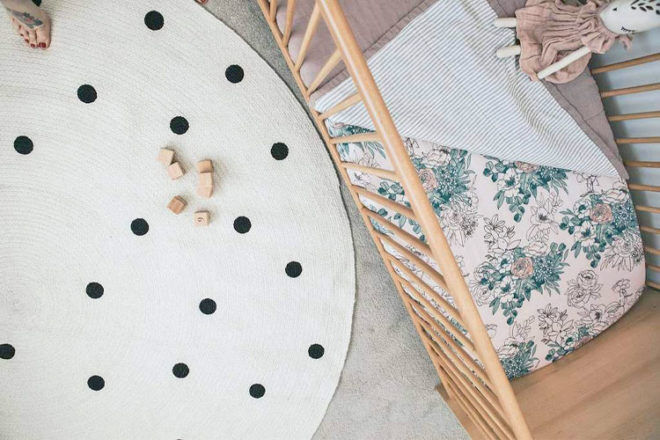 You can never go wrong with black and white when it comes to floor rugs – especially when there are spots involved! This stunning, playful jute rug comes in four sizes and is the perfect way to make drab floors fab.
---
9. OYOY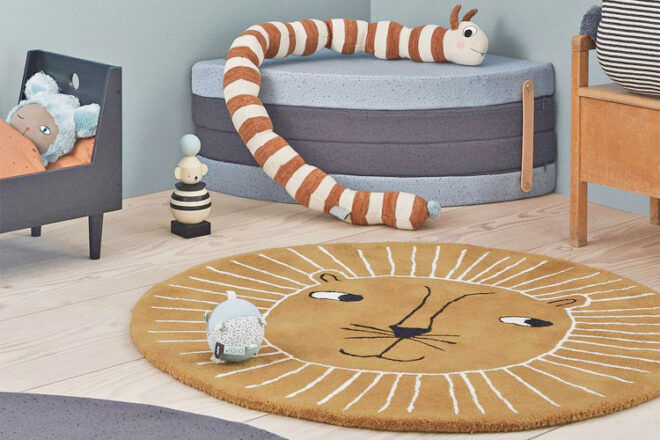 A stunning Danish floor rug and a friendly face for bubba to gaze at. It measures 95cm in diameter and it's made of pure wool and cotton for a luxurious and natural finish. Roar-some, right?
---
10. Pottery Barn Kids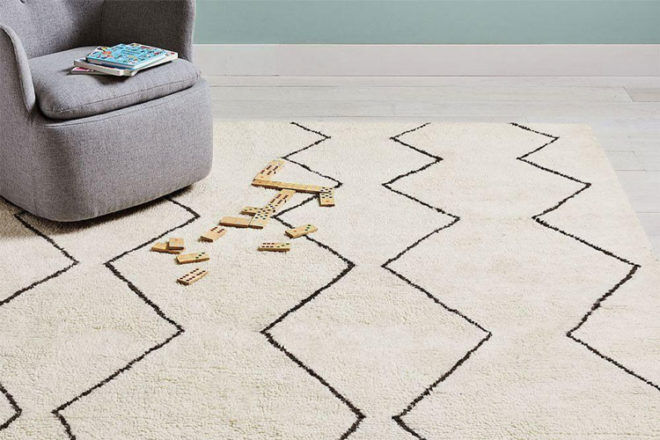 The spectacular non-slip Souk rug is made from pure wool with a low pile that is perfect for babes. It naturally resists stains and soiling, it's flame resistant and it is coloured using environmentally safe dyes.
---
11. Mushkane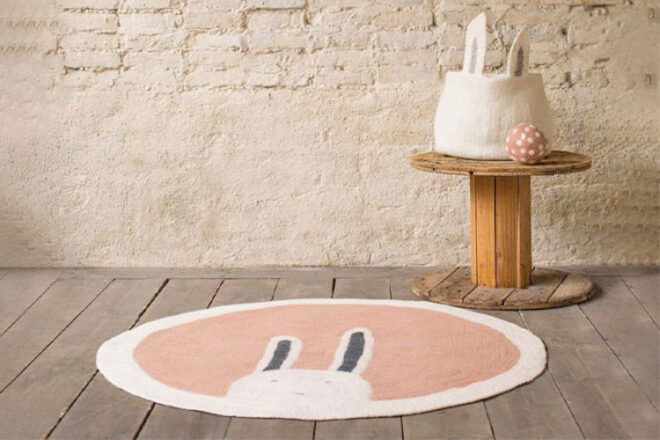 Handmade in Nepal from sustainable felt, these bunny-themed faves are going to take the nursery to new levels of cuteness. They come in a choice of six different colours and measure 120cm.
---
This article is curated by our Editors and includes affiliates and/or paid inclusions. See our Disclosure Policy.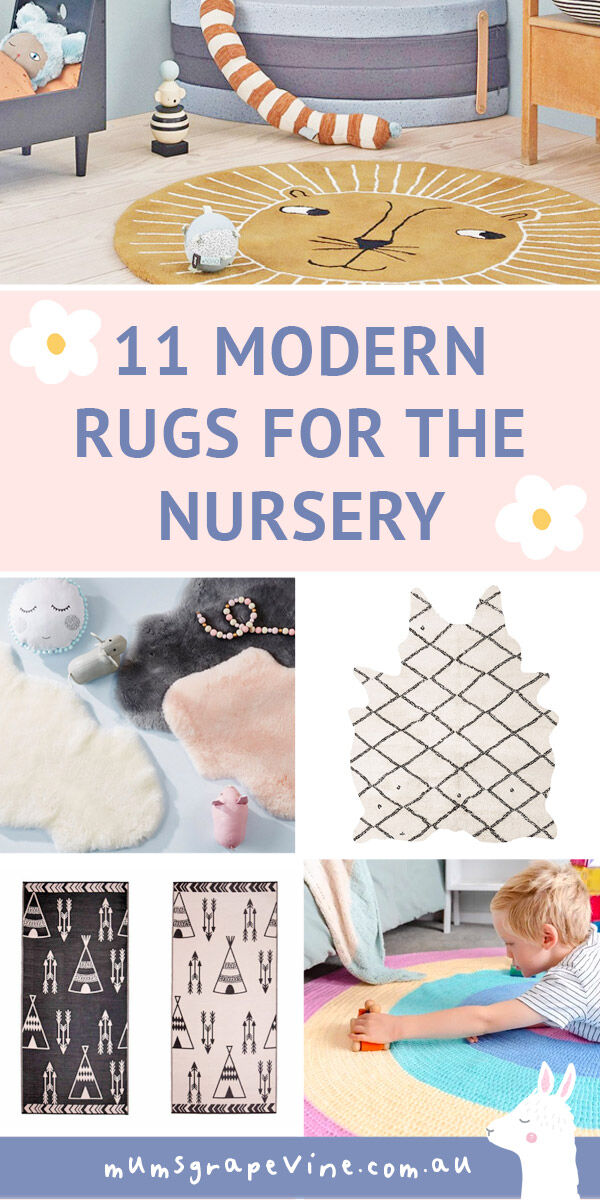 Know some nursery rugs we should add to our list? Contact us and let us know.
Read next …
Looking for more nursery essentials? From fun play mats to that all-important nappy bin, here are a few articles that you might like to read next:
Continue your search for the best nursery rug
Looking for a nursery rug and still not sure if any of these are right for you? Search online by jumping into one of our closed Baby groups and ask thousands of other Australian mums what they recommend – 'What to buy' is the most talked-about topic.
Click and join your group today!