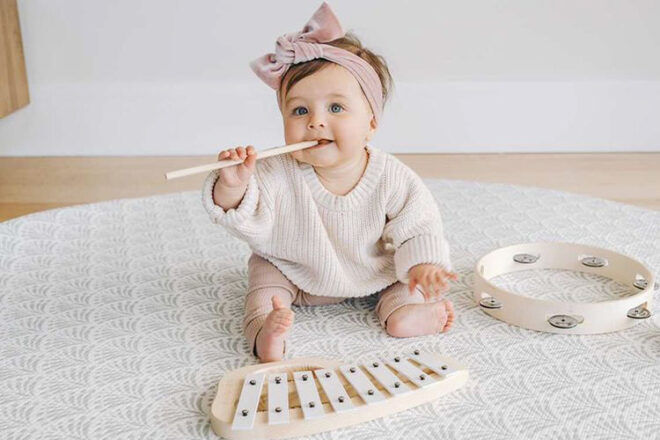 A baby play mat is a must-have item for little people on the move. And no longer limited to foam alphabet squares, modern styles range from waterproof play mats to designer foam options that you'll want to show off.
A play mat is a soft, perfectly sized floor mat for babies to play on. Usually padded, it's the perfect place for tinkering with toys and enjoying tummy time, which typically starts at around three or four months of age. Whether you're after a playful addition to the nursery or a luxe new look for the lounge, there's a baby mat out there to suit your needs.
To help you find a comfy baby play mat for your little one, we've put a selection of exquisite options in one handy spot for you.
What to look for in a play mat for baby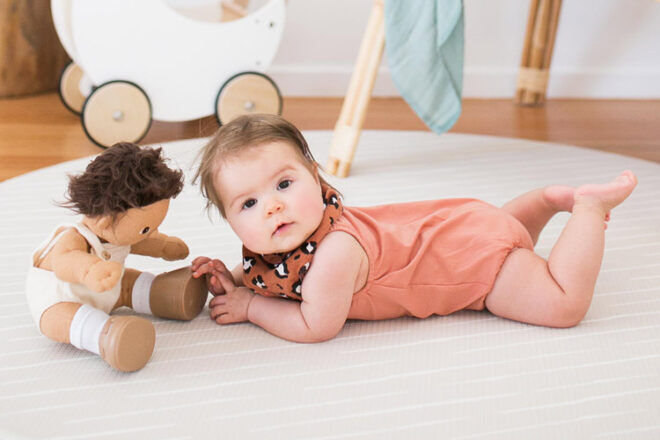 Here are some of the key features to consider when buying the perfect play mat for your little one:
Padding and cushioning: To ensure wee ones are comfortable investigating their new terrain, look for a padded foam play mat with ample cushioning for tummy time and play.
Strength and durability: Baby mats are the perfect companion for outdoor adventures with bubs in tow – think mornings at the park and day trips to the beach. With that in mind, pick a mat that is sturdy enough to withstand different environments.
Ease of washing and drying: Despite being made for play, anything made for baby is sure to encounter Vegemite smears and a good amount of dribble, especially when teething. Having a mat that washes and dries well means it can be back on the floor in a jiffy.
Waterproof surface: Because during nappy-free time, 'wee' sprinkles are virtually guaranteed! A waterproof play mat wipes clean quickly and protects your precious flooring underneath.
Overall size and shape: Think about where the mat will 'live' when choosing the size. Will it permanently stay in the same spot or is it more likely to be moved from room to room, or even transported in the car? Some soft mats are available in different sizes to suit every family's needs, with rectangular and round options too.
---

8 baby mats for a safe place to play
Take a peek at our roundup of brands and get playtime sorted with a mat that protects little bodies and gives toys their own home.
Some brands have offered exclusive offers for Mum's Grapevine readers. These offers may include exclusions and expiry without notice. Please direct all enquiries directly to the linked website.
In no particular order, here are 8 baby play mats for growing and learning:
Rudie Nudie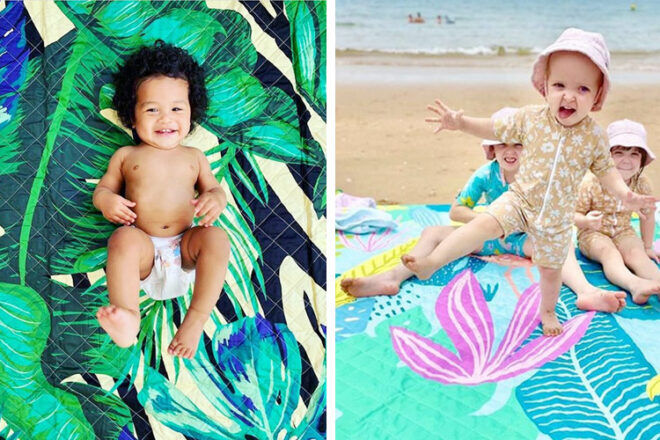 From the bed to the beach, Rudie Nudie mats can be enjoyed anywhere. Available in three sizes to suit every age and stage, they come with a soft fabric top and a waterproof base. Best of all, you can toss them in the washing machine at the end of a day's play.
Sizing options: Square 90cm x 90cm / 1.3m x 1.3m / 2.0m x 2.0m
Composition: 100% cotton or polyester top layer
Water-Resistant: Yes
Rudie Nudie Discount Code:
Use code 'MGVFREESHIP' for free shipping on all orders
---
Freddy & Co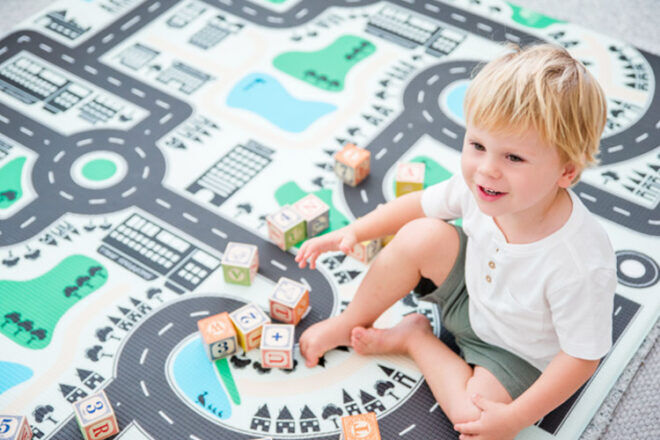 These double-sided play mats are created to see parents right through the baby years and beyond. One side is printed with an educational design for bub to enjoy, while the reverse features a contemporary print that blends perfectly with any room décor.
Sizing options: Rectangle 2.0m x 1.4m / Round 1.4m diameter
Composition: Polyurethane foam
Water-Resistant: Yes
---
Marmalade Lion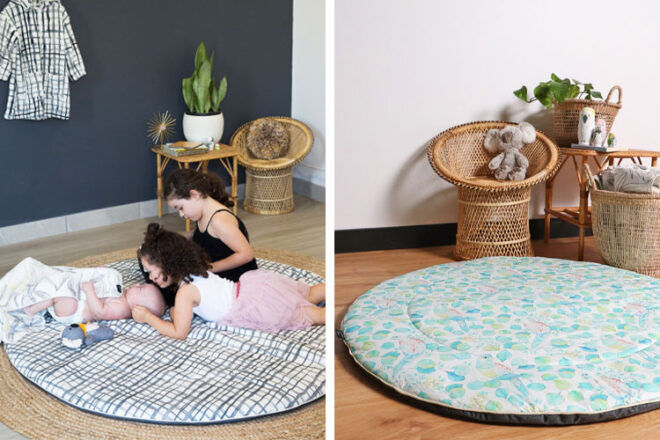 Thanks to a thick memory foam insert and non-slip, waterproof backing, Marmalade Lion play mats are suitable for most surfaces. The removable and interchangeable covers are illustrated by hand and specially coated for easy clean-ups.
Sizing options: Round 1.0m / 1.5m diameter
Composition:  Memory-foam insert with non-toxic, coated cover
Water-Resistant: Yes
---
Luxe at Play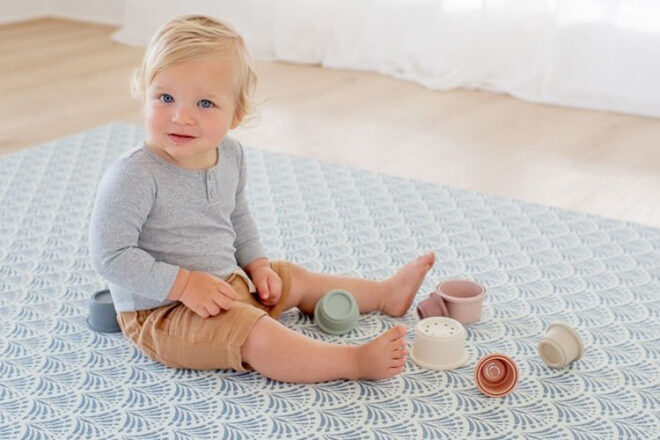 Luxury meets functionality in this timeless range of lightweight play mats. With a thick foam core for loads of support, each reversible mat has a hypoallergenic, water-resistant surface and features one-of-a-kind artwork befitting the modern home.
Sizing options: Rectangle 1.0m x 1.4m / 2.0m x 1.4m / Round 1.4m diameter
Composition: Polyurethane foam
Water-Resistant: Yes
---
Rugabub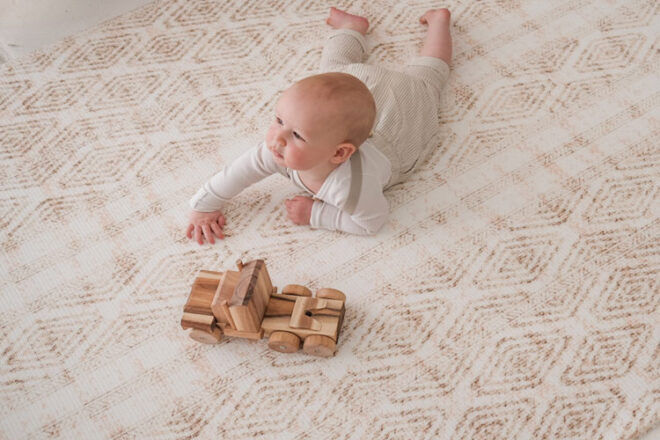 Packed with boho vibes, Rugabub's meticulously crafted mats are as elegant as they are durable. Each double-sided mat is thick, plush and packed with stunning visual details to help keep bubba engaged in tummy time and play.
Sizing options: Rectangle 2.0m x 1.4m
Composition: Polyurethane foam
Water-Resistant: Yes
---
Mikró Australia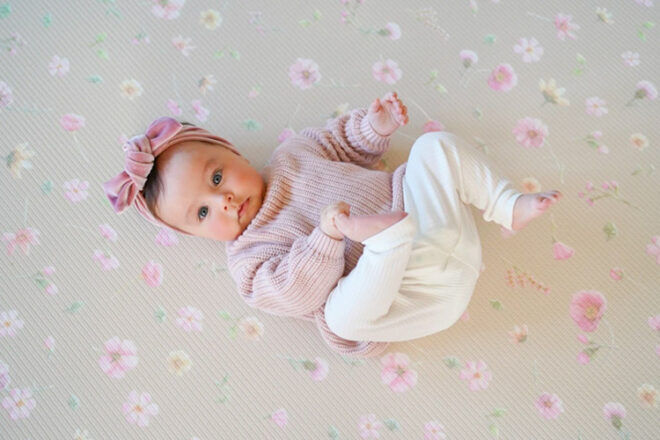 With an easy-clean finish and reversible design, Mikró play mats are fabulous for families who like to switch up their décor every now and then. Each mat uses certified non-toxic foam to provide the perfect padding for sweet growing bodies.
Sizing options: Rectangle 1.0m x 1.4m / 2.0m x 1.4 /Round 1.4m diameter
Composition: Polyurethane foam
Water-Resistant: Yes
Mikro Australia:
Standard free shipping Australia wide.
---
Softly Summer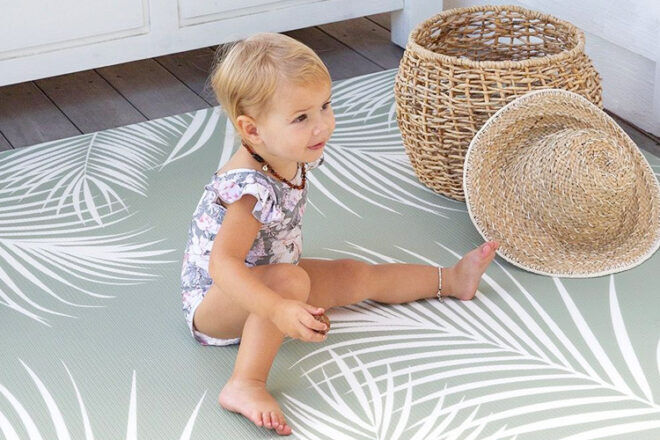 From soft and dreamy palms to herringbone prints, there is so much to love about Softly Summer's collection of padded mats. Designed in Australia, each is fully reversible, biodegradable and finished with an allergy-friendly surface that's a cinch to clean.
Sizing options: Rectangle 1.0m x 1.4m / 2.0m x 1.4m / Round 1.4m diameter
Composition: Polyurethane foam
Water-Resistant: Yes
---
Munchkin & Bear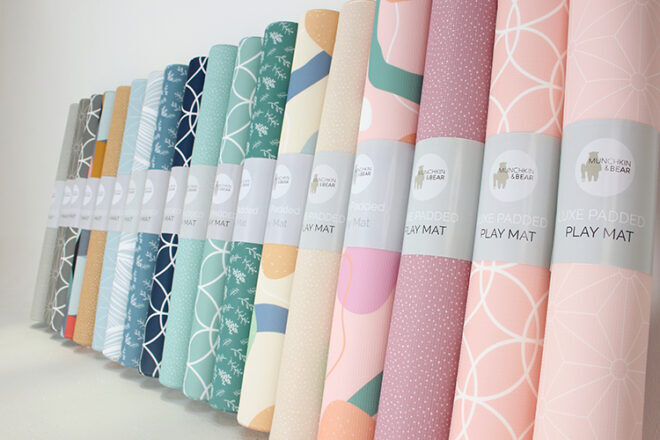 Soft tones and thick foam padding make award-winning Munchkin & Bear play mats perfect for all ages – even 'big kids' perfecting their yoga poses. The shock-absorbent core protects and insulates, while the wipe-clean topcoat makes mopping up spills a breeze.
Sizing options: Rectangle 1.0m x 1.4m / 2.0m x 1.4m / Round 1.4m diameter
Materials: Polyurethane foam
Water-Resistant: Yes
---
Is a play mat worth it?
While not essential in the same way a cot or stroller is, a high-quality play mat is definitely worthwhile as a dedicated space for baby to play. A mat is super convenient because it's simple to clean, padded and protects baby from germs, dust and debris typically found on household floors.
What age can a baby use a play mat?
From birth! A high-quality play mat made with safe materials can be used from day one as a comfortable place to play and practise tummy time, which the Royal Children's Hospital recommends to begin from birth.
Are foam mats safe for babies?
There has been some consumer discussion about potentially toxic substances found in foam play mats, but according to Product Safety Australia, testing taken out specifically for the chemical formamide in baby mats has shown no safety risk to children.
What are some ways to use a play mat?
The imagination is the limit with the open-ended play you can enjoy with babies on their own mat. In the early months, tummy time is a fantastic way to strengthen neck, shoulder and arm muscles; you could also position a play gym over the mat for overhead entertainment. Once sitting up, a mat provides the perfect surface for playing with baby-safe toys such as cloth books, teethers and rattles.
How are play mats beneficial for babies?
By providing a safe and clean place for little ones to grow and learn, play-time mats help the development of gross motor skills and fine motor skills through open-ended play. Easy to clean of dribble and the odd nappy spill, they encourage wee ones to explore the world and given their padded surface, they're the perfect spot for learning to crawl and walk without worrying about little ones falling on a hard surface.
---
This post includes affiliates and/or paid inclusions. See our Disclosure Policy.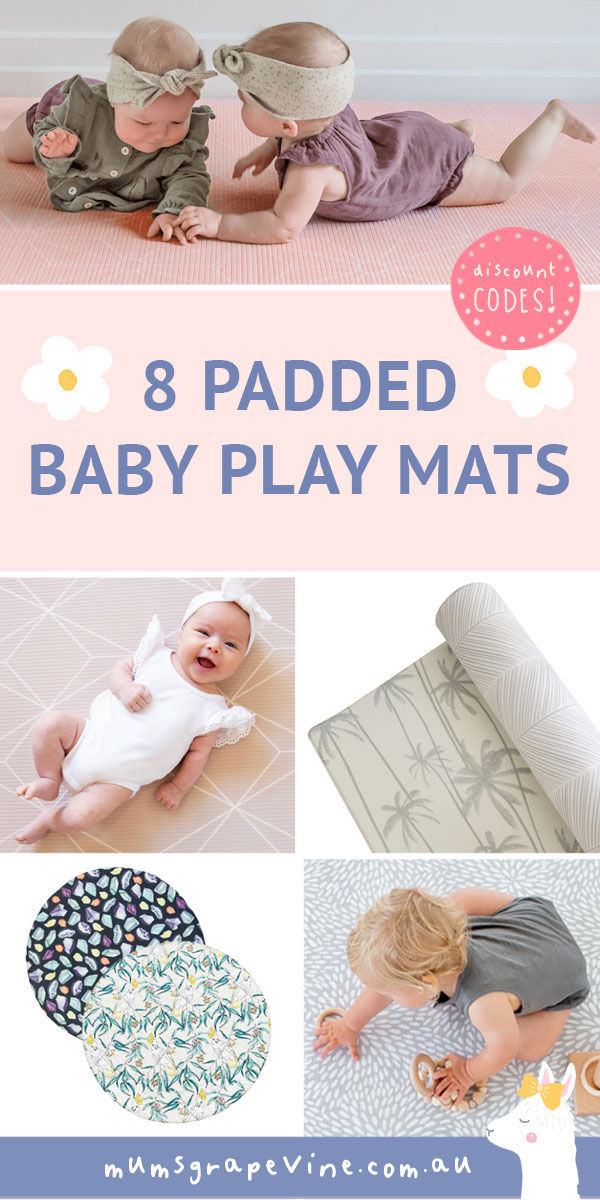 Know a brand we should add to our list? Contact us and let us know.
Find more fab gear for baby …