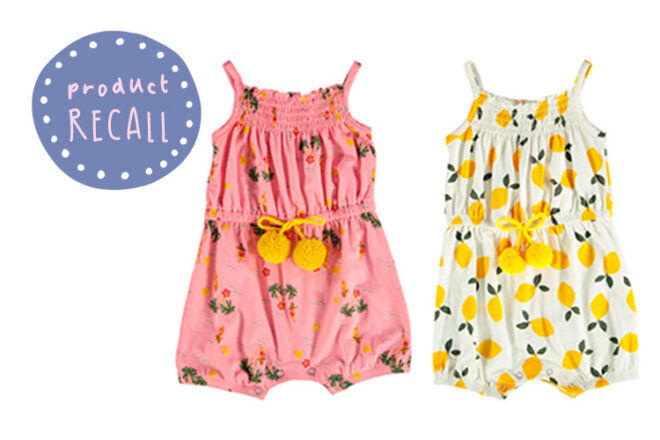 Best&Less Baby Playsuits
with Pom Poms
Best&Less is voluntarily recalling its Baby Berry Playsuits with Pom Poms that were sold in-store and online between July 2020 and January 20, 2021.
Product description: Baby Playsuit with Pom Poms which comes in seven colours:
Off White Cherries: 1040730, 1040731, 1040732, 1040733, 1040734
Multi-Colour Rainbow: 1041668, 1041669, 1041670, 1041671, 1041672
Pink Flamingo: 1056781, 1056782, 1056783, 1056784, 1056785
Navy Daisy: 1078678, 1078679, 1078680, 1078682, 1078683
Multi-Colour Ditsy Floral: 1055055, 1055056, 1055057, 1055058, 1055059
Yellow Lemons: 1084720, 1084721, 1084722, 1084723, 1084724
Multi-Colour Leopard: 1084725, 1084726, 1084727, 1084728, 1084729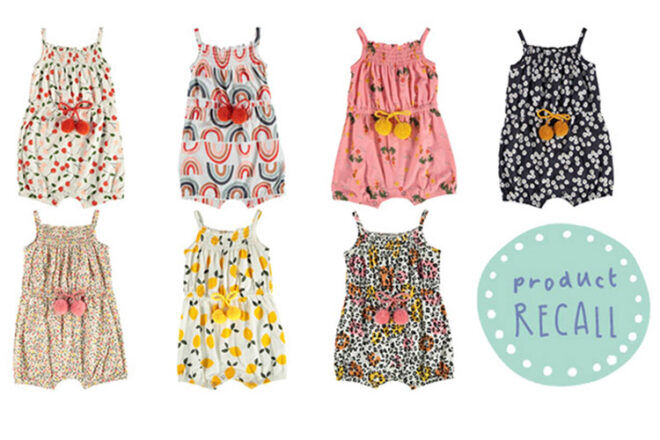 Problem: The fibres of the pom poms that are attached to the bodysuit, can be removed and as such regarded as a potential choking hazard. This does not meet the strict safety standards Best&Less says it self-imposes on the products within its baby range.
In a statement, Best&Less said, "Product safety is at the centre of our product development processes. Every item undergoes stringent safety assessments by our expert Quality Assurance team and requires dual sign-off for approval into our range. As such, in the last five years, we have initiated five voluntary recalls which is considerably lower than the industry average.
"This particular playsuit was assessed by the Quality team as well as tested in a laboratory prior to it becoming available to our customers. The fibres of the pom pom did not pull out in those items tested. The product has subsequently been manufactured and arrived in store, however, has now presented this risk."
What to do: Any customers with this playsuit should stop using it immediately and return it to your nearest Best&Less store for a full refund. Alternatively, customers should remove the pom poms from the garment if they wish to keep this playsuit.
Contact: For more information, call the Best&Less customer team on 1300 135 766.
---
Join our Pregnancy & Baby Groups
Be the first to know about recalls, alerts and baby related news – nothing gets past the mums and mums-to-be in our Facebook groups! Join one of the closed Mum's Grapevine due date or baby Facebook groups for non-judgemental support from other mums with babies born around the same time as you.
Click below and join your group today – don't miss out!