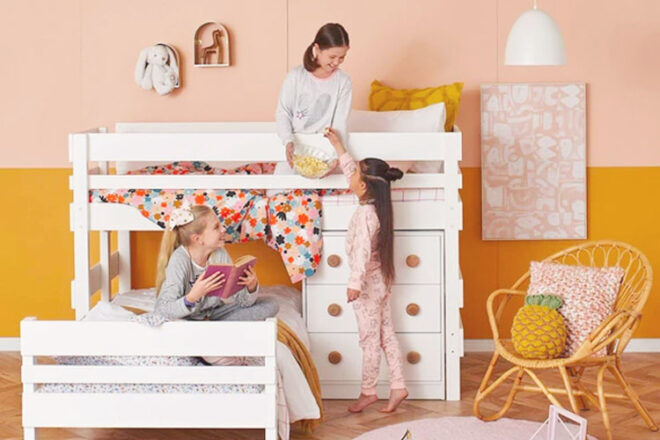 Maybe it's the magic of sleeping up high that makes them so popular or the fact they appeal to the little climbers in every munchkin, but one thing's for sure, bunk beds for kids top the list when it comes to fun furniture.
Beyond being exciting alternatives to regular kids' beds, children's bunk beds are also fab space savers in smaller rooms and especially brilliant throughout those years filled with sleepovers.
If your little monkeys have been pining for a bunk, you're in the right spot. Whether you're after one for siblings who will be sharing a room or just want to prepare for guests dropping in, our roundup of next-level bunk beds for kids has you covered.
What to consider when buying bunk beds for kids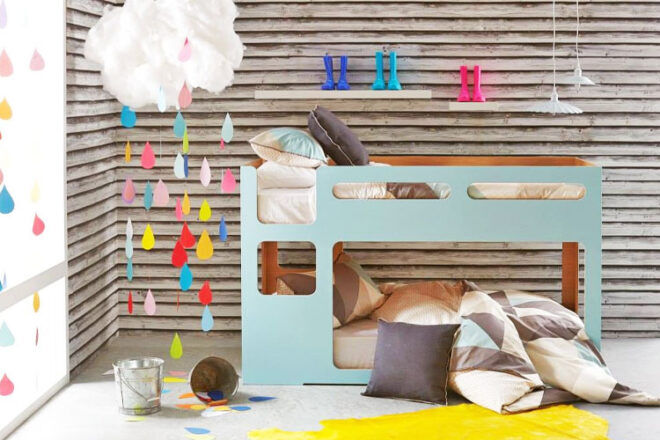 Design: You want to make sure the bunks fit the décor theme of the room and your child's sense of style. The good news is that from classic timber and metal frames to novelty styles, there's a fab bunk out there to suit every space and personality.
Frame style: Gone are the days when a bunk was just a bunk. Today's styles take into account practical, contemporary living and clever use of space. Frame designs available include, low line, convertible, loft and L-shape.
Mattresses: Keep in mind that unless you are purchasing a bedroom package, most children's bunk beds do not come with mattresses, so you will have to purchase them separately.
Safety rail: Most bunks have raised edges or a rail around the top bunk to keep kids secure throughout the night. The height and depth of the railing can vary somewhat between brands, so be sure to pay extra attention when making your choice.
Storage: Need more storage? There's a bunk for that. Some styles come with cleverly hidden compartments to hide away all those knick-knacks, others even have built-in bookshelves!
---

13 coolest bunk beds for kids
To help you find the perfect children's bunk bed for your littlies, we've put together a handy list of our favourites to get you started in your search. In no particular order, here they are:
Mocka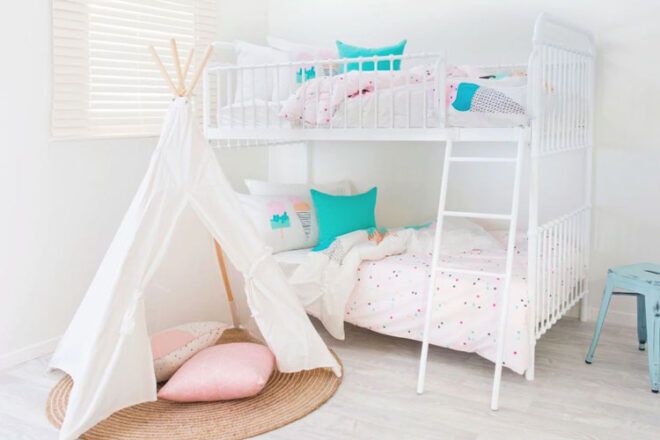 Groovy vintage vibes meet contemporary convenience with this classic from Mocka. It comes in a choice of black or white powder-coated steel and features high rails and a traditional stepladder. Paired with monochrome linen, this one makes a statement.

---
Boori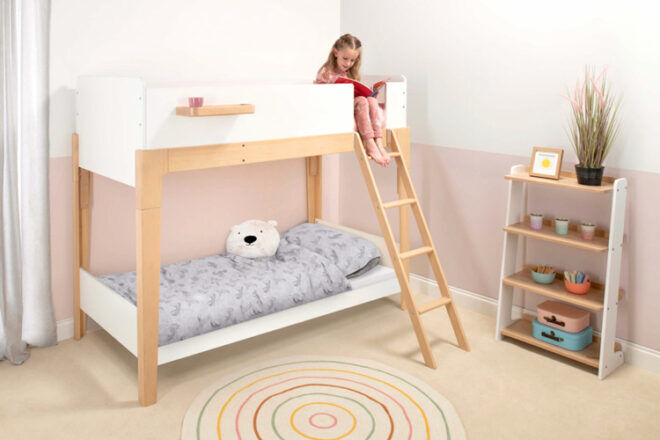 This adorable timber bunk comes with clean lines and a modern palette to pair perfectly with any decor. We love the addition of a handy side table for the top sleeper and the fact that the bed converts to a loft or standard single bed later on.

---
VIC Furniture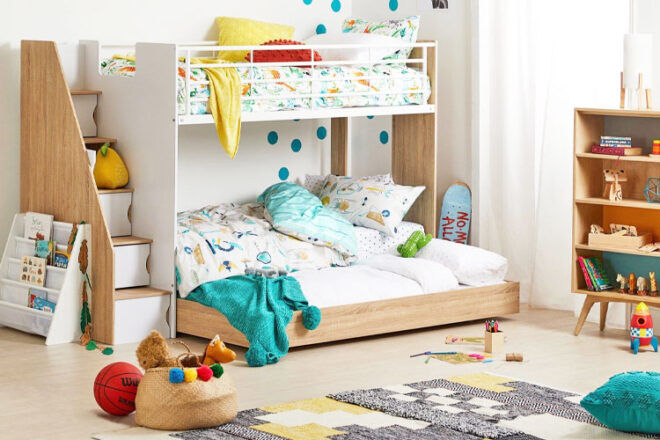 This feature-packed bunk bed isn't just every kid's dream – it's every mum's dream. It comes with a hidden storage cupboard under each step and an included trundle for storing linen in between sleepovers.

---
Snooze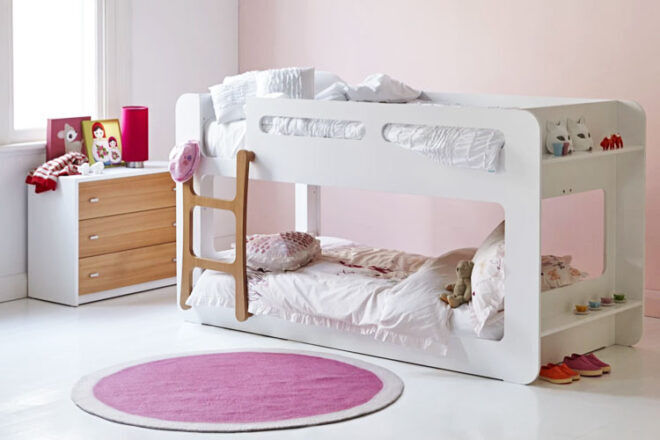 Fresh, contemporary and oh-so-cute. Made from zero-emissions MDF, this low bunk for kids comes in a choice of single or king-single sizes and is fitted with storage shelves at one end. Also available in charcoal and aqua.

---
Oeuf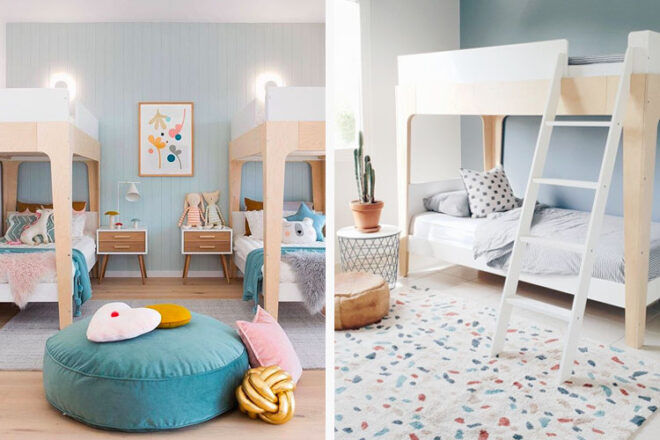 The possibilities are endless with this birch beauty. Configure it as a standard bunk, an L-shaped bunk, or separate the bottom bunk from the loft and pop it in another room! It comes with an angled ladder that attaches to either side.

---
Fantastic Furniture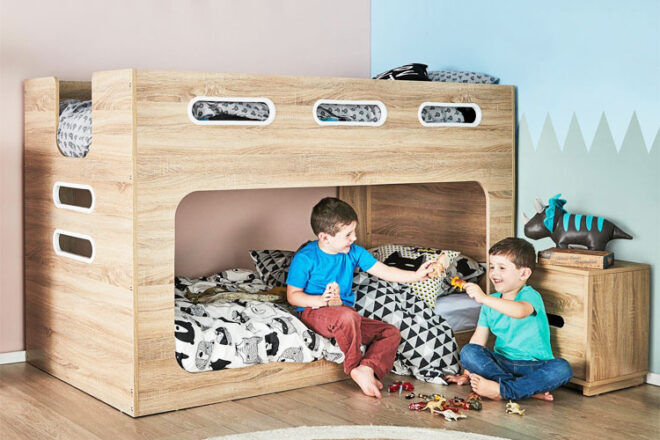 A low-line design and deep sides make this modern cutie a fab choice for their first bunk. It has a hidden, reversible ladder for a clean look and a light-ash finish that will fit in anywhere.

---
Bunkers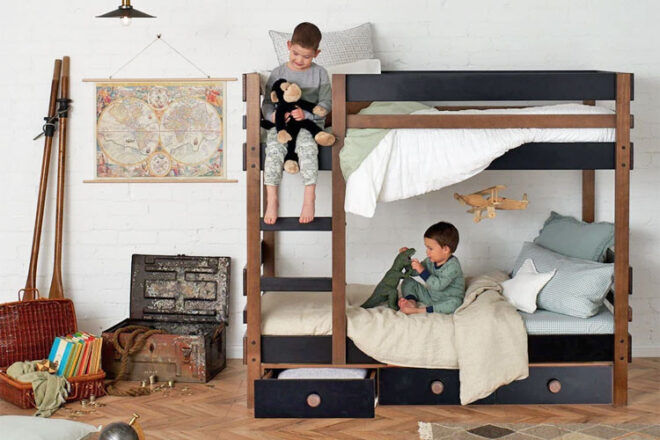 They'll go bonkers for this bunker! Built tough from renewable pine, it can be ordered in both single and king-single sizes and comes with three deep drawers for more room in your room.

---
IKEA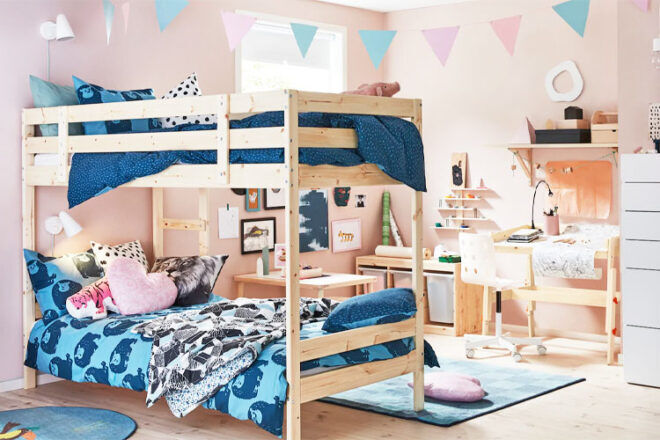 No roundup of fab bunk beds for kids would be complete with the popular MYDAL in the mix. Like a blank canvas, simply pair this trusty classic with any bedding décor for a truly unique look.

---
Domayne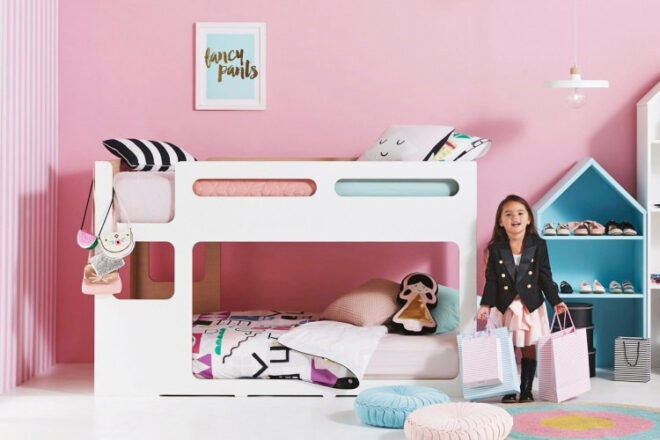 If it's colour they want, look no further! Domayne's uber-popular My Place bunk comes in five glorious shades to suit every poppet's personal style. Loving the peep-through window that doubles as a step ladder.

---
Amart Furniture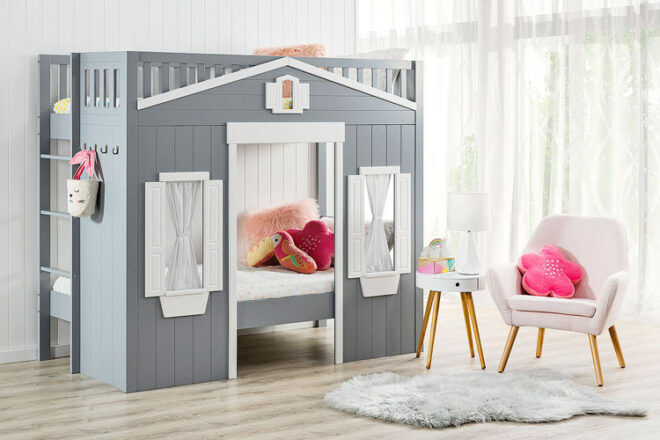 Part bunk and part cubby, this one's pretty much guaranteed to help get the kids to bed on time. It features a roof-top bed, peep-through windows, handy hooks – and it even comes with A-Z lettering for personalisation. Love it!

---
Intelligent Kids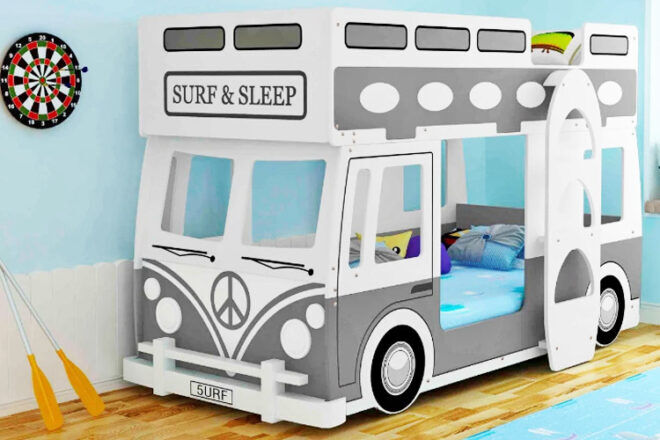 It's the perfect place to catch some zeds before hitting the beach – and it totally makes us want to be kids again. With a sturdy MDF frame, it even comes with a steering wheel and surfboard ladder. Surf's up!

---
Forty Winks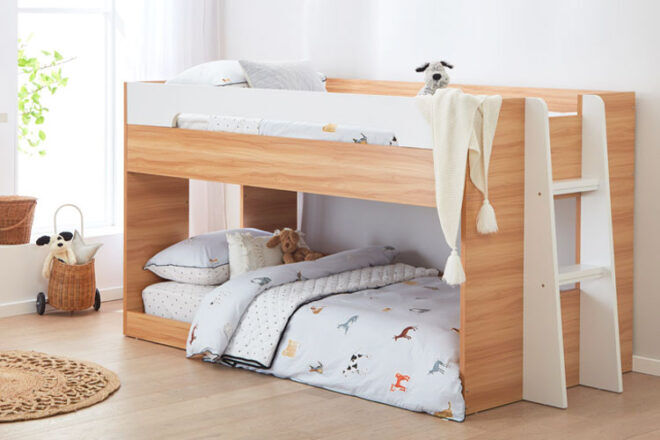 Fresh and funky, this midi-bunk ticks all the boxes for younger kids. Plus, with a convenient low profile, it's easy for parents to reach the top bunk to change bed linen and tuck in tired tykes.

---
Plyroom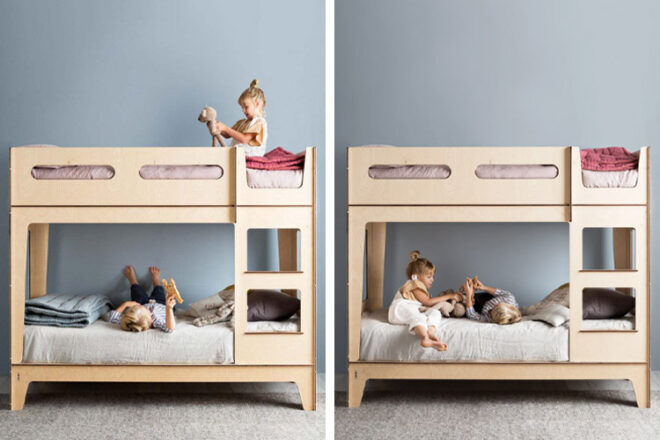 It's not just a stylish place to snooze, it's a crazy-cool place for kidlets to hang out. Sustainably made in Italy, the Castello is built with a low profile that's perfect for younger kids. Pair it with the Plyroom Underbed Drawer for extra storage.

---
This article is curated by our Editors and includes affiliates and/or paid inclusions. See our Disclosure Policy.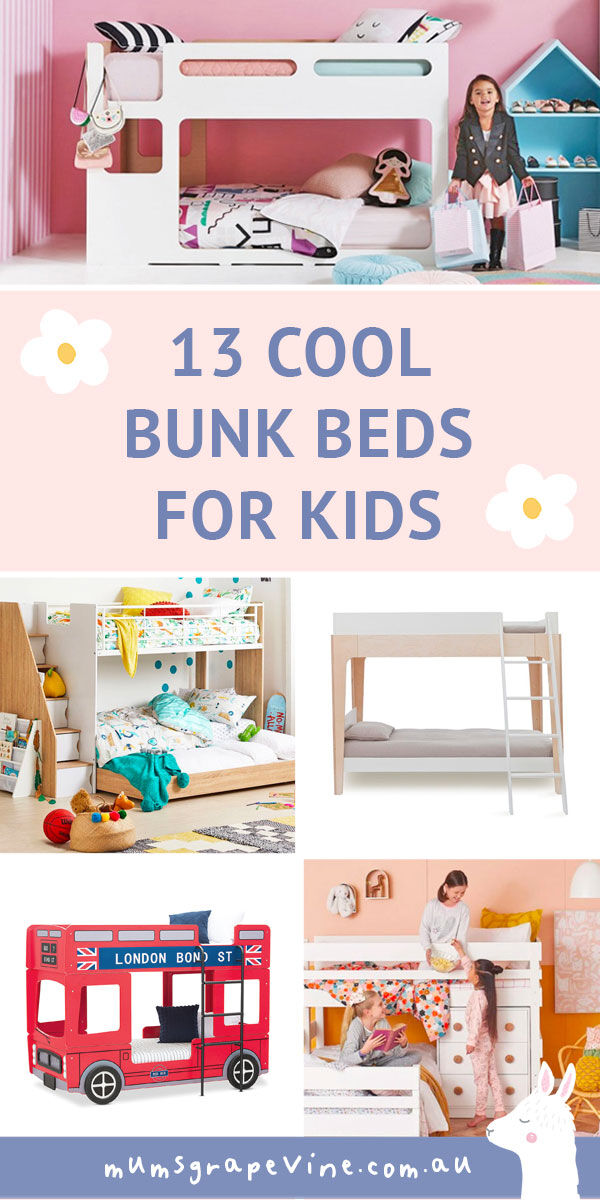 Know a great brand of bunk beds we should add to our list? Contact us and let us know.
Read next …
With the bed taken care of, it's time to start styling. We cover everything from comfy sofas to super-cute bookshelves in these next few articles:
Continue your search for the best bunk beds for kids
Looking for a children's bunk bed and still not sure if any of these are right for you? Search online by jumping into one of our closed Baby groups and ask thousands of other Australian mums what they recommend – 'What to buy' is the most talked-about topic.
Click and join your group today!