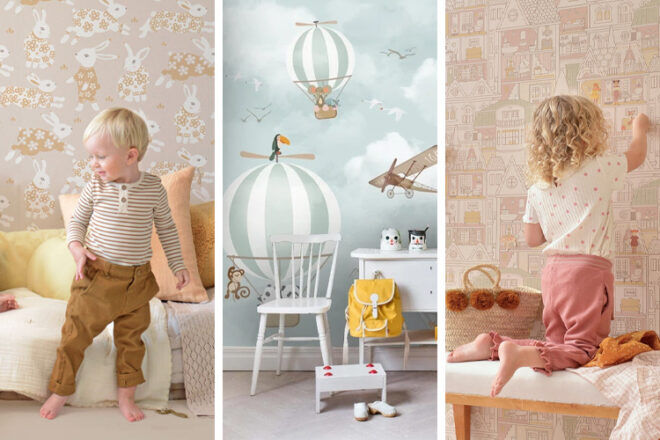 With the cot ready and the change table fully-stocked, the stage is nearly set for bub's arrival. Now it's time to breathe new life into boring walls with some fabulous nursery wallpaper.
Just like wall stickers, nursery wallpaper is fabulous for transforming spaces. It's also easy to apply and more durable than paint, making it a smart choice when crafting a space that (messy) little humans will call their own.
18 nursery wallpaper designs for a dreamy room
To help you find the perfect nursery wallpaper for that magical feature wall, we've put together a complete list of designs we're loving right now. In no particular order, here they are:
1. Ferm Living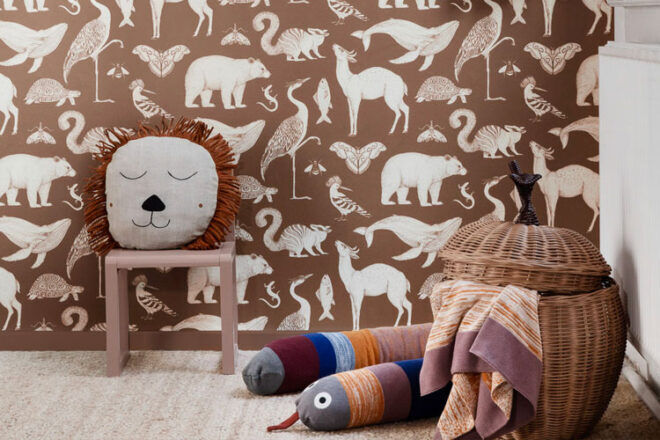 Illustrated beautifully with creatures of all shapes and sizes, this Danish wallpaper has a richness that's impossible not to love. Printed with water-based colours, it looks especially stunning paired with rattan accents.
---
2. Blond + Noir
One look at this Australian-themed wallpaper and you can almost smell the gum leaves. Filled with handpainted (and supersized) protea and wattle, it's made with a peel-and-stick backing and works best on walls up to 3.5m wide.
---
3. Studio Ditte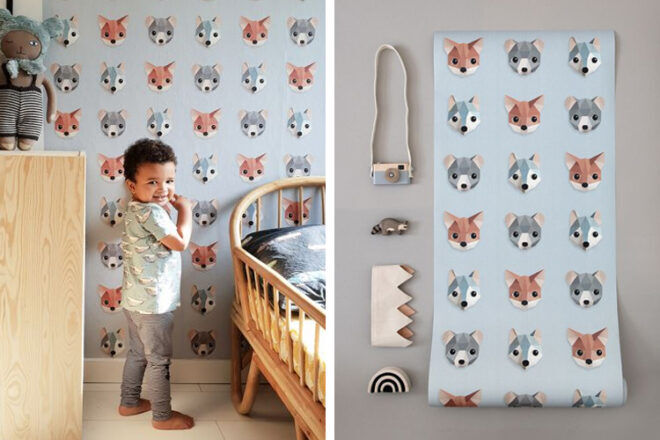 Filled with friendly foxes, bears and wolves in gentle tones, this wallpaper is a beautiful choice for animal-loving families. Non-woven and easy to wipe down with water, it is purchased in drops of two with samples available.
---
4. Little Lion House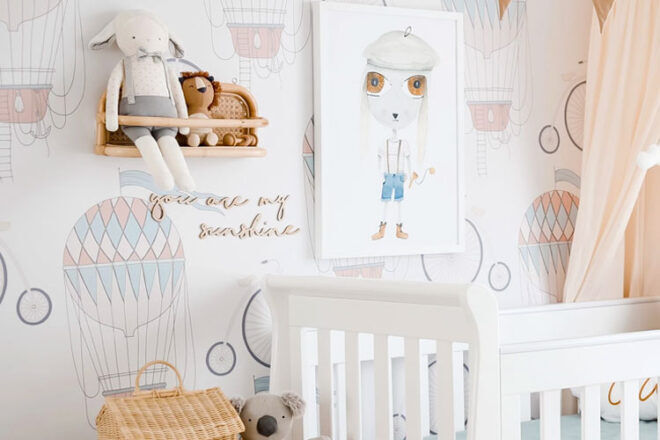 Little Lion House Bikes & Balloons Wallpaper (from $120)
Bubba will love gazing at this dreamy scene filled with pastel hot air balloons and old-school bicycles. Light and airy, it's printed on high-quality wall film and has a luxurious canvas finish. Just peel, stick and admire.

---
5. Murals Wallpaper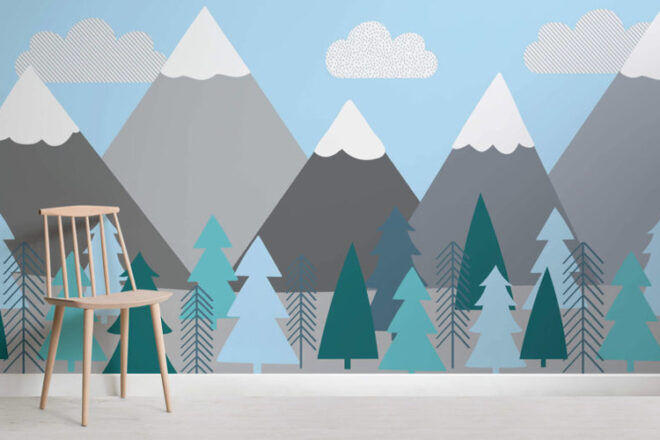 Coo-eee! The blues and greys in this outdoorsy mural will bring a fresh new look to nurseries. Printed with eco-friendly materials, it's durable, vibrant and suitable for use in all environments.
---
6. The Wall Sticker Company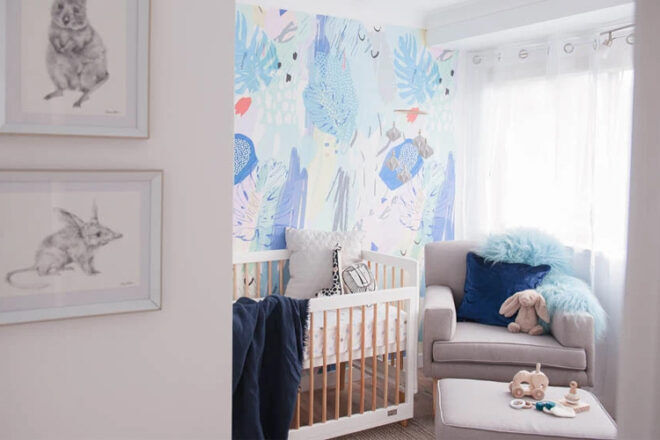 This fresh nursery backdrop is easy to apply, simple to remove and a gorgeous addition to baby's first room. In a peel-and-stick style for easy use, it can be purchased in a variety of heights, right up to 12ft.
---
7. Tiny Walls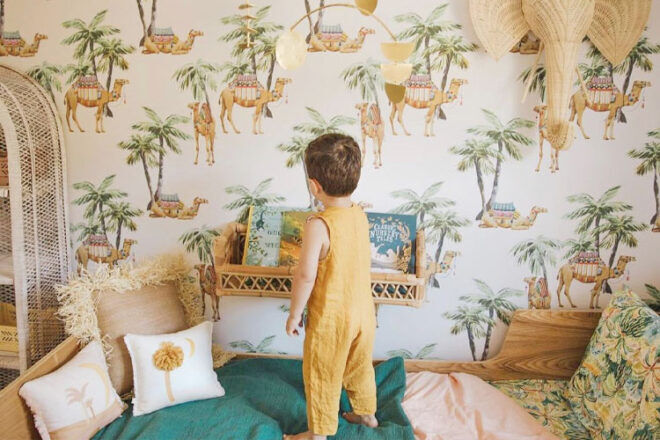 Decked out in camels and palms, this removable and reusable wallpaper is going to transform the nursery into a Moroccan desert oasis. Convenient sample sizes are available to help you with your planning.
---
8. Jimmy Cricket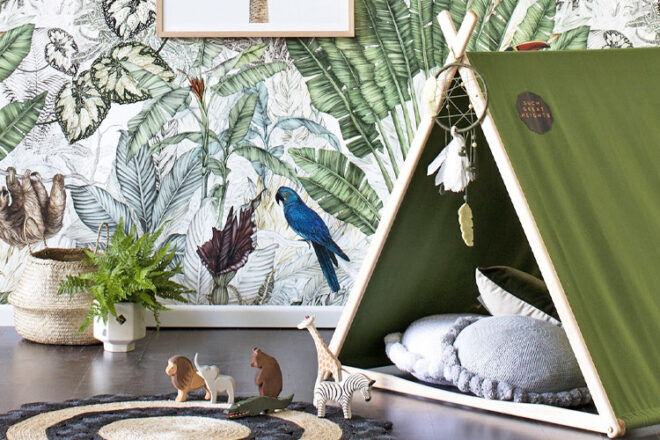 A jungle adventure awaits! With exquisite details and a good dash of whimsy, this captivating print brings freshness and fun to baby's room. The premium wallpaper is non-woven for easy installation and even washable.
---
9. Thistle & Fox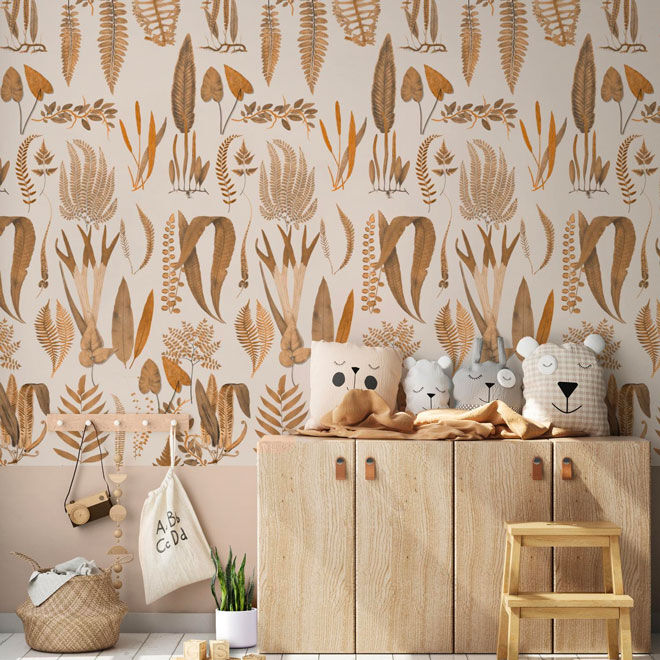 This rustic wallpaper comes in a range of sizes, starting at just one foot in length, so you can affordably paper a cute little nook without investing in a large roll. Choose from pre-pasted or peel-and-stick varieties, both completely removable.
---
10. Olive et Oriel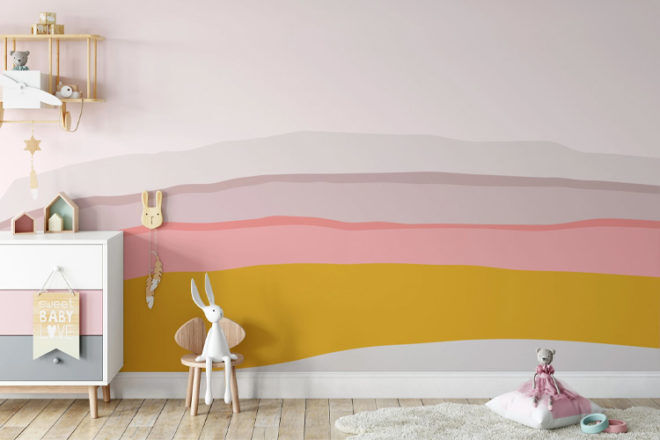 A magnificent backdrop for that special space. Printed right here in Australia, this mural-style wallpaper is specially designed to be a cinch for even one person to install on their own. It comes in a host of sizes to fit even the largest of walls.
---
11. Red Panda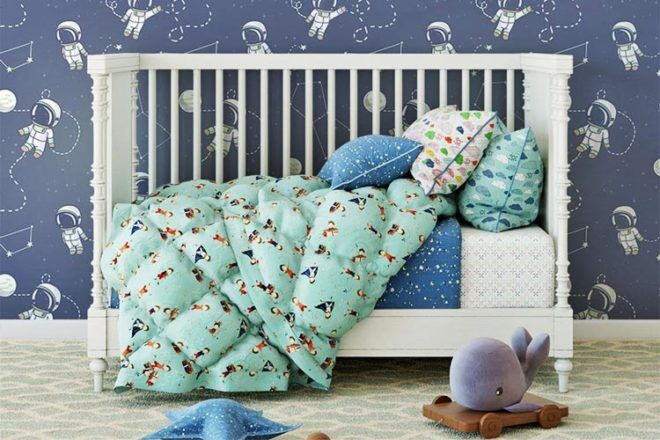 To the stars! This handmade vinyl wallpaper will turn your babe's first room into a whole other world. Completely removable, it is printed with water-based, non-toxic inks that are perfectly safe for children.
---
12. Amba Florette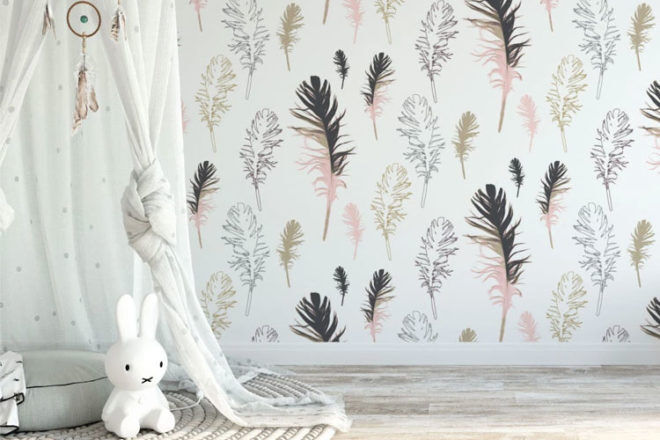 Amba Florette Feathered Friends Wallpaper ($332.99)
A feathery favourite made from eco-friendly, FSC-graded paper that's entirely free from phthalates, PVC and other nasties. Choose from monochrome, neutral or pink hues in this print for pairing with bub's decor.

---
13. Hibou Home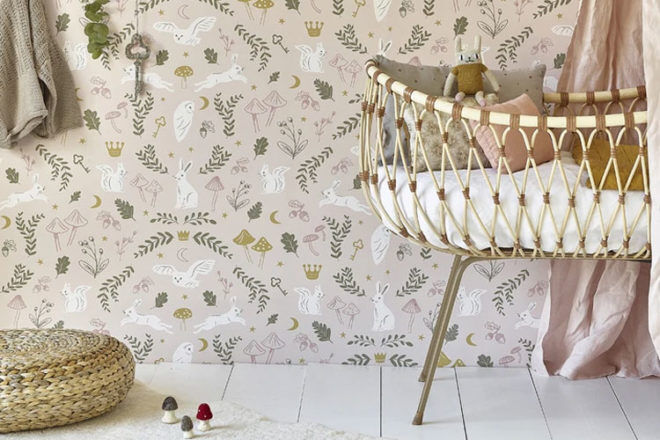 Just like stepping into a fairytale, hand-drawn woodland friends meet a contemporary background in this designer wallpaper.  The non-woven roll comes in lengths of 10m and is designed and made with love in England.
---
14. Ginger Monkey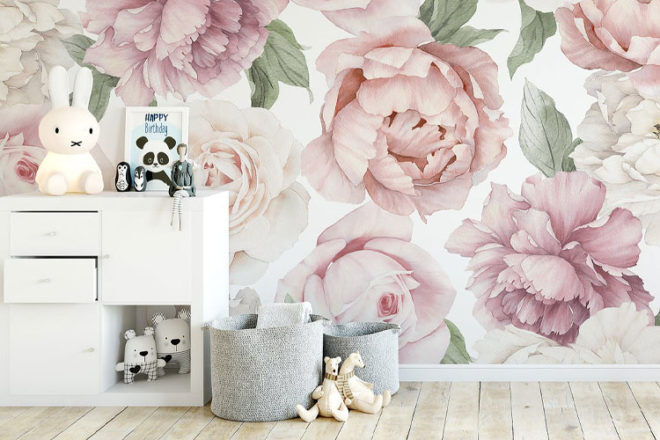 We can't get enough of giant florals when it comes to nursery decor. In a peel-and-stick format, this watercolour wallpaper brings a beautiful softness to baby's room. It's a cinch to apply and remove and can be custom ordered in your desired size.
---
15. Natty & Polly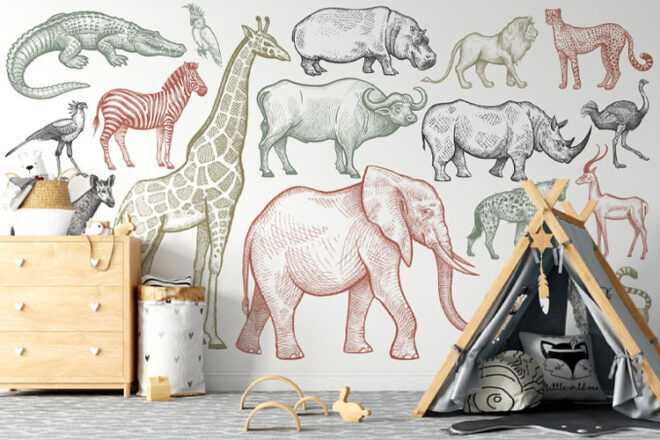 Not only does this stuning mural bring colour and atmosphere to baby's special space, but it's a fab way to introduce some of our planet's most spectacular creatures to littlies. Non-woven and eco-friendly, this beauty is ordered by the square metre.
---
16. Majvillan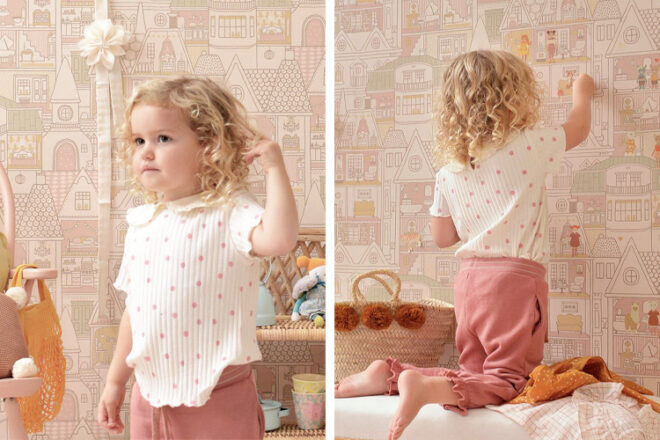 We're crushing on this Swedish wallpaper in a big way for its muted pinks and exquisite outlines. Environmentally friendly and completely washable, this timeless print is one that littlies will love for years.
---
17. Jess Art Decoration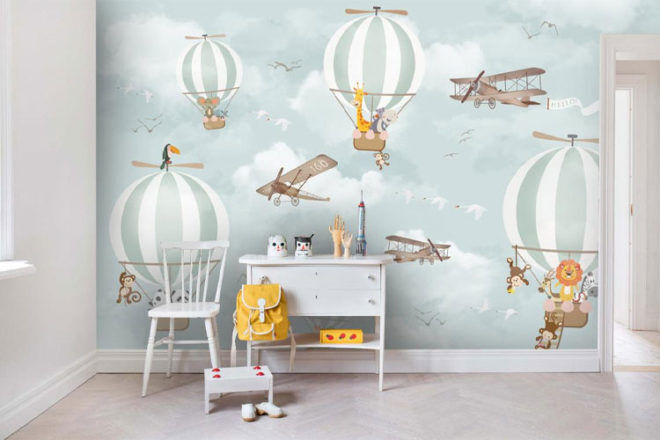 An inspiring scene for the tiniest of adventurers. This waterproof wallpaper is environmentally friendly and comes in a massive range of sizes to suit most walls. You can also custom order to suit a specific space.
---
18. Urban Road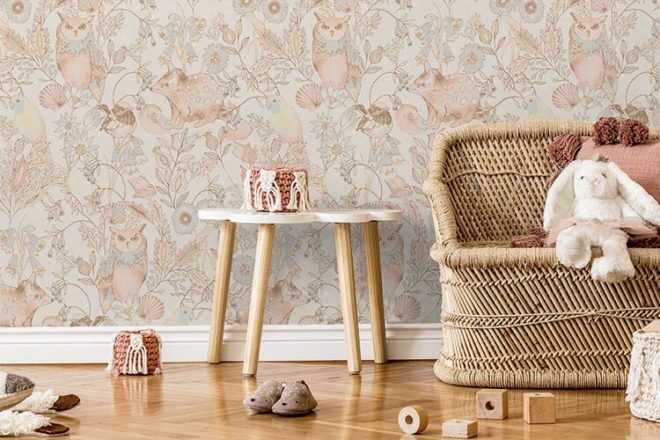 We adore this depiction of dreamy Aussie flora in their native habitat – and if you look closely, you'll notice some shells thrown in to celebrate our beachy lifestyle. This premium linen-textured wallpaper is made to order and comes in panels of 61cm.
---
This article is curated by our Editors and includes affiliates and/or paid inclusions. See our Disclosure Policy.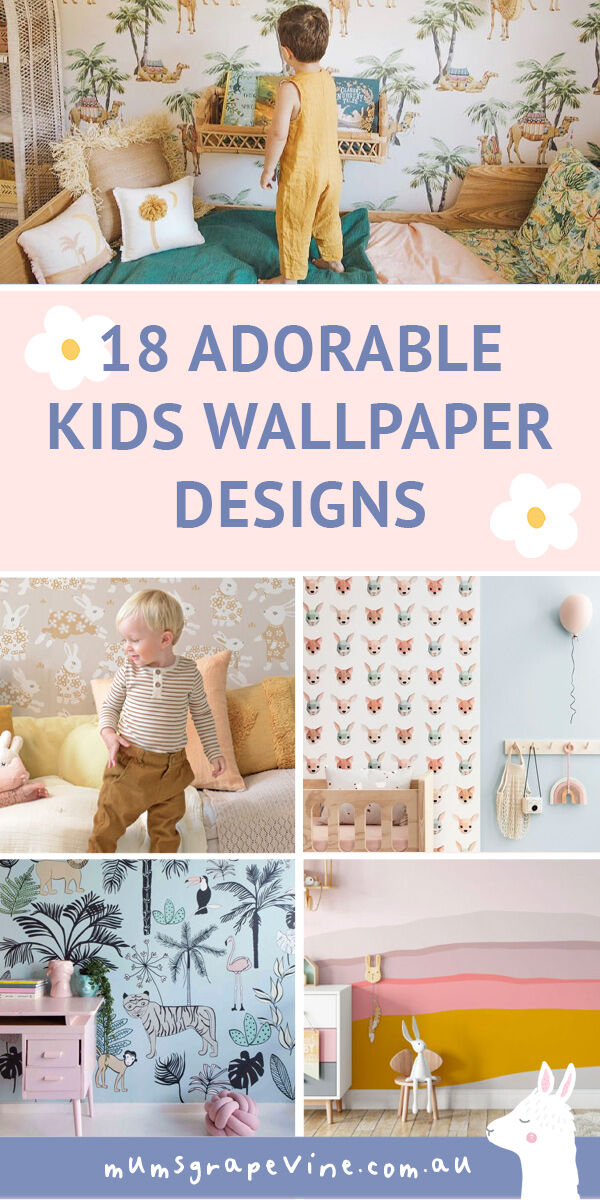 Know a brand of beautiful nursery wallpaper we should add to our list? Contact us and let us know.
Read next …
Looking for more stunning additions to the nursery? From gorgeous mobiles to swoon-worthy cot sheets, here are a few articles that you might like to read next:
Continue your search for the best nursery wallpaper
Looking for nursery wallpaper and still not sure if any of these are right for you? Search online by jumping into one of our closed Baby groups and ask thousands of other Australian mums what they recommend – 'What to buy' is the most talked-about topic.
Click and join your group today!