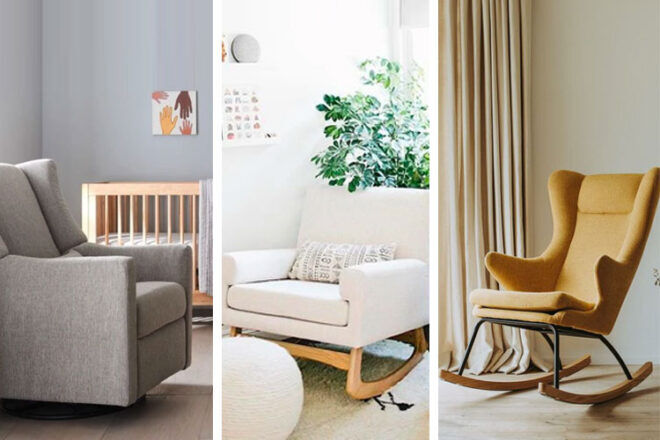 By the end of your pregnancy, you'll need to have a cosy nook ready for feeding baby. Whether you opt for a rocking chair or a dreamy recliner, the right nursing chair will keep you comfortable during breastfeeding and make the nursery even more inviting.
A nursing chair is an upholstered piece of nursery furniture for sitting in while feeding a baby. With excellent support and a low seat that makes getting up easy, it makes a comfortable, practical and stylish addition to baby's special room.
Before you buy, take a look at our pointers below to help you track down the ultimate breastfeeding chair for your nursery.
Buying a nursing chair: your questions answered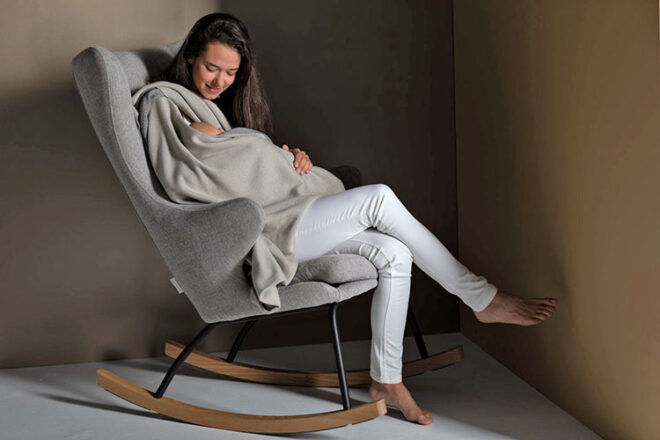 A nursing chair is usually a big purchase and one that comes with its fair share of questions. Take a look at our answers to help guide you in the right direction.
Do you need a nursing chair? Unlike regular chairs, nursing chairs are built with breastfeeding comfort in mind. So while they're not an essential item, if you need extra support at feeding times (especially in the early months after childbirth), a nursing chair can very quickly become your best friend.
How much does a nursing chair cost? The price of breastfeeding chairs varies a lot in Australia. Expect to pay anywhere from $150 to $3000 depending on the chair type, materials used and special features.
Why do you need a nursing chair? Not only does a great nursing chair give you a special place to feed and snuggle your little bundle, but it also helps you maintain comfortable feeding positions, which means less chance of pains and strains on your body.
How long will you use it? The beauty of contemporary nursing chairs is that they are built to last and incredibly versatile. While bottle or breastfeeding may last just a few years, your chair can be repurposed and enjoyed well beyond baby's early years.
Are there any alternatives to a nursing chair? Supportive nursing pillows and cushions turn any chair, sofa, bed or floor space into nursing spaces. What you decide you need really depends on your comfort level and how long it takes to feed your little milk monster.
What accessories are available for a nursing chair? Some chairs come with an ottoman or footrest and even a lumbar pillow. Don't forget to have a snuggly baby blanket on hand to keep your precious bundle warm during feeds.
---

11 nursing chairs for comfortable feeding
All set to find the perfect breastfeeding chair? In no particular order, here are 12 functional and beautiful styles that we are loving right now.
1. Quax
This European-designed nursing chair comes in three contemporary shades and features steel legs for longevity and strength. Easy-care upholstery means cleaning off any baby 'spills' will be a cinch to clean.
---
2. Nursery Works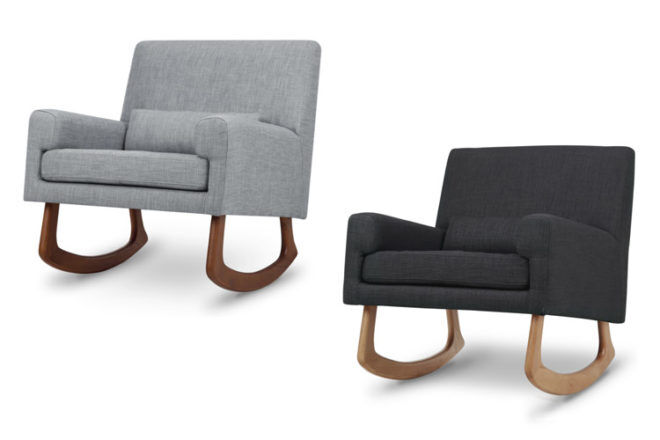 Famous among new mamas for being just so practical, this rocking chair features ash hardwood legs and a crisp, upholstered chair in a choice of shades. The included lumbar pillow is brilliant for supporting the lower back while feeding.
---
3. DaVinci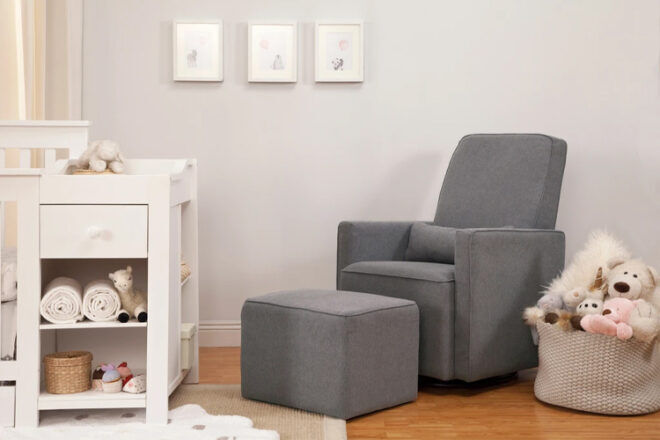 Nothing is out of reach with this handy breastfeeding chair in the picture. With a lovely high back, it offers complete support of the neck and shoulders and even comes with a lumbar cushion. The swivel base allows you to reach baby's essentials with ease.
---
4. Babyletto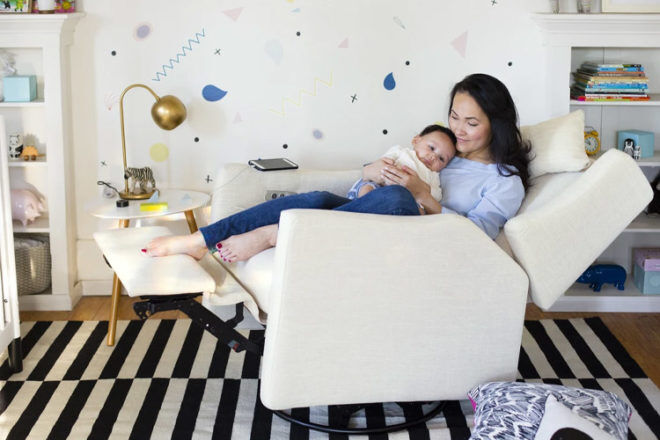 Rest…and recharge – literally! This uber-popular breastfeeding chair comes fitted with a USB port for charging your phone while you nurse bubba. It has a smooth swivel motion and gentle gliding for soothing little ones to sleep. We love!
---
5. Babyhood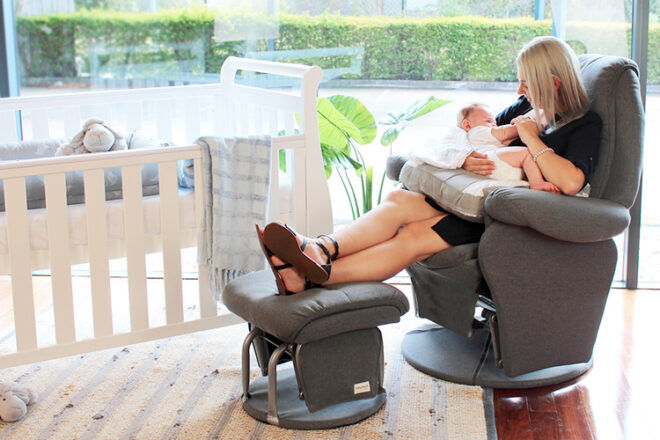 It reclines, it swivels and it glides. This purpose-built nursery chair offers parents all the comfort they need to feed baby while being able to move effortlessly. In three modern shades, it comes with a matching padded ottoman.
---
6. Life Interiors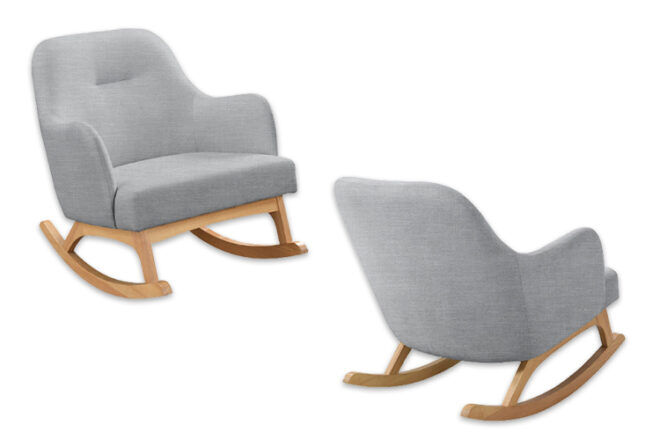 This roomy, contemporary rocker makes an ideal nursery chair. It comes in a shade that will fit any space you put it in and luxe upholstery to support Mum's back. It's crafted with a solid-oak rocking base that will stand the test of time.
---
7. Mocka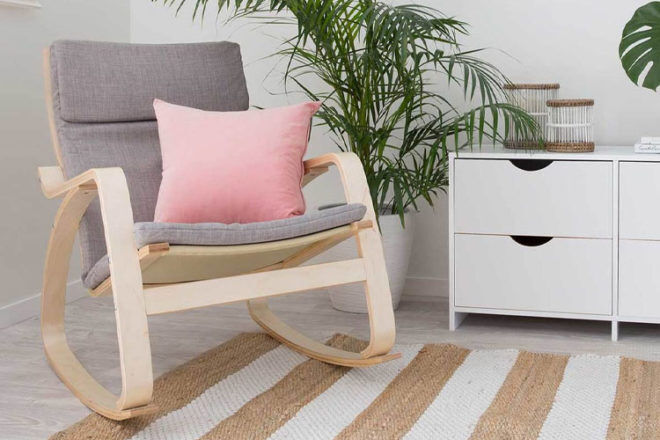 Fresh, timeless and versatile, this comfy nursery rocking chair is going to get loads of use well beyond the baby years. It has a blonde, birch wood frame and contemporary grey seat for a modern look that will look fab in any room.
---
8. Pottery Barn Kids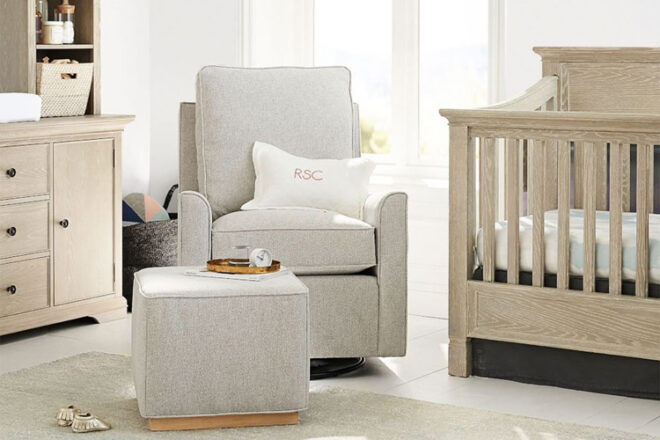 A sleek breastfeeding chair with a lovely tall back, plush removable cushions and sloped armrests. With a hardwood frame, this nursing chair comes equipped with a swivel and glide mechanism to allow Mum to gently rock with minimal effort.
---
9. Plush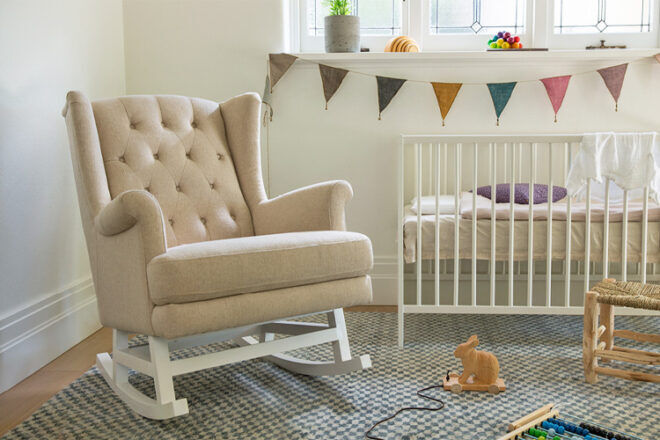 This high-end wingback nursery rocking chair comes with diamond button-hole details and premium upholstery for the ultimate comfort. Choose from a white or walnut base and a wide range of luxurious leather and fabric covers.
---
10. Freedom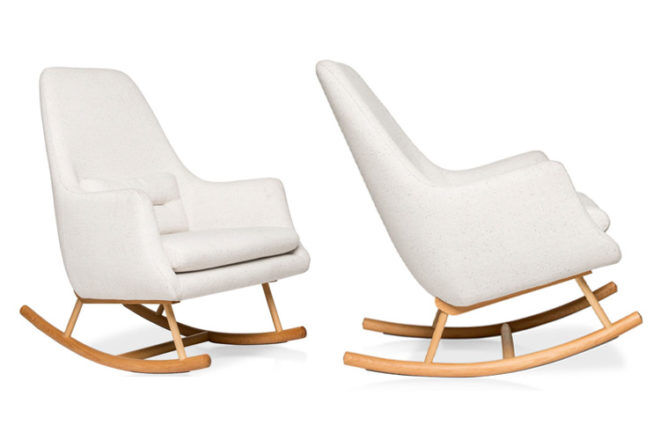 With a retro curved back and soft dapple fabric upholstery, this beauty really stands out in the crowd. It comes with a matching cushion for max support and is paired with a gorgeous mid-century style rocking base.
---
This article is curated by our Editors and includes affiliates and/or paid inclusions. See our Disclosure Policy.

Know a comfy nursery chair we should add to our list? Contact us and let us know.
Read these roundups next …
If you're looking for more must-haves for breastfeeding, you're in the right place. From breast pumps to lactation cookies, our roundups include Australia's best brands and products.
Read this: Can I take panadol if I'm breastfeeding?