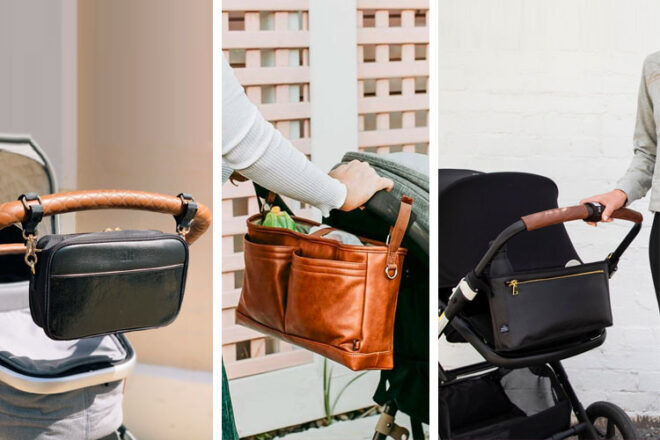 When you head out and about with baby, you'll have a lot of essentials in tow and a pram caddy is just the accessory you need to keep everything organised and accessible.
From sleek, faux-leather beauties to caddies that double as compact nappy bags, contemporary stroller organisers come with a compartment for everything. They'll save your sanity by keeping bubba's bits and bobs in check and they will take your pram game to all new heights.
What to look for when buying a pram caddy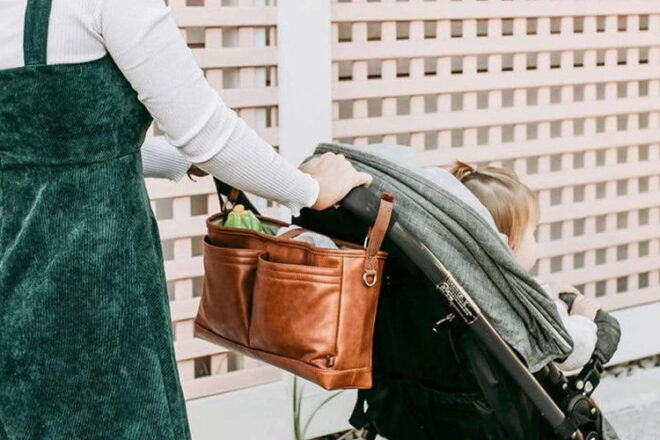 While all pram caddies aim to help you with storage and organisation, designs can vary between brands. Here are some features to consider when you're scouting one out:
Shoulder strap – Want to ditch the pram and take bub in the carrier or wrap? If your caddy has a long strap, it means you have the freedom to throw it over your shoulder and take your pram essentials with you on foot. Quite often shoulder straps are included with a caddy, but sometimes they need to be purchased separately.
Bottle holder – Whether you want to securely tote a few bottles for baby or an iced tea for yourself, bottle holders mean no more leaks, drips and icky messes to clean up.
Zip opening – If you're likely to use your caddy to store your keys and other valuables, a zip-up top will give you peace of mind that everything is secure.
External pocket – An external pouch or pocket will come in super handy for storing your phone, receipts, trolley coins and any other essentials you're likely to need quick and easy access to.
Universal pram straps – While some stroller brands do offer matching caddies for specific models, the good news is that most pram organisers come with universal straps that will fit most pram handles.
Size and weight – Consider how much you're likely to store in your caddy before you settle on one. A bigger caddy may provide more space, but it will also add more weight to your pram.
---
15 sanity-saving pram organisers
To help you find the perfect pram caddy for your needs, we've put together a handy list of our favourites to get you started in your search.
Some brands have offered exclusive offers for Mum's Grapevine readers. These offers may include exclusions and expiry without notice. Please direct all enquiries directly to the linked website.
In no particular order, here they are:
1. The Nappy Society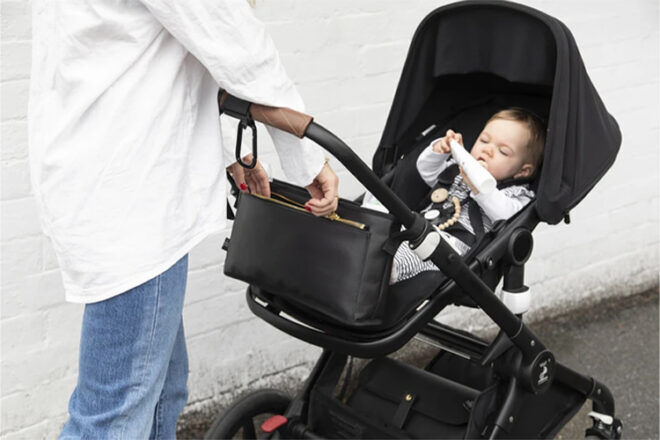 In a choice of full-size or mini, these sleek canvas carryalls come with a zip-up opening, external pocket and insulated bottle holder. Each comes with universal straps that will fit most styles of prams.
The Nappy Society Discount Code:
Use code 'MGV15' for 15% off full-priced items storewide
---
2. OiOi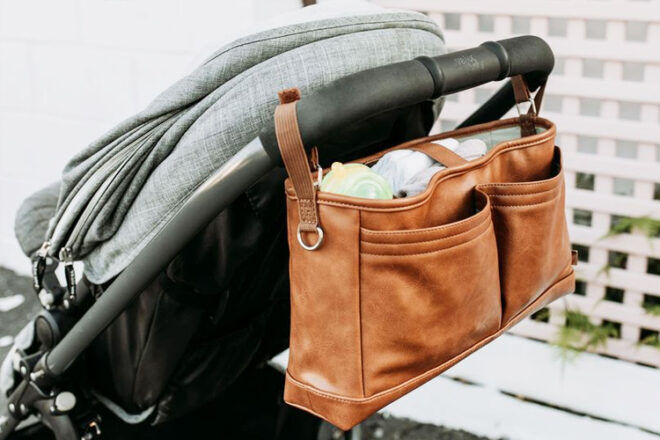 We're gushing all over this glorious tan number from OiOi. It comes with a crossbody strap for when you're heading out on foot with bub, and it's made with water-resistant materials for easy clean-ups.
OiOi Discount Code:
Use code 'MGV15' for 15% off storewide.
---
3. Storksak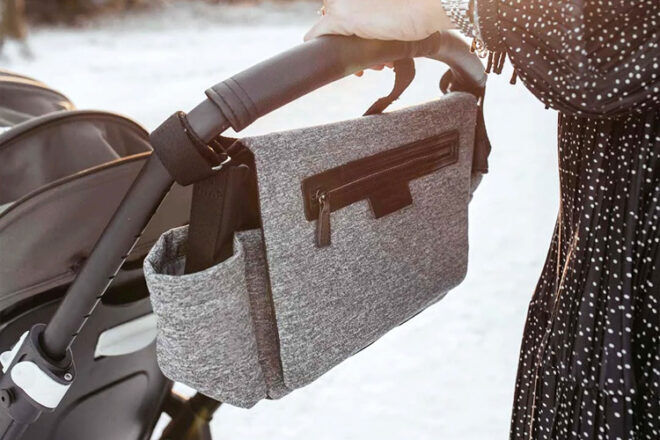 In a smart, gender-neutral design, this is a pram caddy Dad will love using just as much as Mum. It comes with four external pockets for storing all of bub's goodies and a removable insulated bottle pocket.
---
4. Hannah & Henry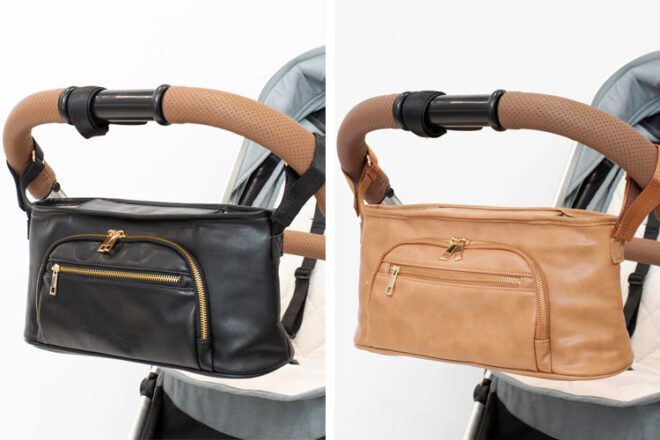 Created with buttery-soft vegan leather, Hannah & Henry caddies bring a dose of luxe to busy days with bub. It comes with a magnetic clasp, dedicated nappy compartment, wet wipe pocket and more. Plus, it's a cinch to wipe down and resistant to spills.
---
5. Vanchi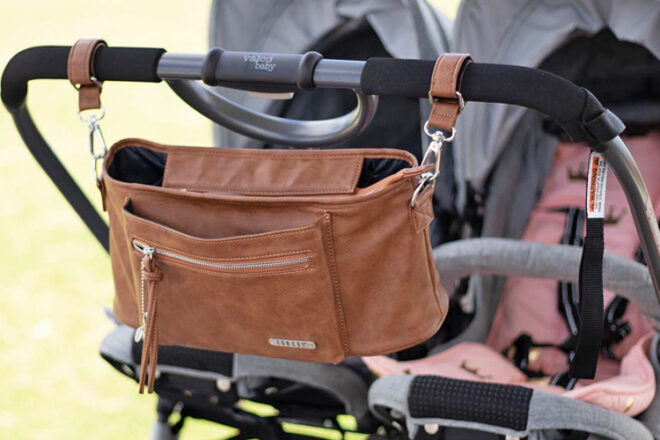 Like a handbag for your pram, this organiser keeps everything in easy reach – so there will be no more rummaging around your handbag to find baby's favourite teethers! In tan or black, they come with water-resistant lining.
---
6. b.box
If you like to have your belongings where you can see them, this is the ultimate stroller caddy. Not only does it comes with sections for drinks, phone, purse and snacks – but it also has a drop-down mesh bag that keeps bubba's must-haves within sight.
b.box Discount Code:
Use code BBOXMGV20 for 20% off full-priced stroller organisers. Limit one per customer.
---
7. Arrived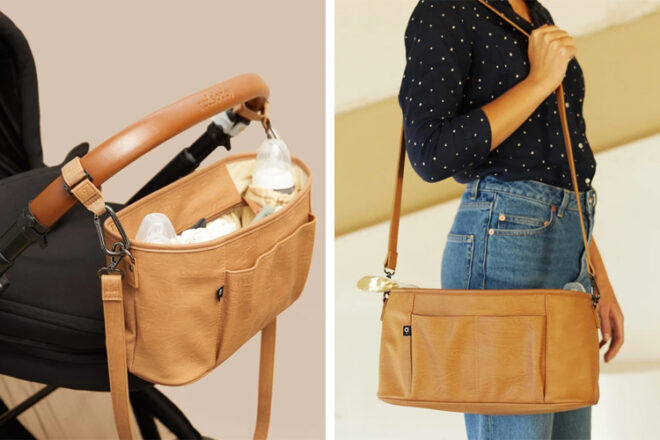 With clean lines and stunning stitch details, this little pram organiser is all style. It's made of premium faux leather that is easy to care for and boasts a huge zip-up compartment big enough for nappies, wipes – and lunch!
---
8. Skip Hop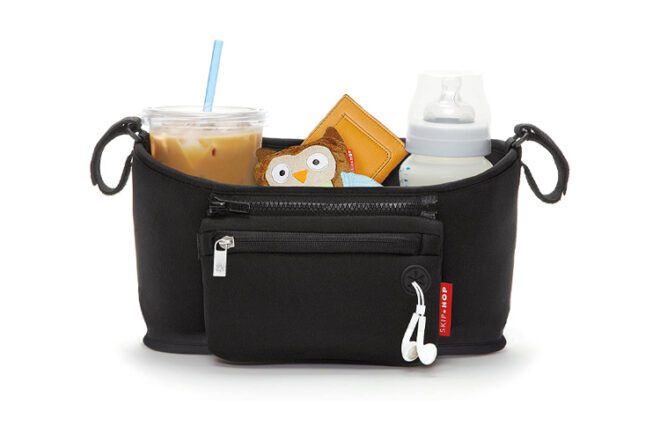 This insulated neoprene caddy is just the thing for keeping food and drinks fresh while you're on the run with baby. It fits both stroller bars and handles and comes with a zip-off wristlet that you can use as a wallet. That's smart.
---
9. Alf The Label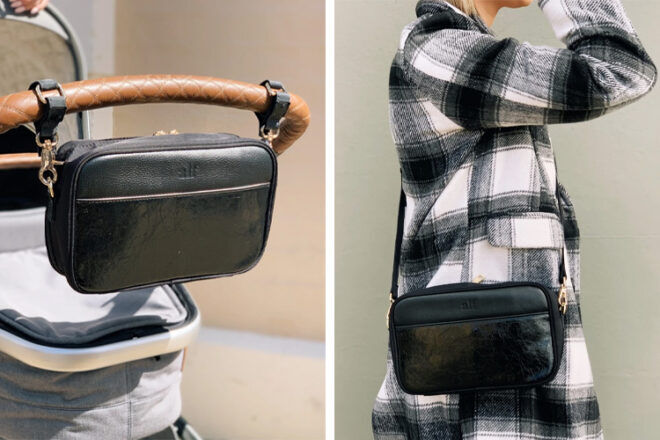 For a compact pram organiser that doubles as a day bag, this gem is tough to top. Fully lined, it comes in a choice of four shades and holds up to four nappies and a packet of wipes. A bonus change mat is included.
---
10. Babymel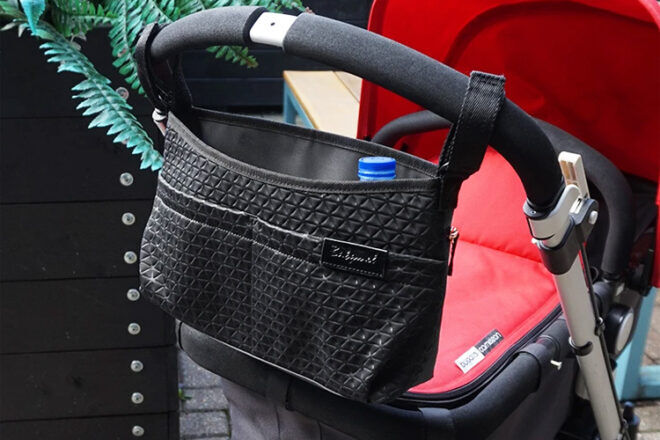 It's not called 'Scuba' for nothing. This clever little bestie is made of durable, water-resistant scuba material to handle whatever the day brings. In navy or black, it has a removable bottle sleeve and a large external zip pocket.
---
11. Bugaboo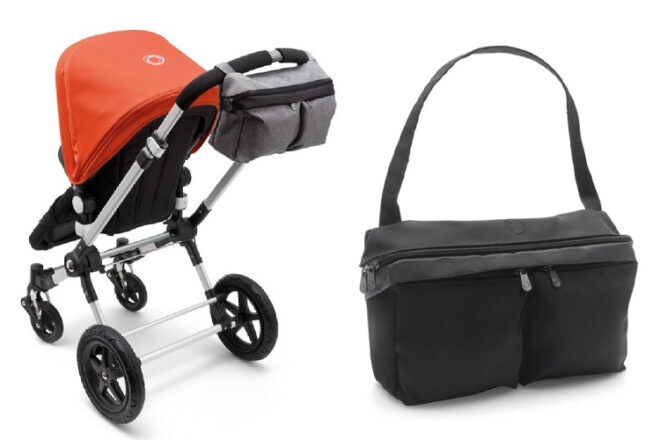 This convenient grab-and-go storage solution will be a godsend to busy parents with a lot to tote. Totally timeless, it comes fitted with a long shoulder strap and has separate sections for Mum and bub.
---
12. Redsbaby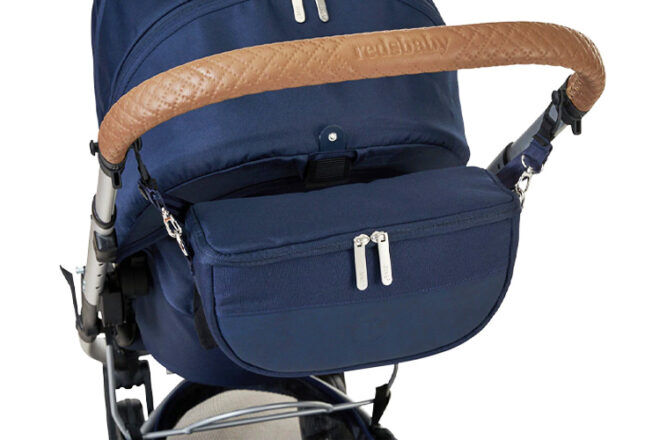 Designed to pair perfectly with a range of Redsbaby prams, this caddy makes a handy companion for your travel adventures with bubba.  It comes with secure zip closure, internal mesh pockets and gorgeous metal hardware.
---
13. Lekebaby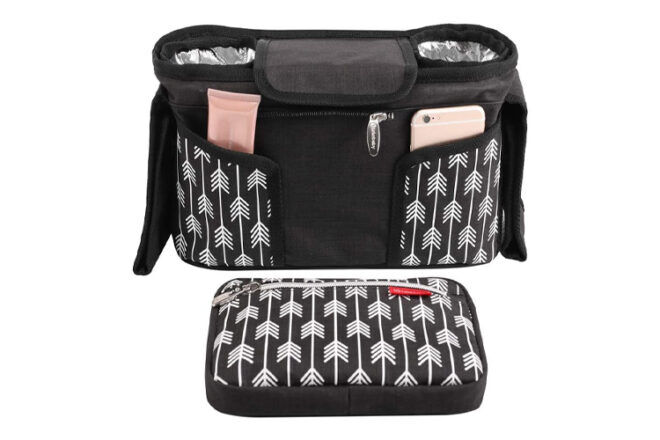 A spot for everything at a family-friendly price. This caddy comes with two insulated drink holders and a fold-down mesh pocket for soggy clothes and the remnants of baby's snack. It also has a very handy zip-off pouch for your purse and keys.
---
14. Isoki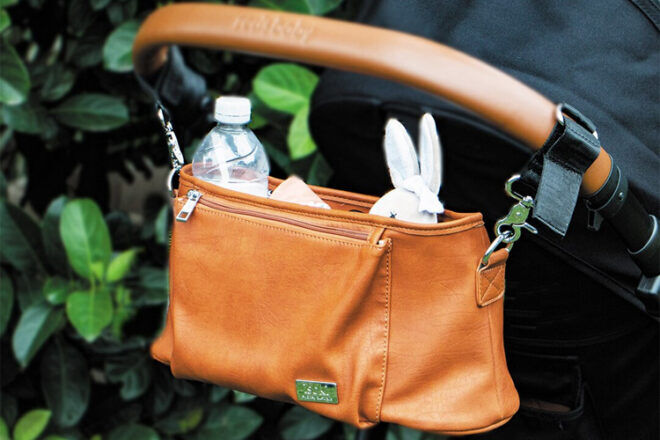 This luxe stroller organiser that looks as good as it performs. In a choice of tan with gold hardware or black with gunmetal hardware, this clever helper comes with two insulated drink pockets and a spacious central compartment.
---
15. Outlook Baby
Equipped with universal pram clips and a shoulder strap, this is a pram organiser you can take everywhere.  It has a roomy zippered central pocket, two elasticised bottle holders and it even comes with a monogrammed wipes container.
---
This article is curated by our Editors and includes affiliates and/or paid inclusions. See our Disclosure Policy.
Know a pram organiser we should add to our list? Contact us and let us know.
Find more products for baby….
Continue your search for the best pram organisers
Looking for a pram organiser and still not sure if any of these are right for you? Join one of our Baby Groups and ask thousands of other mums what they recommend. They are grouped together by baby's birth date so everyone is going through the same stages at the same time.
Click here >> Mum's Grapevine Facebook Groups  << and find your group today!