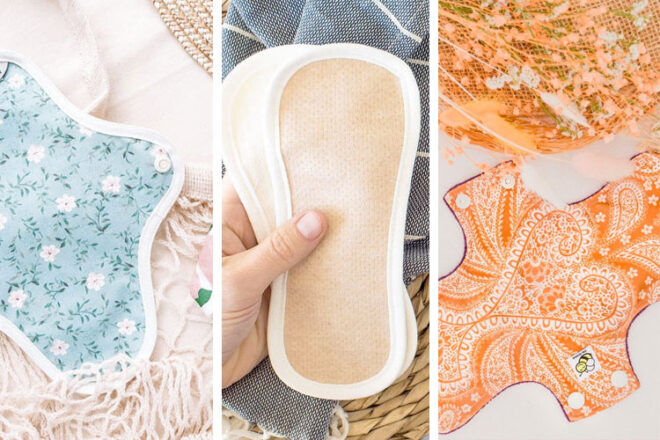 We may not be able to avoid our monthly periods, but thanks to reusable pads, we can play an important part in reducing consumer waste in Australia and save loads of money in the long term.
Made from gentle materials like organic cotton and bamboo, reusable period pads are comfy to wear, a cinch to use and available in various levels of absorbency to take on everything from little accidents to a heavy flow.
Like period underwear, reusable menstrual pads are an eco-friendly and fuss-free way of managing your period, and to help you find the perfect type for your needs, we've put Australia's top brands in one handy place.
Reasons to consider buying reusable pads in Australia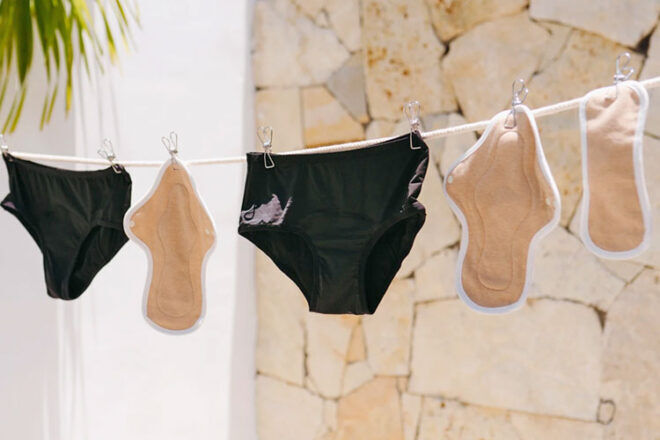 Eco-friendly: By switching from disposable to reusable period pads, you minimise your carbon footprint and play an important role in reducing the millions (yep, millions!) of sanitary products that wind up in Australia's landfill or waterways every year.
Money-saving: Reusable menstrual pads usually have a lifespan of several years, so once you've invested in a set, you stand to save hundreds over the years.
Easy care: If you'd rather avoid handwashing, the good news is that most reusable pads are safe to pop in the washing machine. You may like to rinse them in cold water first to help prevent staining, then they're good to pop in a regular cycle with a gentle detergent. Avoid using the dryer and stick to airdrying only.
Materials: Tired of the irritation synthetic disposable pads cause? Cloth pads make use of natural materials like organic cotton and bamboo fleece to be ultra-absorbent and gentle on delicate skin.
Wings: Cloth pads some with specially designed adjustable wings that snap around your underwear using press studs. So, you can finally ditch those sticky strips.
Comfort: Aside from the environmental benefits, one of the main reasons women make the change to reusable styles is for better comfort. Soft, flexible and made using natural materials, cloth pads can be comfortably worn for hours, depending on your flow.
Absorbency: Whether you're after cloth pads for peace of mind over little leaks or for a heavy period, most Australian brands have got your covered. From lightweight liners to maternity pads, there are varying levels of absorbency available to suit your needs.
---

16 reusable pads for periods and leaks
To help you find the best reusable pads for your lifestyle, we've compiled this list of amazing Australian brands to get you started in your search.
Here are 16 top brands of reusable pads in Australia:
1. My Little Gumnut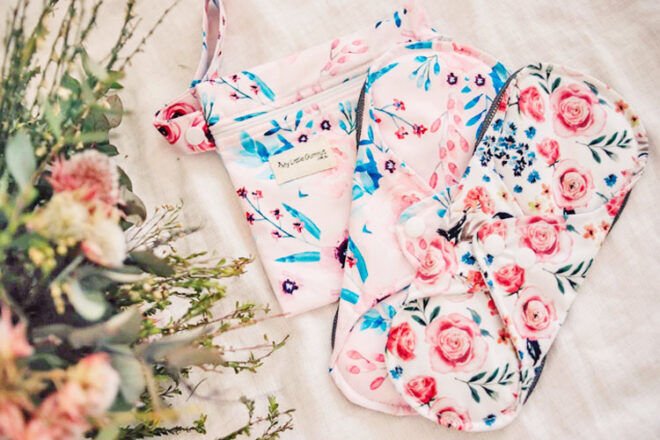 In a choice of floral or single-colour designs, these absorbent cloth pads come in four different levels of absorbency. They each have a bamboo core, leak-proof backing and come with adjustable snaps for attaching to underwear and preventing movement.
---
2. Little Piglet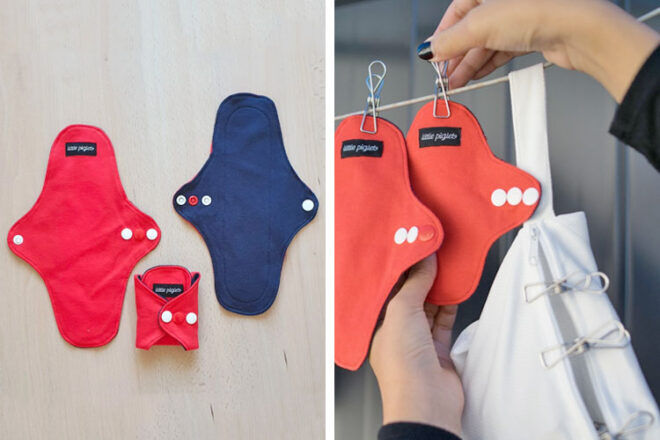 This range includes five different pad sizes, including a 40cm heavy style to get you right through the night with a heavy flow. Inner layers are made with bamboo and cotton while the leak-proof outer layer uses cotton TPU.
---
3. Baby BeeHinds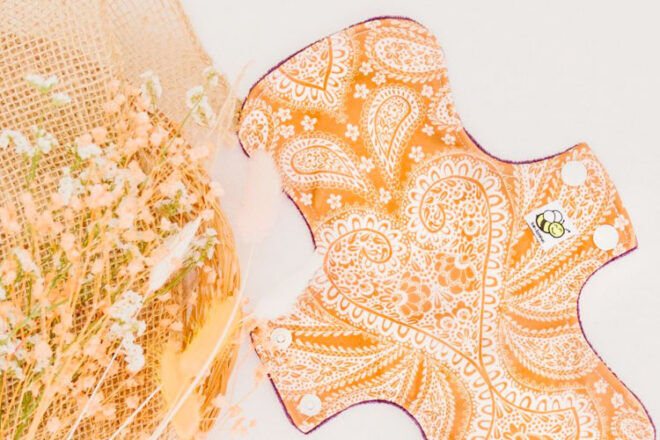 From leak-proof liners to reliable overnight styles, this range of pads has something for every mum's need and lifestyle. All pads feature a deliciously soft cotton-velour topping and PUL waterproof backing. Trial pads and wet bags are available separately.
---
4. Bare and Boho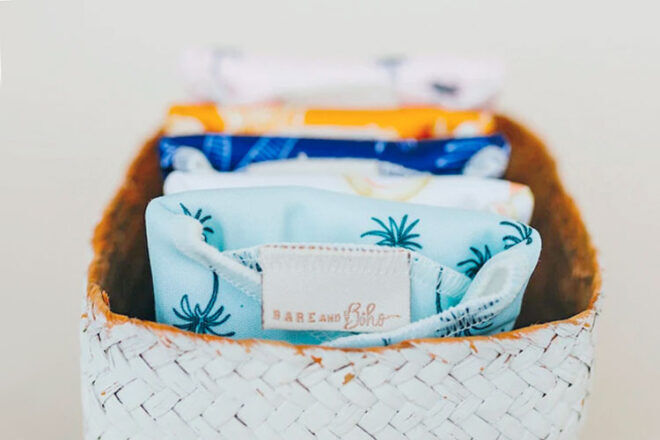 These beautifully designed cloth pads come in four levels of absorbency and consist of an anti-leak PUL base layer, ultra-absorbent inner layers and organic cotton fleece topping. The wings can be adjusted to two different widths to cater to your desired fit.
---
5. Hannahpad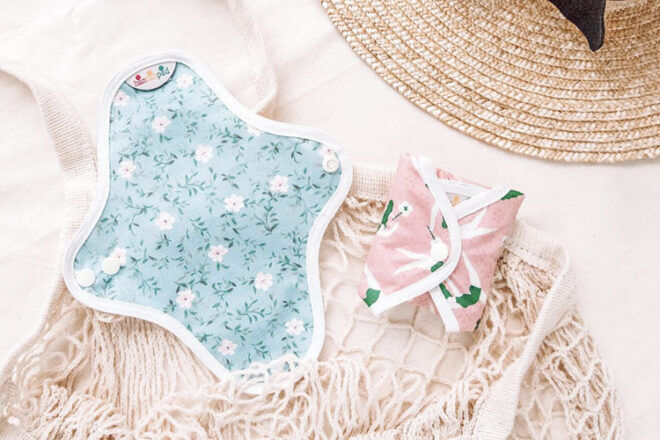 With a lifespan of years, Hannahpads are mindfully made using unbleached, chemical-free and unscented organic cotton. They come in a fab range of prints and colours, and a selection of sizes to cover every flow.
---
6. Juju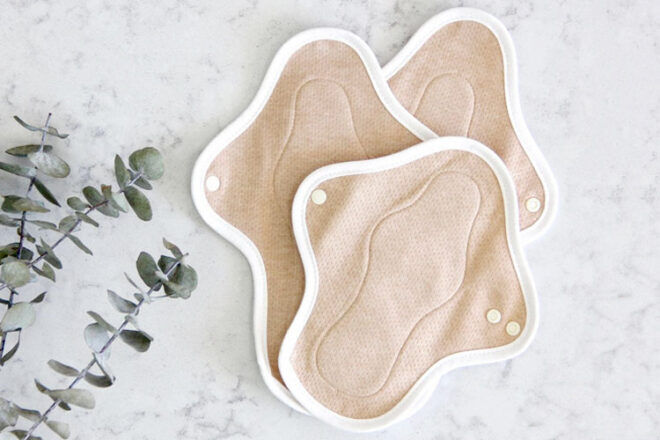 These organic-cotton pads come in five convenient options, including liners, regular pads and overnight styles. Each is carefully made by hand with a waterproof layer to prevent leakage and has adjustable snaps for fitting to your underwear.
---
7. Ecopads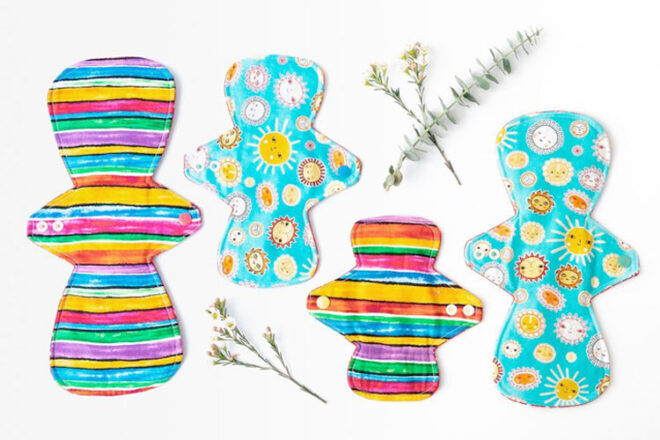 In a fun range that is packed with colour and styles for every need, Ecopads help you manage your period more sustainably without compromising on comfort. Each pad includes a soft topper, ultra-absorbent core, snap wings and a waterproof backing.
---
8. Hello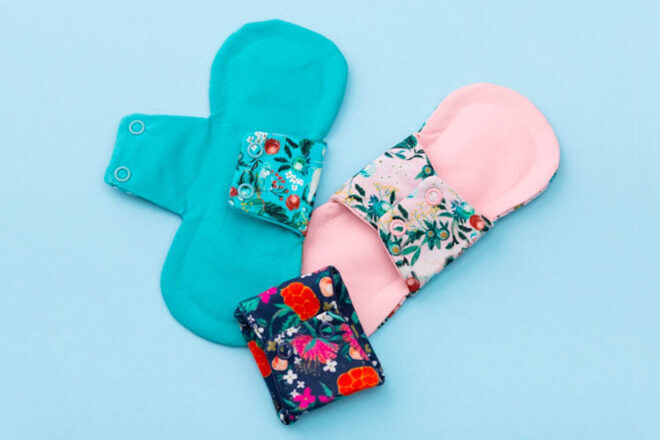 With a bamboo fleece core, each Hello Reusable Liner can hold up to two teaspoons of liquid to help with light flow and little leaks. The top layer uses moisture-wicking organic cotton for breathability and softness.
---
9. Love Luna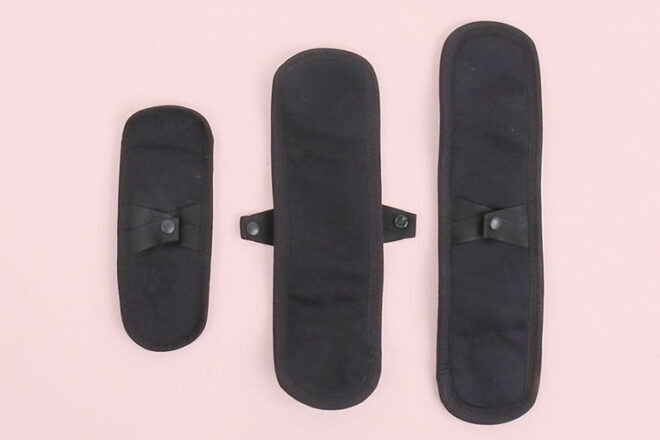 Designed by women, Love Luna cloth pads are as discreet as they are comfy. In a choice of liners, regular pads or super pads, they are made with 100% cotton and come with v-shaped straps, multi-layer protection and odour control.
---
10. Little Aussie Monster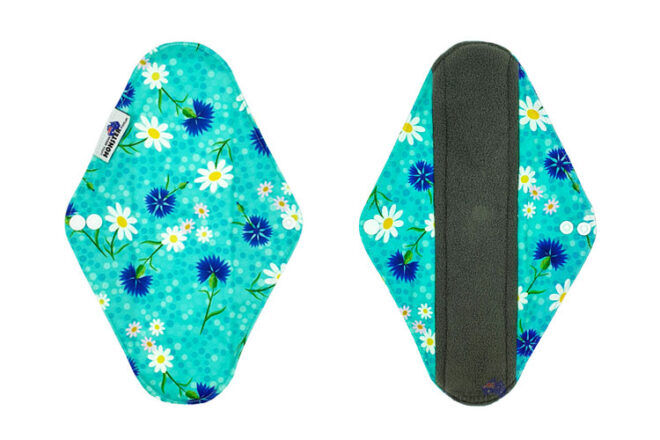 This colourful range includes reusable sanitary pads in light, regular and heavy styles. Each pad comes with press-stud wings, a naturally antibacterial bamboo charcoal top layer and a PUL waterproof backing to prevent leaks.
---
11. Designer Bums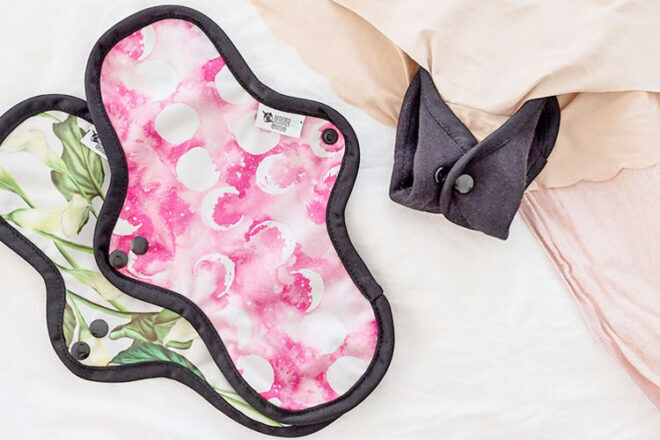 With comfort in spades and prints that pop, these GOTS certified organic cotton pads tick all the boxes. They are available in four different styles, from 22cm liners right through to 35cm heavy-flow or postpartum pads.
---
12. Itti Bitti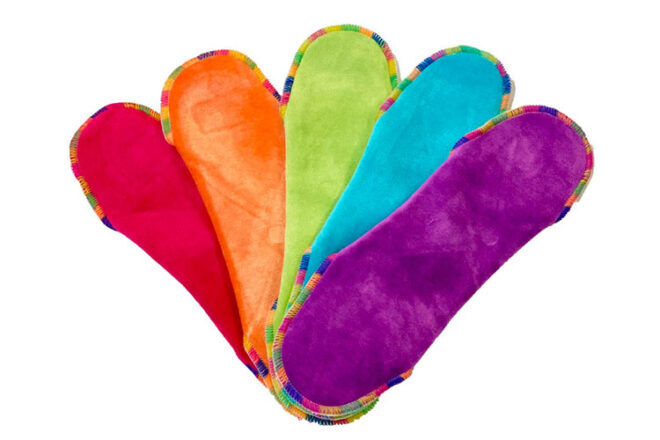 Flexi by name, flexi by nature. These colourful gems are made with a bamboo velour topping and bamboo core for a fit that allows you to get on with life. In one size, they come with a separate waterproof booster for those heavier days.
---
13. Leaf Pads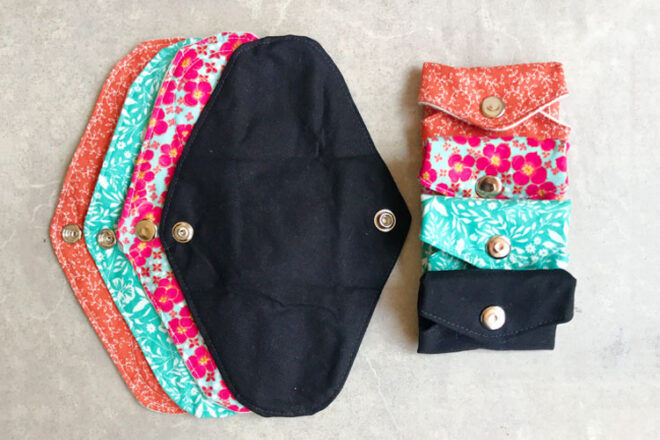 Not only are Leaf Pads vegan and 100% plastic-free, but they're also completely biodegradable at the end of their long lives. Rather than using a PUL layer, these pads use dynamic brushed cotton to absorb and retain liquid for hours.
---
14. Duty for Cutie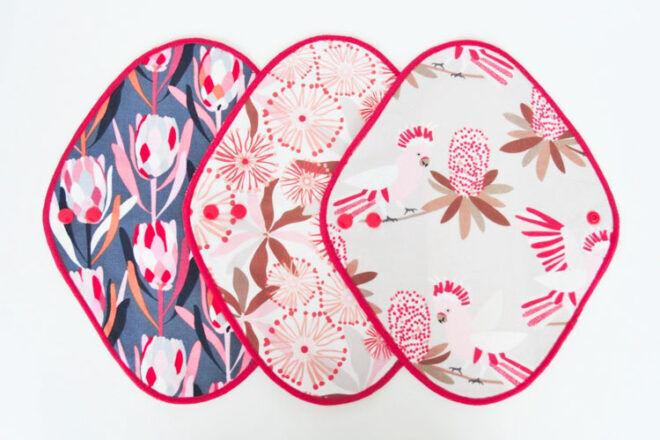 In a choice of glorious prints that include some of Australia's favourite flora and fauna, these reusable menstrual pads come in sets of four and two different sizes. They have a cotton flannel top, layered bamboo core and waterproof PUL backing.
---
15. Boho Babes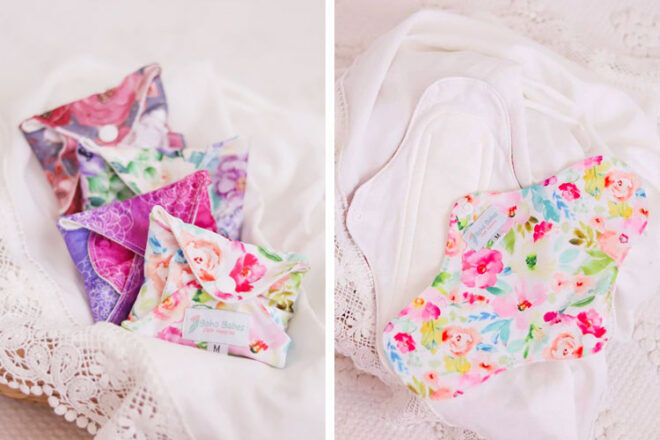 Who new period pads could be so pretty? This collection includes four different styles ranging from lightweight liners to 38cm maternity pads. Each uses bamboo cotton layers to absorb liquid and comes with press-stud wings and a leak-proof back.
---
16. Sisterworks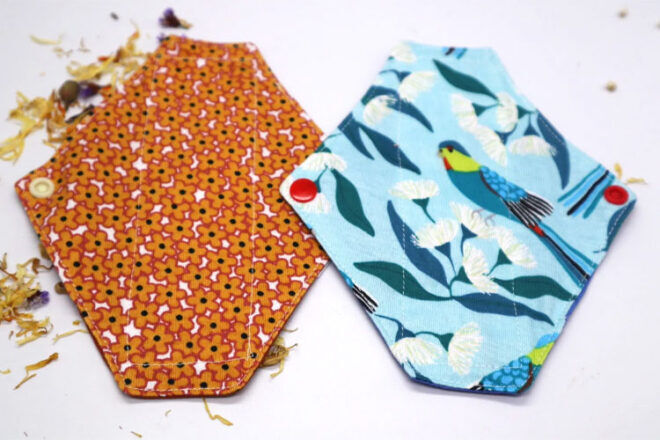 From a non-profit company in support of migrant women, asylum seekers and refugees comes a range of reusable sanitary pads made by women for women. Choose from liners, medium and heavy flow packs and complete kits that include a wet bag and wash bag.
---
This article is curated by our Editors and includes affiliates and/or paid inclusions. See our Disclosure Policy.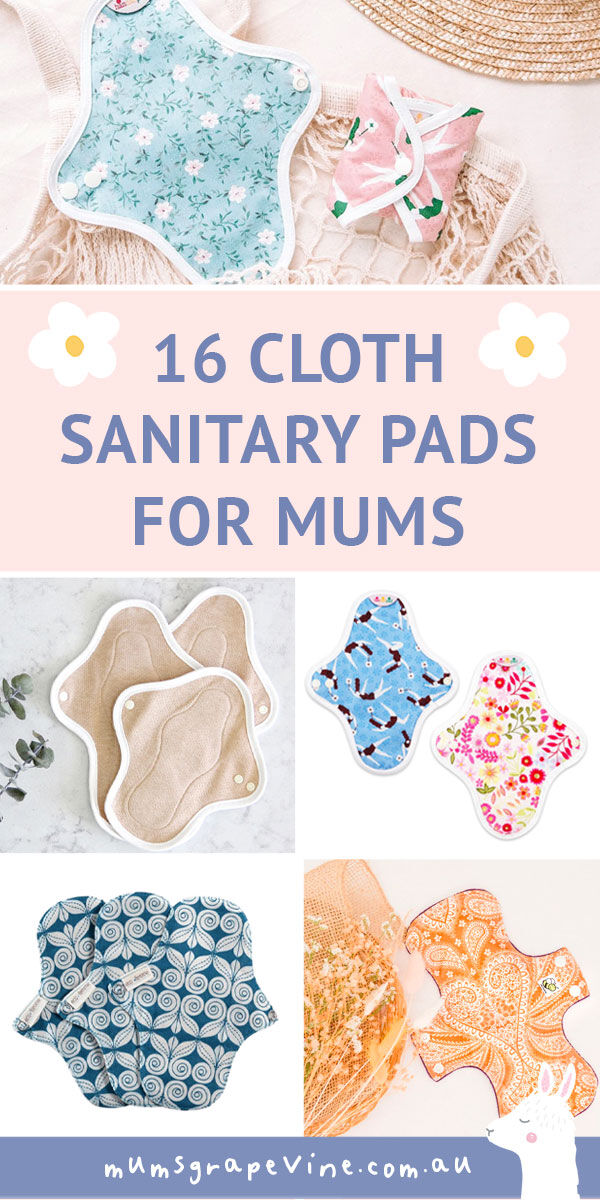 Know a brand of reusable pads we should add to our list? Contact us and let us know.
Read these roundups next …
Looking for more useful products to help in your new life as a mum? We have Australia's largest suite of product roundups listing Australia's most coveted boutique brands – the ones you don't know about!