Rommer Silicone Spoon
Silicone baby spoons sold across Australia are being recalled due to a potentially deadly hazard. A batch of Rommer Silicone Spoons have been manufactured incorrectly, which could result in the head of the spoon breaking.
Defects: A stainless steel inner rod in the handle has been placed incorrectly and results in the spoon having a weak point at the neck. Some spoons may tear at the neck/head or may break if excessive force or abnormal bending occurs.
Hazards: If the head tears or completely snaps off, it can pose a choking hazard for young children, which can lead to severe injury or death.
Some spoons may peel open once torn revealing the stainless steel rod that could cause injury or become a choking hazard.
What should you do: Stop using the spoons immediately and dispose of them. Rommer will supply replacement spoons to affected consumers who purchased from them directly. If the spoons were purchased from another retailer, consumers should contact their place of purchase to request a replacement spoon.
Suppliers: The Rommer Silicone Spoons were available from:
Rommer Pty Ltd
Traders who sold this product
The Kid & Co
Hyde
Bell and Luca
Gen of Eve
Nuage
Big Little Things
Small Wonder
One Country Mouse Kids
The Native Nest
The Memo
Dunn and Walton
The Wholesome Store
Sunshine Trader
The Grocery Store Cafe
Children of The Tribe
Where the product was sold: Internationally, online, and in New South Wales, Queensland, Victoria, and Western Australia.
Dates available for sale: 6 November 2020 – 2 December 2020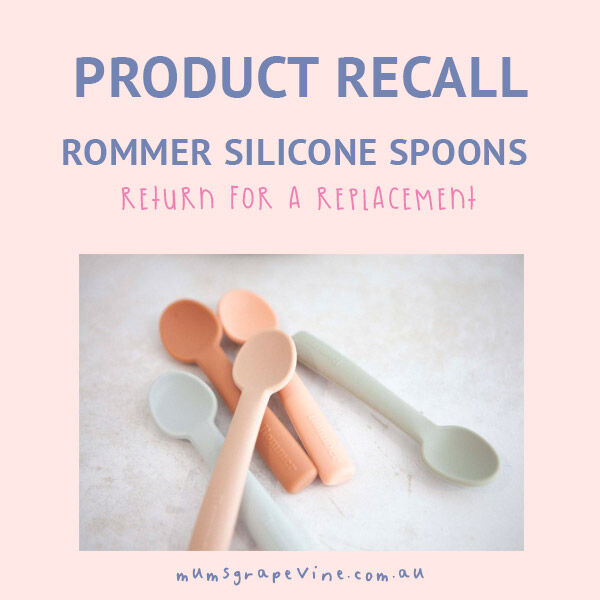 ---
Join our Pregnancy & Baby Groups
Be the first to know about recalls, alerts and baby related news – nothing gets past the mums and mums-to-be in our Facebook groups! Join one of the closed Mum's Grapevine due date or baby Facebook groups for non-judgemental support from other mums with babies born around the same time as you.
Click below and join your group today – don't miss out!