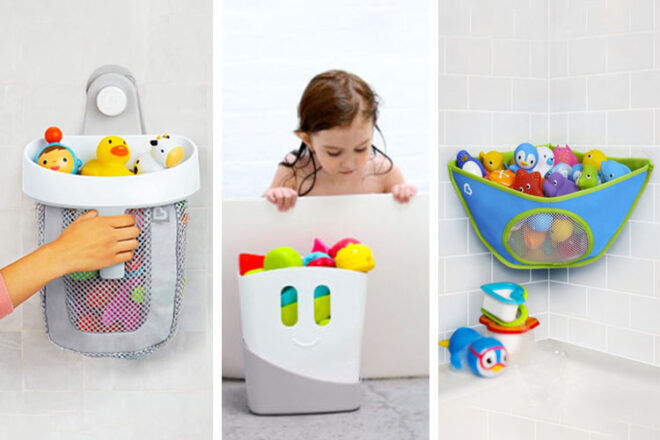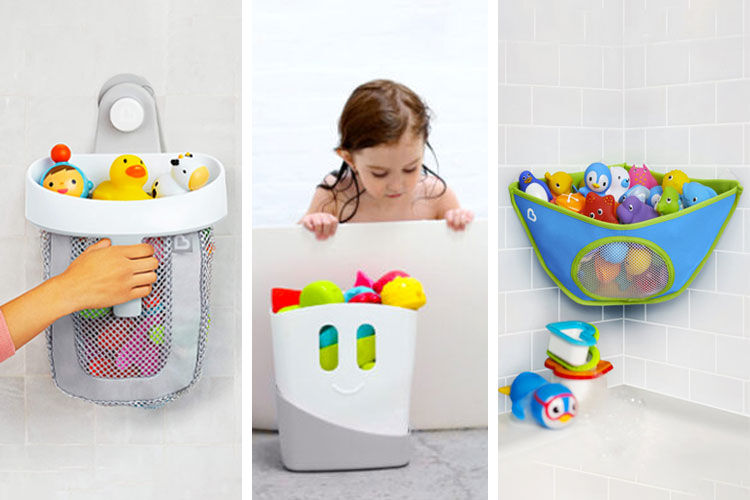 Kids love to play with toys in the bath, and we love the way they keep minis occupied while they have a much-needed soak. But when the splish-splashing is done, that sea of toys needs somewhere to live, which is why convenient bath toy storage is such a sanity saver.
Leaving a pile of toys in the bottom of a wet tub overnight is a fast-track to mouldy bath toys. Clever bath toy storage units give your squirt's favourite playthings a designated spot to dry out so that they're organised, clean and ready for tomorrow's splash-a-thon.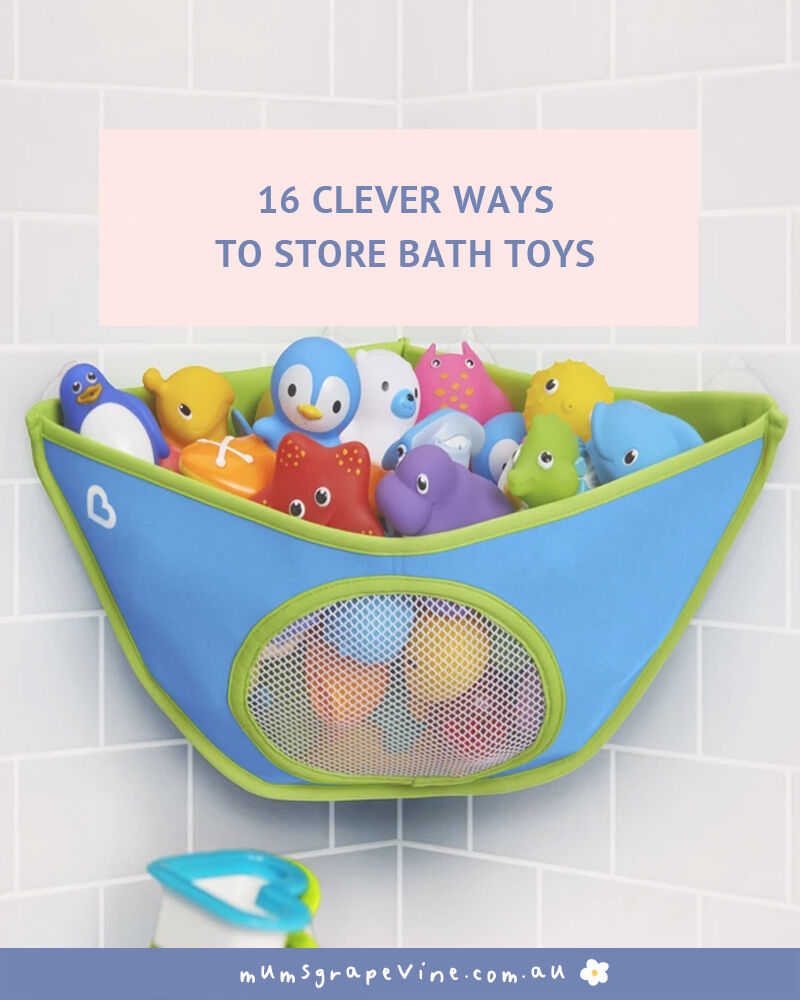 16 best bath toy storage solutions
To help you find the right bath toy storage solution for your little ones, we've put 16 of our favourite options in one handy list for you. In no particular order, here they are:
1. Munchkin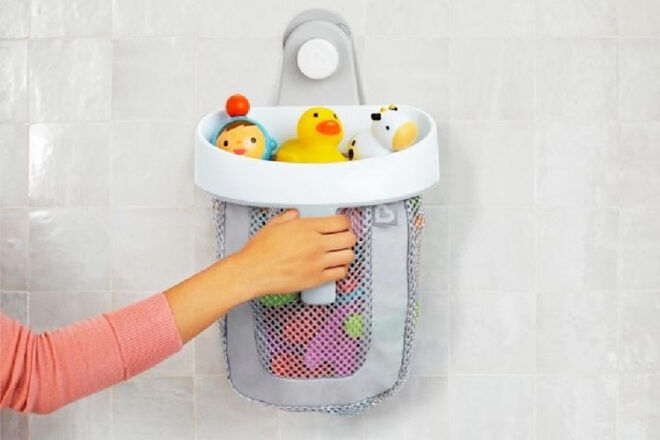 With a super-tough, push-lock suction cap, this organiser won't be falling off your wall any time soon. It comes with a roomy mouth for scooping up your mini's favourite tub toys and a mesh exterior for fast drying.
---
2. Skip Hop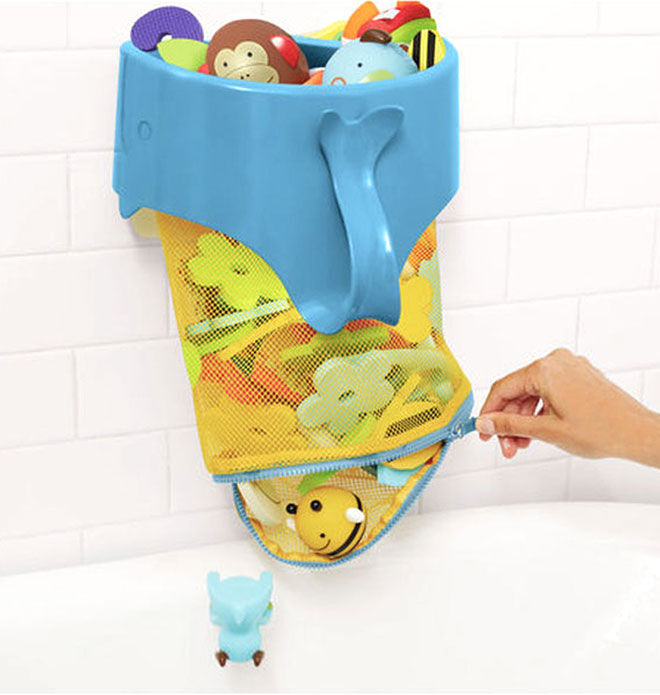 From Skip Hop's Moby collection comes a bath toy organiser as clever as it is cute. Not only does it make clean-up a breeze thanks to its large storage volume, but it comes with a zippered mesh bottom for quick release of toys when bath time rolls 'round again.
---
3. Ubbi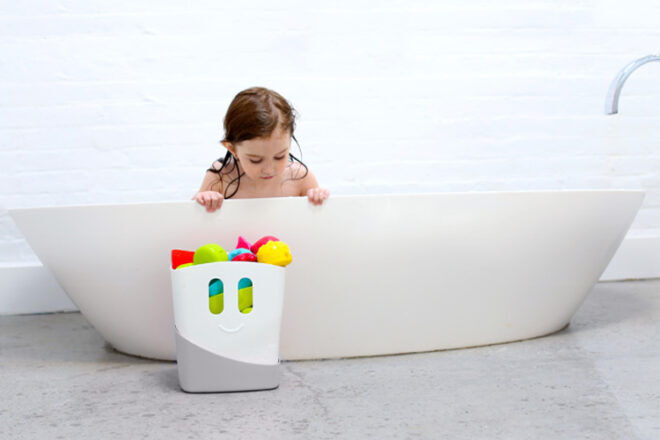 It's the sweetest little toy tub around and it's making bath time tidier for everyone. A two-part system, the Ubbi contains both a bin and a base included allowing for proper drainage and good drying of toys. When it needs a wash, it's safe to pop in the dishwasher.
---
4. Dreambaby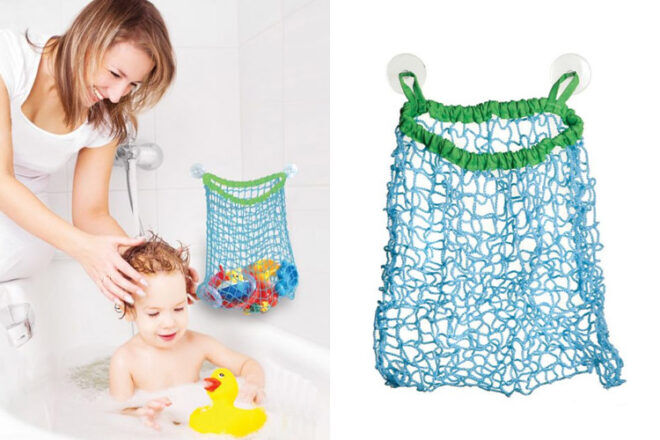 This simple, reliable toy bag is made of tough netting for easy drying and less mould. It attached easily to walls with suction caps and folds away neatly when you need to do a quick tidy-up for guests!
---
5. Benbat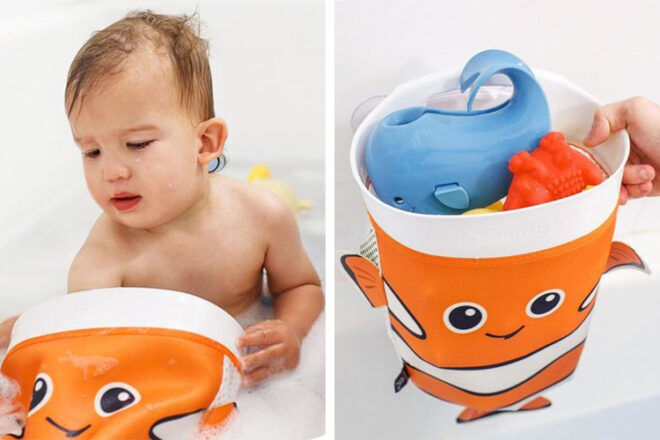 Bath duckies and squishy fishies will be well looked after with this bathtime pal in the mix – in fact, little water babes may even want to pack up themselves! It comes with a lightweight mesh basket and can hold up to 2kg of toys.
---
6. 3 Sprouts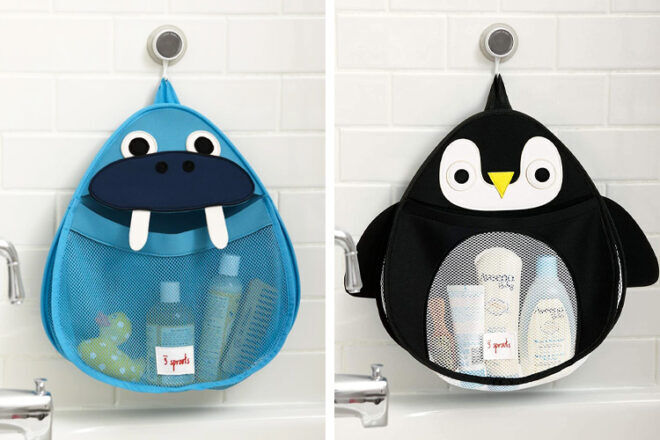 These sweet bath pals come are made of stretchy, soft neoprene and come with a single suction cap that sticks to most tile or glass surfaces. Roomy and cute as can be, they're an easy way to make tidying fun.
---
7. Munchkin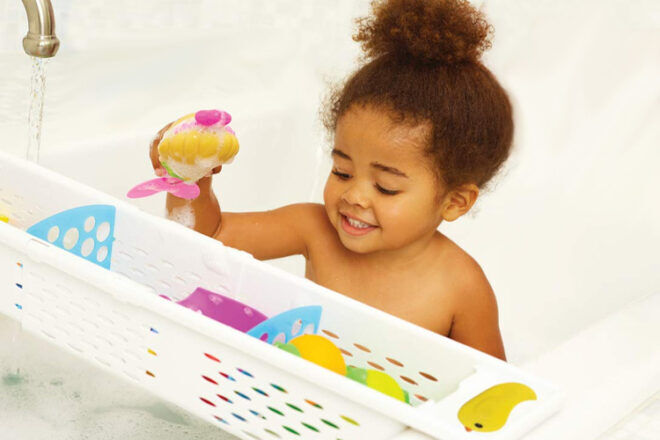 This clever bath caddy stretches across the width of the tub to hold bath toys in place while babes soak up the suds. It's fab for creating a safe barrier between bub and the bath spout, plus there's even a handy soap dish with a hook for hanging face washers.
---
8. Jolly Jumper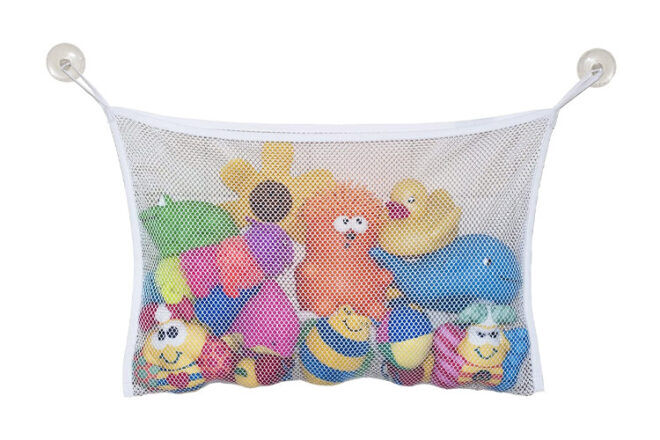 Got a lot of bath toys on your hands? This mesh hanging organiser measures over 47cm in width, so there's even room for those squeaky bath books your little one can't get enough of. It comes with two suction caps that stick to most glass or tile surfaces.

---
9. KidsKit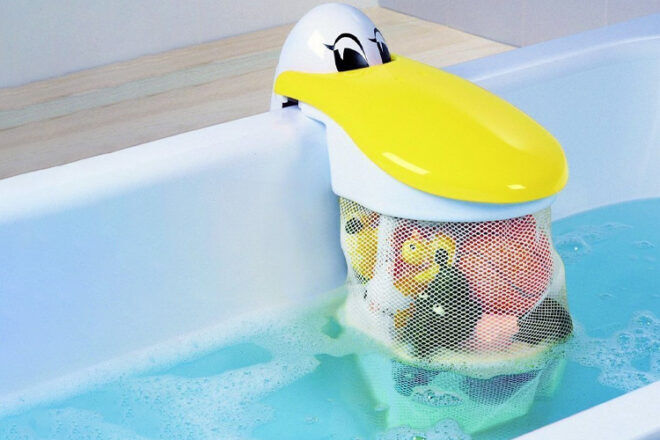 Get the kids to put their bath toys away by 'feeding' the hungry pelican! The pelican bath pouch hooks over the edge of the bath and allows toys to drain and dry in his mesh bill. We love!

---
10. YAMAZAKI Kids Bath Rack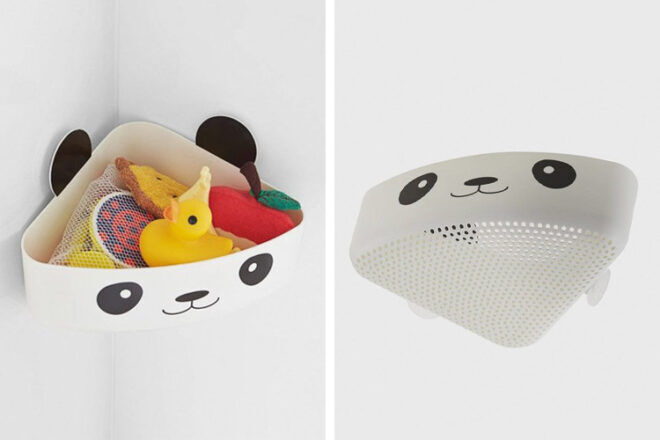 This adorable panda is a beautiful way of storing bath toys and for keeping hygiene products off the floor. Made from polypropylene for easy cleaning, the bath rack simply attach to the wall with suction cups and has a perforated base for drainage.

---
11. Nooni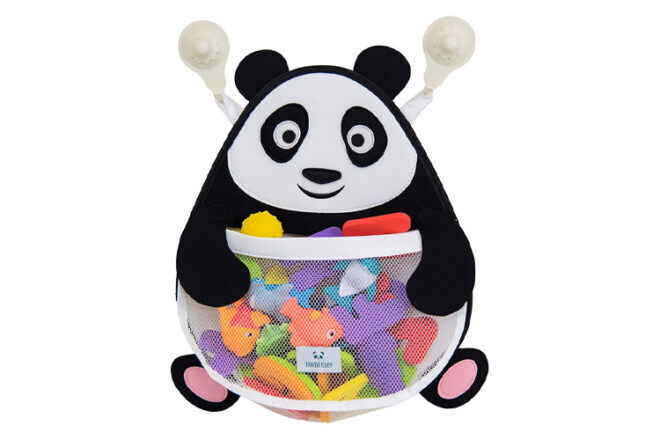 This fat panda will make tidy work of all those bath toys! Crafted from quick-dry neoprene that's completely mould-resistant, it comes with a wide mesh net and premium, heavy-duty suction caps. Who doesn't love pandas?

---
12. Munchkin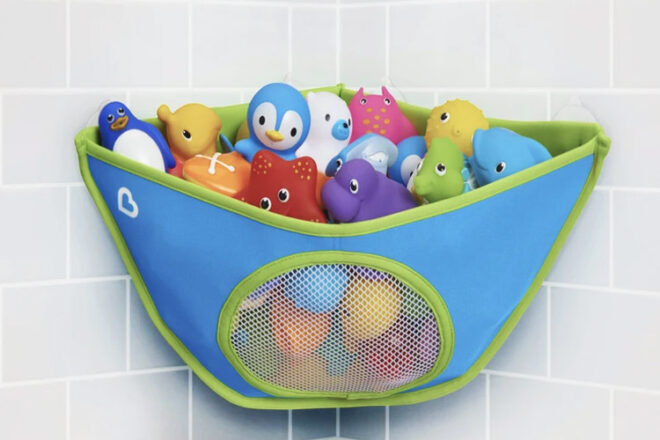 This clever organiser helps you corner the mess and keep your bathroom looking ship-shape. Made of mould-resistant materials, it's well-sized to fit all of your poppet's playthings, and then some. Four suction caps are included for use on smooth surfaces.

---
13. KidCo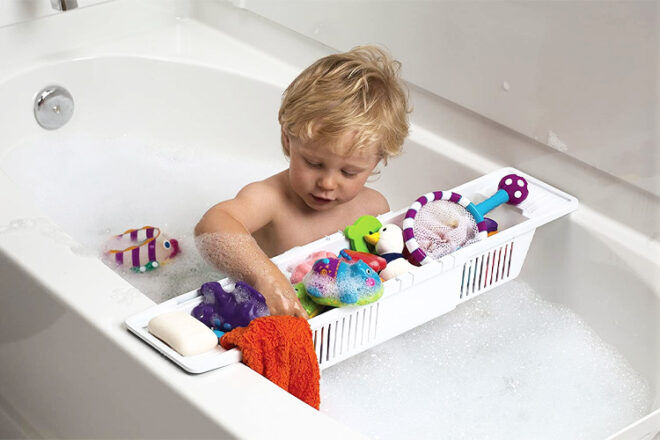 This convenient bathtime helper can be adjusted to fit the width of almost any bathtub. It comes with divider panels to keep your little one's soap separate from toys, and there are slotted sides to facilitate drainage.  Dishwasher-safe, it also doubles as a play tray.

---
14. IKEA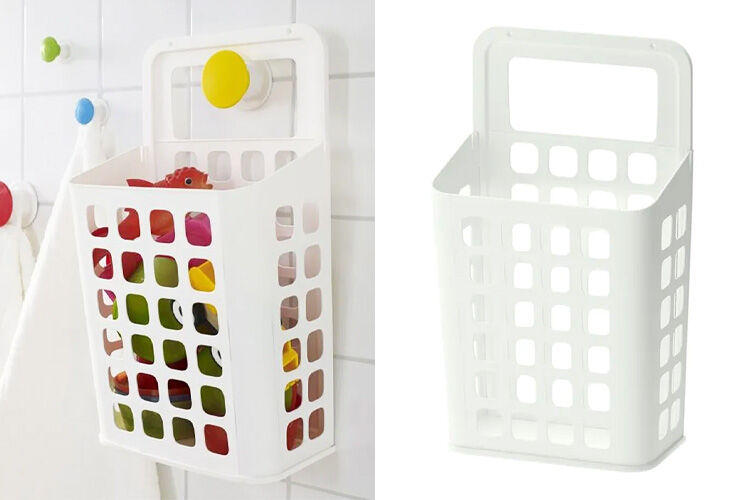 Sure, it's technically a kitchen bin, but as The Cottage Market beautifully demonstrates, this handy storage gem makes packing up bath toys a cinch. Hang it on a wall hook or lean it against the side of the tub. Too easy.

---
15. Fruit Basket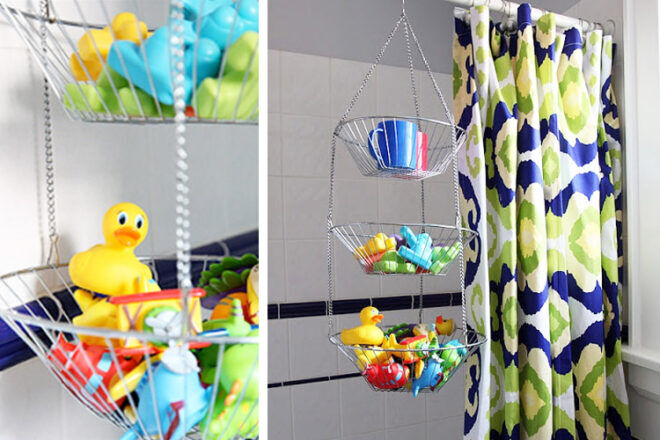 Here's another smart bath toy storage hack that we're loving – and this one uses a hanging fruit basket. Suspend it from the ceiling, fill it with bath toys and enjoy not having to dodge rubber duckies while you take a shower. (via 8 foot 6)

---
16. Baskets on a Rod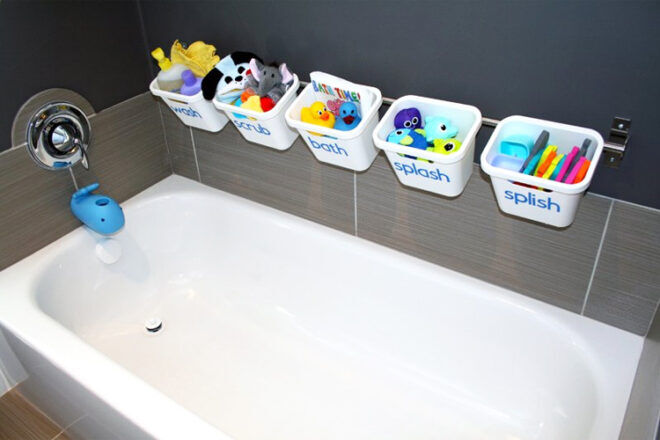 This bathroom facelift included the use of an IKEA rail and storage tubs and it's an ingenious way of storing and drying all those tub-side toys. Use your power drill to create some holes in the base of the tubs for drainage. (via Blue iStyle Blog)
---
This article is curated by our Editors and includes affiliates and/or paid inclusions. See our Disclosure Policy.
Know more bath toy storage solutions we should add to our list? Contact us and let us know.
Read these roundups next …
Continue your search for bath toy storage ideas
Looking for the best ways to store bathtime toys? Join one of the Mum's Grapevine Facebook Baby Groups and ask thousands of other mums what they recommend. They are grouped together by baby's birth date so everyone is going through the same stages at the same time.
Click here >> Mum's Grapevine Facebook Groups  << and find your group today!