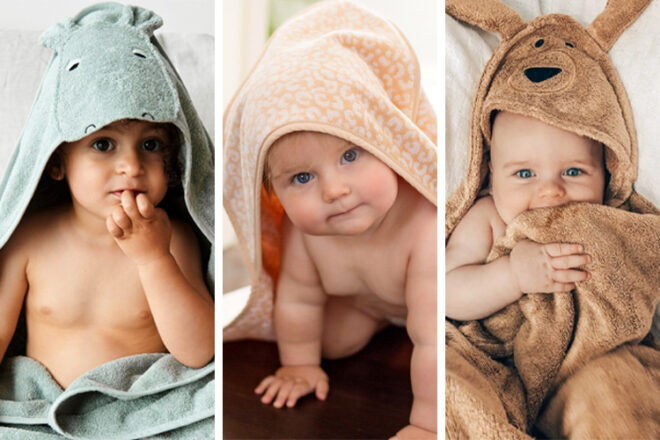 Few sights melt a heart like a squeaky-clean mini bundled up in a baby hooded towel. Warm, cosy and protective, a great-quality hooded baby towel wraps up tub time perfectly.
Hooded baby towels cocoon bubs from head to toe, protecting little bodies from unwanted chills after a soak in the baby bath. Perfectly sized for pint-size people, and a lot easier to manage than a full-sized towel, they make bath time fuss-free and more organised.
What to look for in a baby hooded towel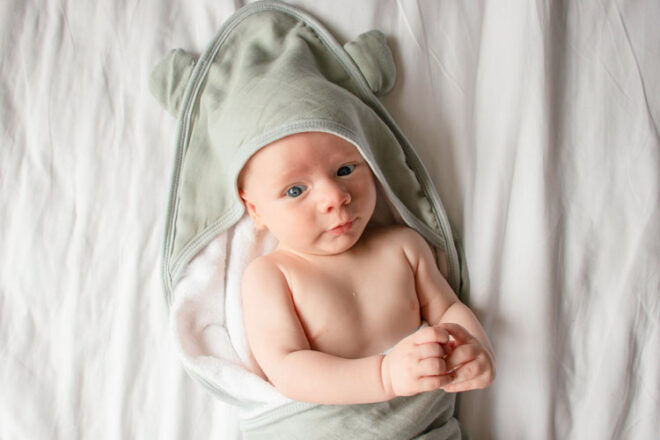 Materials – Babies' skin can be quite sensitive, especially in the early months. So, as with cot sheets and other must-have baby manchester, look for a hooded towel made of soft materials that provide gentle care to young and delicate skin.
Absorbency – They may be tiny, but little humans still need towels with generous absorbency – especially if they have a good mop of hair up top. Search for a fabric composition that will soak up every drip without you needing to reach for a second towel.
Size – Bubs grow (and they grow fast!) so opt for a baby towel that comes with plenty of growing room to see you through the early years. Also, keep in mind that your mini's special towel may sometimes double as a baby blanket, or be placed over the change mat, so having some extra length to completely wrap around little ones will come in handy.
Easy care – Your baby towel will be used day-in, day-out, so make sure it is machine-washable and quick to dry so that you can have it back in use in a jiffy.
---
OUR PICK OF THE CROP
16 beautiful hooded baby towels
To help you find a super-fluffy and cute baby hooded towel, we've compiled this list of fab brands available right here in Australia to get you started in your search.
Here are 16 of the best hooded baby towels in Australia for 2022.
1. Sunday Minx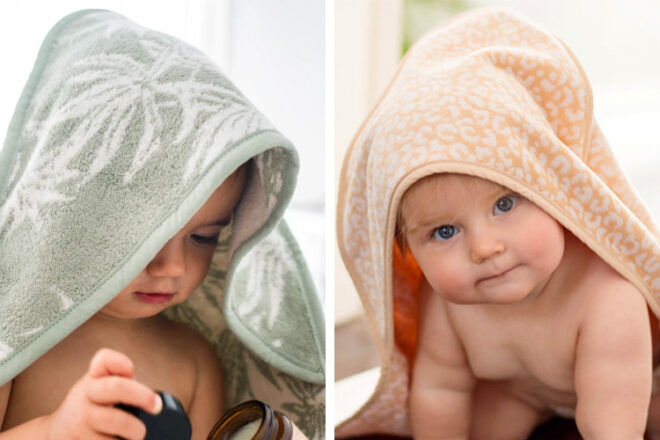 Designed in Australia and made from a combination of bamboo and soft Turkish cotton, these stunning baby towels hang proudly in today's modern bathrooms. On-trend prints include lush palms and animal print – both perfect for wild little cubs.
---
2. Purebaby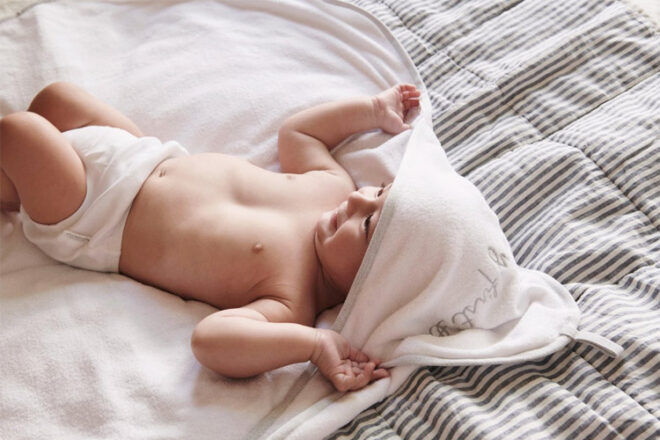 They're quick to dry, gentle on young skin and timeless in design. Part of the Essentials collection, Purebaby's luxe baby towels are made from pure organic cotton and come in two sizes to cover bubbas of all ages and stages.
---
3. Freddy & Co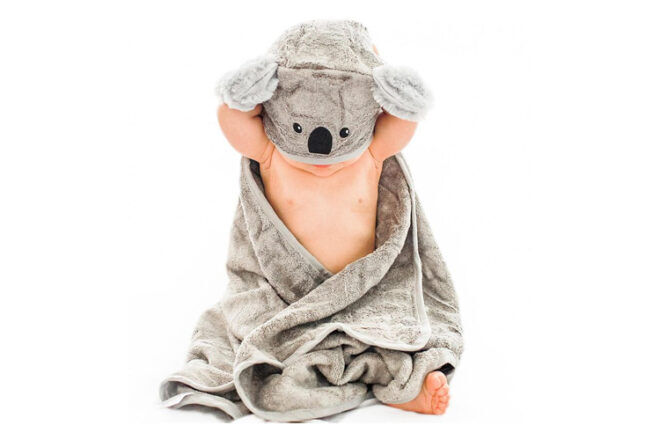 Not only is this plush baby towel as cute as a button, but it's also naturally resistant to mould and odours thanks to the use of 100% organic bamboo fibres. Better still, it comes in a generous size for years of great use.
---
4. Zoe Sage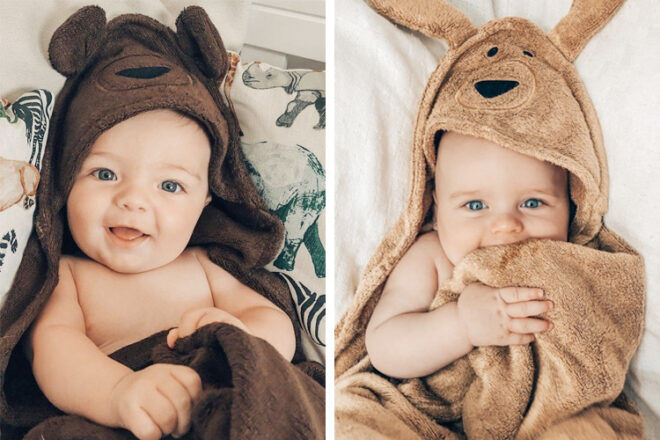 With the likes of fluffy bear cubs and sweet pups on offer, it won't be easy to choose from this range. Each Earth-friendly baby towel is made using renewable and hypoallergenic bamboo sourced from its native origins.
---
5. Ettitude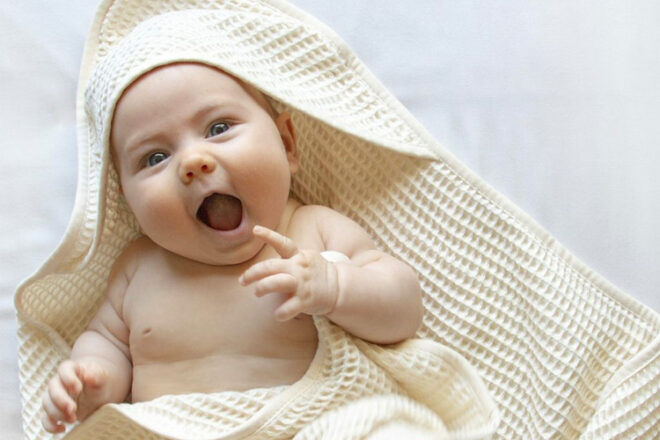 Bubba will be positively irresistible bundled up in this waffle goodness. Made with an exclusive organic CleanBamboo fabric, the towel is chemical-free, moisture-wicking and highly absorbent.
---
6. Pottery Barn Kids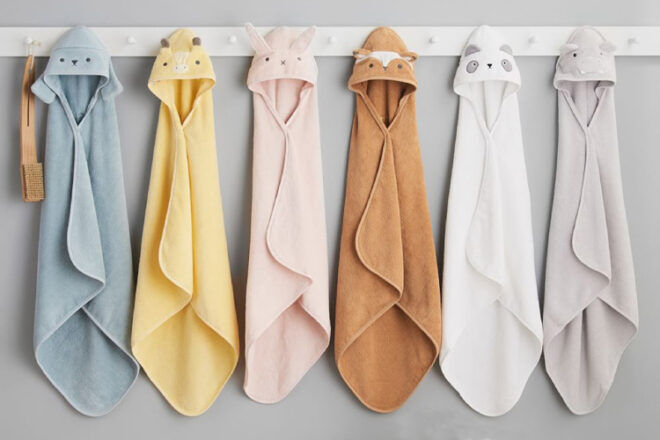 From giraffes to hippos, there's a baby animal in this towel range to suit every little personality. Each luxe, fluffy towel is made of pure cotton and features character appliqués that bring them to life.
---
7. Sheridan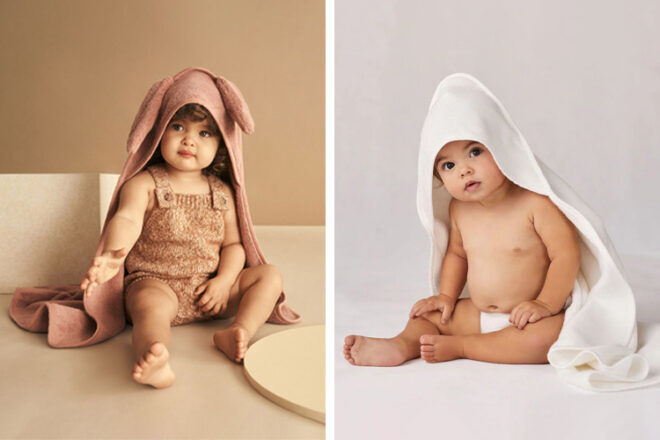 Perfect for the bath to the pool – and back again. Sheridan's range of ultra-soft hooded baby towels is as soft as it is durable. Styles range from contemporary classics to floppy-eared cuties.
---
8. Clevamama
Have you ever wished for an extra set of hands while bathing your bubba? This baby towel apron has been cleverly designed to attach around your neck, allowing you to scoop up the baby with both hands. Bath time just got a whole lot easier.
---
9. Mister Fly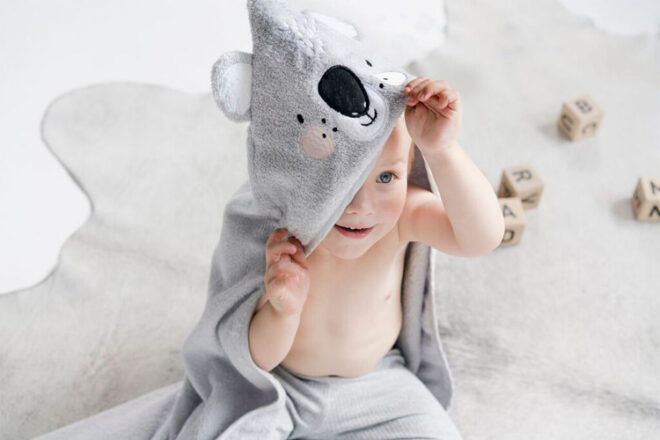 These playful additions to bathtime are made of soft terry-towelling and deliciously soft on even the youngest skin. Plus, each design features an embroidered face and jersey-lined hood for maximum cosiness after tub time.
---
10. West Elm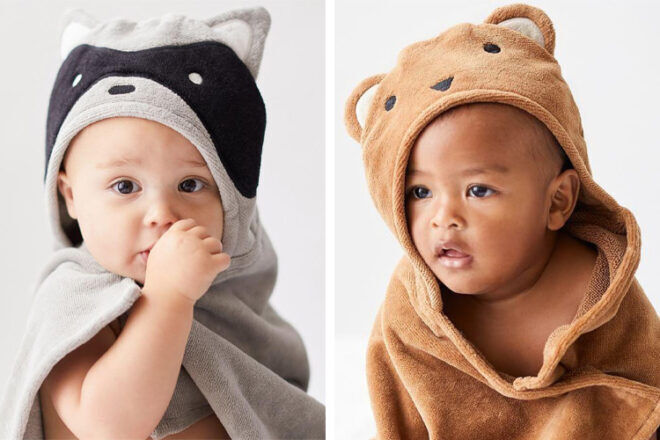 Available in a choice of crazy-cute critters, this range of terry-towelling baby towels brings a good dose of fun to tub time. Fluffy, soft and beautifully designed, they're perfect for little bods up to two years of age.
---
11. Lunas Treasures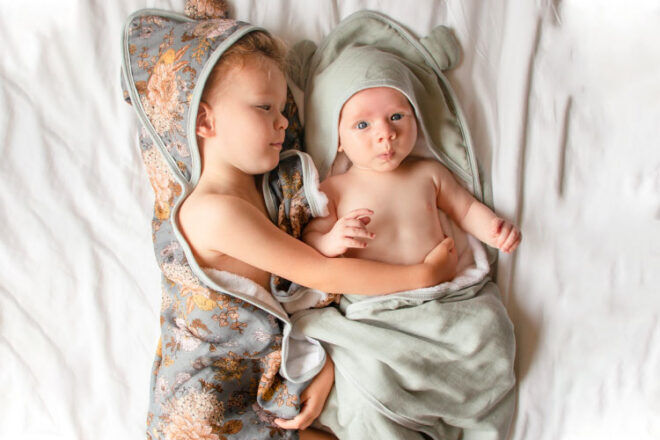 We are desperately in love with this serene shade of sage green. Crafted from luscious, thick bamboo-terry towelling and lined with muslin, this baby towel is all kinds of special. And then there are those ears!
---
12. Liewood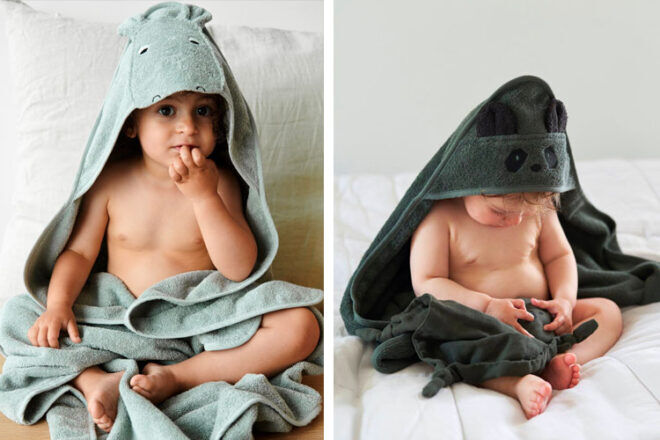 Playful and practical, these Nordic baby towels are almost impossible to choose from. Each is made from 100% organic terry cotton and big enough to see bubs right through their early years.
---
13. Towelling Stories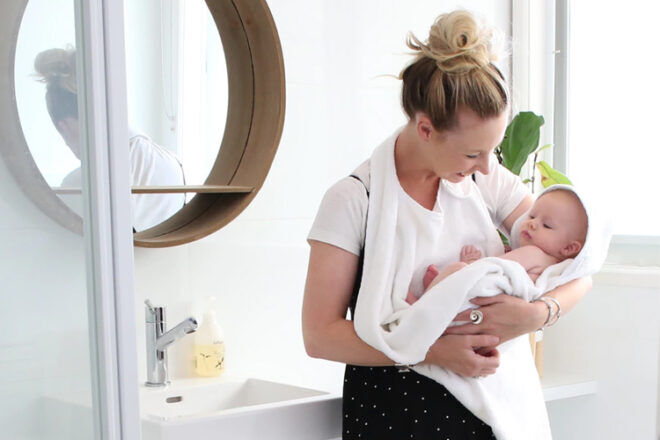 This hands-free hooded baby towel makes tub time with tiny ones a breeze. Just attach the apron around your neck, scoop up bub with both hands and let the ultra-absorbent bamboo soak up all the drips.
---
14. Storksak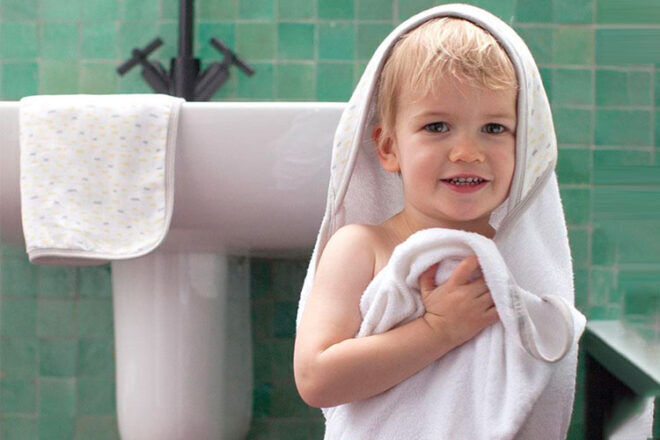 Made from soft viscose derived from bamboo, and bundled up with a bonus washcloth, this beautifully packaged bath time set makes a stunning gift for any new parent. Both pieces are fully machine washable and hypoallergenic.
---
15. Living Textiles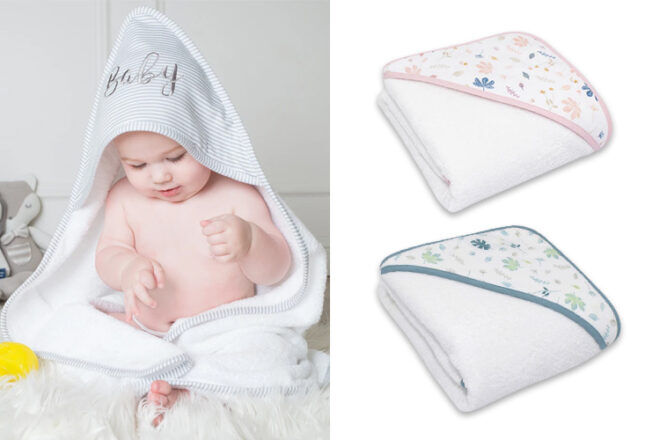 Each towel in this classic range uses pure cotton to be gentle against your babe's young skin and is perfect for after-bath snuggles. Choose from six timeless embroidered hooded styles.
---
16. Cotton On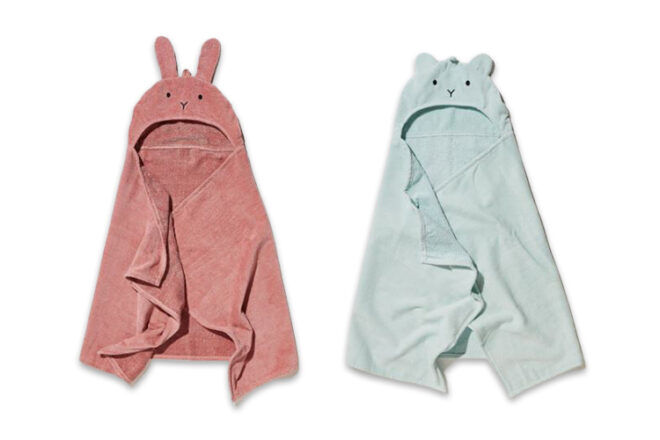 A fun choice of woodland creatures at a family-friendly price. Each baby towel in the range uses pure cotton to be snuggly, durable and easy to wash and dry.
---
This list is loving curated by our Editors and may include affiliates and/or paid inclusions. See our Disclosure Policy.
Know a fantastic hooded towel we should add to our list? Contact us and let us know.
Read these roundups next …
From gentle skincare brands to the cutest of bath toys, here are a few more articles offering bath time solutions.
Continue your search for the best baby hooded towel
Looking for the best baby towel and still not sure if any of these are right for you? Join one of the Mum's Grapevine Facebook Baby Groups and ask thousands of other mums what they recommend. They are grouped together based on your baby's birth date so everyone is going through the same stage at the same time.
Click here >> Mum's Grapevine Facebook Groups << to find your group today!