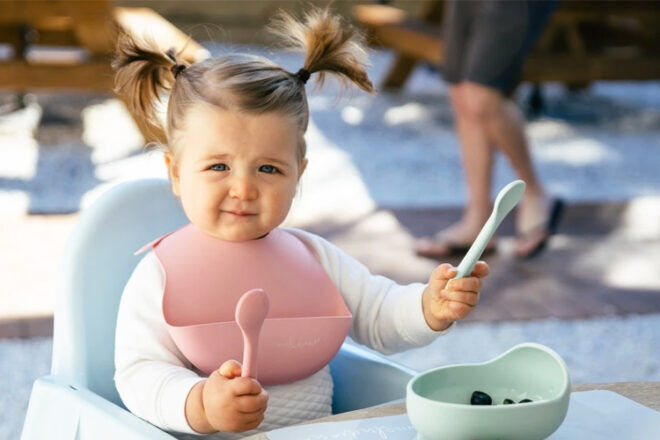 Perfectly portioned kids' cutlery sets are the ultimate tools for successful self-feeding. They make mealtime exciting, teach newbies how to use utensils and encourage fussy little humans to eat their veggies.
But mealtimes don't have to be filled with conflict, complaint and ongoing struggle. Half the battle is finding appropriate baby spoons for important first foods and kids' cutlery that tots can actually hold – and luckily, we've done that bit for you.
What to look for when buying kids cutlery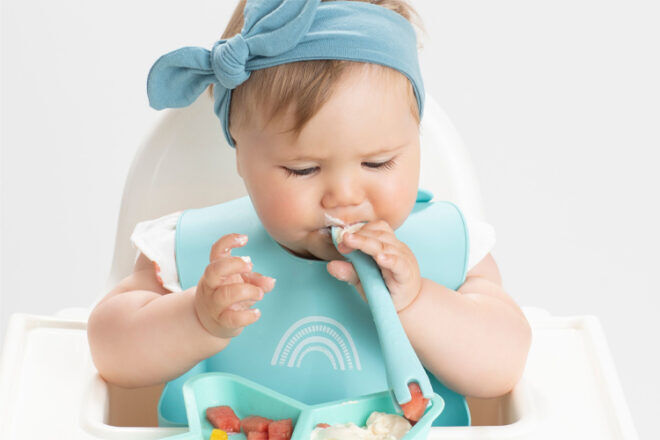 Not all kids' cutlery is created equal, so we've put together some pointers to help you find the perfect starter set.
Weight and Size – It takes time for hungry munchkins to master the coordination required for self-feeding, so look for lightweight and compact cutlery that is easy for tots to manage. The easier the cutlery is to grasp and use, the more likely they'll enjoy the eating experience.
Grip – Good grip helps little fingers grasp cutlery securely and hone their fine-motor skills. It also helps to prevent spoons and forks from sliding around the table.
Materials: Rounded, non-toxic plastic and silicone spoons are ideal for the first stages of self-feeding because they are gentle on babies' mouths. Then, once tots become confident self-feeders, stainless steel sets are a great transition stage before moving on to family cutlery.
Accessories: Some brands of kids' cutlery come with convenient storage units for when you're on the go, and others are part of a range that includes matching plates, bowls and cups.  Don't forget to grab some bibs too!
---
19 kids cutlery sets and baby spoons
To help you find the best cutlery for your hungry tot, we've put together this handy list of cutlery sets to get you started in your search. In no particular order, here they are:
1. Done by Deer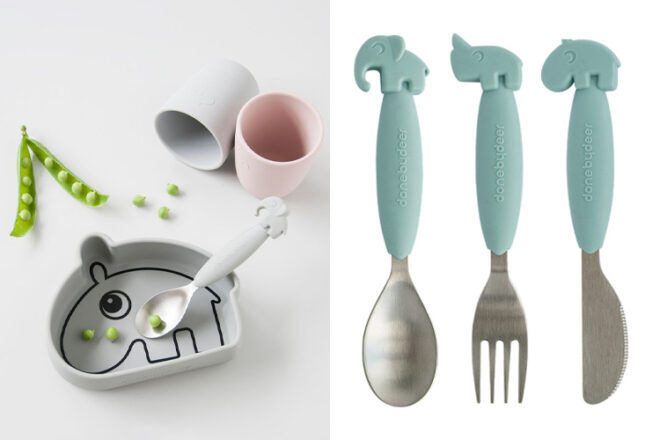 From a Danish brand that specialises in fun, contemporary designs comes a kids' cutlery set to melt hearts. The Nozo fork, Ozzo knife and Elphee spoon feature silicone easy-grip handles and stainless steel tips to make learning exciting and fuss-free.
---
2. Liewood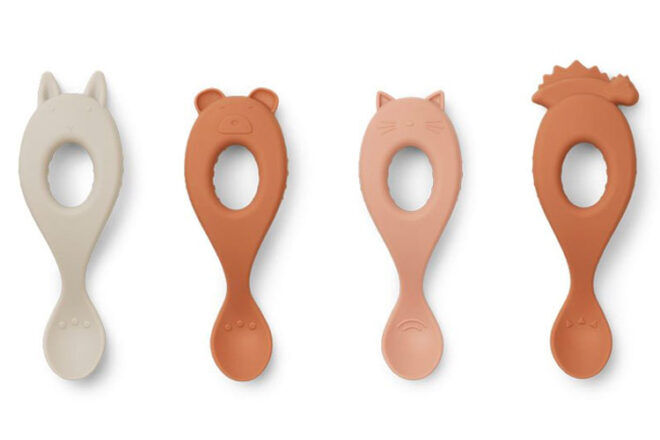 Cats, rabbits and dinos – oh, my! This Scandi range of kids' cutlery isn't just next-level cute, it's designed to train kids to eat safely and easily. The small raised dots on the spoons indicate to kids how far the spoon sits in the mouth.
---
3. Mini & Me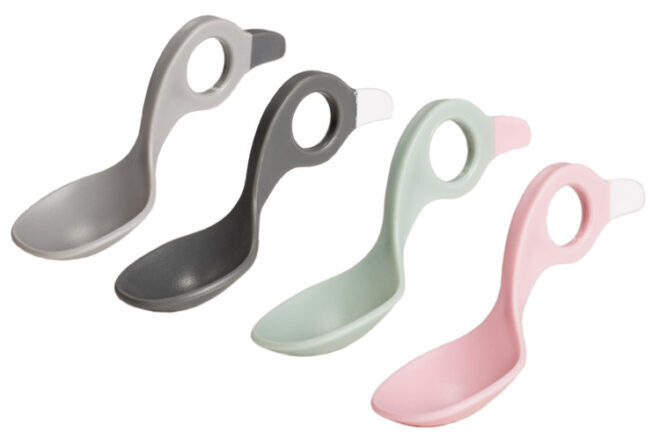 These bird-themed baby spoons offer six different grips to help train little fingers to manoeuvre cutlery properly. Lightweight and PBA-free, these are fab little helpers for improving fine-motor skills.
---
4. Mushies
Available in a stunning range of colours, these clean and simple Danish sets are the perfect addition to mealtimes in any modern home. Built to last from eco-conscious materials, they're dishwasher and microwave-safe.
---
5. Wild Indiana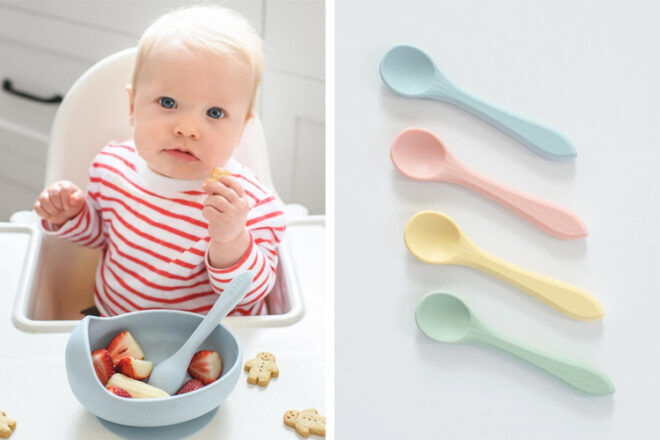 In a choice of four glorious shades, these popular silicone spoons are gentle on little hands and easy to hold. Pair them up with suction-capped bowls in matching colours for a crazy-cute first dinner set.
---
6. b.box
It's the unique little toolkit for tots ready to self-feed. Designed with a kids' occupational therapist, the set includes a deep scoop spoon with an angled handle and a fork with three blunt prongs to fit little mouths. Each set comes with a carry case.
b.box Discount Code:
Use code BBOXMGV20 for 20% off full-priced kids cutlery excluding licensed products. Limit one per customer.
---
7. Baby Bjorn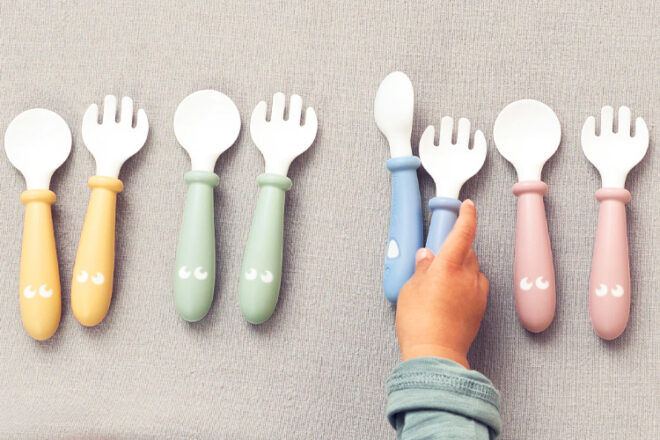 Containing four adorable and chunky pieces, this kids' cutlery set will have you covered throughout the toddler stage. Soft and flexible, they are made of BPA and PVC-free materials and come in a choice of three gentle colours.
---
8. People of the Sun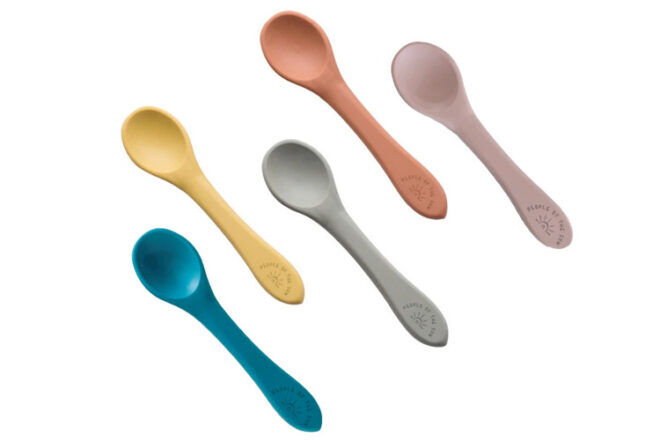 These colourful mealtime helpers are made of gentle food-grade silicone that makes self-feeding not only easy for mini foodies, but fun. Dishwasher-safe and equipped with a non-slip grip, these gems can be bought individually or in multi-packs.
---
9. Grabease
Endorsed by professionals, these short-handled utensils allow littlies to manage their meals easier and enjoy the process of eating more. Equipped with choke guards, they are stain-proof, dishwasher safe and come with their own travel pouch.
---
10. Ali + Oil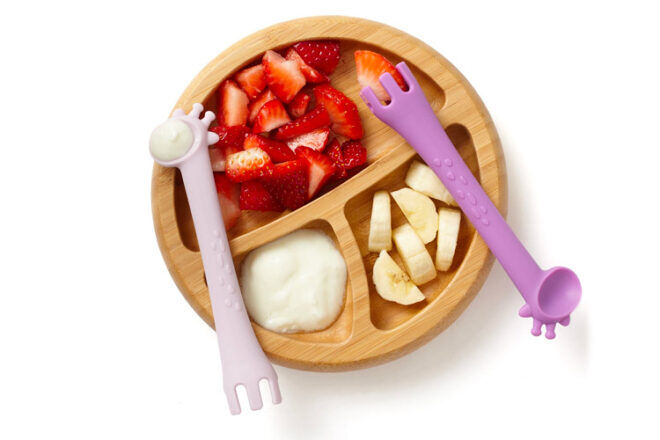 Bendy, colourful and oh-so-cute, these little learning sets are going to go down a treat with bubs and tots. Raised surface spots on the spoon help with improving fine-motor skills, while the legs of the giraffe are designed to work as a three-dimensional fork.
---
11. Haakaa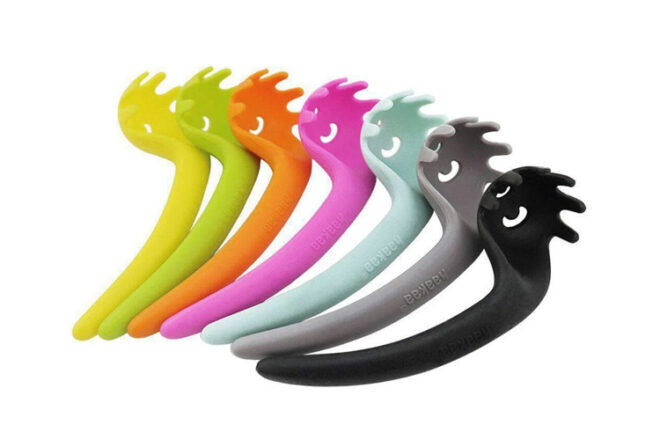 They may look like miniature pasta servers, but these ergonomic toddler utensils are specially designed to help littlies scoop food in an easy upward motion. Sets include a silicone noodle fork and spoon, and you have a rainbow of shades to choose from.
---
12. Design Letters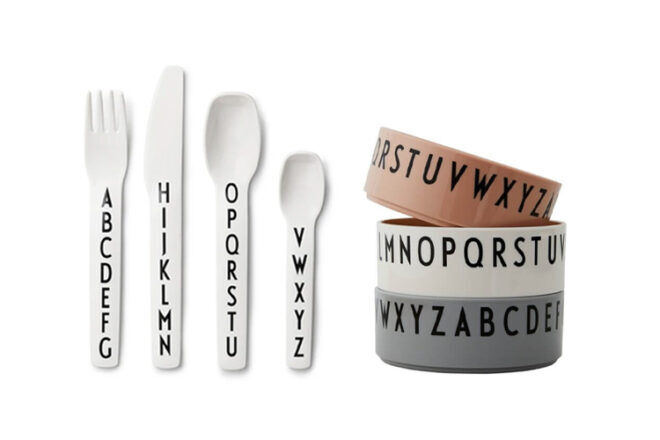 We love this brand for its clever combination of simple, kid-friendly design and educational themes. Cutlery sets include four pieces and feature every letter of the alphabet amongst them. Pair these with matching tableware for a dinner set that sings.
---
13. Beaba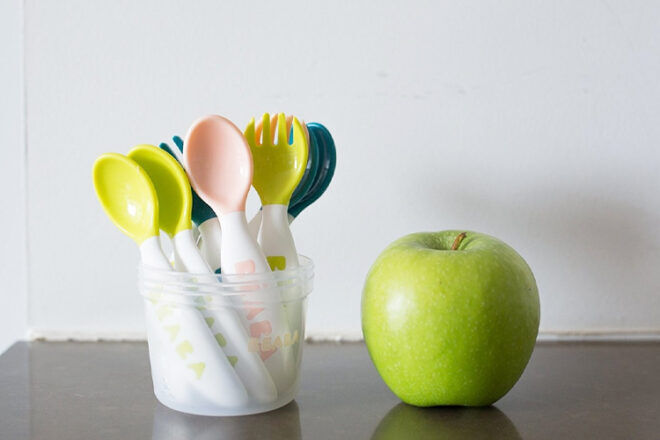 This sweet little duo is created for tots who are ready to learn the art of self-feeding. In a choice of sweet shades, each piece has a rounded shape to protect young gums and a convex design to prevent sliding. Each set comes with its own storage case.
---
14. Olababy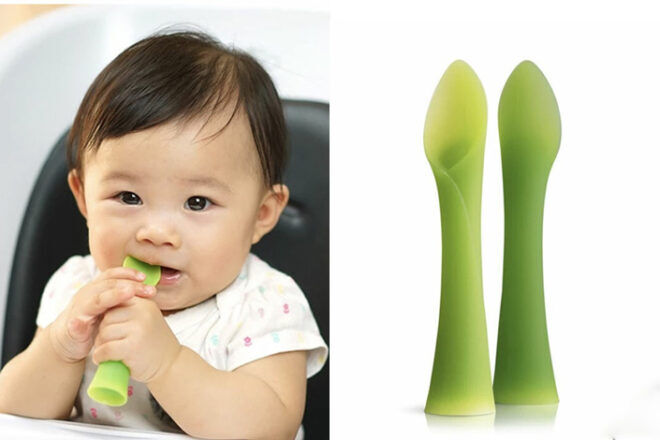 This nifty little training tool is one of the most flexible baby spoons around and uniquely designed so that bubs can cut, slice, mash and scoop with ease. It's dishwasher-safe, BPA-free and soft enough to double as a new teether!
---
15. Little Woods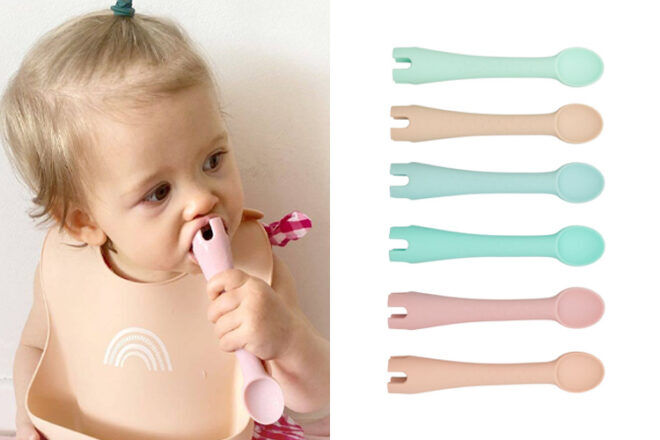 It's a fork and a spoon in one perfect toddler tool. Made from chemical-free silicone, First Tensils enable little foodies to stab or spoon their meals independently and without having to manage multiple utensils.
---
16. We Might Be Tiny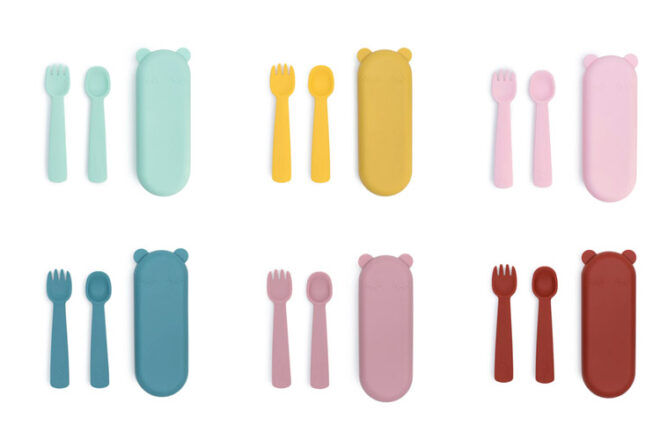 We're crushing hard on these sweet little starter sets. Comprising a soft silicone baby spoon and fork, they provide bubs with delicate tools that facilitate easier eating. Plus. the handy travel case means you can take these cuties everywhere.
---
17. Replay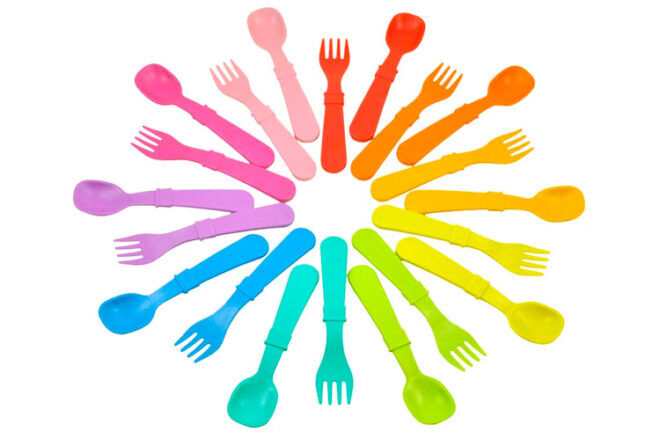 Conscious of your carbon footprint? Every unit in this practical set is made from recycled milk jugs, so not only are they a great choice for tots learning to self-feed, but they are kind to our environment.
---
18. Boon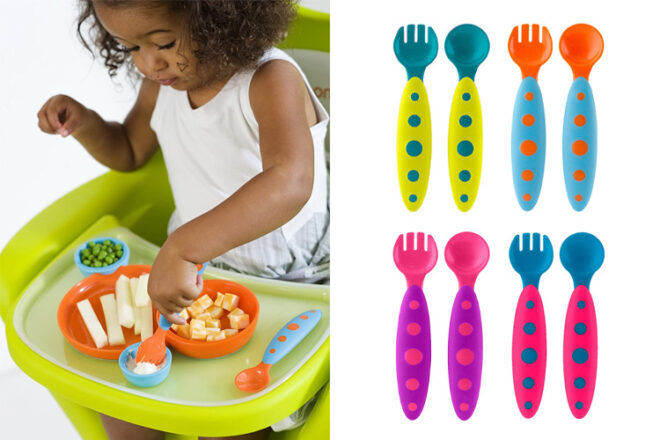 Fun to use and huge on colour, these crazy-cute cutlery sets go a long way in helping kids get excited about mealtimes. They feature soft, comfy grip handles and an ergonomic design with no sharp edges.

---
19. Constructive Eating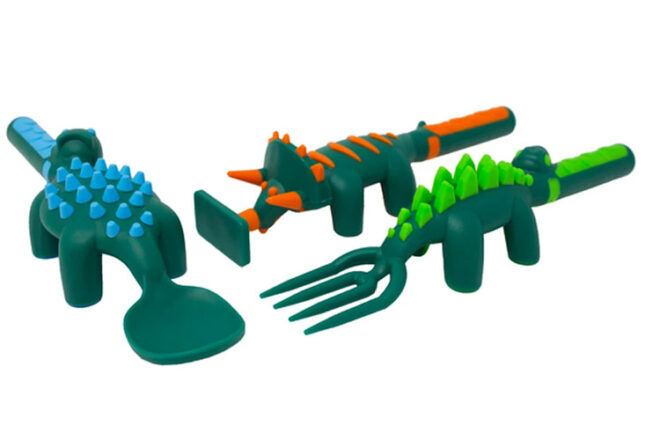 Eating can be tough work, lots of shovelling and moving food about. But thankfully, this uber-cool dinosaur-themed cutlery set is here to help your little ones manage the heavy lifting – and add a little bit more fun to mealtimes.
---
This article is curated by our Editors and includes affiliates and/or paid inclusions. See our Disclosure Policy.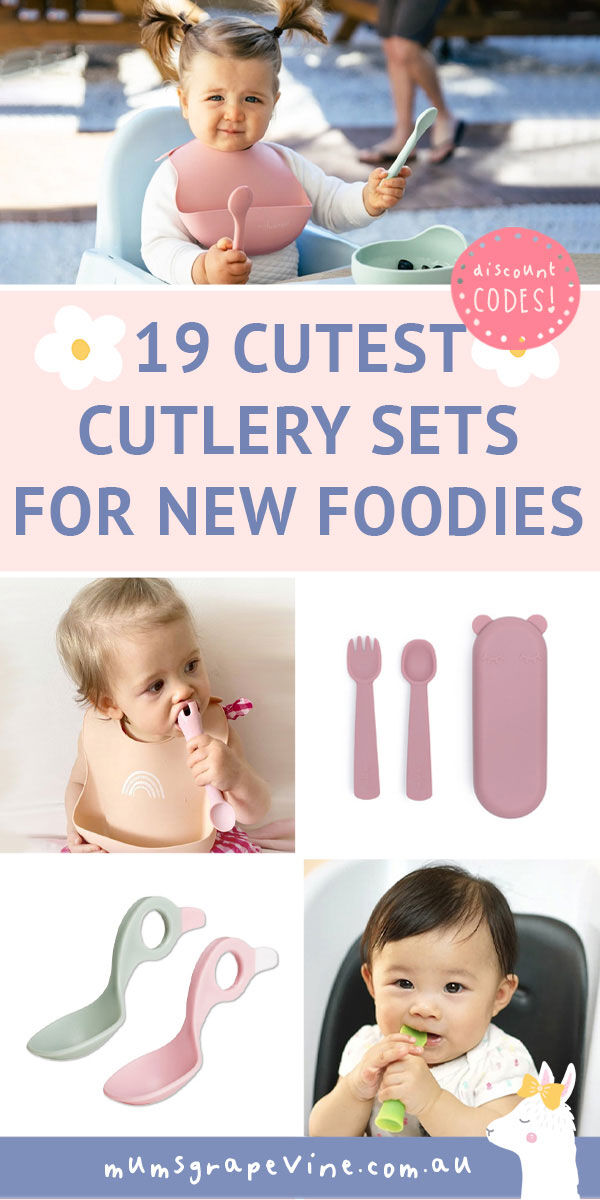 Know a brand of kids' cutlery we should add to our list? Contact us and let us know.
Read these roundups next …
Continue your search for the best kids' cutlery
Looking for baby spoons or kids' cutlery sets and still not sure if any of these are right for you? Join one of the Mum's Grapevine Baby Groups and ask thousands of other mums what they recommend. They are grouped together by baby's birth date so everyone is going through the same stages at the same time.
Click here >> Mum's Grapevine Facebook Groups  << and find your group today!