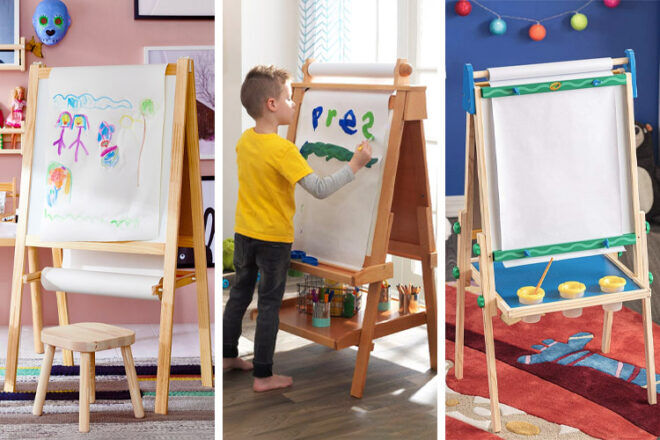 From elaborate finger paintings to fridge-worthy squiggles, creative little learners love to express themselves through their artwork. That's why a kids' art easel can quickly become one of the most-used pieces of play equipment in the house.
Whether you go for a classic style or perhaps a table-top model, an art easel for kids offers tiny artists a dedicated zone to lose themselves in their creativity, show off masterpieces and even practice writing letters and numbers.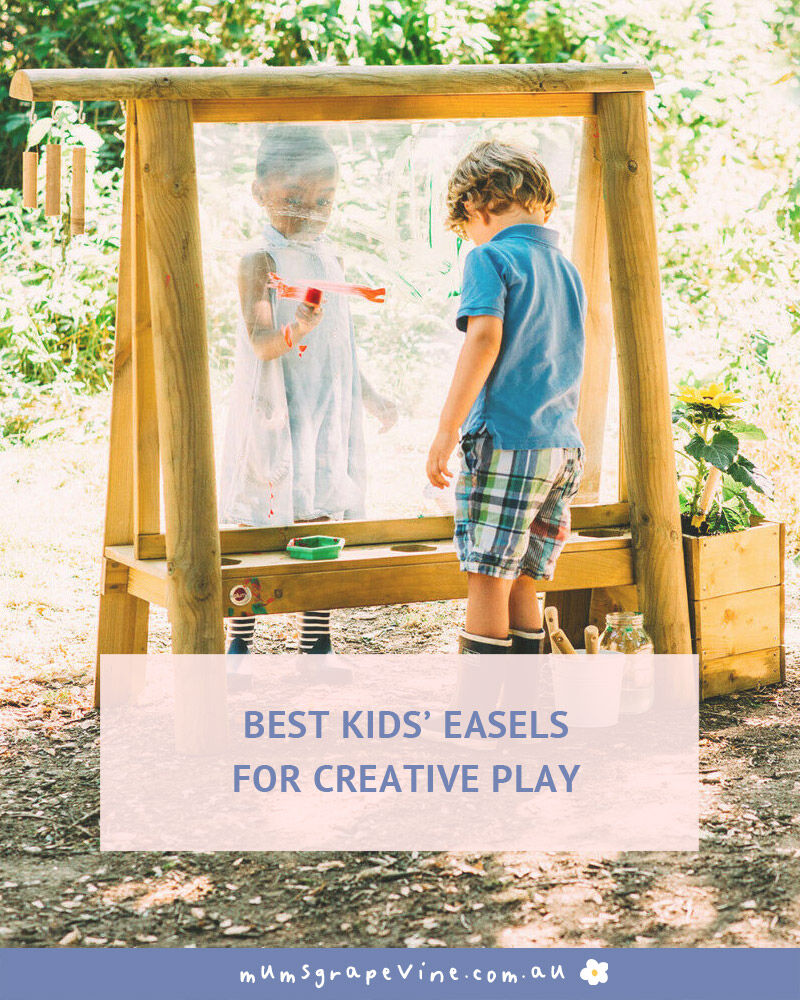 12 art easels for creative kids
To help you find the perfect workspace for your little Picasso, we've curated a list of our favourite 12 stand-out kids' easels. In no particular order, here they are:
1. Mocka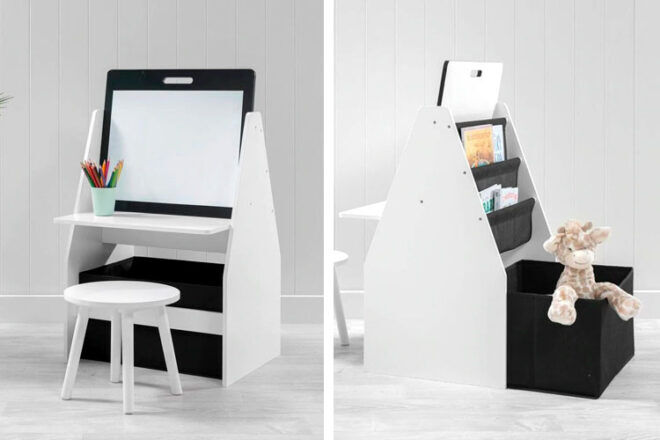 A complete creative station, this unit functions as an art easel for kids with a reusable whiteboard, a desk, a bookshelf and a storage unit. In black and white, it's going to fit right into any modern home – and it even comes with a matching stool. We love!

---
2. Delta Children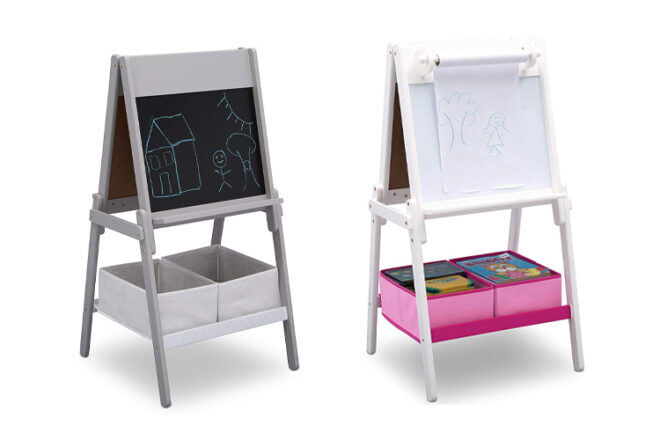 In a choice of pink and white or contemporary grey, this kids art easel is all about storage. Each folding easel comes with two roomy fabric tubs and can be used as a chalkboard, magnetic whiteboard or paper board – and with this one, a paper roll is included.
---
3. Plum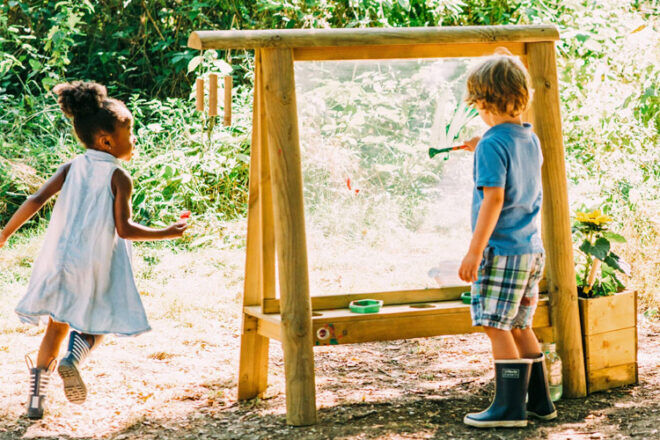 This breathtaking wooden easel is designed especially for outdoor play – because what better place to channel the inner artist than surrounded by nature? There are five storage pots, a roomy plant box and a bamboo wind chime for dreamy sounds.
---
4. HipKids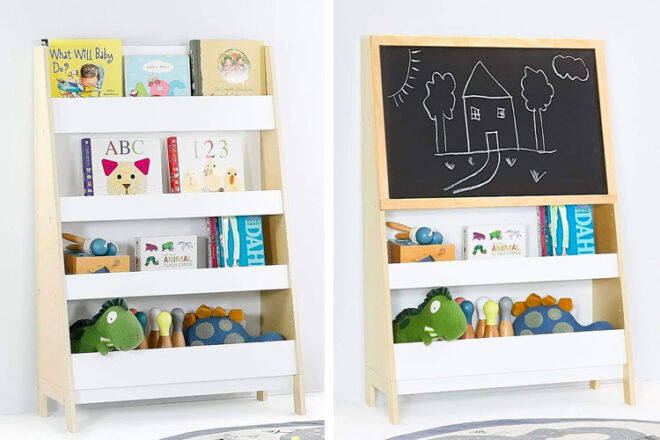 With a dual-sided design, this clever unit functions as a chalkboard easel, a storage unit and bookshelf! If you're gifting this one, you have the option of personalising it with up to nine characters.
---
5. Crayola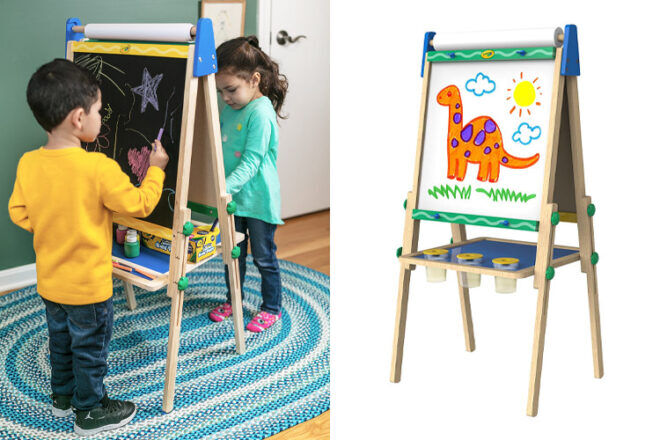 This kids' art station is huge on convenience and seriously cute. With adjustable height, it's a winner for families with children of different ages. It also comes with a paper holder and paper roll, three paint pots and an extra-spacious storage tray.
---
6. QToys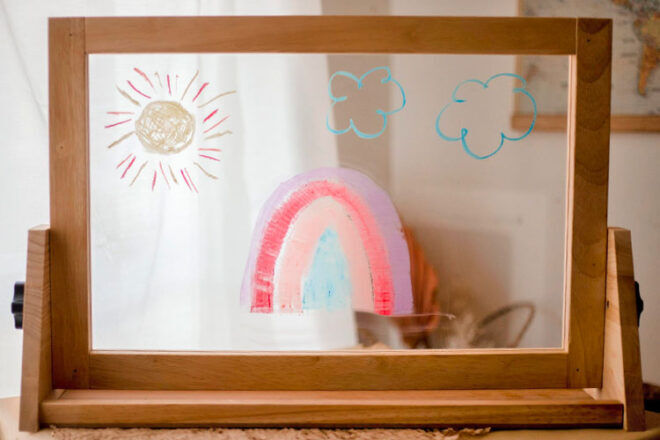 If pipsqueaks prefer to sit when creativity calls this easel is designed especially for table-top use. The dual-sided board can be used as a blackboard, whiteboard, magnetic and perspex board, and tools can be stowed in the base tray.
---
7. Lifespan Kids
If you're after an easel big enough for all of your minis to enjoy at the one time, it's this. With a timber frame and Perspex screen fit for water-based markers and paint, it will last a lifetime and help to reduce your paper usage when it comes to the kids' creations.
---
8. Melissa & Doug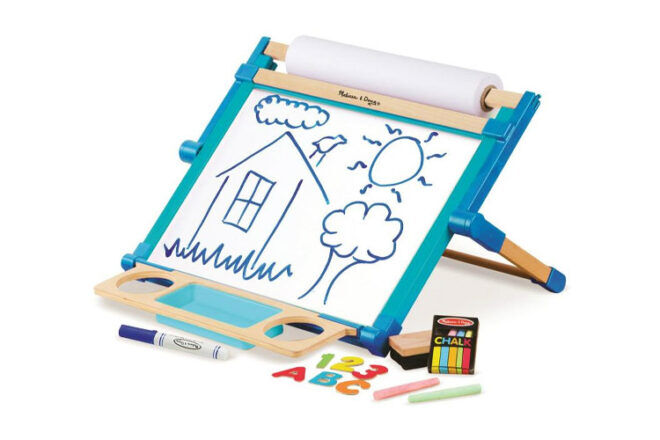 Portable and compact, it's the perfect easel for wee ones who like to take their art with them wherever they roam. It features a magnetic whiteboard, chalkboard and supply tray, and it comes with all the tools kids need to get started.
---
9. Little Partners
With short legs and an oversized workboard, this is a great easel for younger artists. It has a chalkboard on one side and a whiteboard on the other, with a magnetic strip for holding paper in place. Use the ledge to store supplies and adjust the height as artists grow.
---
10. KidKraft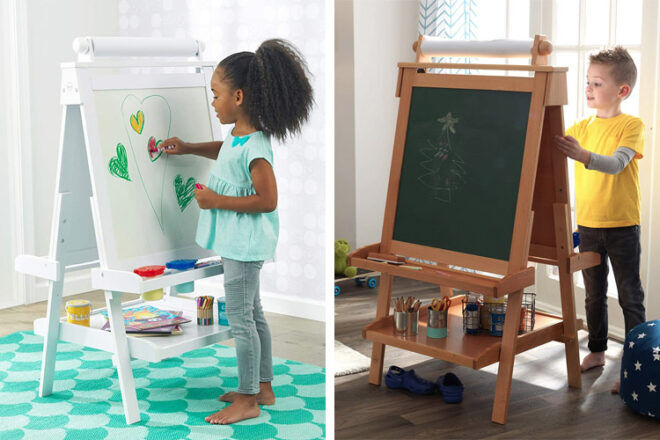 With shelving, an elevated paper roll holder, loads of storage and a double-sided artboard, this is an easel that ticks all the boxes. In two colour options, it's made of wood to see your minis right through the kiddie years.
---
11. Hape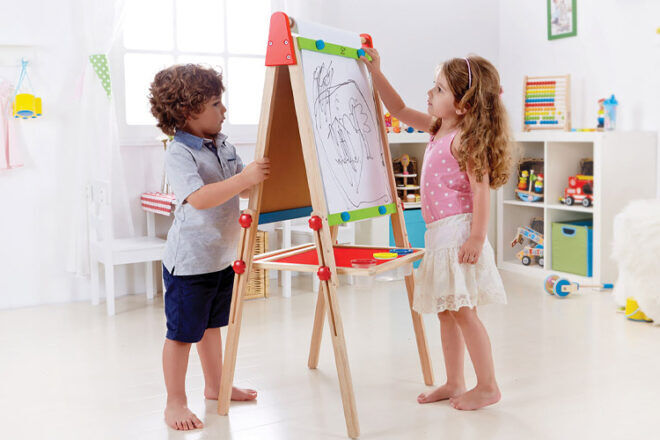 With red, blue and green trims, this is a kids' easel that positively pops! It includes a whiteboard and chalkboard, storage pots for paint or tools, and a very handy shelf that runs the full width of the open easel. Height adjustable, this is one that grows with the kids.
---
12. IKEA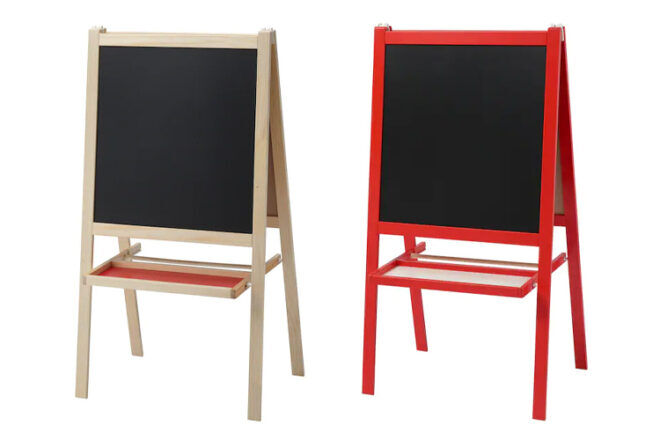 This classic pine number is built tough to withstand years of kiddie creativity. It's available in a choice of red or natural and includes a storage tray and paper holder. Check out the rest of the MALA series for lots of easel add-ons.
---
This article is curated by our Editors and includes affiliates and/or paid inclusions. See our Disclosure Policy.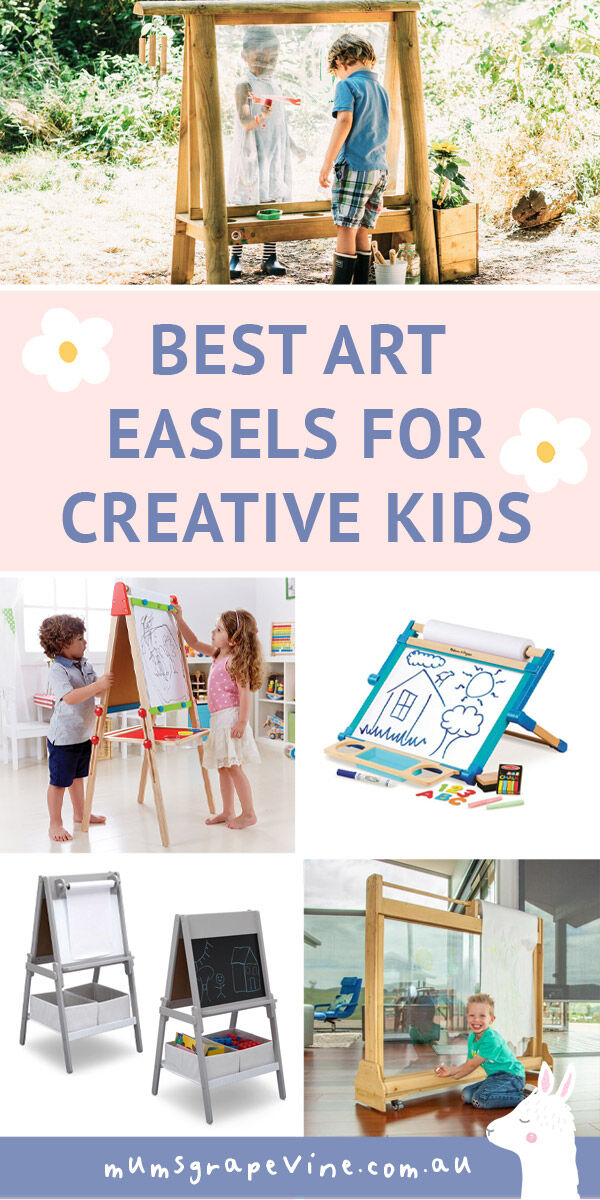 Know a brand of art easel for kids that we should add to our list? Contact us and let us know.
Read these roundups next …
Continue your search for the best kids' art easels
Looking for an art easel for kids and still not sure if any of these are right for you? Join one of our Facebook Groups and ask thousands of other mums what they recommend.
Click here >> Mum's Grapevine Facebook Groups << to join your group today!