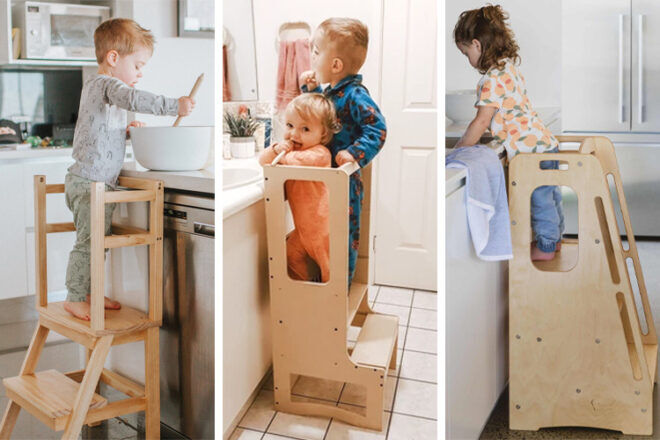 Little helpers love to get involved in everyday tasks, so instead of pulling a wobbly chair up to the kitchen bench, invest in a safe and sturdy learning tower.
Learning towers, also called kitchen helpers, are sturdy wooden frames with raised platforms that give kids the extra height they need to reach a bench or table. Taking their inspiration from Montessori learning, they give children a safe place to interact with the family and learn to be more independent while staying out of harm's way.
To help you take daily activities with your toddler to new heights of fun, we've scouted out a selection of sturdy learning towers available right here in Australia.
What to consider when buying a learning tower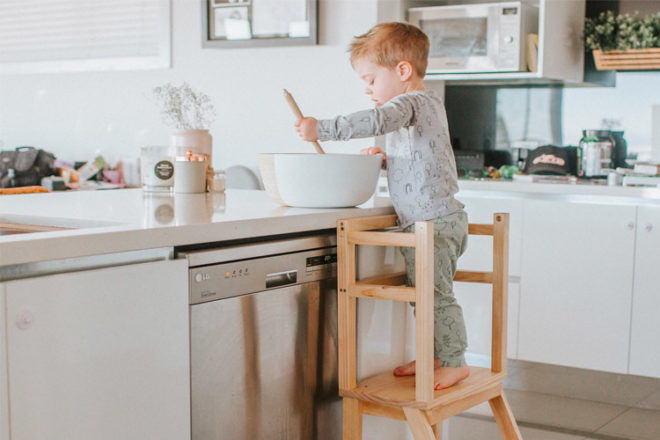 Here are some of the factors to consider when you're looking to buy a learning tower in Australia:
Type: While they all look different, they are all crafted with a similar structure – a section to stand on and a section with a rail to keep toddlers safe and steady. Some are foldable, others have step sections that fold away. There are also height-adjustable options that grow as your child does.
Weight limit: Most have quite a large weight limited (up to around 100kg) but it's always worth checking.
Safety: There are no mandatory safety standards in Australia, but some Australian-based manufacturers adhere to voluntary standards, so check their product description.
---
7 kids' learning towers available in Australia
The right kitchen helper gets kids involved, learning and having fun around the home. Check out our handy list of styles to find the right fit for your home.
Some brands have offered exclusive offers for Mum's Grapevine readers. These offers may include exclusions and expiry without notice. Please direct all inquiries directly to the linked website.
In no particular order, here are 7 learning towers for busy kids:
Hubby Made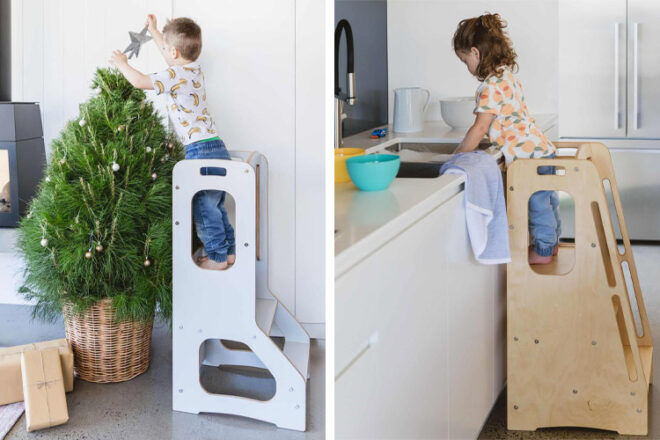 In a choice of MDF, bamboo or plywood, these Melbourne-made Toddler Chef Stools are recommended for little ones aged 1 – 6 years. All designs are height adjustable to four settings and hold up to 80kgs. Choose from single, tandem and twin sets.
---
My Little Giggles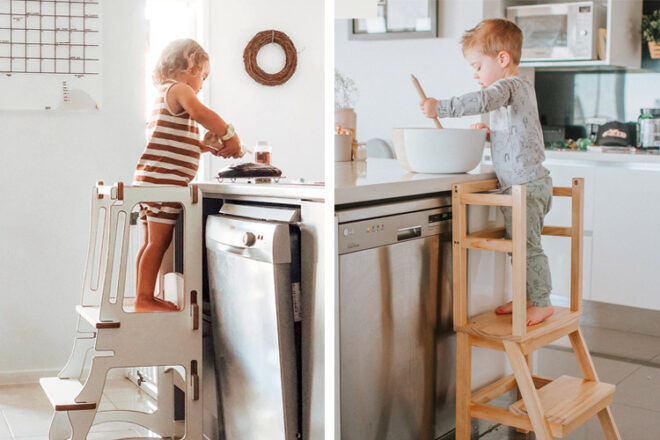 This clever range of lightweight helpers has been thoughtfully created to help little ones get involved in everyday tasks. Both the classic tower and interlocking V2 model are available in natural or white finishes and come with a rear safety rail for extra peace of mind.
---
My Happy Helpers
This colourful range of Australian kitchen helpers is great for compact spaces. Suitable from 12 months of age, each boasts a silky-smooth finish and sleek arches. Choose from the affordable FISSO, the height-adjustable EVO, or convertible TAVOLO. Double models are also available.
---
HipKids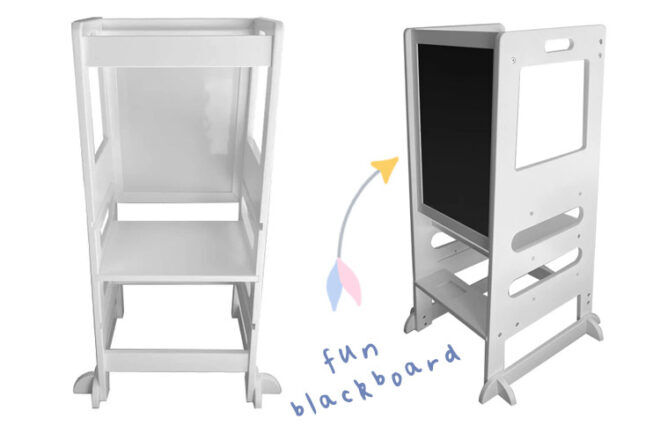 Equipped with a removable chalkboard panel, this versatile unit works as a safe kitchen helper tower and as a first easel – complete with a recessed chalk holder. In a choice of natural or white, it's suitable for creative little beings as young as 18 months.
---
Little Big Learning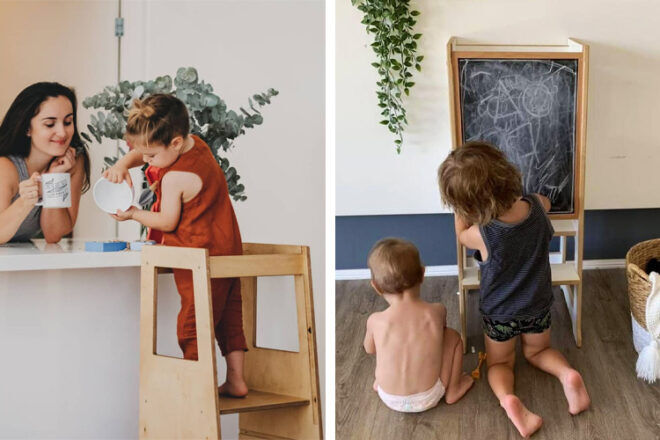 Made in Australia, these slimline learning towers fit seamlessly into contemporary living. Available in a choice of white MDF or raw birchwood, they come with a removable chalkboard panel for extra safety and creativity. With each purchase, a tree is planted.
Little Big Learning Offer:
Use code 'GRAPEVINE' to receive a free gift when you purchase a learning tower.
---
Little Nation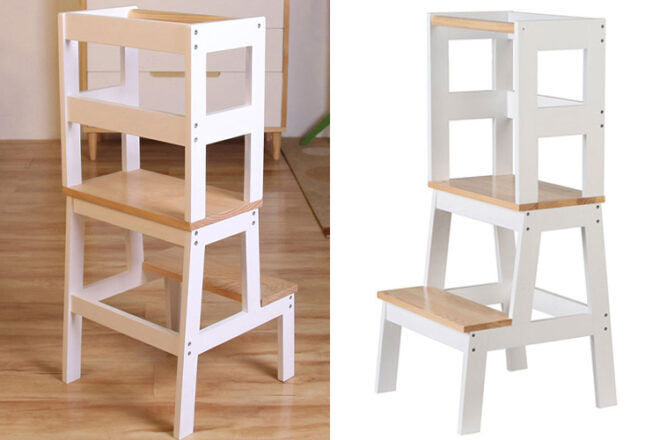 Thoughtfully designed, the Oscar Learning Tower encourages tots to be independent and involved around the house. Easy to assemble, it has a clean minimalist design and it's tough enough to stand up to everything the kids throw at it.
---
BillerCraft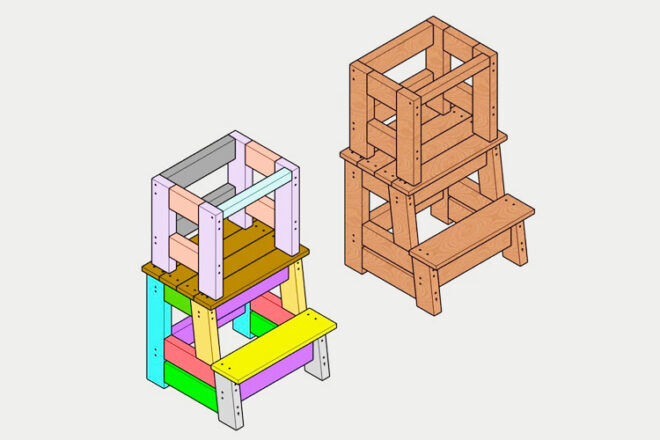 Feeling handy? Have a go at crafting your own learning tower with these DIY plans. Using around $30 worth of materials and basic tools you could whip up your very own learning tower in a few hours (well maybe!).

---
This article is lovingly curated by our Editorial team and includes affiliates and/or paid inclusions. See our Disclosure Policy.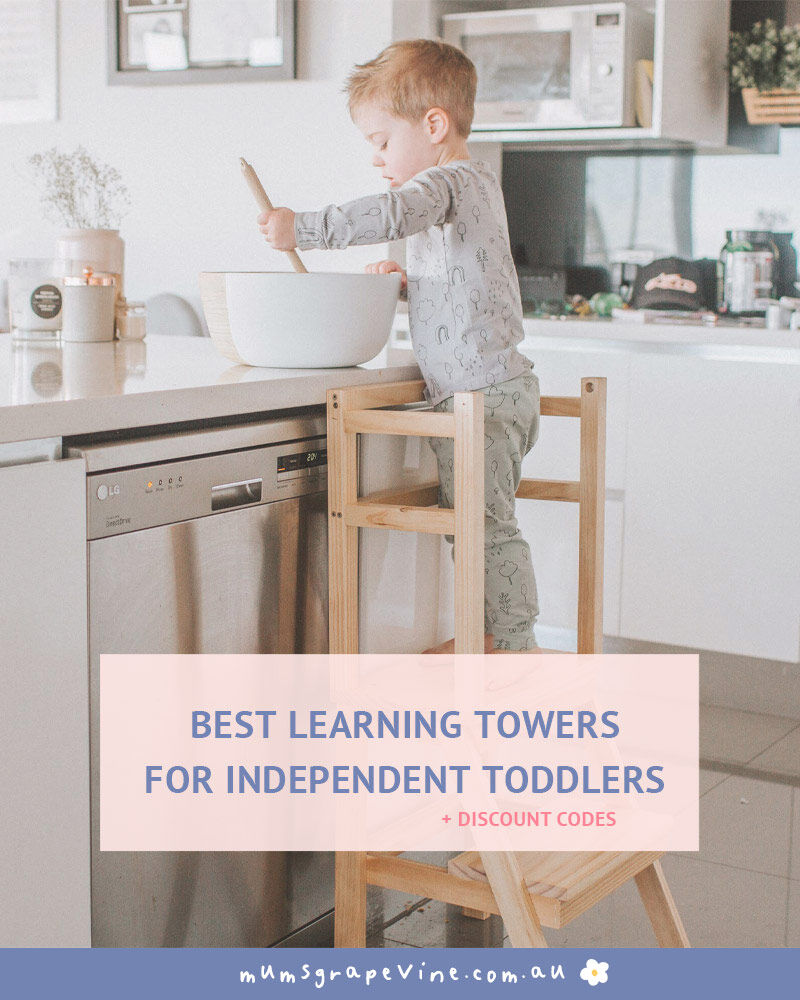 Know a kitchen helper we missed and should add to our list? Contact us and let us know.
Read these roundups next …
If you're looking for more play equipment for your little ones, you're in the right spot. From pikler triangles to teepees, we list the most coveted boutique brands in Australia.
Read this: 34 ways to fine-tune fine motor skills