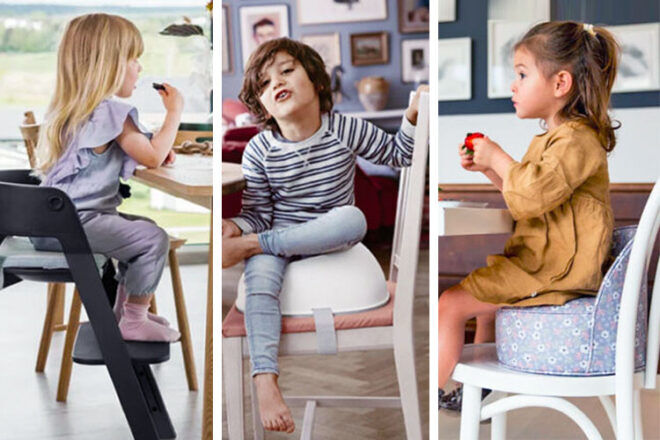 Mealtimes can be stressful enough, but what do you do when your little one reaches that in-between stage where they are too big for a high chair and too small for a regular chair? A junior chair or booster seat for the table could be the answer.
A junior chair is a perfectly sized all-in-one seat that replaces a regular chair at the table. A toddler booster seat, on the other hand, secures to an existing chair to give littlies the boost they need to enjoy their toddler meals at the table or bench.
Whichever style you go for, a perfectly proportioned junior chair allows height-challenged tots to join in with family meals, learn good table manners and develop greater independence.
What to consider when buying a toddler dining chair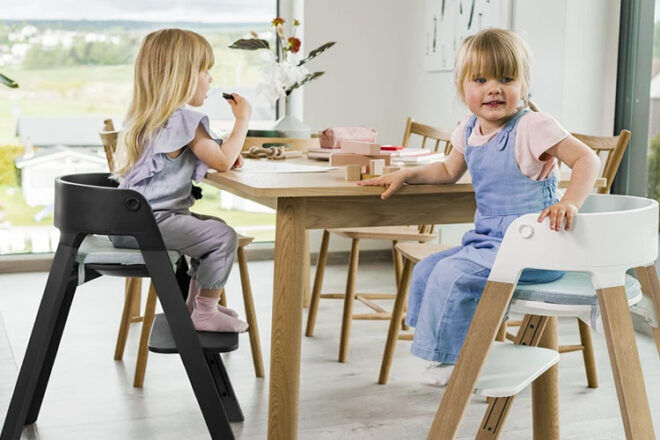 Type – After a toddler dining solution for when you're out and about? A portable booster seat could be the answer. These attach easily to most regular chairs making mealtimes a cinch when you're on the go. A junior chair is a piece of furniture that you'll most likely only use in the house.
Safety – If your tot is quite young, you may like to consider a seat with a built-in safety harness or restraint to keep them safely secured. Also, keep in mind that while toddler booster seats are designed to be attached to household chairs, they are not suitable for use in vehicles.
Adjustable height – After a junior chair to see you through many years? Some brands offer height-adjustable seats that grow with your child. This also comes in handy if you want to be able to share the chair with other kiddos.
---

15 junior chairs and booster seats for table use
To help you find a toddler dining chair for mealtimes, we've rounded up a collection of brands to get you started in your search. In no particular order, here they are:
1. Upsy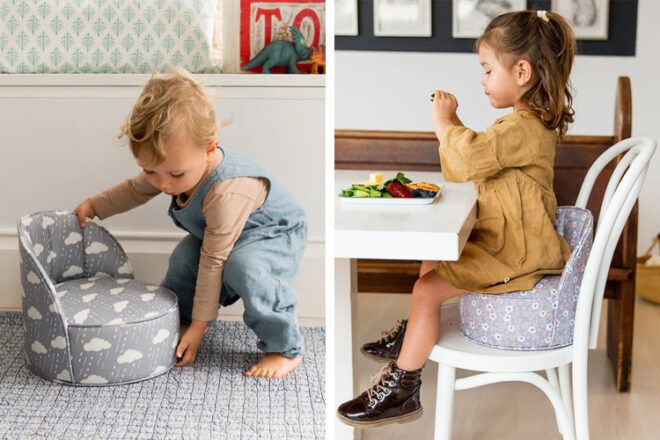 These pretty little perches are just the spot to pop a bot at mealtimes. Suitable for 18 months up to eight years, they come in a glorious range of prints and colours. Each seat is splash-proof, lightweight and totally portable – because trust us, you'll want to take these everywhere!
---
2. My Happy Helper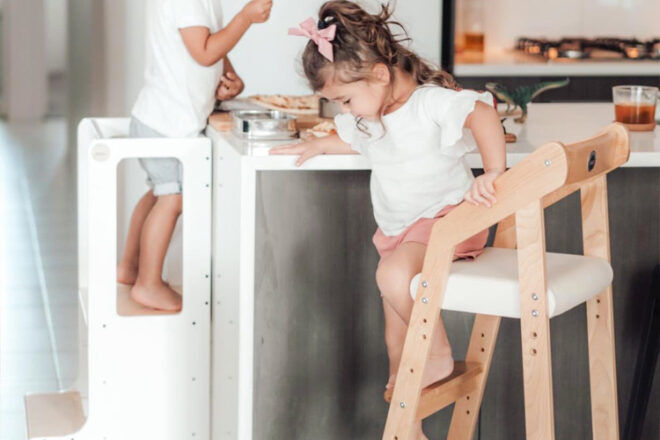 Available in table and bench heights, the GroChair is a safe, sturdy and practical solution to mealtimes with minis. Not only is the chair height-adjustable to grow with your child, but it also has thoughtfully designed legs, backrest and seats to ensure little bodies are comfy.

---
3. Childhome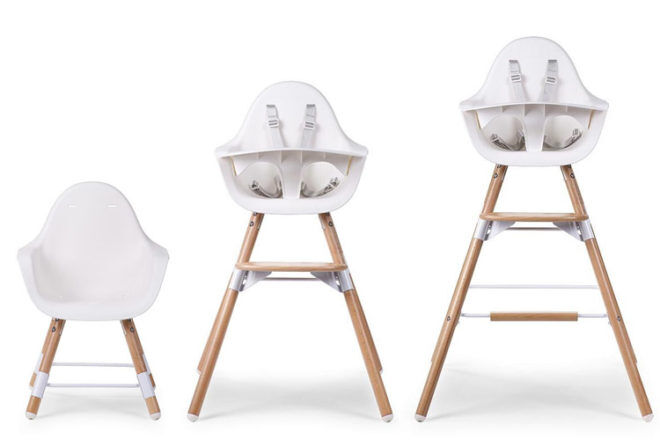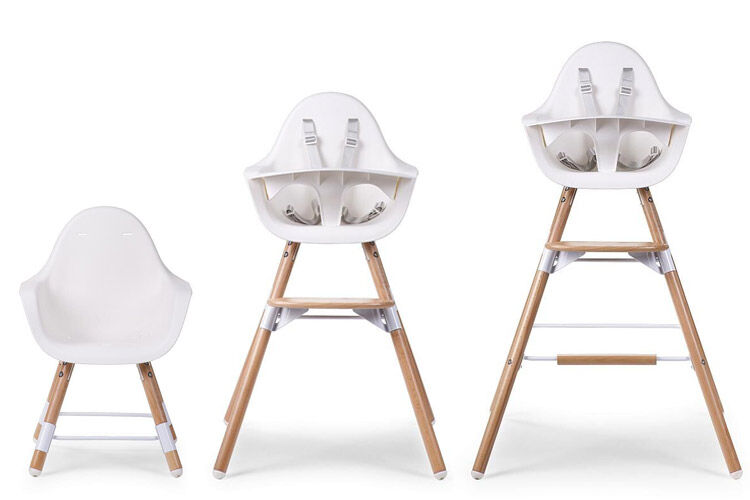 Looking for a solid chair that grows with your child? The Evolu 2 is a European-designed dining solution that comes with a five-point safety harness, safety bar and footrest. From baby's first food right through the toddler years, this one's got you covered.
---
4. Bombol
As flat as a book one minute, a modern booster seat the next! This award-winner is ultra-lightweight, brilliant for travel and it fits almost any chair. It has a safety harness, washable straps and it comes with a carry bag that doubles as a chair cover. That's smart.
---
5. Leander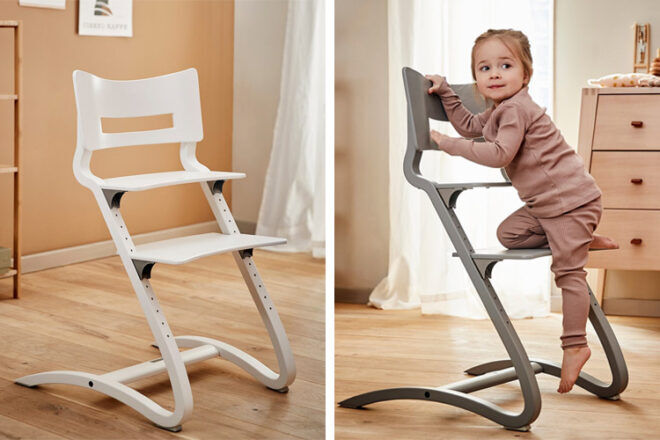 This Scandinavian toddler chair boasts a lightweight, ergonomic design that seamlessly blends into the modern home. Lower the level of the footrest and seat to accommodate longer limbs and adjust the backrest to support growing bodies. Clever!
---
6. Ingenuity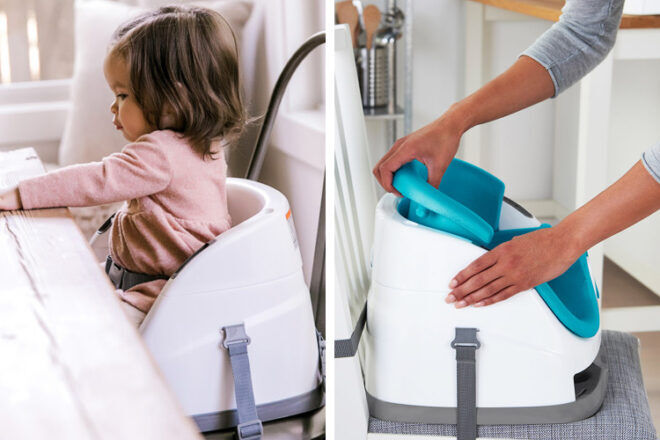 This portable feeding solution attaches securely to most types of dining chairs. Designed with longevity in mind, it can be used with the foam insert for younger tykes, and without the insert for growing tots. It comes with a 3-point safety harness and a removable tray.
---
7. phil&teds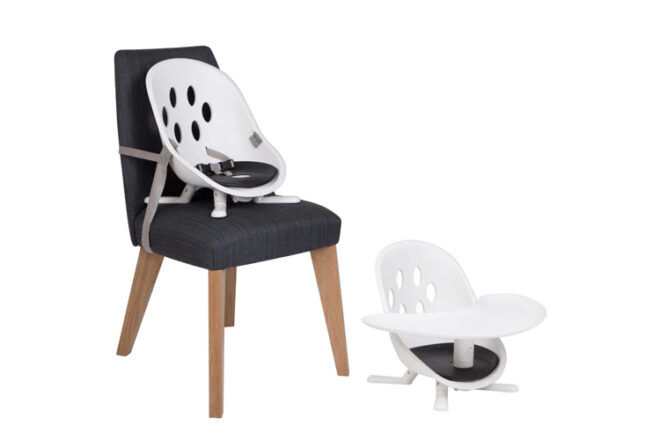 Been using the Poppy high chair with bub? This conversion kit will transform it into a convenient booster seat for table use or a fun floor chair for playtime. The kit includes straps for attaching securely to chairs and plastic feet for stability and support.
---
8. BabyBjorn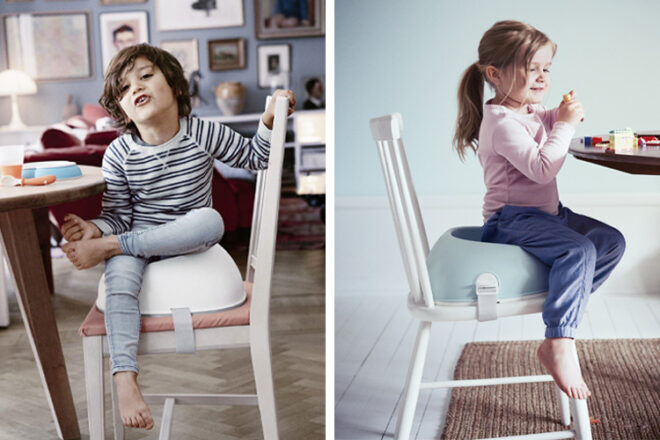 From camping trips to visits to Nan's, this portable gem is light enough to take everywhere. In a choice of white or mint-green, it easy to clean and comes with a rubber strip underneath for extra grip. It's best suited for tots above three years and fits most chairs.
---
9. Chicco
On the run with a tot in tow? This will help. Created as a solution to on-the-run meals, this toddler booster seat can hold up to 15kg and attaches easily to chairs with adjustable belts. It comes with a removable tray, easy-close system and handy carry strap.
---
10. TooshCoosh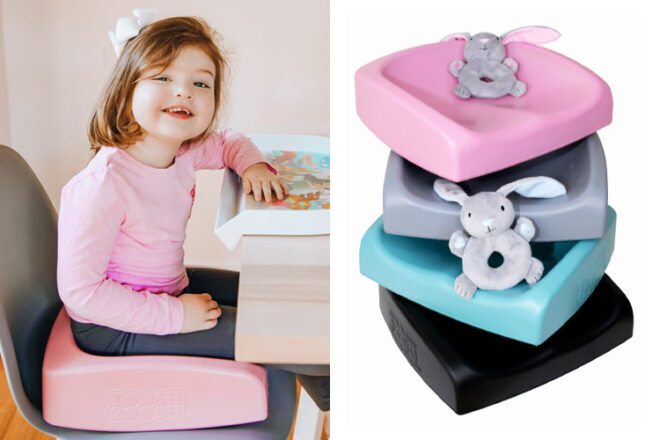 They're the fuss-free toddler booster seats for tables that are ergonomically designed and a cinch to clean. Completely free of straps, they're best suited to littlies from three years and come in a choice of pink, grey, blue, black and latte shades.
---
11. Kaboost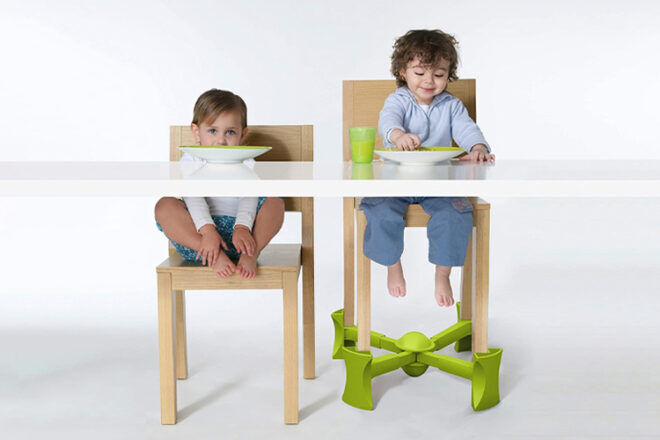 This smart tool attaches directly to four-legged chairs to raise their height. It snaps to legs in seconds and has rubber feet to grip hard floors and prevent scratching. When mealtime wraps up, the Kaboost folds up in a jiffy and tucks into its own carry bag.
---
12. Infasecure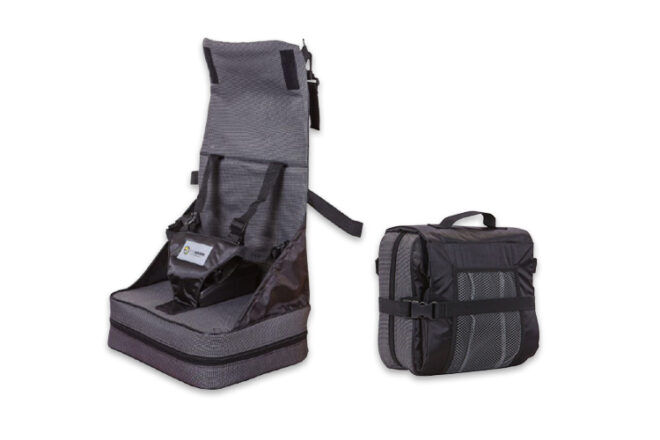 This handy booster is compact, easy to use and practical. It's fitted with a secure safety harness and two rear straps for securing it safely for chairs when you're out and about. Designed for little foodies up to 14kgs, this one bundles up neatly into a clever carry case.
---
13. Stokke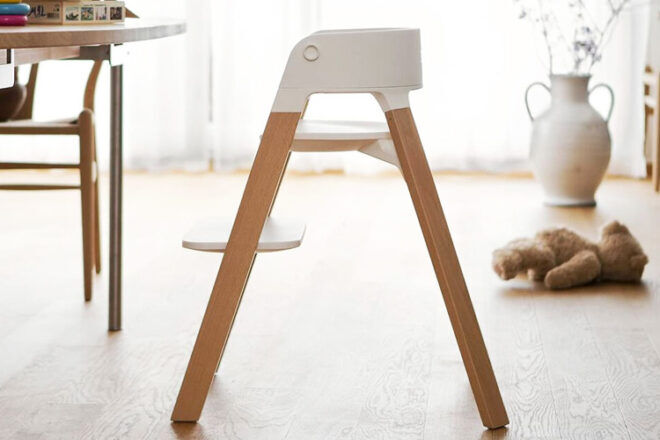 This 5-in-1 adjustable seating system was specially designed to support little bodies from toddlerhood right through to the age of ten. Beautiful in its simplicity, it has a roomy rounded seat, curved back and footrest. Choose from black or white themes.
---
14. Bumbo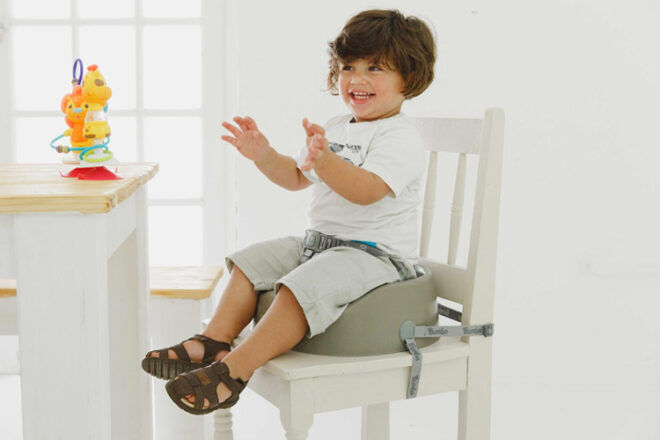 Little ones as young as 18 months can enjoy the extra height this comfy booster provides. Lightweight and boasting a smooth all-over surface that won't scratch your best chairs, this is an easy one to take with you on your outings.
---
15. IKEA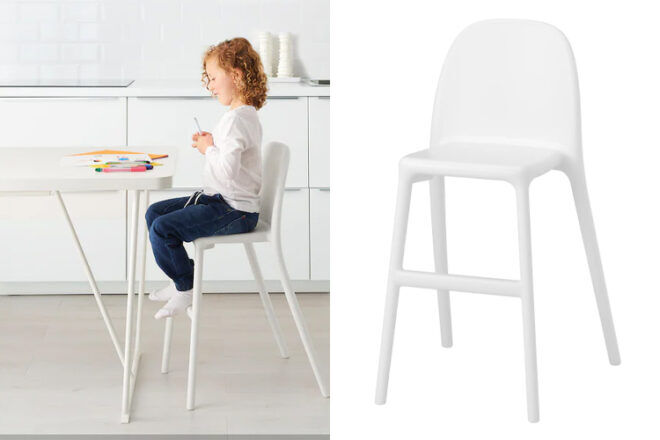 If your toddler has an aversion to being strapped in, then this could be the answer. Sturdy and easy to clean, this much-loved chair has a ladder-like design giving your little monster the freedom to come and go as they please.
---
This article is curated by our Editors and includes affiliates and/or paid inclusions. See our Disclosure Policy.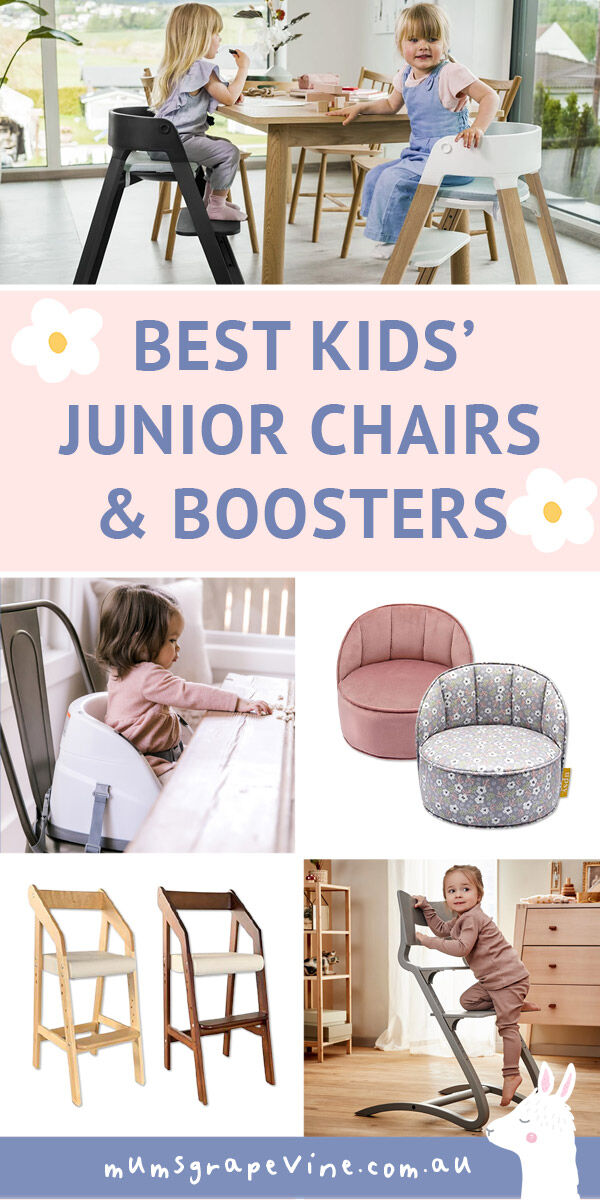 Know a brand of junior chair we should add to our list? Contact us and let us know.
Read these roundups next …
Continue your search for the best toddler booster seat
Looking for the best toddler dining chair and still not sure if any of these are right for you? Join one of the Mum's Grapevine Facebook Baby Groups and ask thousands of other mums what they recommend. They are grouped together by baby's birth date so everyone is going through the same stages at the same time.
Click here >> Mum's Grapevine Facebook Groups  << and find your group today!