When it comes to the right kids' or toddler helmet for precious little noggins, one size doesn't fit all. Finding one that's the right fit and easy to secure to your wee one's head makes all the difference when it comes to keeping securely on heads where they belong.
From styles with flashing LED lights for extra visibility to Scandi delights that take learning to bike ride and scooting to new levels of cool, there's a perfect helmet out there for every thrill-seeking tot.
But first, we've listed some of the featured you should consider when you're scouting out a fab helmet for your toddler, preschooler or school-aged kid.
What to look for in a toddler helmet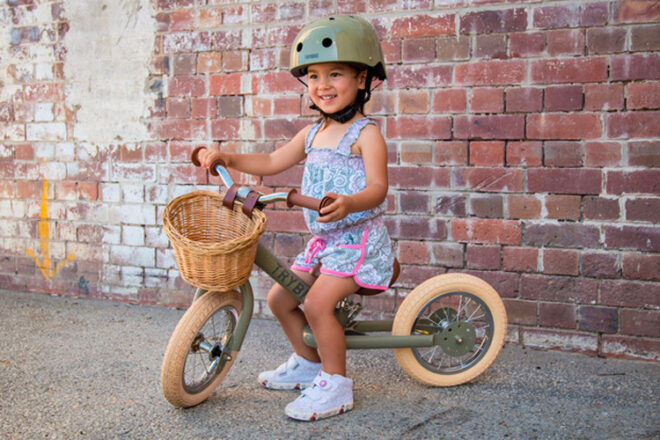 Make sure there's adequate ventilation. Busy little tots tend to get quite sweaty around the head, especially in the warmer months. Look out for a helmet with great ventilation around the head and neck to help littlies keep cool.
The correct size makes all the difference. Toddler helmets start at around 45cm in diameter, ranging up to around 58cm for older kids' helmets. Some brands cater to growing kids by offering two or more sizes, just be sure to measure your child's head and check that the helmet will provide a good fit.
Adjustable straps mean you can cater to growing humans. It goes without saying that little humans grow fast, so if you are after a helmet to see your munchkin through a good few years of adventures, opt for a style with straps that can be easily adjusted. (This also comes in handy if you want to share a helmet between siblings of different ages.)
Look for soft and comfortable lining. A spongey interior will not only provide extra protection to toddlers' heads, but it makes helmets more comfortable for littlies to wear, whether they're scooting, skating or riding.
For fab visibility, consider LED lights. If you will be riding on roads with your littlies, or perhaps in poor weather, you might want to consider a helmet with built-in LED lights for extra visibility.
---

7 toddler helmets for adventurous kids
To help you find the perfect toddler helmet for your mini, we've rounded up a handy list of helmets available right here in Australia to get you started in your search.
Here are 7 protective helmets for kids and toddlers:
1. Micro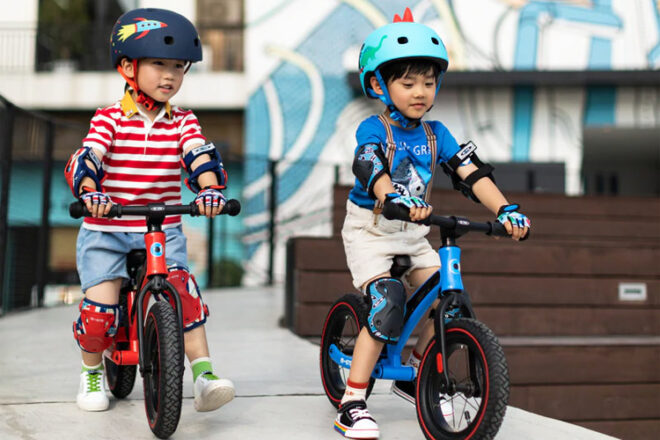 Designed for optimum safety when littlies are on the move, Micro helmets come equipped with an LED backlight and loads of padding to protect little heads. Ergonomically designed with air vents, they're available in different sizes to cater for growing kids.
---
2. Globber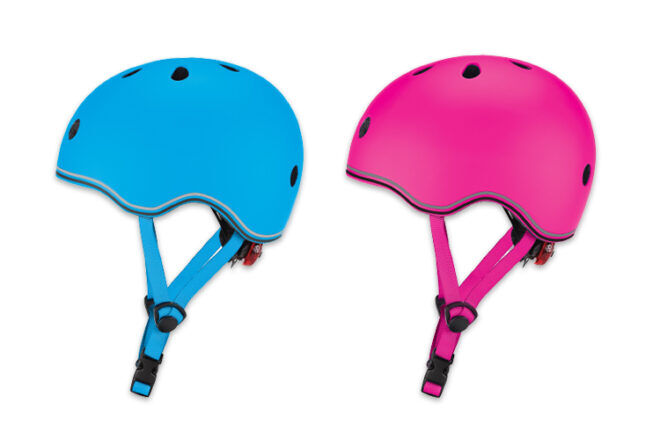 From the makers of one of the world's favourite scooters, Globber GO UP scooter helmets are specially designed for toddlers, measuring 45 – 51cm. They come in five fab shades and are fitted with six flashing LED lights on the back for optimum visibility.
---
3. Banwood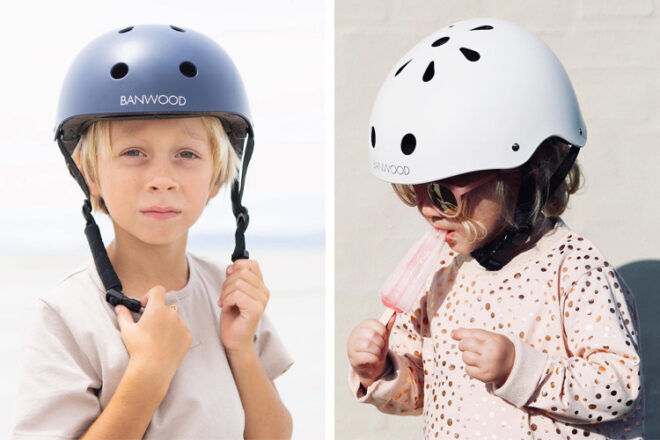 Suitable for ages three to seven years, these Scandi beauties have a dual-fit adjustment system for a snug fit and great ventilation. They have a durable ABS shell, spongey internal lining and they come in the coolest hues around.
---
4. Kiddimoto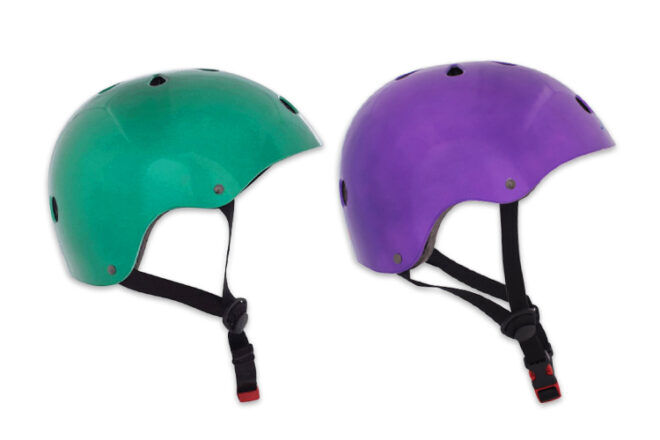 There's so much to love about these fun additions to the Kiddimoto range, especially the shine factor! In a choice of three metallic finishes, each helmet comes in two sizes and features a rear adjustment wheel, adjustable straps and a venting system.
---
5. CoConuts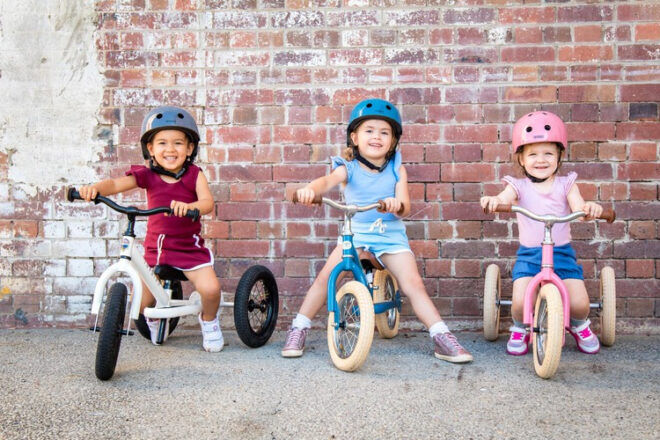 This Dutch range of helmets comes in colours to match the Trybikes bike range. Every helmet is made with an ABS plastic outer shell and a lightweight inner shell. With air vents and a spin dial for a fab fit, these tick all the boxes.
---
6. Mocka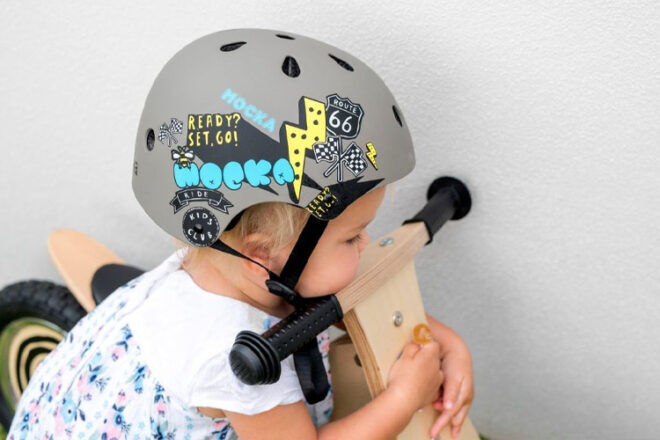 A little bit retro and a whole lot of cool, these toddler helmets are destined to turn heads. They each come with adjustable straps and extra padding for a protective fit and a comfy feel. Choose from pink, grey or white.
---
7. Giro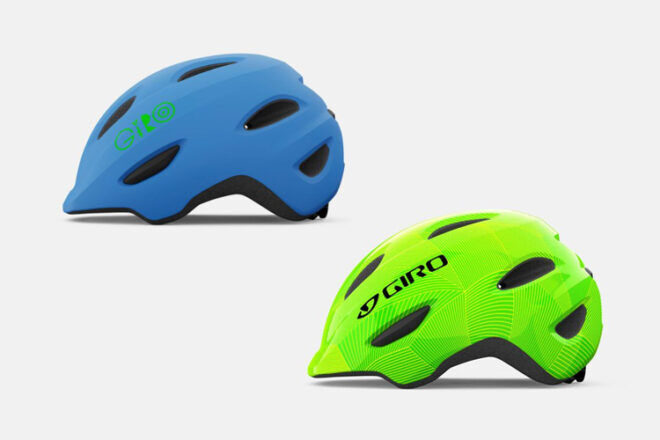 Designed with comfort, safety and style in mind, the Giro Scamp comes in five sizes and caters to kiddos of all ages. Along with a very handy built-in visor, it comes with a ROC LOC adjustable fitting system, allowing you to adjust the helmet perfectly to your tot.
---
This article is curated by our Editors and includes affiliates and/or paid inclusions. See our Disclosure Policy.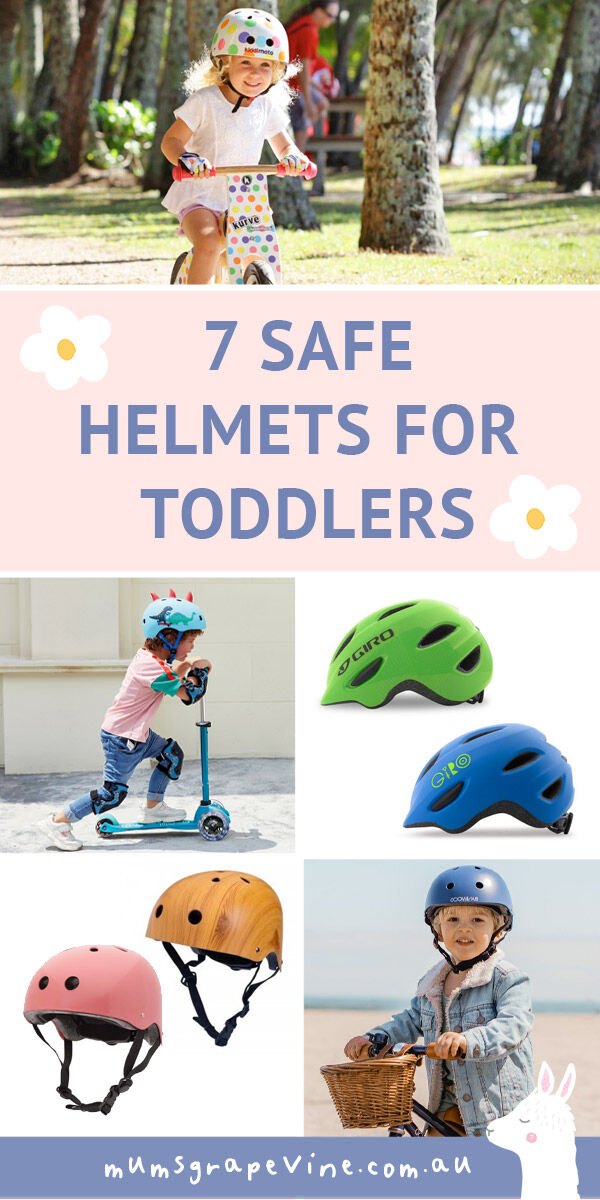 Know some helmets we should add to our list? Contact us and let us know.
Find more toddler gifts in these roundups …
Thousands of Aussie mums in our Mum's Grapevine Facebook Groups are asking each other for recommendations on what to buy right now. And you can too! Join today.