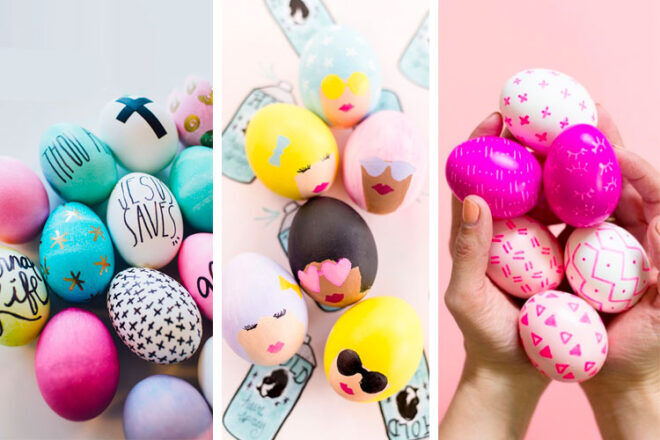 With Easter just around the corner, we're getting seriously egg-cited about the fun family activities coming our way. There are delicious Easter cookies to bake, insanely fun egg hunts to plan and there are loads of Easter egg decorations to choose from.
In fact, the imagination is the limit when it comes to fabulous Easter egg designs, and aside from how much festivity decorated eggs bring to the house, making them is a great way to keep little hands busy during the holidays.
To help you find the ultimate Easter egg decorations to try at home, we've gone on a hunt of our own and tracked down 63 of the most spectacular Easter egg designs around.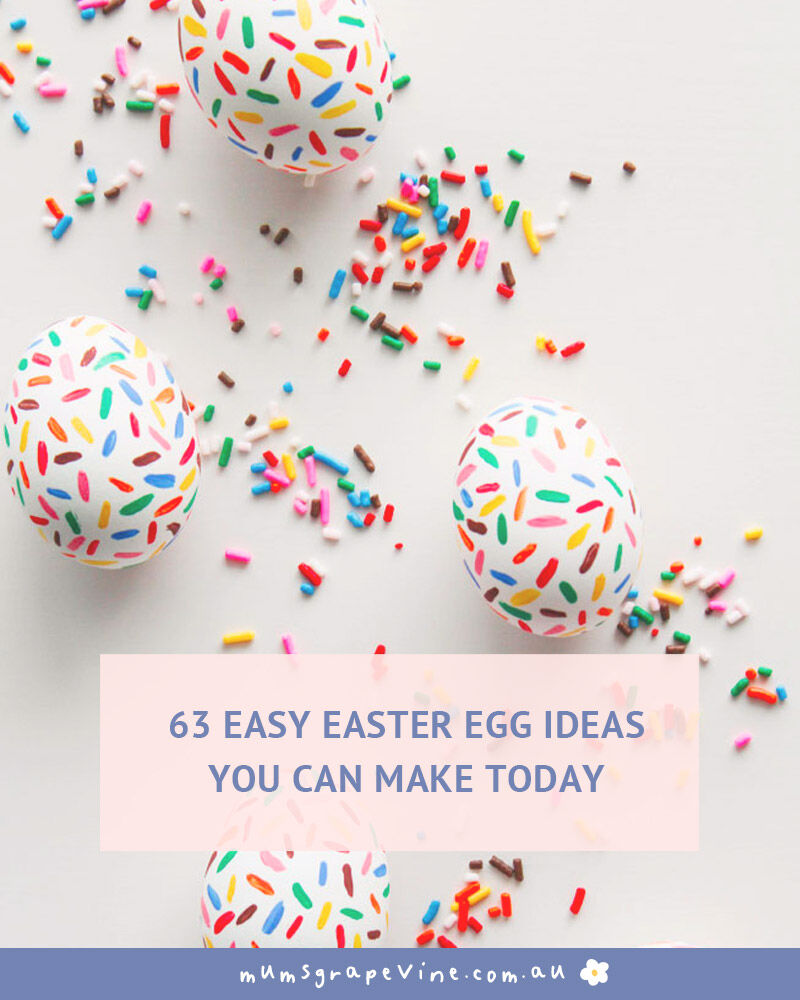 63 easy Easter egg decorations to try at home
Without further ado, here are 63 egg decorating ideas that are guaranteed to wow your friends and family:
1. Boho babes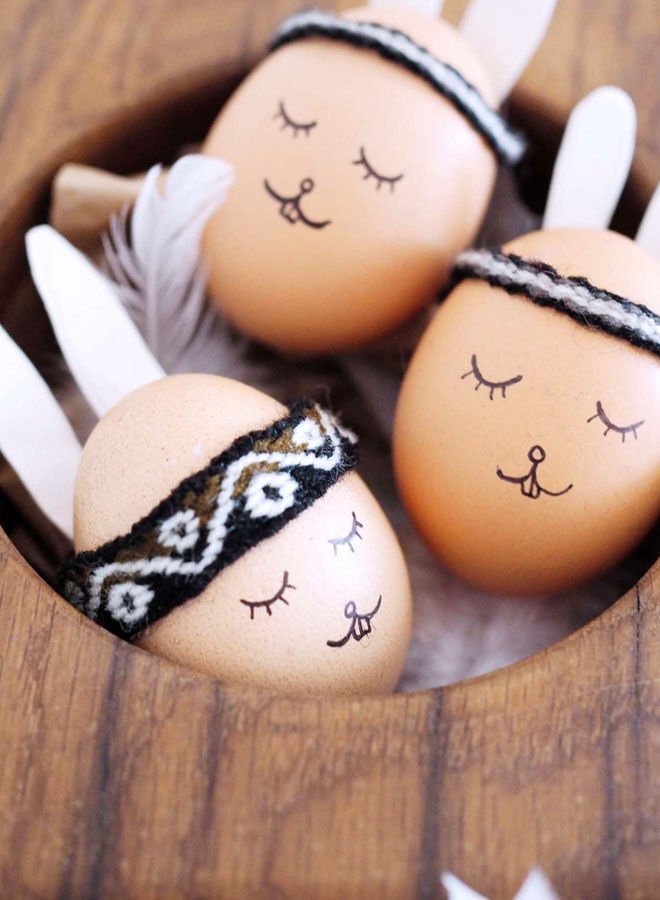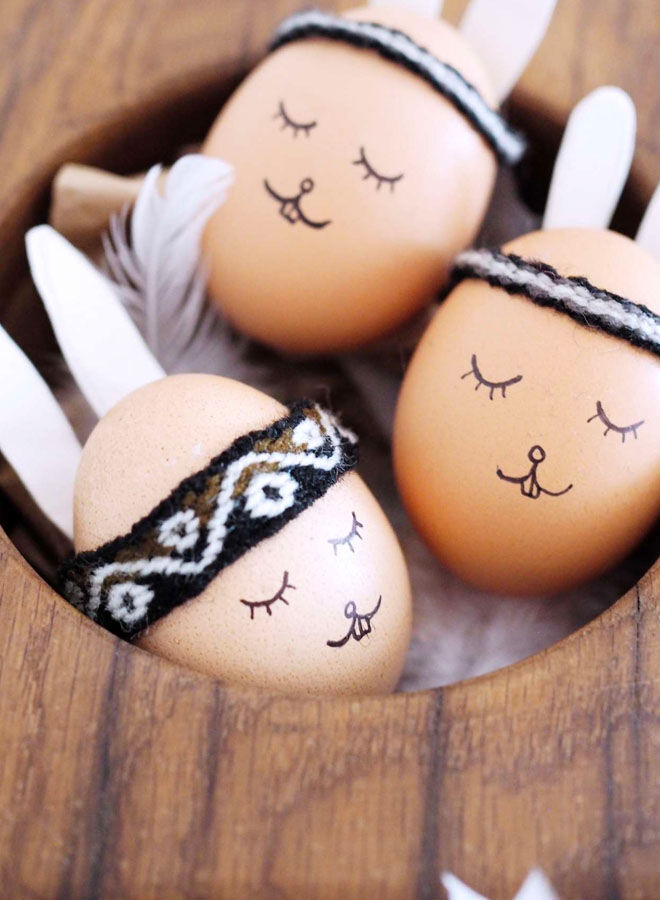 Whether you sit them in a wooden bowl or dot them around the room, these sleepy boho Easter eggs are bang on-trend for contemporary living.  (via Pauls Vera)
---
2. Whimsy and wild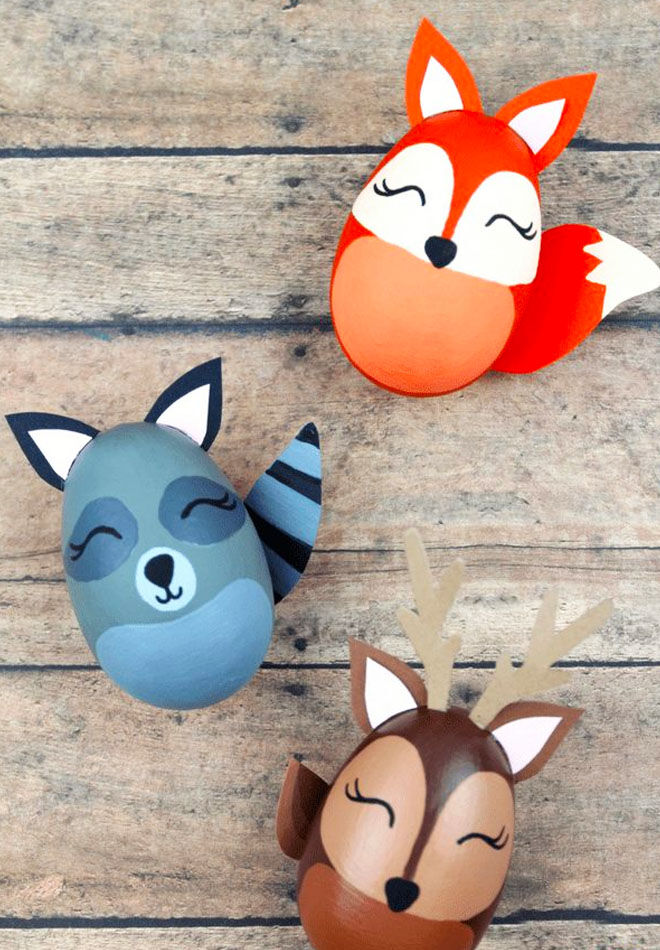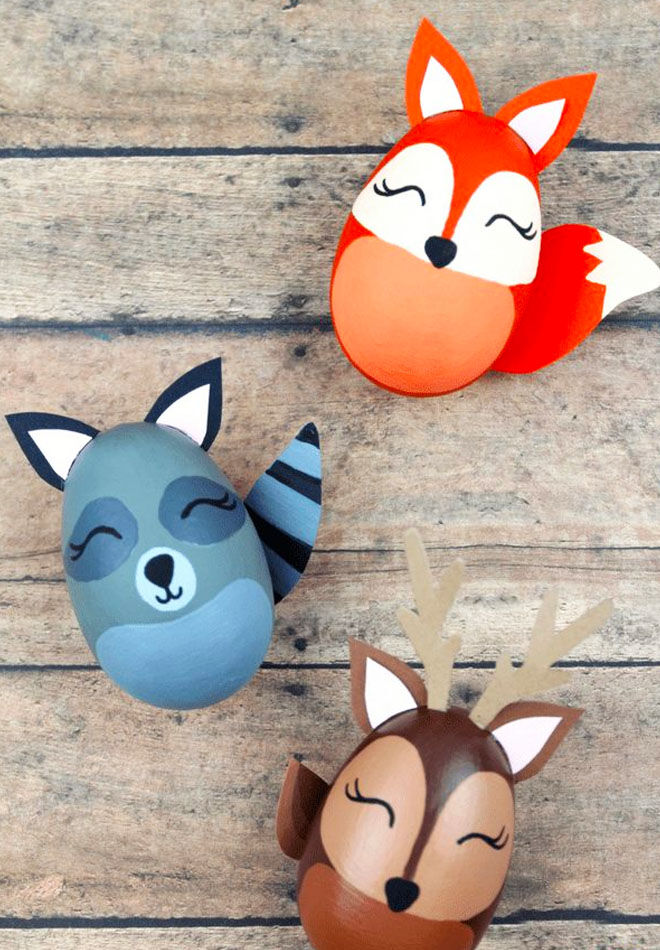 Ssshhhh…We don't want to wake these darling woodland animals. While you wouldn't normally think of Easter when it comes to these particular critters, they're a beautiful way of decorating eggs. (via Arty Crafty Kids)
---
A fine fairytale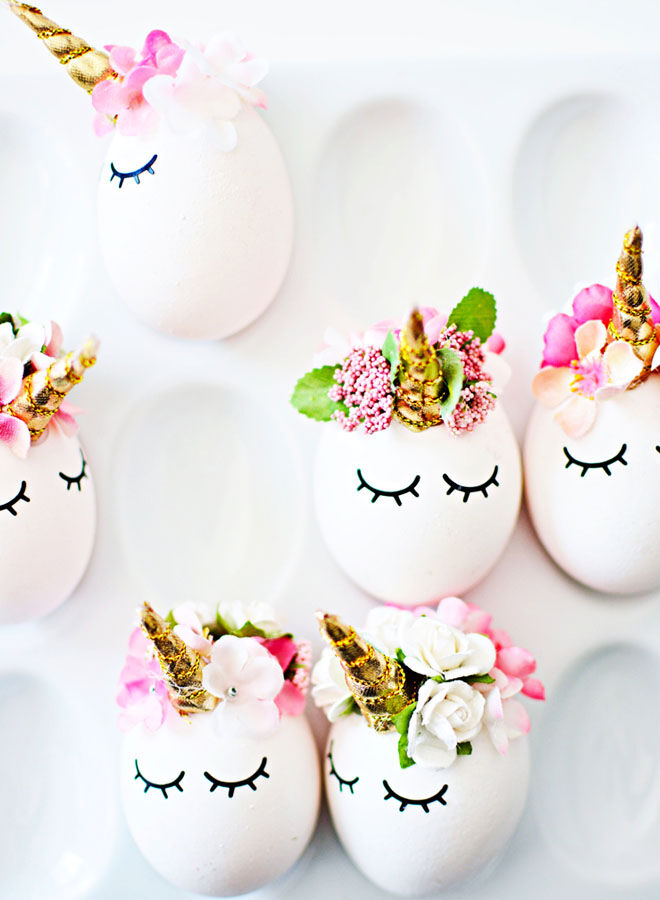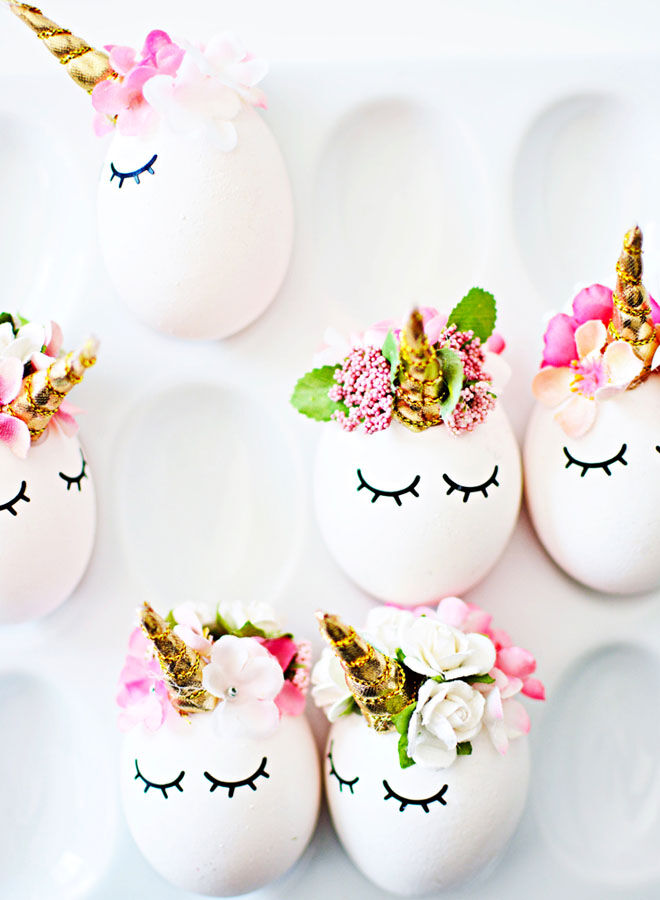 Littles read about them in stories all the time. Bring those special stories to life with these precious unicorn Easter eggs. (via Little Inspiration)
---
3. Cute as cactus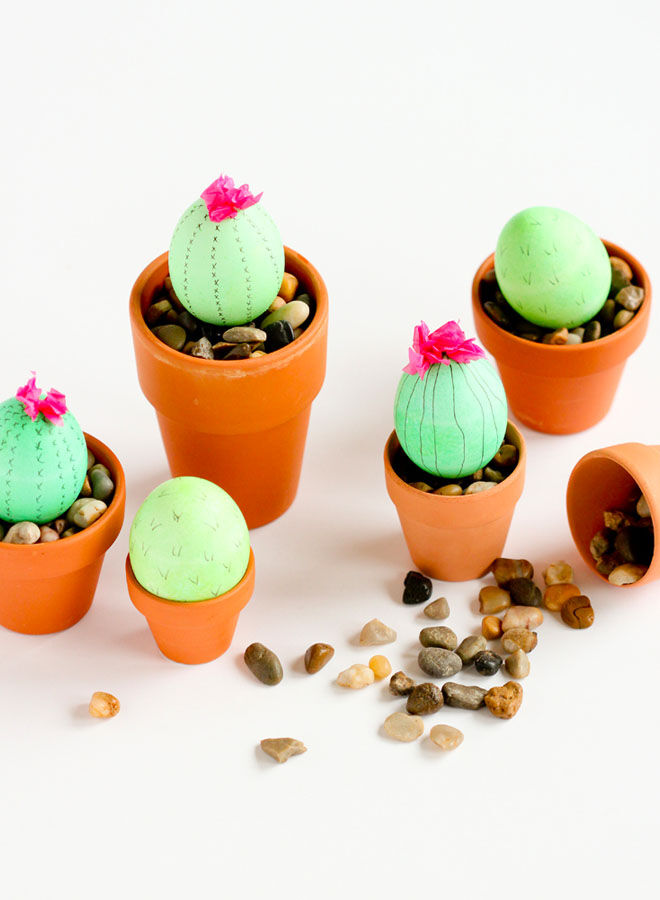 If your little ones love a spot of gardening, they'll love putting these cute cactuses together for Easter. Just dye them green and pop them in their own pot – too easy. (via Delia Creates)
---
4. Oh me, oh my!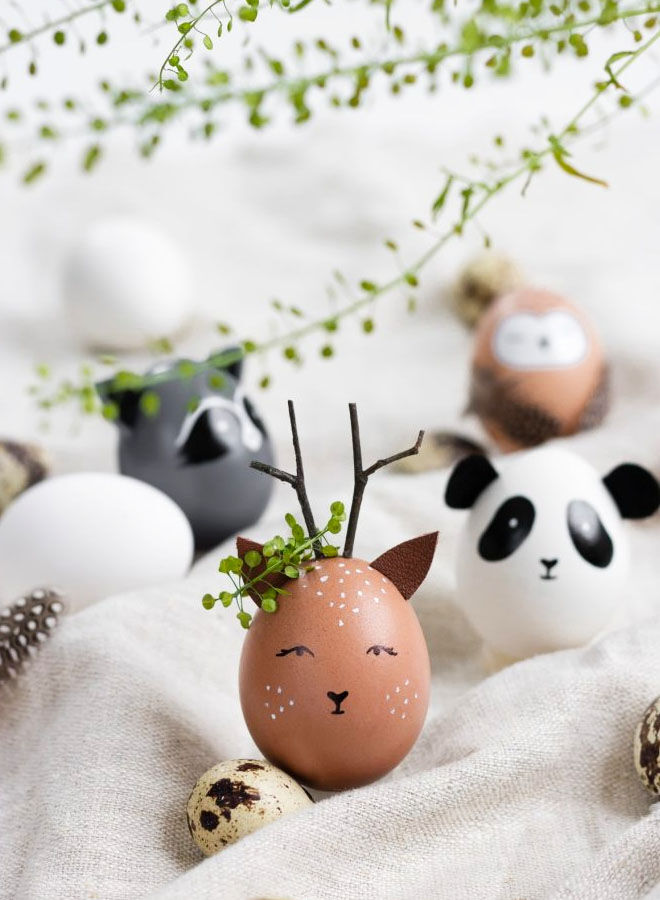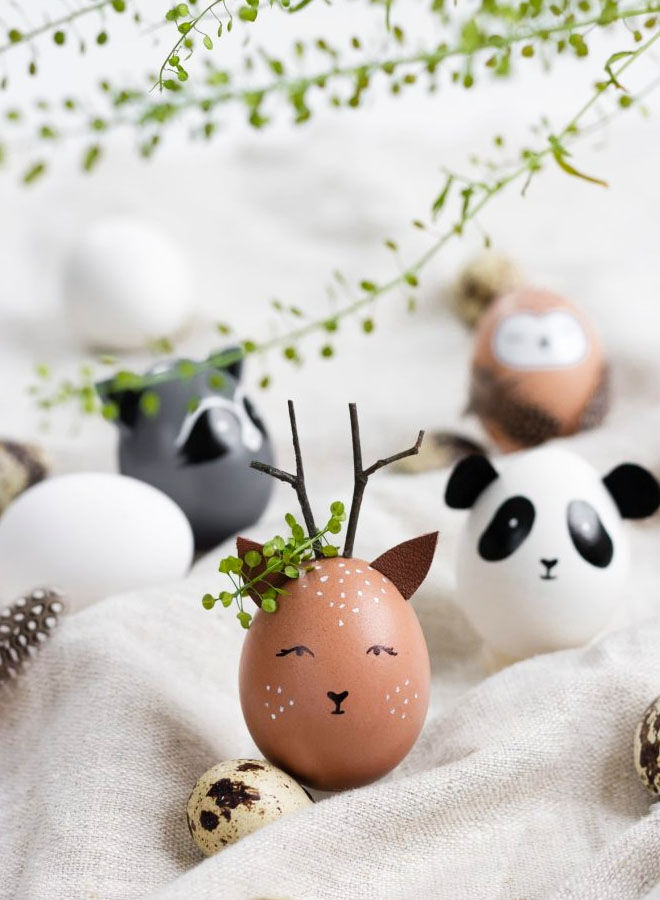 Just when we thought pandas, deer and raccoons couldn't get much cuter, these wildlife Easter eggs rolled into town. What a gorgeous way to decorate the Easter table this year. (via Blog Lovin')
---
5. Summer lovin'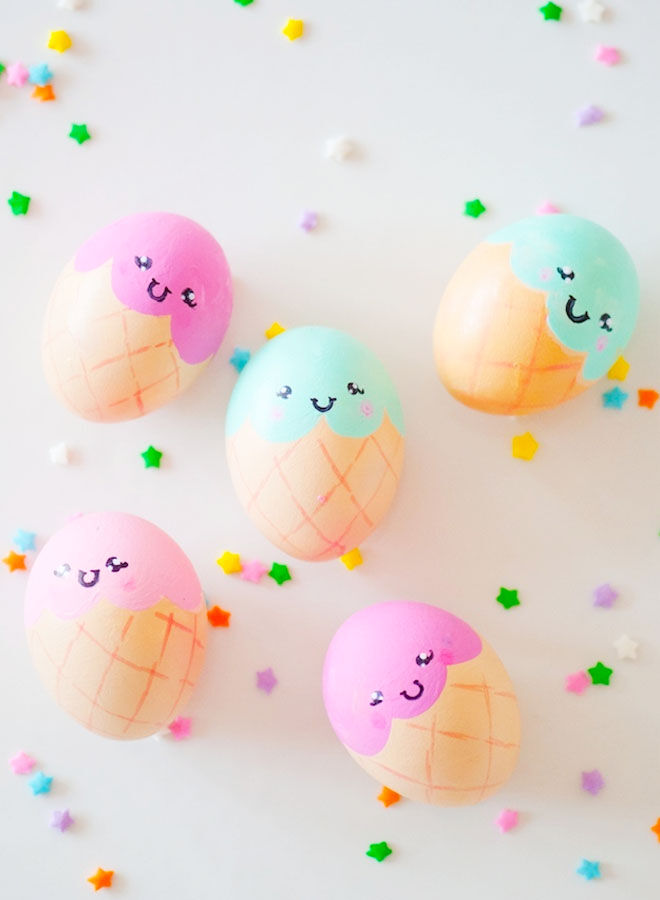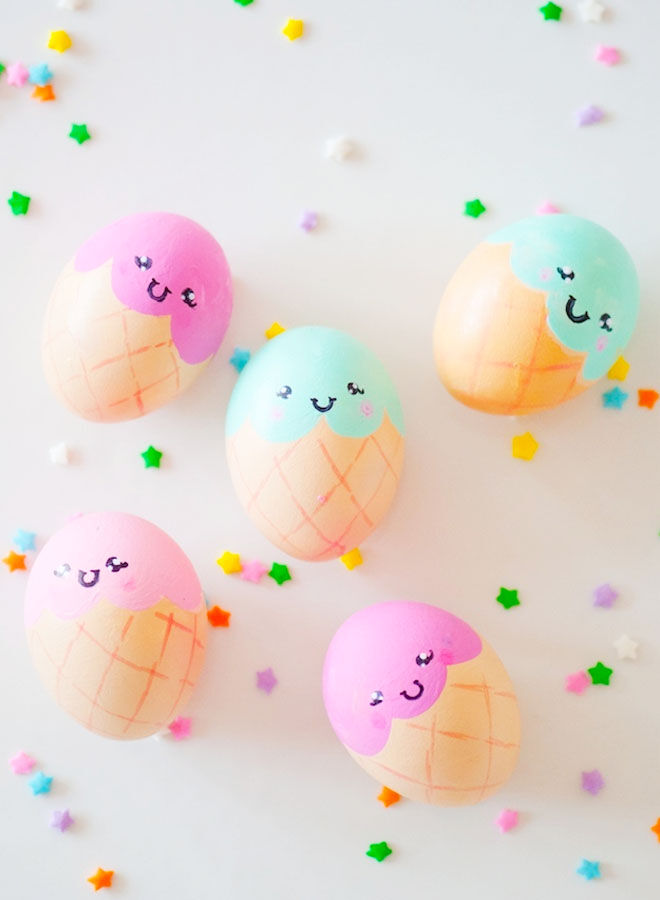 Missing the heat of summer already? (Us too!) This Easter egg decorating idea will bring those summer vibes back in an instant. (via Kara's Party Ideas)
---
6. Au naturel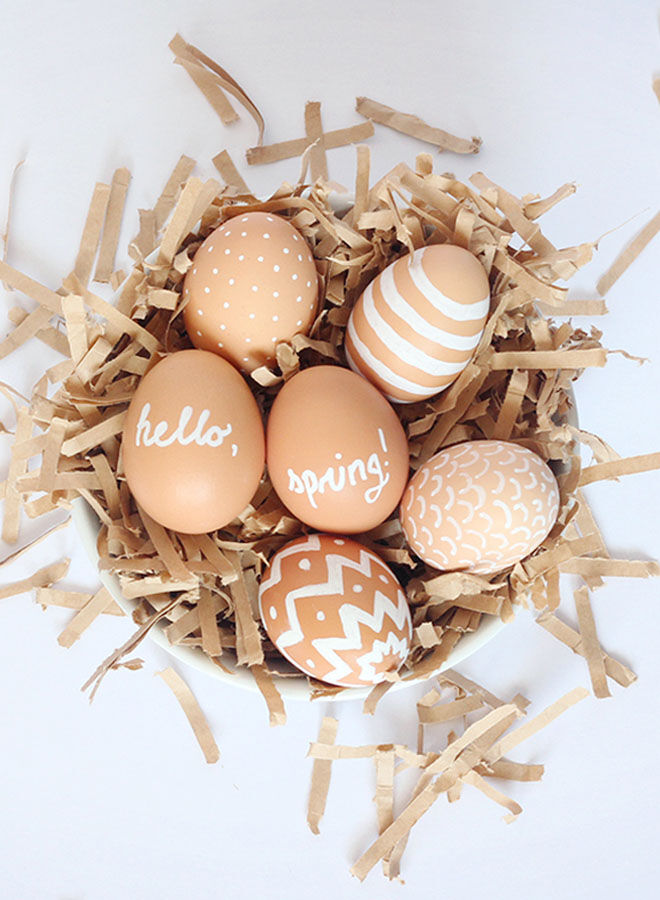 Let simple beauty speak for itself. A touch of white paint and a good brush will see these natural Easter eggs make the perfect centrepiece to a rustic brunch. (via Style Files)
---
7. Tutti Frutti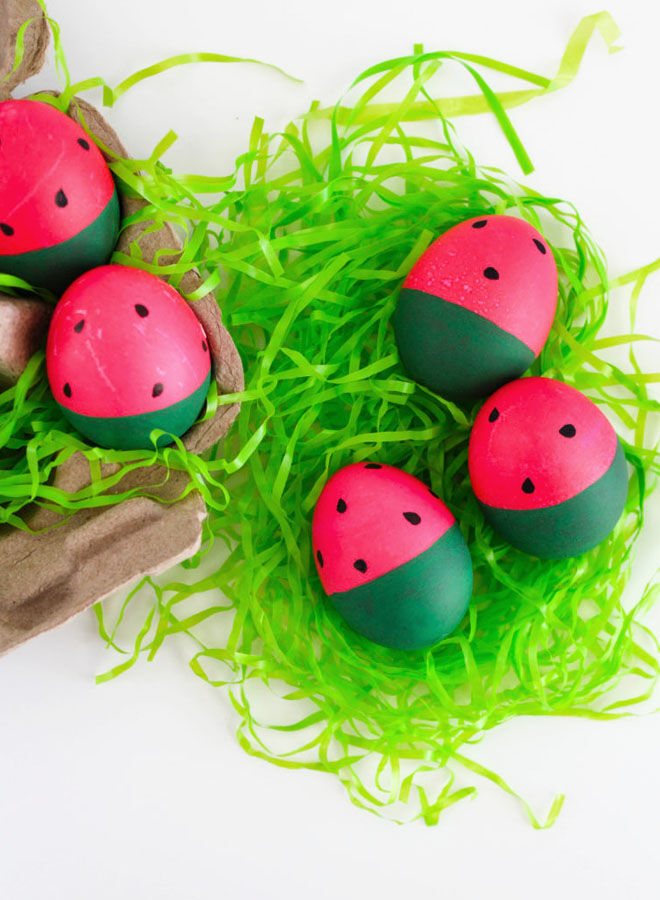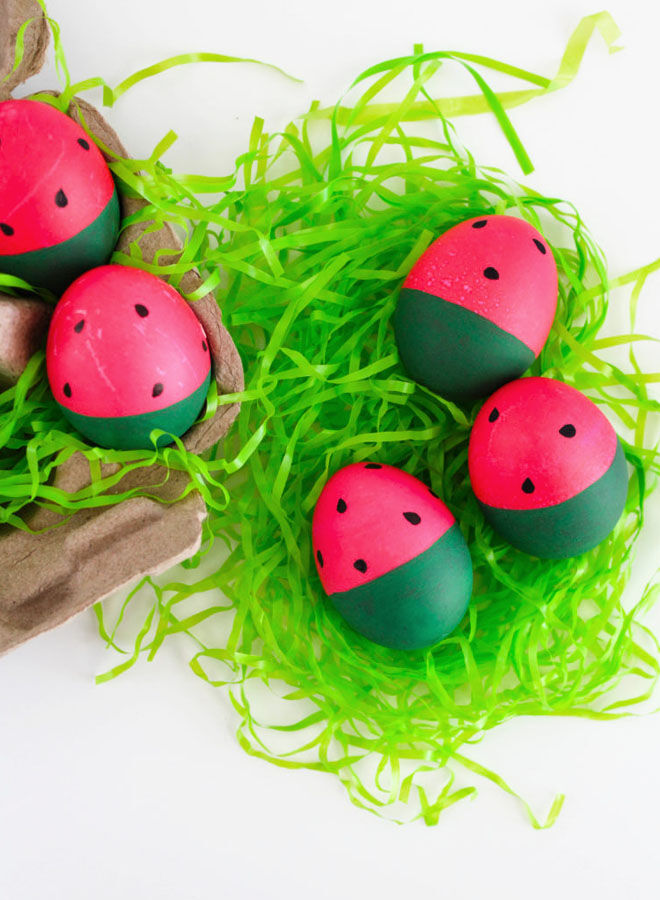 When watermelon Easter eggs are so bold and bright we're almost tempted to take a bite! This summery design only requires two dyes and a black Sharpie to be brought to life.  (via Let's Mingle)
---
8. A speck of gold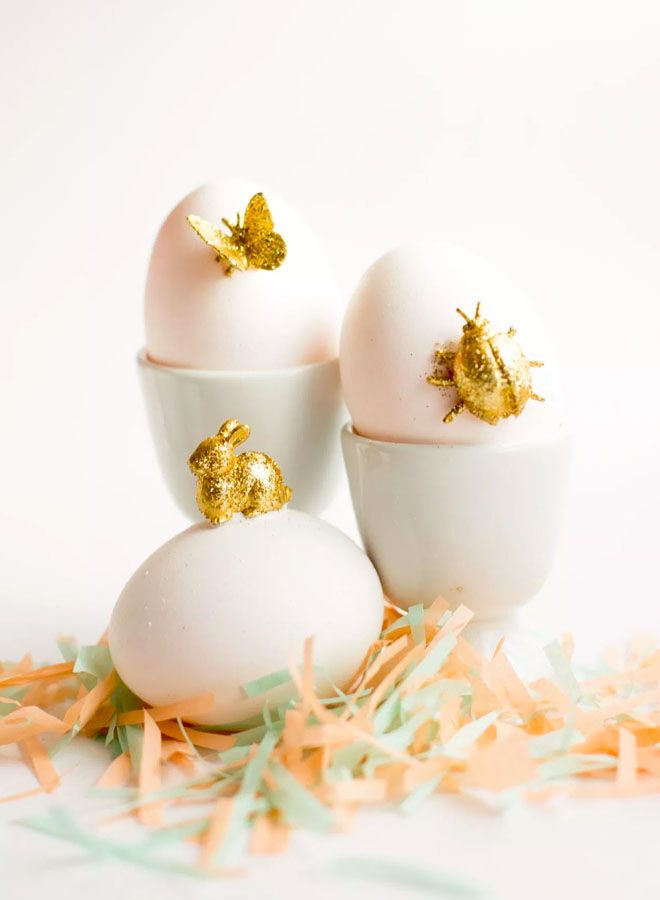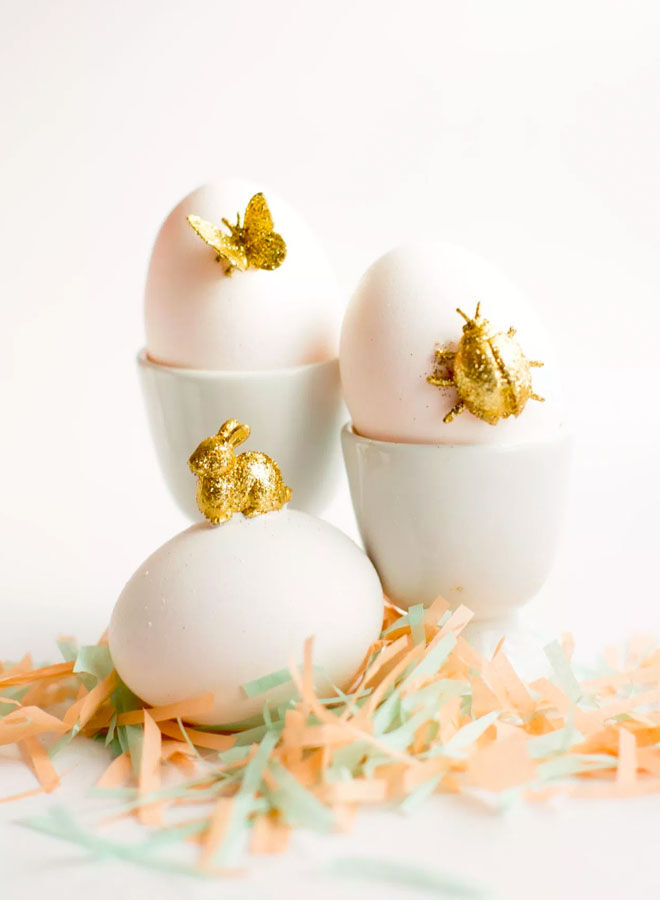 Glistening and absolutely gorgeous – we're seriously crushing hard on these golden animal Easter eggs. If you can't find bunnies and butterflies, try some mini dinos or jungle animals and mix up the paint colours. (via Flax & Twine)
---
9. Donut they look pretty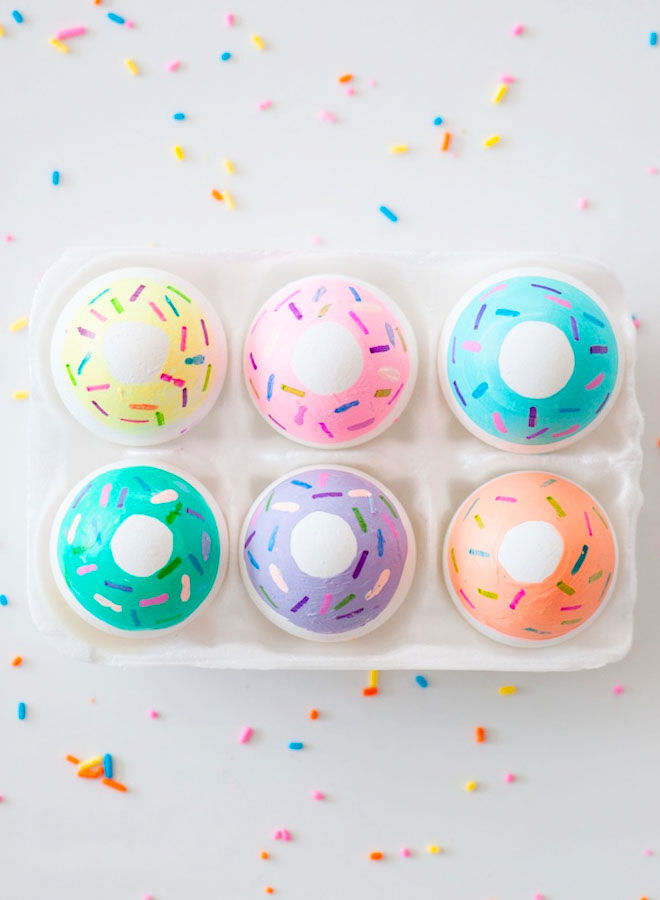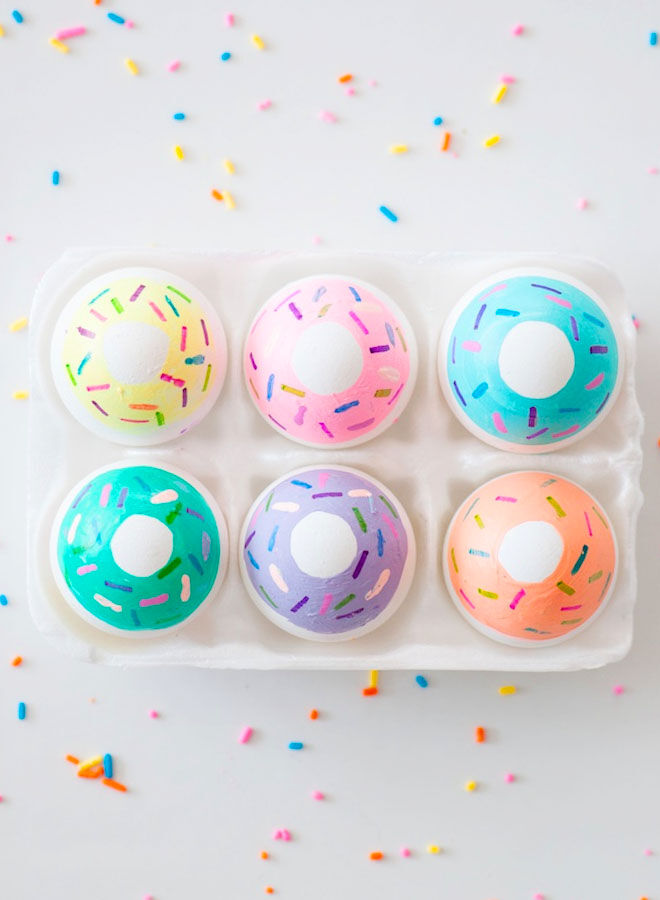 Taking our favourite sweet snack as inspiration, these doughnut Easter eggs are ticking all the right boxes. The problem is….now we're hungry! (via Kara's Party Ideas)
---
10. Sweet sprinkles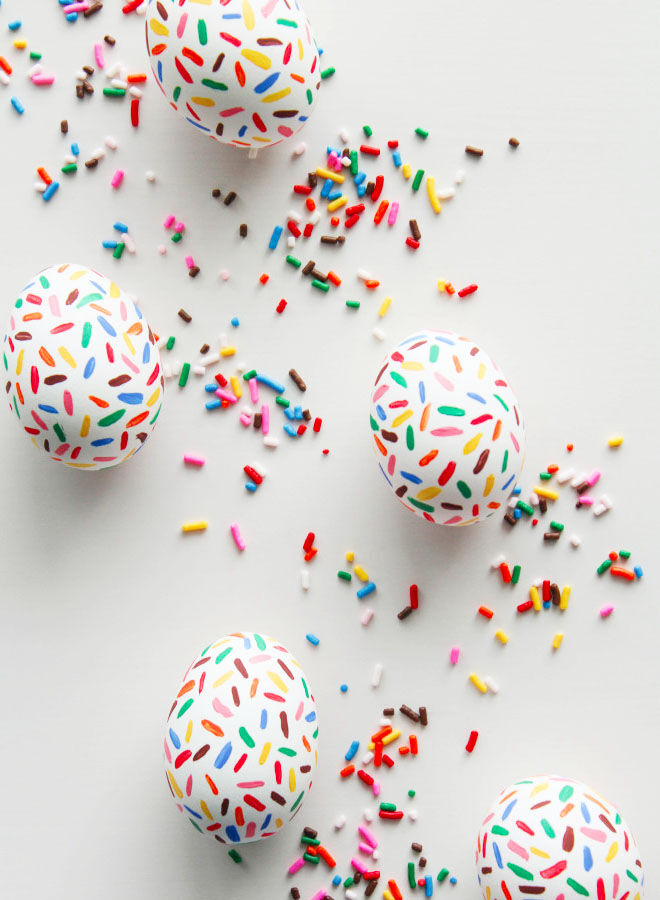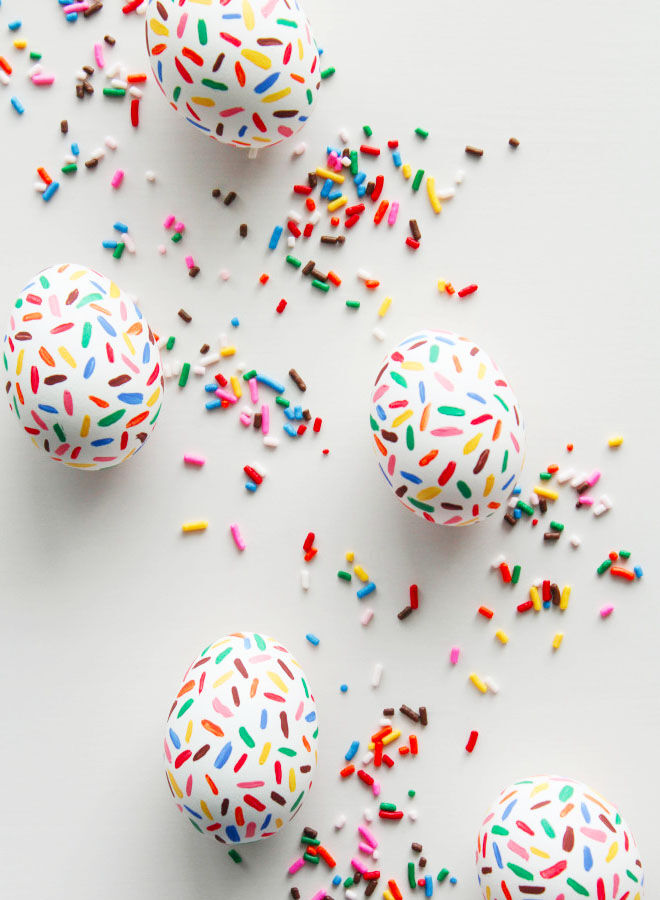 Raid the cake cupboard, dive into your lolly stash – do whatever you have to do to make these sweet and colourful Easter eggs STAT. (via Let's Mingle)
---
11. Festival fashion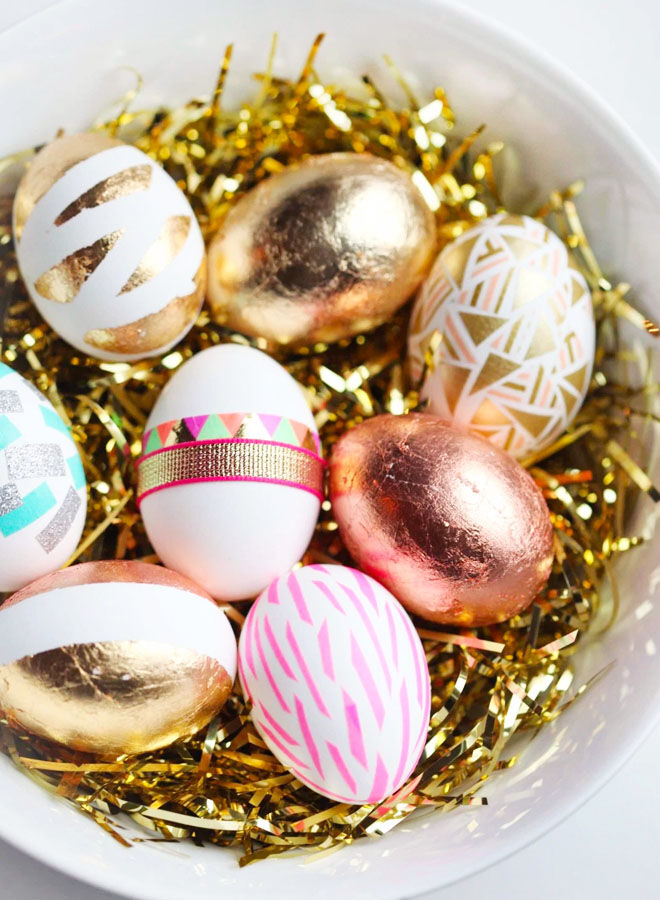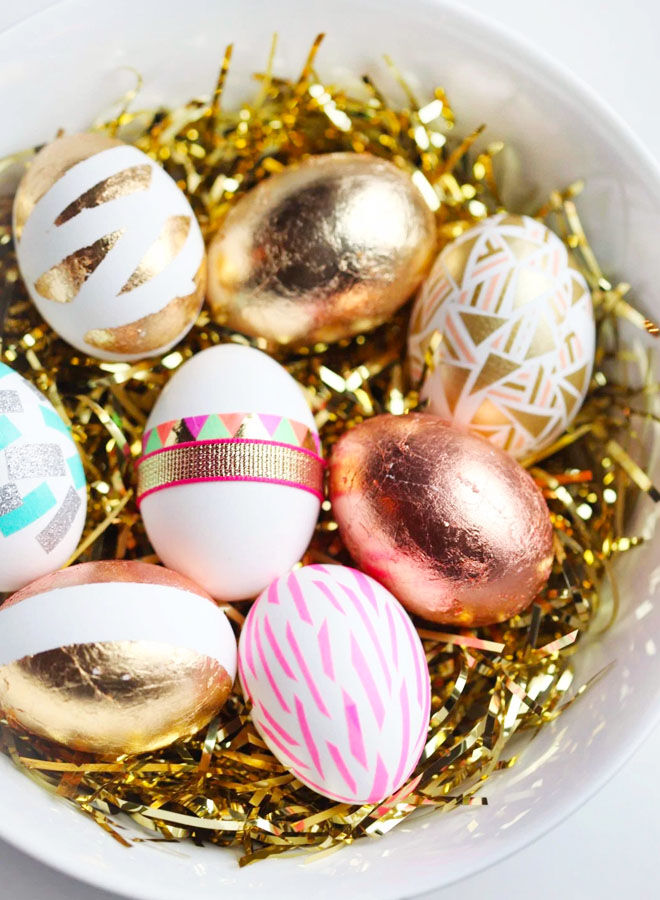 Whether you're a Coachella chick or a Glastonbury gal, a batch of Festival-style Easter eggs is what you need to take the season (and your decor) interstellar. (via Miss Renaissance)
---
12. White and wild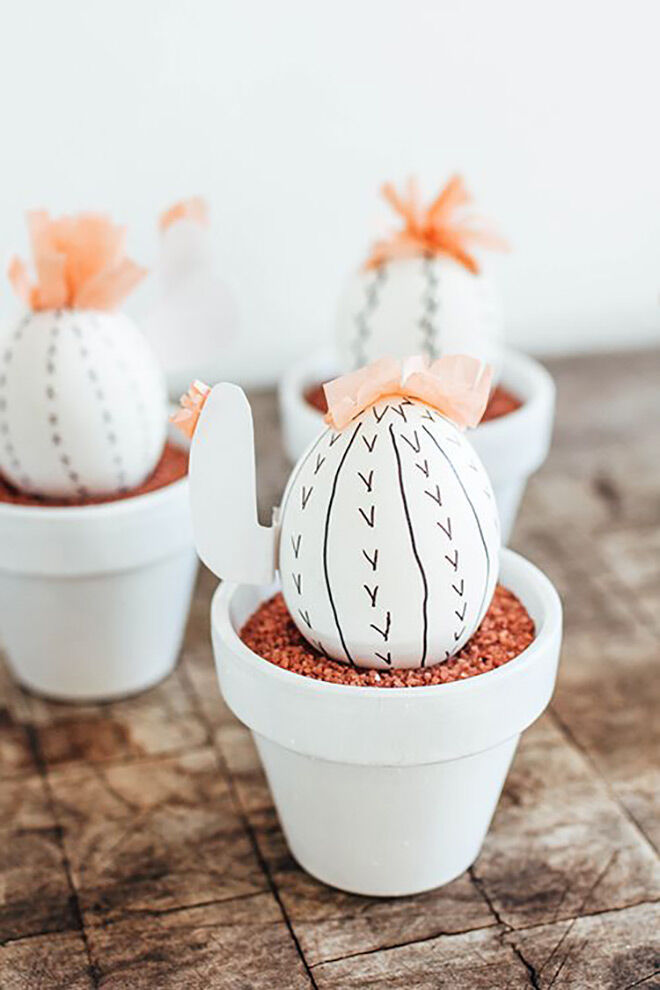 Transporting us to the dry deserts of the USA, these natural cactus-themed Easter eggs are a cinch to make and look super cute to boot. (via The Shift Creative)
---
13. A BBQ fave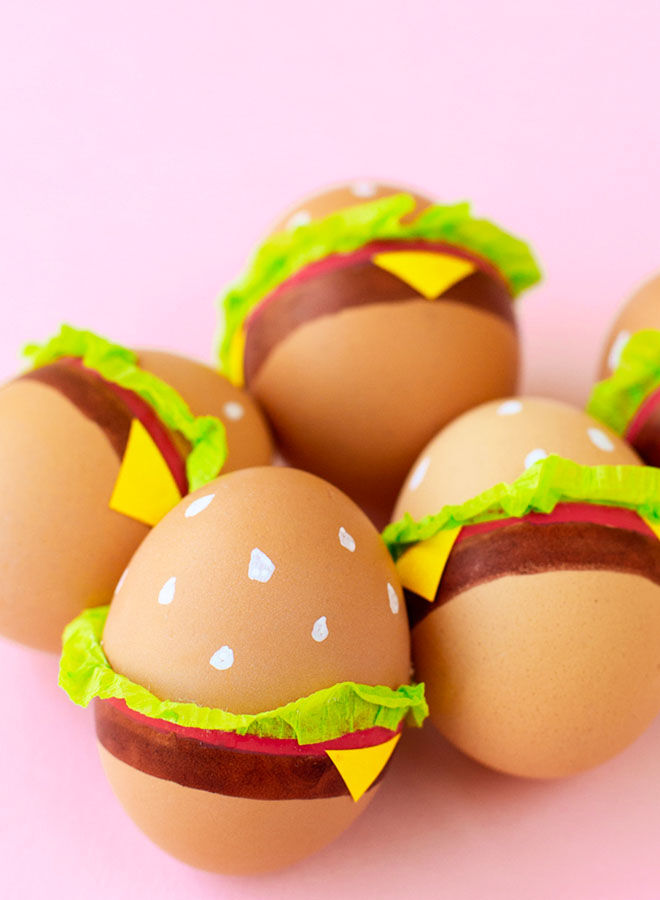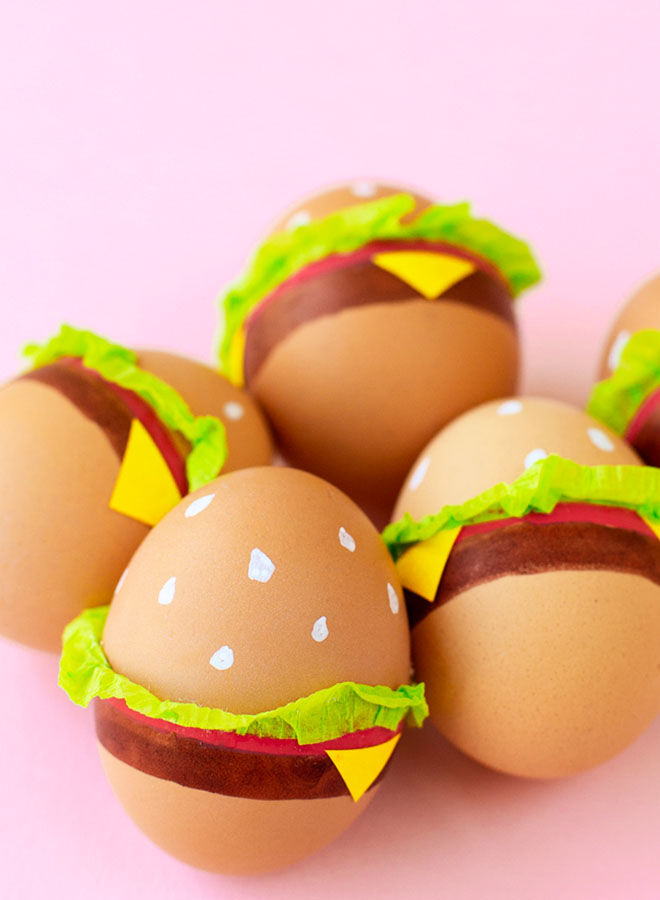 Having an Easter BBQ this year? Wow the crowd with these burger Easter eggs as the picnic centrepiece! (via Studio DIY)
---
14. Floral fancy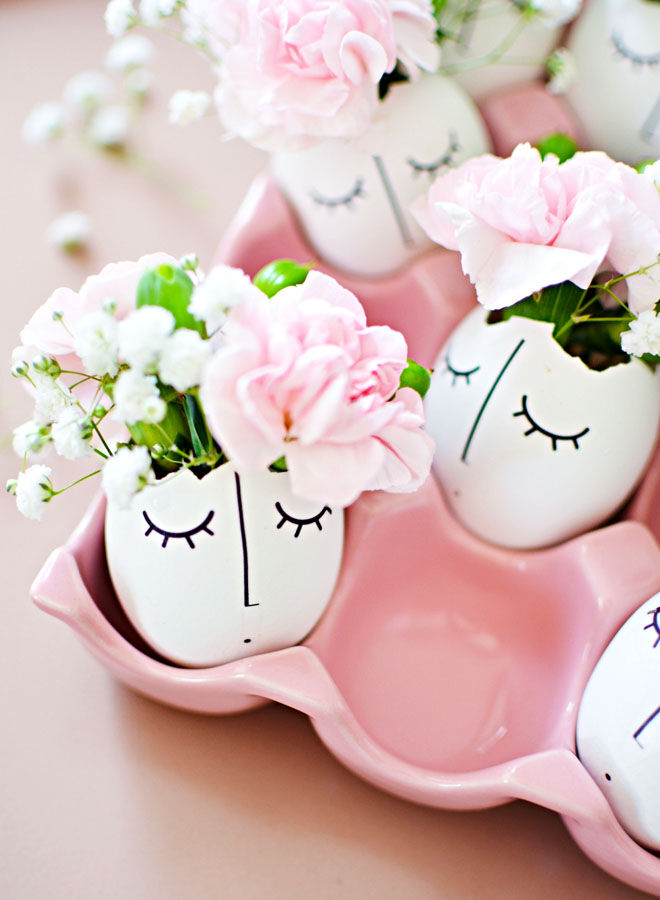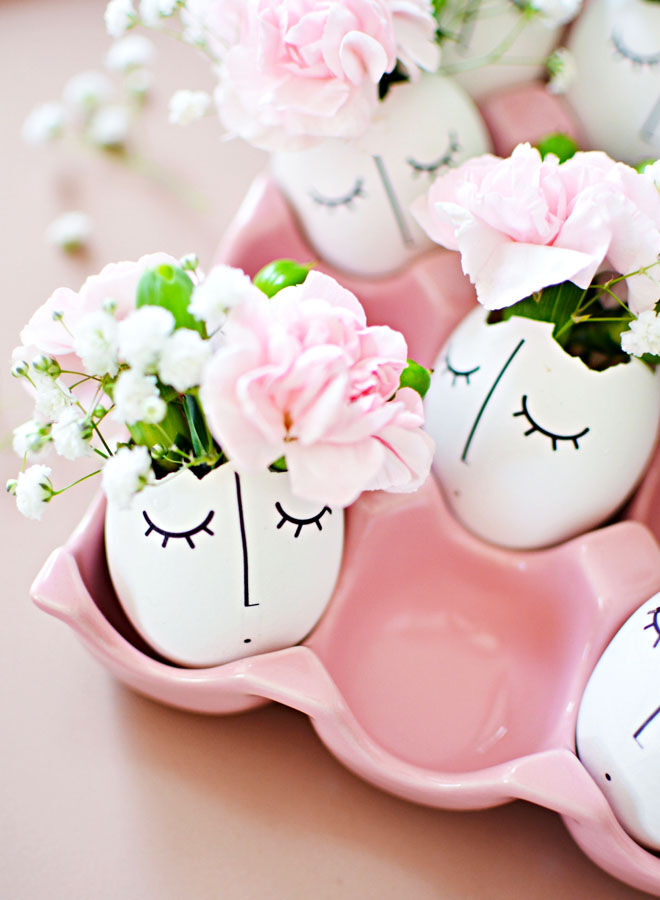 With their dainty faces and floral headpieces, these elegant Easter eggs have our hearts in a flutter. Fill them with whatever floral goodness your garden has to offer. (via Little Inspiration)
---
15. Disco fever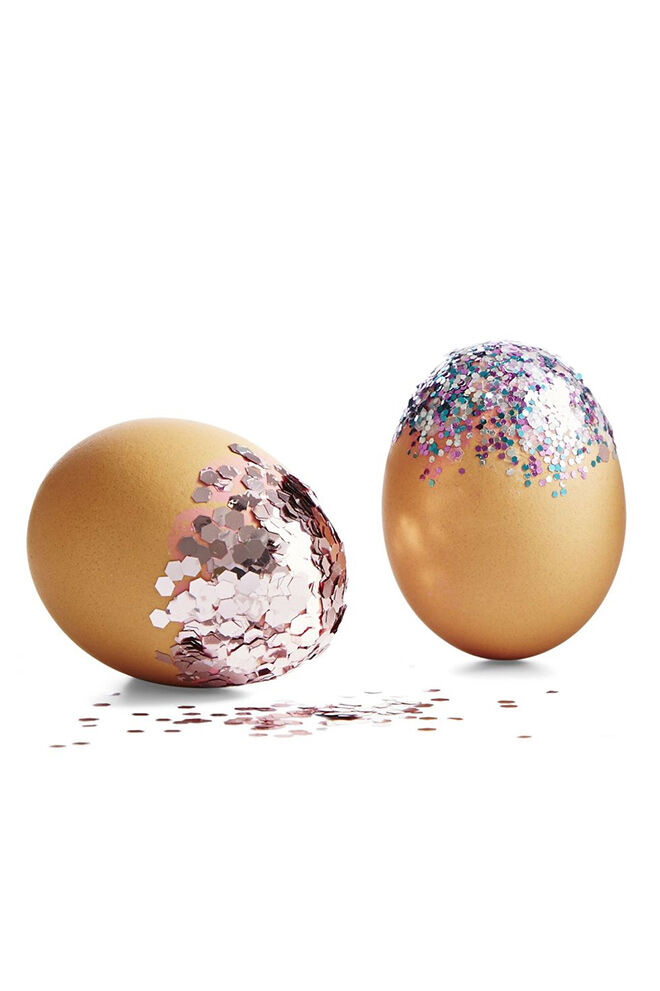 Bringing the 70s back for one last dance with these seriously sparkly disco eggs! A little glue and some sparkles are all it takes. (via Mike Garten and Good Housekeeping)
---
16. The Egg Strikes Back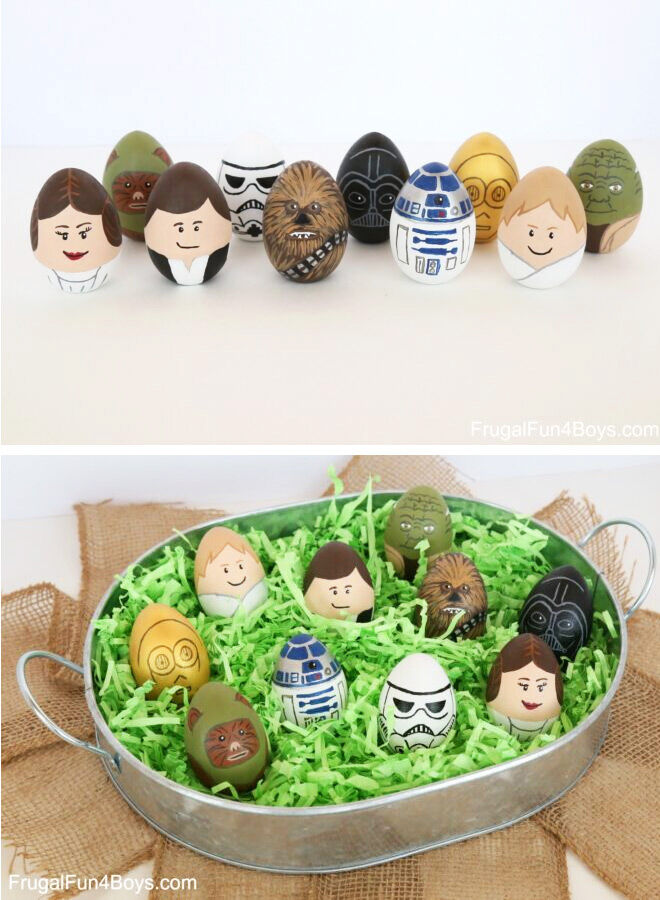 Star Wars fans behold – egg versions of the coolest intergalactic characters ever! These will keep your little Yoda devotees busy for a while. (via Frugal Fun for Boys)
---
17. Just like tatt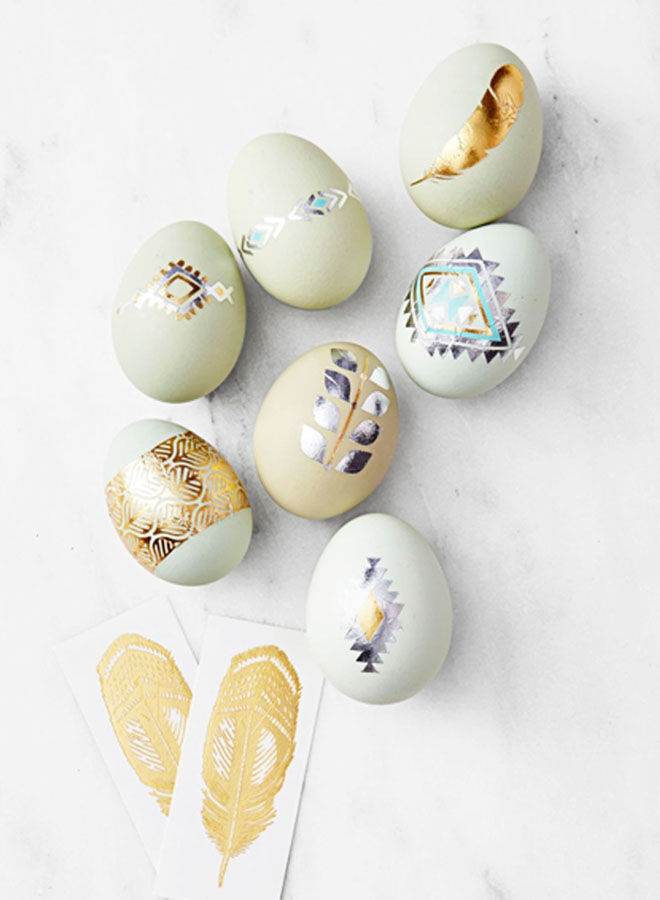 Metallic tattoos are a fun way to add some wow to the kids' costumes throughout the year – why not give them a whirl when decorating Easter eggs? We love this idea! (via Mike Garten Good Housekeeping)
---
18. Oh, Sir!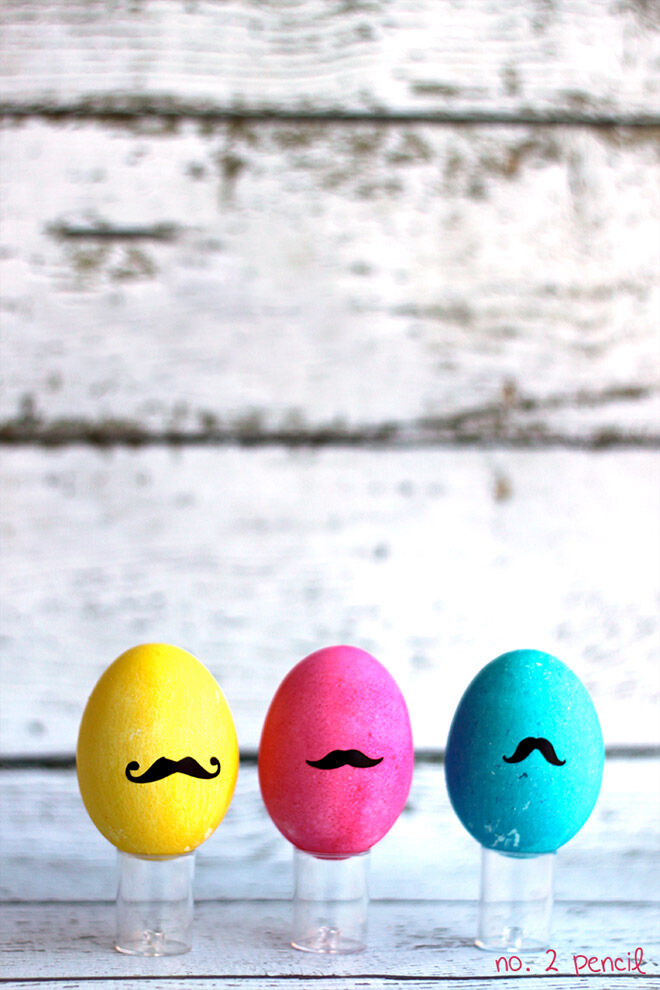 What very fine Easter eggs indeed…with even finer 'staches. Pour yourself a pot of Earl Grey, prep the scones and enjoy whipping up these dapper gents. (via Number 2 Pencil)
---
19. Go green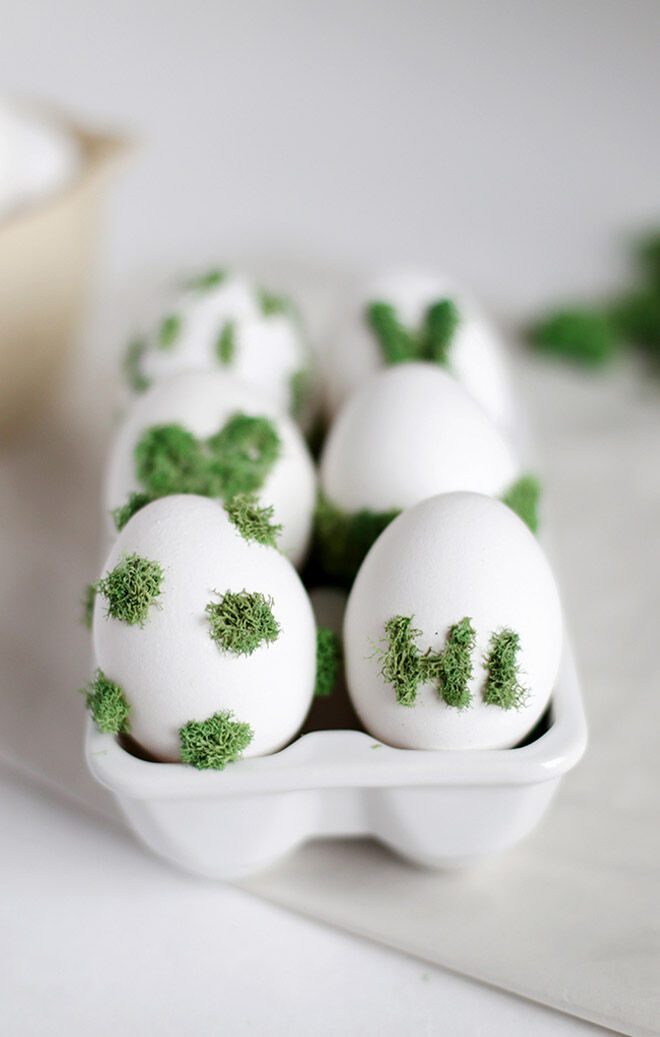 Green is good – even on eggs! Take your tribe on a morning nature trail, big up some fresh moss and head home to get crafty. (via The Merry Thought)
---
20. Made for each other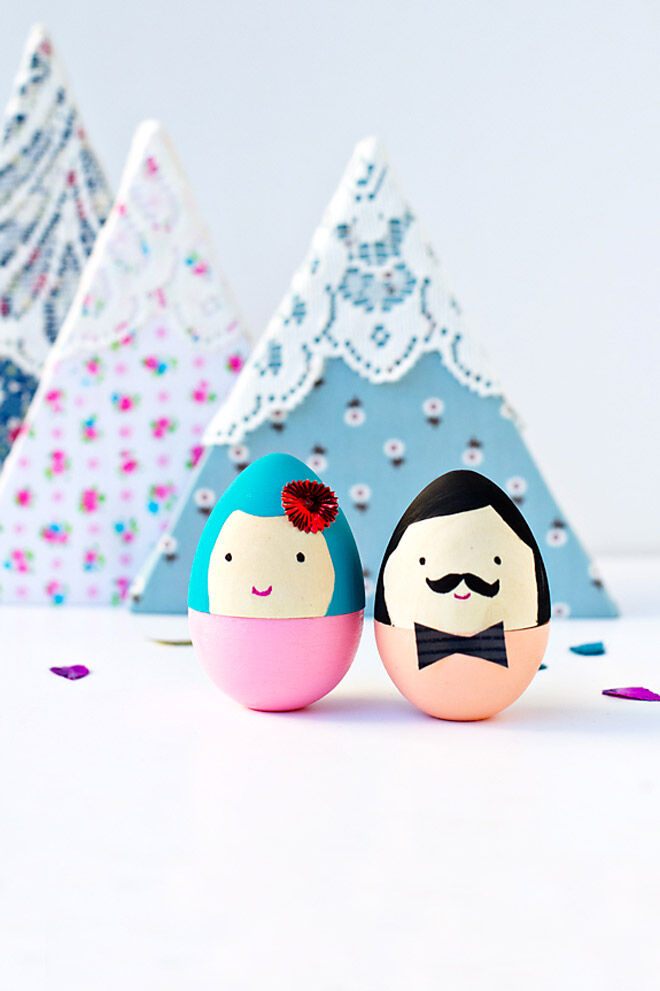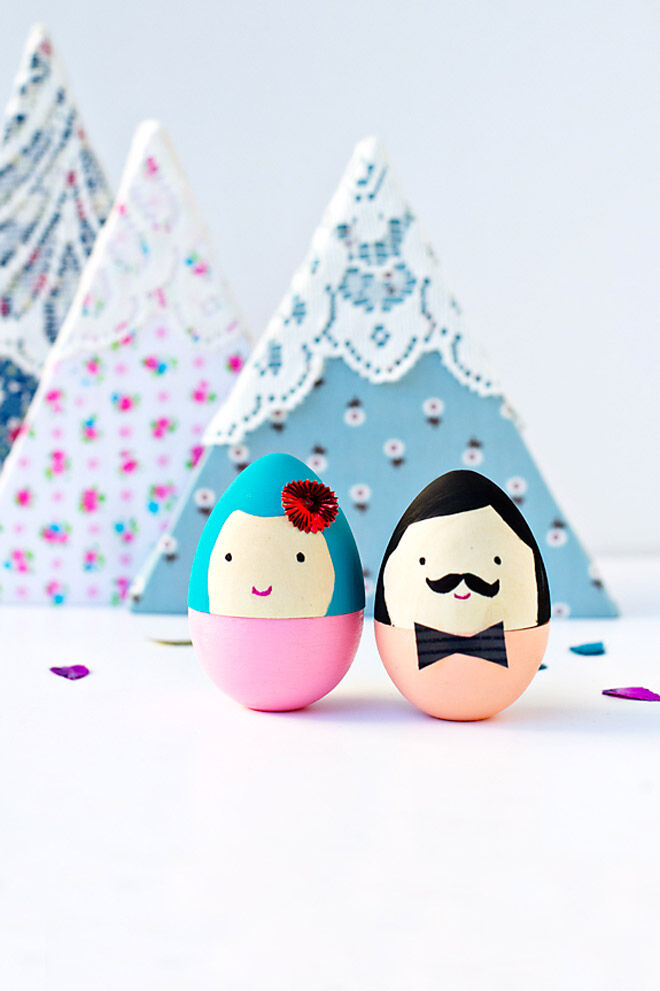 Seriously cool and seriously cute – we're head over heels for this egg-ceptional couple! The kids will adore creating these merry couples this Easter. (via Say Yes)
---
21. Dot to dot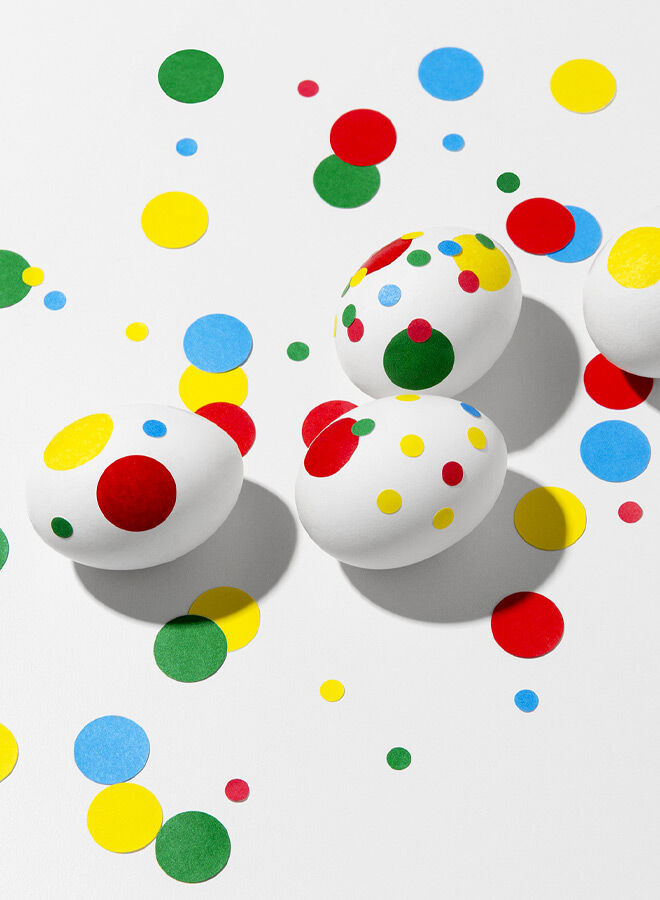 Cool, colourful and chaos-free. A basket of eggs and a selection of small coloured stickers are all you need to keep their creative minds and little fingers busy. (via Domino)
---
22. Good looking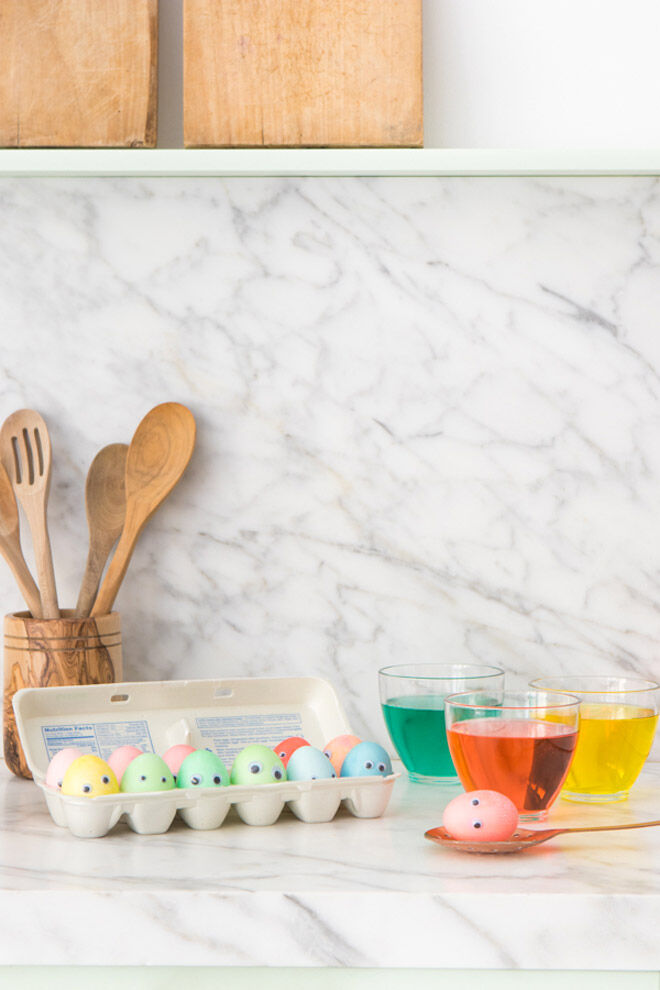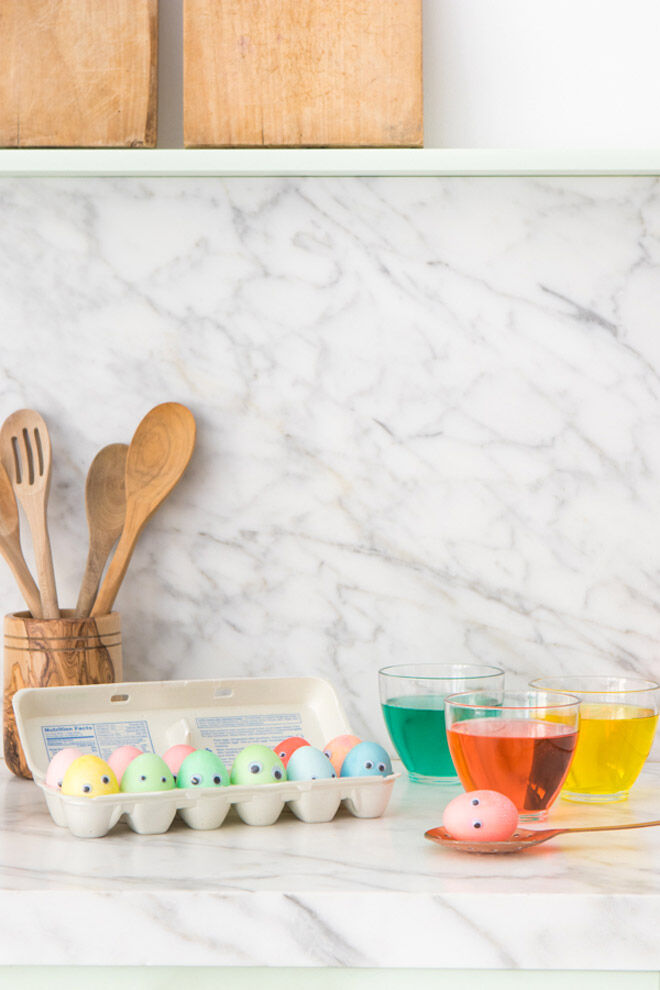 Googly eyes make everything better – FACT. Revamp a tray of eggs and turn your Easter guests into a giggling mess with this cracking idea. (via Oh Happy Day)
---
23. Stick it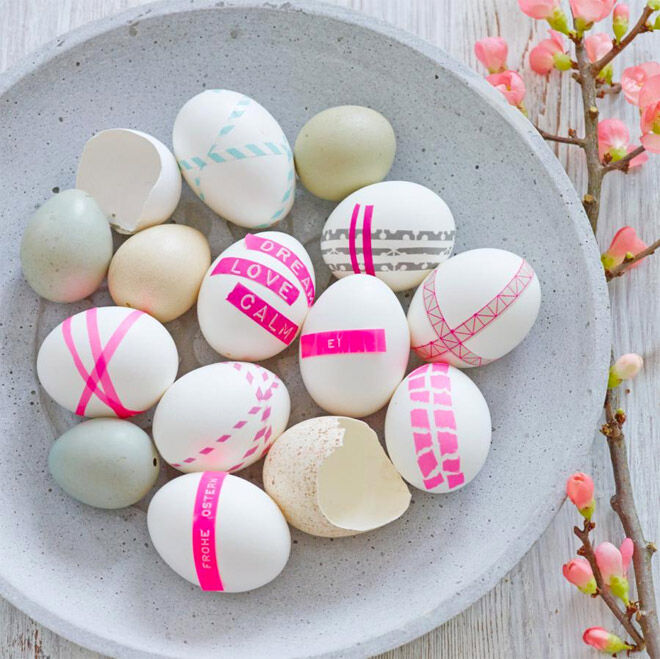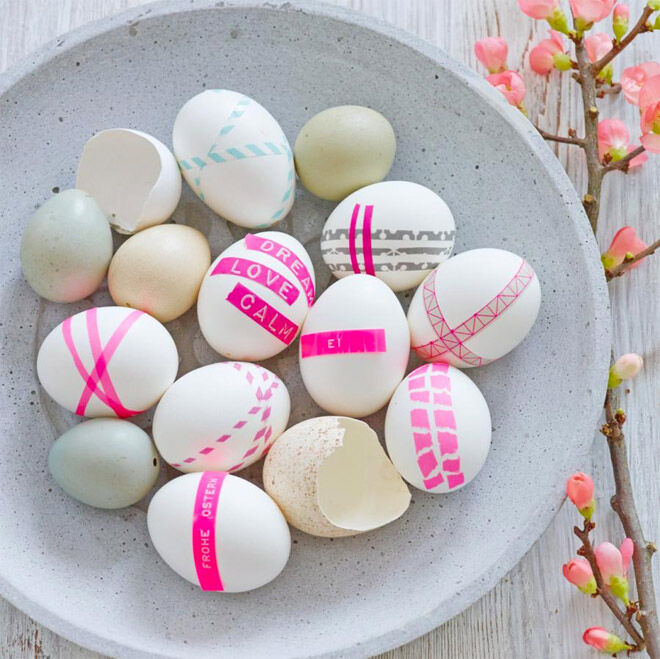 Anyone with a 'craft drawer' at home knows that a little bit of coloured tape goes a long way. These vibrant eggs go to show just how effective that roll of wonder can be. (via Living at Home)
---
24. Pretty as a picture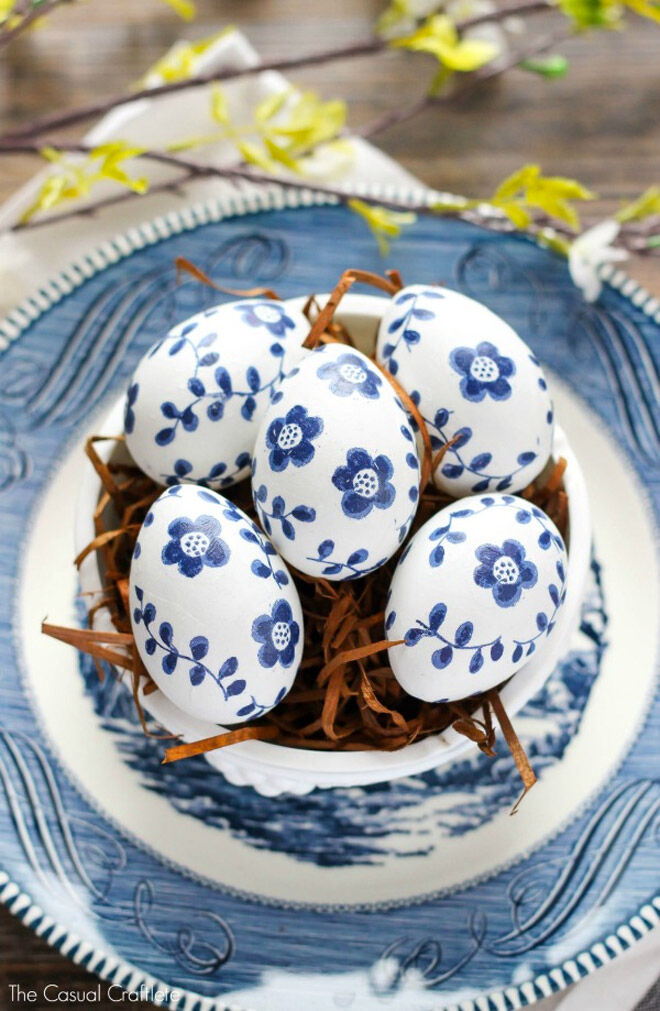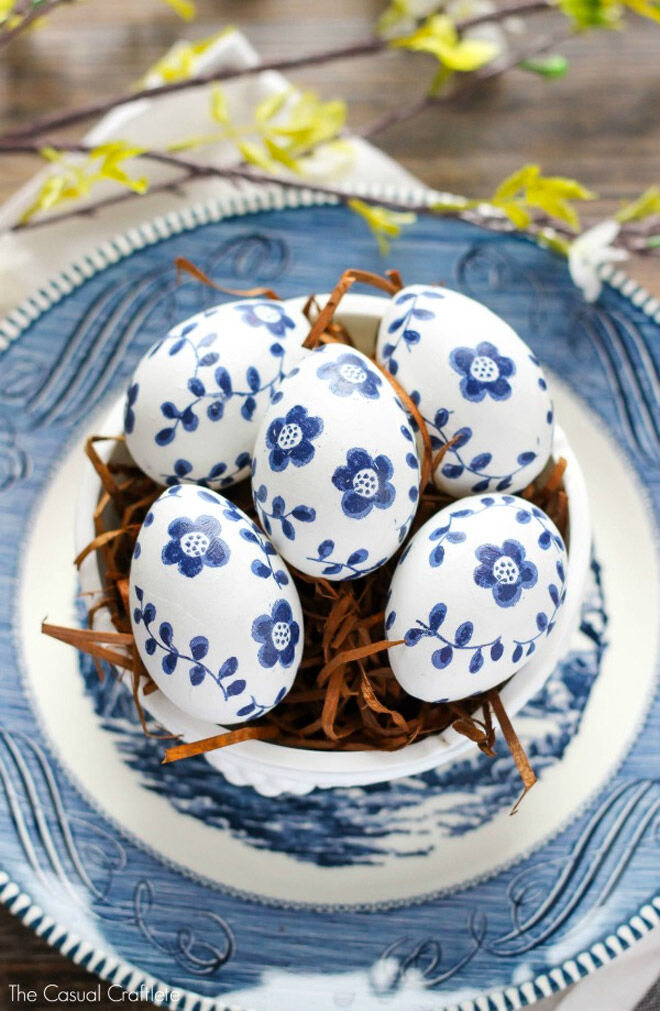 Delicate, detailed and dainty. These darling blue and white Easter eggs are the perfect addition to a classically styled Easter table. (via Purely Katie)
---
25. Going for gold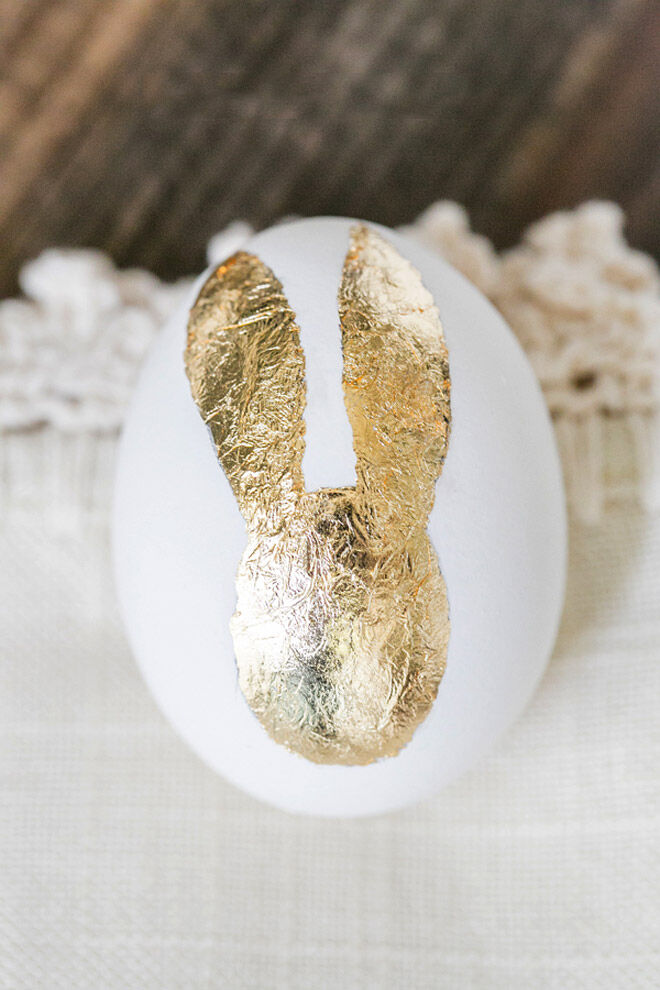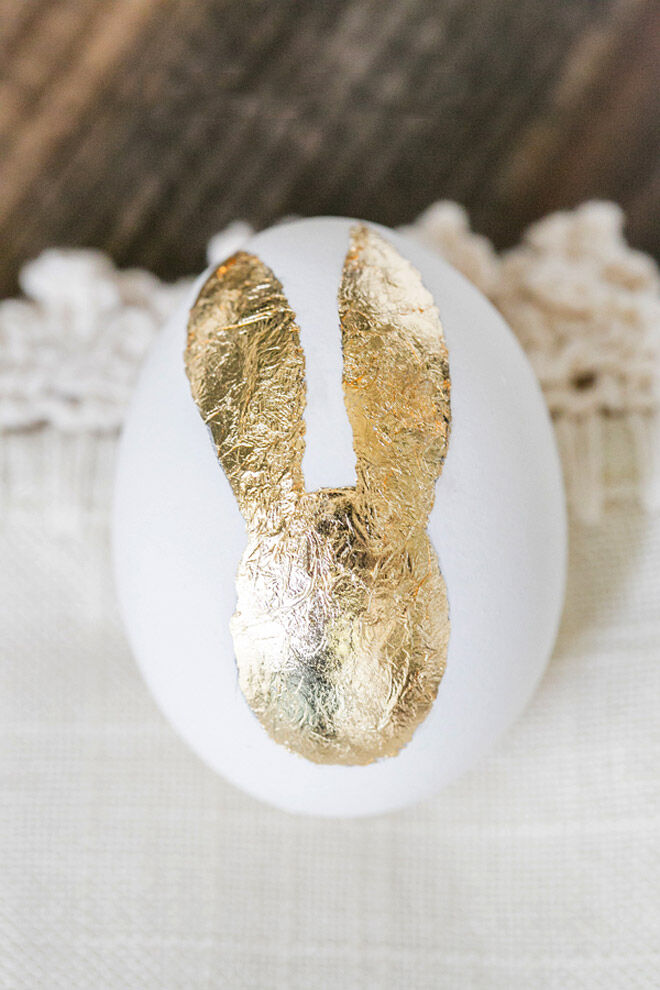 Bring a little bling to your Easter party with these egg-travagant eggs. Any excuse to use a touch of gold leaf and we're in! (via Sugar and Charm)
---
26. Fruity fun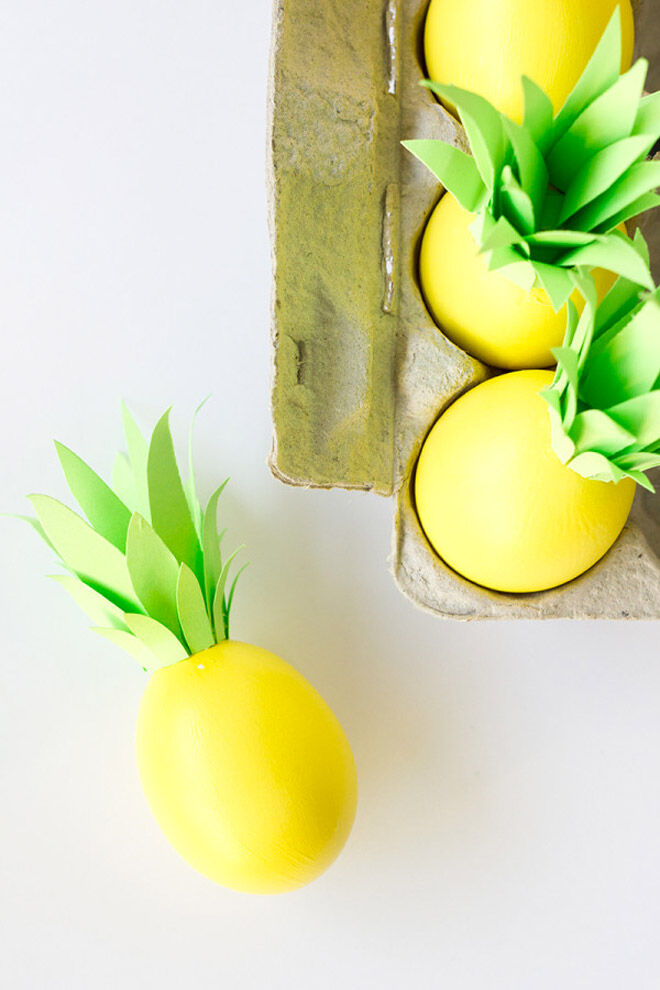 Is there a fruit more fun than a pineapple? We didn't think so. Pay homage to all things tropical with this refreshing box of eggs. (via Studio DIY)
---
27. Nailed it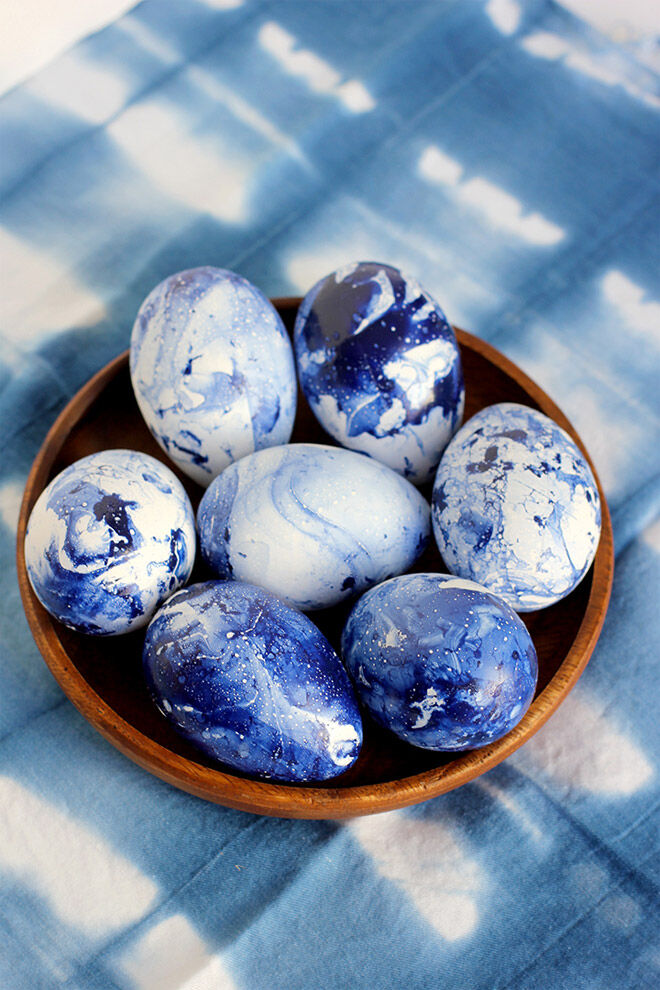 If you've never used nail polish to marble before, now's the time to try. Add a few drops of your favourite shade to a container of water and hey presto! (via Alice & Lois).
---
28. Crazy for confetti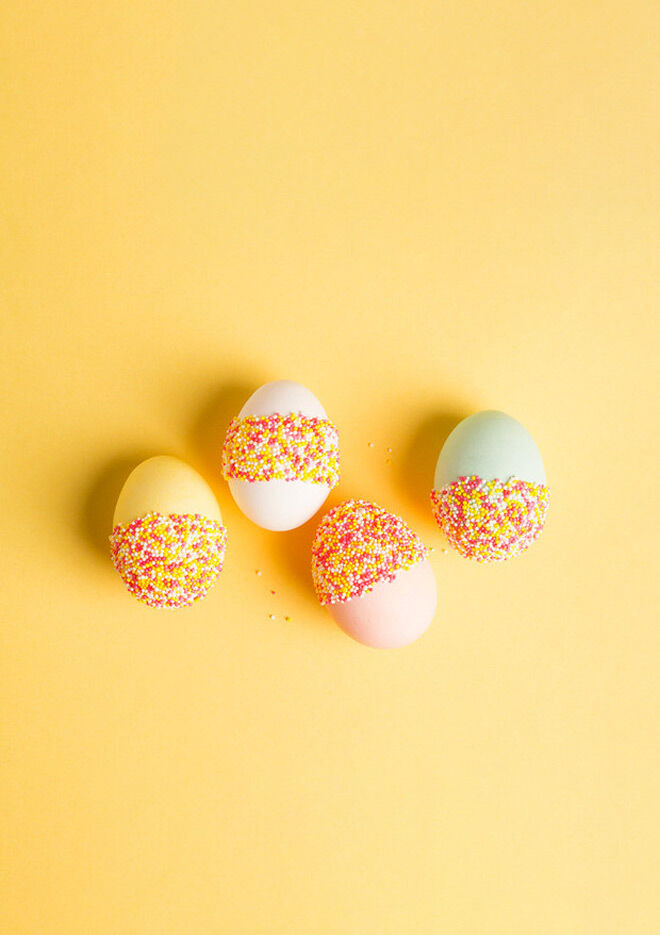 No parent's baking cupboard is complete without a stash of 100's and 1000's. Take a leaf out of Domino's book and simply dab your eggs with glue, then dip into colourful confectionary. (via Dominos)
---
29. An egg-cellent idea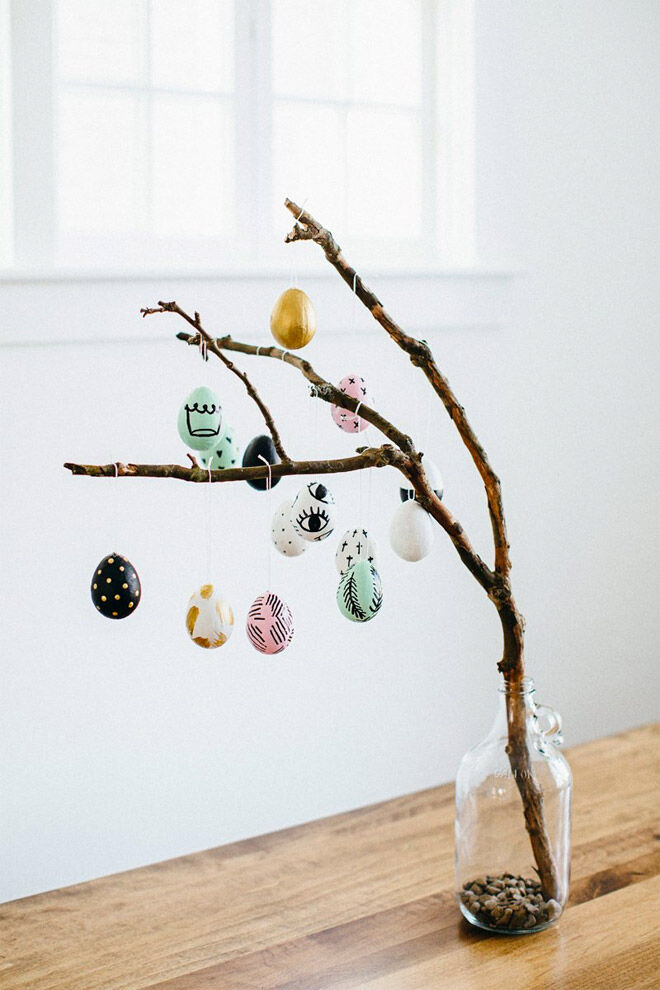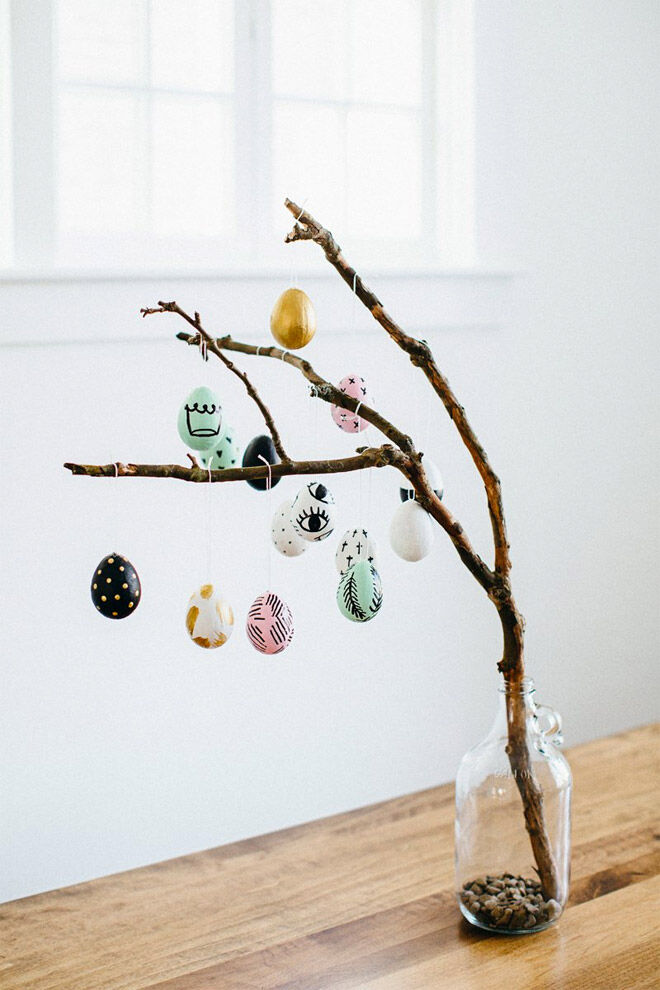 When your kiddos are done being crafty, display their work with pride. This clever Easter tree allows you to go as big or as little as you'd like. (via Walk in Love)
---
30. Flower power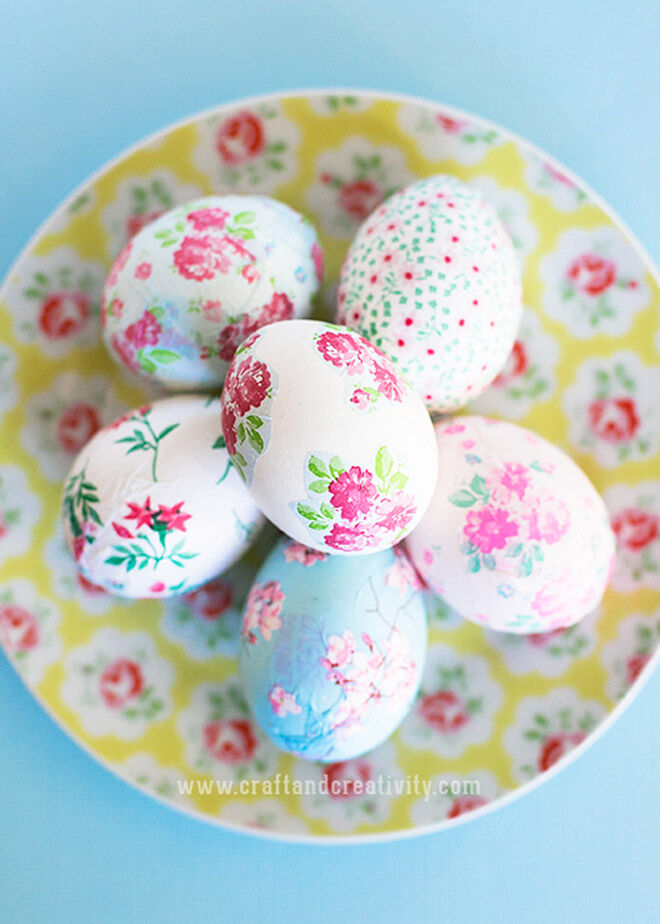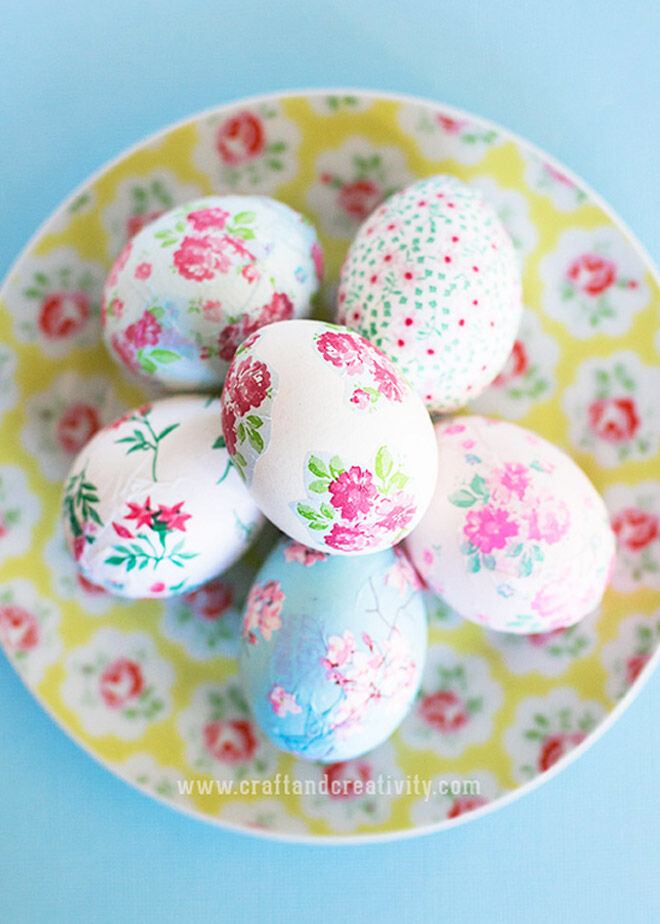 Give a nod to vintage style icons Cath Kidston and Laura Ashley with fancy floral decoupage. The simple yet stunning designs will transform foyers and coffee tables. (via Craft and Creativity)
---
31. Smashing shell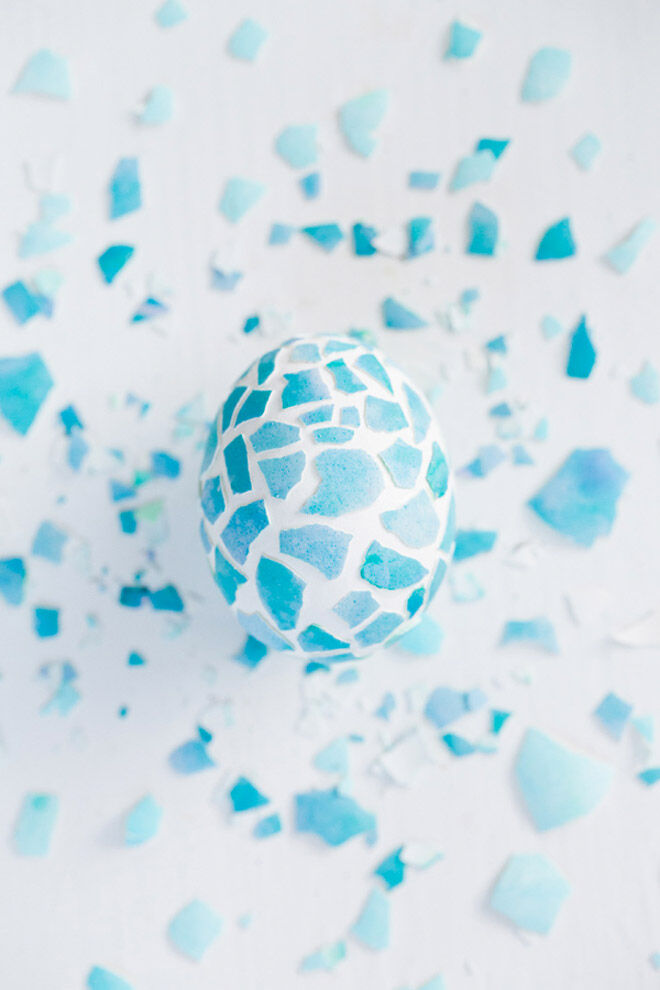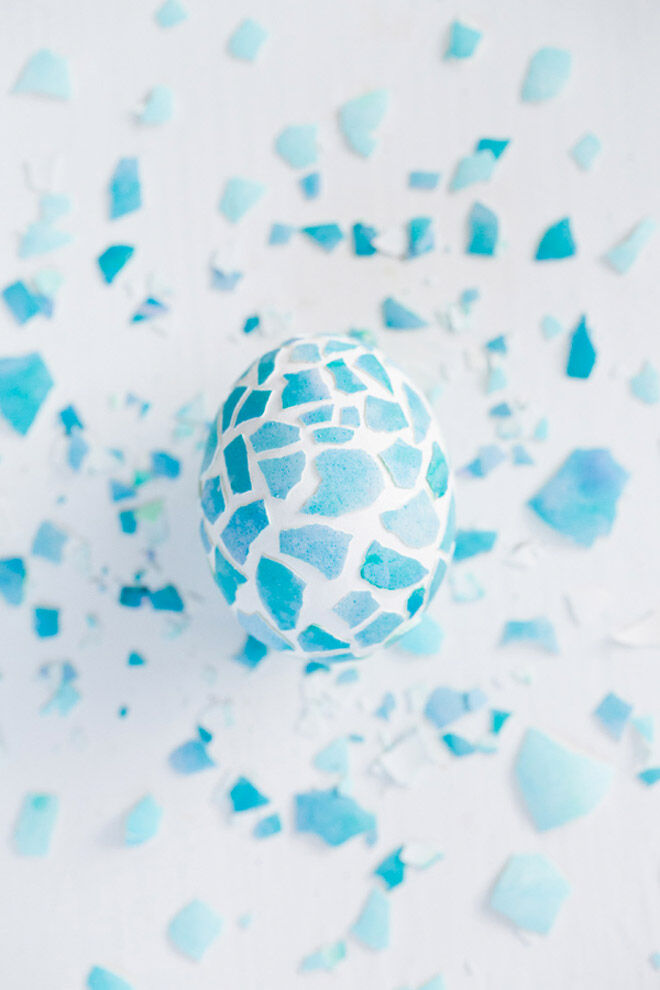 You'll need a little patience for this one, but trust us, the end result is worth it. The ladies over at Sugar and Charm show us how to make and mosaic with a cool Easter twist. (via Sugar and Charm)
---
32. Pitter, patter, splat.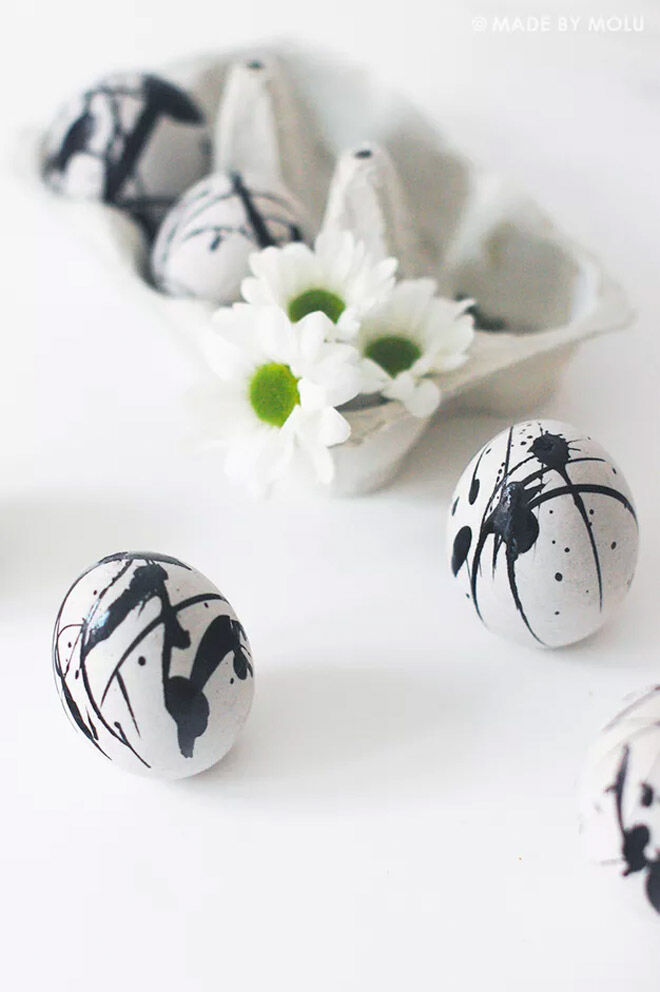 It's time for your inner-artist (and the paint) to get a little wild. Prep the paint – but don't forget the kids' art smocks! Ready, steady, SPLAT. (via Made by Molu)
---
33. Just say it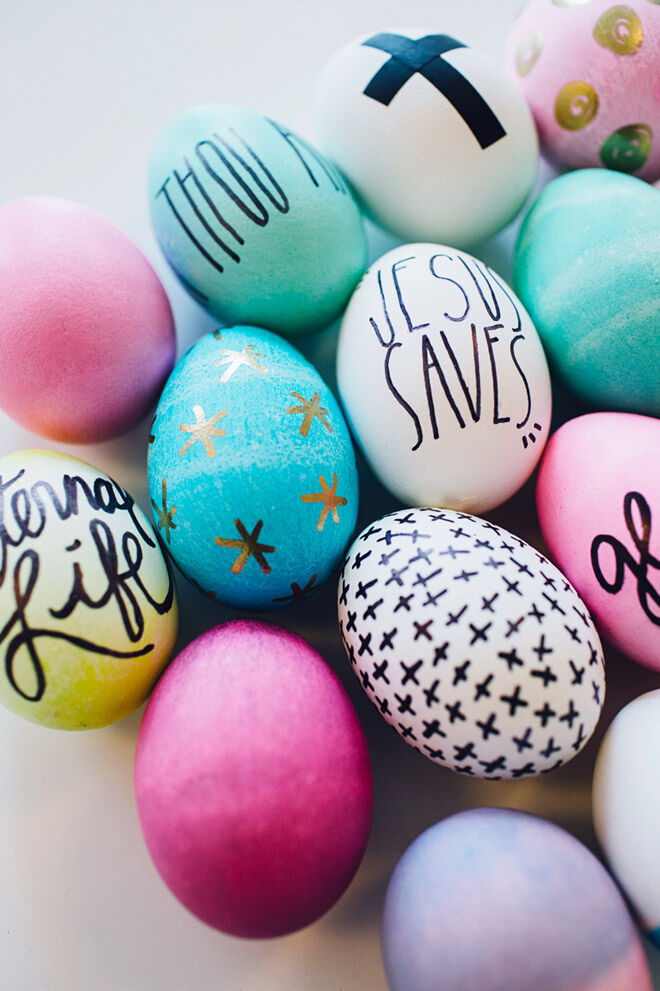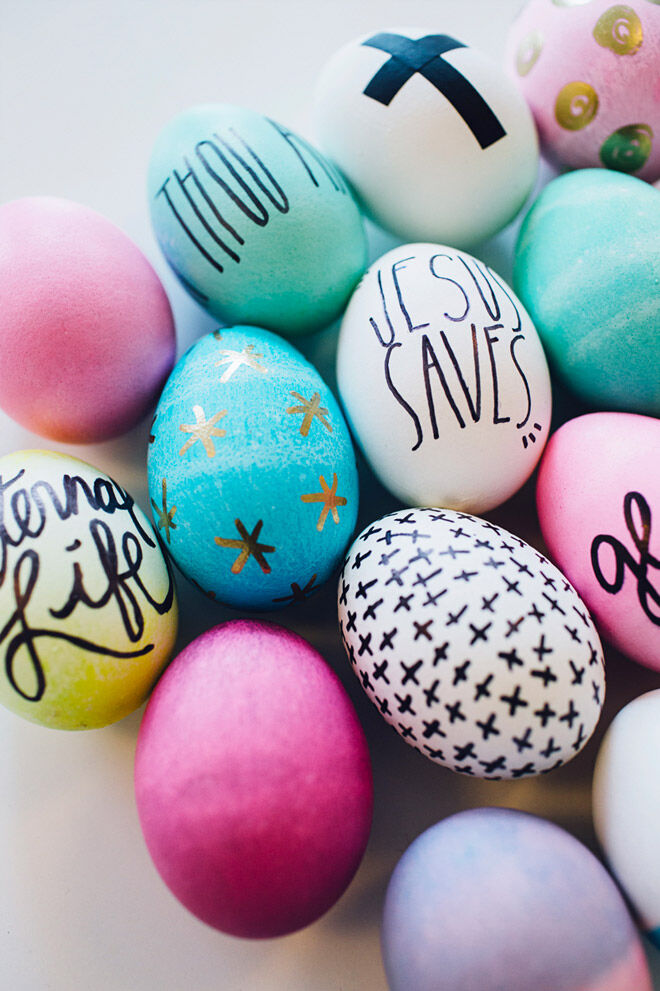 Positivity is power. Go above and beyond with your own special collection of inspirational Easter eggs. Doodle to your heart's content or script your favourite affirmations. (via Walk in Love)
---
34. Do it with dust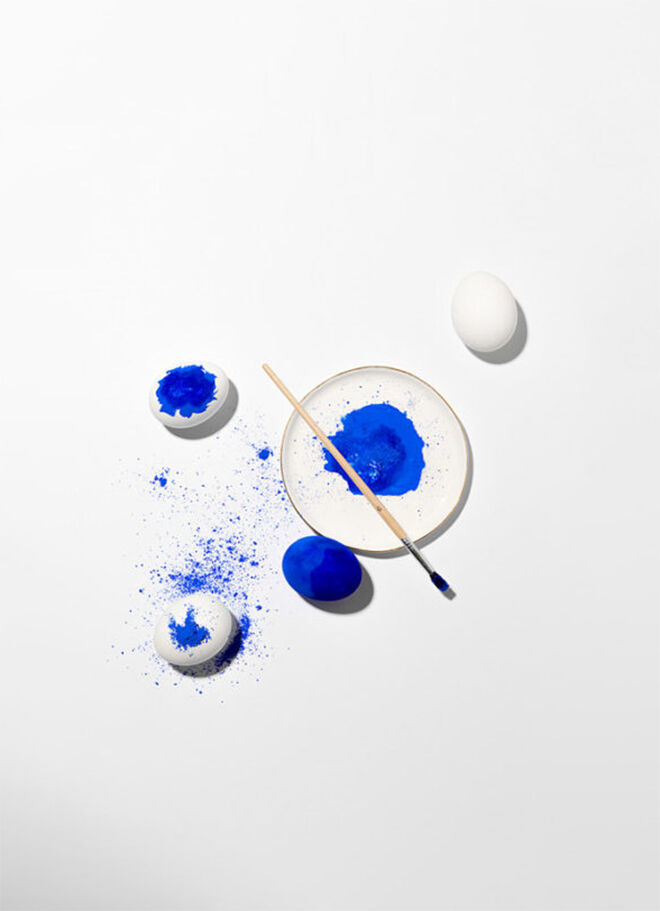 Did someone say dust?! Edible cake dust comes in mighty handy when creating these cracking pops of colour. Brighten up your Easter table with this blazing idea. (via Domino)
---
35. Colour pops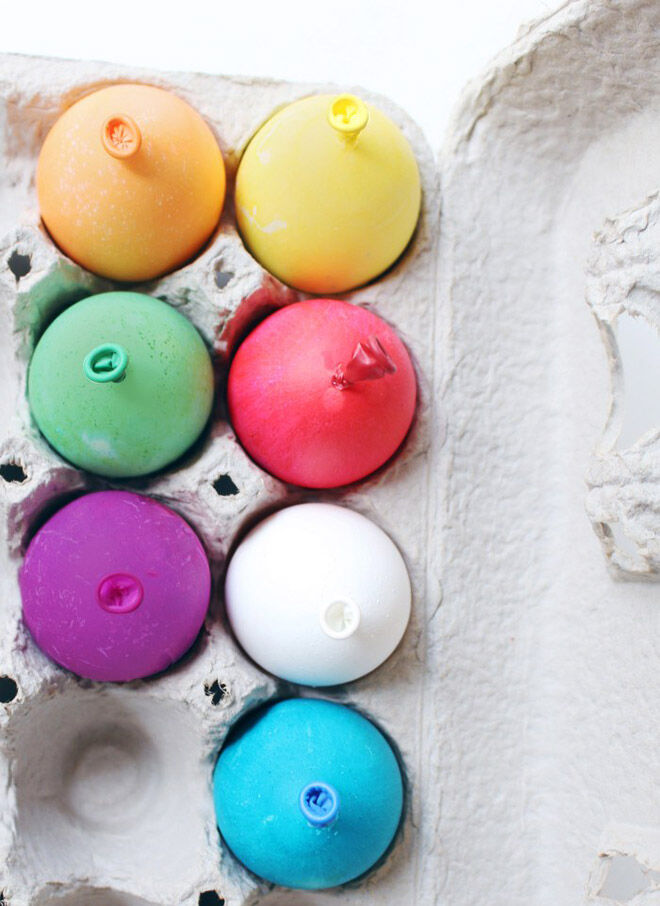 Is there a child around who doesn't love balloons? We think not. Add some big colour and inspire a million smiles with these clever balloon-themed beauties. (via A Joyful Riot)
---
36. Chirpy Chicks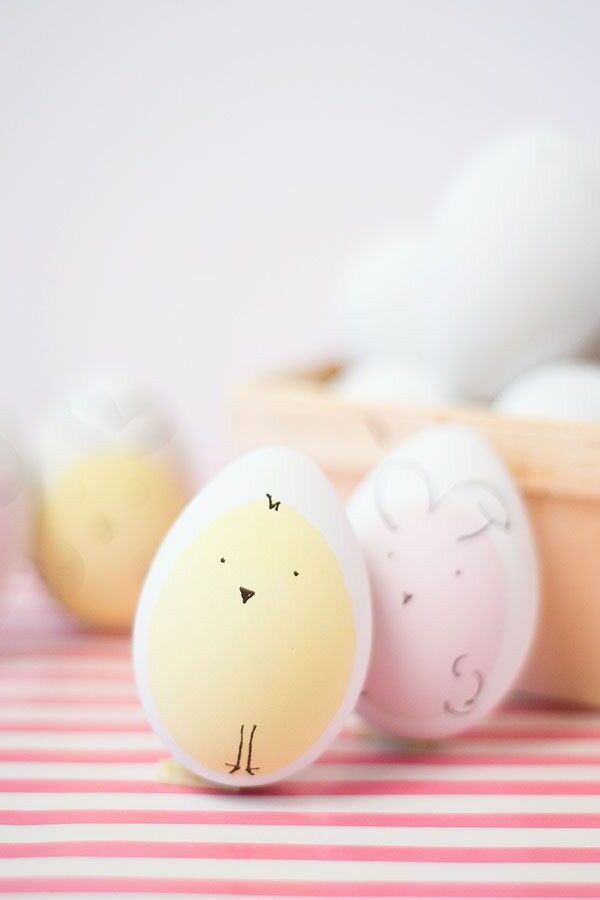 We just love these sweet little characters – and we're pretty sure the kiddlywinks will too. A few shades of dye and a fine Sharpie will have you ready to bring your eggs to life. (via Fresh Designs Pedia)
---
37. Pretty pastels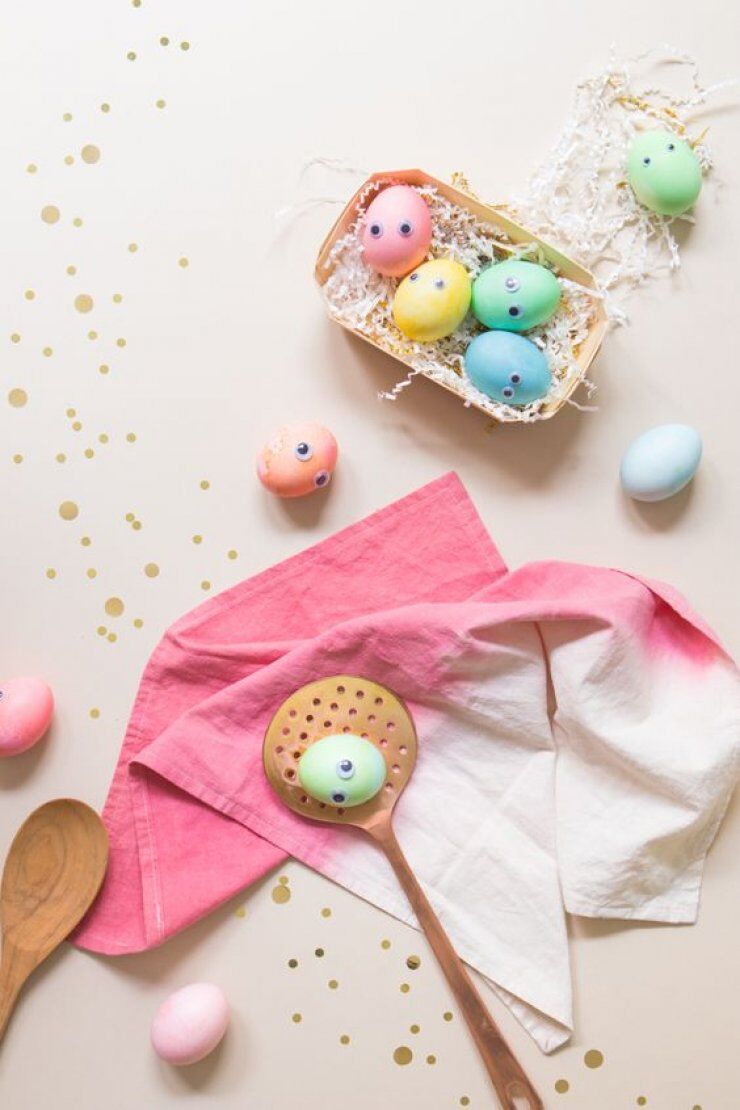 So simple, the kids could make them on their own. Grab yourself a stash of googly eyes (the crazier the better!) and give your eggs some fun egg-spressions. (via Oh Happy Day)
---
38. A cherry on top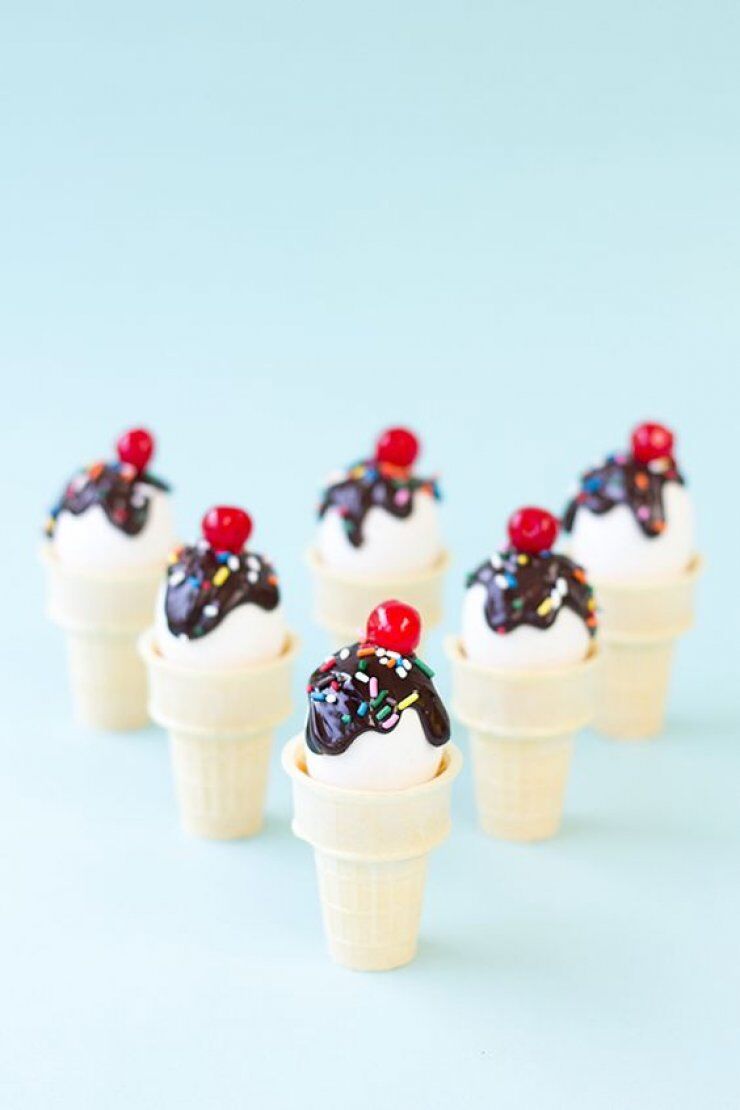 Here are some Easter egg decorations good enough to eat. Some Ice Magic and a bag of cherries is all you need to take those eggs to a whole other level of excitement. Just don't forget the sprinkles! (via Studio DIY)
---
39. Berry bliss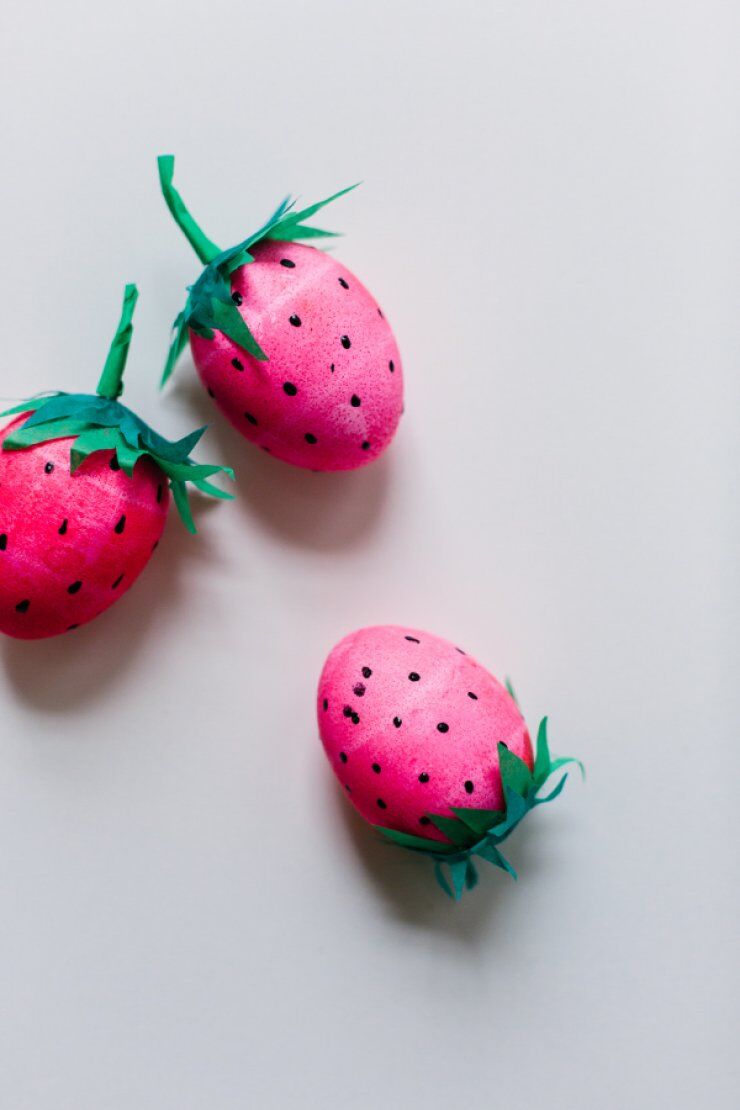 Prefer strawberries to eggs? Pay homage to your favourite fruit with a blissful batch of berries. They look good enough to eat! (via Style me Pretty)
---
40. Stripes for days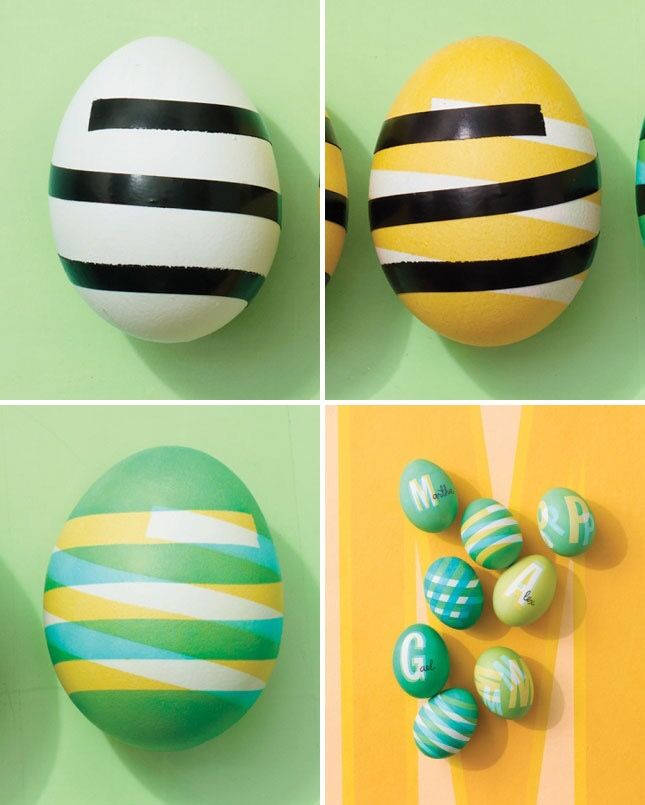 Celebrate the kids' favourite footy teams, or just mash-up those colours you can't get enough of. A little time and patience is all it takes. (via Martha Stewart)
---
41. Old-school fun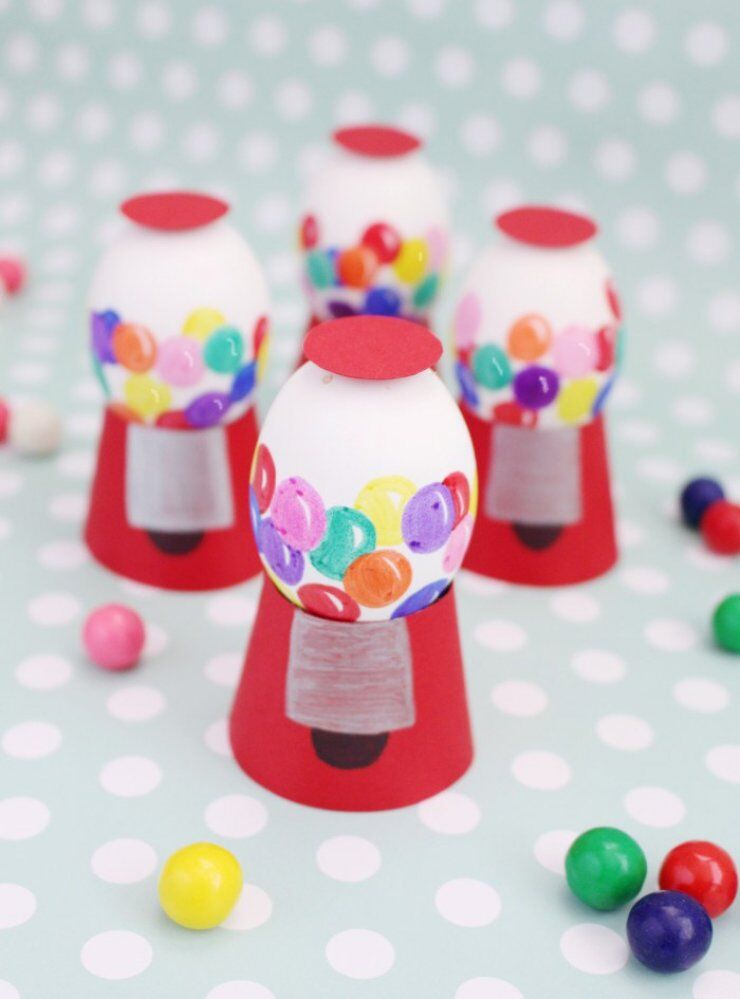 They make complicated, but trust us when we say these are a cinch to bring to life. Just roundup some coloured markers and coloured card and you're good to go. (via A Joyful Riot)
---
42. Light and bright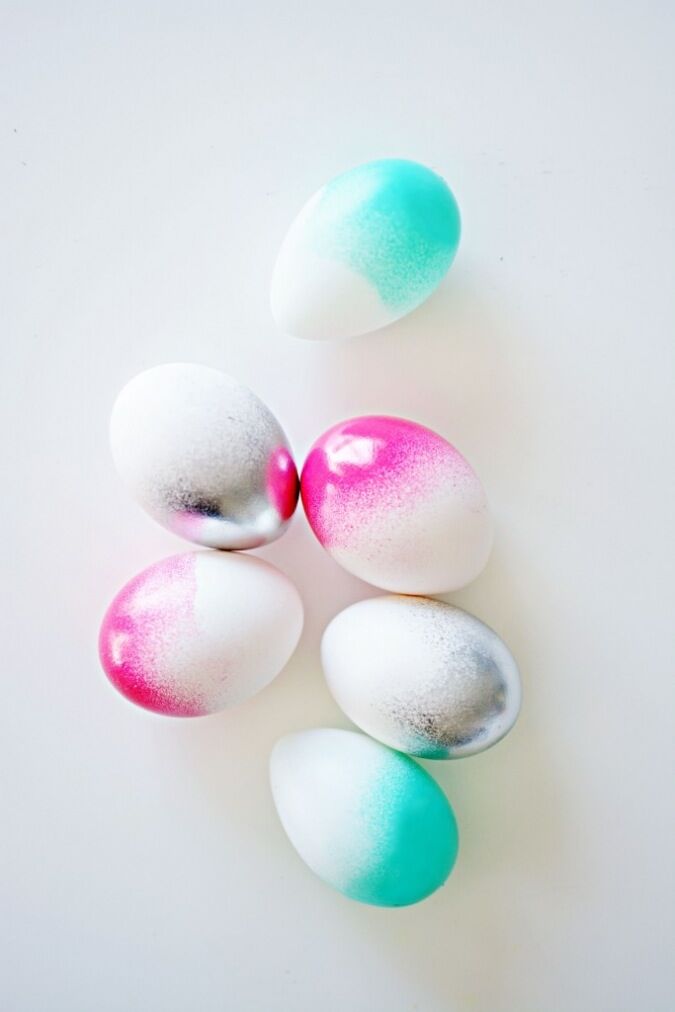 We just love these shiny gems, especially considering you can whip them up in whatever colour scheme you've got going on this year. (via Little Inspiration)
---
43. Tell 'em, you love 'em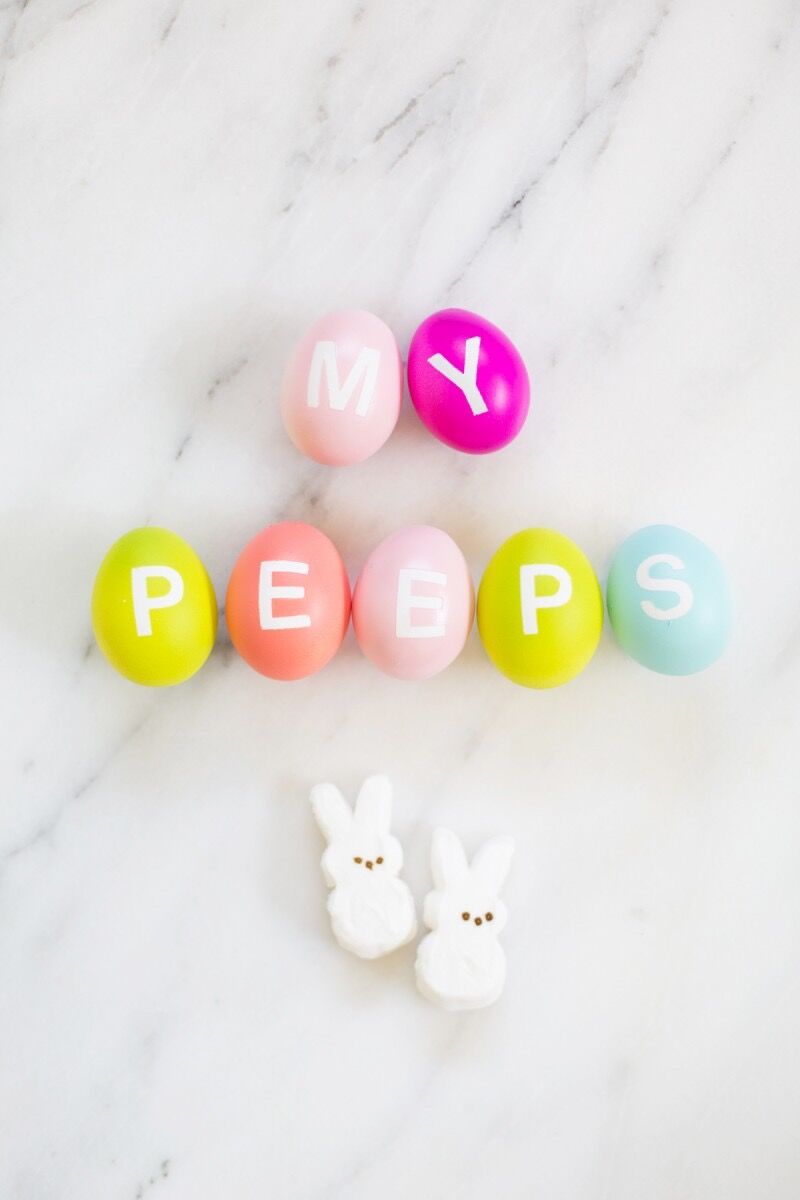 Use this year's Easter egg decorations to tell your peeps how special they are with a bundle of lettered eggs. Sticker letters and your favourite dye is all it takes to whip up a message to melt hearts. (via Lovely Indeed)
---
44. Turn up the turquoise
If blue hues take you to your happy place, these are the only eggs you need this Easter. You'll only need some blue and green dye, an old toothbrush and some gold paint for splattering. (via Craftberry Bush)
---
45. Sprinkle Easter everywhere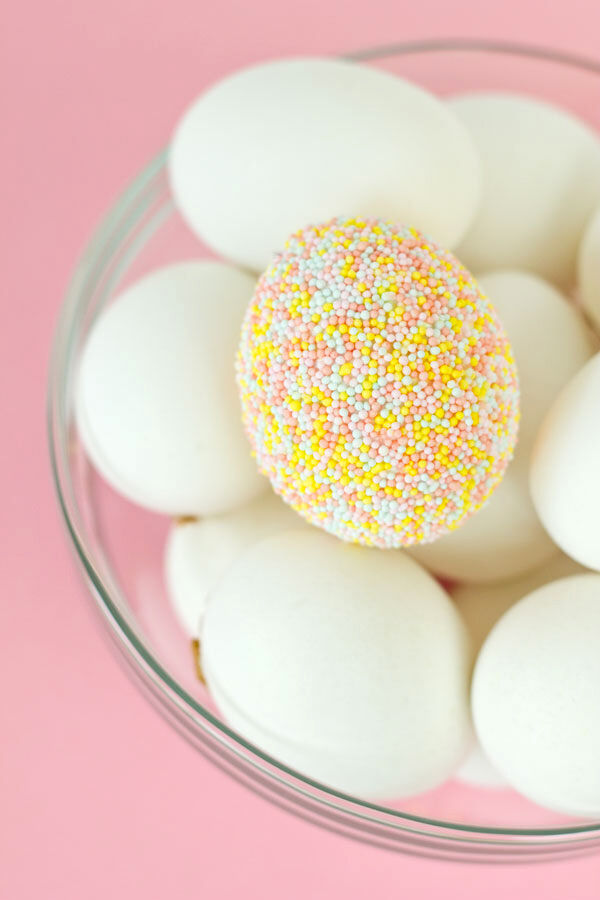 These eggs will give the fairy bread a run for its money in the fun stakes! Equip yourself with some glue, a spoon and a bag of sprinkles, and get cracking! (via Studio DIY)
---
46. Double dip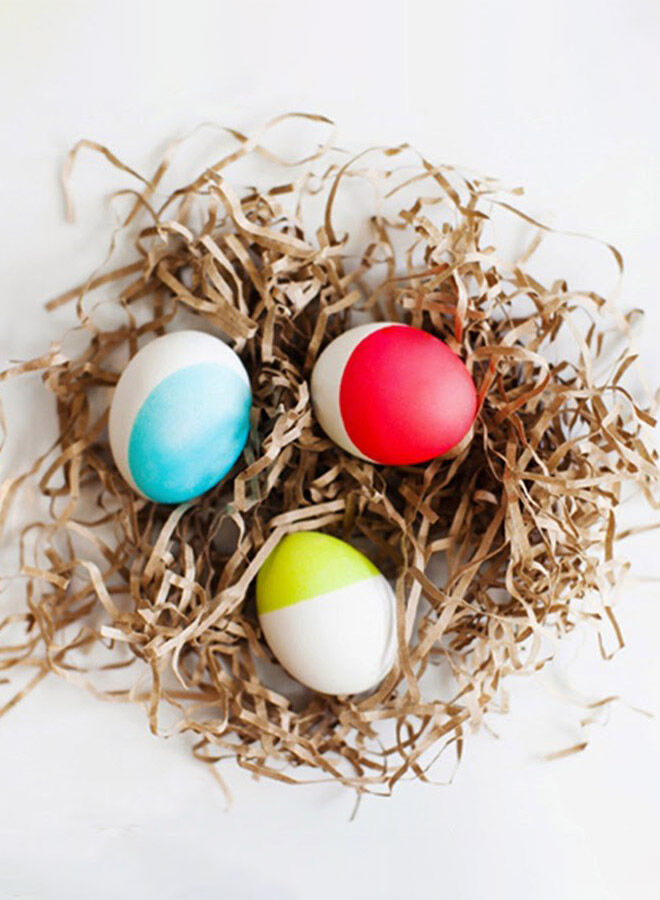 The imagination is the limit with what you can create with this clever neon-dip technique. Pick your colours, prep the drying rack and get creative with the kids. (via Oh Joy)
---
47. Easter towers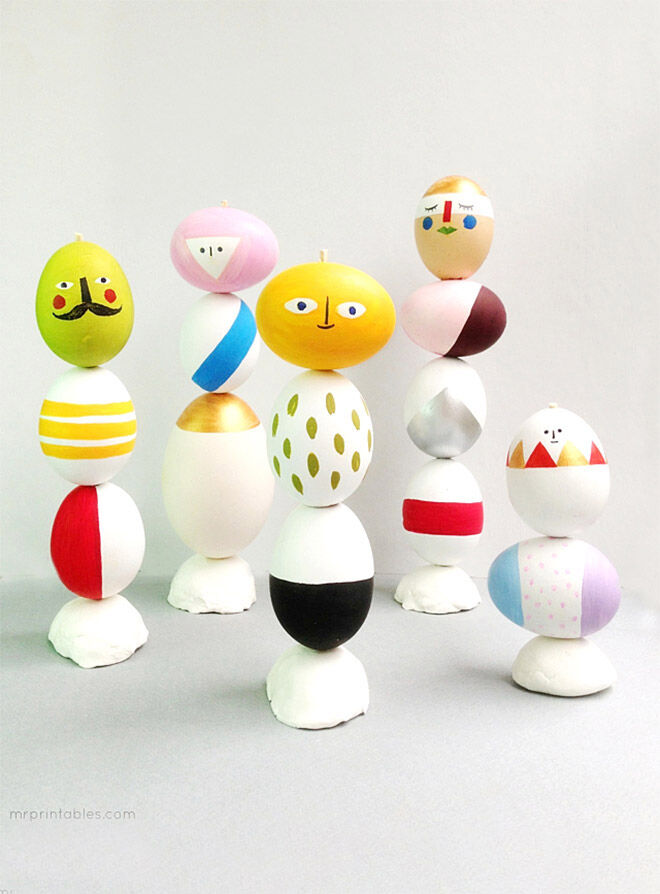 Not just the place for egg-ceptional Easter Printables, this site shows you how to skewer and stack your decorated eggs to create a tower of Eater awesomeness! We love! (via Mr Printables)
---
48. Pretty in pink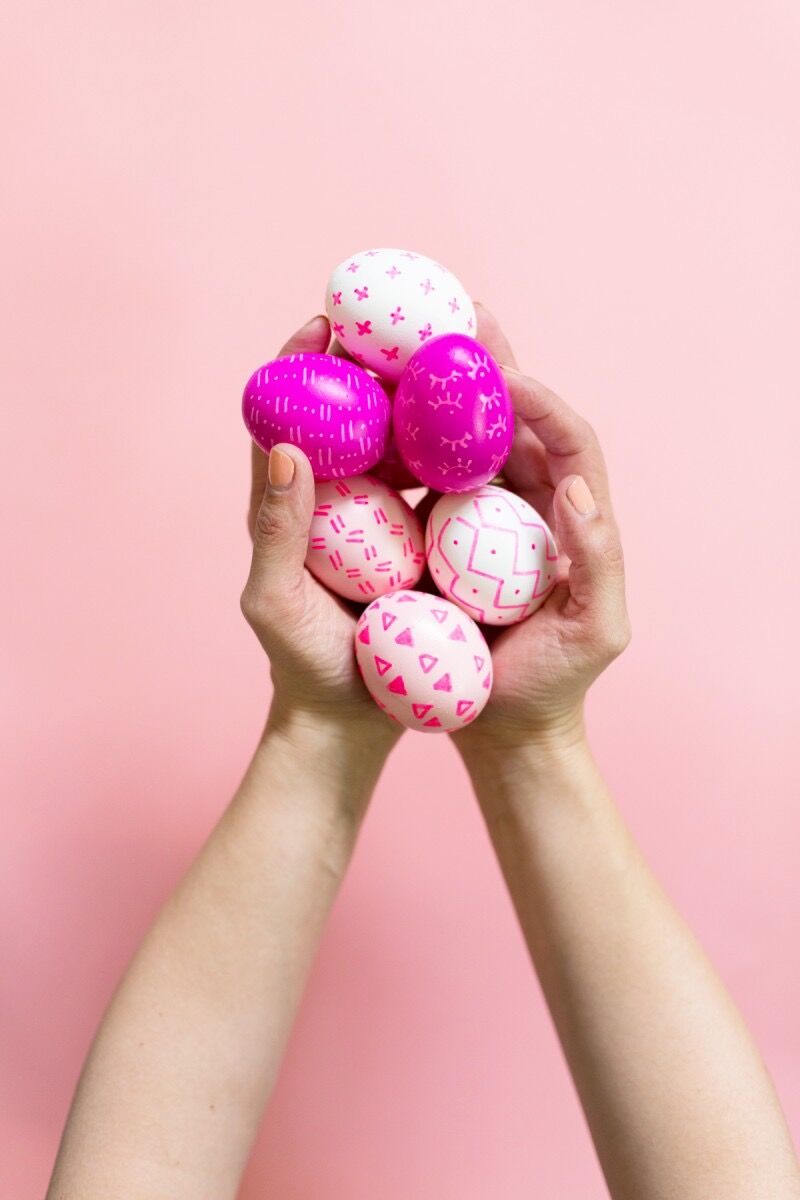 Spray paints and good-quality oil-based paint pens are what you'll need to re-create these pretty eggs. A fabulous (and easy) option if you have younger artists on your hands. (via Lovely Indeed)
---
49. Veggie power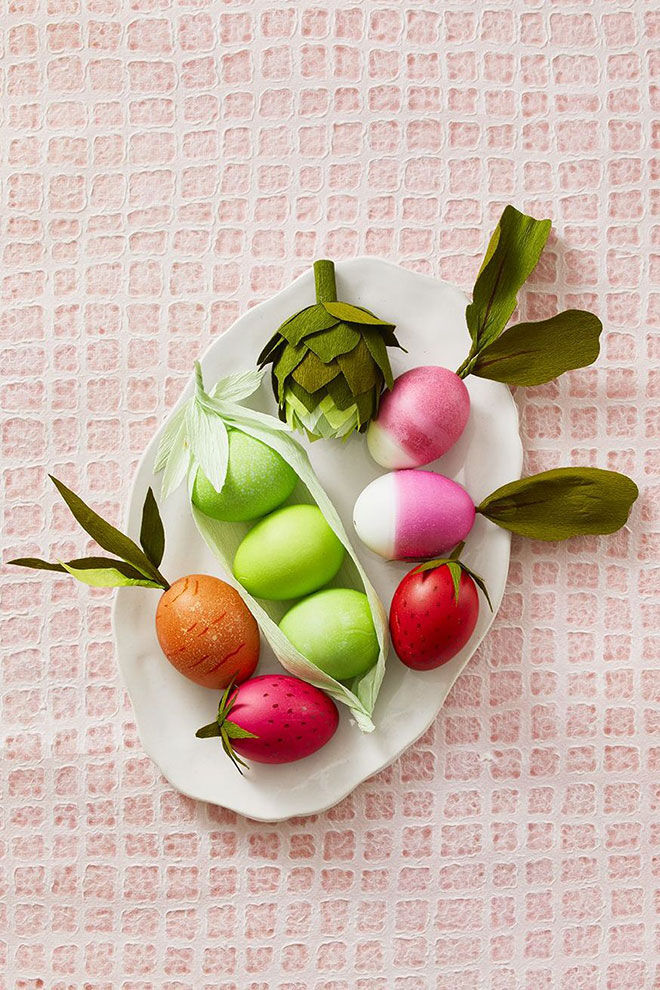 A veggie garden with a twist. If your littlies love to grow their own fresh veggies, they'll love trying their hand at whipping up these goodies. (via Mike Garten and Good Housekeeping)
---
50. Cheeky chickens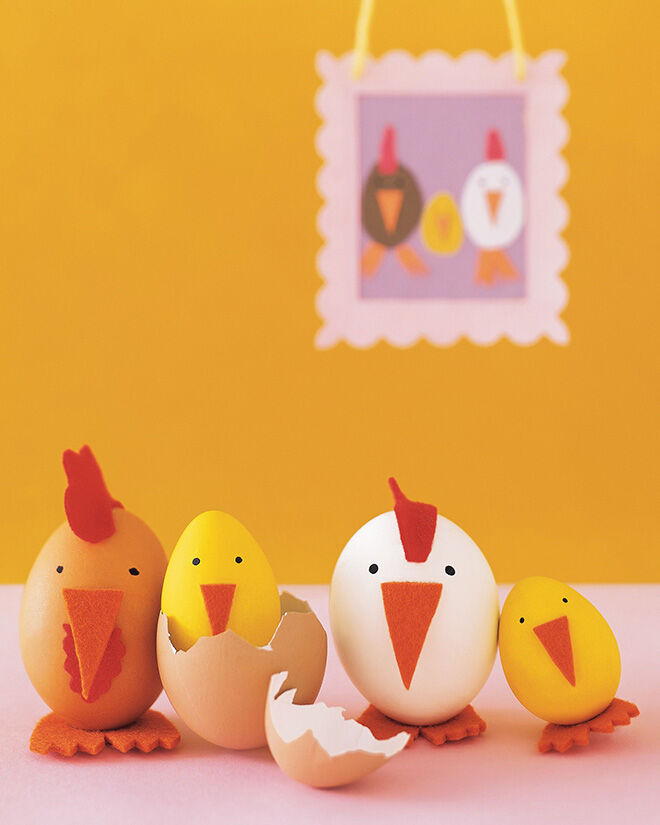 Imagine the giggles these little guys will inspire! Simple to create, these cheeky chicks need little more than some felt and a black marker to be welcomed into your Easter celebrations. (via Martha Stewart)
---
51. Sharpie art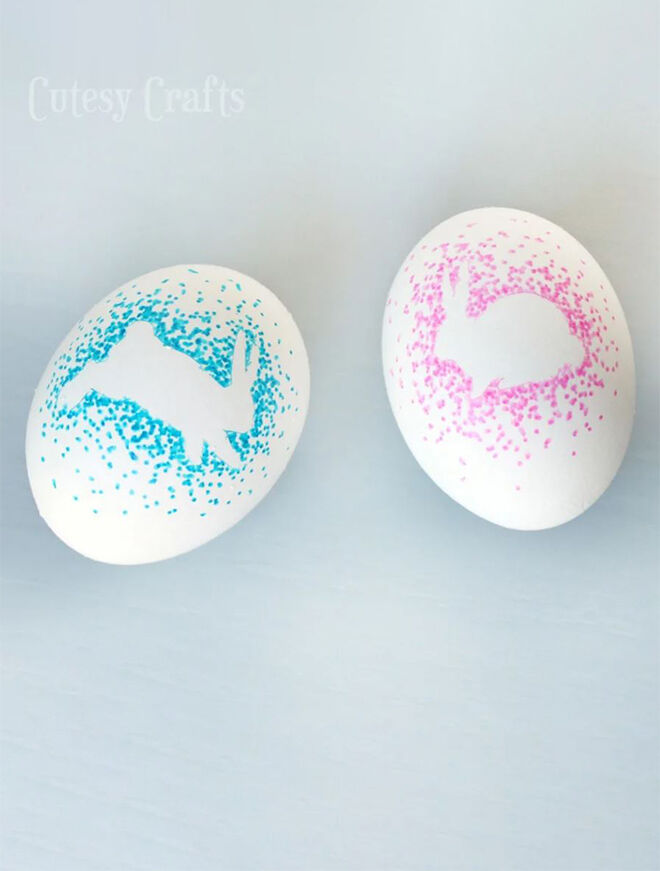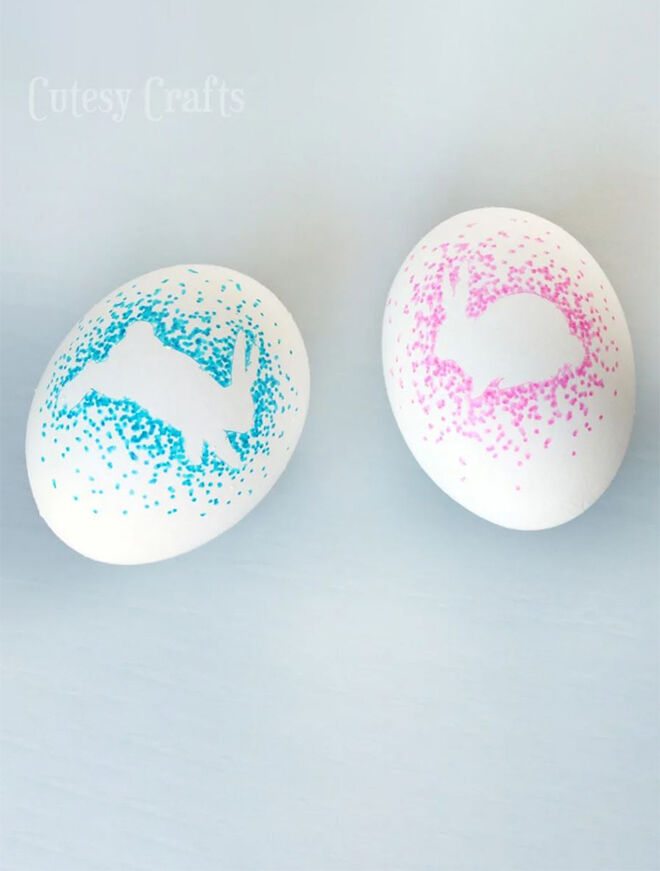 If you're not so confident with paint or dye, this Sharpie idea is a great way to make your Easter egg decorations sing without too much of a fuss. Place a bunny sticker onto your hard-boiled egg and dot around the edges with your favourite coloured pen. Easy peasy. (via Cutesy Crafts)
---
52. Modern metallics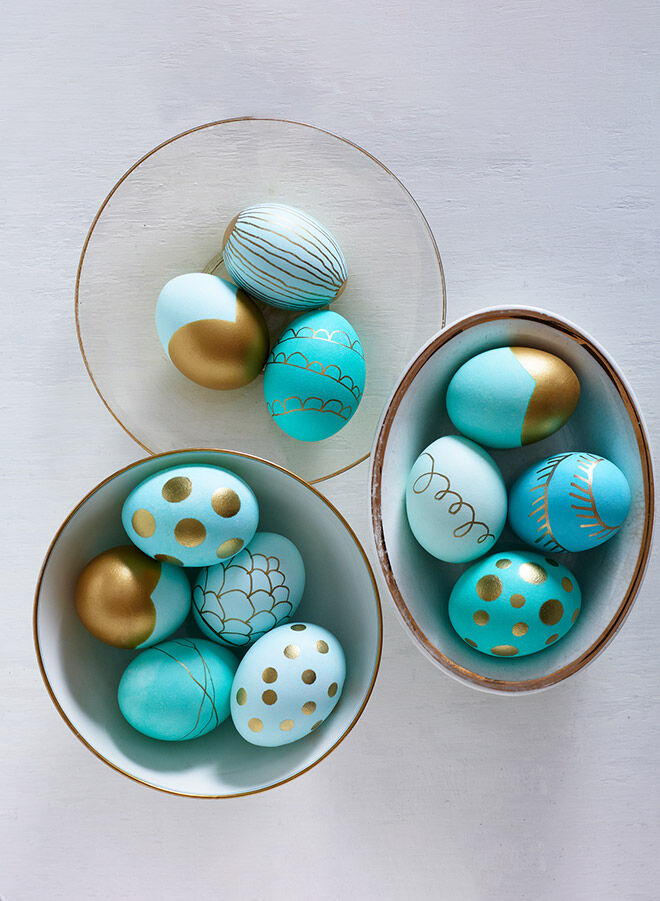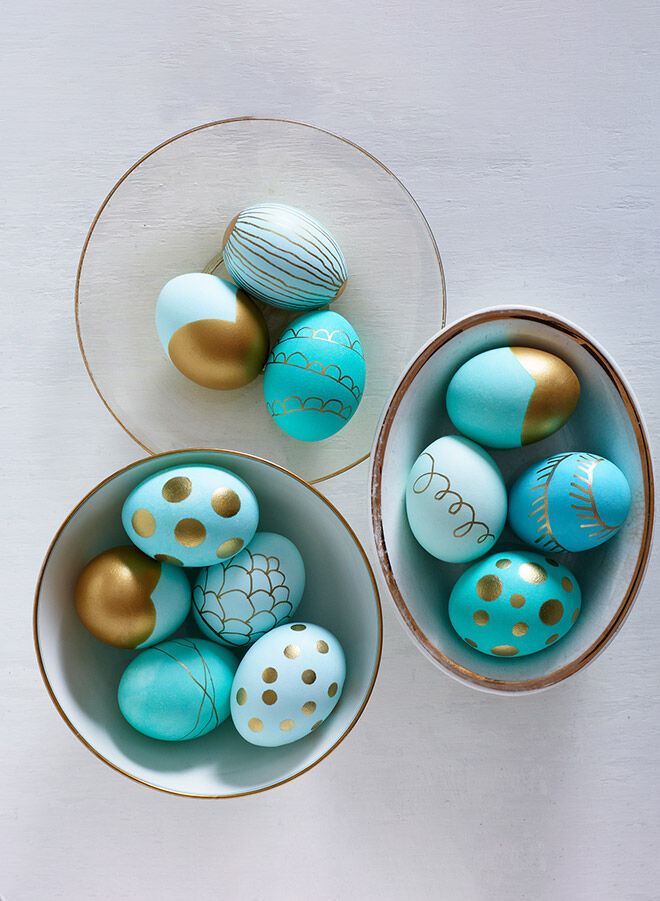 Blue hues and metallics are a winning combination. Simply dye your eggs blue then use gold paint pens to do the rest. We love the retro polka dots! (via David Prince and Better Homes & Gardens)
---
53. Funny faces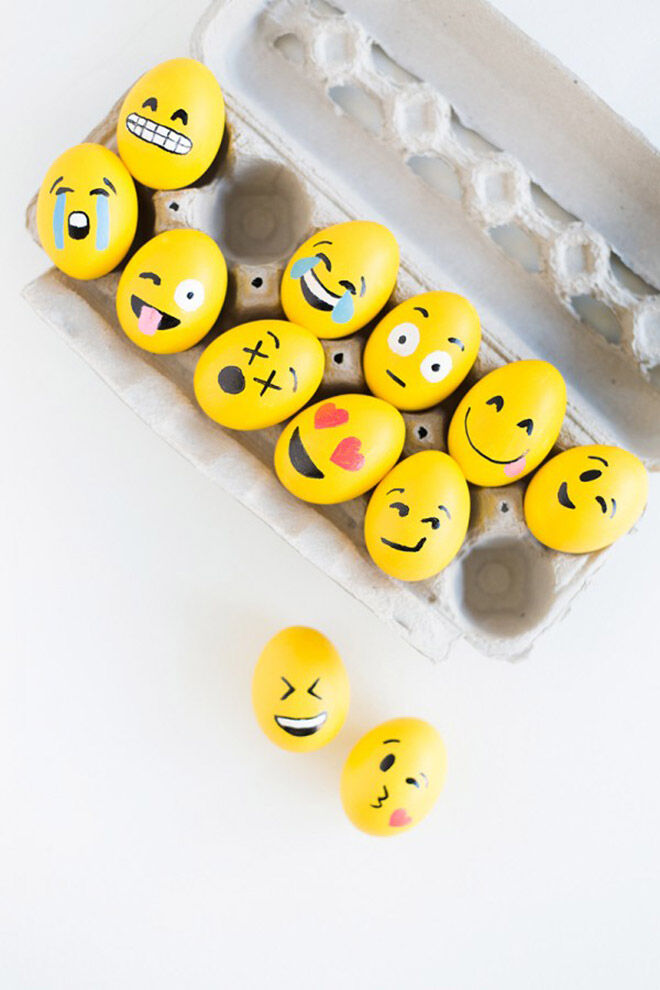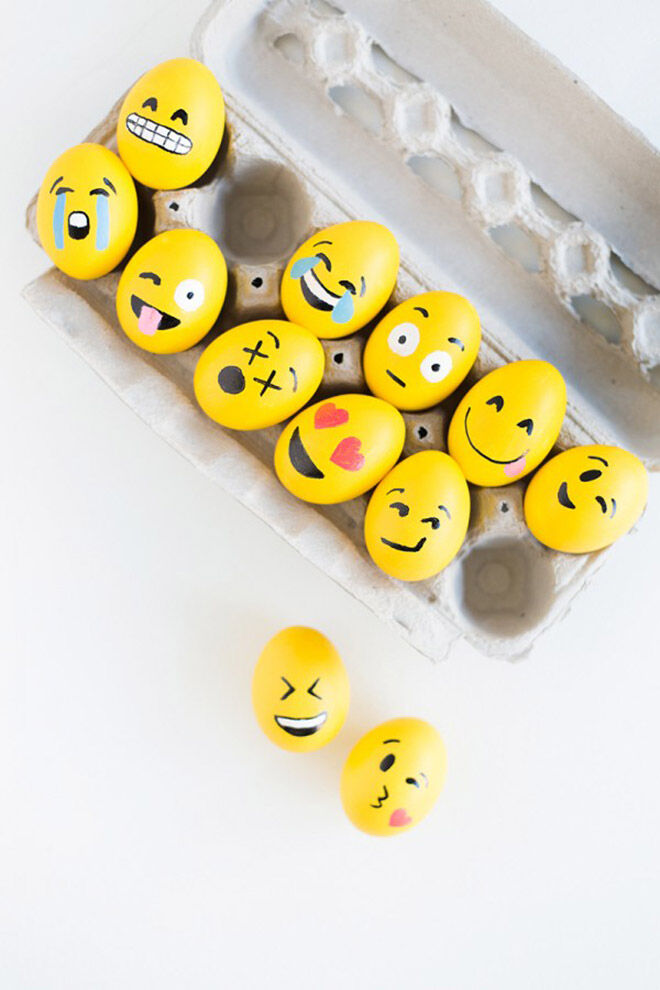 Oh yes, emoji Easter eggs are here! Paint with the kids, hide them around the house and watch all the LOL's as your giggling minis scurry about collection them. (via Studio DIY)
---
54. Designer decorating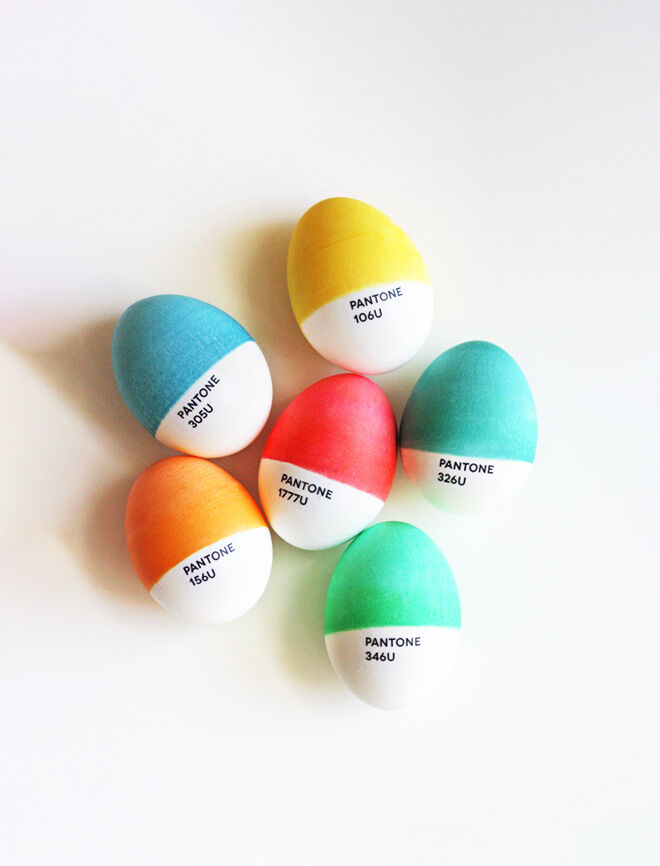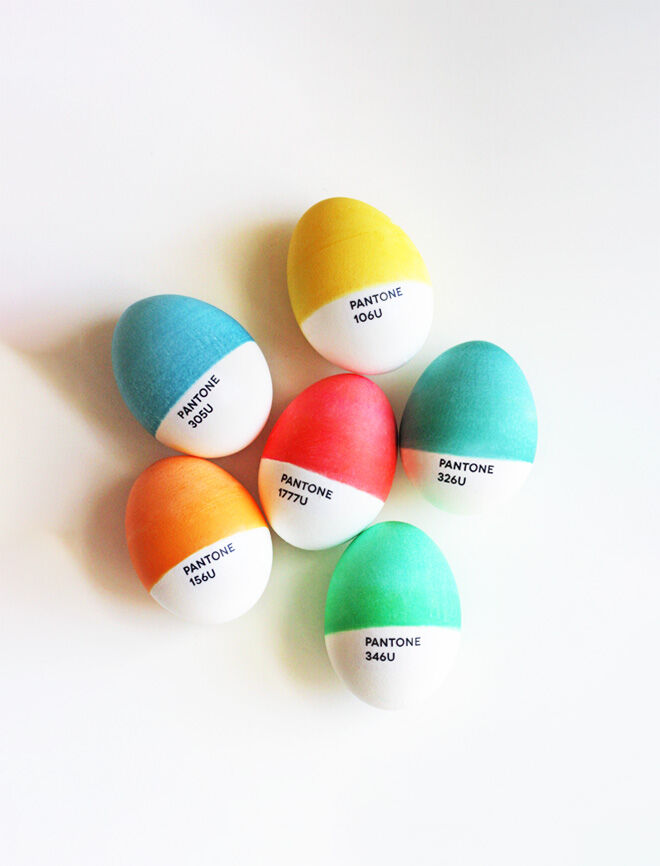 Easter eggs never looked so cool! Design buffs take note, this is a simple (and massively cool) way to show off your love for colour. It's a great way to familiarise yourself with trending hues too. (via How About Orange)
---
55. Mini Minions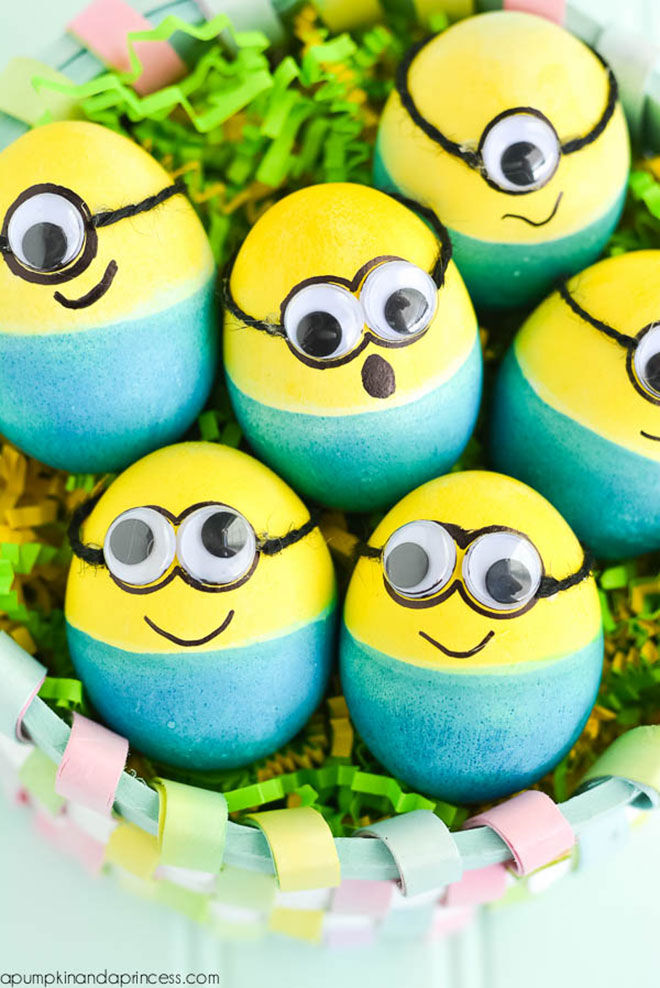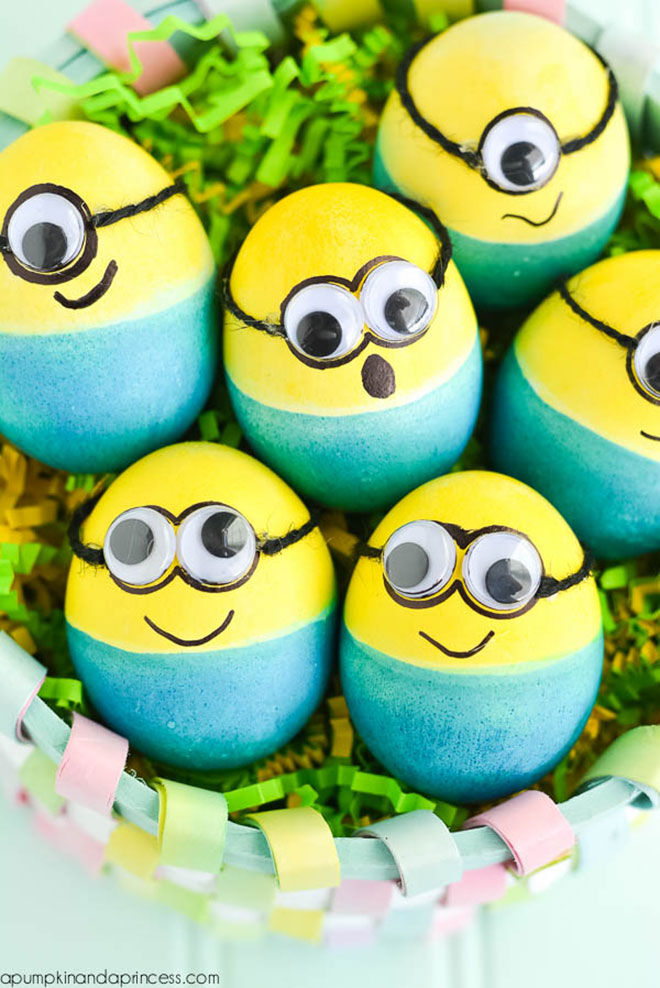 Are your munchkins mad on Minions? Grab some blue and yellow dye, a length of black twine and lots of googly eyes. We can guarantee you'll be singing the 'Banana' song in no time! (via A Pumpkin and a Princess)
---
56. Party time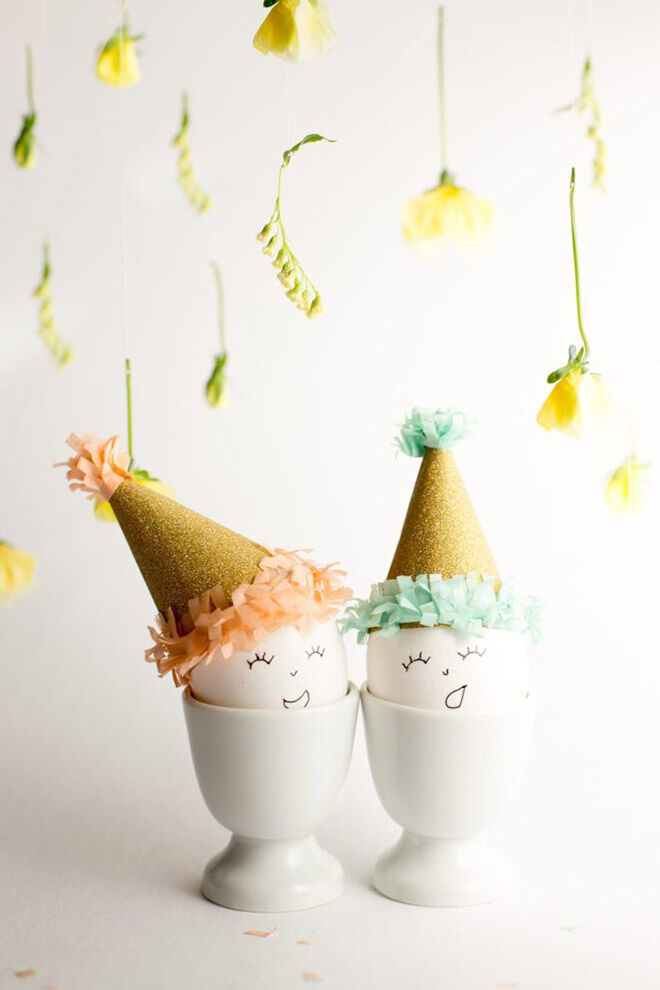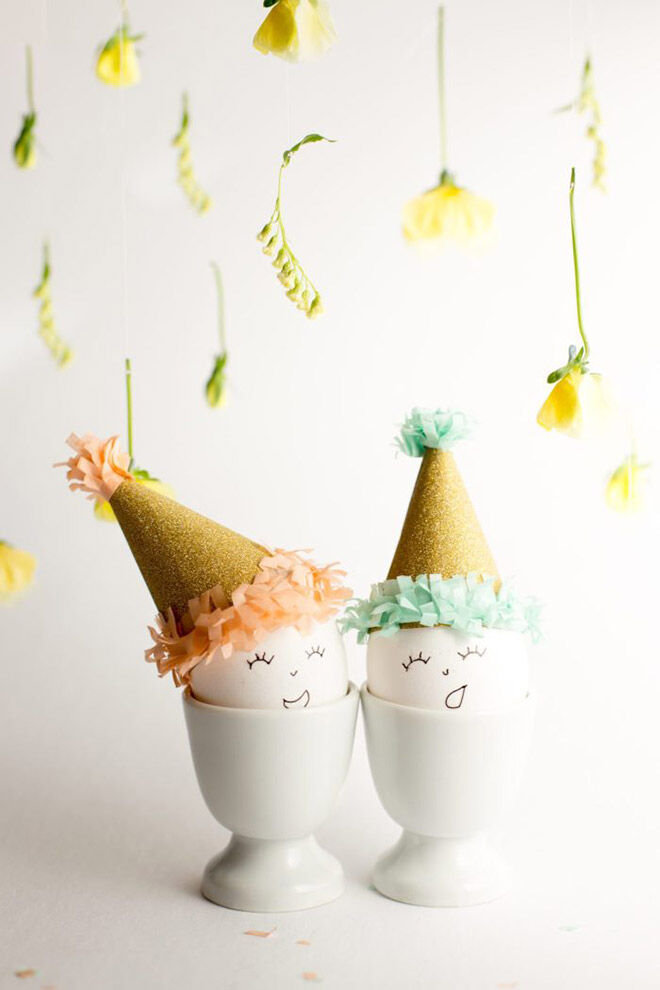 Keep your eggs simple this year and go all out on the accessories. Party hats with teeny tassels for your Easter eggs? Too cute! (via Flax and Twine)
---
67. Pouty people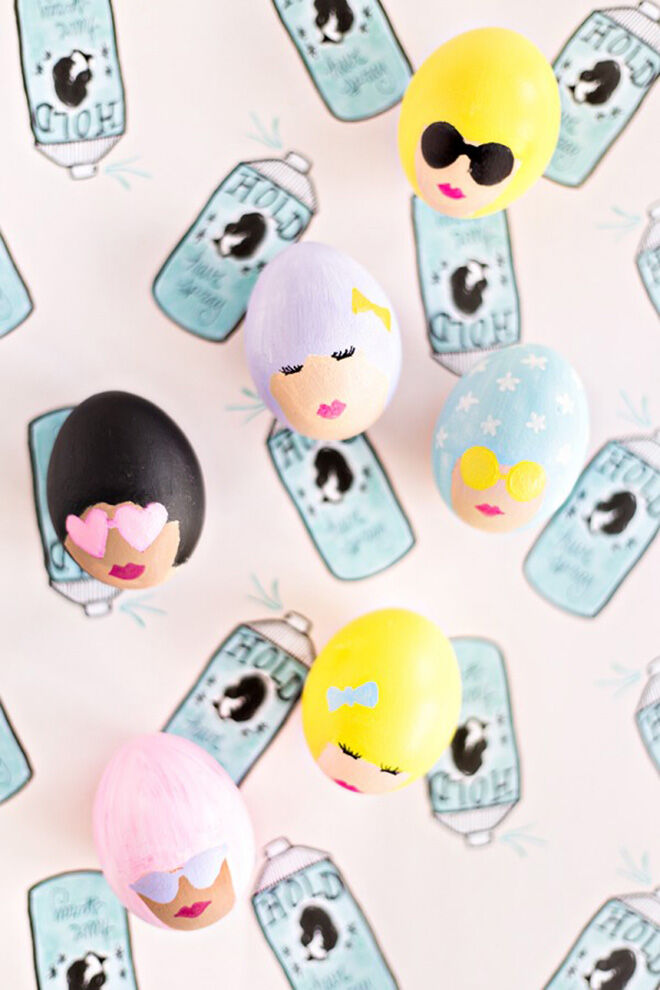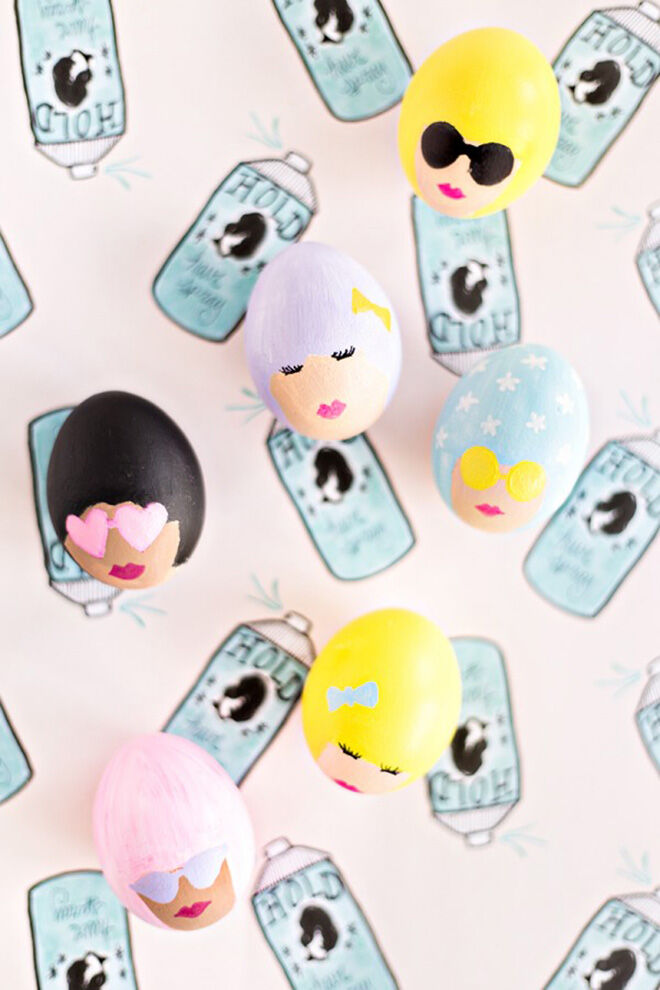 Have some fun with your Easter egg decorations with this bowl of beauties. Bouffant bobs and pouty lips will definitely give your eggs the WOW factor this Easter. (via Studio DIY)
---
58. Mr Men & Little Miss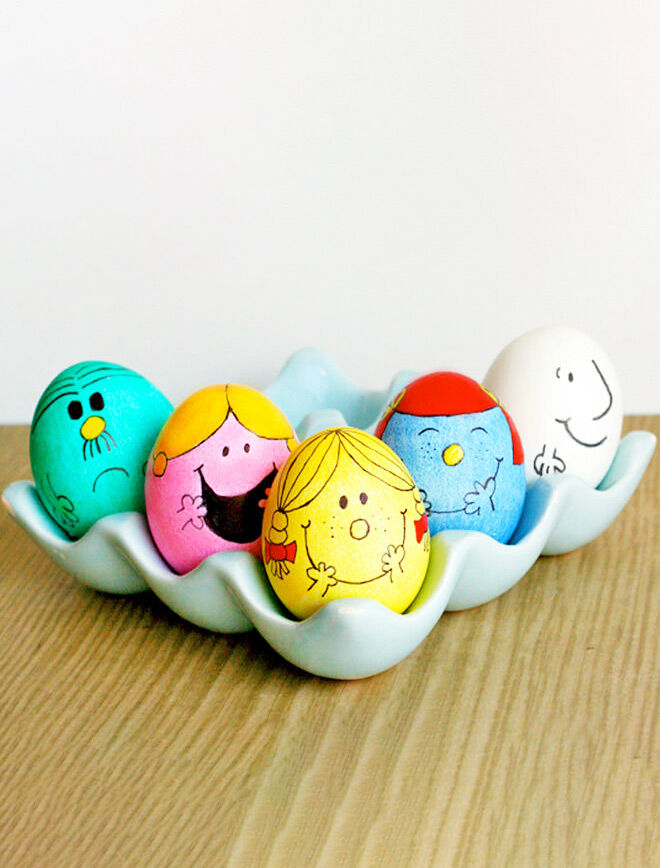 Give the kiddos even more reasons to smile by inviting Little Miss Sunshine and the gang along for Easter. (via Glitter in my Tea)
---
59. Blackboard beauty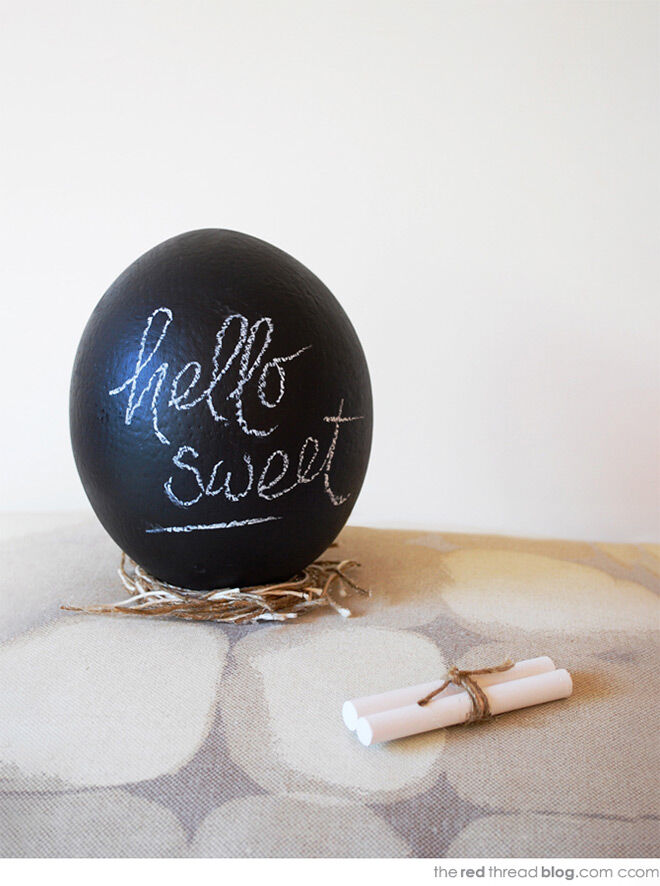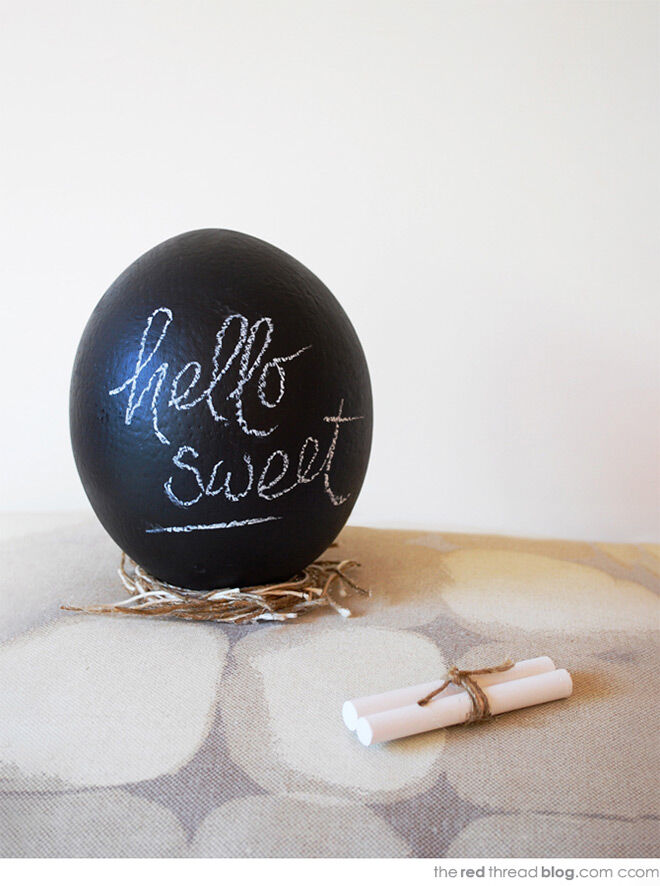 Chalkboard paint reigns supreme yet again. (Is there anything it doesn't look great on?) There are infinite possibilities with this easy Easter idea.  (via We Are Scout)
---
60. LEGO, lets go!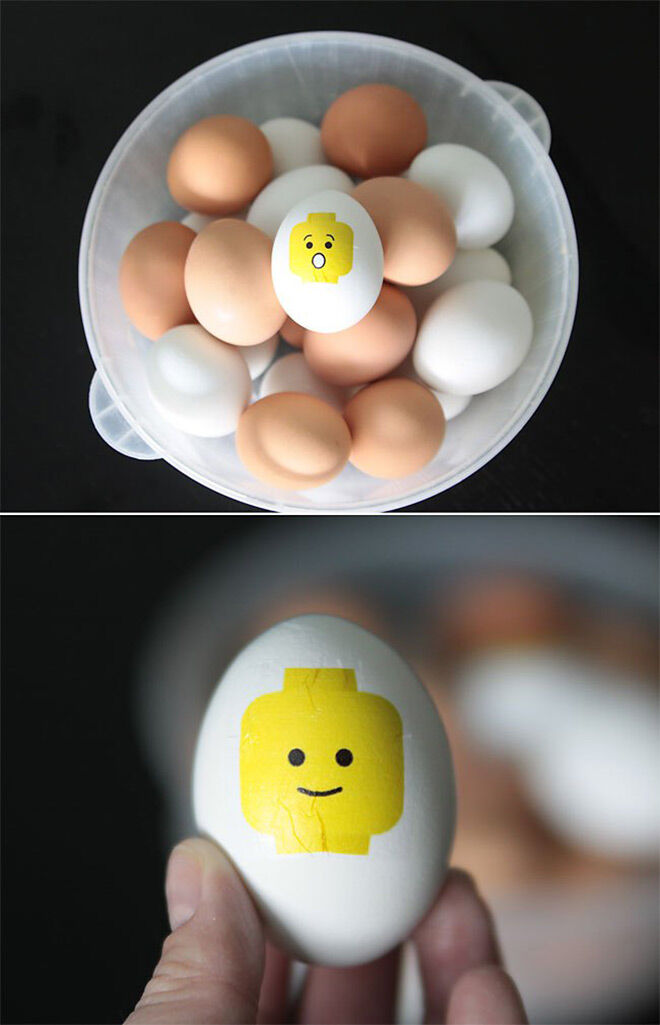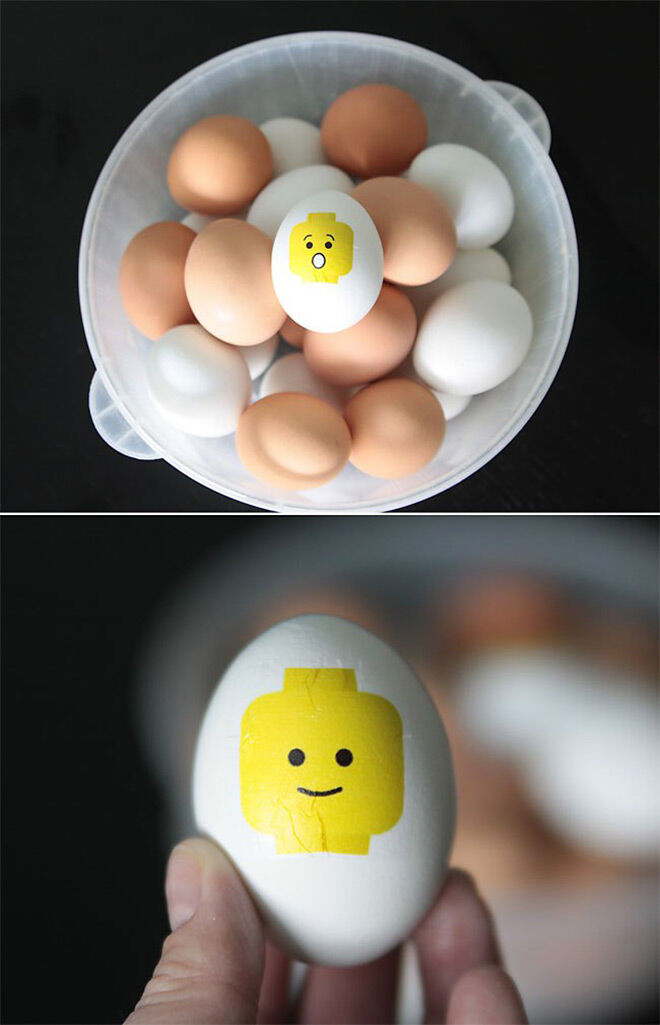 Looking for a totally awesome way to decorate your Easter eggs? These LEGO Minifigure eggs will keep little brick-builders busy for ages! (via It's Always Autumn)
---
61. Feeling fruity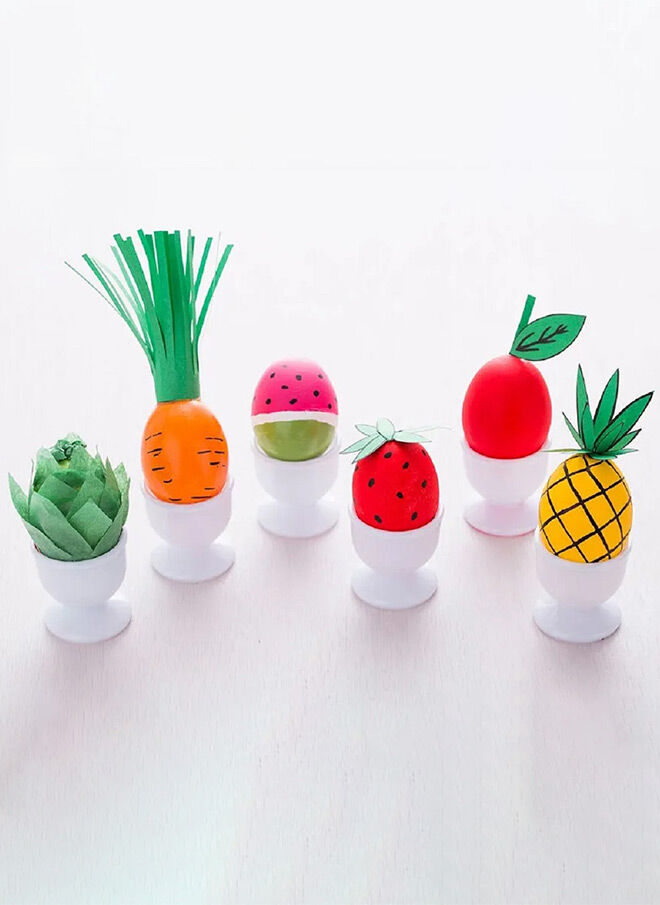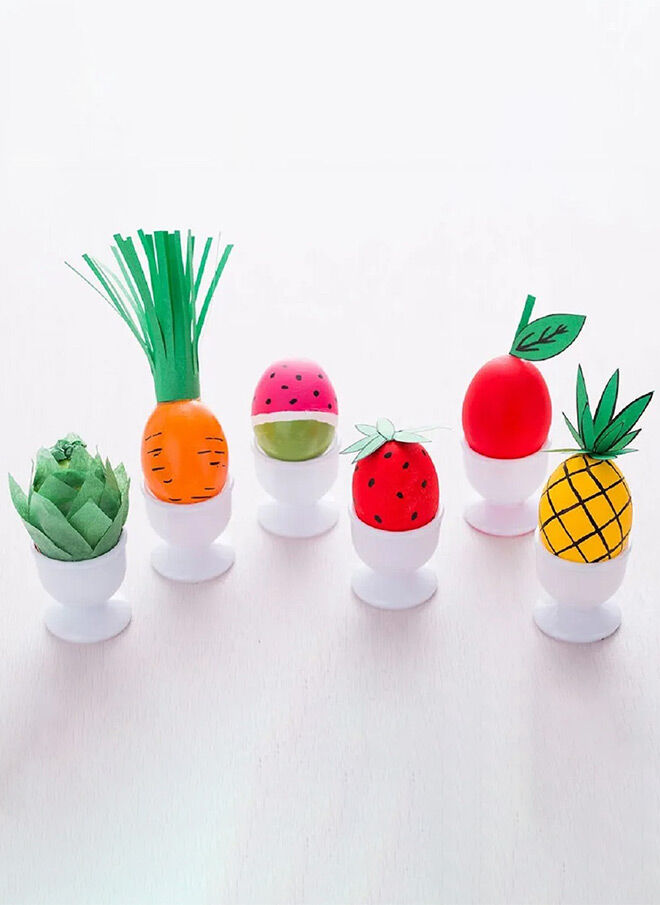 Did you know that Easter eggs count towards your five-a-day? Well, not really, but these fruity eggs will still add some fruit-themed fun to your Easter antics. (via Brit + Co)
---
62. Supernatural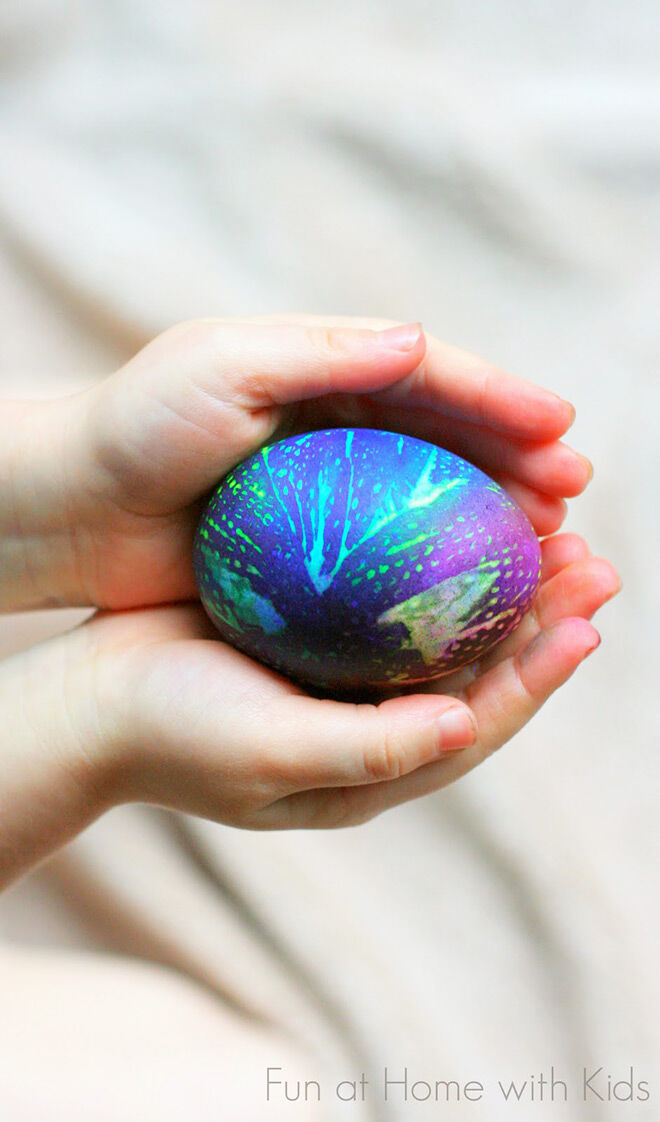 It's amazing what paper towel, food colouring and vinegar can do. Just look at this space-age number! (via Fun at Home with Kids)
---
63. The egg said it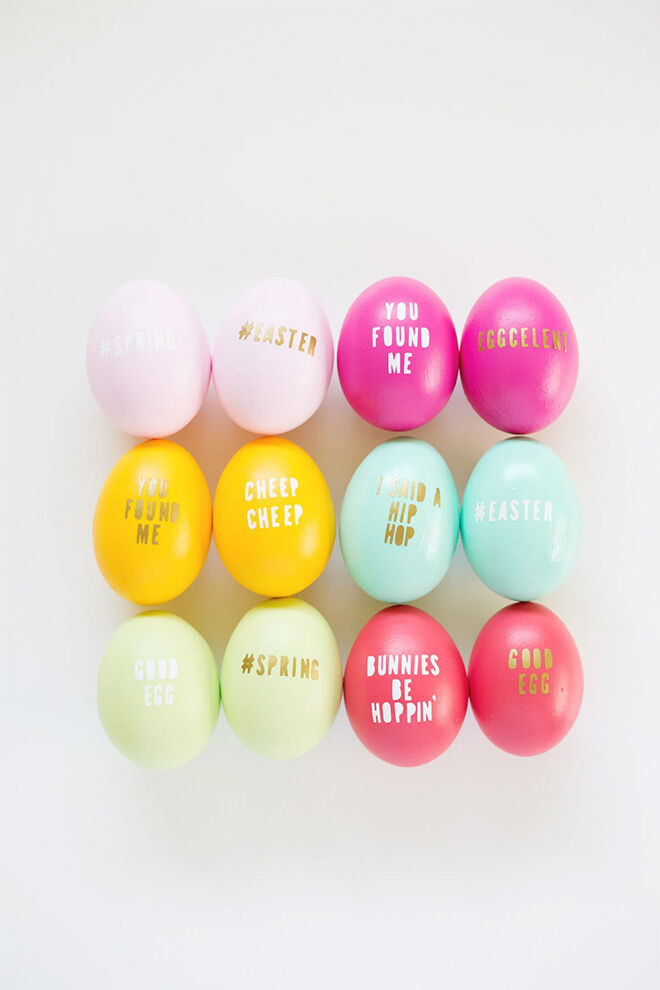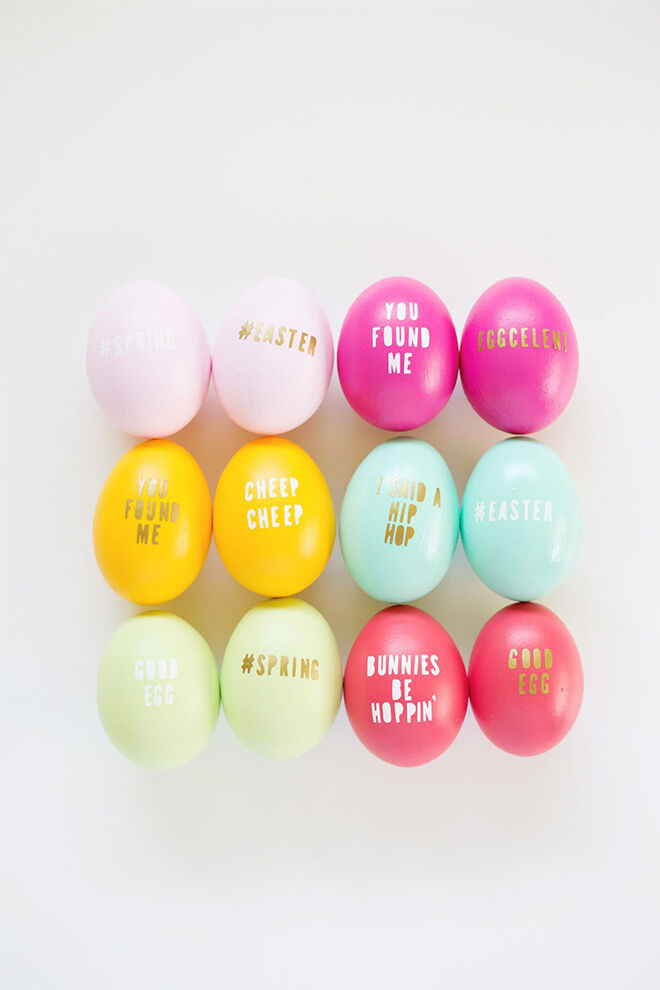 Hop into crafty action with these beautiful typography Easter eggs. Leave them sitting pretty on display or add them to your Easter egg hunt for extra fun. (via Lovely Indeed)
---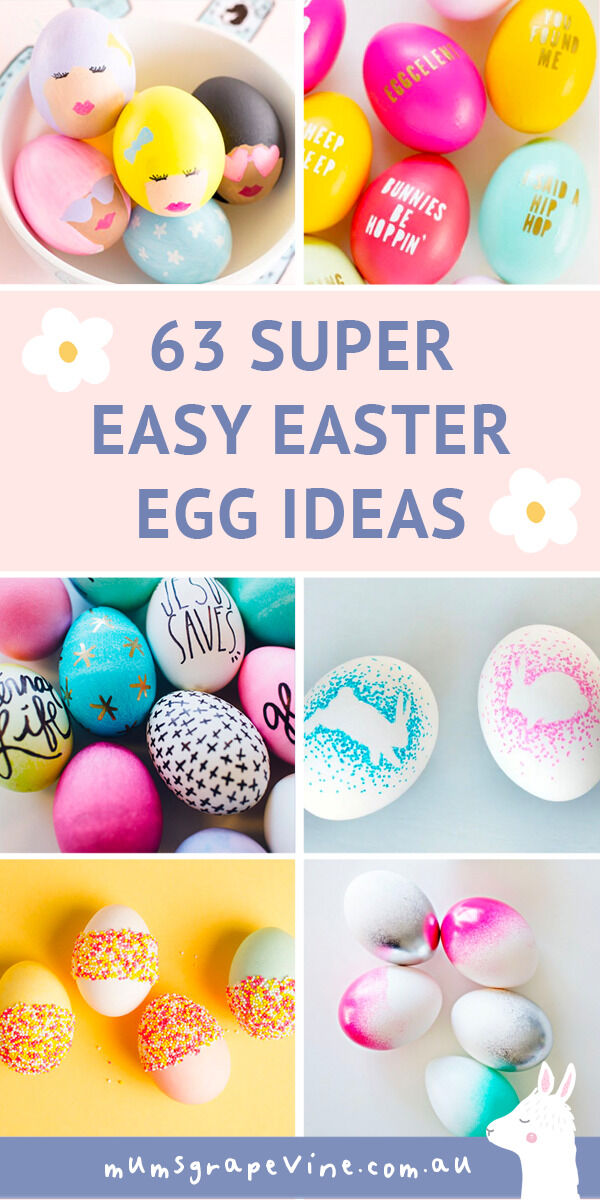 Know some amazing Easter egg decorations we should add to our list? Contact us and let us know.
Read these roundups next …
Find more crafty Easter ideas in our groups
Looking for more ways to make Easter extra special for your little ones? Join one of our Facebook Groups and ask thousands of other mums what they recommend.
Click here >> Mum's Grapevine Facebook Groups << to join your group today!