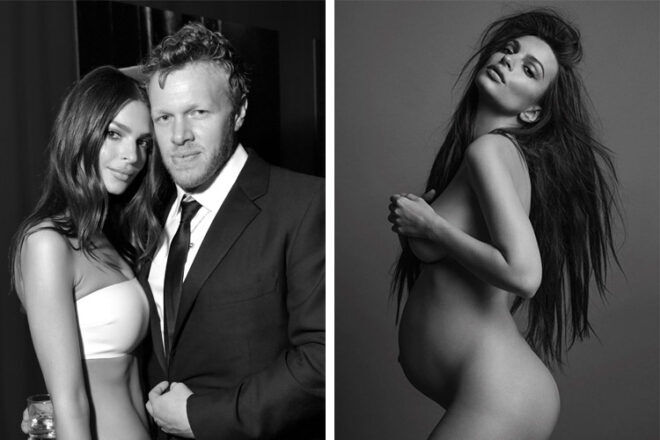 Stunning supermodel Emily Ratajkowski and husband Sebastian Bear-McClard have welcomed their first child, a baby boy with an adorably unique name.
Emily, 29, shared the news on Instagram, announcing the arrival of Sylvester Apollo Bear, or Sly for short. "Sylvester Apollo Bear has joined us earth side. Sly arrived 3/8/21 on the most surreal, beautiful, and love-filled morning of my life."
View this post on Instagram
Emily first revealed she was pregnant in October last year, via the digital cover of Vogue. She explained in her essay that she didn't want to reveal the gender of her baby to family and friends.
"When my husband and I tell friends that I'm pregnant, their first question after 'Congratulations' is almost always 'Do you know what you want?'
"We like to respond that we won't know the gender until our child is 18 and that they'll let us know then. Everyone laughs at this. There is a truth to our line, though, one that hints at possibilities that are much more complex than whatever genitalia our child might be born with: the truth that we ultimately have no idea who—rather than what—is growing inside my belly. Who will this person be? What kind of person will we become parents to? How will they change our lives and who we are? This is a wondrous and terrifying concept, one that renders us both helpless and humbled."
View this post on Instagram
She also explained that she understood people's desire to know if she was having a boy or girl. "As my body changes in bizarre and unfamiliar ways, it's comforting to obtain any information that might make what's coming feel more real.
"It occurs to me that as a younger person I'd almost automatically imagined myself having a daughter. I remember playing as a child, holding baby dolls and picturing myself with a future best friend: something like the American Girl doll I owned, who had brown eyes and brown hair to mirror my own features, a smaller version of myself.
"When I bring this thought to my therapist, she explains that this is relatively common. Psychology du jour, she says, touts the concept that people may have children to 'redo' their own childhood. They want to fix themselves and their traumas by trying again with a fresh start and a mini version of themselves."
View this post on Instagram
Emily also gave an insight into how she and her husband of two years were experiencing her first pregnancy. "My husband likes to say that 'we're pregnant'. I tell him that while the sentiment is sweet, it's not entirely true. I resent that his entire family's DNA is inside of me but that my DNA is not inside him. 'It just seems unfair,' I say, and we both laugh. It's kind of a joke, but just like the remark we make about our child's gender, there is truth behind it. Pregnancy is innately lonely; it's something a woman does by herself, inside her body, no matter what her circumstances may be.
"Despite having a loving partner and many female friends ready to share the gritty details of their pregnancies, I am ultimately alone with my body in this experience. There is no one to feel it with me—the sharp muscular aches in my lower abdomen that come out of nowhere while I'm watching a movie or the painful heaviness of my breasts that now greets me first thing every morning. My husband has no physical symptoms in 'our' pregnancy, another reminder of how different a woman and man's experience of life can be."
Wondering which other celebrities are currently pregnant? We have a whole section dedicated to bump watch and celebrity baby news here.
Join our Facebook pregnancy groups
Expecting a baby of your own? Join one of the private Mum's Grapevine Facebook pregnancy groups for non-judgemental support from other mums due at the same time as you. We have groups for each trimester.
Find your group below and join today!