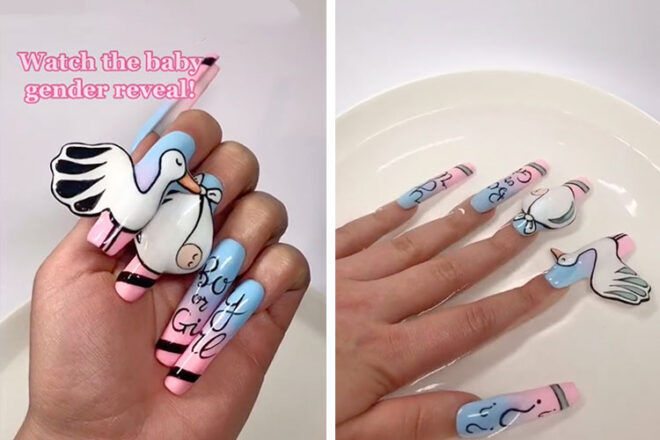 Move over gender reveal cakes, expecting mums have found a truly unique way to share their news. Gender reveal nails are the new pregnancy trend you didn't know you needed.
Mum's Grapevine stumbled upon the unique gender reveal nails on TikTok, and in just a couple of days since being uploaded, the videos have attracted a huge amount of interest. Created by freehand nail artist Jessica Gregorio, the intricate talons feature areas that change colour in warm water.
Completely impractical, but incredibly memorable, welcome to the whacky world of gender reveal nails.
Colour change gender reveal nails
In her first gender reveal nails video, Jessica uploaded footage of a set of impressive pink and blue nails. Featuring a stork and baby in blanket, the nails are a true work of art. While the colour change is subtle,  it's still pretty impressive. Keep an eye on the stork's wings and the black stripe on the other nails:
Jessica also shared a second video. This time the yellow nails are decorated in baby symbols, and thick black stripes. Once placed in warm water the black lines slowly change colour, revealing there's a baby girl on board.
There are plenty of comments asking Jess to reveal just how she creates the secret reveal nails. But for now the clever nail tech isn't sharing any tips.
And just in case these creative colour changing gender reveal nails aren't enough of a showstopper, check out these beauties. This nail tech added pyrotechnics to her client's gender reveal nails – complete with a miniature cake.
We're seriously blown away by the creativity of these gender reveal nails, but we're all thinking the same thing. With the amount of times expecting mums have to use the bathroom – these can't be practical!
---
Creative gender reveal ideas
From gender reveal lasagna to egg roulette, here are some other creative ways to reveal if you're having a boy or a girl.