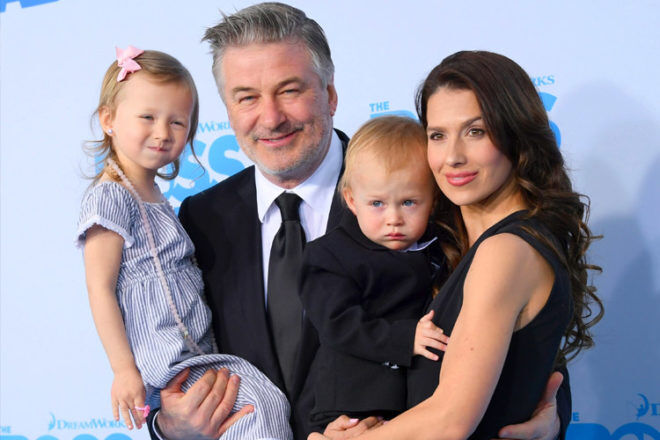 Actor Alec Baldwin and his wife Hilaria have welcomed their sixth baby, just five months after she gave birth to their fifth child together, Edu.
Hilaria shared a photo of herself on Instagram, surrounded by their five children together: Edu, Romeo, Leonardo, Rafael, and Carmen. And nestled next to the proud mumma is a newborn. She captioned the image '7' – referencing their now six children together, and Alec's 25-year-old daughter with his ex-wife Kim Basinger.
View this post on Instagram
While the couple has been relatively private about their newest addition, Hilaria did share a photo of their daughter, revealing her name is Lucia.
View this post on Instagram
Speaking to People in November last year, the 37-year-old said, "during times of COVID, it very much feels like we're done" – when asked about more children. "Everybody's asking me this question. I don't know. I've said in the past that I was done when I wasn't done. I think, right now, I'm so tired. And I feel, just with COVID — it's just insanity."
The couple welcomed their fifth baby in September last year saying, "We had a baby last night. He is perfect and we couldn't be happier. Stay tuned for a name."
Meanwhile, Alec, 62, shared the same photo, writing, "Número Cinco está aqui…..(Para mi, número seis) I love you, @hilariabaldwin. My karma is your karma. Your karma is mine." The Spanish translates to: "Number Five is here … (For me, number six)". Alec shares 24-year-old daughter Ireland with his ex-wife Kim Basinger.
View this post on Instagram
Hilaria and Alec, who married in 2012, suffered two miscarriages in 2019. At the time Hilaria wrote on Instagram, "We are very sad to share that today we learned that our baby passed away at 4 months. We also want you to know that even though we are not ok right now, we will be. We are so lucky with our 4 healthy babies—and we will never lose sight of this."
Congratulations to a beautiful family.
Read next …
There's plenty of celebrity baby news, here's what you may have missed:
Join our Facebook pregnancy groups
Expecting a baby? Join one of the Mum's Grapevine pregnancy Facebook groups for non-judgemental support from other mums due at the same time as you.
Click below and join your group today.