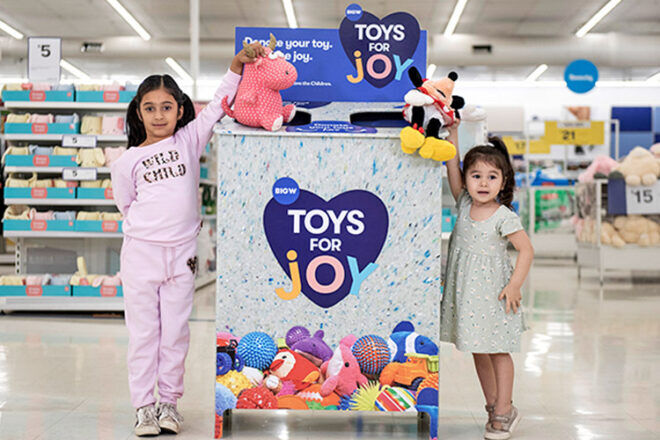 Kids are being urged to recycle or rehome their pre-loved toys as part of a new initiative – and it's as easy as heading to your local BIG W store.
The retailer has launched a trial toy rehoming and recycling program across four states. With Aussies spending almost $4 billion on toys every year, and generating more than 75 million tonnes of waste, it's one small way to help soften our environmental footprint.
Rehoming toys
Toys in good condition will be given to charity organisation Save The Children's op-shop network, to help raise funds to support kids in need.
"Donations to the Toys for Joy program will ensure Save the Children can continue to work with children and their families so they can learn, grow and develop," said Save the Children CEO Paul Ronalds. "Funding will directly support programs like Play2Learn, our largest early childhood care and development program, targeting children and parents living in remote and disadvantaged communities across Australia."
Recycling toys
Toys that have outlived their playful life will be recycled by TerraCycle. They'll become things like garden beds, decks, fences and benches. "We are excited to team up with BIG W to provide Australian consumers with a free recycling solution that will save tonnes of unused toys from landfill," said TerraCycle general manager Jean Bailliard. "From park benches to decking, there are so many materials and products that the toys can be recycled into."
How to donate unwanted toys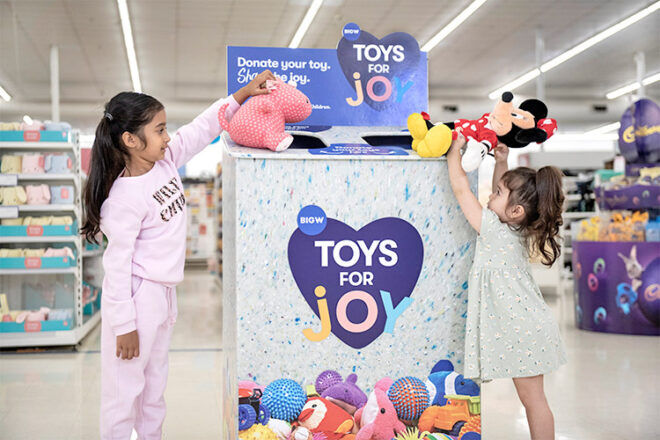 Parents and kids can take their unwanted toys to selected BIG W stores and pop them in purpose-built Toys for Joy bins. They'll then find a new life – either as a toy for another child, or something else entirely.
The Toys for Joy trial program is available at the following BIG W stores:
BIG W Rouse Hill, NSW
BIG W Erina, NSW
BIG W Winston Hills, NSW
BIG W Warringah Mall, NSW
BIG W Robina, QLD
BIG W Mt Gravatt, QLD
BIG W Clifford Gardens, QLD
BIG W Cairns, QLD
BIG W Elizabeth, SA
BIG W Bunbury, WA
For the toys to be successfully rehomed, they need to meet the following criteria:
Not be broken
Be clean and have all their parts
Work the way they were meant to
Have batteries removed
If the toys can't be rehomed, they'll be recycled. The program will run at the selected BIG W stores until 5 May, 2021.
Read next …
Looking for more ways to breathe new life into old toys? We have a bunch of ideas in these articles: