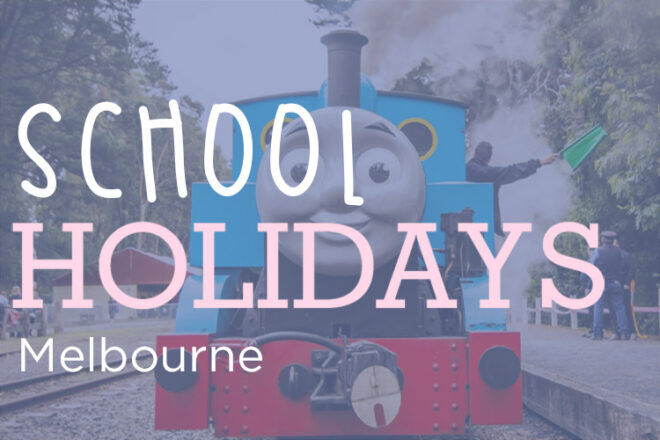 Easter may be a massive deal to teeny tykes, but it doesn't end with egg decorating and chocolate when it comes to entertainment during Autumn. We've tracked down heaps of exciting things to do in Melbourne with kids this season, and the great news is that there's an outing for every budget.
And don't forget, if you're after something a little closer to home, Melbourne's playgrounds, centres and parks are a great way to keep kiddos active all day long.
Top things to do in Melbourne with kids this Autumn
Whether they like to create, watch, learn or just run amok, there's something for every mini-mite in our list of top things to do in Melbourne with kids. Let's take a look…
Jungle Bungle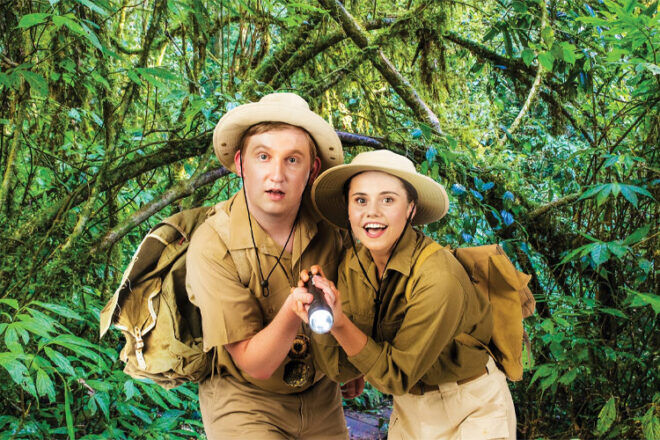 If your little jungle animals love an adventure, make a beeline for Theatreworks STAT! Jungle Bungle is a thrilling musical safari adventure that follows the story of Oliver and Claire as they try to find their way home. The story touches on themes of individuality, imagination, and of course, friendship.
Don't miss the COVID-safe art sessions before the show where wee ones can whip up their very own wild animals.
When: 14 – 17 April 2021
Where: Theatreworks, St Kilda
Details & Tickets: Theatreworks
WE LOVED: We were gifted tickets to see Jungle Bungle and from the second we walked into the COVID-safe Glasshouse, we were all spellbound. The show was the perfect balance of relatable themes and crazy-time fun – with lots of opportunities for a boogie. The amazing vocals of Oliver and Clair blew us away!
The Midnight Gang
If you've got David Walliams fans under your roof, this stage production of the bestselling book, The Midnight Gang, is not to be missed. Across just three nights in April, kids can join Tom and his mates at St Crook's Hospital as they set out on a series of incredible adventures.
When: 9 – 11 April 2021
Where: Regent Theatre
Details: Marriner Group
WE LOVED: We were gifted tickets to opening night and The Midnight Gang was fantastic! Kids of all ages were laughing out loud. Thoroughly enjoyable family night out.
CIRCUS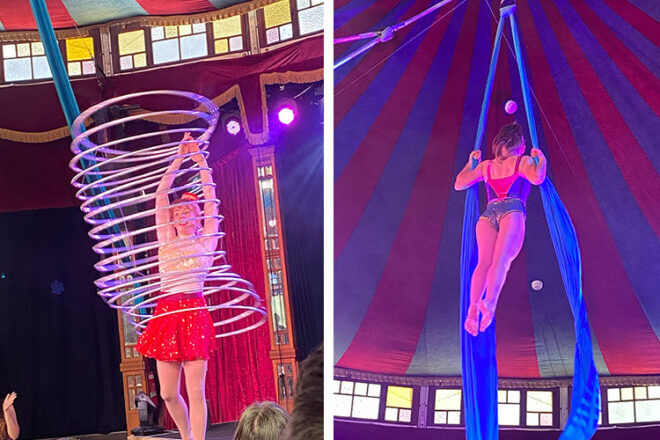 Located under the Big Top right outside the Arts Centre in Melbourne, Circus takes families on an adventure-packed journey with the Ringmaster and delivers a positive message about embracing your weirdness and following your dreams.
When: 3 – 18 April 2021
Where: The Famous Spiegeltent, Arts Centre Melbourne
Details: Arts Centre Melbourne
WE LOVED: We were gifted tickets to Circus and it sure was funny. A great mix of comedy and acrobatic stunts that had the whole audience clapping and laughing for the whole show. Loved the clown! She was brilliant.
Peter Rabbit 2: The Runaway
What better way to celebrate the Easter season than with mischievous Peter Rabbit? In this second instalment from Sony Pictures, Peter becomes upset after being labelled a "bad seed" by Bea's new publisher and starts mixing with an unsavoury crowd.
Expect your squidlets to be rolling with laughter at points in this fab family flick.
When: From 25 March 2021
Where: Cinemas Australia-wide
Website: Sony Pictures
WE LOVED: We were gifted tickets to Peter Rabbit 2 and it was just as much fun for the adults as for the kids. Clever jokes lots of cuteness and a fabulous plot made this an instant family favourite.
Amazing Autumn at Sovereign Hill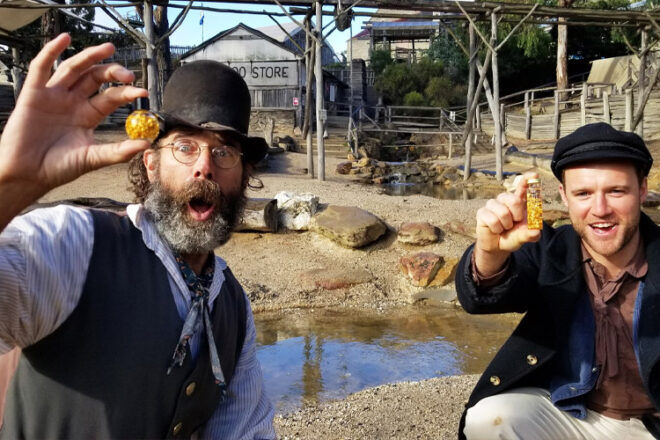 It's time to step back in time and experience life as it was during the Victorian Gold Rush. In a packed Autumn program, kids can learn traditional skills, watch demonstrations, tour the mines, and of course, pan for gold!
During the school holidays (2 – 18 April), extra treats include the Beauty and Beast pantomime, a Magic Lantern show and Voltaic Battery Blasting Demonstration.
When: March – May 2021
Where: Sovereign Hill, Ballarat
Website: Sovereign Hill
Born or Built? Our Robotic Future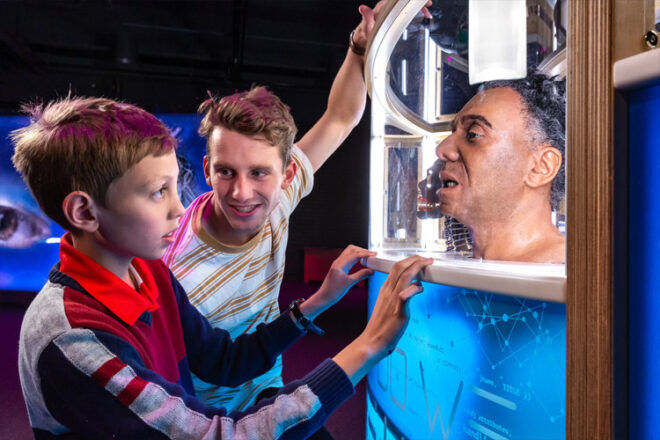 This is a great one for inquisitive kids who ask a lot of big questions about technology. Developed by Questacon, this interactive exhibition explores all things robotics – from medical tech innovations to using your mind to move an object and teaching a robot to jump.
Note that tickets to the Scienceworks museum are purchased separately.
When: 3 – 18 April 2021
Where: Scienceworks
Details: Museums Victoria
Comedy Club for Kids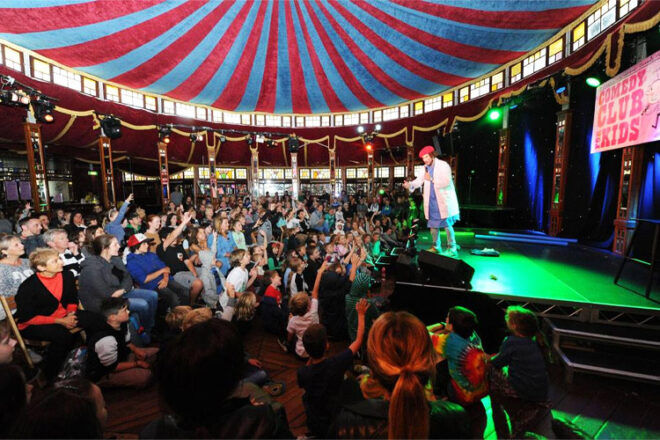 If your munchkins fancy themselves as budding comedians (don't they all?!), don't miss the Comedy Club for Kids this Autumn in the sensational Spiegeltent. From stand-up and musical comedy to sketch and circus performances, it's a kid-friendly event with a little bit of everything.
When: 3 – 18 April 2021
Where: The Famous Spiegeltent, Arts Centre Melbourne
Details: Arts Centre Melbourne
Luna Park Egg Hunt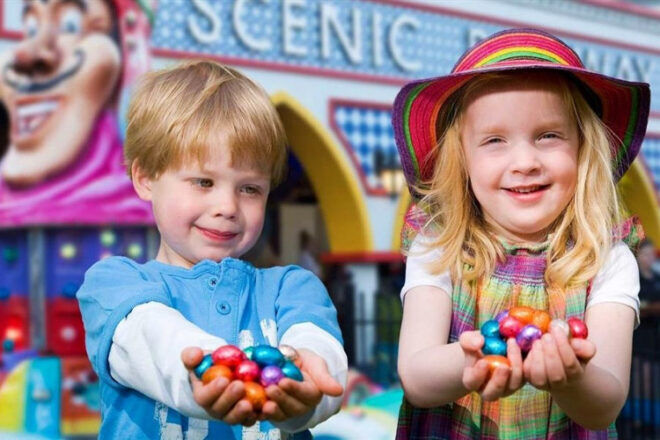 Rady, set…HUNT! This Easter Saturday and Sunday, Luna Park is once again holding its most egg-cellent egg hunt, with over 30,000 Chocolatier eggs up for grabs!
Easter tickets are available for kids of all ages and include participating in the egg hunt and unlimited rides. Block out a whole day for this one.
When: 3 – 4 April 2021
Where: Luna Park, Melbourne
Details: Luna Park
Vida Melbourne Latin Festival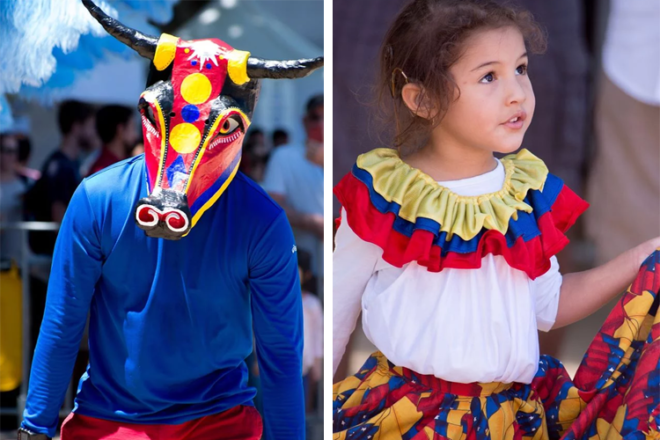 If you're looking for cultural things to do in Melbourne with kids, head down to the King's Domain (right next to the Botanic Gardens) for a weekend full of Latin food, dance, music and fun.
In the kids' hub, pipsqueaks will be treated to face painting, puppet shows, magic shows and even maraca-making workshops. Viva!
When: 30 April – 2 May 2021
Where: Tom's Block, King's Domain
Details: Vida Melbourne Latin Festival
Shaun the Sheep's Circus Show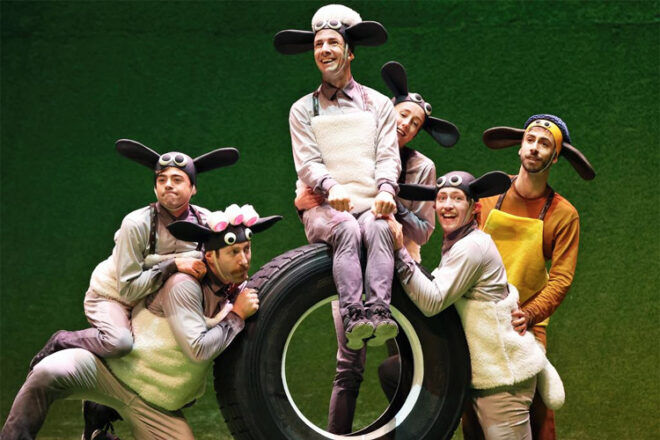 Australia's famous circus ensemble, Circa, joins forces with studio Aardman to bring Shaun the Sheep to the Melbourne stage, and it's the cutest 'first circus' for preschoolers baa none.
Full of comedy and daredevil feats, this show follows Shaun and the flock as they tackle an irksome tick infestation and try to save the postman from an angry Blitzer.
When: 14 – 18 April 2021
Where: Regent Theatre
Details: Shaun the Sheep's Circus Show
Jurassic World by Brickman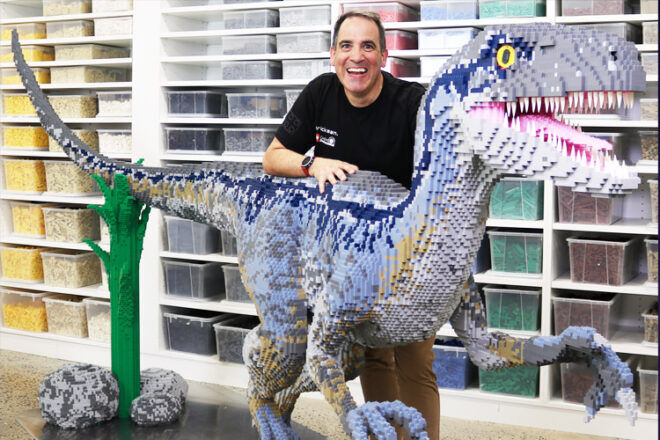 Scale-size dinos made out of LEGO? You got it – and that why this isn't just any LEGO display, it's a fully immersive adventure that will absolutely thrill the socks off brick-builders.
Created by Brickman, a certified professional LEGO builder (yes, it's an actual job), this show includes scenes props and activities crafted from millions of LEGO bricks. There are loads of fun dino facts for kids to enjoy, as well as plenty of bricks to get creative with.
When: 1 April – 31 May 2021
Where: Melbourne Convention and Exhibition Centre
Details: Jurassic World by Brickman
The Listies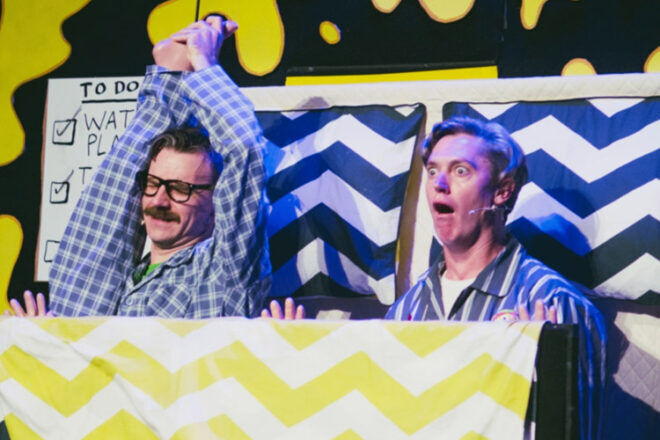 Back by 'poop-ular' demand and packed with 'magically stupid stuff', this laugh-a-minute show is not to be missed. Watch as the Listies take on bedtime, complete with toilet paper cannons, lullabies of doom and a cacophony of gags.
When: 3 – 18 April 2021
Where: Fairfax Studio, Arts Centre Melbourne
Details: Arts Centre Melbourne
Barbie Dreamtopia High Tea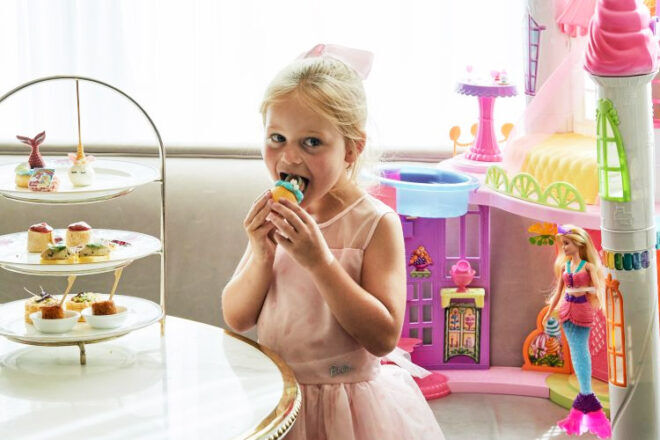 Still a bit of room left after all those Easter eggs? Located at the Langham Hotel's Aria Lounge, the Barbie Dreamtopia High Tea gives families an opportunity to dive into a magical world of cupcakes, tiaras – and more cupcakes.
Kids are invited to dress up however they like before tucking into a feast fit for royalty.
When: 6 – 23 April 2021
Where: Aria Bar, The Langham Hotel
Details: The Langham Hotel
Harry Potter and the Cursed Child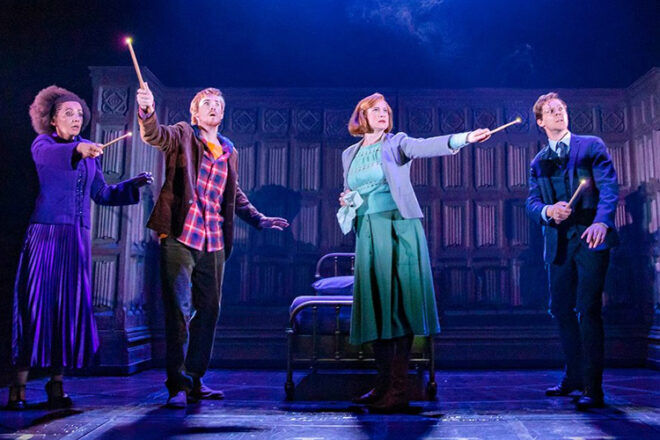 This multi-award-winning theatre production will transport you and your little Potterheads into a world of magic, spells and mayhem. Based on the eighth Harry Potter book (with Harry as an adult), it's the first official live show based on the bestselling series.
Keep in mind that this show is presented in two parts and they are intended to be watched in order and preferably on the same or consecutive days – so you might want to make a weekend of it.
When: From 24 March 2021
Where: Regent Theatre
Details: Harry Potter The Play
Virtually Invisible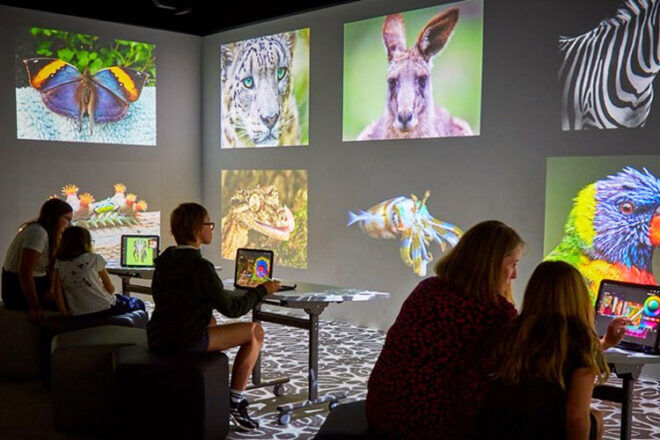 If you're after interactive things to do in Melbourne with kids who love digital experiments, this hands-on workshop could be just the ticket. It explores the fascinating world of camouflage and it's suited for creative kiddos aged 8 – 12 years.
The 1.5-hour workshop encourages kids (and an accompanying adult) to collaborate as they work towards building an augmented face-paint mask inspired by patterns of camouflage found in nature.
When: 6 – 16 April 2021
Where: Melbourne Museum
Details: Virtually Invisible
Don't Mess With The Dummies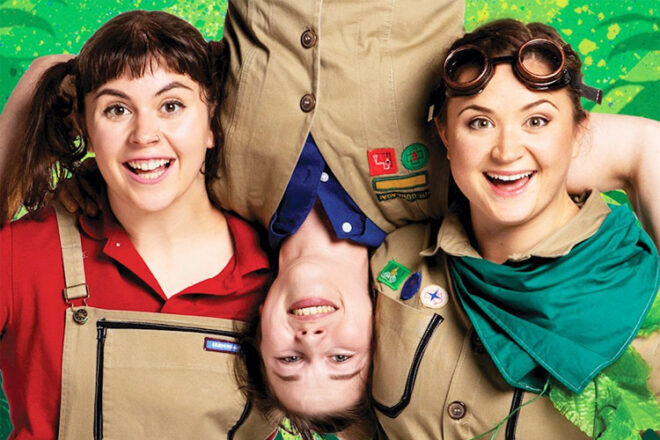 Physical comedy meets circus thrills in this action-packed adventure with the Dummies. Watch as they swing, tumble, skip and rumble their way through the jungle to the beat of a cracking soundtrack.
When: 3 – 18 April 2021
Where: The Famous Spiegeltent, Arts Centre Melbourne
Details: Arts Centre Melbourne
Marine Mayhem with PJ Masks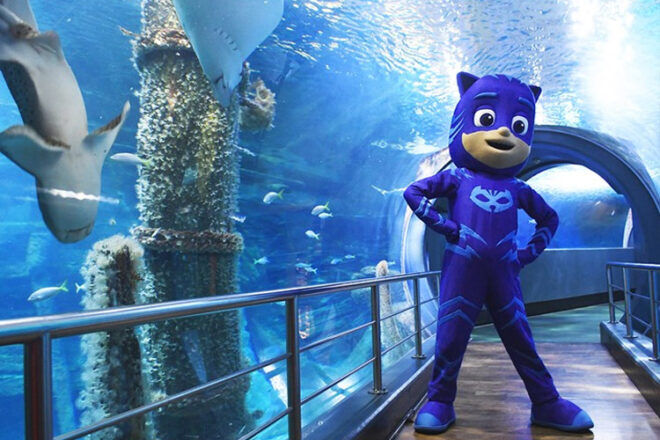 These school holidays the Melbourne Sea Life Aquarium invites little adventurers on an underwater mission. Armed with an activity book, kids have to explore the aquarium and match up animals as well as visit the PJ Masks interactive stations.
Don't miss Catboy outside the penguin playground on specific dates!
When: From 17 March 2021
Where: Sea Life Aquarium
Details: Sea Life
Charlie and the War Against the Grannies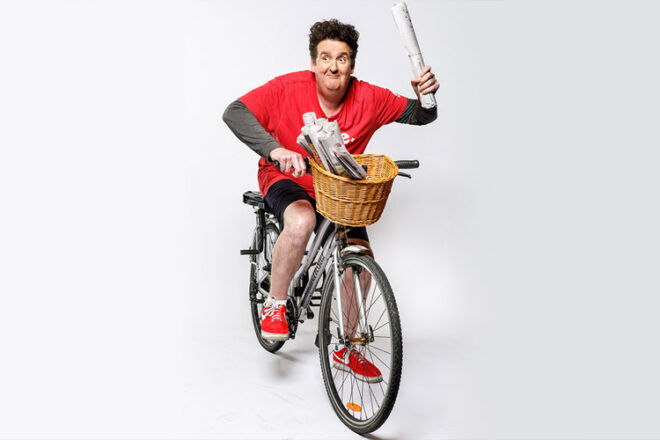 Based on the book by Alan Brough of Spicks and Specks and filled with shadow puppetry, live music and actual stinky farts, this musical comedy is set to be a laugh a minute.
The show follows the story of 12-year-old Charlie who discovers that a league of evil grannies are plotting to set up a 'Granny State', forcing kids to wear brown cardis and go to bed early. The horror!
When: 14 – 24 April 2021
Where: Playhouse Theatre
Details & Tickets: Arts Centre Melbourne
Day Out With Thomas at Puffing Billy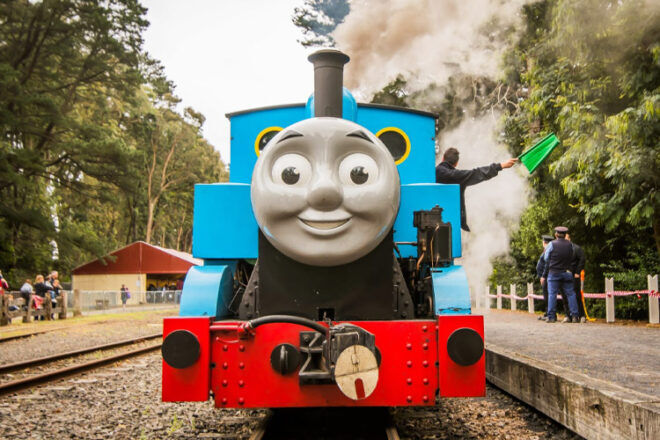 Thomas and the gang return to Puffing Billy this season giving fans the chance to meet their favourite choo-choo and the Fat Controller.
The day also includes a scavenger hunt, a live show, plenty of photo ops with the Troublesome Trucks and Bulgy Bus and an activity pack.
When: 13, 14, 27, 28 March / 17, 18 April 2021
Where: Puffing Billy, Gembrook Station
Details: Puffing Billy
Escape the Gaol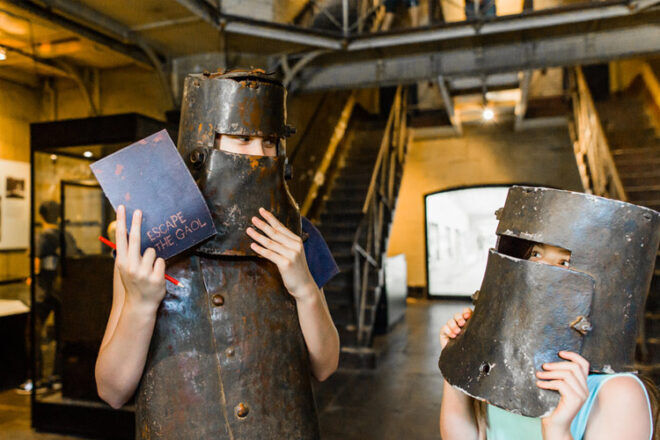 In this immersive scavenger hunt, brave little prisoners (that's your kids) have to follow the clues, solve the riddles and uncover the ultimate escape plan. Just watch out for the guards!
Recommended for ages six and up, Escape the Gaol is included in general admission to the Old Melbourne Gaol. Kids will receive their own activity booklet for the event.
When: 24 February – 30 June 2021
Where: Old Melbourne Gaol
Details: Old Melbourne Gaol
Boats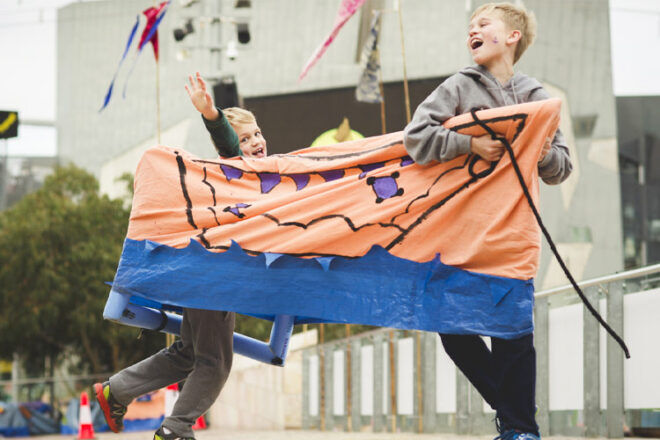 This FREE event is perfect for all the active little buccaneers out there. Inspired by stories of refugee families who have journeyed across seas, Boats encourages kids to work together with their crew to guide their boats to safety.
But it won't be smooth sailing the whole time – Polyglot's theatre artists will be there in the form of castaways or ocean elements to keep little sailors on their toes.
When: 9 – 17 April 2021
Where: Arts Centre Main Lawn
Details: Arts Centre Melbourne
The Grizzlies
This award-winning movie is based on a true story about a teacher who takes on a position at a high school in a tiny arctic town. In an effort to inspire troubled kids to find motivation and inspiration, the new teacher introduces them to the sport of lacrosse. Suitable for mature teens.
When: From 18 March 2021
Where: Cinemas Australia-wide
Details: The Grizzlies
WE LOVED: We were lucky enough to get a pre-screener to The Grizzles and it's a beautifully shot film that opens up conversations about important youth issues, including suicide and substance abuse.
---
Know more brilliant things to do in Melbourne with kids this season? Contact us and let us know.
Read these roundups next…
Find more things to do in Melbourne with kids
Looking for more great activities and adventures to enjoy with the kids this season? Search online by jumping into one of our closed Facebook groups and ask thousands of other Australian mums what they suggest.
Click here >> Mum's Grapevine Facebook Groups << to join your group today!