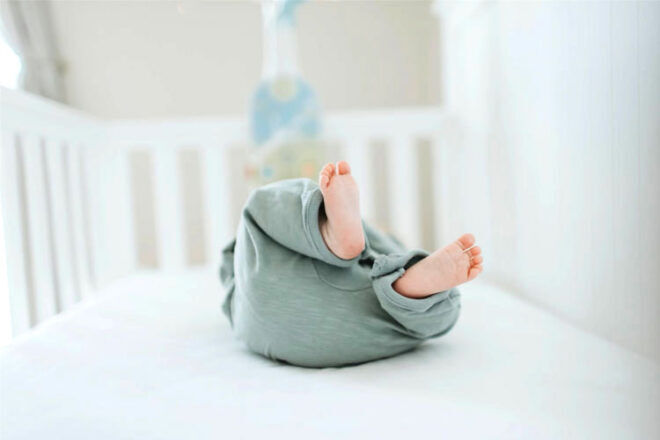 Like most first-time mums, Stacey Kirby carefully researched every baby purchase, including which bassinet to buy for her newborn. But it wasn't until her baby was home that she discovered there are no Australian safety standards for bassinets.
It's prompted the new mum to petition the federal government to introduce bassinet safety standards, to 'protect Australian babies'.
Stacey says she pored over every article on setting up a safe sleep space for her new baby, before furnishing her baby's nursery.
"While shopping for a cot and a bassinet I trusted the companies had met the safety standards set by the government," Stacey told Mum's Grapevine. "I remember the sales lady talking to me about how safe the ones we were looking at happened to be. Which for us was a massive positive as we had been told how important safe sleep was for the first six to 12 months of our daughter's life.
"We did our research and looked at the Red Nose website and read every article they supplied on the topic. Then came the first night at home, we felt prepared that we had everything set up to how we needed. After our first night at home we had a midwife visit. I remember how shocked I felt when she informed me that the Australian government doesn't have any safety standards in place to regulate our bassinets. I honestly couldn't believe it."
The concerned mum says that parents aren't being given the full picture when it comes to their baby's sleep safety. "We have put so much trust in the government to regulate products to make sure they are safe but there is nothing. There is so much information on how important safe sleep is for the first 6-12 months of a baby's life but no one is regulating how safe these products are.
"Babies have no voice, their safety is up to us and we are putting our trust into companies who don't have to test and meet a set standard before they can sell their products. To me, safety is my number one priority when it comes to my daughter. It should be black and white not this grey area it currently is."
Bassinets failing safety tests
While all cots sold in Australia must comply with the Australian Standard, the same doesn't apply for bassinets.  Consumer advocacy group CHOICE recently tested several bassinets against key safety requirements, with the majority failing.
"Five out of eight models tested revealed safety risks including potential suffocation and choking hazards, head and limb entrapment, insufficiently firm mattresses and sharp wicker splinters," CHOICE stated. "These new results follow our 2019 test, which saw 24 out of 33 bassinets – that's over two-thirds – also fail key safety requirements."
"Unfortunately, there's currently no mandatory Australian safety standard for bassinets like there is for cots,"  CHOICE baby product expert Kim Gilmour said. "This means that year after year we continue to see unsafe bassinets make it onto the shelves.
"These major safety failures reiterate the need for a new product safety law, which CHOICE continues to campaign for. This new law would stop unsafe products from ever hitting the market in the first place."
Stacey Kirby has started a petition to lobby the government for bassinet safety standards. "Most people I have spoken to about this topic that were not aware of this have been completely shocked and haven't believed me until they have done their own research. They like myself and many others out there believed that this would be common sense for the government to have something already in place.
"I am hoping to get the attention of the Australian government to let them know this is something that needs to change. That Australians want to make sure our babies are safe and the products that we buy have had safety tests done and are up to a high standard of safety."
Bassinet buying tips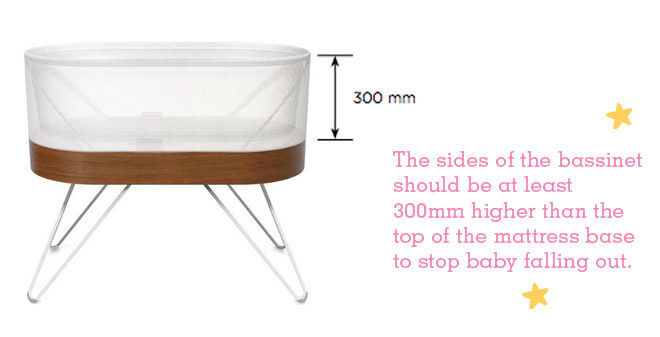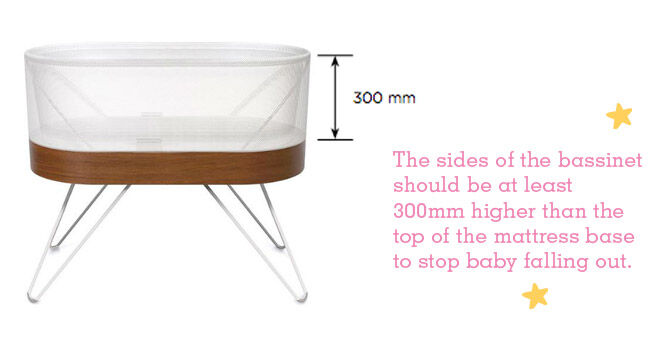 According to Product Safety Australia here are a few key features to look for when choosing a bassinet.
Make sure the side of the bassinet are at least 300mm higher than the top of the mattress base
It should have a wide, stable base and sturdy bottom to keep it from toppling over
The mattress should be firm and fit well, and be no more than 75mm thick
If it has folding legs, make sure they're not able to accidentally fold while baby is in the bassinet
Something else to look out for is bassinets that have been tested against standards in other countries, including the European standard EN 1130 and the US standard ASTM F2194.
Read next …
Stay informed on creating a safe sleep space for baby with these next articles: