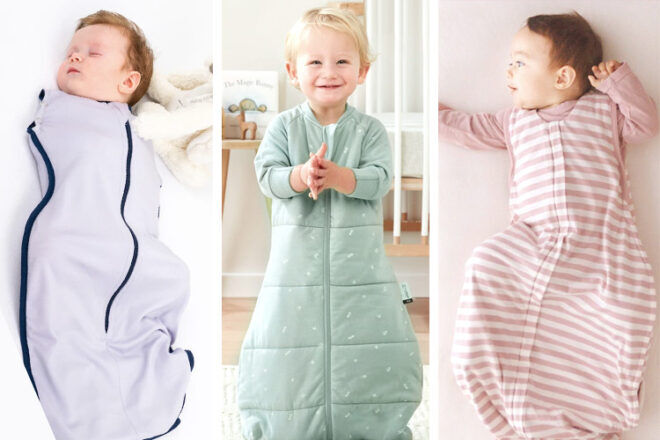 Many parents choose to use a sleeping bag or sleep suit to help babies sleep soundly.
Like a wearable blanket, a baby sleeping bag helps regulate baby's body temperature, gives little legs plenty of wriggle room without compromising healthy hip development, and keeps loose bedding out of the cot. In Australia, they're available in a range of sizes from newborn up to toddler and come in different levels of warmth (called TOGs) to suit the season.
We list the important features to consider when buying a sleep bag for your babe and review 12 designer brands other mums recommend.
Features to look for when buying baby sleep suits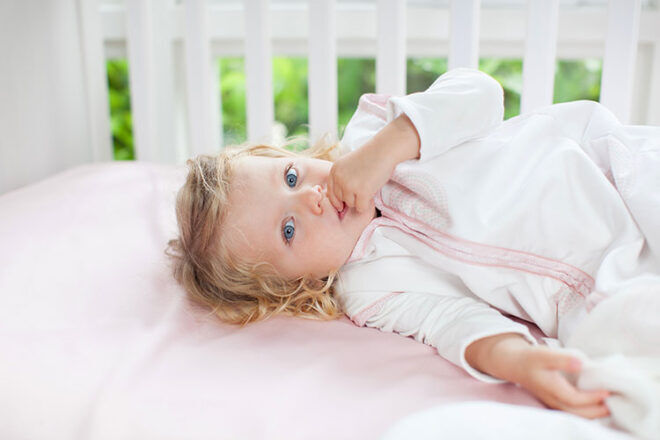 Safety – Red Nose Australia states that the safest sleeping bag is one that has no hood or lose cords, either armholes or sleeves, and a neck hole is not to wide that bub can wriggle down into the bag.
Material – Choose a material that's breathable and prevents overheating by naturally allowing air to circulate. You may pay a little more but cotton, bamboo or wool are good options.
Room to move – A newborn sleep suit should fit well at the top while still allowing plenty of room for healthy hip development and leg movement.
Washability – Because dribble, nappy blowouts and reflux happen daily, look for sleep bags that are machine-washable, quick to dry and keep their shape even after a gazillion washes.
Longevity – Having button up armholes means bub can wear it as a newborn sleeping bag with arms tucked in, and later as a sleeveless sleep suit. Adjustable armholes are also handy when it's time to transition from a swaddle to a sleeping bag.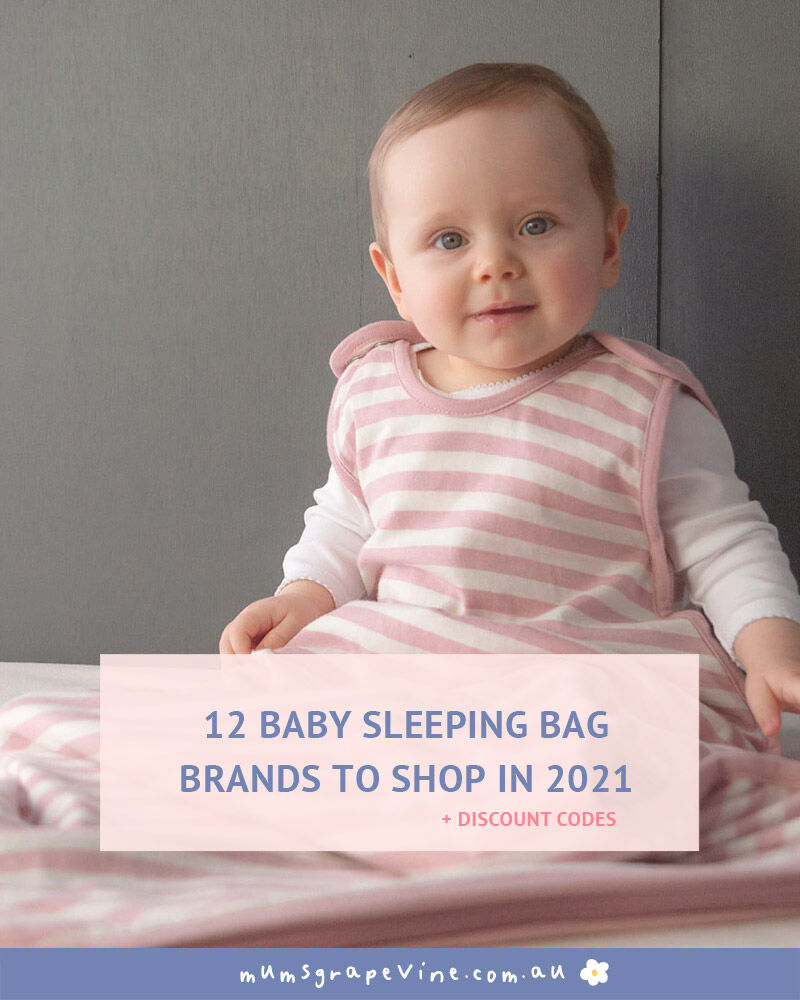 12 baby sleeping bags for a cosy, snug sleep
To help you find sleep suits that are right for your newborn or toddler, we've compiled this handy list of fab brands (including exclusive offers!) to get you started in your search.
Some brands have offered free shipping and exclusive offers for Mum's Grapevine readers. These offers may include exclusions and expiry without notice. Please direct all inquiries directly to the linked website.
Here are 12 baby sleeping bag brands in Australia:
ergoPouch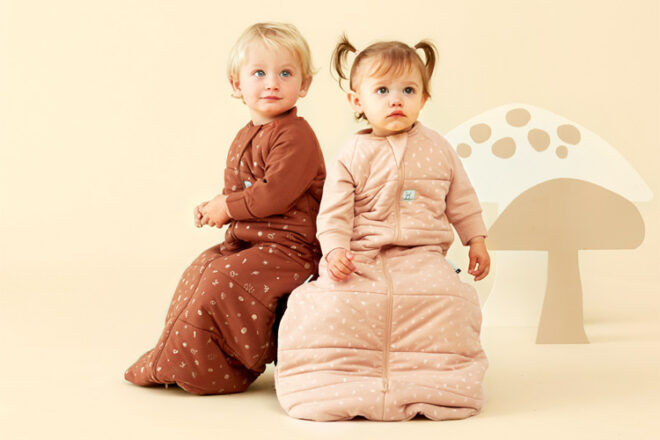 Made from gentle, unbleached organic cotton, ergoPouch Sheeting Sleep Bags are ideal for arms-out sleepers from around three months to six years of age. Available in five styles, it's ergonomically designed with a wide fit and stretch inserts for wriggle room.
---
Hello Night Kids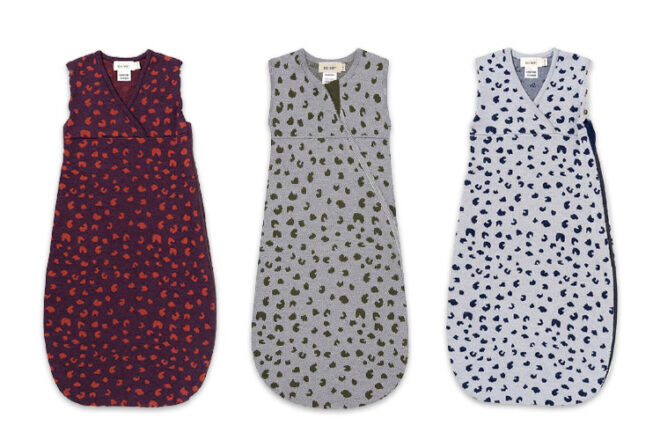 Crafted from 100% Australian superfine Merino wool, these knitted wearable blankets excel when it comes to warmth and comfort in cooler climes. They have extended side zips for easy changes and button closures at the armholes for tucking arms in.
Hello Night Kids Discount Code:
Use code 'MGV20' for 20% off baby sleep bags.
---
Tommee Tippee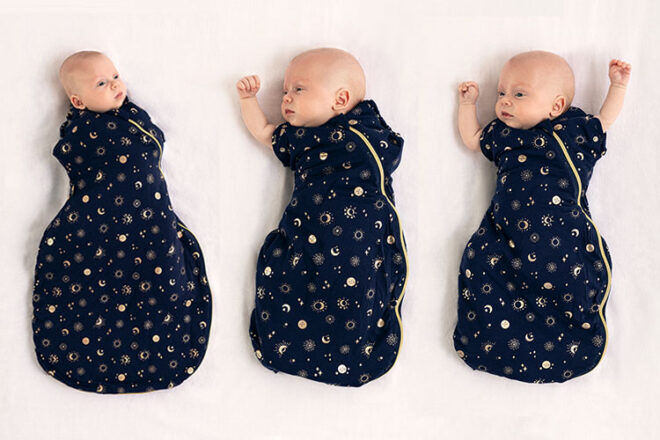 Super-cosy Tommee Tippee Grobags are designed to be snug up top and roomy down the bottom to allow for a hip-healthy leg position. The bamboo-rich luxury range with signature ALOEKIND lining is infused with Aloe Vera to soothe and comfort precious skin.
---
Baby Loves Sleep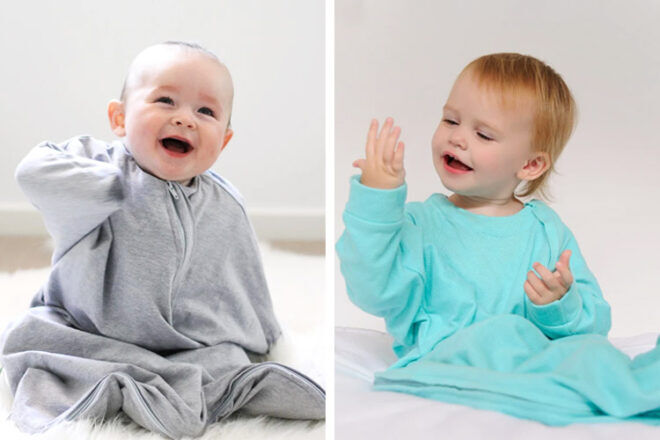 Toasty from top to toe, award-winning and hip-friendly Baby Love Sleepy Hugs sacks come fitted with full-body zips as well as a zip along the bottom for easy nighttime changes. Plus, as bub grows, the 'Hands In and Out' style allows babes to self-soothe as they settle to sleep.
Baby Loves Sleep Discount Code:
Use code 'MUMSGRAPEVINE20 ' for 20% off storewide.
---
Merineo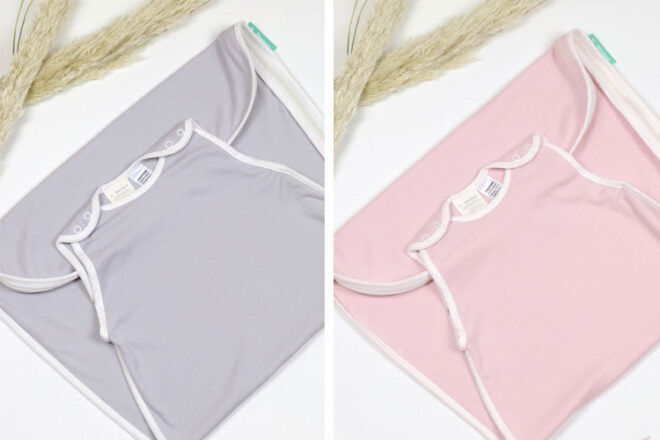 Made in Australia with 100% superfine Merino wool, Merineo's breathable bags help to regulate bub's body temperature throughout the night. In three contemporary shades, they come with underarm press studs that can be adjusted as baby grows.
---
Purebaby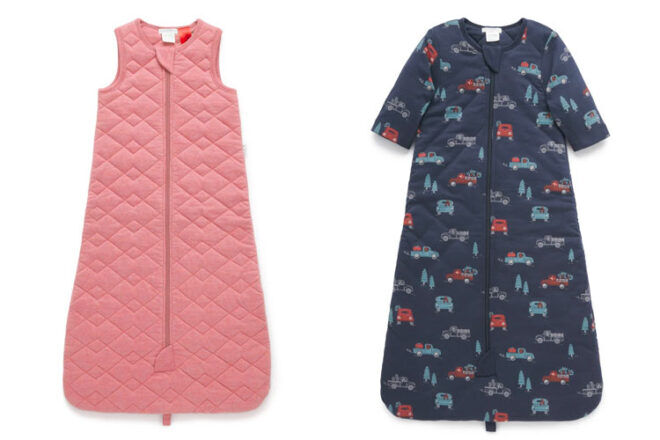 Made with 100% organic cotton, these sleep bags come with or without sleeves in a range of TOG weights, from lightweight 0.5 up to 3.0 for winter. Each bag has a full-length zip with safety folds and comes in three sizes.
---
Woolbabe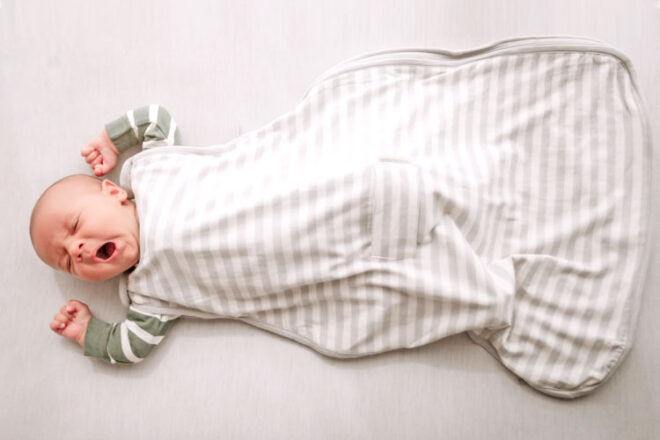 Award-winning Woolbabe sleeping sacks combine classic styles with temperature-regulating fabric to give bubs the best chance at sleeping soundly. Styles include the versatile '3 Seasons' for all-year comfort and the Merino-filled 'Duvet' with a quilt-like weight.
---
Bubbaroo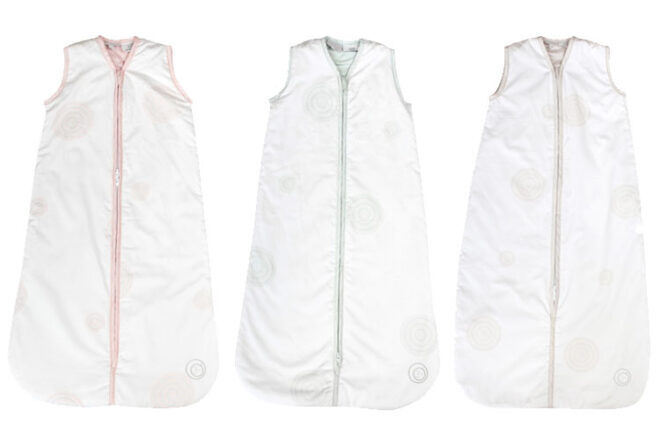 The award-winning Bubbaroo Joey Swag keeps bubs covered all night long without the need for blankets. Made from breathable natural fibres with organic cotton sateen lining, these bags come in 4 sizes and have two-way zippers. Heavier TOGs feature Australian wool padding.
Bubbaroo Discount Code:
Use code 'MGV15' for 15% off storewide.
---
Love To Dream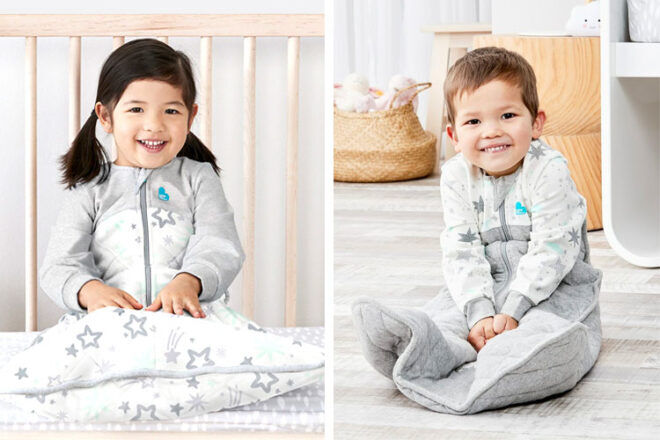 Like a wearable blanket, this winter-weight Love to Dream sleepsuit comes with fitted sleeves and is made with organic cotton and Merino wool for the ultimate warmth. There's a handy twin-zipper for fuss-free nappy changes and plenty of stretch for frisky legs.
---
Sweet Cheeks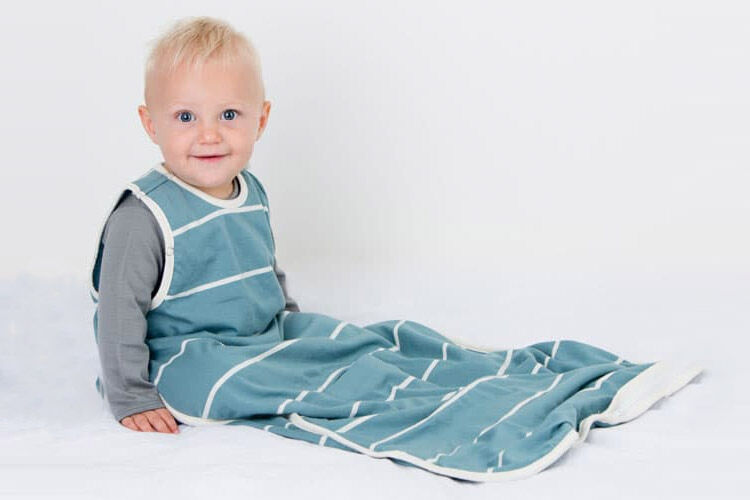 Made from 100% sustainable, natural products, Sweet Cheeks Merino winter bags have a unique 3-layer system, ensuring no more waking from the cold. Luxuriously soft layers of merino wool, covered in 100 per cent natural organic cotton. Bliss.
---
Cotton On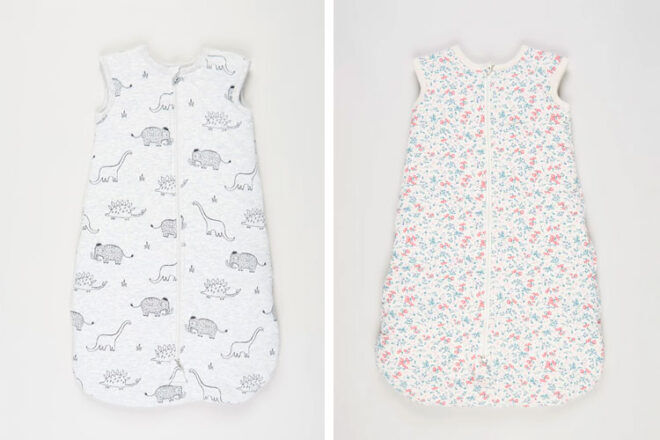 Available in three pretty patterns and quilted for warmth, Cotton On baby sleep bags keep cutie pies cosy as the temperatures drop. They come fitted with double-ended zippers and handy snap buttons on the reverse for adjusting the fit.
---
Best & Less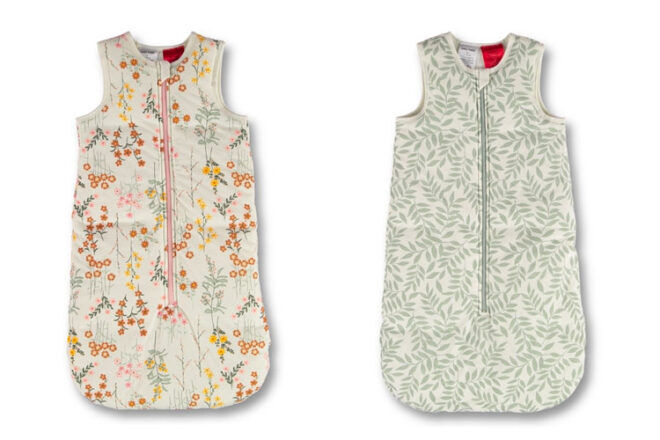 Fully padded and lined for sublime comfort, Best & Less sleep suits have a handy front zip for quick and easy nappy checks. Hug-factor guaranteed with their beautiful range of designs to choose from.
---
Billie + Bobbie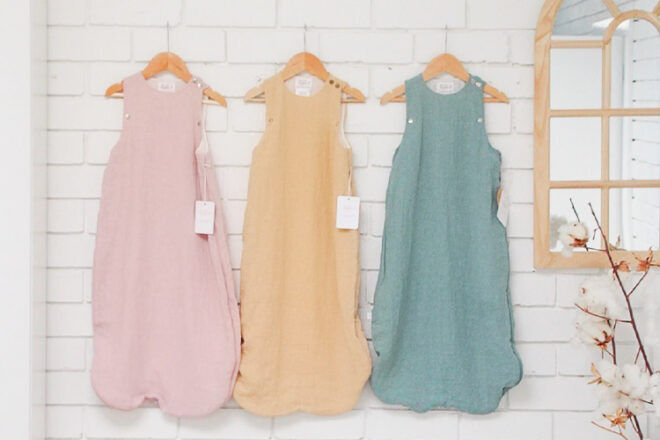 In a choice of all-season or winter styles, these deliciously snug suits feature merino wool lining to regulate baby's temperature through the night. Made in Australia, they have adjustable nickel-free underarm poppers and come in three stunning shades.
---
FAQs
To help you feel more confident about buying a sleep bag for your baby, we've answered some of the most commonly asked questions.
What is a TOG rating?
The acronym TOG stands for 'Thermal Overall Grade' which is a unit of measurement for calculating the amount of thermal insulation a product has. For sleeping bags in Australia, TOGs usually range from 0.5 up to 3.5, with the highest TOG rating being the warmest garment.
At what age can babies use sleep suits?
Many are suitable from birth, just check the product's description carefully. Some bubs prefer to be wrapped and swaddled in the early days, others take to sleep suits easily.
How many sleeping bags do I need?
It's useful to have at least two bags on hand, one in a low TOG for day naps and warmer months, and another in a higher TOG for winter. But, this depends on how often you need to wash the bags.
What should babies wear under a sleeping bag?
Your little one will need to wear appropriate sleepwear under the sleep suit or bag. Most brands provide a handy TOG guide with instructions on which underclothes to wear for the weight of your particular bag or suit.
---
This post includes affiliates and/or paid inclusions. See our Disclosure Policy.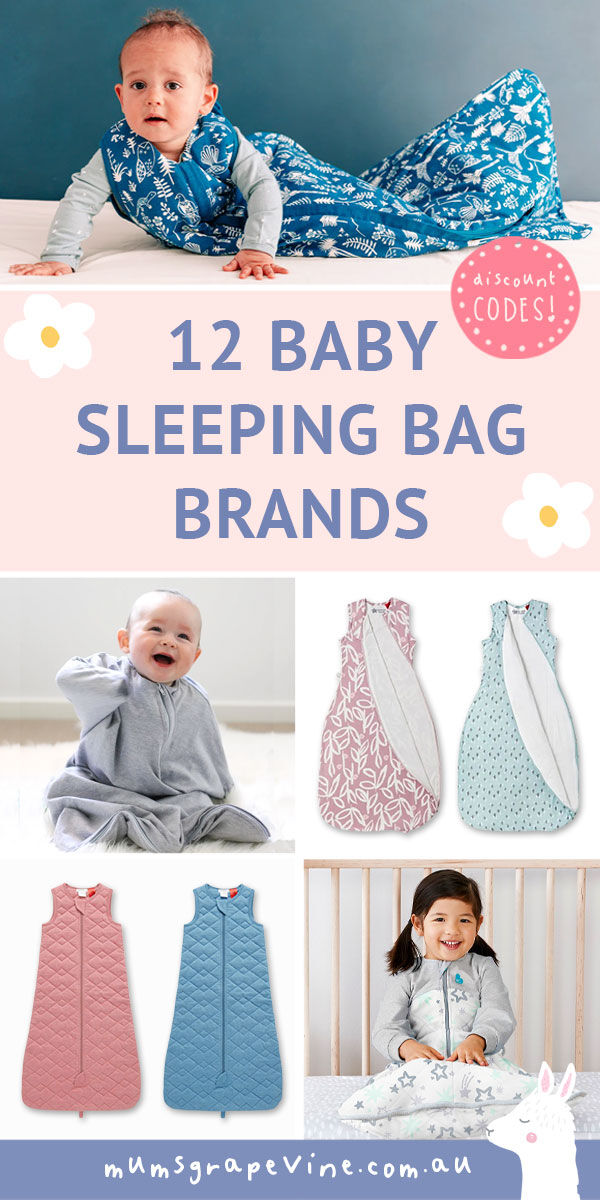 Know a brand we should add to this list? Contact us and let us know.
Read these roundups next