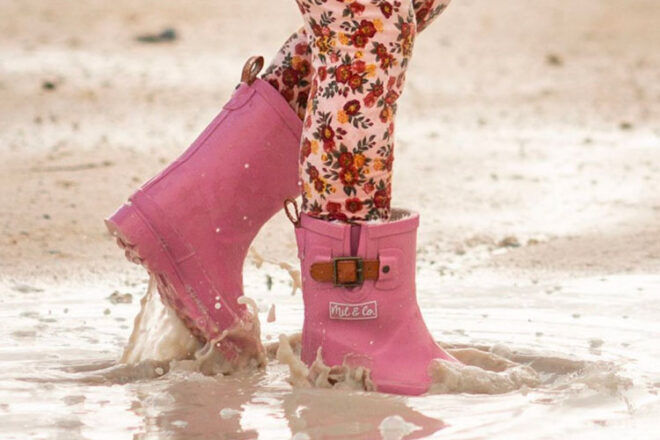 When the rainy season hits, comfy kids' gumboots become essential accessories for outdoor play. Versatile and full of fun, a pair of kids' rain boots that's easy to pull on when they're in a hurry to get splashing makes life so much easier for parents.
Perfect for jumping in puddles, frolicking in Autumn leaves or playing at preschool, kids' gumboots go a long way in keeping tiny toes dry during playtime – and they look mighty cute to boot.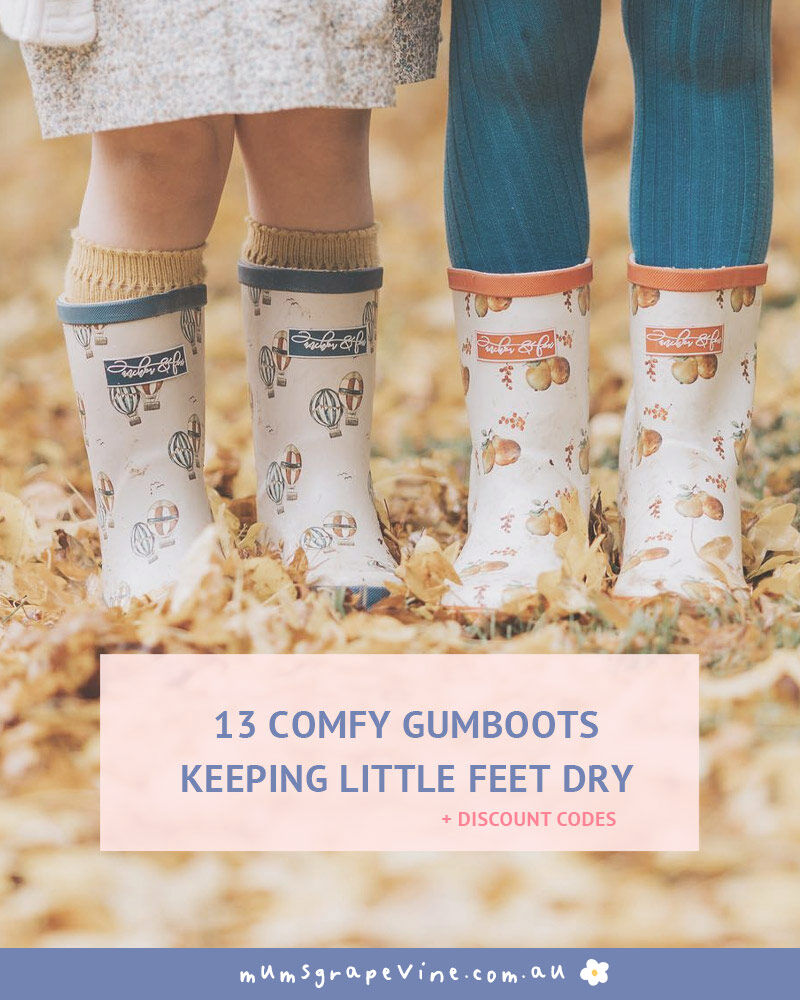 13 adorable kids gumboots for outdoor play
To help you find a super-cute pair of kids' rain boots, we've compiled this list of fab brands available in Australia to get you started in your search.
Some brands have offered exclusive offers for Mum's Grapevine readers. These offers may include exclusions and expiry without notice. Please direct all inquiries directly to the linked website.
In no particular order, here they are:
Korango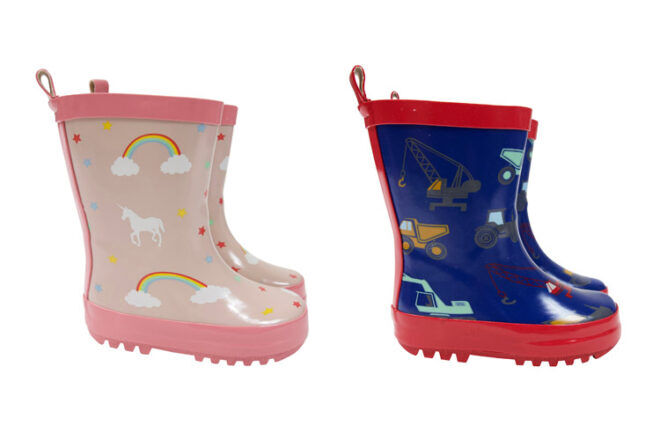 With big pops of colour and adorable contrast edging, these are kids' rain boots that will get noticed. They are 100% waterproof and come with a durable underfoot grip and a handy loop for pulling them on nice and quick.
Korango Discount Code:
Use code 'MGV20KORANGO' for 20% off storewide.
---
Demar Boots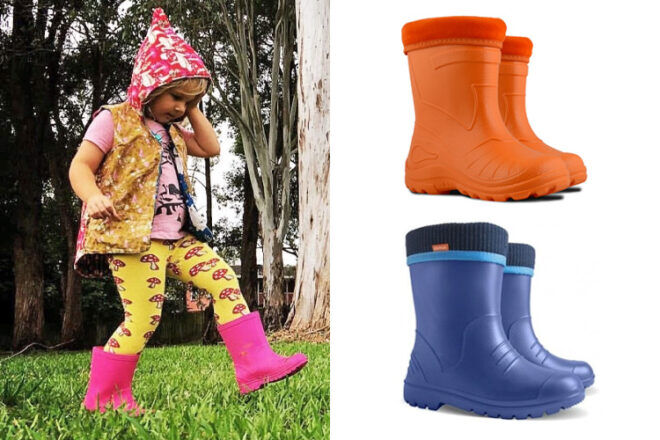 Unlike traditional rubber gumboots, this waterproof range is crafted in Europe from EVA to be ultra-lightweight.  In a choice of Dino or Otter styles, each boot comes with a removable and washable thermal sock to keep toes extra toasty in the cool months.
---
Merry People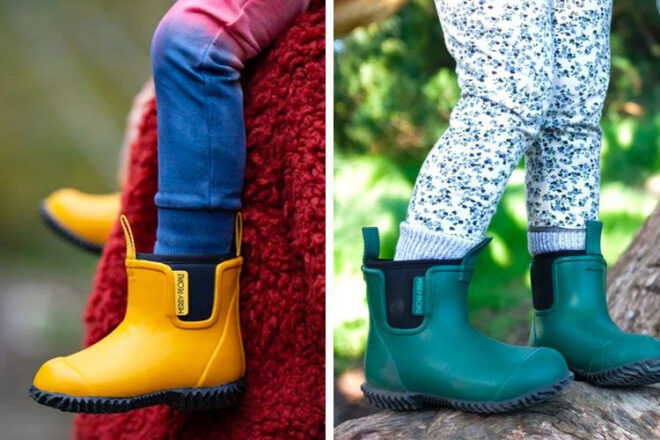 These versatile gumboots from Melbourne brand Merry People can be worn as everyday boots or gumboots. The flexible neoprene lining makes them easy to slip on and off, and they're 100% waterproof. Each has extra tread on the sole for super-speedy tots.
---
Hatley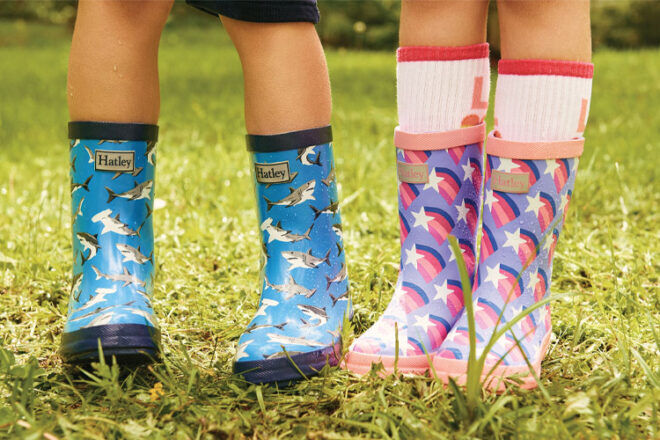 Available in matte or shiny finishes, these handmade vulcanised rubber gumboots are durable enough to be worn every day in the wetter months. They come in a huge range of styles and feature non-slip soles, removable insoles and a waterproof exterior.
---
Crywolf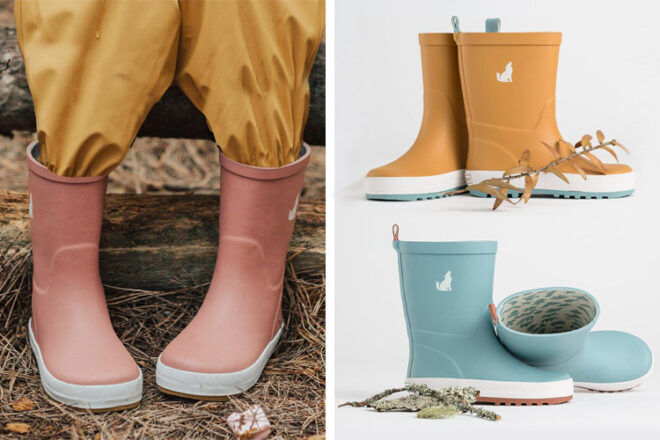 With muted tones and a contemporary matte finish, these rain boots are as beautiful to look at as they are for little feet to wear. Designed in New Zealand, they have a cosy cotton lining for a snug fit and a high-grip tread to stand up to non-stop play.
Kawaii Kids Discount Code:
Use code 'MGV15' for 15% off storewide.
---
French Soda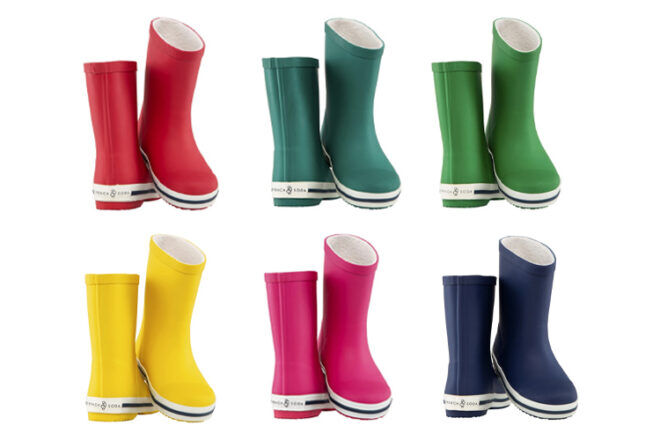 Ooh la la. Designed in Australia and available in a rainbow of candy colours, these beautifully bright gumboots have pint-sized puddle jumpers looking and feeling fab. They each come with a toasty fleece lining and a slip-resistant sole.
---
Bobux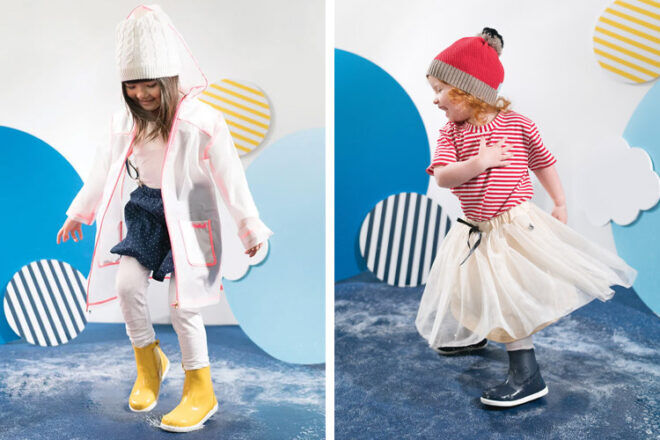 Boasting a premium leather upper, this ingenious scuff-resistant footwear comes with SplashTEX waterproof membranes to keep water out and little feet dry. Choose from adorable merino-lined Paddington Boots or retro Grass Court Shoes.
Bobux Discount Code:
Use code 'BBX_MGV_15' for 15% off sitewide for up to 3 items.
---
Little Nation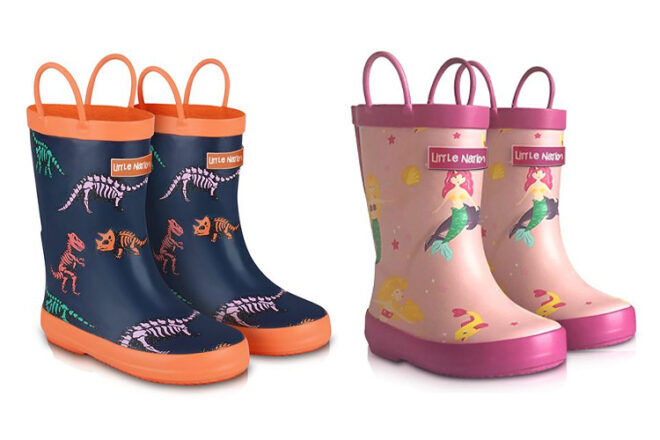 Dinos and mermaids and trucks, oh my! This fun-packed range of children's gumboots includes four fun designs to match every personality. Made of eco-friendly rubber and completely free of harmful chemicals, they come with pull-on handles and contrasting soles.
Little Nation Discount Code:
Use code 'MGV' for 15% off Little Nation gumboots.
---
Anchor & Fox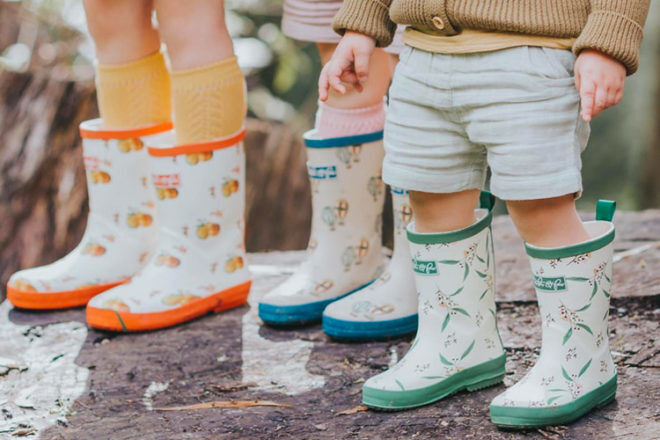 Featuring comfy padded insoles and handpainted designs that include native flora, hot air balloons and dandelions, Anchor & Fox gumboots are too beautiful to save for a rainy day. Each has coloured soles and a handy pull tab that's designed to get you out the door faster.
---
Bisgaard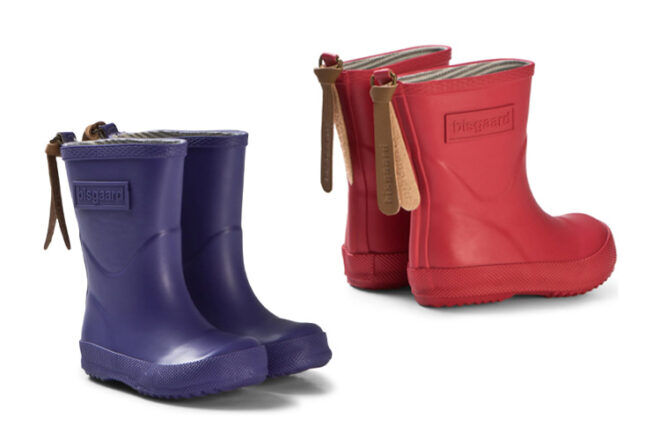 These Danish delights boast a gentle cotton lining that helps absorb sweat, regulate the temperature of little feet and keep the skin dry. Sustainably made from natural materials, Bisgaard gumboots provide support and stability to young feet for hours of play.
Billy Lou Kids Shoes Discount Code:
Use code 'MUMSGRAPEVINE' for 20% off all online orders only.
---
Boho&Mooi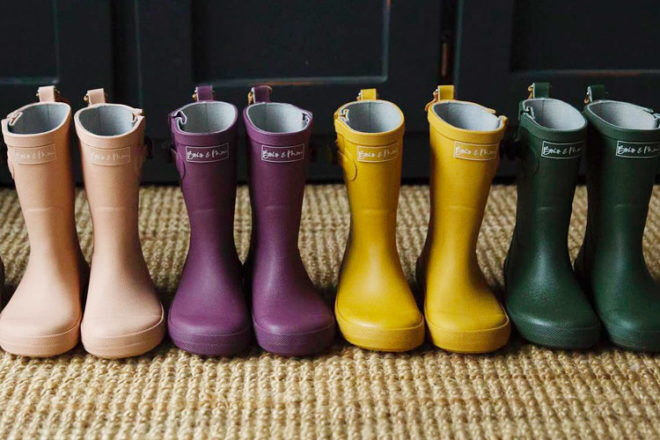 With a hauntingly beautiful colour palette including Disco Pink, Army Green, Tangy Mustard, Plum and Nudie Coral, Boho&Mooi wellies are the stuff of mid-winter dreams. Made from natural rubber with a soft insole, they're also lined for supreme comfort.
---
SKEANIE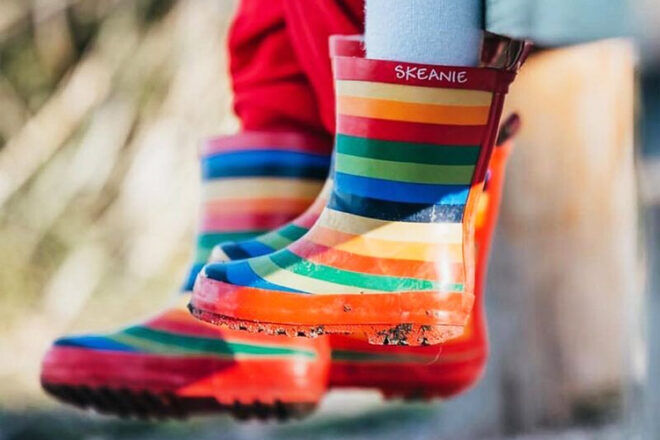 SKEANIE's range of colourful cuties is made from soft natural rubber and cotton lining to keep feet protected, comfy and ready for hours of puddle play. Choose from three bright styles, each with a handy pull-up loop, durable tread and oodles of style.
SKEANIE Discount Code:
Use code 'RAIN20' for 20% off when you buy 2 or more pairs of gumboots. Includes free shipping Australia-wide.
---
6. MIL & Co Boutique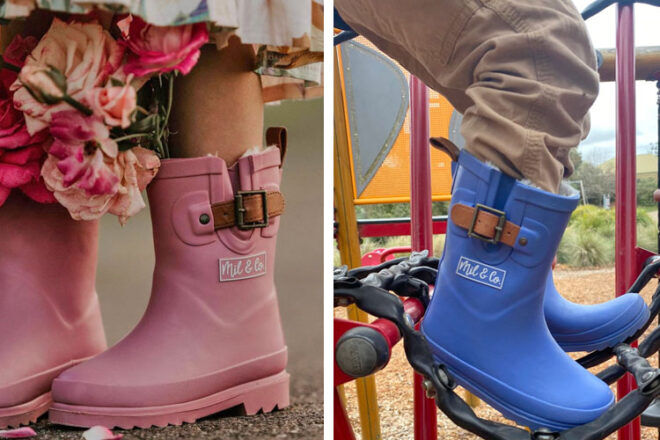 Vintage-inspired and designed in Melbourne, these natural rubber kids gumboots are a thing of beauty and function. Fully lined with Berber fleece for comfy rainy walks, the sweet leather buckle doesn't just look oh-so-chic, it helps get a perfect fit too.
---
Clarks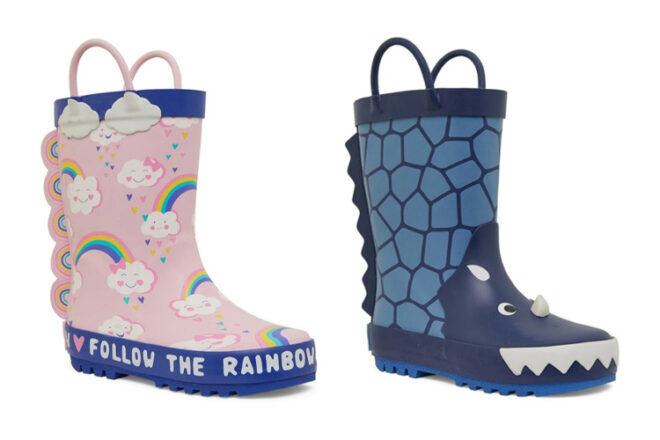 They're the cute little boots packing a whole lot of 3D fun. Each comes with kid-friendly pull-up handles and a heavy-duty rubber sole for maximum grip all day long. Breathable and comfy, they're both fully waterproof.
---
This post includes affiliates and/or paid inclusions. See our Disclosure Policy.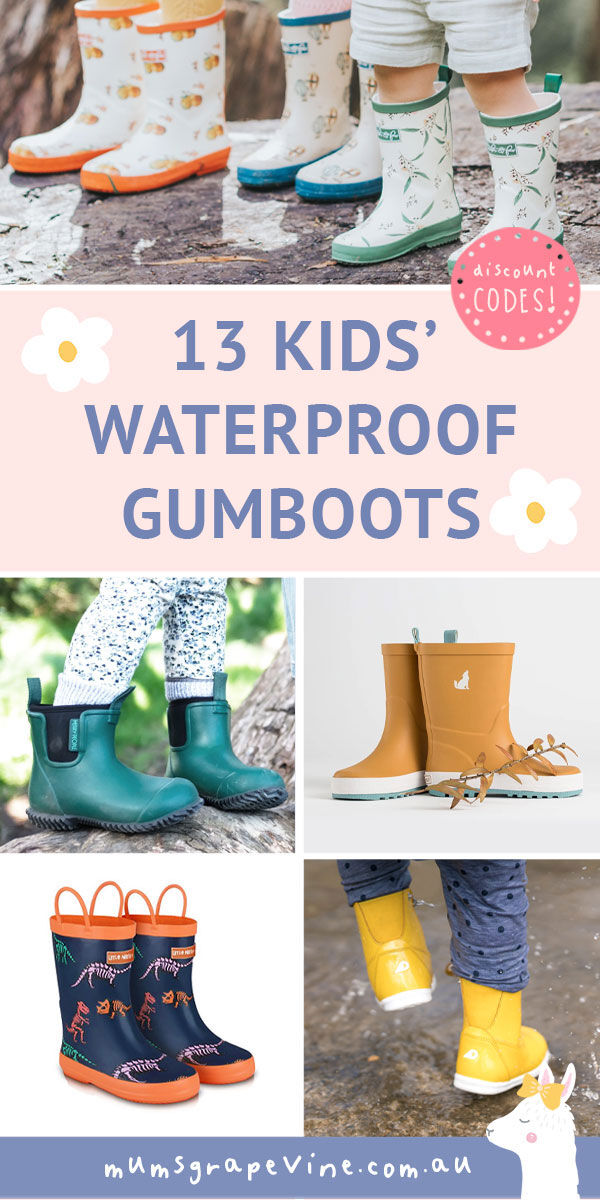 Know a brand of kids gumboots that should be added to our list? Contact us and let us know.
Find more winter must-haves …
Continue your search for the best kids' gumboots
Looking for a pair of kids' gumboots and still not sure if any of these are right for you? Join one of our Facebook Baby Groups and ask thousands of other mums what they recommend. They are grouped together by baby's birth date so everyone is going through the same stages at the same time.
Click here >> Mum's Grapevine Facebook Groups  << and find your group today!