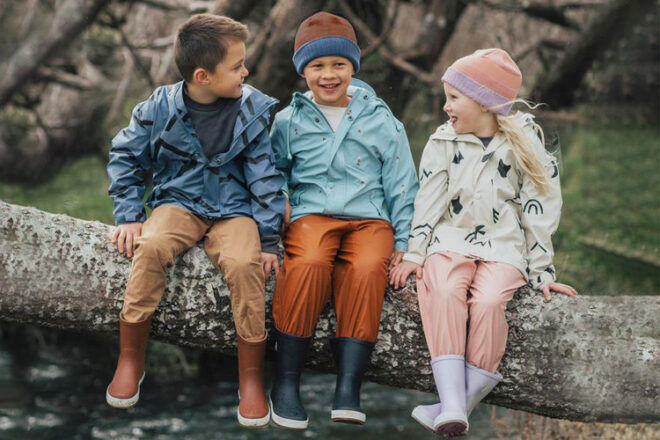 When it rains, it pours – but that doesn't mean active kiddos have to stay indoors. A great kids' raincoat is bright, waterproof and perfect for getting children outdoors in all kinds of weather.
A quality kids' rain jacket is a must-have outer garment for wet-weather play. Not only does its waterproof fabric keep little ones and their clothes dry in the rain, but it also shields little bodies from cold wind. Most styles either button or zip up securely and come fitted with a hood for extra protection.
To help you find a reliable raincoat for your active mini, we've created a handy roundup of brands available in Australia to take a peek at.

11 fun children's rain jackets to brighten up wet days
In no particular order, here is a list of quality children's rain jackets bringing individuality and bucket-loads of cuteness to rainy-day outfits.
Some brands have offered exclusive offers for Mum's Grapevine readers. These offers may include exclusions and expiry without notice. Please direct all inquiries directly to the linked website.
Korango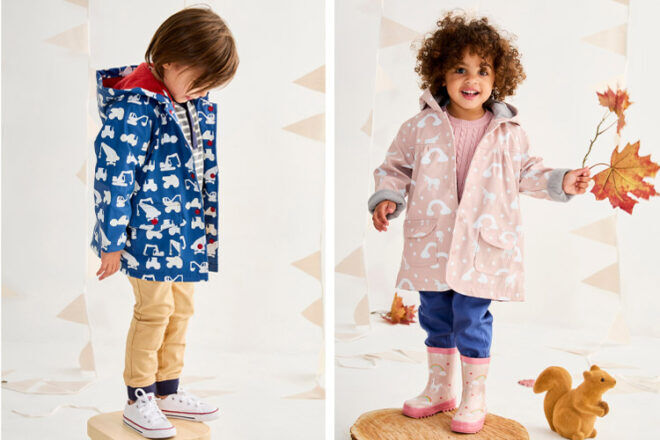 With detachable hoods, roomy pockets for all those treasures and a very welcome name label, these super-fun numbers tick all the boxes. Choose from colour-changing styles or timeless classics – all 100% waterproof and fleece-lined for extra warmth.
Korango Discount Code:
Use code 'MGV20KORANGO' for 20% off storewide.
---
Hatley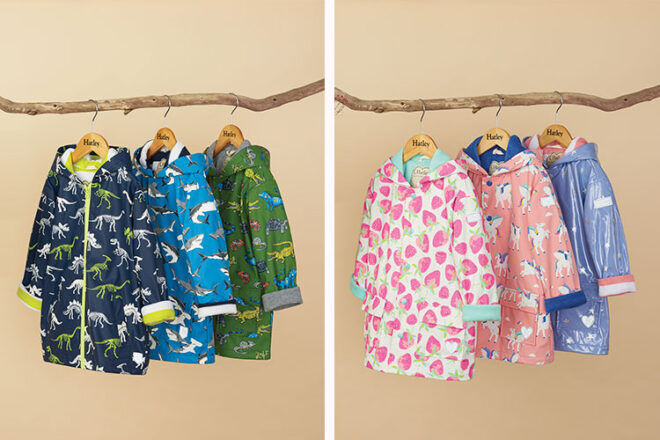 Bringing brightness and magic to the greyest of days, these rain jackets make stepping out in the rain all kinds of fun. Fully-lined, machine washable and completely waterproof, the unmissable lineup includes colour-changing styles and super-cute classics.
---
Elka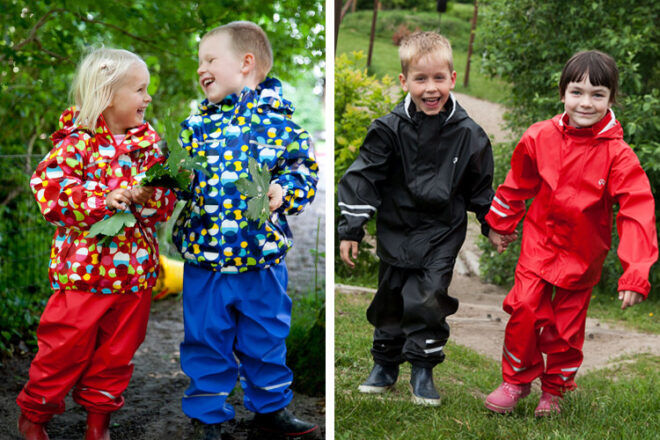 Surprise showers are no match for these mighty rainsuits. Elasticated wrists and ankles ensure a snug and cosy fit while adjustable shoulders straps and stirrups help to keep pants and overalls in place during all kinds of wet-weather play.
---
Rainkoat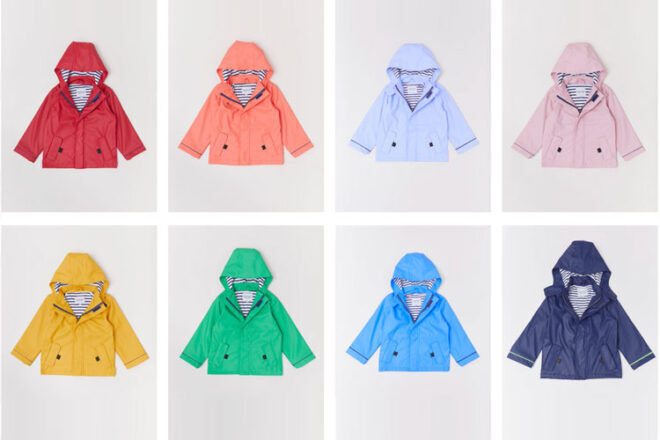 This playful collection of stripy children's rain jackets will help keep the winter chills at bay. Designed in Tasmania and available in a range of stunning shades, they come with a full front zipper, velcro closure and roomy hood to protect littlies from downpours.
---
Didriksons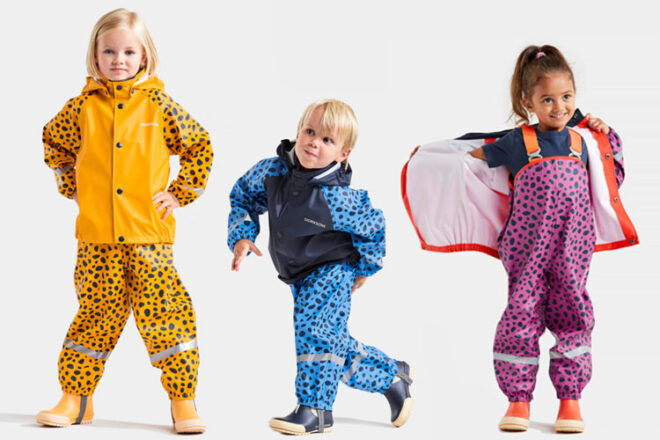 Both water and wind-proof, this Swedish range of rainsuits will keep active boys and girls protected from head to toe. The jacket has elasticated cuffs, a dipped hem and a detachable hood while the adjustable pants are fitted with reflectors for high visibility.
MK Nordika Discount Code:
Use code MGV15 for 15% off PLUS free shipping for all orders
---
Cheeky Chickadee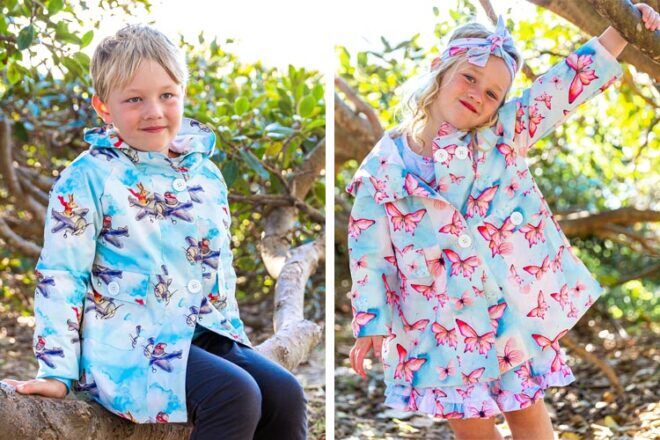 Bright and made to last, Cheeky Chickadee coats are all limited editions that feature beautiful hand-painted designs. Each has front pockets, internal lining and a roomy built-in hood with a snap button for staying on little noggins.
Cheeky Chickadee Discount Code:
Use code 'MGV15' for 15% off your first order.
---
French Soda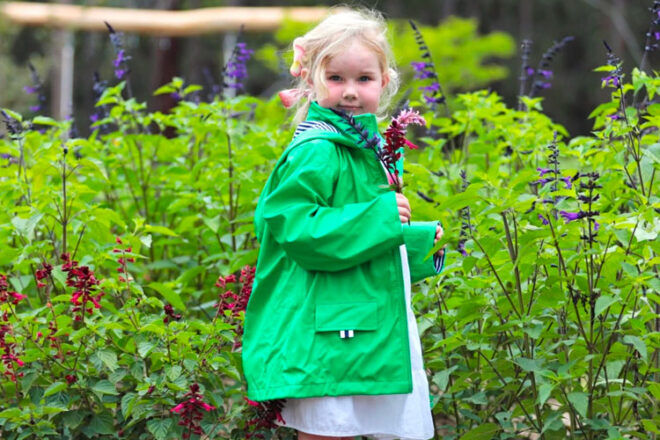 They're the super-soft children's coats perfect for year-round wear. In a choice of button-style or zip-front, each coat is ultra-lightweight, fully lined in cotton jersey and quick to dry – so little bakers can get back to their mud pies.
---
Rainbird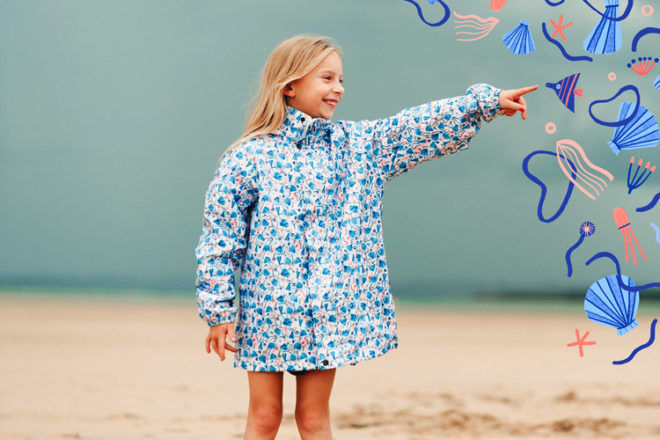 With unmissable, adorable prints, this iconic jacket will help chase away the winter blues. Each is seam-sealed for waterproofing, breathable and ultra-soft. And when the rain finally stops, the jacket neatly stows away in the front pocket.
Rainbird Clothing Discount Code:
Use code 'MGV15' for 15% off STOWaway jackets.
---
KaPow Kids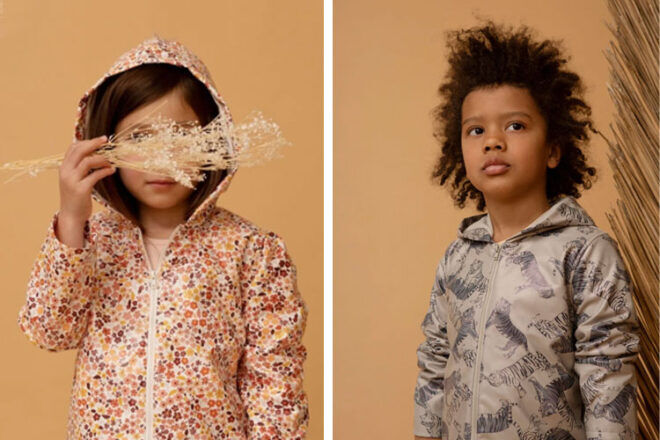 Designed in Melbourne, these cosy children's rain jackets are as functional as they are cool. They each come in a loose fit for maximum comfort and ease of movement and feature a waterproof shell, soft cotton lining and zip-up front.
KaPow Kids Discount Code:
Use code 'MGV20' for 20% off storewide.
---
Crywolf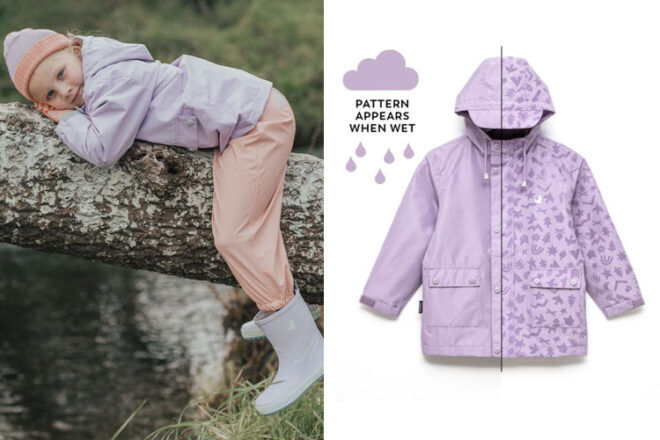 Bleak and dreary mornings be gone. Designed in New Zealand, these beautiful rain jackets are waterproof and wind-proof. Combining performance with fashion, they're just what kiddos need for taking on a winter adventure.
Kawaii Kids Discount Code:
Use code 'MGV15' for 15% off storewide.
---
Therm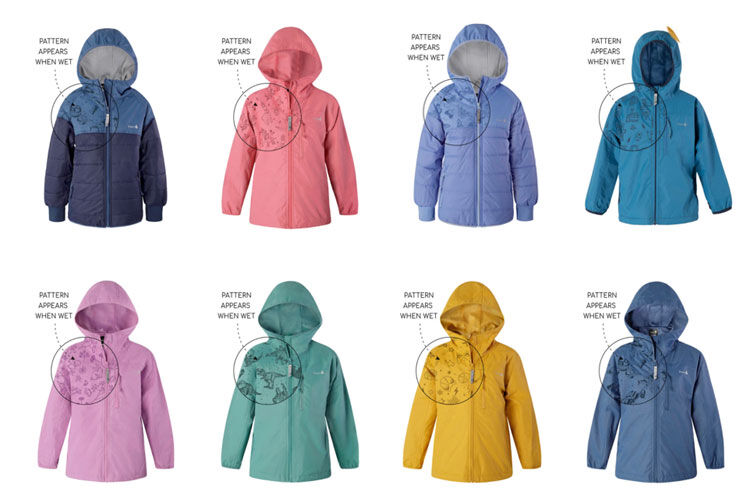 Add a sprinkle of rain and watch as these coats reveal a magic pattern when wet! From toasty puffers to bright, lightweight rainshells, every coat from this eco-conscious brand is crafted from 100% recycled PET fabric.
---
Gorman Kids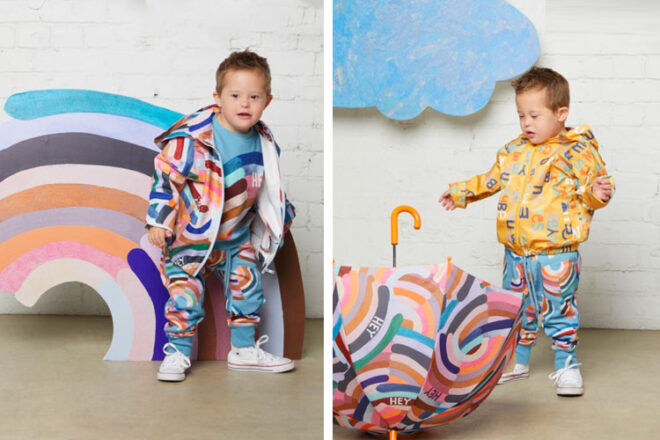 This exclusive collection of playful raincoats is spot on for eco-conscious girls and boys who like to step out in style. Water-resistant and crafted from recycled PET materials, they come with front pockets, full hoods and elasticated hems for a cosy fit.
---
Do children need a rain jacket?
Yes, a raincoat is a must-have for the wet months, especially for younger ones who love to play outside. It keeps little bodies and clothing dry and protected from dampness and the cold – and it's less likely to get broken or misplaced like umbrellas so often are.
What's important in a raincoat for kids?
Look for room to move, a hood that stays on, and if your child likes to tote treasures, some well-sized pockets. Waterproof fabric is a must for keeping children dry and elasticated wrists keep moisture off the sleeves of jumpers. Reflectors are incredibly handy for being able to spot boys and girls playing on grey days.
Do rain jackets keep kids warm?
Most quality children's rainwear is lightweight and thin, designed to keep water and wind out rather than provide warmth. In the cold, it's a good idea to dress your child in warm clothing underneath their jacket.
---
This post includes affiliates and/or paid inclusions. See our Disclosure Policy.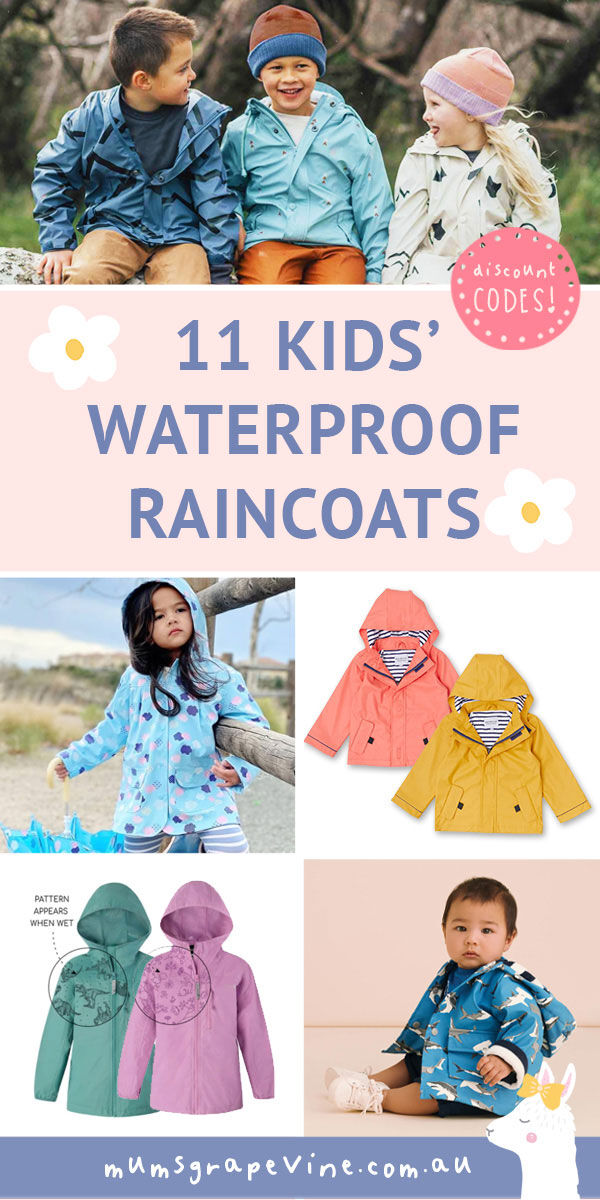 Know some other fab children's raincoats we should add to our list? Contact us and let us know.
Find more winter must-haves …
Looking for more quality products to make wet either and cooler months a little easier? We have the largest suite of product roundups in Australia, listing everything you need to get your little ones sorted for the season.
Read this: Cold comfort – 5 ways to soothe a snotty toddler