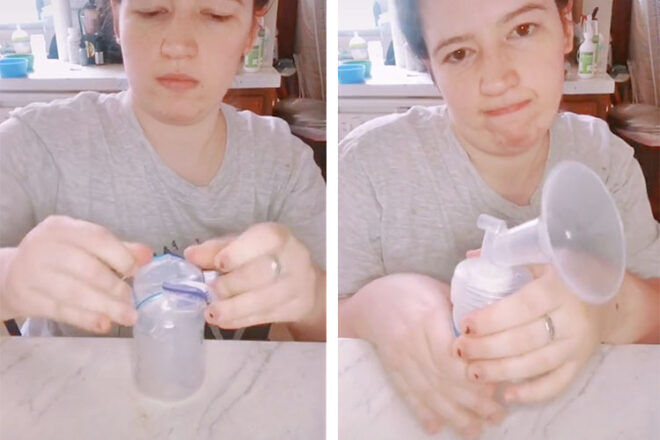 If you've ever suffered the heartbreak of liquid gold spillage when transferring expressed breast milk from a pump bottle to a storage bag – have we got a tip for you. A canny mum has shared a simple way to pump directly into a storage bag, saving time and sanity.
It involves nothing more than lining the pump bottle with a breast milk storage bag, and then screwing on the flange part of the pump. Then pump away as usual. When you're finished pumping, just unscrew the flange, and take out the milk-filled bag. No transferring of milk, and no washing of the bottle. Pumping level: expert.
Time-saving breast pump tip
Take a look at how Ashley Newton, also known as UnlicensedtoMom, does it:
Ashley admits she's a 'terrible milk pourer' and the breast milk storage bag trick has been a 'lifesaver'. She recommends just gently screwing the flange around the bag so it doesn't tear. While lots of mums commented that they simply flange straight into a bag and hold it in place with their hands while expressing, Ashley explained that's hard to do with a 'handsy' toddler around.
"I do that (pump straight into the bag) when I know I'll be able to pump uninterrupted. The kids seem to always need me at the most inconvenient times."
For anyone who's ever cried over spilled breast milk – we hope this tip brings you only happy pumping from now on!
Read these roundups next …
Nursing a wee bub of your own? These articles have everything you need to prepare for breastfeeding or expressing success.
Read next …
Looking for more breast milk pumping tips, tricks and finds? Here are some of our favourites: