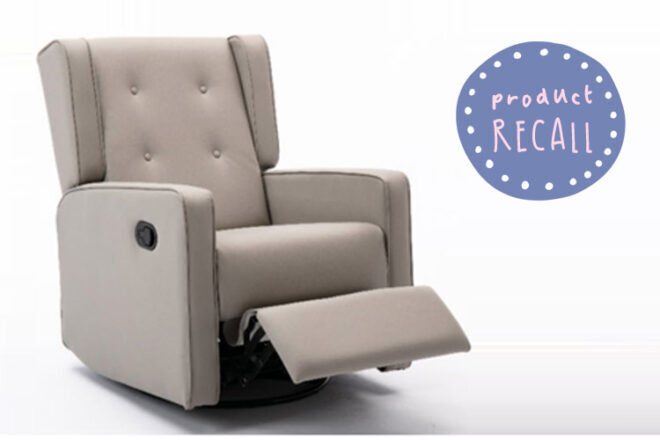 ALDI Stores – Recliner Chair
Sold at ALDI Stores from 20th January 2021 to 22nd February 2021
Product description: Recliner Chair identifiable by the SOHL FURNITURE label attached to the chair with Product Code 704625. The identifying label can be found on the back of the footrest. Product SKU: 704625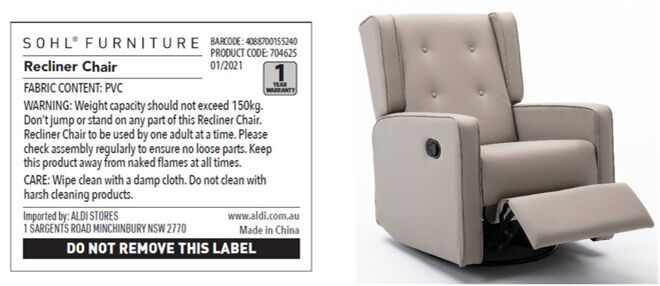 Defect: The Recliner Chair may be unstable and may tip over during use.
Hazard: If the chair tips over during use, there is a risk of serious injury to the chair's occupant and bystanders and / or damage to property.
What to do: Consumers should immediately stop using the product and return the product to any ALDI store for a full refund.
Contact details: Contact the recall helpline on 1300 362 778 (Mon-Fri, 9:00am to 5:00pm AEST).
---
Join our Pregnancy & Baby Groups
Be the first to know about recalls, alerts and baby related news – nothing gets past the mums in our Facebook groups! Join one of the closed Mum's Grapevine due date or baby Facebook groups for non-judgemental support from other mums with babies born around the same time as you.
Click below and join your group today – don't miss out!