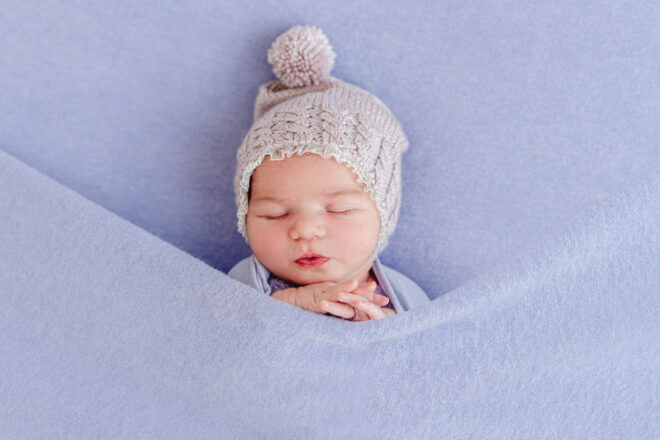 Australia's top 200 baby names for 2021 have just been revealed, and while two very popular baby names still lead the pack, there are a host of new contenders hot on their heels.
Unique baby names, popular baby names, and nicknames as first names, all make an appearance in this year's McCrindle most popular baby names list for 2021. And at the very top of the pops once again are Charlotte (1.) and Oliver (1.).
Naming a new generation
If you've had a baby in the last 10 years, you've given birth to a Generation Alpha. These little ones are the most digital, global, and visual folk on the planet, and they'll finish being born in 2024.
Generation Alpha are the babies of Millenials, who are all about choosing new and different names in a very unique period in history.
Unique names trending
With such a unique generation being born, it's only natural that their baby names are just as unique.  With the dawn of Generation Alpha in 2010, McCrindle has been able to crunch the data and see which names have been on the up and up in the past decade.
For the girls, Willow (9.), Hazel (25.), Violet (34.), Florence (39.), Aria (28.), Elsie (38.) and Audrey (31.) have had the biggest rank increase since 2010. Interestingly, they all have a distinctly old-world flavour.
When it comes to the boys, Leo (5.), Theodore (13.), Hudson (14.), Archer (23.), Hugo (34.), Arlo (33.), Harvey (24.) and Elijah (10.) have had a meteoric rise since the start of Generation Alpha.
Blooming beautiful botanical names
Sunny botanical-inspired baby names are still as popular as ever, with Willow (9.), Ivy (14.),
Lily (21.), Violet (34.), Daisy (47.), Poppy (50.), Jasmine (56.), Rose (70.), Olive (75.), Rosie (81.) and Delilah (96.) making it into the top 100 baby girl names.
Colours are also still winning the hearts of new parents, with Ruby (17.), Hazel (25.), Scarlett (33.), Violet (34.) Jasmine (56.), Rose (70.) and Olive (75.) all shining in the top 100.
Nicknames as first names
Aussies are known around the world for shortening names, and it seems parents are now bypassing the middleman and giving their babies nicknames as first names.
The name Jack (4.) outranks Jackson (42.), Leo (5.) outranks Leonardo (80.) and Archie (16.) outranks Archer (23.). The trend is the same with baby girls, with Ella (11.) outranking Isabella (15.) and Isabelle (36.).
Shortening names and adding an 'ie' on the end is also a big trend, like Rose to Rosie, Savannah to Sadie, Amelia to Millie, Isabella to Billie, Charlotte to Charlie, Elizabeth to Ellie and William to Billy.
Atop the throne
It's difficult to ignore the Royal family's influence when it comes to Australian baby names. Prince George (born in 2013) and Princess Charlotte (born in 2015) helped their names shoot to fame. In the seven years since Prince George's birth, his name has jumped 29 places to 31.
Then along came Prince Louis and Archie Harrison Mountbatten-Windsor, with the name Louis hit the top 100 in 2013 at 74 and now ranked at 55. The name Archie was 31 in 2010 and since the birth of the Royal Archie, the name has risen to 16.
And of course, since Princess Charlotte was born in 2015, her name surpassed Olivia as the most popular baby girl name, where it has remained, yet to be dethroned.
Biblical names for boys
While not as popular as 20 years ago when all five of the top five boys' names were Bible characters (Joshua, Daniel, Matthew, James and Thomas), and 12 of the Top 20 were from the Bible, including Benjamin, Luke, Nathan, Andrew, Alexander, Jacob and Samuel), Biblical baby names for boys are still heavily featured.
In the new top 100 baby boy name list, seven of the Top 20 boys' names can be found in the Bible: Noah (2.), Thomas (8.), Elijah (10.), Levi (11.), James (15.), Alexander (18.), and Ethan (20.).
Charlotte and Oliver most popular baby names, again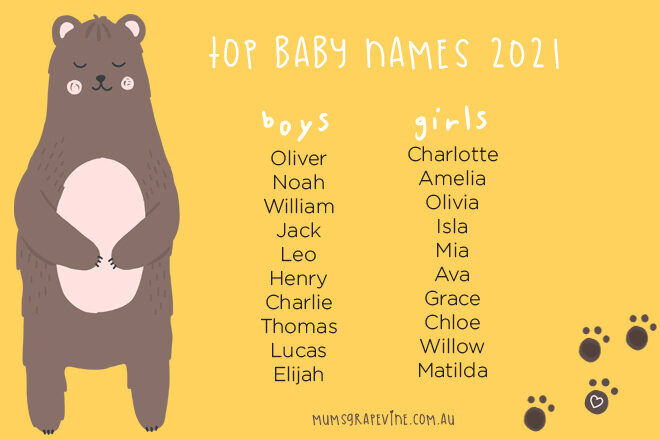 Once again, Charlotte continues to be the most popular name of choice for baby girls in Australia. More than 1,500 squishy little girl babes were named Charlotte in 2020, and it's been the number one girl baby name eight years out of the last 10.
But there has been a little shift at the top of the table, with Amelia (2.) now the second most popular girl's name, taking over from Olivia. The other top 10 girls names have stayed the same, other than Matilda (10.) ousting Harper (12.).
When it comes to the most popular baby boy names, the top 10 is almost a carbon copy of last year. A whopping 2138 little gents were named Oliver (1.) in 2020, which has been at the top baby boy spot for the last eight years. The new kid on the block is Elijah (10.) who removed James (15.) from the top 10.
Top 100 baby girl names in Australia for 2021
 Charlotte
Amelia
Olivia
Isla
Mia
Ava
Grace
Chloe
Willow
Matilda
Ella
Harper
Sophie
Ivy
Isabella
Zoe
Ruby
Evie
Evelyn
Sophia
Lily
Mila
Lucy
Sienna
Hazel
Emily
Hannah
Aria
Layla
Zara
Audrey
Georgia
Scarlett
Violet
Ellie
Isabelle
Frankie
Elsie
Florence
Abigail
Alice
Emma
Emilia
Luna
Freya
Sofia
Daisy
Ayla
Penelope
Poppy
Mackenzie
Billie
Aurora
Eleanor
Eva
Jasmine
Stella
Sadie
Harriet
Maya
Addison
Savannah
Elizabeth
Millie
Lola
Piper
Imogen
Bonnie
Eloise
Rose
Summer
Phoebe
Remi
Charlie
Olive
Bella
Harlow
Annabelle
Aaliyah
Elena
Rosie
Maddison
Hallie
Peyton
Quinn
Maeve
Ariana
Lara
Anna
Claire
Sarah
Adeline
Molly
Maggie
Eden
Delilah
Eliza
Clara
Isabel
Pippa
Top 100 baby boy names in Australia for 2021
Oliver
Noah
William
Jack
Leo
Henry
Charlie
Thomas
Lucas
Elijah
Levi
Liam
Theodore
Hudson
James
Archie
Oscar
Alexander
Harrison
Ethan
Mason
Hunter
Archer
Harvey
Luca
Harry
Cooper
Lachlan
Max
Isaac
George
Benjamin
Arlo
Hugo
Xavier
Jacob
Finn
Samuel
Sebastian
Arthur
Lincoln
Jackson
Edward
Joshua
Ryan
Eli
Riley
Kai
Jordan
Logan
Jayden
Jasper
Patrick
Austin
Louis
Flynn
Beau
Daniel
Joseph
Jaxon
Sonny
Aiden
Connor
Spencer
Michael
Carter
Muhammad
Angus
Charles
Owen
Gabriel
Ashton
Felix
Ryder
Matthew
Asher
Caleb
Jude
Adam
Leonardo
Luke
Ari
Darcy
Parker
Theo
Bodhi
Zachary
Ezra
Ali
River
Luka
Leon
Fletcher
Marcus
Hamish
Billy
Dylan
Lewis
Vincent
Lennox
Read next …
Want to take sneaky peek back to previous years? Take a look at these: