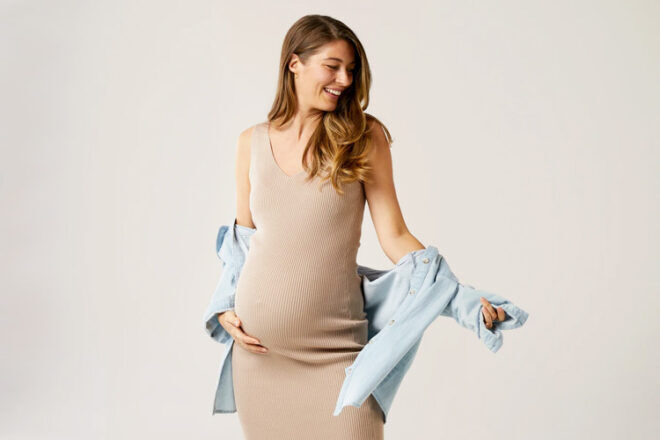 Gone are the days when pregnancy clothing meant sacrificing all your style in the name of comfort. Australia's fun, fashion-forward brands of maternity clothes are cosy, comfy and seriously cool – and we've put the very best of them in one handy spot for you.
From maternity overalls for busy days running about town to the perfect dress for that occasion you've been hanging for, our list of maternity wear labels will have you looking fab, enjoying the wonders of pregnancy and feeling every bit the amazing mumma you are.
All of the brands in our roundup can be shopped online from the comfort of your couch. So keep this page handy for when baby's kicking is keeping you up all night and some retail therapy is in order.
What to look for in maternity clothes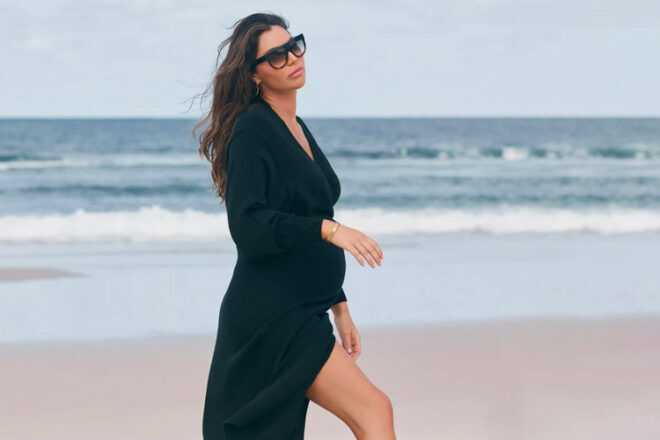 Comfort: Pregnancy comes with its fair share of aches and pains and the last thing you want is to have to wear uncomfortable clothing as well. Avoid rough materials that might scratch or bother your sensitive skin and look for gentle materials that will feel delicious to wear.
Breathability: Particularly in the warmer months, pregnancy can feel as though you are a human oven constantly on high! Natural fibres like cotton and bamboo are great choices when it comes to airy, breathable clothes that will help you get some much-needed ventilation while that bun is baking.
Stretch: It goes without saying that you're going to do a whole lot of growing during those nine months, so your pregnancy clothes have to be up to the changes. Look for garments with some stretch in them so that you can move freely without feeling restricted.
Longevity: Thanks to savvy styles and smart designs, many brands produce maternity clothes to see you right through your pregnancy and well beyond. In fact, you'd never guess many garments were even maternity wear, and that's a sure sign that you will get years of great use of them.
Style: Opting for classic styles that are versatile and fit in well with the rest of your wardrobe can save you a lot of money. Look for pieces you can dress up or down, and designs that will see you through more than one season.
12 top brands of maternity clothes in Australia
To help you find the right pregnancy clothes at the perfect price, we've put together a handy list of top stores and brands.
Here is a list of the best maternity clothes brands in Australia:
1. Pea in a Pod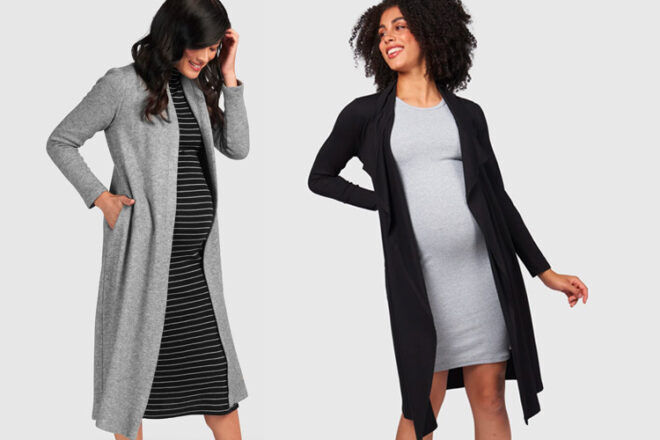 Proudly Australian made, these pregnancy clothes combine timeless favourites with trending styles in mostly natural fabrics like cotton, bamboo and linen. Easy to wear and easy to care for, every piece is made to be functional as well as fabulous.

---
2. Bae The Label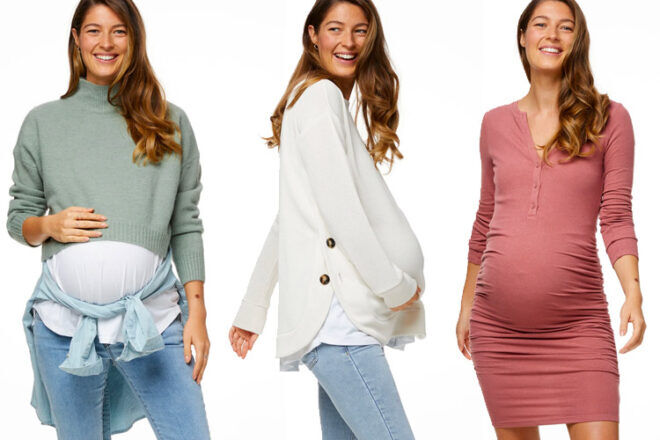 Feminine, cool and oh-so-wearable, this motherhood range has you covered from pre-pregnancy right through your breastfeeding years. Made by mums for mums, the collection includes sleep, denim, sweats and even discounted bundles. Yay!

---
3. MAMA MUSE

Designed in Australia to be 'forever' pieces, MAMA MUSE maternity staples are flattering, cool and functional throughout and well beyond pregnancy. Stocked all over the world, bestsellers include stunning dresses for all seasons, jumpsuits and twinsets.
---
4. Soon Maternity

From easy workwear to its elegant linen edit, Soon Maternity embraces and supports the modern mum's body and lifestyle, from pre-pregnancy onwards. Loved by mums the world over, this brand has a huge all-season range and supports local production.
---
6. LEGOE. Heritage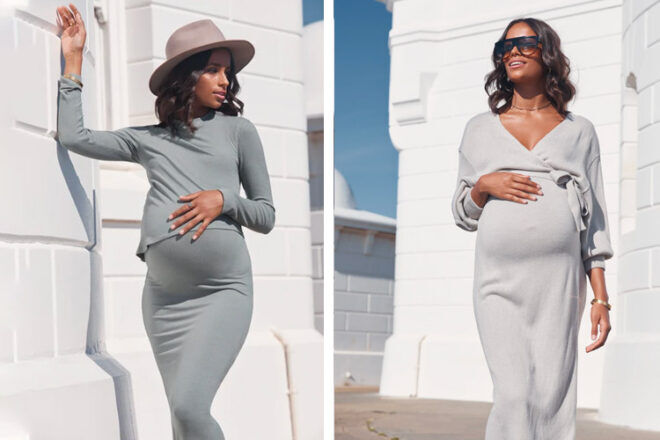 With organic fabrics, dreamy denim and trending styles, this premium Australian brand truly captures the essence of the modern mum. Shop everything from cosy loungewear with loads of room for your bump to resort wear for your babymoon.
---
7. Maive & Bo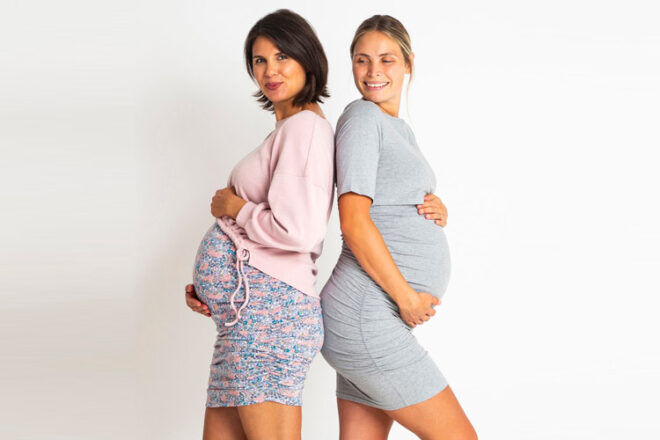 Founded by a mum, Maive & Bo's maternity collection includes something for all seasons, from one-piece swimwear to signature floral dresses. Everything is made with pre and post-natal bumps and boobs in mind for maximum comfort to changing bodies.
---
8. Bamboo Body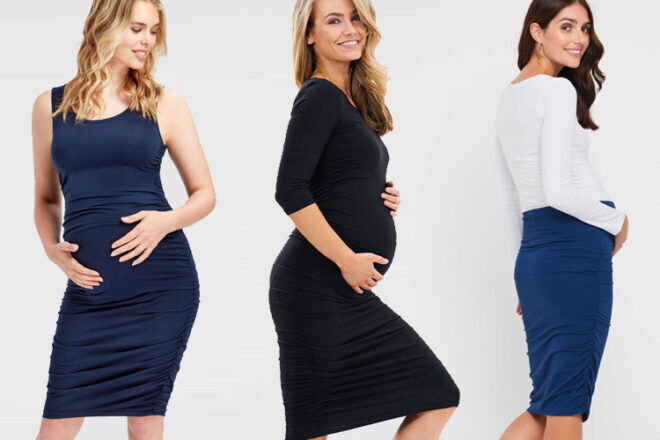 Casually comfortable, Bamboo Body's mix-and-match maternity range is made with organic bamboo. Designed to grow with your pre and post-pregnancy body, features include stretchy waistbands and side ruching on tops for covering all kinds of bumps.
---
9. Pfenix + Mach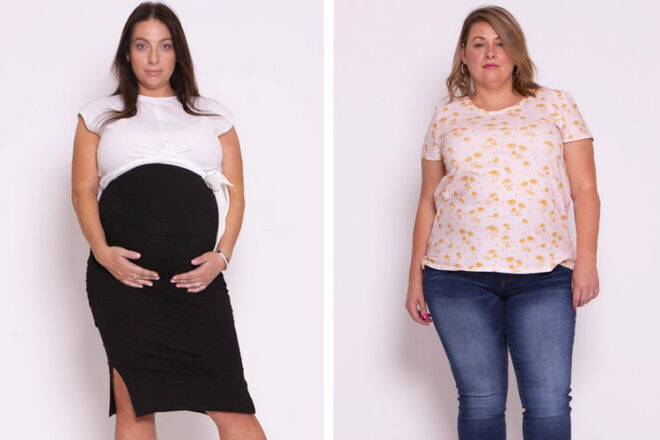 A trusted destination for affordable maternity and pregnancy clothes online, Pfenix + Mach includes trans-seasonal pieces that feel as beautiful as they look – bump or no bump. From corporate pieces to that run-around-town dress, this brand's got your back all year round.
---
10. Angel Maternity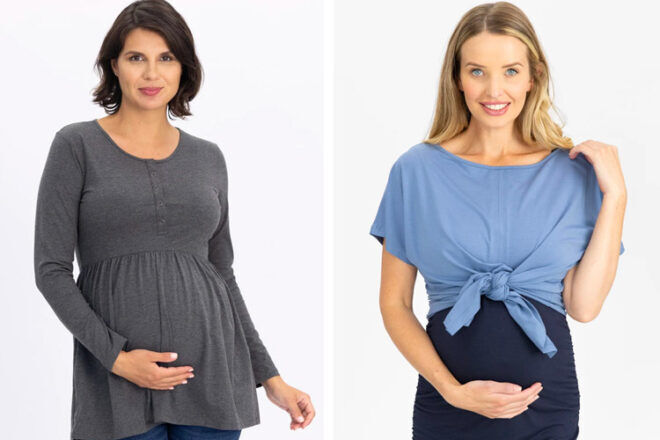 From undies to workwear, shorts to dresses, Angel Maternity has been making pregnancy and post-partum fashion easy and fun for decades. Favourites include over-the-bump denim and work pants that you can take from day to night with ease.
---
11. The Comfort Mama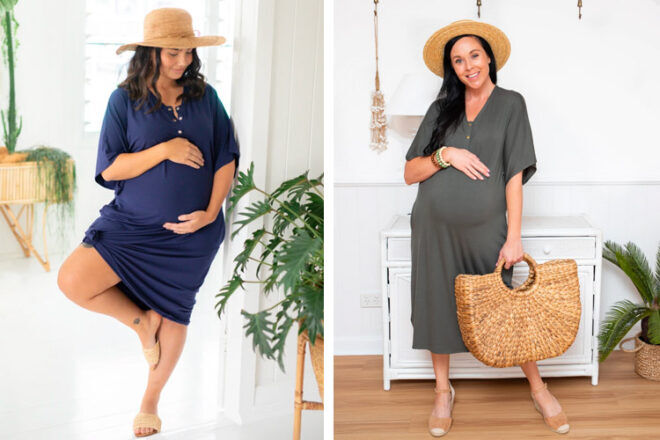 If 'casually cool' is your favourite way to dress with a bump on board, you're going to want every dress at The Comfort Mama. Made here in Australia, everything is buttery-soft, perfectly stretchy and super versatile – plus each dress comes with a set of breast pads.
---
12. Cotton On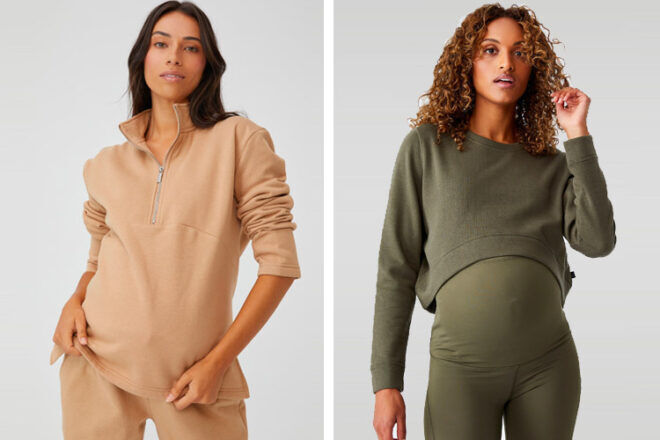 It's maternity clothing that doesn't look like it – and it's brilliantly priced, so you've got every excuse to grab another pair of your faves! We're loving the cosy track pants and tanks for weekends spent on the sofa planning the nursery.

---
When should I start shopping for maternity clothes?
Some mums-to-be start buying pieces as soon as they fall pregnant, others wait until they absolutely cannot fit into their favourite jeans and tees anymore to grab some pregnancy clothes. For a first pregnancy, baby bumps often don't start to show until the 12-week mark (or later), so the second trimester is a popular time to start eyeing out some roomier garments.
How much maternity clothing should I buy?
This really depends on what you already have tucked away in your wardrobe and the season during your last two trimesters when you do the most growing. You'll definitely need two or three roomy tops and a few pairs of bottoms that you can wear on high rotation. Roomy, comfy sleepwear is a must and most mums-to-be swear by having a great pair of maternity jeans on hand.
What size should I buy in maternity clothes?
Most brands advise that you should buy your regular pre-pregnancy size in maternity garments. This is because pregnancy growth has been factored in already, so you don't need to allow for all that bump growth yet to happen.
---
About to have a baby?
You're nervous, excited, worried, terrified and counting down the hours, minutes and seconds till you meet the love of your life. You're not alone, in fact, thousands of other Aussie mums due at the same time as you are already supporting each other in our private Pregnancy Groups – and you could too.
Click here and be matched to your Mum's Grapevine Facebook groups today!