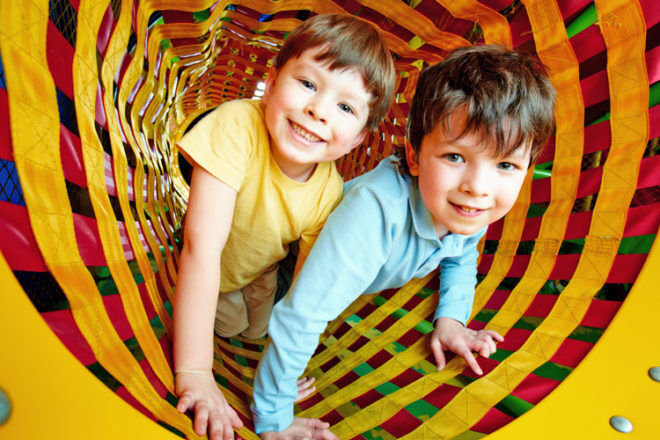 Parents with at least two or more children in childcare will have their out-of-pocket costs slashed as part of the upcoming Federal Budget.
As an incentive to encourage parents to work more hours or re-enter the workforce, up to 95 percent of childcare fees for second and subsequent children will be covered.
And as an added bonus, the Child Care Subsidy cap will be removed.
What's the current childcare arrangement?
Currently, the maximum childcare subsidy payable is 85 percent of childcare fees. Families who earn the least, get the most. But these subsidies apply at the same rate per child, regardless of how many kids in childcare.
This means that childcare costs double for families when they have a second child. Also, if your family has a combined income above $189,390, there's a childcare subsidy cap of $10,560 per child per year. Once families hit that, they have to start paying full fees. And for many families, it wipes out any incentive to take on extra hours or work at all.
What do the new childcare changes mean for your family?
So what are the new changes? As part of the 2021/22 Federal Budget, kicking in from 1 July, 2022:
The childcare subsidies available to families with more than one child aged five and under in child care are being increased.
The $10,560 cap on the Child Care Subsidy is being removed.
For families with more than one child in childcare, the subsidy will increase by 30 percent, to a maximum of 95 percent of fees paid for the second and subsequent children.
Here are a few examples of how it will work for families:
A family earning $110,000 a year will see their subsidy for their second child jump from 72 percent to 95 percent. So they'd be $95 better off for four days of care.
A family with three kids earning $80,000 will be $108 a week better off for four days of care. Their subsidy will increase from 82 to 95 percent.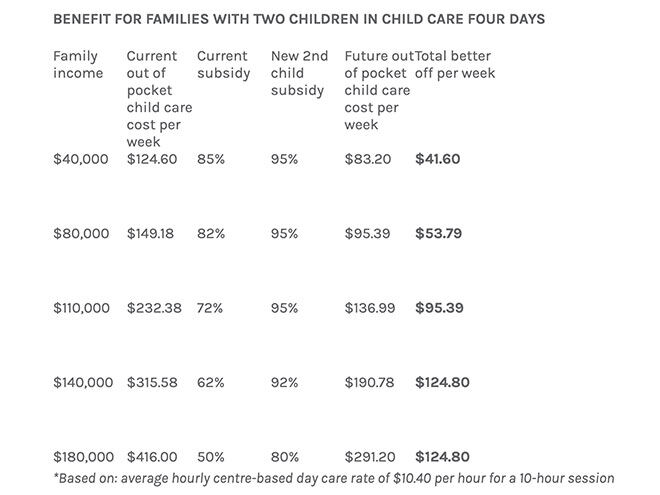 The government says the $1.7 billion investment will add up to 300,000 hours of work per week – or the equivalent of around 40,000 individuals working an extra day per week.
"These measures will help remove the barriers for parents, particularly mothers, to return to the workforce or to increase their hours, as their family grows,", said Education and Youth Minister Alan Tudge.
Early Childhood Australia has welcomed the announcement. But it's concerned it won't kick in soon enough for many families. "Research shows that quality early childhood education and care has significant lifelong benefits for children's development and learning," said ECA CEO, Samantha Page. "While ECA believes this investment is a step in the right direction, we are disappointed that changes are planned to come into effect in 2022, meaning many families currently using child care won't have any relief."
If you need more information on the Child Care Subsidy, we've written a very straightforward article here.