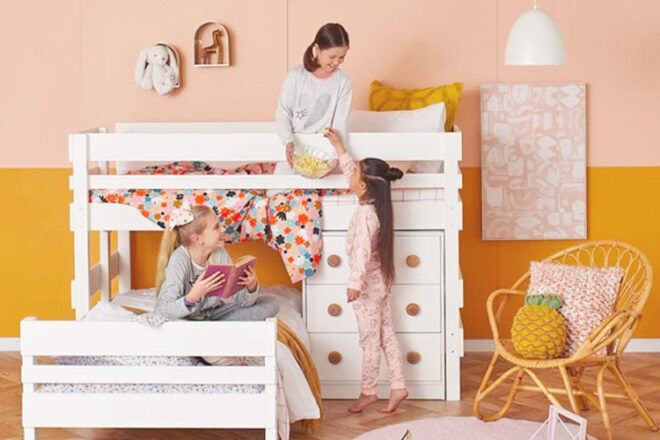 "I buzz the top bunk" is a familiar sound many parents hear from kids when it comes to choosing beds in the holiday house.
Bunk beds are usually two single beds positioned one above the other, however, some modern designs have double beds and even triple layers. And whether it's the magic of sleeping up high that makes them so popular or the fact they appeal to the little climber in every child, bunks top the list when it comes to fun bedroom furniture in Australia.
If your little monkeys have been pining for a bunk, you're in the right spot. Whether you're after one for siblings who will be sharing a room or just want to prepare for guests dropping in, our roundup kids' bunks has you covered.
What to consider when buying bunk beds for kids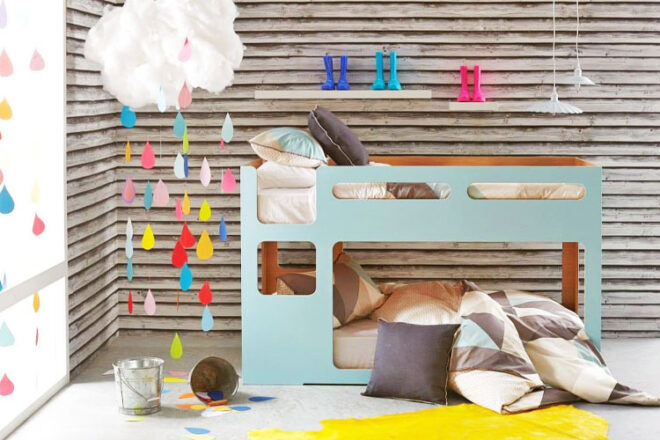 Safety: Australia has mandatory standards (AS/NZS 4220:1994) for bunk beds and these include labels showing the maximum mattress height, fixed guardrails that meet the minimum distance requirements between the top of the guardrail and the surface of the mattress.
Design: You want to make sure the bunks fit the décor theme of the bedroom and your child's sense of style. The good news is that from classic timber and metal frames to novelty styles, there's a fab bunk out there to suit every space and personality.
Frame style: Gone are the days when a bunk was just a bunk. Today's styles take into account practical, contemporary living and clever use of space. Frame designs available include, low line, convertible, loft and L-shape. The heights of bunk frames can vary, so just be sure to take into account ceiling fans and lights when making your choice.
Mattresses: Keep in mind that unless you are purchasing a bedroom package, most of the bunk beds in Australia do not come with mattresses, so you will have to purchase them separately. As above, check the bunk's mattress height requirements before you buy one.
---

13 coolest bunk beds for kids in Australia
To help you find the perfect children's bunk bed for your littlies, we've put together a handy list of our favourites styles in Australia.
Here are 13 of the best bunk beds for kids in Australia:
Mocka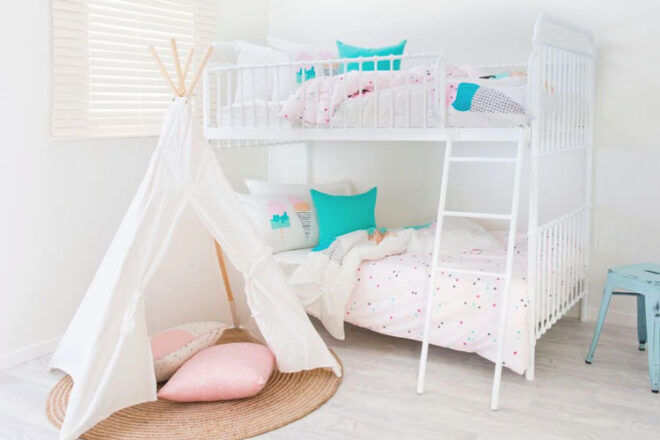 Groovy vintage vibes meet contemporary convenience with this classic from Mocka. It comes in a choice of black or white powder-coated steel and features high rails and a traditional stepladder. Paired with monochrome linen, this one makes a statement.
---
Boori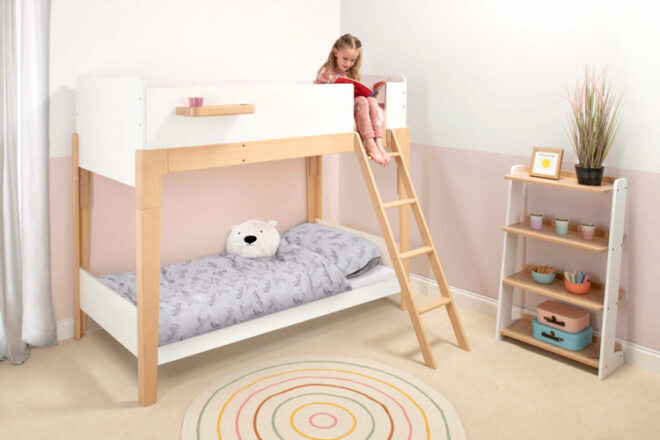 This adorable timber bunk comes with clean lines and a modern palette to pair perfectly with any decor. We love the addition of a handy side table for the top sleeper and the fact that the bed converts to a loft or standard single bed later on.
---
VIC Furniture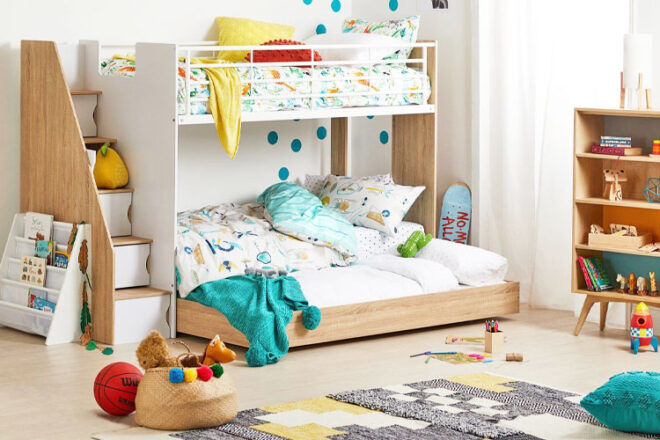 This feature-packed bunk bed isn't just every kid's dream – it's every mum's dream. It comes with a hidden storage cupboard under each step and an included trundle for storing linen in between sleepovers.
---
Snooze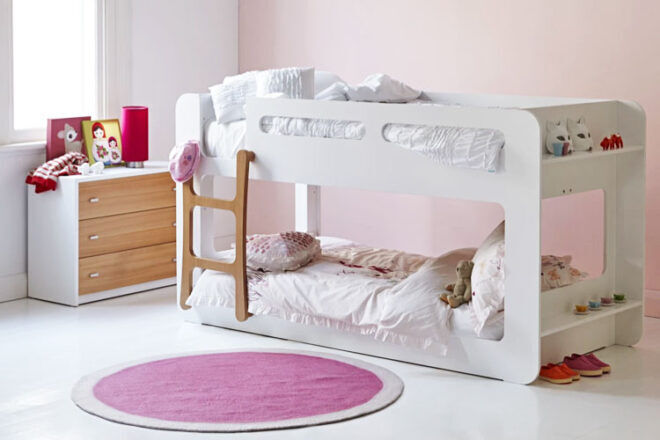 Fresh, contemporary and oh-so-cute. Made from zero-emissions MDF, this low bunk for kids comes in a choice of single or king-single sizes and is fitted with storage shelves at one end. Also available in charcoal and aqua.
---
Oeuf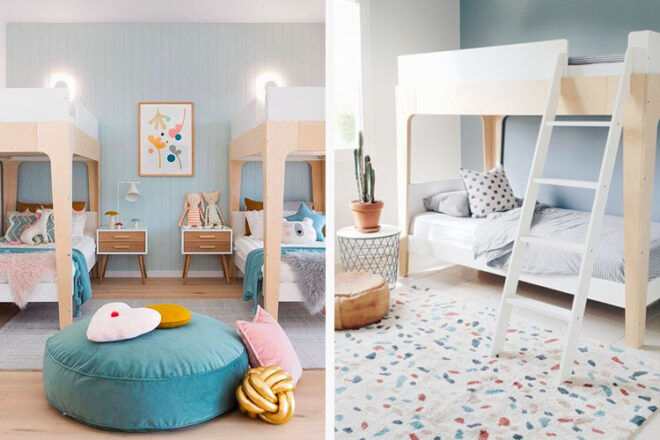 The possibilities are endless with this birch beauty. Configure it as a standard bunk, an L-shaped bunk, or separate the bottom bunk from the loft and pop it in another room! It comes with an angled ladder that attaches to either side.
---
Fantastic Furniture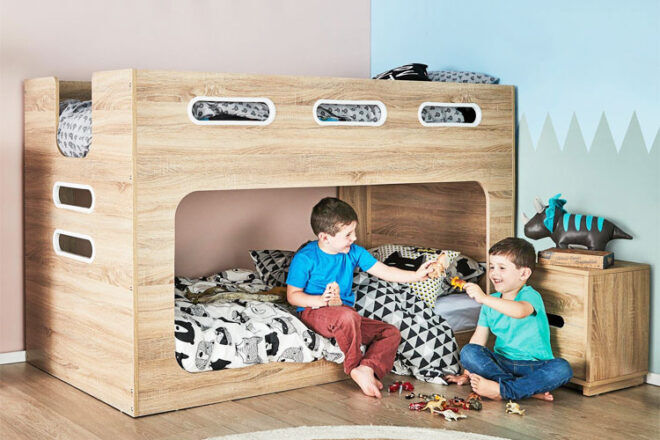 A low-line design and deep sides make this modern cutie a fab choice for their first bunk. It has a hidden, reversible ladder for a clean look and a light-ash finish that will fit in anywhere.
---
Bunkers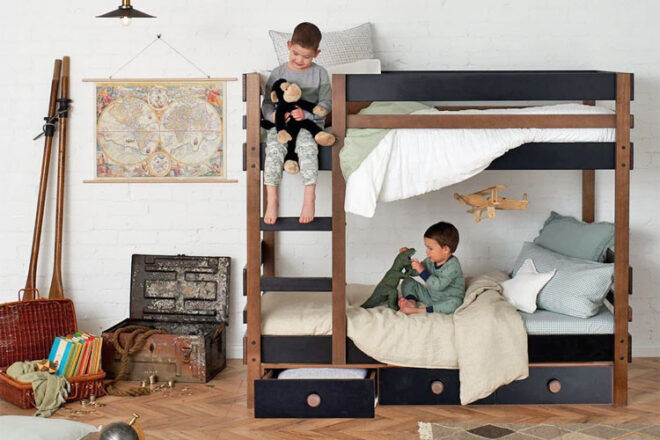 They'll go bonkers for this bunker! Built tough from renewable pine, it can be ordered in both single and king-single sizes and comes with three deep drawers for more room in your room.
---
IKEA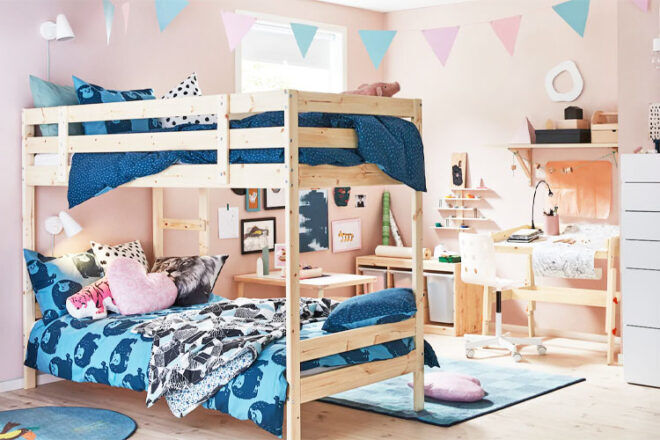 No roundup of fab bunk beds for kids would be complete with the popular MYDAL in the mix. Like a blank canvas, simply pair this trusty classic with any bedding décor for a truly unique look.
---
Domayne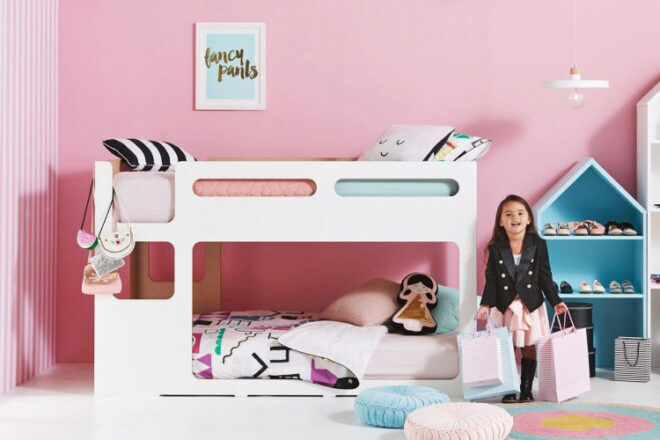 If it's colour they want, look no further! Domayne's uber-popular My Place bunk comes in five glorious shades to suit every poppet's personal style. Loving the peep-through window that doubles as a step ladder.
---
Intelligent Kids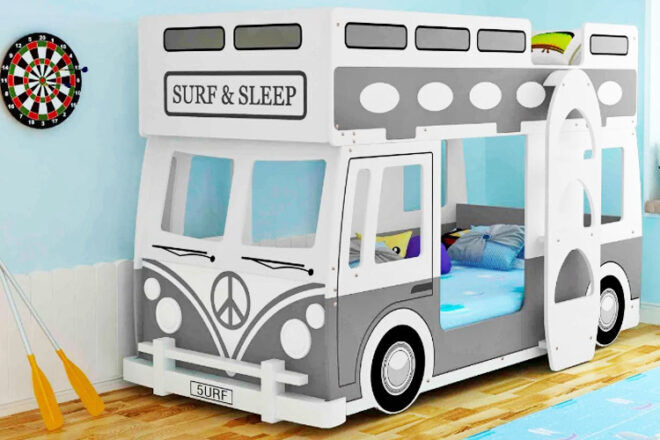 It's the perfect place to catch some zeds before hitting the beach – and it totally makes us want to be kids again. With a sturdy MDF frame, it even comes with a steering wheel and surfboard ladder. Surf's up!
---
Forty Winks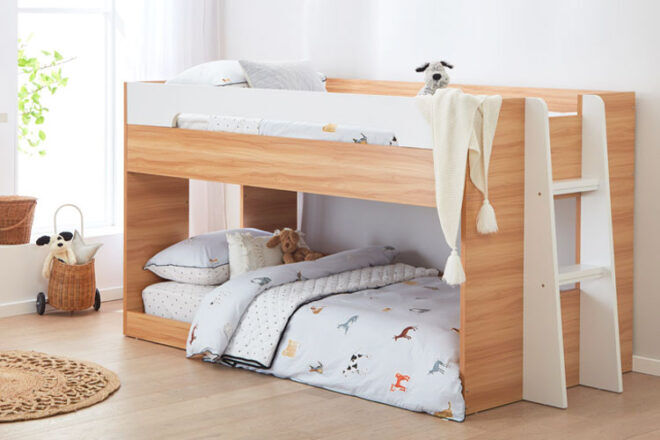 Fresh and funky, this midi-bunk ticks all the boxes for younger kids. Plus, with a convenient low profile, it's easy for parents to reach the top bunk to change bed linen and tuck in tired tykes.
---
Plyroom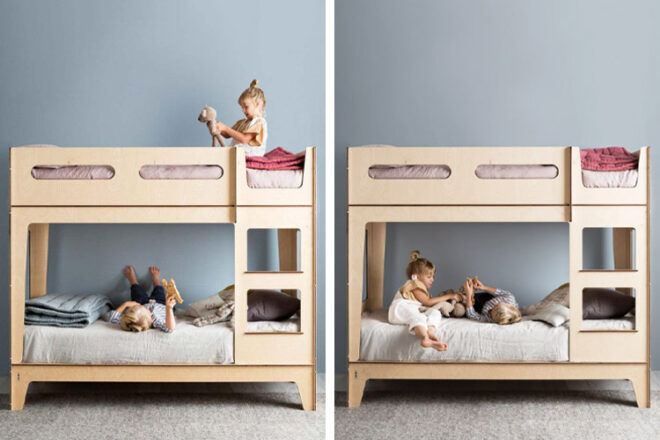 It's not just a stylish place to snooze, it's a crazy-cool place for kidlets to hang out. Sustainably made in Italy, the Castello is built with a low profile that's perfect for younger kids. Pair it with the Plyroom Underbed Drawer for extra storage.
---
6 ways to change top bunk bed sheets
Bunk beds may be the hero of a shared room, but any mum who has had one will tell you that changing the sheets on the top bed can be a real workout. So is there an easy way to do the sheet swap without working up a sweat? Apparently so!
Here are six sweat-free tricks to changing the top bunk bed sheet:
1. Use sheet grippers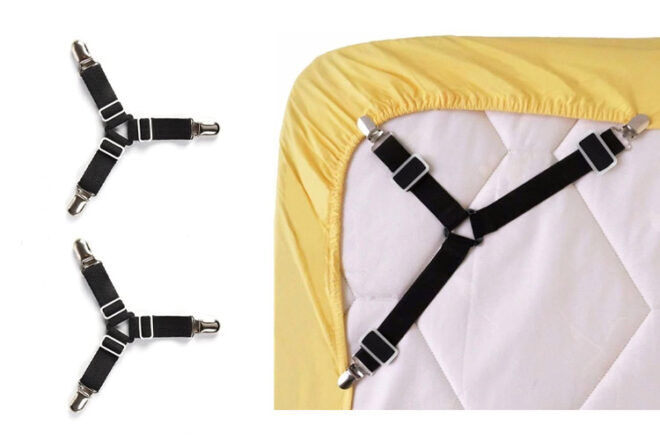 These nifty Bed Sheet Grippers ($15.99) are designed to keep sheets in place, and if you have a bunk you can easily pop them on from underneath (depending on what's underneath the top bunk). If your kiddo tends to toss and turn during the night (which usually means redoing the bed sheets every morning), these are a great option.
2. Use zip sheets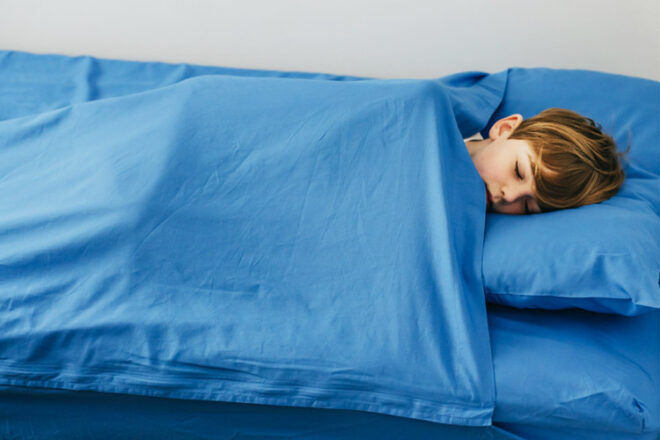 Zip Sheets ($78.95) will end all of your bunk bed changing woes. They come with two pieces: a base that remains wrapped around the mattress, and a top cover that simply zips on and stays put. You'll never have to lift the bunk mattress to change the sheets again. So clever!
3. Get the kids to help
Given that in Australia it's recommended kids should only sleep in top bunks once they're over nine years old, it means they're old enough to lend a hand making their bed. Get them to head up and tuck in the top two corners of the fitted sheet, then once they hop on top of the sheet, fit the lower two corners. Job done, and a life lesson learnt – win-win!
4. Pull the bed off the wall
If your bunk bed rests against a wall, this makes it impossible to get to the far side. Pull the bed away from the wall so you can access every corner when making the bed. If you have the room, try and keep the bed like this permanently.
5. Prop up the mattress
You don't need to take the mattress completely off the top bunk (although you can), just rest it half on the bed and half off. Pop the sheet around the side of the mattress hanging over the edge, then keep moving the mattress around so you can reach the other side. Throw the doona on top, before sliding it back into place.
6. Use a stool
Being higher makes it easier for your arms to reach the far side of the sheet, so hop on a stool. If you have someone taller than you in your house (hubby, partner, older child), outsource it!
---
What age can a child go in a bunk bed?
Australian guidelines recommend that only children aged 9 years or older should use a top bunk. Check Product Safety Australia for a complete list of safety measures you should take before you use the bunk.
What size mattress do I need for a bunk bed?
There was a time when all bunks used single-size mattresses, but now you can buy king-single, double and even queen-size bunk beds. Bunks usually always come with clear information about the mattress size required.
How do you style a bunk bed?
Fairy lights and curtains can turn a bunk bed into a dreamy hideaway. You could also jazz things up with some spectacular bed linen and cushions or even paint the bed frame for a completely new look.
---
This article is curated by our Editors and includes affiliates and/or paid inclusions. See our Disclosure Policy.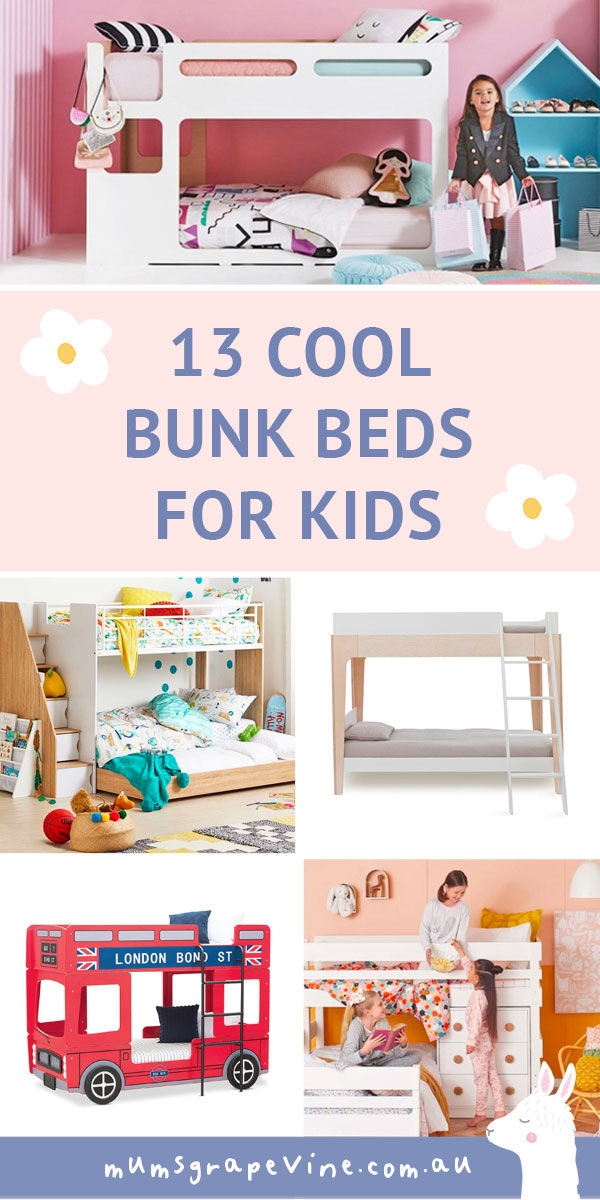 Know a great kids' bunk bed we should add to our list? Contact us and let us know.
Read these roundups next …