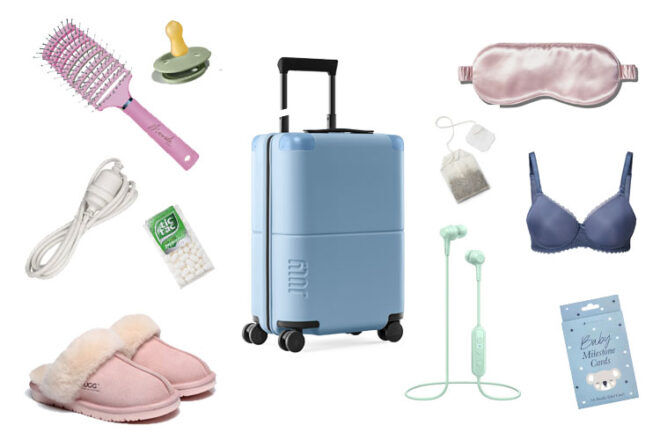 The countdown to baby's arrival is on. The nursery looks adorable, you're fully stocked with nappies and baby wipes, and the house is squeaky clean. Now it's time to follow our hospital bag checklist to ensure you've got all the essentials ready for your maternity stay and bub's arrival.
Particularly for first-time mamas, knowing what to pack in a hospital bag can be a daunting task – there's yourself to think about, but also everything that a newborn requires in those early days. To help, we've gathered everything you could possibly need for the huge event and popped them in one place for you to follow and decide what's important for you to pack in your hospital bag.
We've even made you a handy 'Hospital Bag Checklist' photo to save to your phone and refer to as you pack!
What to consider when packing a hospital bag
Length of your stay – The length of your stay will largely depend on whether you have a vaginal birth or caesarean birth, with the latter usually involving an extra few days for recovery. On average, new mamas tend to spend between three and five days at the hospital – so don't pack for a month!
Season – While the temperature inside the hospital is likely to be comfortable all year 'round, make sure you've got the right gear for the trip home. If it's the middle of winter, you'll need your coat and perhaps an extra blanket for baby. In summer, ensure you pack lightweight, breathable wraps and clothes for bub to avoid overheating.
Contingencies – Having a baby is a rather enormous event and one that doesn't always go as expected. Be prepared for longer stays by having an extra stash of certain essentials in the boot of the car, like maternity pads and underwear.
One bag per person –  In the name of good organisation, many mums swear by having separate bags for themselves, baby and their partner when packing for the hospital. Some mamas even separate another bag specifically for labour so that it's easy for partners and midwives to find essentials (like lip balm!) quickly.
---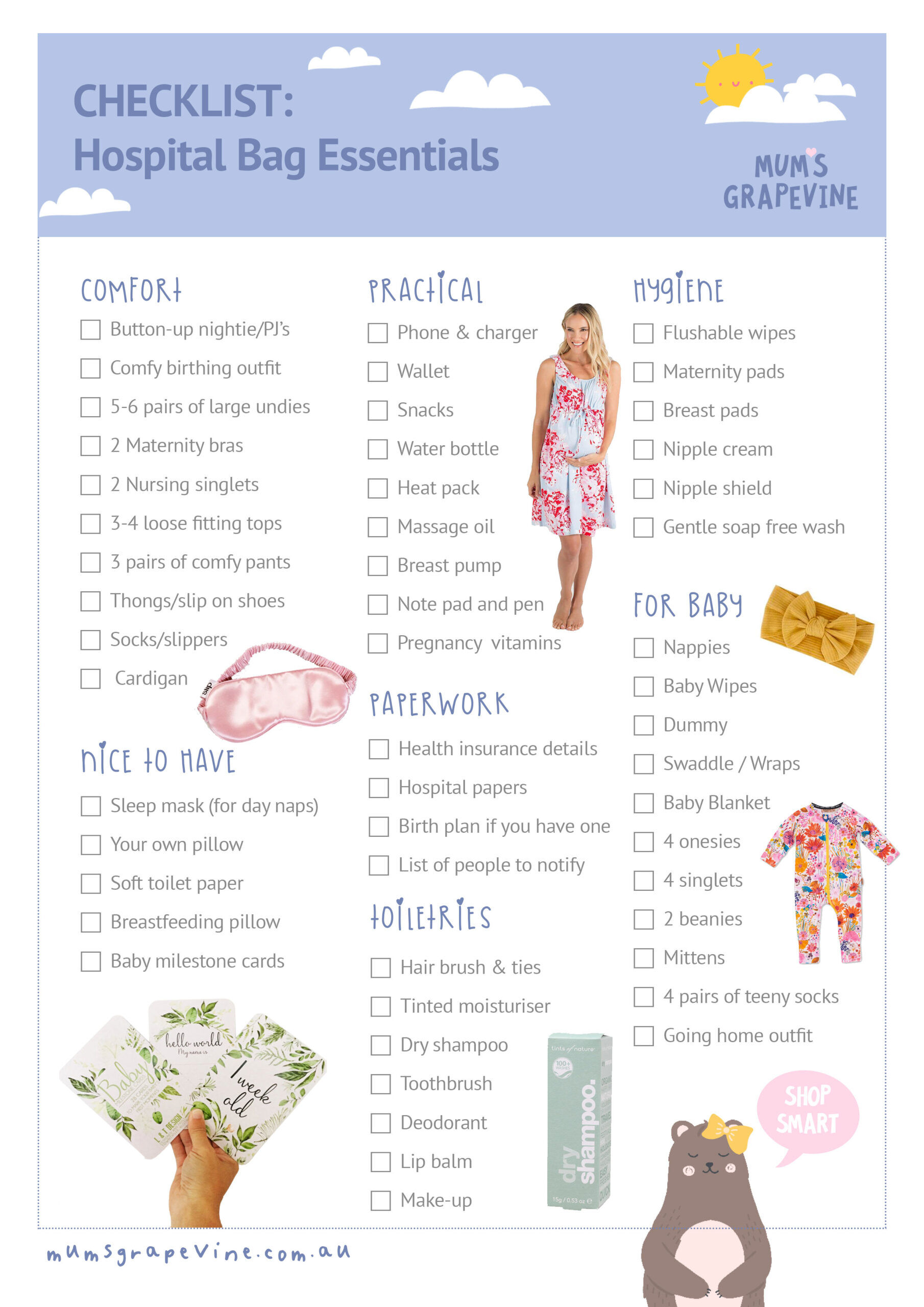 Save to phone
Simply press and hold this hospital bag checklist image and click 'add to photos' to save it to your phone.
Super handy if you're at the shops or have to message hubby in a hurry!
---
Use this handy checklist to help you decide what's important for you to pack in your hospital bag and the things that will make you comfortable.
What to pack in a hospital bag
82 things mums recommend to pack, and why!
1. Esky
Plan on keeping the placenta? Pack an esky or container to carry it home in. If you're not reusing the placenta, simply fill the esky with cold drinks and ice. There's no thirst quite like those first few days after having a baby.
2. Padsicles
Pack a stash of soothing witch hazel padsicles to help calm things down below after birth. The witch hazel, aloe vera and lavender all help with relieving pain and numbing after stitches.
3. Nipple shields
Never heard of a nipple shield? They can be a godsend to new mums. The plastic little shields assist in helping baby latch onto your breast while also providing a barrier to protect the nipple. You may not need them but if you do most hospitals don't provide them so tick them of your hospital bag checklist.
4. Tinted moisturiser
No one expects a new mum to look like a supermodel after giving birth. While a tinted moisturiser may not give back any sleep/energy from the past 48 hours, it is a simple way to look a little fresher for visitors and photos (without having to put on makeup).
5. Bathers
Whether planning a water birth or not, add a pair of bathers to your hospital bag checklist for both you and your partner. A shower or bath during labour may bring 10 minutes of heaven and your support person should be right there with you.
6. Water bottle
The little styrofoam cups the hospital provides aren't big enough and easy to knock over so bring a water bottle from home to stay hydrated.
7. Phone, charger & extension cord
1% is the last thing you'll want to see when taking pics of your precious bundle. And you'll want to pack an extended phone charger cord or extension cord, you don't know how far the socket is away from the bed.
8. Dry shampoo
New mum – meet your new BFF. You'll have better things to do in the hospital than wash and blow-dry your hair. Like, snuggle your dreamy newborn! So add dry shampoo to your checklist.
9. Lip balm
Keep lips luscious and un-cracked by having a nourishing lip balm handy. Hospital air-con and heating play havoc with the skin.
10. Pregnancy/breastfeeding vitamins
Continue the good habit of taking a daily vitamin while breastfeeding.
11. Maternity Pads and Adult nappies
They may not be the nicest thing in the world to wear but maternity pads are a must for most new mums. The hospital will provide some, but you may want to take a pack (or three) of your own in your hospital bag. You can also use adult nappies and pop a maternity pad inside.
12. Extra clothing
Pack something clean and comfortable to slip into after delivery. And a special little something for that adorable first photo with baby-to-be. Things can get messy, so pack a few back-up options just in case for both you and your partner.
13. Heat pack
Pick up a few heat packs to pop when the pain starts. When it comes to naturally assisting with pain relief, some hospitals will supply a heat bag but it's best to bring your own just in case. Also good for the afterpains.
14. Diffuser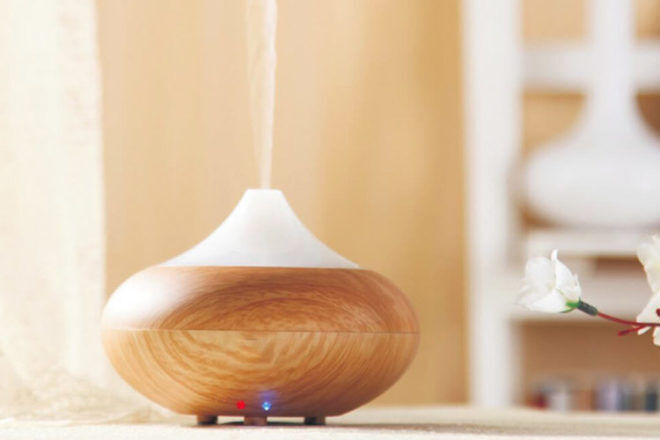 Using a diffuser is an easy way to fill the hospital room with a calming smell and create a more comforting environment. Just be sure to check with the hospital first to ensure they are allowed.
15. Your own pillow
The hospital will provide plenty of pillows, but none will be as comfortable as your own from home. So bring it. During labour, give your neck a soft and familiar place to rest in between contractions. And if you have a caesarean, hold a pillow over your tummy when you need to sneeze or cough to reduce the pain. Handy!
16. Flameless candles
Turn off the harsh hospital lights and enjoy a more zen-like experience. Real candles are not permitted in the hospital room (for fire hazard purposes), but flameless candles are totally ok. You could also take a string of Christmas lights.
17. Gum/mints
Save getting up and down to brush your teeth when visitors stop by the hospital by keeping some chewy or mints in your bag for a quick freshen up. And if you had a long labour and c-section it might a day or so before you can get up to brush your teeth.
18. TENS machine
TENS machines are designed to help alleviate the pain during labour by stimulating the nerves in the lower back. Buy your own portable one to plug in and use when needed. Just don't lose sight of the remote!
19. Music
Music can help shift focus and keep you calm under pressure. Swaying to music can also be a great way to ease bub into the right position. Create a beautiful birthing playlist and you're halfway there.
20. Thongs/slip-on shoes
The kind that doesn't involve looking down at (let alone bending down) to put on. Keep it simple. Your feet may still be swollen after birth so look for a pair that have a little give. Thongs are good in the shower and will help to stop slips.
21. High-waisted BLACK undies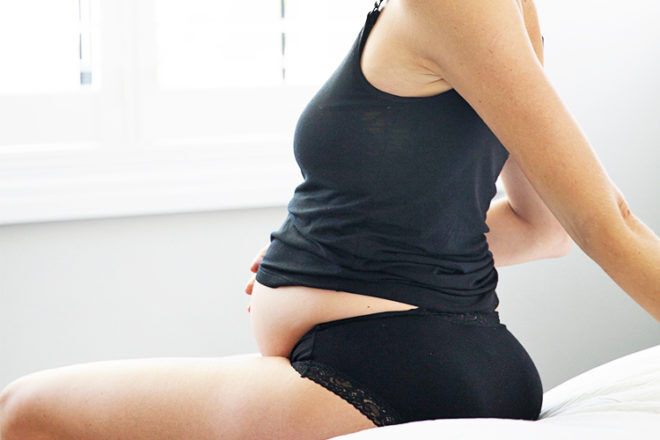 One thing that should be on every mum's hospital bag checklist is simple, cotton high-waisted undies keep you comfortable and supported. Some even have the added protection of being leak-proof for extra confidence.
22. Massage oil
Massage is one of the best ways to alleviate pain during labour. Pack a bottle of massage oil and relaxing essential oils to use while your partner rubs your back, shoulders, and neck. It may be a long time before they willingly do it again.
23. Snacks and drinks
Because the hospital snack cart doesn't come around quick enough. Keep energy levels up; morning, noon and night with a few of these ideal snacks for the delivery room. And make sure you've got plenty of snacks and drinks in your hospital bag for after the birth – breastfeeding will make you ravenous. Trust us.
24. Sauvignon Blanc and Brie Cheese
Not usually found on your typical hospital bag checklist, but packing anything you haven't been eating or drinking during pregnancy is something to look forward to. An entire antipasto platter if you want – pop it all in an esky, and then use that esky to bring your placenta home.
25. Ural
"Grab some Ural sachets and have a few a day in the first week. It makes your wee more alkaline so won't sting." – Chontelle
26. Delivery outfit
Whether you dress to impress or dare to bare on D-day, a delivery outfit is about making you feel empowered and as comfortable as can be during labour. It could even be an oversized t-shirt.
27. Paperwork & birth plan
From your birth plan to hospital admission papers, medicare card, health insurance details. Have all of your documents in one easy-to-find folder just in case someone else needs to grab it for you.
28. Makeup and facial wipes
Anything that prevents a new mum from being up and down like a yo-yo gets a vote from us. Pack some facial wipes and freshen up from the comfort of your own bed without having to use face wash.
29. Socks
And not just any socks. Cashmere socks. When everything else feels completely foreign, small things like this make all the difference. Especially when pacing back and forth on the tiled birthing suite floor.
30. Notepad/Journal and pen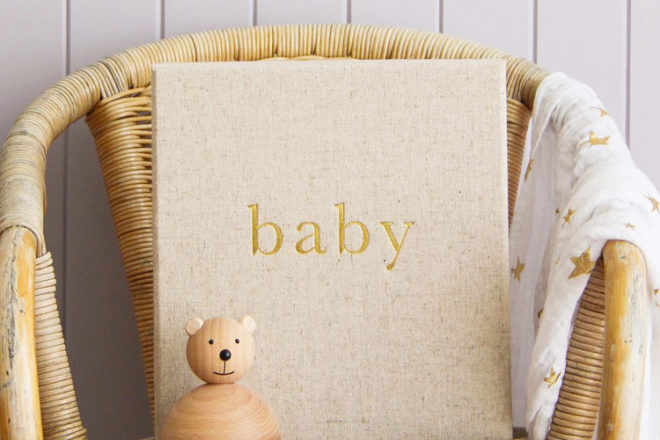 Midwives are full of helpful advice. Take note, as sleep deprivation and new information aren't the best of friends. A baby journal or notepad comes in really handy when recording baby's sleeping and feeding times, or gifts visitors give you too.
31. Sleep mask and earplugs
Hospitals are noisy places, so pack a pair of earplugs in your hospital bag and a sleep mask for naps during the day.
32. Breast pads
Prevent leakage by using breast pads when your milk comes in while your body figures out how much milk it needs to produce.
33. Nipple balm/cream
Find a nipple balm to prepare, soothe and protect your nipples for breastfeeding. One you don't have to wash off before feeding will make life easier.
34. Hooded towel
Baby will likely have their very first bath in the hospital. Pack a hooded towel from home so it's nice and cuddly, ready for an adorable photo op.
35. Baby Oil
Put a bit of Baby oil bub's bum before their first poo. Makes cleaning up so much easier. And it doubles as a massage oil during labour.
36. Loose tops
Nursing tops or maternity singlets are great for quick access when breastfeeding. They also make that all-important skin on skin contact a cinch. Naawwww.
37. Soft toilet paper
Tick this off your hospital bag checklist now. When it comes to loo roll after birth – only the best will do.
38. Compression wear
Compression garments provide new mums with the support their bodies and lady bits need. SRC Recovery range of products has been designed by women for women, and promote faster recovery after delivery.
"I used compression shorts after my c-section. Made me feel more 'held together'." – Lesley
39. Lose PJ's or nightgown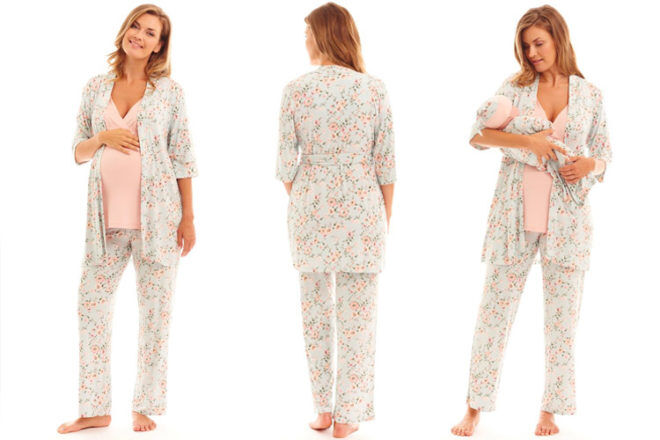 Loose-fitting clothes and PJ's are ideal for those first few days after birth and a nightgown is a big YES for feeding baby during the early hours. If your beautiful sleep set happens to play matchy-matchy with bubba's…swoon!
40. Milestone cards
Say "Welcome to the world" and capture it for the whole world to see. You didn't stay up all night online shopping for nothing!
41. Leaving hospital outfit
Pack a simple nightgown-free outfit and you'll instantly feel like a million dollars when you leave the hospital.
42. Nappies
Many hospitals don't supply newborn nappies. Check with your hospital – they're kind of important.
43. Bathers
Whether planning to or not, be sure to add bathers to your hospital bag. A shower or bath during labour may bring 10 minutes of heaven and your support person should be right there with you.
44. Clothing
Your little darling will need a change of clothes and quite a lot of them. Pack a variety of clothing, keeping in mind the season. Long warm onesies (make sure they have zips. Only zips. Fiddling with press studs at midnight is nobody's idea of fun), itty-bitty singlets, teeny tiny beanies and super soft socks. Cuuuute!
45. Peppermint Tea
Peppermint tea is a common remedy to aid digestion, often helping relieve pain and discomfort from gas and bloating. Whether you've had a caesarean or vaginal birth, anything to assist with that first bowel movement is a godsend. Trust us.
46. Swaddle/Muslin Wraps
Wrapping baby snug as a bug so they feel warm, safe and secure goes a long way to helping them sleep soundly. The ergoPouch Swaddle Sleep Bags are some of our faves.
47. Paperwork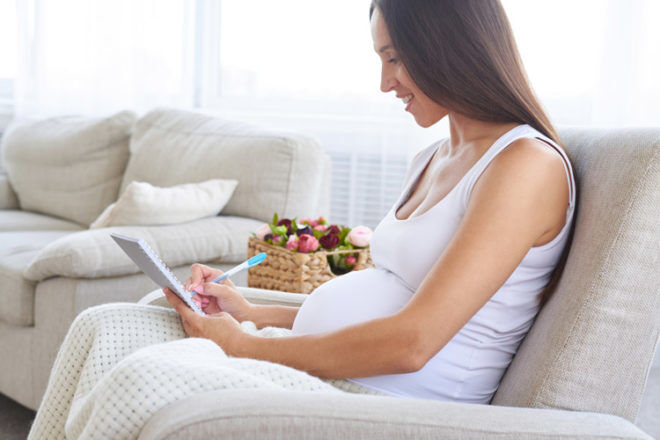 Write down a list of people to contact when your dreamboat baby arrives and have it ready to go in your hospital bag.
48. Going home outfit
Another milestone moment and one you are likely to capture on camera. Don't forget to pack a super cute going home outfit for baby to wear when you leave the hospital. We all know you bought it months ago!
49. Breast pump
You may or may not have to add this to your hospital bag checklist. Some hospitals supply electric breast pumps, others suggest mums-to-be bring their own.
50. Cash
Ask your partner to have some coins or cash on hand for late-night vending machine cravings or parking.
51. Hairbrush
The mum bun will have its heyday, but for that first photo of mum and baby together your locks deserve a bit of love.
52. Breast Massage Ball
When your milk comes in, the girls are going to feel tender and sore. Use the Lactamo Massage Ball to soothe achy breasts – you can heat it, cool it and keep using it right throughout your breastfeeding journey.
53. Sense of humour
Take your sense of humour and leave any dignity at the door. Whatever happens in the birthing suite stays in the birthing suite, but we promise you'll be giggling about it in years to come.
54. Wheat bag
Hit those afterpains with a warm heat pack on the tummy or lower back. Or just keep yourself toasty during those late-night feeds.
55. Flushable wipes
Soft and moist on sore bits after that first postpartum wee and poo. Just pat rather than wipe and don't forget to breathe!
56. Headband/hair ties
Keep those locks under control during labour with a headband or hair tie so that you won't need to wash sweaty hair too soon after birth. If you've got time, whack your hair into a braid – looks pretty for those first photos but is also loose and comfy for labouring away.
57. Cardigan or dressing gown
Night feeds + hospital = teeth chattering. Keep cosy and warm with a simple cardie or dressing gown that's easy to throw open for feeds.
58. HP Sprocket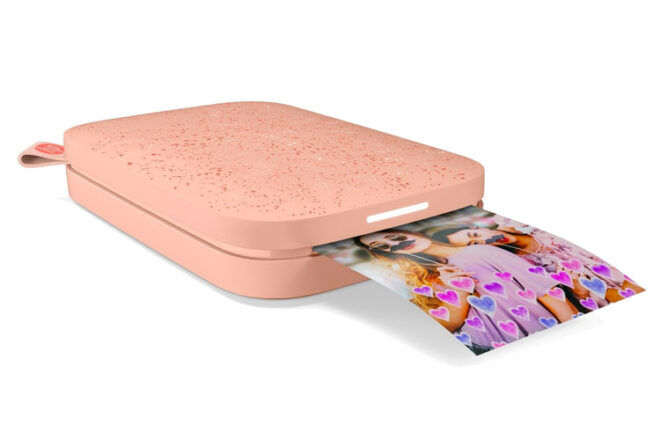 Trush us, this is one item you should put on your hospital bag checklist. A HP Sprocket is a little portable printer that connects via Bluetooth to your phone so you can start printing out a bazillion photos of bub even before you've left hospital. It's also super cute to be able to give visitors their first photo of bub.
59. Breastfeeding pillow
Whether you're breastfeeding or bottle-feeding, a comfy nursing pillow saves aching arms and sore backs.
60. Camera/Charger
Yep, some of us still use a regular camera instead of a phone – and honestly, this is a time that you want beautiful, crisp images. And if you're keen on birth photos but haven't booked a professional – ask your midwife to take some birth photos.
61. Perineal spray bottle
After birth toilet trips are made so much easier with a perineal bottle to cleanse your vajayjay after a wee. No need to wipe, just gently wash away the wee and pop on your pad.
62. Plastic bag
You don't want those dirty birth clothes just tossed in with your beautiful nighties and high-waisted knickers. So pack a plastic bag to stash your dirty laundry in – and your newborn's (yep blowouts happen in hospital too!).
63. Hairdryer
While you may want to use this to dry your hair, it's actually more for drying all of your bits. Pop it on the cool or just warm setting and use it to dry your c-section incision area or vagina after a shower. Just a bit gentler than a towel.
64. Lactation cookies
Get those milk makers prepped and ready to rock with some delish lactation cookies. It's never too early to start so if you're peckish during labour, nibble on a supply-boosting bikkie.
66. Baby mittens
Those teeny tiny talons are deceptively sharp so keep baby's face scratch free using a soft pair of baby mittens.
67. Change of clothes for your partner
Put this on your partners hospital bag checklist because: Bodily fluids. Enough said.
68. Laxatives
Just check with your midwife that it's ok, but these will be a godsend to get things moving. The mere thought of that first poo after birth is enough to make our eyes water, so just make like a Girl Guide and be prepared.
69. Headphones
If you're sharing a room with other mummas and newborns, but still want to be able to watch Netflix on your phone during late night feeds, headphones are a must.
70. Your own tea bags
We're not knocking hospital tea but … actually, we are. There's nothing quite like the comforts of home including your favourite cuppa.
71. Your own mug
While you're at it, pop your favourite mug in your baby hospital bag. There's just something super comforting about drinking a cuppa out of your own mug.
72. Hydrogel Breast Discs
Cooling circles of goodness that soothe irritated nipples, Hydrogel Breast Discs help heal broken skin.
73. Formula samples and bottles
Even if you're planning on breastfeeding, sometimes things don't go to plan. If you don't want to buy a whole tin of formula, pop some samples in your bag.
74. Dummy
Again, even if a dummy isn't something you're planning on using, at 2 am on night two when baby won't settle, you'll be thrilled to find one stashed in your hospital bag.
75. Maternity bras
You've probably already been wearing nursing bras for the last few months of pregnancy for the comfort factor, and they're about to come into their own. Just remember to pack a few extra for when your milk comes in, just in case you leak through.
76. Portable Speaker
To pump out motivating or relaxing labour tunes in the delivery suite.
77. Compression socks
Carrying a baby has put a huge amount of pressure on your legs. Compression socks help support and protect your legs from heavy, tired, achy legs even after birth. They help promote blood circulation so your legs feel lighter.
78. Slippers
Bare feet and hospital floors don't mix, so pop your favourite pair of slippers or comfortable shoes into your hospital bag for warm and protected tootsies.
79. Current medication
If you're on any current medication, make sure to add it to your bag – just tell your doctor or midwife so they can check it in.
80. Face cream
Hospital air conditioning and hydrated skin aren't really friends. Make sure to pack your face cream, or even some sheet masks to help soothe and treat your skin.
81. Toiletries
Shampoo, conditioner, body wash, deodorant, face wash, toothbrush and toothpaste. Simple, but easy to forget. You don't want to be meeting your new baby with morning breath.
82. Favourite towel
That first post-birth shower will feel like the best thing since sliced bread. It can only be topped by using a fluffy towel.
---
Clever tips from the Grapeviner mums
"Baby oil. Put it on bub's bum before their first poo. Makes cleaning up so much easier." – Kirsty Brown
"One of the best tips I received was to use incontinence underwear (the full underwear type, like a pull-up) instead of maternity pads for the first few days. You only need one packet. Much more comfortable and designed to hold a lot. And the sides just tear open to remove." – Martine McKee
"My advice is to have a 'grab bag' within your main bag that has EVERYTHING you will need for that first shower… undies, pad, clothes, toiletries etc. I had two emergency caesareans and was desperate for that first shower the next day." – Anika Wall
"A packet of cereal, some UHT milk, a bowl and spoon. You'll get hungry in the middle of the night and this was perfect for me." – Peta Griffith
"Before you go in be sure to visit Centrelink to apply for all of the various means of assistance … extremely tricky when you try to do it hospital and your brain is elsewhere." – Samantha Begg
"Don't stress if you forget anything, you can always send someone out to get it (like hubby or tell someone who is coming to visit to bring it for you!)." – Jenna Humphries
All the best of luck with the amazing journey ahead.
---

Due date getting close?
Join the #MGVfam in one of our prized Facebook Groups and meet thousands of other Australian pregnant mums due at the same time as you, all recommending their favourite maternity products and unearthing hidden baby shops. And you can too!