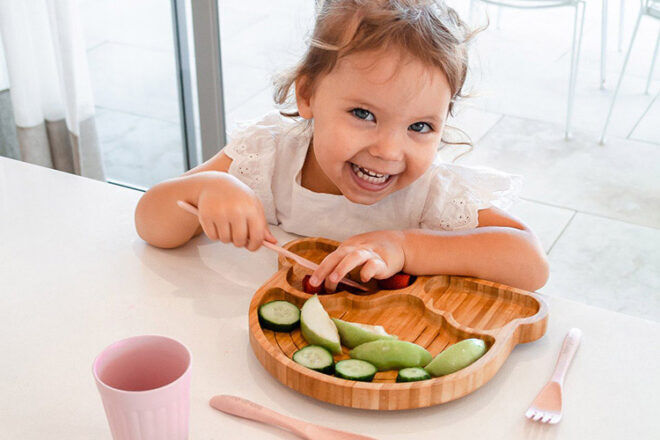 When it comes to babies and toddlers, mess is an inevitable part of the joy and privilege of raising them. Most parents would agree that they'd much rather see food on the table than the tiles. That's where a plate with suction lends a helping hand.
Fitted with genius sticky pads at their base, suction plates attach firmly to smooth surfaces like tabletops and high chairs. Not only do they put an end to airborne dinnerware and salad-strewn floors, but they also encourage independent feeding and a healthy relationship with food.
From crazy-cute bamboo styles to dishwasher-safe silicone, baby suction plates have never been sweeter.
What to look for when buying a suction plate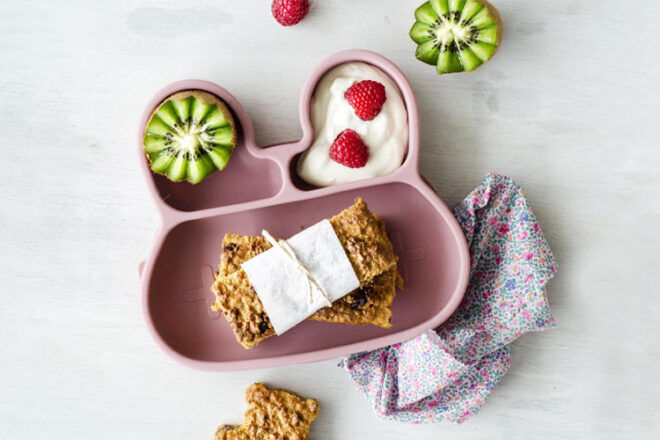 Safe materials –  It goes without saying that your children's tableware should be 100% safe for them to use. Look for durable materials like food-grade silicone and sustainable bamboo that are free from BPA, BPS, PVC, lead and phthalates.
Strong suction – This is the main calling-card of a suction plate – one that actually sticks and stays put on the table! The last thing you want when investing in kids tableware is to have Suction Plate: zero, Baby: one.
of the
Easy to remove – You want a baby suction plate that's easy to remove, even if dinner is only half eaten. Look for a large base and easy-lift tabs that release the plate without too much effort.
Nice on the eyes – Meal times with little ones should be fun, and when food is presented on a super-cute plate that gives tots a twinkle in the eye, it might just translate to that broccoli being popped in the mouth.
12 baby suction plates that stay put
To help you find a functional (and gorgeous) suction plate, we've compiled this list of cool brands available in Australia to get you started in your search.
Some brands have offered exclusive offers for Mum's Grapevine readers. These offers may include exclusions and expiry without notice. Please direct all inquiries directly to the linked website.
Eco Rascals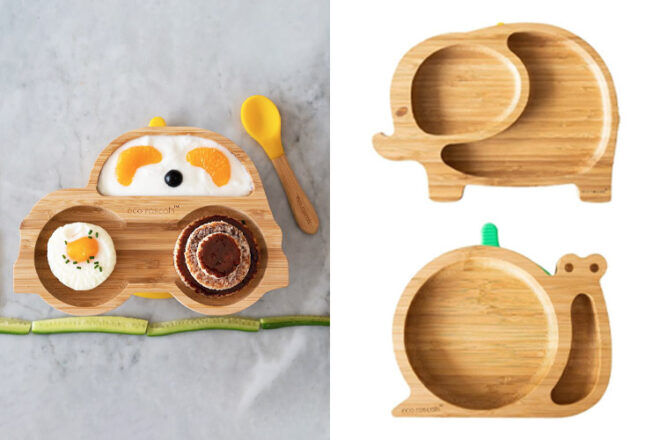 Sustainable and organic bamboo is a big tick from an environmental point of view, but it's the ridiculously cute designs that make these suction plates a real winner. Available in a variety of shapes and colours, the suction base is detachable for older kids.
---
Boon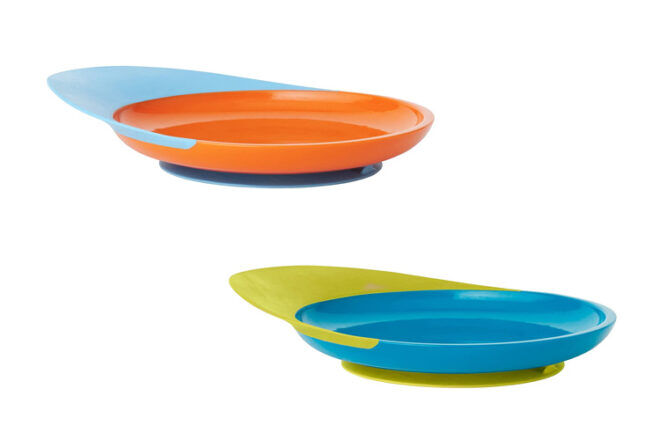 It may look a lot like a UFO, but it won't fly away thanks to its sturdy suctioned base. This dishwasher-safe option funnels runaway food back onto the plate and comes with a flexible food catcher. Choose from two colour schemes.
---
Done by Deer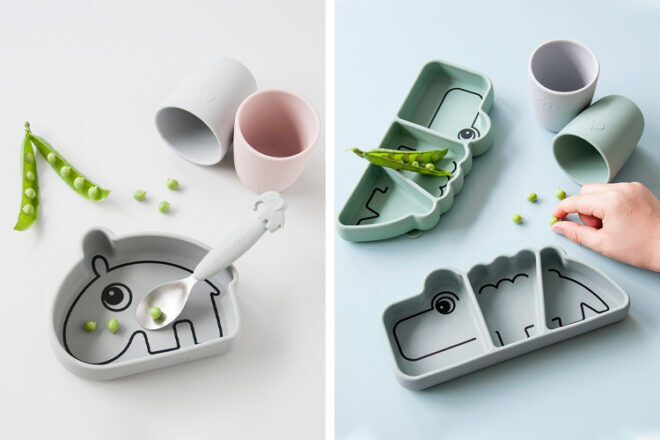 Oodles of personality and high-contrast imagery make these plates winners for first baby meals. They feature rounded edges for simple scooping, quick-release flaps and tick the box for easy cleaning and safe re-heating.
---
We Might Be Tiny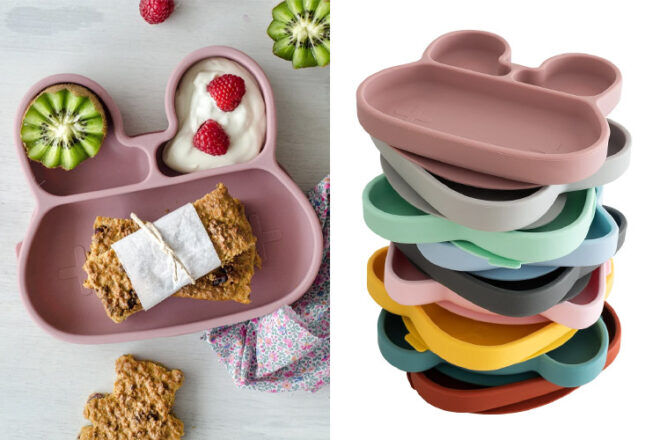 Made from stain-resistant silicone, toddler-proof Stickie Plates come with a built-in suction base that secures to almost any solid surface. Microwave, dishwasher and oven-safe, they even come with fitted lids for simple storage of little leftovers.
---
Emondo Kids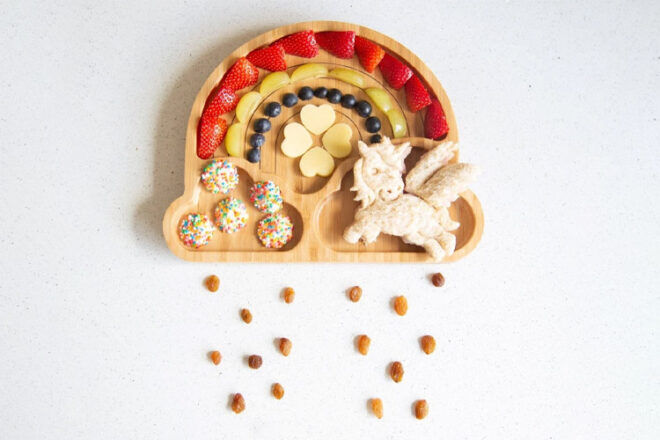 Portion your child's meal using the three compartments or go one step further and use the rainbow's lines to create edible art! Made of 100% sustainable bamboo, this is a practical meal-time solution you'll be reaching for constantly.
---
Little Eli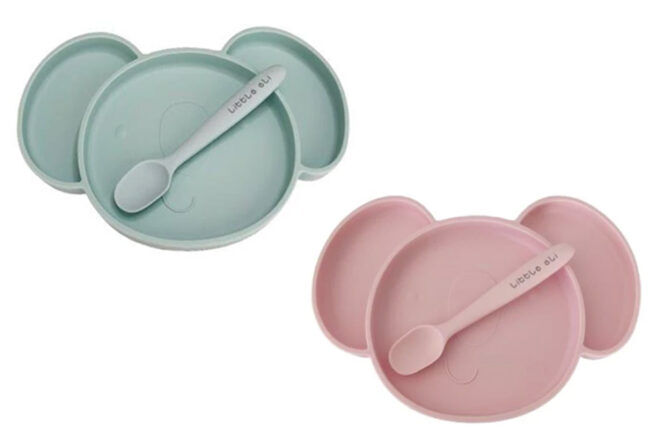 Prepare to be bowled over with the cuteness of this mealtime set. In addition to its gorgeous design, it's BPA, PVC and phthalate-free and comes with a huge suction base for more stay-put power.
---
OXO Tot
Designed for easier self-feeding, OXO Tot's tantrum-proof suction plate is a cinch for grown-ups to remove, but not so easy for little ones. It quickly twists apart for speedy clean-ups and it's safe to pop in the dishwasher.
---
Bumkins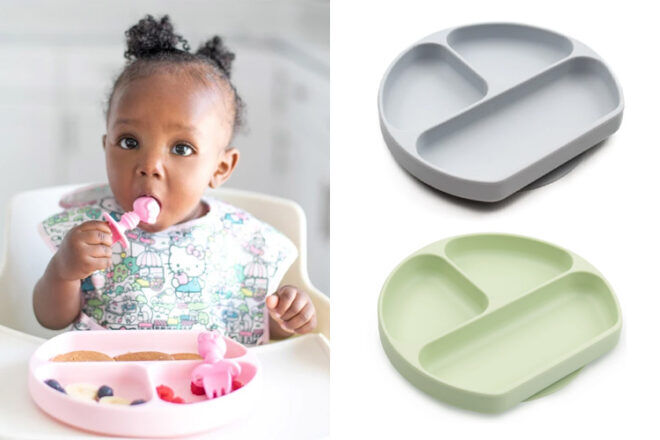 These colourful numbers are designed especially with early eaters in mind. They have smooth rounded edges, handy compartments for perfect portions and super suction to keep nibbles nailed down. Chemical-free, they're stain-resistant and antibacterial.
---
Beaba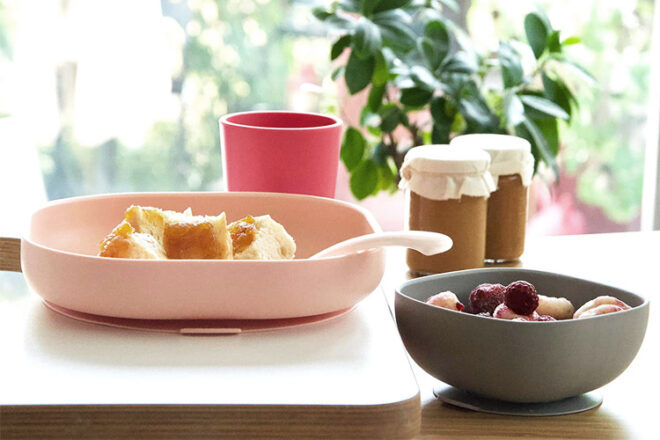 Crafted from chemical-free silicone and perfectly sized for toddler meals, this plate means mealtimes without the mess. It's safe for dishwasher and microwave use and it comes with a tough base that sticks securely to clean surfaces.
---
Little Baby Paw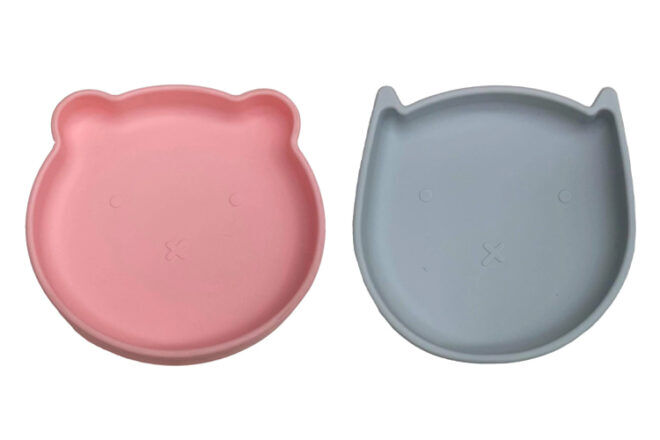 With cuteness in spades, these minimalist dinnertime pals come with an innovative non-slip suction base to keep dinner where it belongs. They're tilt proof, oven and dishwasher-safe and they come in a choice of four gorgeous colourways.
---
Marcus & Marcus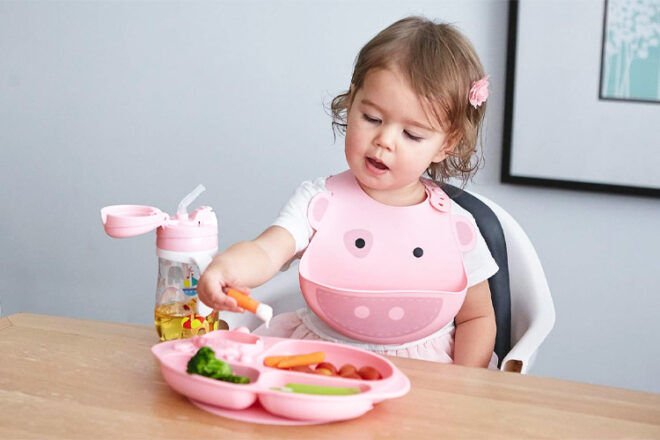 Little ones will appreciate the cute design, you'll appreciate that the plate stays put. Made from unbreakable food-grade silicone rubber and fitted with easy-release tabs, this mealtime companion comes in six colours to suit every little personality.
---
Plum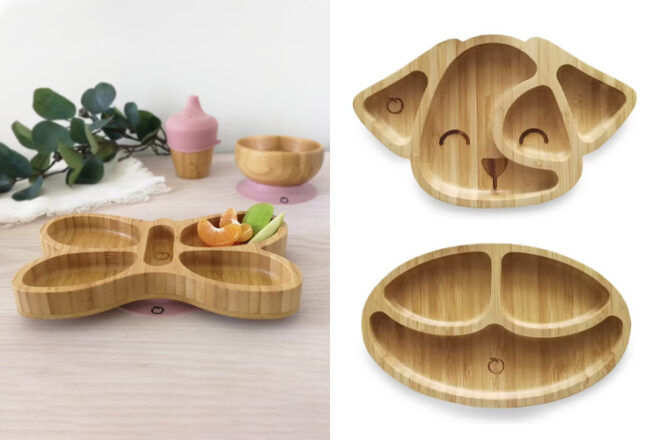 With sweet designs, rounded edges and easy-care sustainable materials, these kiddie plates tick all the boxes. Each comes with a super-tough silicone base that grips tight to almost any smooth surface. How to choose?!
---
This article is curated by our Editors and includes affiliates and/or paid inclusions. See our Disclosure Policy.
Know a product we should add to our list? Contact us and let us know.
Find more products for mealtimes …
From pint-sized cutlery sets to sweet sippy cups, take a look at these roundups for more mealtime inspiration.
Read this: Toddler meals: what kids really eat