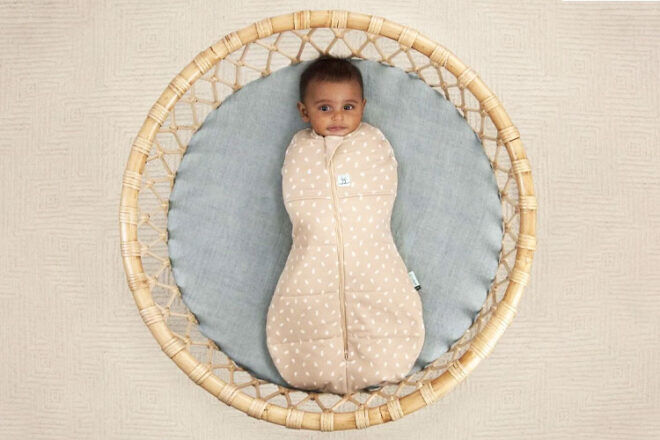 A perfectly sized baby swaddle suit keeps newborn bugs snug and help them get all the precious zeds they need.
Baby swaddles are cocoon-like garments that mimick the cosiness of the womb to help reduce anxiety and improve sleep quality in newborns. They prevent scratching and constant waking from the startle reflex, plus with no wrapping required, they make dressing minis for bed an absolute breeze.
Keep reading for important features to consider when you're on the hunt for a practical baby swaddle along with a handy list of the top brands in the land.
What to look for in a newborn baby swaddle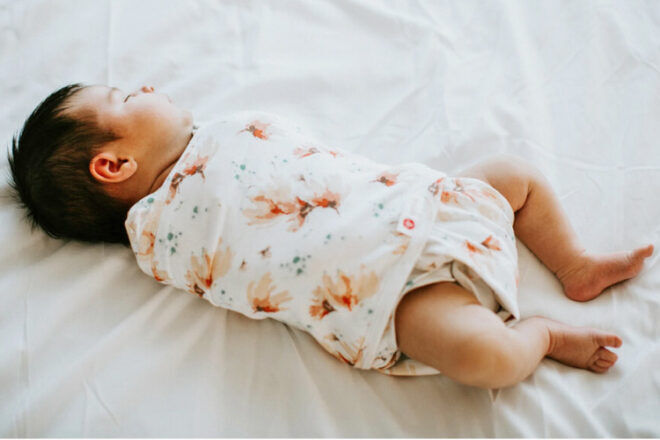 Breathable materials – Like any sleepwear for babies, ensure your swaddle is made of natural fabrics that allow good airflow. This is important for keeping baby at a comfortable, safe temperature while they snooze.
Hip-friendly design – With Healthy Hips Australia reporting that eight babies a day are diagnosed with developmental dysplasia of the hip (DDH), preventative measures are super important in the early months. Hip-friendly swaddles give little legs plenty of room to sit in the natural 'froggy' position and move freely.
Ease of washing – From dribble to reflux and inevitable blowouts, you can count on having to wash bub's swaddles often. Look out for resilient materials that are machine-washable, quick to dry and won't lose their shape easily.
Longevity – Swaddles have come a long way from the muslin wraps all parents used. Many clever contemporary designs can adapt to your baby's growing body and developmental changes; some can be used as transition suits, others convert to sleep sacks for older bubs. So handy.
T.O.G – Like baby sleeping bags, swaddles also sometimes come in different T.O.G ratings, which is a measurement that indicates the warmth of materials. The higher the T.O.G rating, the warmer the garment, so keep this in mind when buying for warm and cool climates.
---
14 best baby swaddles for newborn bubs
To help you find that perfect swaddle faster, we've put together a fab list of styles that other parents are loving.
Here are 14 of the best newborn baby swaddles in Australia:
ergoPouch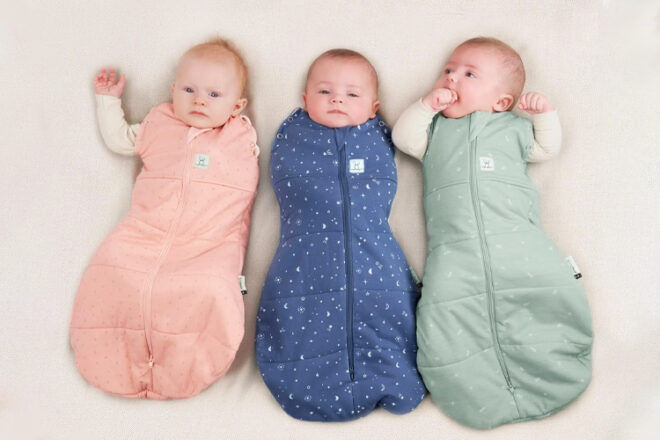 Available in a range of T.O.G ratings, ergoPouch Cocoon Swaddle Bags have you covered all year. Easy to use, but hard to escape from, they're made with GOTS certified organic cotton and bamboo plus elastane for stretch. Arm poppers make them fab for transitioning bubs.
---
Bubbaroo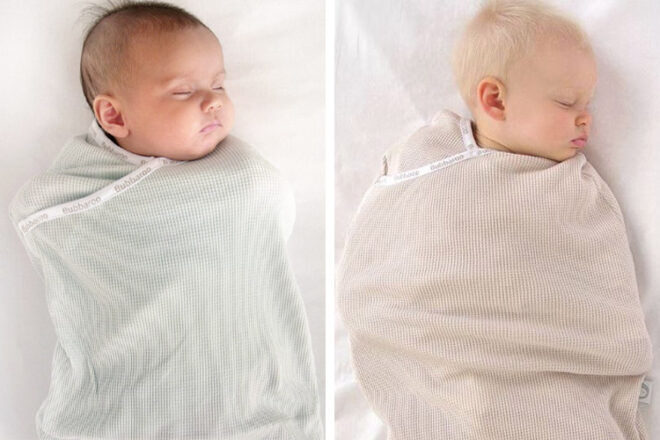 The perfect pouch for your little joey. Bubbaroo's award-winning swaddles are made with lightweight, knitted cotton that's machine washable and fast drying. They come in one size to fit newborns through their early months and have a bottom zip for easy nappy changes.
---
Love To Dream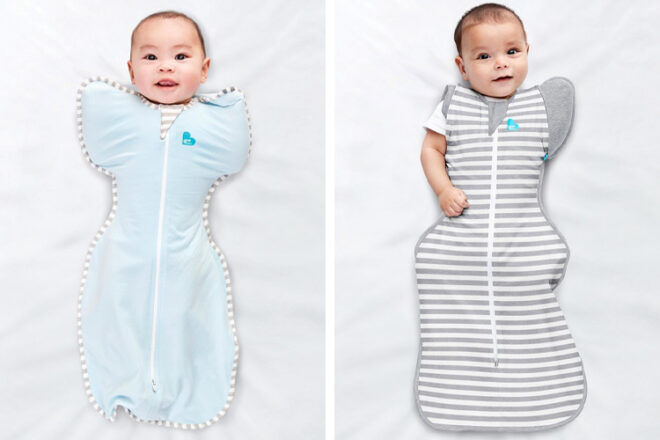 The multi-award-winning SWADDLE UP is a favourite among mums for its unique shape that allows bubs to sleep with their arms up, just the way so many like it. Choose from original styles in multiple T.O.Gs and transition suits for bubs ready to free up an arm.
---
Snuggle Hunny Kids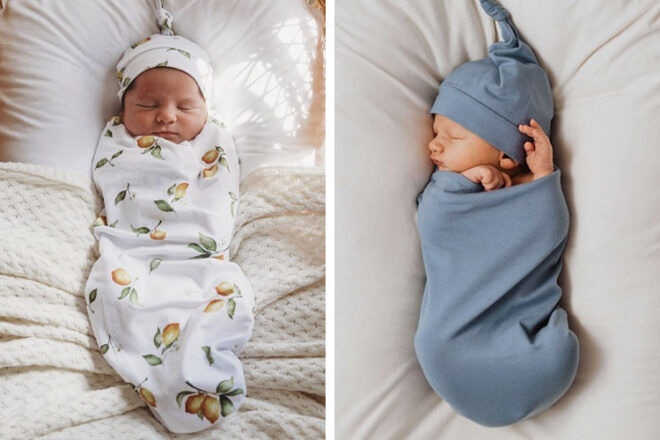 Exquisitely soft and beautifully designed here in Australia, these are swaddles you won't be able to take your eyes off. Like a stretchy sack, each is free from Velcro, zips and buttons, and comes with a matching beanie for next-level cuteness.
---
Mokopuno Merino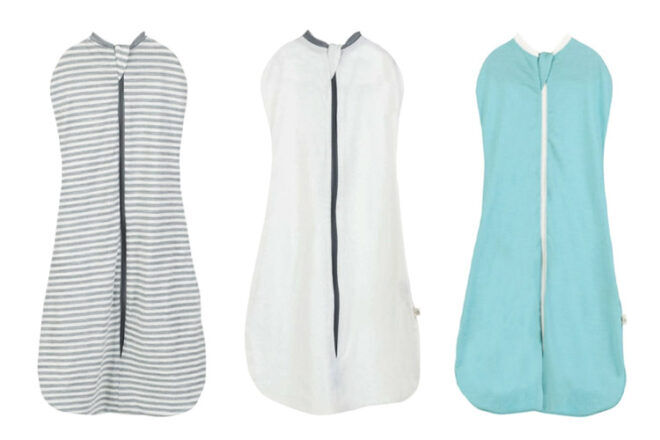 Silky-soft Mokopuna swaddles are made of 100% Merino wool to insulate baby while allowing healthy airflow throughout the seasons. Acknowledged as hip friendly, they give babes loads of wriggle room and come fitted with a two-way zipper for change time.
---
Sleepy Bub
Some bubs like to snooze with their arms down, some with their arms on their chest, and Sleepy Bub hip-healthy swaddles cater to both. Ultra-soft thanks to GOTS certified organic interlock cotton, they come with protected zippers and sweet fold-over mittens. Aww.
---
Embe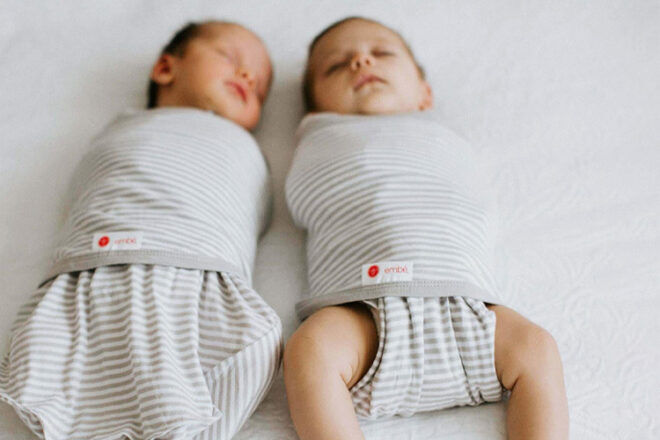 It's the world's only legs in / legs out swaddle and it's perfect for adapting to changing weather and doing nappy changes with the stealth of a ninja. Hip safe, it comes with a 'no break-out' zip that keeps little ones cocooned and cosy all night long.
---
Tommee Tippee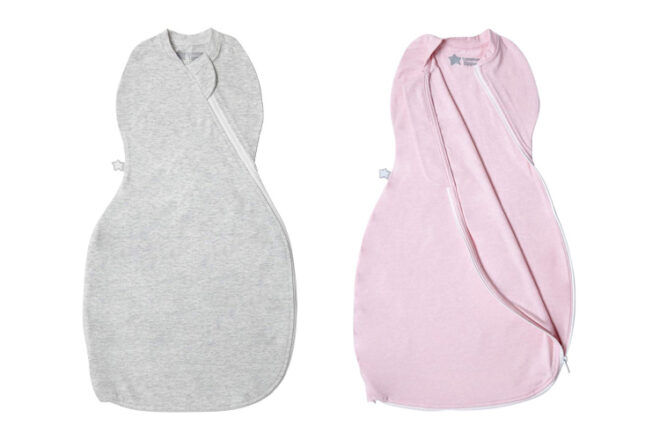 These zip-up swaddles make bundling up baby a breeze. Fully accredited as 'hip-healthy', they come in a choice of colours and are specially designed for newborns up to around three months of age. Made of soft cotton, these are easy to care for and easy to wear.
---
Purflo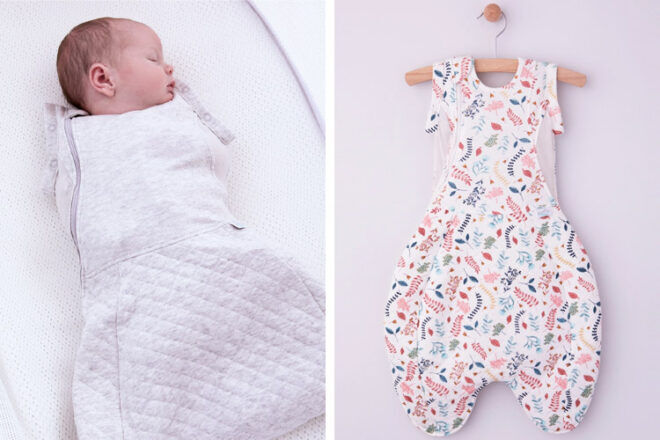 The Purflo Swaddle To Sleep Bag was created as a healthier, safer sleeping solution for new little humans. Super snug, it eliminates the need for loose bedding and has unique mesh panels for great airflow. And when bub outgrows the swaddle, it converts to a sleeping bag.
---
Summer Infant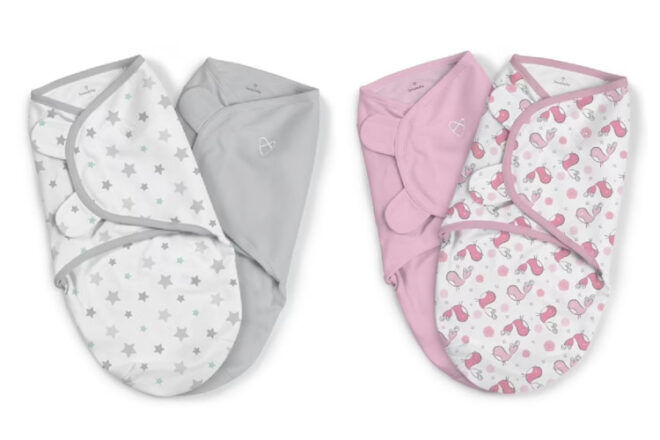 Snug and easy to use, the SwaddleMe features adjustable wings that fasten securely around bubs with a hook and loop system. There is a handy zip at the base for quick nappy changes in the 'wee' hours and a fun range of styles to choose from.
---
Bespoke Baby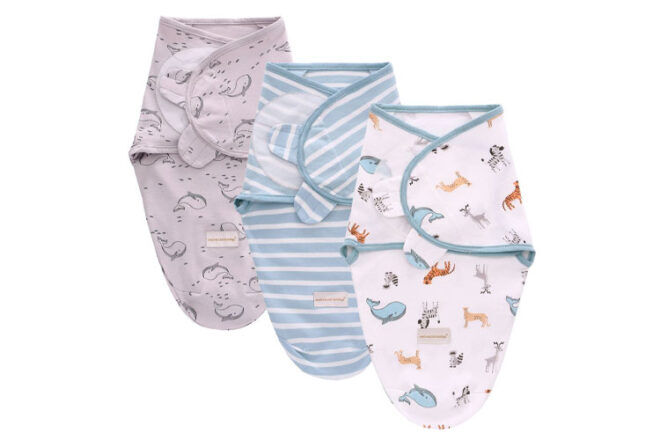 Available individually, in multi-packs or in sets with a matching hat, these swaddles are as giftable as they are gorgeous. Taking the struggle out of swaddling, they come with non-scratch Velcro that holds bubs nice and tight for a better night's sleep.
---
Woombie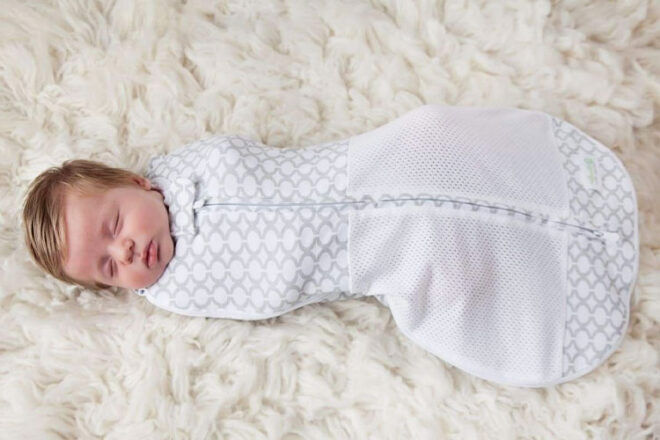 The clever Woombie covers all five stages of sleep to see babies from birth right through to 18 months of age.  Cotton and Spandex provides plenty of room to wriggle, while mild compression mimics the sensation of touch to soothe new little humans through the night.
---
Lekebaby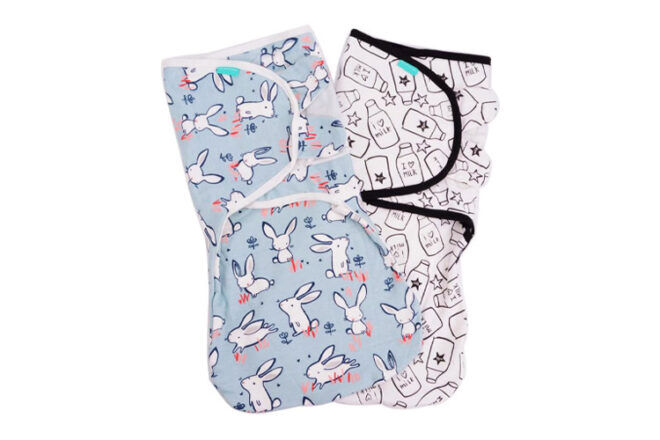 In soft cotton and a simple design that takes the stress out of dressing bub for bed, it's easy to see why this budget-friendly set is winning fans. It comes in two sizes and features adjustable wings that secure with Velcro tabs.
---
Billie + Bobbie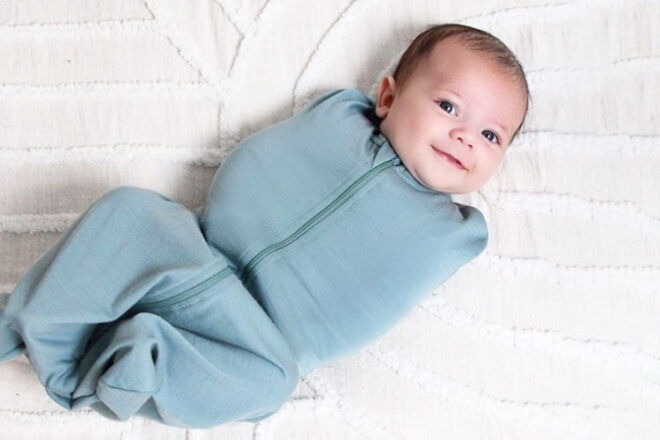 Designed specially with safety and comfort in mind, the Billie + Bobbie Swaddle Sack is proudly made in Australia from superfine merino wool. Naturally breathable, it helps reduce overheating and eliminates the need for extra blankets.
---
How do you dress a baby under a swaddle?
It's super important to avoid baby overheating, so don't overdress baby under the swaddle. Red Nose Australia recommends dressing baby as you would dress yourself for the temperature of the room. Use breathable, lightweight garments made of fabrics like muslin or cotton.
Should I swaddle my baby for daytime naps?
If swaddling helps baby nod off sooner during the day, go for it. In fact, daytime can be harder for falling asleep due to household noise and daylight, so the extra comfort of a snug swaddle can be helpful.
When do you stop swaddling a baby?
The most important sign that it's time to stop swaddling is when baby learns to roll over, which happens anywhere between two and four months. Of course, bub could show clear signs that they're done with the swaddle before they even learn to roll, like constantly breaking out of it and waking repeatedly when wrapped.
---
This list is curated by our Editors and may include affiliates and/or paid inclusions. See our Disclosure Policy.
Seen a sweet swaddle that we should add to our list? Contact us and let us know.
Read these roundups next …
Looking for more sleepytime products for baby? Our suite of product roundups connects you with the most popular goodies and boutique brands in Australia.
Read this: How to safely swaddle a baby