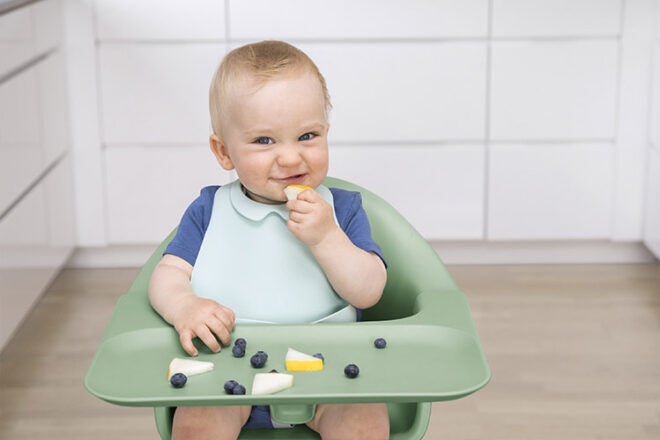 When it's time to introduce solids, new foodies need a safe place to eat. Australia's best baby highchairs free up parents' hands and give your little one a secure spot to enjoy those first foods (and do crazy stuff with spaghetti.)
Not only does a high chair keep babies contained and upright while they munch, but they're also a fab way to encourage independent eating and make clean-up a breeze. From wooden Scandi numbers to clever convertible styles, today's feeding seats are designed with convenience and longevity in mind – and they've never looked so good.
What to look for when buying a high chair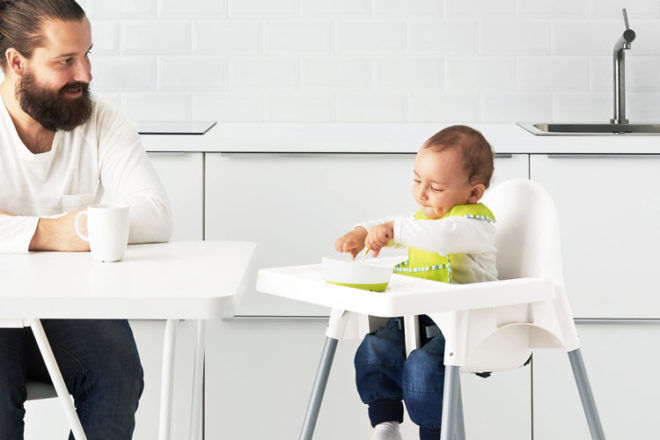 Baby's Safety first: Product Safety Australia outlines that a high chair should be stable, have at least two lockable wheels (if on castors) and be fitted with a five-point safety belt harness (refer to the Australian standard AS 4684 – 2009 for detailed safety information).
Easy to clean: Ever watched a six-month-old eat yoghurt? Mess is major when it comes to feeding time, and an super easy to clean chair is a godsend for busy parents. And a tray with raised edges helps keep the food off the floor.
Fully adjustable: High chairs that are collapsible or have removable legs can be easier to move around the house and travel with, so they're particularly great for families on the move.
Not to heavy: If it's likely to be moved around a lot, look for a high chair made with lightweight materials and without excessive bulk.
Longevity of use: After a feeding solution that will see you right through the early years? Many high chairs can convert to junior chair as baby grows, extending the life of the item and saving you from making additional purchases.
OUR PICK OF THE BUNCH
8 baby high chairs (that are super easy to clean)
To help you find the perfect chair for feeding your bub, we've curated a handy list of baby highchairs in Australia to get you started.
Here are 8 of the best high chairs for babies in Australia for 2022:
Stokke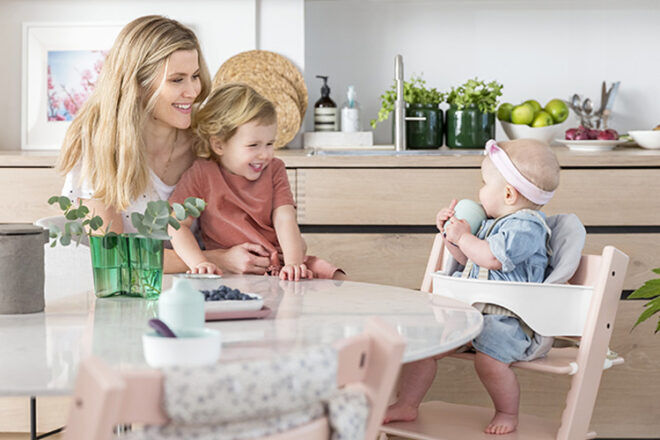 The award-winning Tripp Trapp Chair is designed for every stage of childhood from newborn and beyond. Easy to clean, the classic iconic design has a fully adjustable footrest and seat which holds up to 136kg. The 'baby set' and tray is sold separately.
---
Little Lou Baby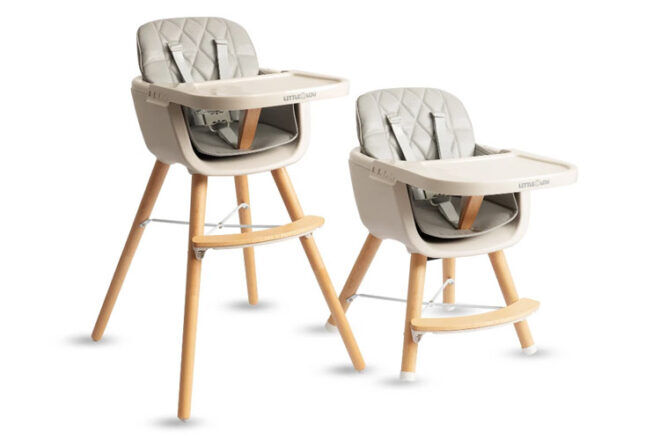 Both a comfy spot for the early days and a robust toddler chair for growing humans, the 'Switch' by Little Lou Baby has parents covered for years. Available in two colours, it has a five point harness, removable tray, easy-clean seat and stable footrest.
---
Leander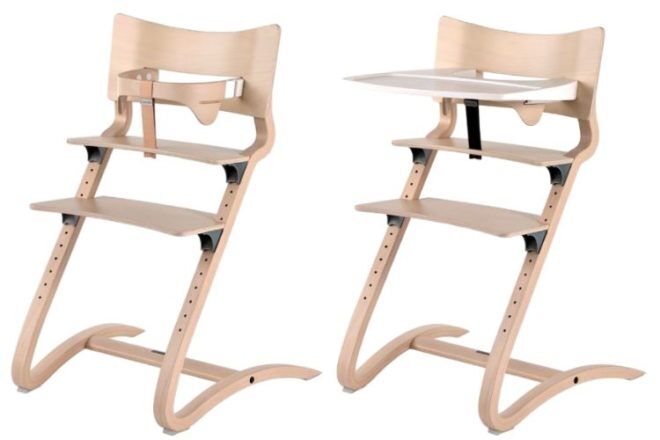 This European ergonomic chair is as striking as it is useful. Made of timber for a sturdy structure that can hold up to 130kg, its sleek design lends itself to use throughout the many different stages of growth. Removable tray, safety bars and removable seat pad available separately.
---
Stokke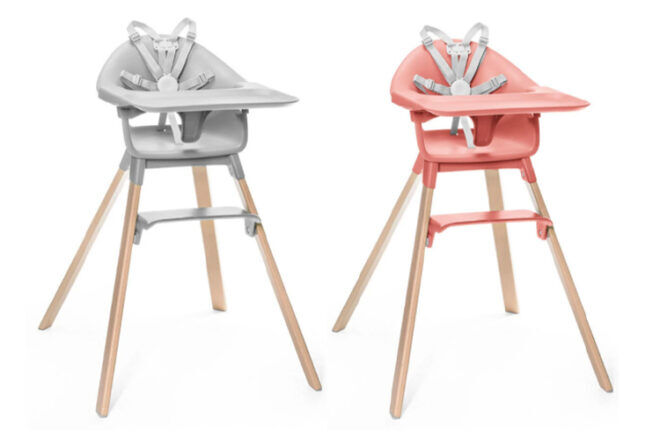 Assembled in under a minute (tool-free!), the Clikk Chair is suitable from six months up to three years. It's a cinch to keep clean thanks to the dishwasher safe tray and comes with all your meal time needs, including a five-point harness and adjustable footrest.
---
QToys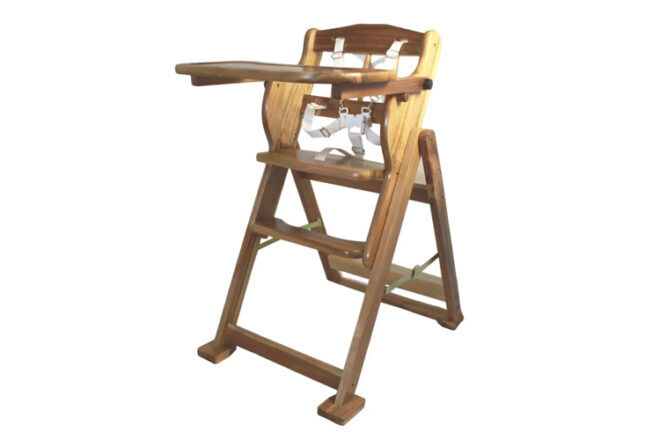 With four height levels and an adjustable footrest and tray, this Montessori-style chair grows with your child from their first meals right up to school age. Fitted with a five-point safety harness, it's made from eco-friendly plantation timber.
---
Kidsmill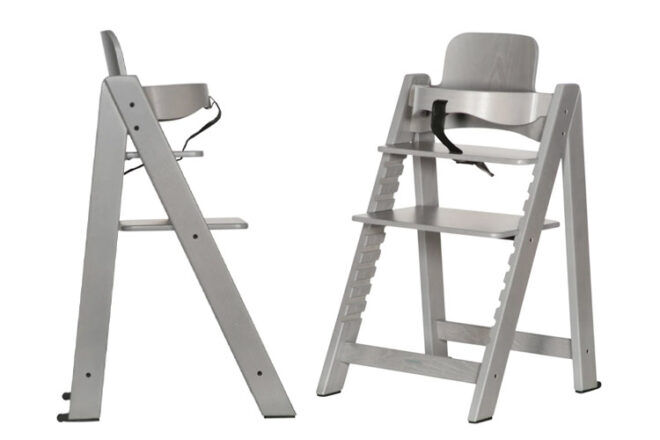 Available in four contemporary colour schemes, the Kidsmill Up! is as fresh as it is functional. Made of solid beech it's built to stand up to years of constant use and can be adjusted to adapt to your child's needs. It has an ergonomic seat and holds up to 90kg.
---
Childhome
With an easy-clean chair, buckets-loads of style, and all the versatility families need, this award-winner is a standout. It's designed to serve three stages: infant feeding, dining table feeding, and play – so it's going to see kids through years of food-inspired fun.
---
Love N Care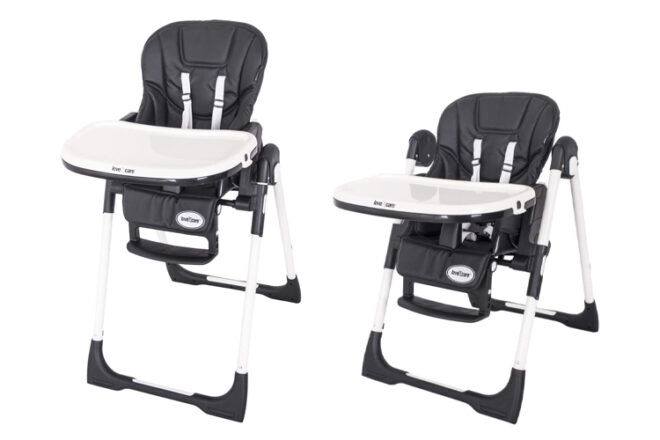 Foldable, padded and fitted with handy wheels for moving around the house, the Montana oozes comfort and convenience. The footrest and backrest are fully adjustable and there are seven different height settings to choose from.
---
Baby Highchairs: Your questions answered
Buying any kind of baby feeding chair can be tricky, so to help you out, we've answered some of the most common baby products questions when it comes to feeding seats in Australia.
When can a baby sit in a high chair?
Most babies will begin using one when they start eating solids at around six months of age. To be developmentally ready, they should have good head control and be able to sit up on their own.
When do kids stop using a high chair?
This depends on your child's size and stage of development. Some children may continue to it right through their toddler years, others may be ready to move on to a booster seats soon after their first birthday. Take into account how much support your child still needs before making the change.
How much does a high chair cost?
In Australia, there are styles to cover every type of budget, starting as low as $25 and ranging up to $800.
Should I use a high chair or a booster seat?
A high chair is often preferred for younger babies still being fed by a parent because they're more sturdy and supportive. Once little ones become more confident sitting unsupported at the dining table and begin eating independently, booster seats or junior chairs are a great option for the family table.
---
This list is loving curated by our Editors and may include affiliate and/or paid inclusions. See our Disclosure Policy.
Read these roundups next …
From cutlery for little hands to trusty sippy cups, these next baby essentials roundups have everything you need to make feeding solids a breeze.
Read this: 100 foods baby should try before turning one (checklist)