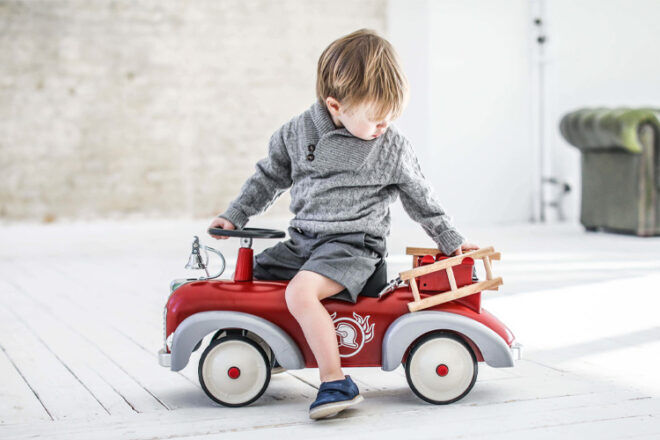 Ride-on toys and cars are the ultimate playthings for kids who love a big adventure.
Packed with developmental benefits, kids' ride-ons are stable, simple to manoeuvre and seriously cute. From sweet wheely bugs to the coolest electric cars you ever did see, styles in Australia cover all themes and budgets – and they make special gifts little hooners will never forget.
Keep reading for tips on what you should consider when you're on the hunt for a kids' ride-on car plus and a juicy list of the most irresistible rides around.
What to consider when shopping for ride-on toys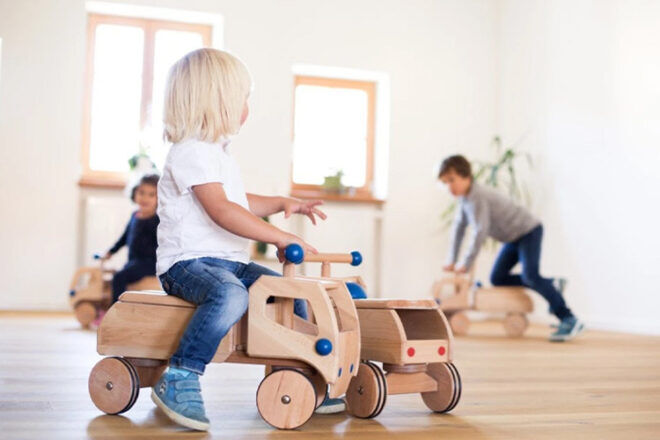 Safety – Look for rise-on cars and toys that use lead-free and non-toxic materials, and for kids under the age of three, it's important to avoid products with detachable small parts and cords longer than 22cm. Protect little fingers by avoiding products with pointy or sharp edges. (Refer to Australian Product Safety for more toy tips.)
Stability and strength – Your little speedster is going to put that first ride-on through its paces, so a sturdy and tough frame is important. It needs to be well balanced to ensure little ones won't tip easily and be to stand up to lots of wear and tear without breaking.
Indoor or outdoor use – Consider whether you want your toddler to ride inside the house or outside. For outside use, you'll need to ensure wheels are tough enough to handle pavement, grass and possibly wet surfaces.
16 ride-on toys for cool kids
To help you get your hands on that perfect first ride-on faster, we've scoured the country to bring you a complete list of the top options around.
Here are 16 of the coolest kids' ride on cars and toys in Australia:
Mocka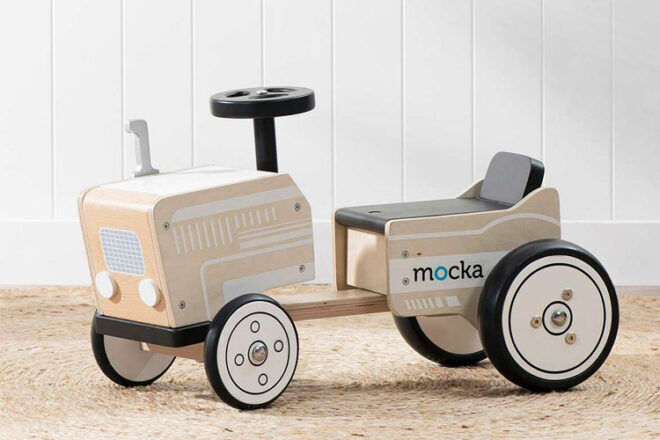 The perfect indoor ride for little farmers with a crop to plough, this adorable wooden tractor is suitable for kids 12 months and above. The tall steering wheel is easy to turn and help kids develop their coordination skills as they cruise the fields.
---
MOOVER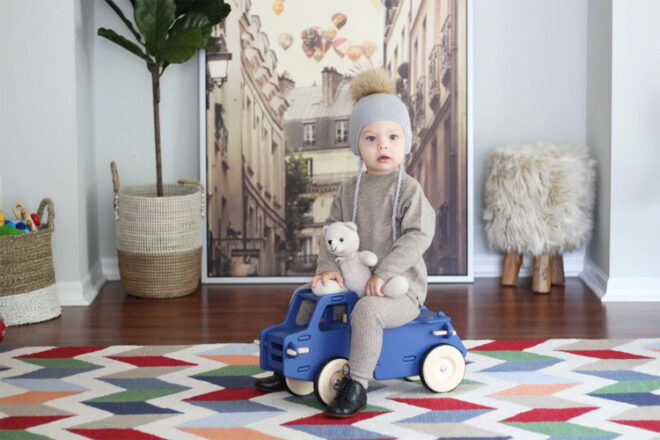 Beautifully made in Denmark, this chunky dump truck is both a toy and a ride-on vehicle. Little drivers can steer independently, reverse and even tuck away a favourite teddy in the storage cabin. This one comes flat-packed in a choice of three colours.
---
Baghera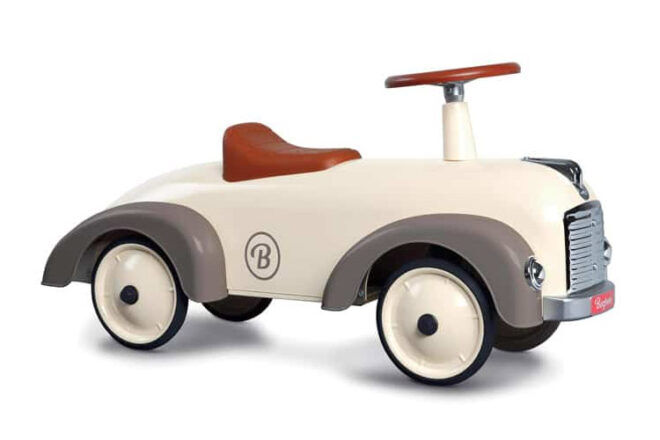 Made for stylin' toddlers aged one to three years, this sleek 1950s ride has an aerodynamic body that's made to cruise. It has rubber tyres, a functional steering wheel, metal bodywork and a comfy seat perfectly sized for toddler bots. This is one sweet ride.
---
Hip Kids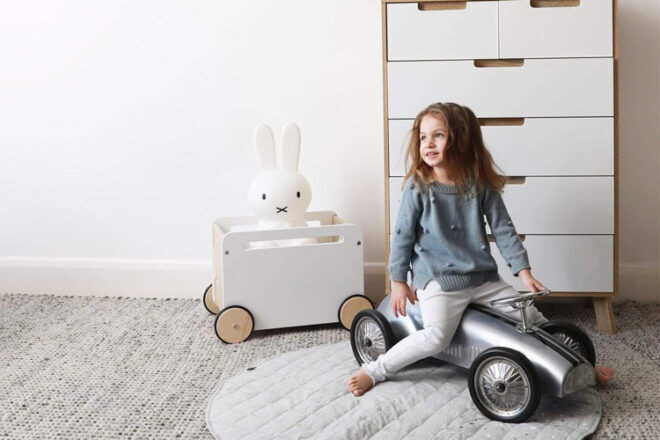 Drivers ready! This retro push-along racer is modelled on speedsters from the 1930s and it's as cool as it gets for kids who love life in the fast lane. It comes with a working steering wheel, rubber tyres and a quality lead-free powder-coat finish.
---
Wishbone
This is the perfect two-in-one toy for your babes for love to rock and roll. Suitable from 12 months, it starts off as a rocker then converts into ride-on for endless adventures – with storage for Teddy. It's tough enough to carry kids right up until they start school.
---
Pintoy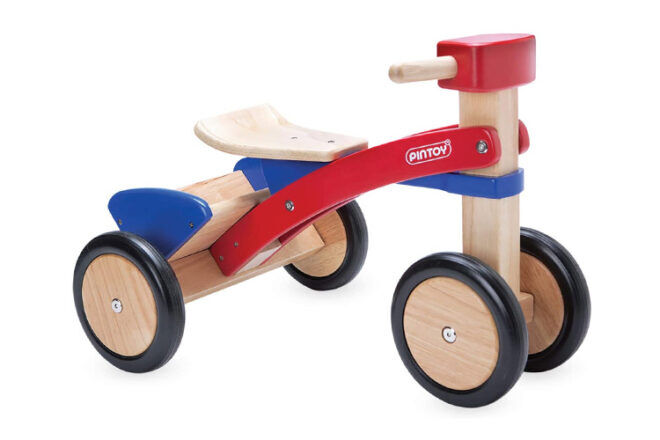 Super cute and a cinch to ride, this sturdy rubberwood pickup truck will stand up to years of toddler adventures. Suitable from 18 months for indoor or outdoor use, there's even storage for special toddler treasures.
---
B. Toys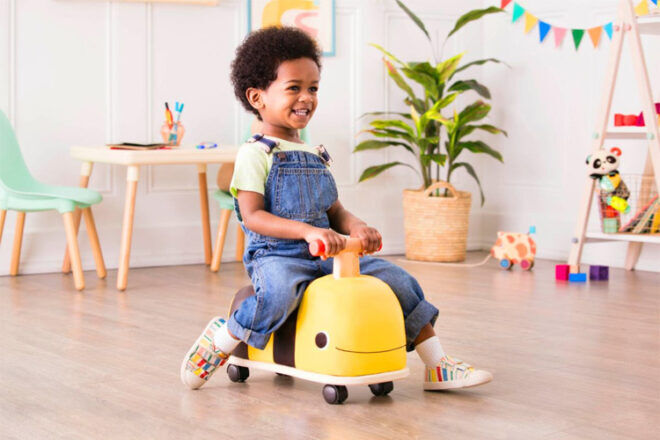 Busy little bees will be buzzing about the house all day on this Boom Buggy. Suitable from 18 months, it's made of natural wood and fitted with sturdy handles and rotating wheels for zipping in all directions. So much cuteness.
---
Indigo Jamm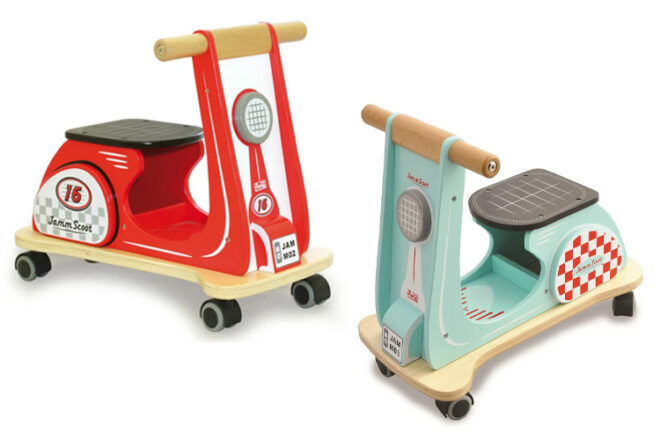 These super cool award-winners come with lots of retro vibes and all the stability new riders need. Made of rubberwood, they're sturdy and durable, plus they come fitted with multi-directional coasters for non-stop fun. And did we mention the hidden storage?


---
Hape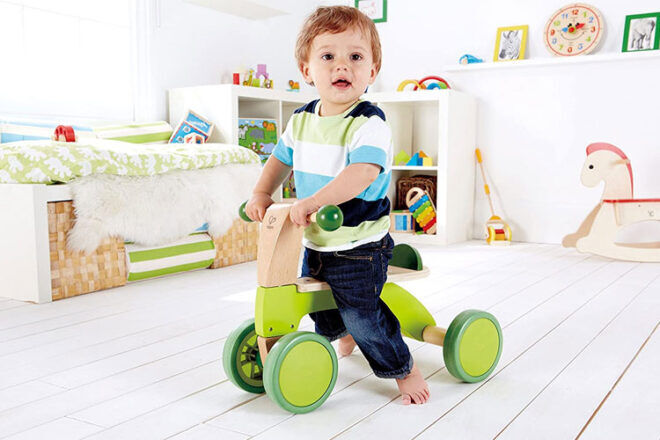 It's the four-wheel drive specially made for toddlers – and it couldn't be cuter. Foot-powered propulsion makes it easy for young kids to control their speed, while chunky handles make steering a cinch. Crafted from FSC-certified wood, this one's built to last.
---
Wheely Bug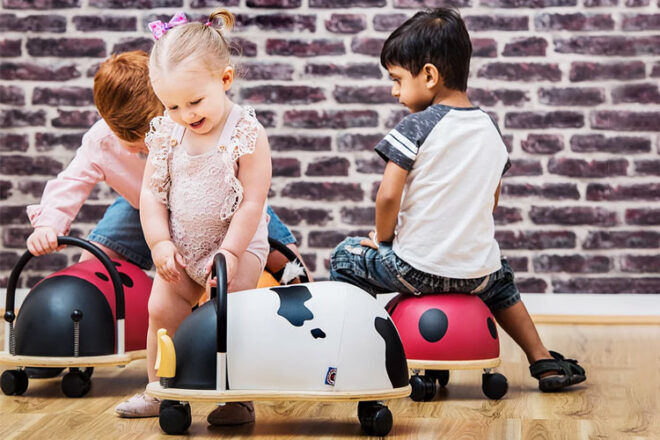 These award-winning bugs are taking playtime to new levels of fun. Available in a range of critters — from ladybugs to mice — they come with multidirectional wheels and a padded body for a comfy ride. Good luck choosing just one!
---
Le Toy Van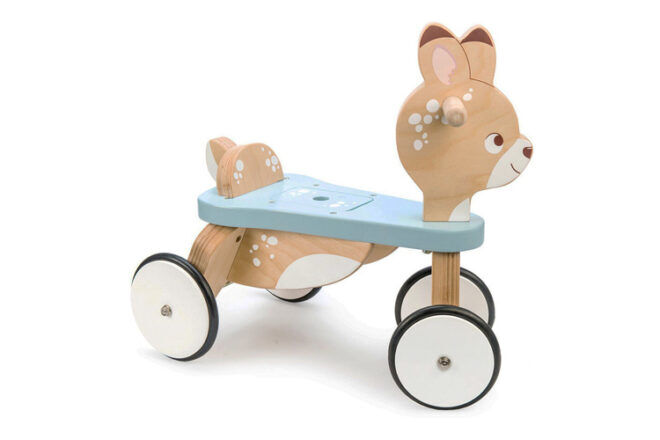 There will be adventures-a-plenty with this woodland friend in their lives. Strong, sturdy and equipped with a very handy storage compartment for treasures, it's an unforgettable first ride for kids aged 12 months and up.
---
BMW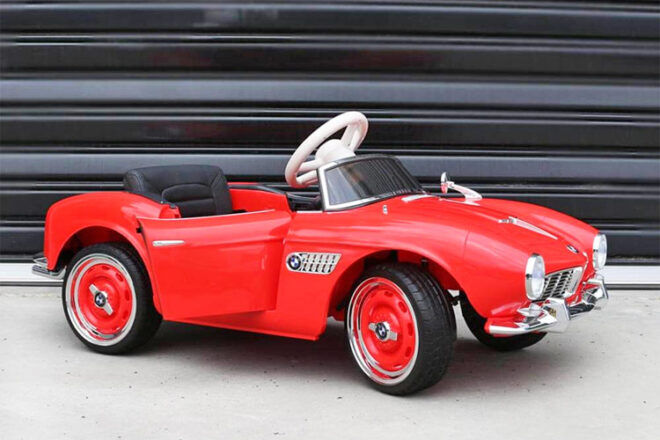 Not only does this officially licensed BMW comes with a rechargeable 12V engine, but it also comes with remote control, so you can drive the kids around from the comfort of the couch. It has two speeds, a working horn and lights and it's suitable for tots aged two to four years.
---
Tender Leaf Toys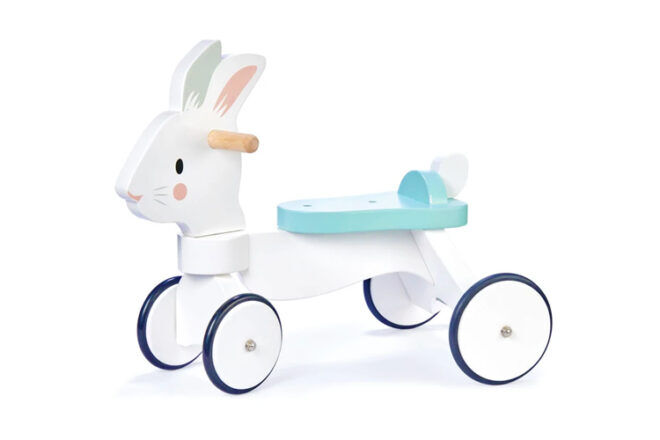 This timeless toy is one to pass from generation to generation. It's made from plywood, it comes with easy-hold handles, four wheels and an exquisite design that's impossible not to love. Suitable from 18 months, this is just made to gift.
---
Berg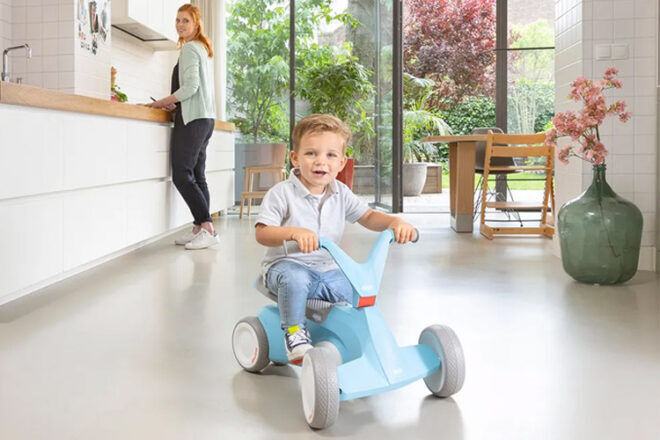 From a brand renowned for its uber-cool go-karts comes to a junior ride-on with loads of versatility. Attach the parent handle for easy control of younger toddlers, and when it's time for independent riding, fold down the pedal and lets little ones go!
---
Dynamico
Handmade in Germany, Dynamico Wooden Ride-On cars, trucks and caterpillars are innovative and adorable. Each is made from beech wood for a lifetime of love and comes with a unique steering mechanism for a stable ride.
---
Little Tikes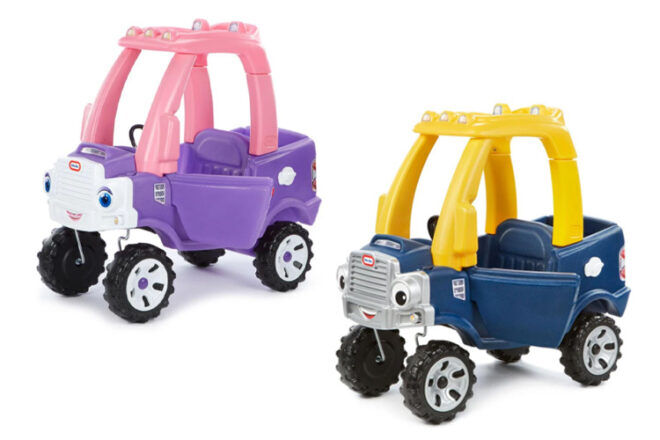 No list of kids' ride-on cars is complete without a Little Tikes Cozy Trucks in the mix. These favourites are chunky, cool and packed with features, including storage, petrol cap, working horn and cup holders. With tough wheels, it holds its own in the backyard.
---
This article is curated by our Editors and includes affiliates and/or paid inclusions. See our Disclosure Policy.
Know some kids' ride-on toys we should add to our list? Contact us and let us know.
Read these roundups next …
Our roundups include the most coveted kids' brands and products in the country, from the best trikes to the coolest swings. Check out these lists next and take playtime to new heights: