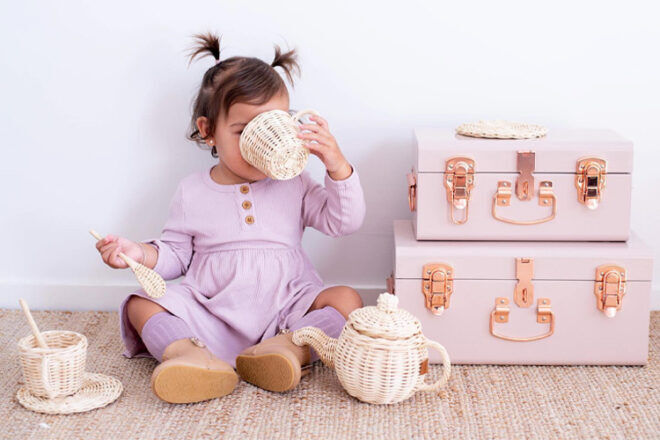 Few toys enrich imaginative play the way a kids' tea set does. There are the little invitations, fascinating conversations and all those treats to go with mugs of make-believe matcha.
For years tea sets have been the centre of toddler get-togethers, and kids' still can't get enough of them. But gone are the days when all sets were pink. Top brands now use sustainable materials and fab design to breathe fresh life into a timeless toy – and we can't choose between them.
Whether you're after a wooden tea set, big pops of colour or something gender-neutral, you're in the right spot. We've put together a handy list of options to please every little personality.
What to consider when buying a kids' tea set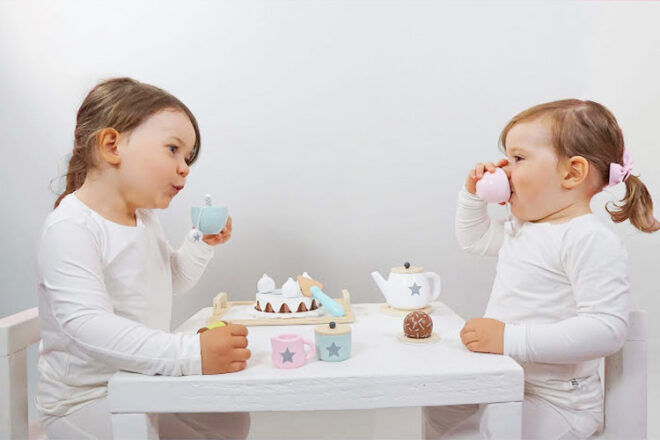 Age requirements – While most tea sets are aimed at the toddler age when pretend play is at its most colourful, sets with small pieces aren't suitable for kids under three years. Thankfully, there are still plenty of irresistibly chunky options available for younger babes.
Accessories – If you've already got a toy box (or three) full of play food, you may not need a large tea set. But, if you do want some delicious extras such as cupcakes, sugar cubes and tea bags, there are larger sets available with the works.
The number of cups – Let's face it, if there aren't enough cups for everyone, toddler tantrums are imminent. Many tea sets include just two cups, so if you have three or more littlies under your roof, go for a larger set with four cups.
Materials – Consider your carbon footprint when buying a tea set for your wee one and choose sustainably sourced and renewable materials over harmful plastics.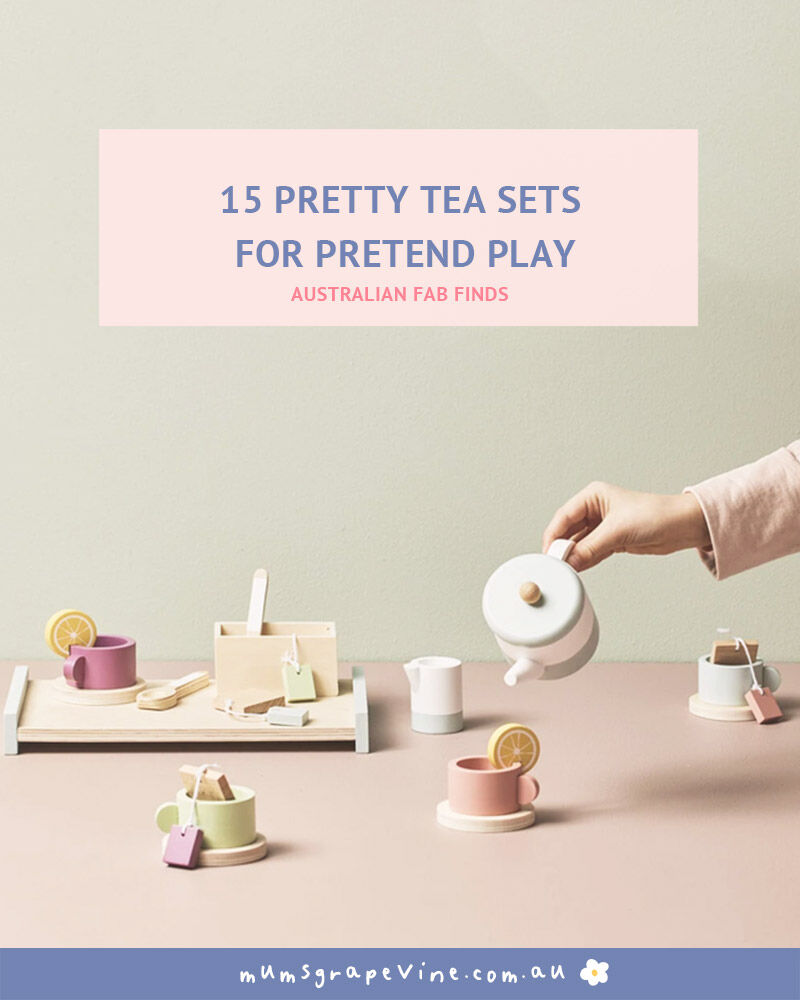 15 exquisite tea sets for imaginative kids
Time for tea! To help you find your child's special set faster, we've scoured the land to bring you a complete roundup of top brands.
Here are 15 beautiful kids' tea sets for playtime:
PlanToys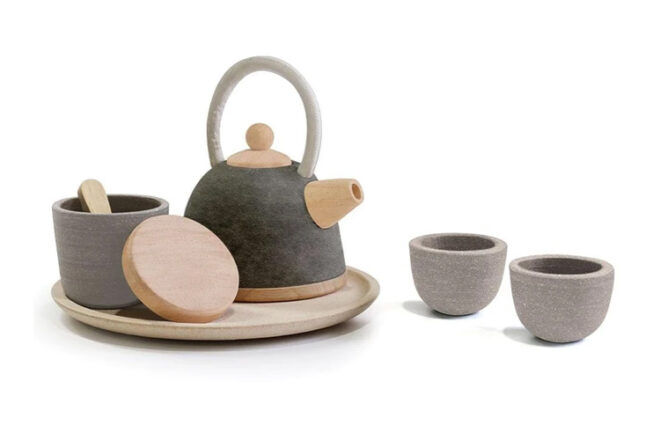 Anyone for an oolong? This exquisite eco-friendly set is perfectly sized for busy toddler hands and includes everything they need to serve up the perfect afternoon tea, including a traditional teapot, sugar bowl, spoon, mugs and a tray.
---
Raduga Grez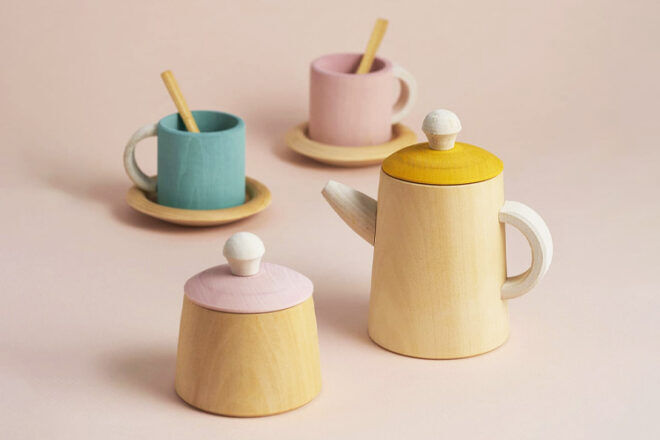 Ethically handmade in Russia from limewood and non-toxic watercolours, this pastel set is as pretty as a picture. It's recommended for kids aged three and above and comes with all the essentials for the perfect little party.
---
Kids Concept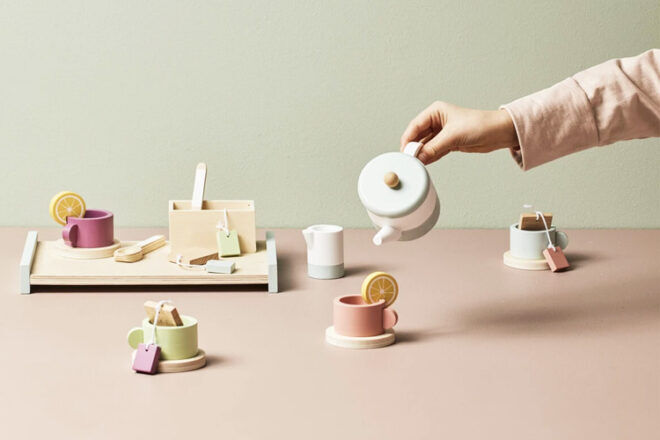 Pour some tea, add lemon – and stir away. With 21 chunky pieces for tots to tinker with, this set will keep them busy all morning. It's made almost entirely of wood and comes with a handy storage box to keep tea bags and spoons tucked away safe.
---
Le Toy Van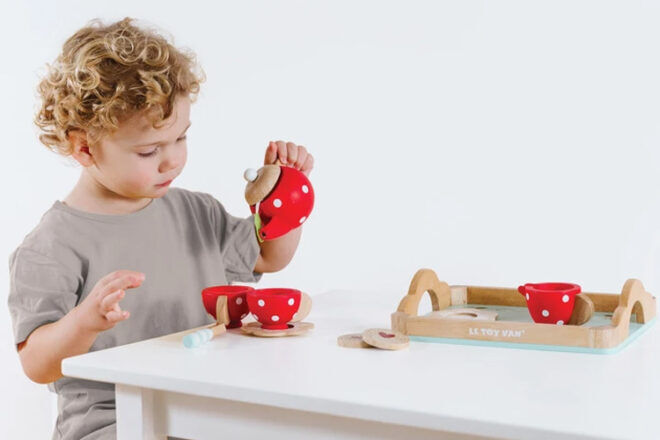 This 12-piece strawberry-themed tea set from Le Toy Van includes cups, saucers, spoons, tea bags and a tray for serving in style. There are also two delectable wooden cookies included for extra-special guests. This one is suitable for tots aged two and up.
---
Hip Kids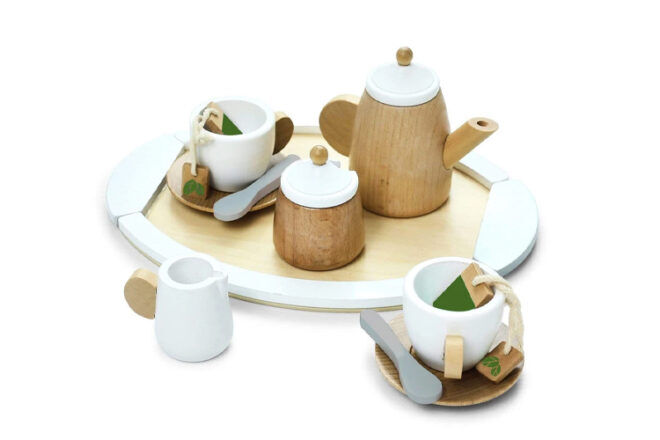 When it's time for a peppermint tea, this is the set for the job. It includes green-tinted tea bags, a tray, spoons sugar pot, milk jug and a teapot made for sweet little hands. Made from wood, it's virtually unbreakable and will see kids through years of parties.
---
Juni Moon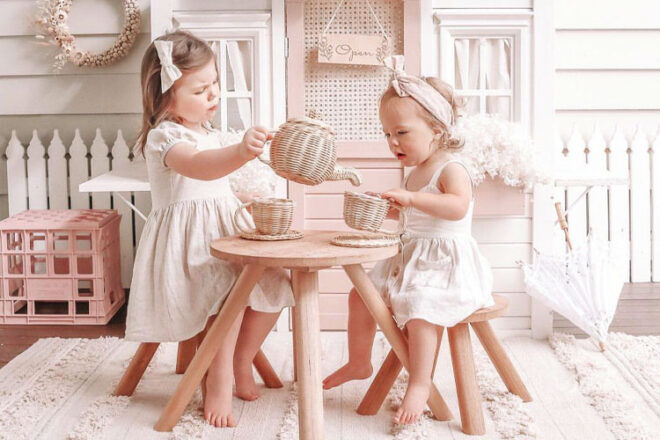 This rattan tea set from Juni Moon is so beautiful you'll never want to pack it away. Handcrafted from all-natural materials and coated with non-toxic varnish, it includes spoons, cups, saucers and a large teapot with an easy-grip handle.
---
Bloomingville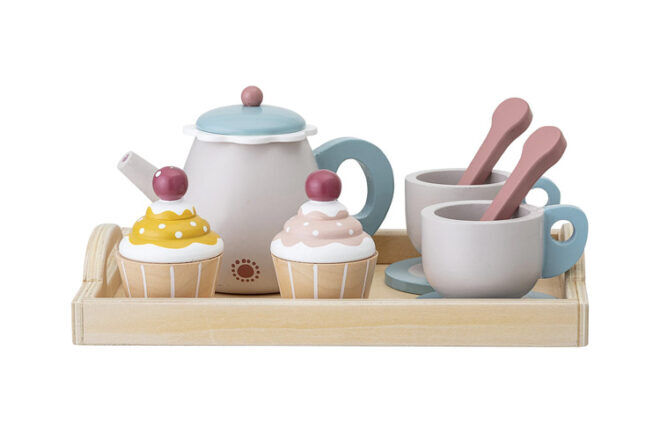 Smart Scandi design meets next-level cuteness in this mini tea set for kids. Recommended for ages two and up, it's made from lotus wood and plywood and comes with all the accessories toddler duos need to while away an afternoon.
---
Make Me Iconic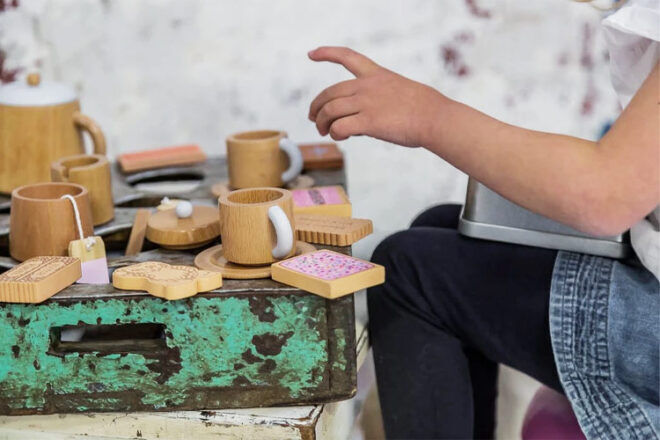 If it's neutral tones and natural materials you're after in a toddler tea set, look no further. This gorgeous wooden tea set from Make Me Iconic comes with 17 pieces, including sugar cubes and tea bags. Packaged up in a beautiful box, it's totally ready to gift.
---
Liewood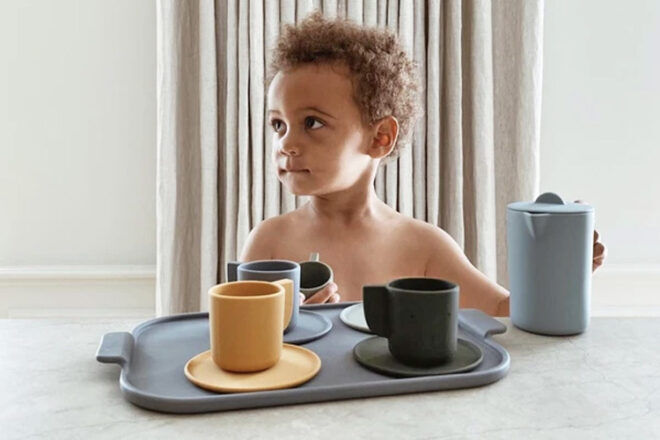 In a choice of rose or blue hues, this pure silicone set from Liewood is unbreakable and safe for water play (hello bath time!). Unlike many other sets, this one comes with four cups plus accessories, so it's a fab option for families with more than two kids.
---
Hape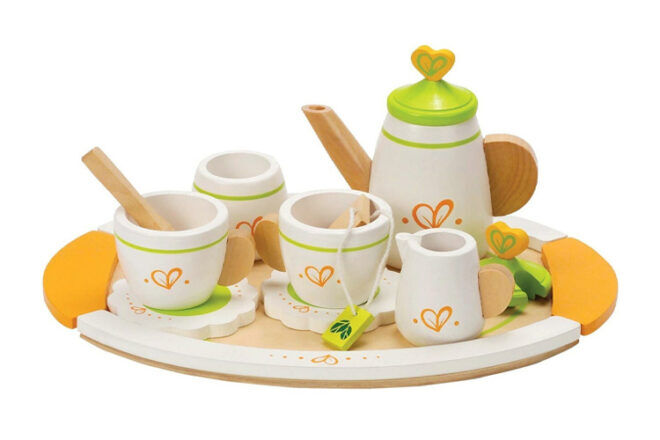 Pass the milk, please. Hape's adorable 12-piece wooden tea set is ideal for toddlers from three years who love to chat away about the day's events. With fun pops of yellow and green, it makes a fab addition to any playroom.
---
Nordic Kids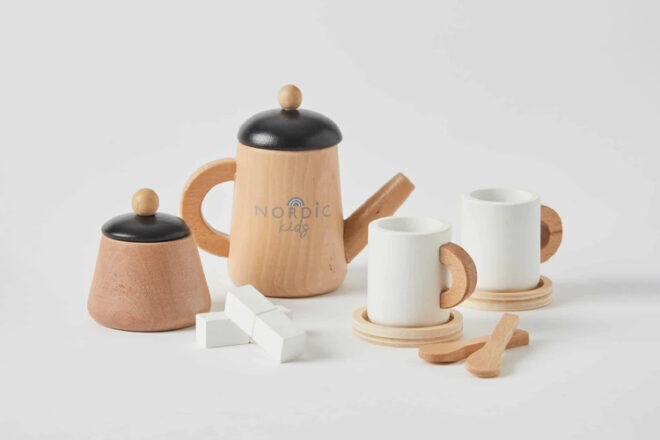 Designed to be as good to look at as it is to play with, this wooden set is the perfect way to bring a touch of Scandinavian style to play zones. Presented in gift packaging, it includes all the accessories tots need for a lovely tea for two.
---
Tender Leaf Toys
We're loving the rose tones on this adorable toddler tea set from Tender Leaf Toys, not to mention the fact that it's all made from sustainable rubberwood. With a tray, tea bags and a cupcake in the mix, tea time just might last all day!
---
OMM Design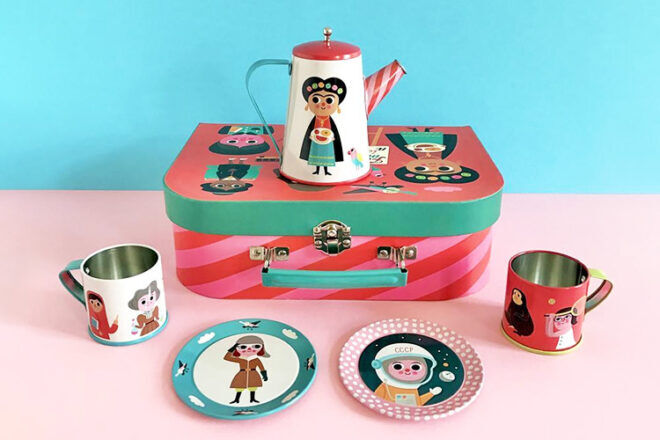 This spectacular tin tea set takes its inspiration from famous women in history, and it's a keepsake if there ever was one. Items include a colourful teapot, saucers, two cups and a special suitcase for storing all the pieces safely.
---
Jabadabado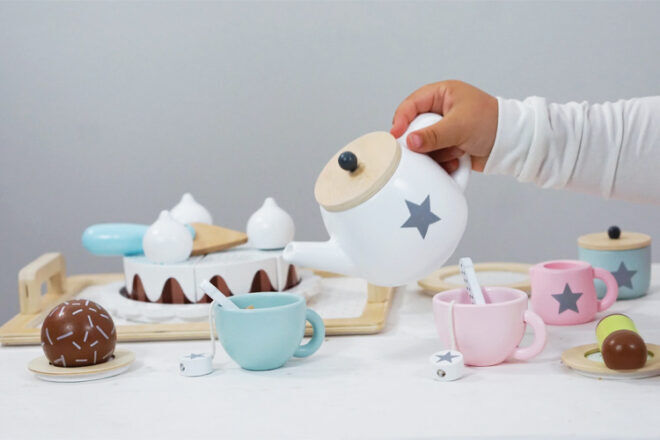 With a chocolate ball and pastry included, this wooden set will go down a treat with the sweet-toothed toddlers. There are two pastel cups included, tea bags with chunky beads, a tray and a timeless teapot ready to pour – and pour!
---
Saint Germaine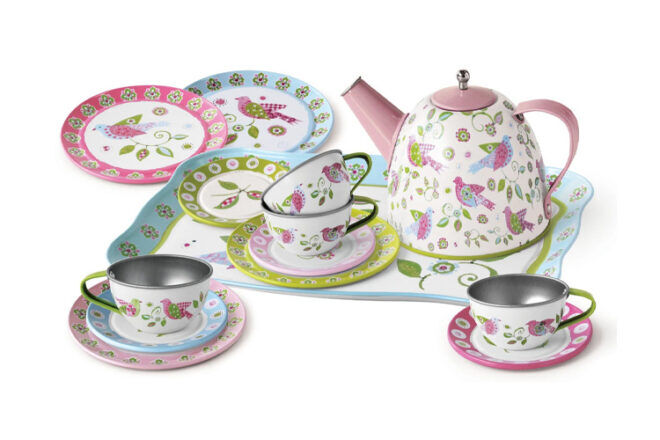 With vintage vibes and floral motifs, this traditional tea set couldn't be more perfect for a garden party in the sunshine. Among the 15 pieces are four mugs and a tray, and it all comes bundled up in a carry case for taking here, there and everywhere.
---
This article is curated by our Editors and includes affiliates and/or paid inclusions. See our Disclosure Policy.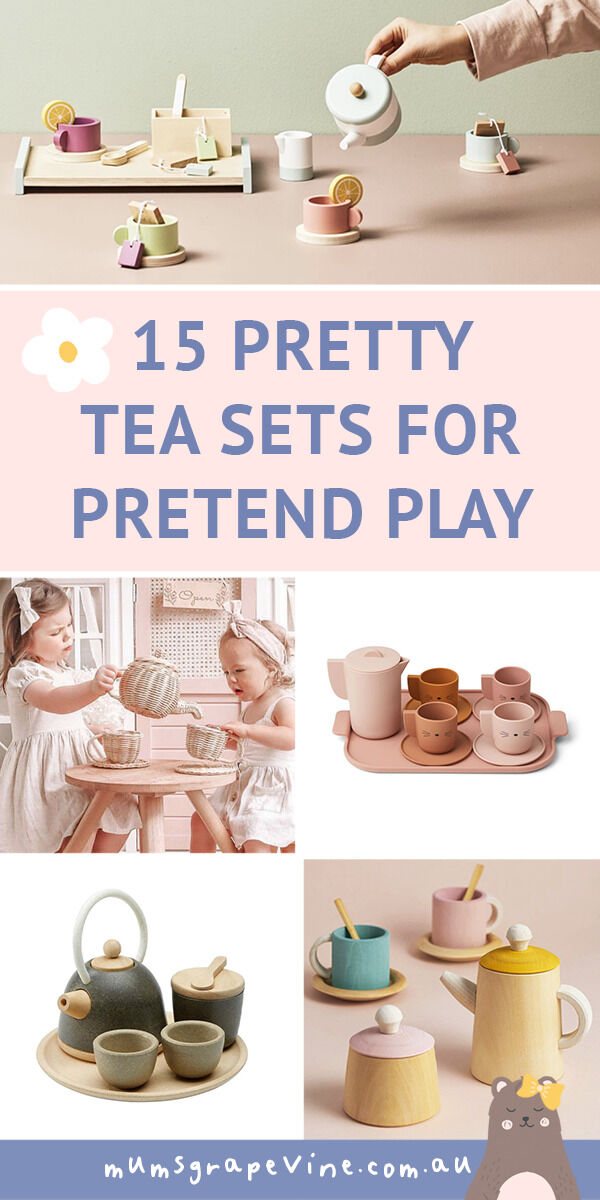 Know a brand of kids' tea set we should add to our list? Contact us and let us know.
Find more fun gear for kids…
Looking for more products for playtime? Our suite of roundups connects you with the most exciting toys, homewares and clothes from boutique brands and stores in Australia.
Read this: 34 ways to fine-tune a toddler's fine motor skills