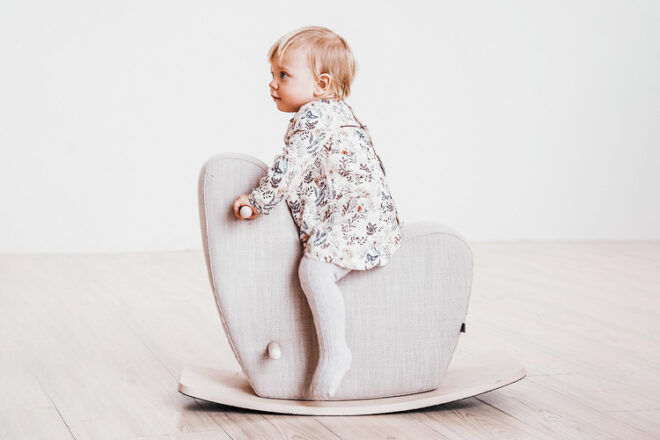 A wooden rocking horse dishes up big thrills and a rocking good time. It also provides growing kids with loads of developmental benefits.
Available in more styles than ever, from rattan beauties to plush animals, the classic rocking horse stimulates kids' senses and encourages loads of physical play. Skills of coordination and balance are honed, mighty muscles get a workout and busy minds unwind with the dreamy rocking motion.
Read on for some helpful points to consider when you're on the hunt for fab rocker, plus a handy list of spectacular styles available right here in Australia.
What to consider when buying a rocking horse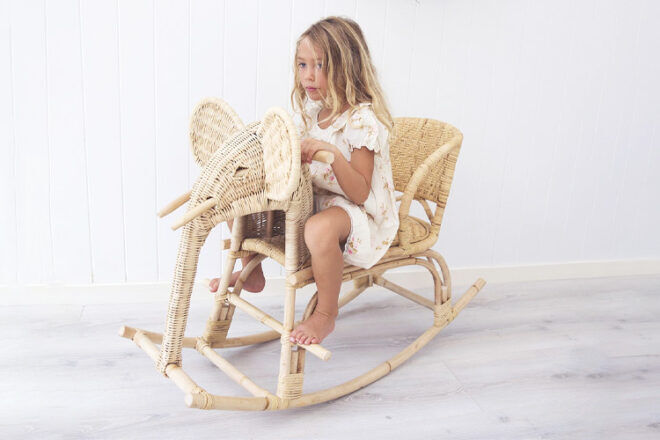 Age and readiness – Children need to be able to sit unsupported before they can start enjoying the thrills of a rocking horse on their own. Also, keep in mind that some models have small parts and are recommended for ages three plus.
Grip – Look for easy-hold handles that aren't slippery so little hands can get a good grip when they're galloping at top speed.
Size – While technically a stationary toy, rocking horses do tend to move a bit during the back and forth motion, so clear enough space for tots to rock away safely – and keep any breakables out of the way.
Height – You want your toddler to be able to get off the rocking horse just as easily as they get on, so check the height before you buy to ensure it's just right for your wee one. To reduce the risk of falls, you'll want little feet to be able to touch the floor.
17 unforgettable rocking toys
To help you get your toddler rocking sooner, we've scoured the country to bring you a complete roundup of top brands. Here are 17 of the best rocking horse toys in Australia:
Mocka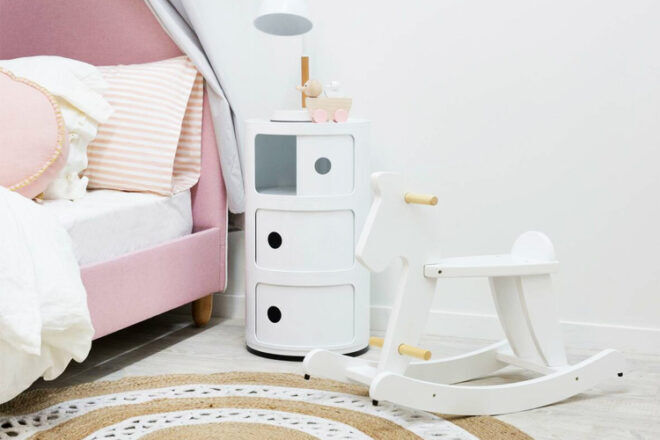 In pristine white, Mocka's contemporary rocking horse fits in anywhere. It has a height of just 30cm to suit toddlers from 12 months of age and it's made of tough birch to see them through years of horsey adventures.
---
MOOVER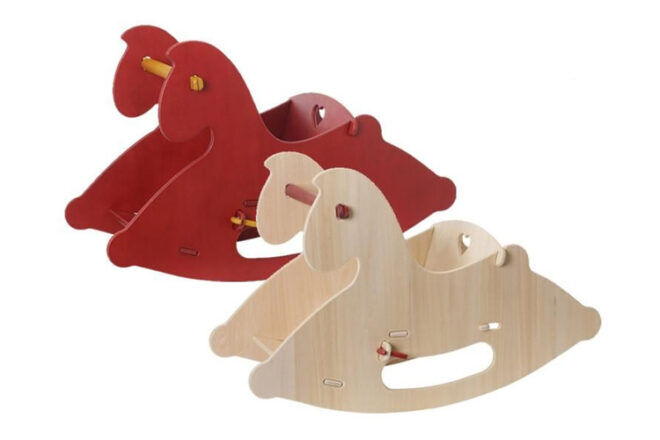 Designed with love for bubs as young as six months, the MOOVER rocking horse combines classic fun with contemporary Scandi design. It's made of tough linden plywood and comes in a choice of two shades.
---
Hip Kids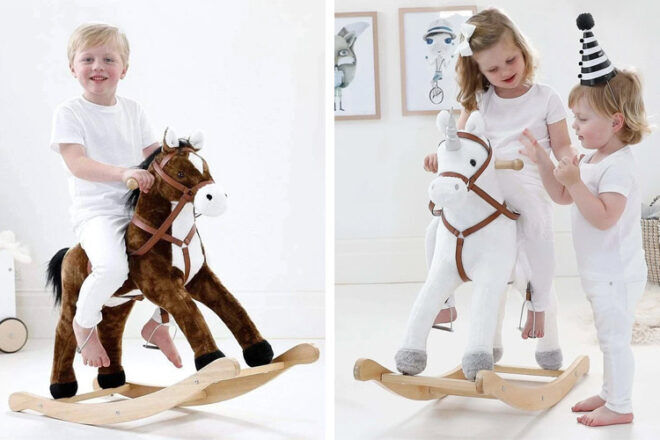 Whether they want a sturdy steed or a magical unicorn, Hip Kids has you covered. Made for kids over three years, they come with reins, saddle, stirrups and tough handles for easy grip. Give the ear a squeeze and listen to those hooves gallop!
---
Kinderkram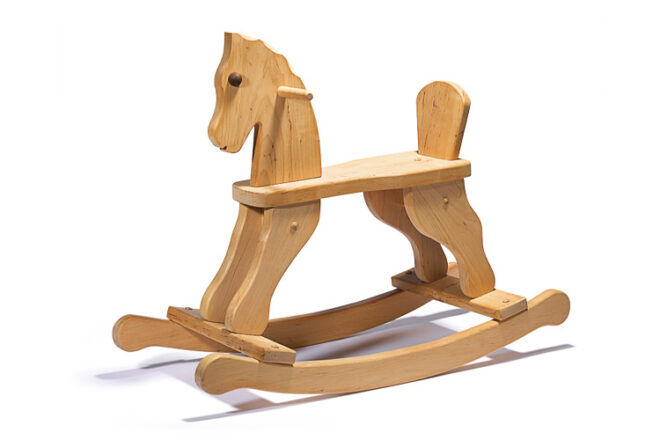 Straight from the pages of a fairytale, this spectacular rocking horse is handcrafted in Europe from sustainable beechwood timber and child-safe oils. It's the perfect prop for unlimited imaginative play and tough enough to last for generations.
---
Liewood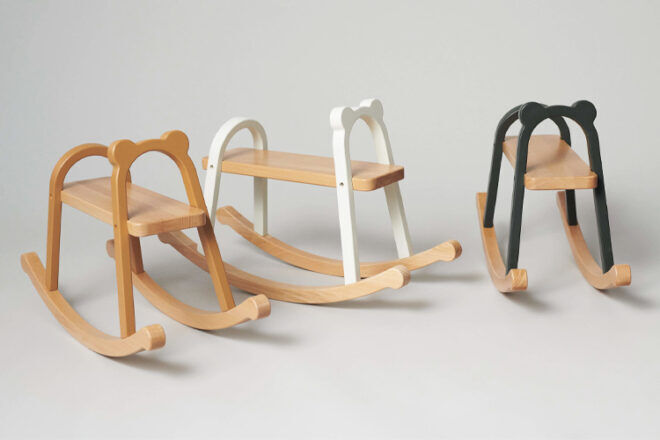 We love Liewood for its pared-back and fresh designs, and these fabulous rocking horses are no exception. Made from solid beechwood, they come in three shades and feature anti-tipping rails, a comfy backrest and seriously cute bear-shaped handles.
---
Kids Concept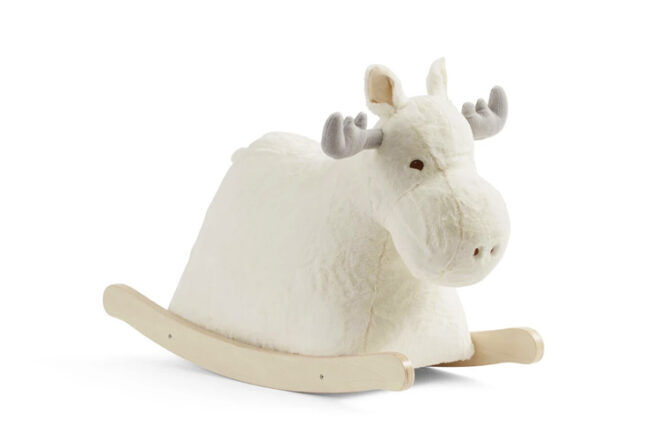 Who said rocking is just for horses? This friendly Swedish moose is up for any adventure your mini can conjure up. It has a tough wooden frame, antler handles and plush fabric padding to support tiny bots. Just try not to hug this guy.
---
Abide Interiors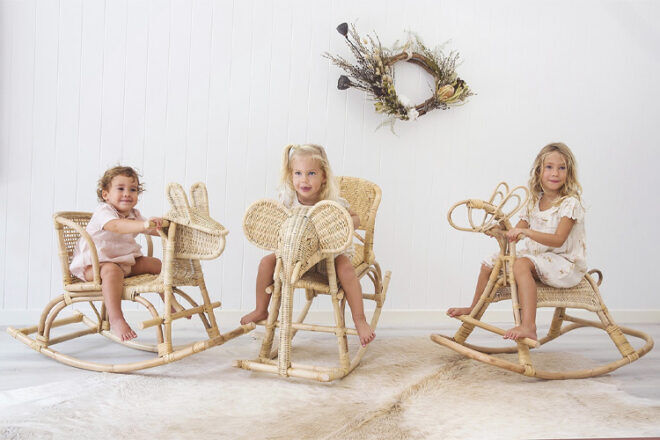 Not only are these sustainably made rocking horses perfect for families who want to reduce their carbon footprint, but they are as pretty as a picture. Beautifully crafted from rattan, they're suitable for toddlers from two years.
---
Childhome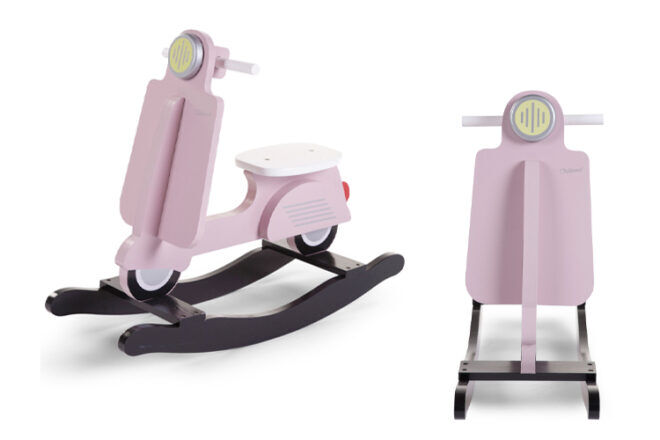 It's hard not to love a pint-sized Vespa. These zippy rockers are made with extra-long runners to minimise the risk of tipping. They come in three colourways and have a wipe-clean surface – because you'll totally want to pair these with gelati.
---
Ooh Noo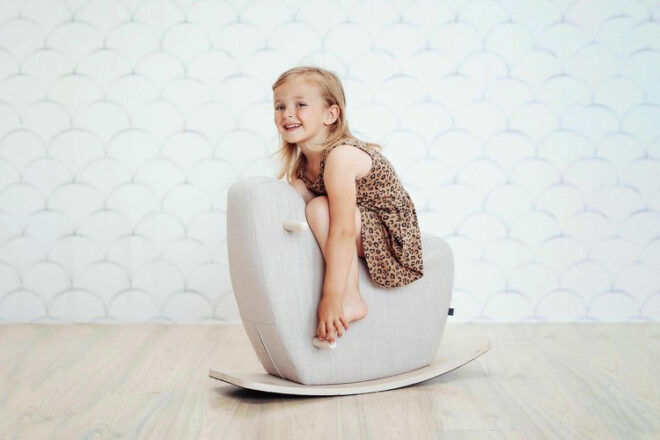 This designer gem throws traditional concepts out the window to deliver a quirky, comfy rocker that's all kinds of cool. It has a metal sub-structure, lots of comfy padding and Aquaclean technology, which means wiping off spills is a cinch.
---
Hape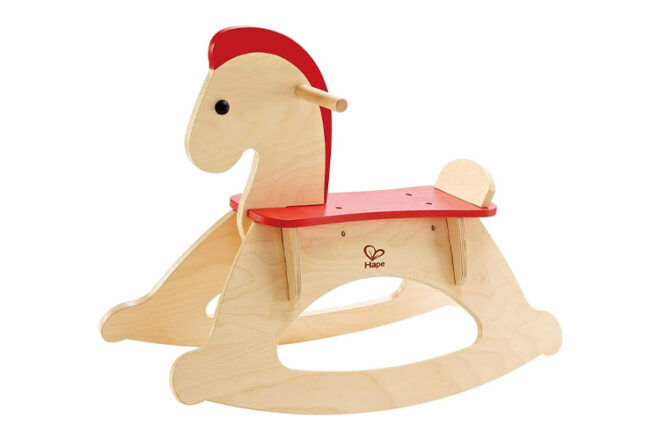 From gentle rocking to full-paced gallops, this sturdy wooden rocking horse from Hape can stand up to anything toddlers throw at it. Suitable from ten months to three years, it's made of solid wood and finished with non-toxic paints and lacquers.
---
EverEarth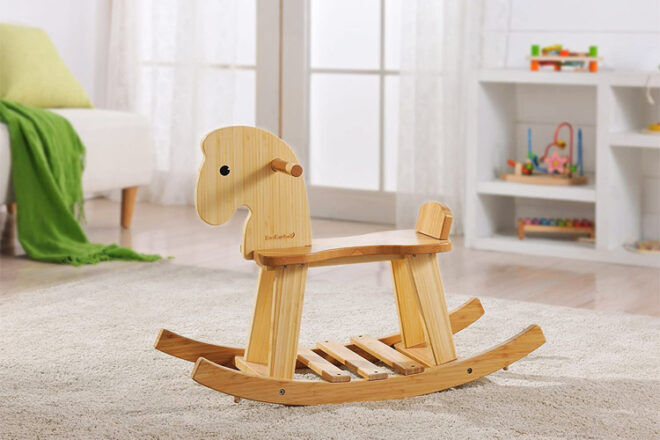 This bamboo rocking horse from EverEarth combines eco-friendly materials with a classic design – and it couldn't be more perfect for the modern home. It's recommended for kids from 12 months and comes with tough handles and a slatted base.
---
Bloomingville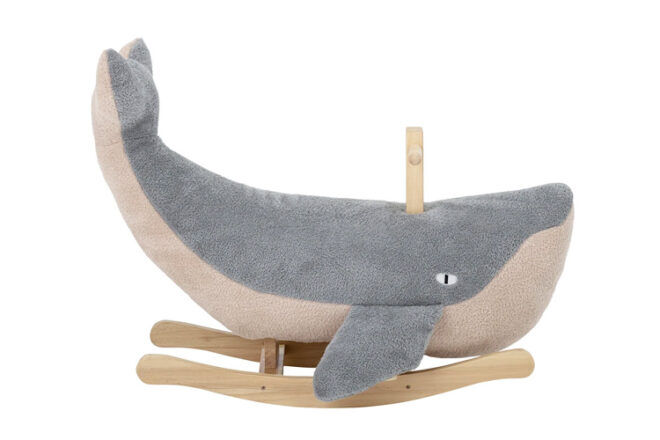 Designed in Denmark, this charming interpretation of the kids' rocking horse has completely stolen our hearts. Made from poplar wood and deliciously plush fabrics, it's the perfect pal to sail the rocky waters with.
---
Le Toy Van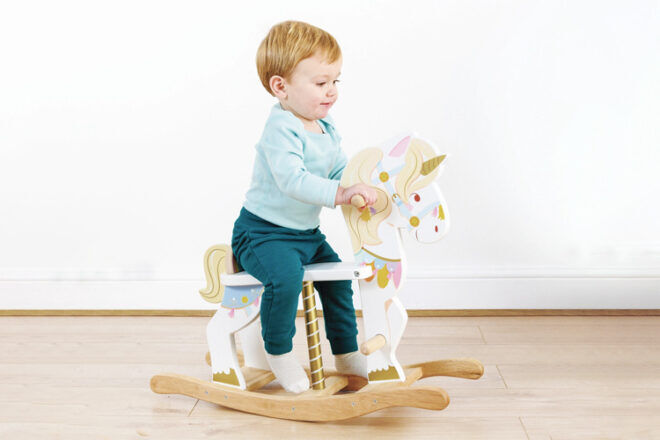 Roll up, roll up. Le Toy Van's Rocking Unicorn just arrived in town and there's loads of magic in tow. Designed for toddlers from 12 months, it boasts a solid wooden body, fab pops of colour and just the right amount of glitter paint.
---
Pintoy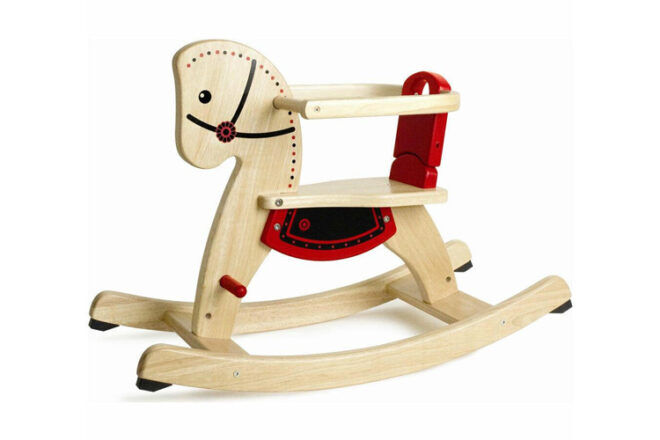 With an adjustable seatback and removable rails, this is a rocking horse that grows with your child, from their very first birthday and beyond. In solid wood, it comes with painted details, a footrest and rubber safety stoppers.
---
Pottery Barn Kids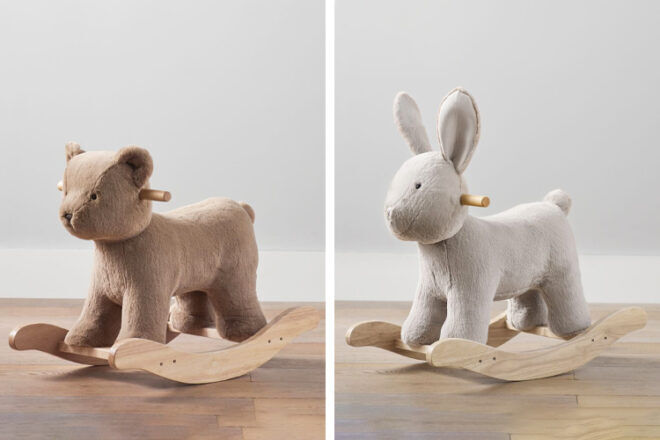 Perfectly sized for toddlers, these woodland pals are ready for fun. They come equipped with robust rubberwood runners, tough handles and an ultra-soft plush cover for maximum comfort and cuteness. Beary sweet, indeed.
---
Lifespan Kids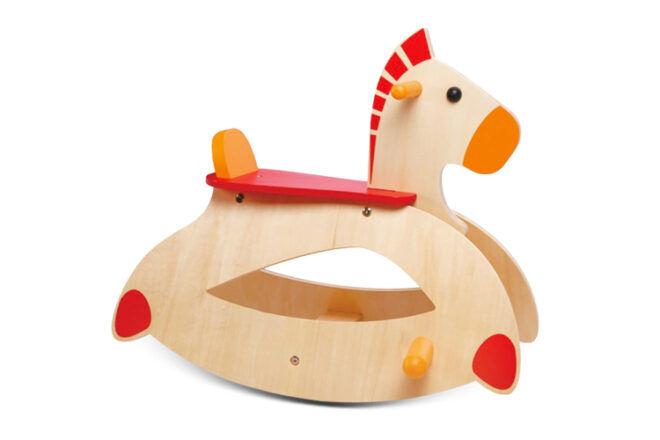 With a sturdy MDF frame, this tough horsey is up for years of adventure-filled rocking. It's perfect for tots from one year of age and features adorable contrasting handles, footrests and stirrups. Giddy-up!
---
Tinnitots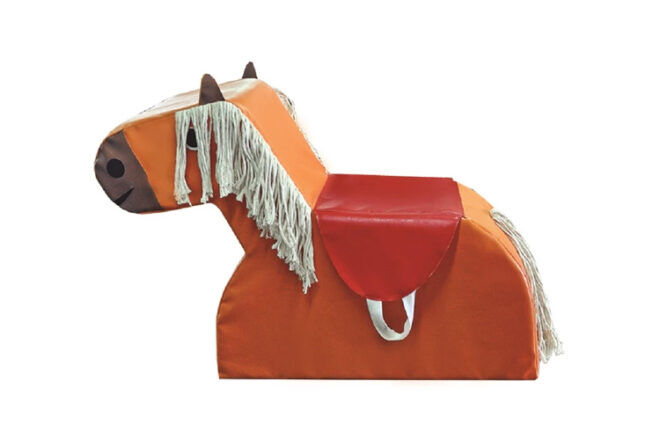 For a different take on the classic rocking horse, but with all the fun, we had to mention this happy horsey from Tinnitots. Packed with sensory features that growing tots will adore, it's chunky, padded and perfect for jumping all over. We love!
---
This article is curated by our Editors and includes affiliates and/or paid inclusions. See our Disclosure Policy.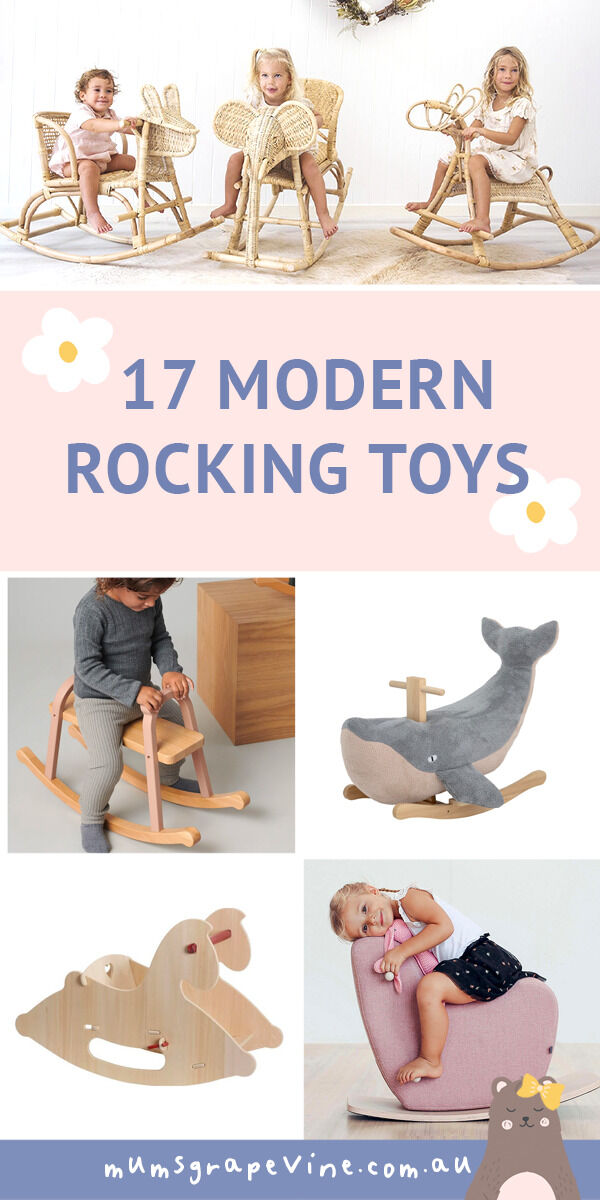 Know a brand we should add to our list? Contact us and let us know.
Find more amazing gear for kids…
Looking for more playtime gems? Our suite of curated roundups links you up with the most exciting gear for babies, kids and parents.
Read this: 34 ways to fine-tune a toddler's fine motor skills