A toddler swing is a brilliant way for kids to keep moving while mum and dad take five. Whether it be swaying indoors or swooshing outside, there's no better feeling than the wind through your hair.
For those precious moments when parents need to take a break, we've done the hard yards for you and put together a list of top swings to dangle your darlings in. From uber-modern tree swings to freestanding units that can be moved from room to room, we list 11 top swings to get your munchkin in motion.
Here are 11 fun toddler swings for inside and out:
Swingz n Things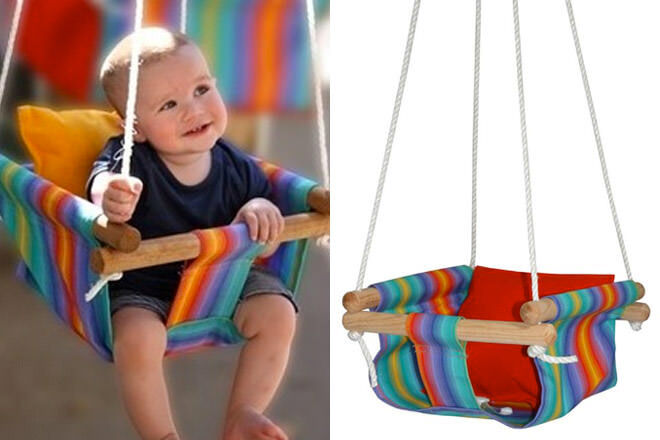 A modern take on the tyre in the tree, the colours of these toddler swings are simply divine. Made in Australia from high-quality marine canvas, there are over eight different colour combinations to choose from.
---
Lillagunga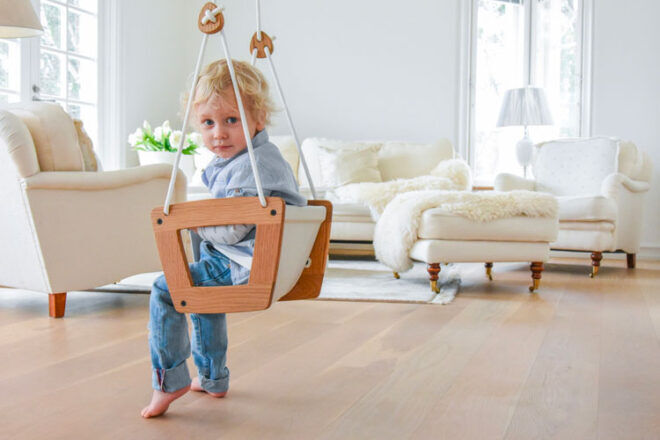 This Scandi gem is tonnes of fun and as pretty as a picture. Designed for indoor use and suitable for kiddoes aged three months to three years, it features a leather seat and oak frame. It comes with a safety belt, two ropes plus rope locks.
---
Solvej Swings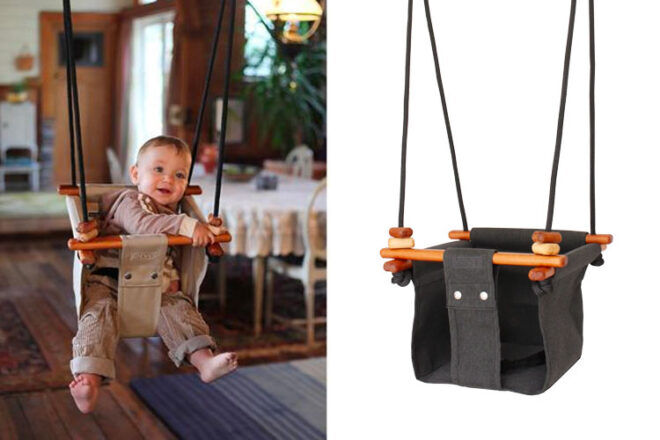 Swing them low, swing them high, swing them till they reach the sky! Skillfully made in New Zealand from timber and weather-proof materials, the timeless Solvej swing can be used indoors or out. Choose from 11 spectacular styles.
---
Mini Mase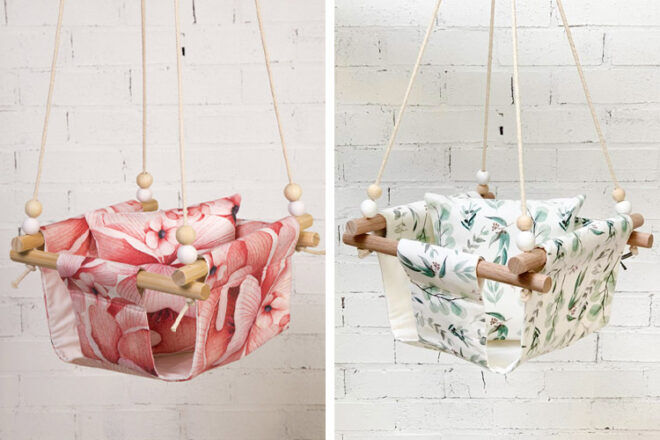 Using a handy carabiner, these chic baby swing sets can be moved from the playroom to the sunshine for hours of outdoor play. Each seat is handmade in Sydney using locally sourced materials and suitable for little ones aged six months to two years.
---
Vuly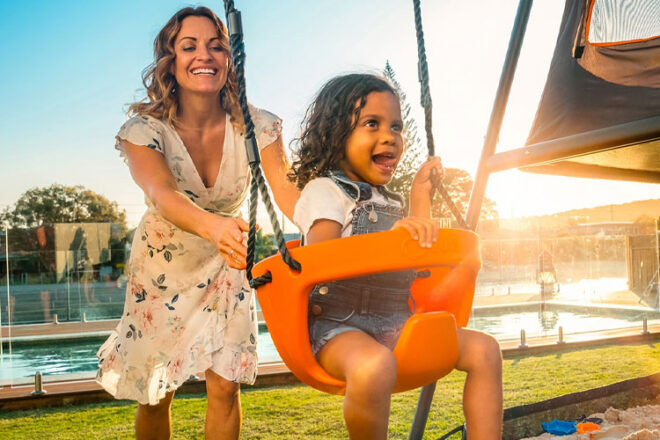 It's not just a seriously fun swing with a roomy bucket seat and cuteness in spades, it's also bouncy! Fitted with Bungee ropes, energised tykes can bounce up and down in between swinging back and forth – and then sleep like logs afterwards.
---
Yardgames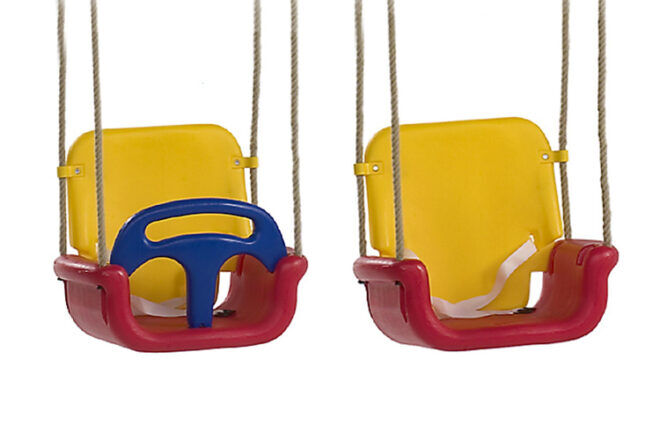 Get set for smiles for miles and years of great use. This smart 3-in-1 swing chair grows with kids, starting as a baby seat with rail, converting to a toddler seat with a backrest and finally transforming into a regular swing seat.
---
Jar of Wild Moments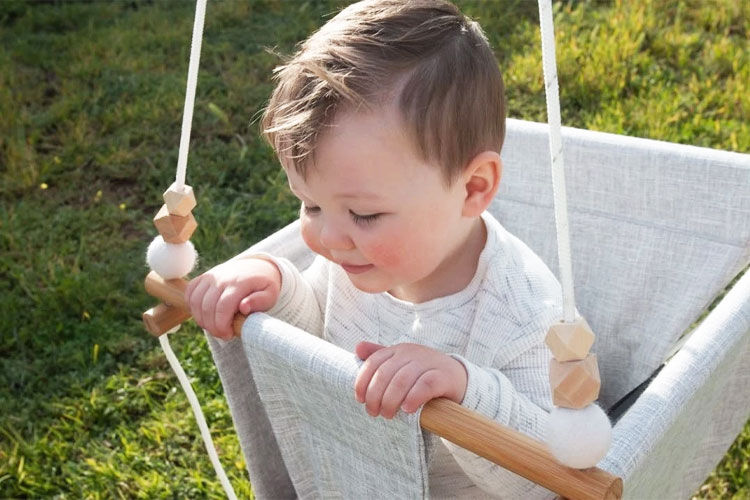 Handcrafted with loads of love and care, these timeless swing seats feature chunky beads, bamboo dowels and soft pillows for extra cosiness. A safety belt is included and you can choose from a range of sweet themes, including bees, rainbows and koalas.
---
Monkey & Mouse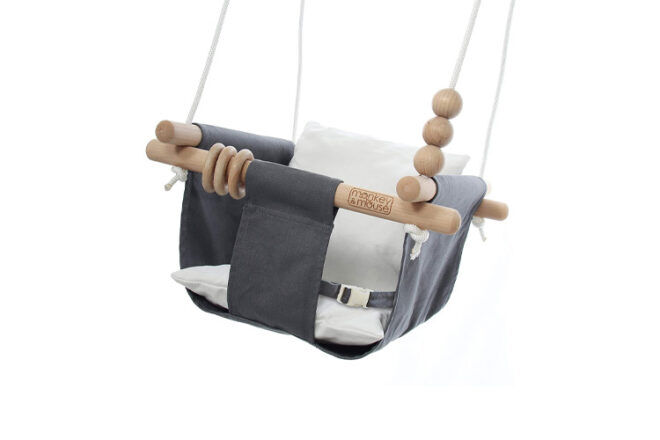 Safe, fun and cute as a button, this is a swing the kids won't want to get off in a hurry. Along with a padded seat and safety belt, it comes with sweet sensory rings and beads for little fingers to tinker with. Fitted with marine-grade rope, it's suitable for inside or out.
---
KIIGIK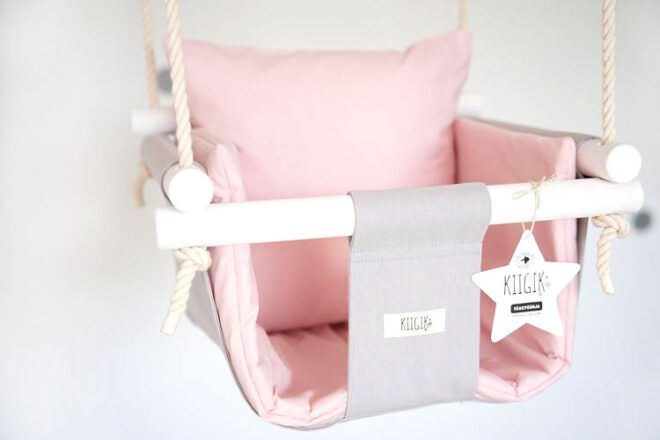 Meet the Starcatcher, the perfect little seat for taking tots on magical adventures (if just on the patio.) Handmade in Europe from premium and durable materials, it comes in contemporary grey with the option to add your choice of coloured insert.
---
Swing Slide Climb
They're just the right size for little round tooshies and they're impossible to miss. Each classic swing seat comes with a safety chain to keep kiddos secure plus plastic-covered hanging chains that are gentle on young hands and fingers.
---
6. Green Wood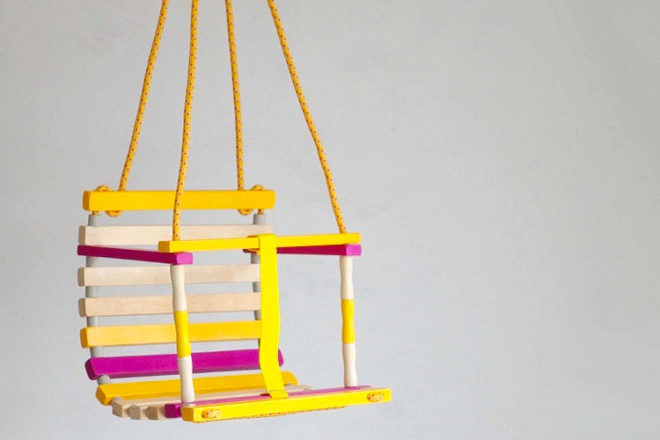 Handmade in Lithuania, this stunning swing set is available in six different colourways to suit the style of your sweet high flyer. Shipping to Australia for only $14.
---
This article is curated by our Editors and includes affiliates and/or paid inclusions. See our Disclosure Policy.
Know another fab kids' swing we should add to our list? Contact us and let us know.
Find more fun gear for the kids …
Our handy product guides include the most coveted products for mums, kids and families in Australia. From the coolest play tents to terrific trampolines, here are some roundups to check out next: