100% would recommend the Oricom SC875 Video Baby Monitor
With a huge 5″ touchscreen and temperature display, the Oricom SC875 Touchscreen Video Baby Monitor gives you complete peace of mind at a glance.
The motorised pan-tilt camera allows the user to move the camera through touch controls on the parent unit to ensure you have eyes on your child at all times, while the 2 x digital zoom function gets in close.
Play soothing lullabies and white-noise sounds at the touch of a button and use the handy talkback function to settle restless babes without entering the room.
Plus, thanks to a genius VOX setting that only streams video when there's noise in the nursery, you get longer battery life and no more bright screens keeping you awake in the wee hours.
Available online from Oricom ($329)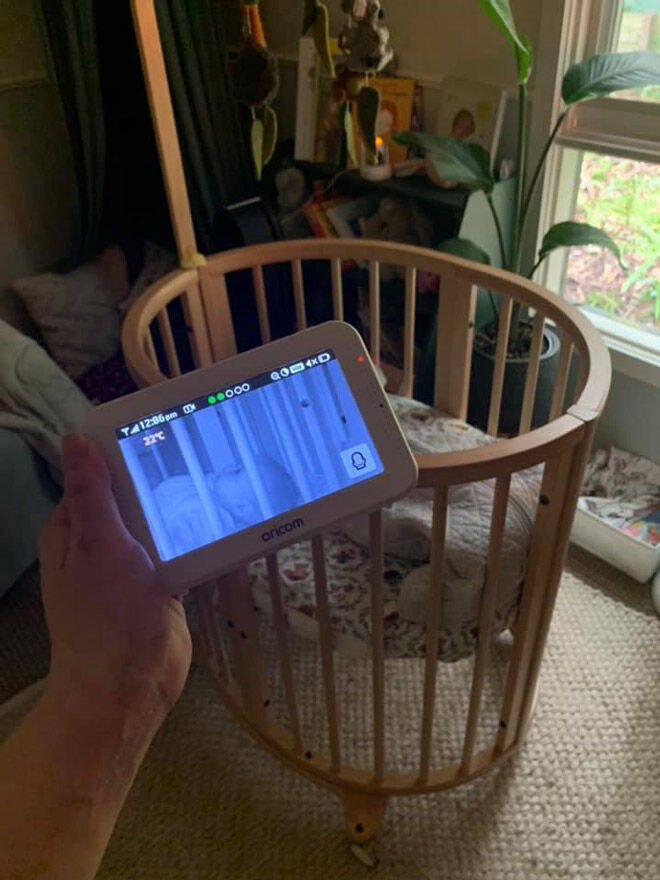 Oricom SC875 Touchscreen Video Baby Monitor review:
We asked three mums from the Mum's Grapevine Facebook Baby Groups put the Oricom SC875 Touchscreen Video Baby Monitor to the test. Here's what they had to say:
Karissa Bryant, mum to four-month-old Jacob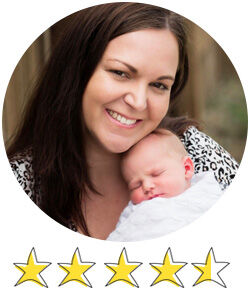 'It's a super reliable baby monitor and very easy to use'
I love this pan-tilt camera. It was so fantastic to keep an eye on bub and adjust as required without having to be in the room and potentially wake up bub. The VOX function is fabulous to lengthen battery life and also means I am confident that it will alert me when the baby needs my attention.
Having this monitor has been a lifesaver. As a new mum, I have was very anxious about the transition of my little boy into his own room. While we haven't yet transitioned for night sleeps, I now confidently put him down in his bedroom for all his day sleeps and can keep an eye on him throughout the nap and know when is the right time to go into his room to resettle.
---
Ashley Williams, mum to six-month-old Seth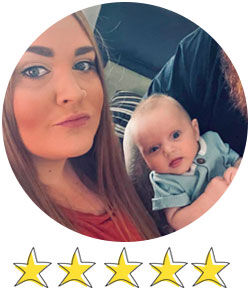 'It's defiantly worth the money'
I would 100 per cent recommend this baby monitor. Its touch screen tells you everything you need to know, especially the temperature of the room, which I think is most important while the baby is sleeping.
The quality of the picture is so clear, even the night mode is just as clear as day mode. It has a motorised pan-tilt so you can look around pretty much the whole room.
The sound quality is also amazing. It's very clear and picks up noise very easily and has a low sound mode which picks up any sort of noise in the room. It's even got a night light, lullabies, and white noise.
It has a built-in microphone so you can talk to your baby through your monitor. And it has a feed timer as well if you are timing your baby's feeds so you can keep on track of them. It's just so simple and easy to use!
The battery life is also pretty decent too.
---
Anastasia Arestia, mum to four-month-old Astrid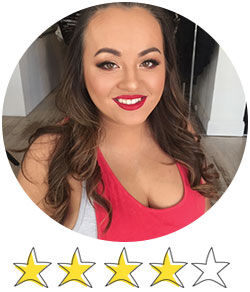 'The best part is being able to watch her self-settle'
I didn't think I'd be someone who would like a whizz-bang video monitor (we've been using an audio-only monitor), but this is actually great! Video quality is clear, and I can turn the white noise on from the lounge (or play with them until I find one she likes).
The best part was watching her self-settle. I would usually listen for her fuss and go back in to pop her dummy in, but today, I was able to actually see her wiggles get less and less as she nodded off.
I liked the camera quality best, and the white noise feature. It meant that I could have this monitor set up in her nursery for day naps, using the monitor's white noise, rather than moving her white noise machine from our room (where she sleeps overnight).
I would say that you need to either wall mount the monitor or have it on a shelf at eye level to get the best viewing from the pan-tilt range. Our bassinet is on wheels in our room at the moment so it took us a while to figure out the best position for the camera. The camera also needs to be plugged in so if you're in the hills like we are, and the power drops out from time to time you might want to keep that in mind.
I can see the monitor being useful as my baby grows and gets into more trouble!
---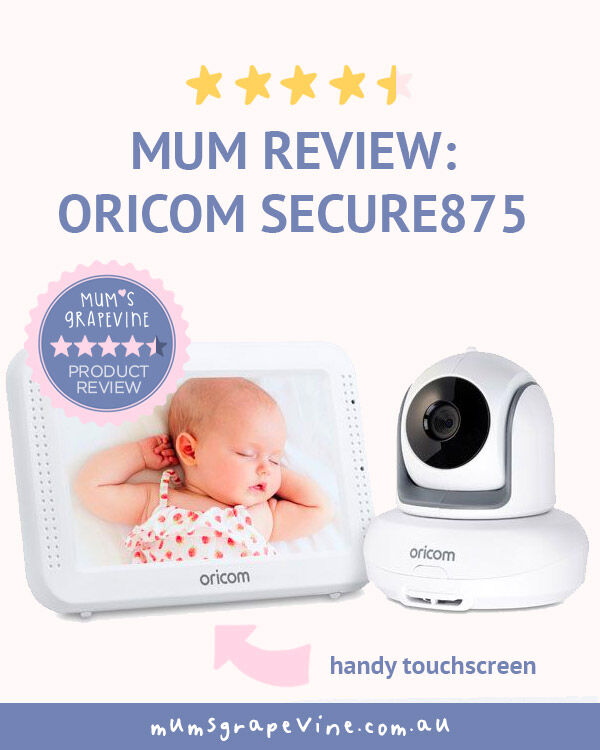 Available online from Oricom ($329)